With the launch of Disney's new Genie service came a new DAS system at Disney World. Here is another update on our experience with DAS Advanced Virtual Chat along with some helpful tips.
New DAS Advanced Launches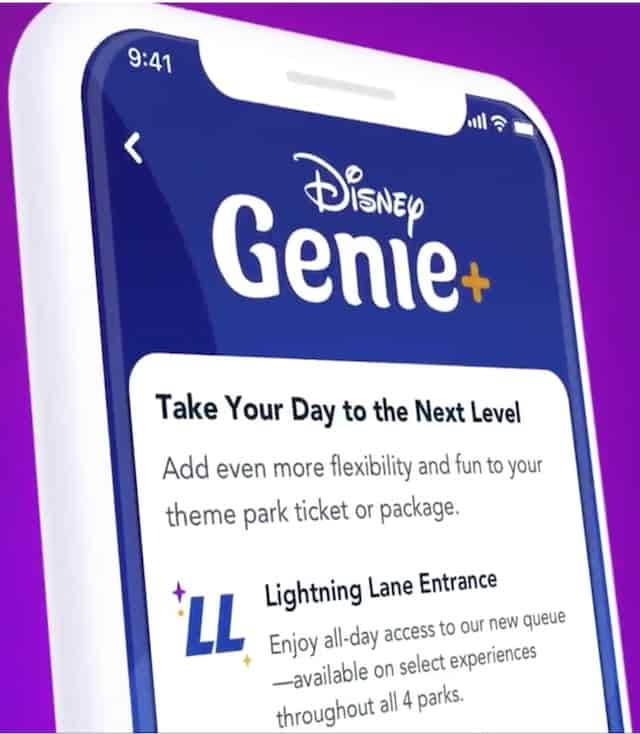 With the launch of the Disney Genie service, guests now have the ability to request their return time in the My Disney Experience App. It is important to remember that the traditional service is still functioning should guests choose to utilize it. You can still utilize the "old" system and obtain a return time by physically going to a ride queue if you choose to not use the app.
Guests now have the opportunity to register via live video chat before their arrival to the parks.  This would be one less thing to worry about upon entering. In addition, guests have the option of booking two advance ride selections for each day in the parks between 2 and 30 days before your park visit.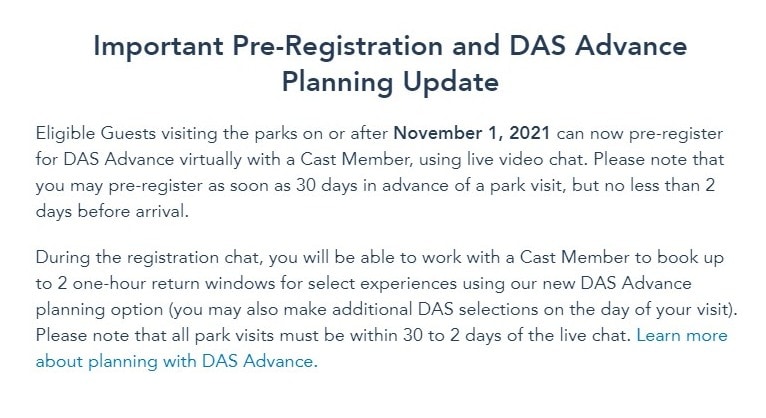 My (Joe) recent article detailed the struggles that I had with getting through to complete this virtual registration process. Based on the comments on the article and on our KtP Facebook pages, the large majority of guests attempting this chat had similar experiences. Guests getting through without much issues seemed to be the exception not the rule.
Experience Update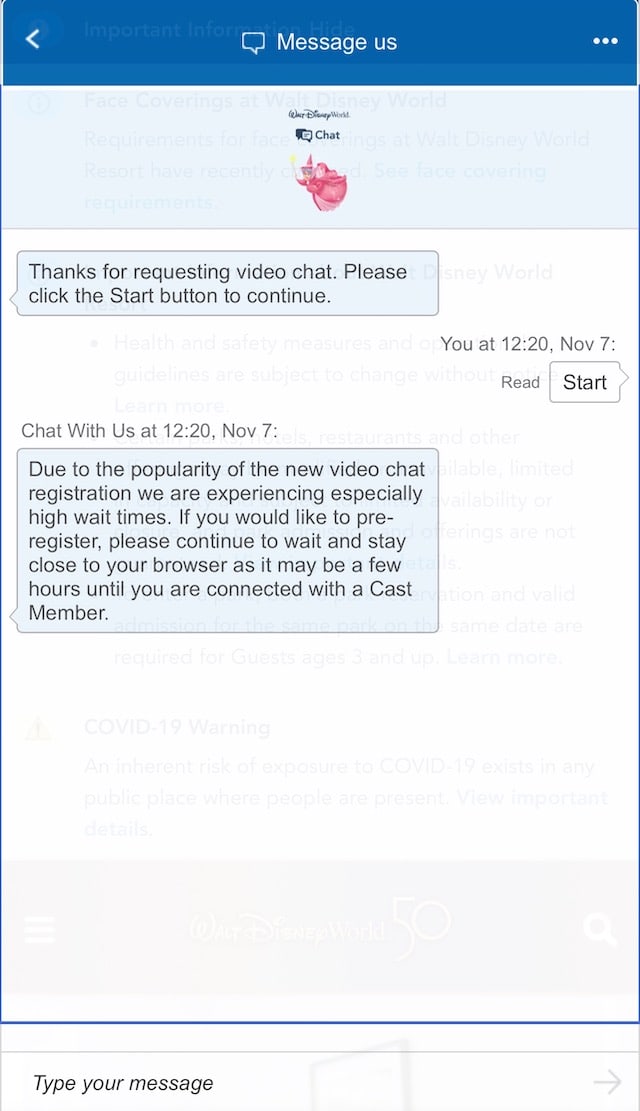 I will start out the updates by telling you that yes…we got through and completed the process! Here is how things went down, some changes I noticed, and what I can recommend.
First off, we entered the queue at 9:43am, and that is when I noticed the first change since my experience a few days ago. One of the difficult things was that it felt like you were getting no information about where you stood in the queue line. The chat bubble on the image below was new. While it still does not give you a countdown or other info, it is a step in the right direction.
From there we waited until being connected to our first cast member at 3:30pm. Yes that was a long wait, and below I will give you some tips about how to at least make your wait worth it. Cast members throughout the process were awesome and very helpful. We filled out a registration form, the cast member verified that we had an eligible park visit, and we were placed into another queue to wait for the video chat.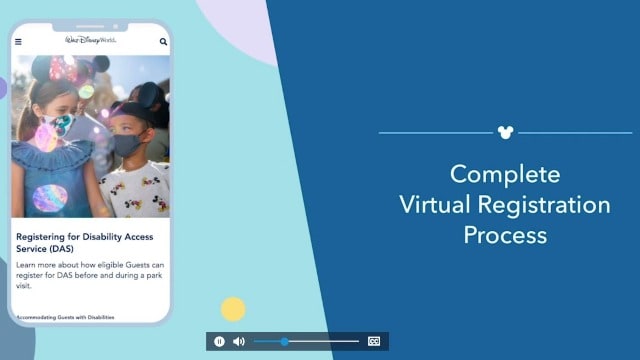 About an hour later, the virtual chat began. Remember, the person requesting the DAS service needs to be present for this video chat. During the chat we explained our needs and were set up for the DAS service. The video chat process was quick (10 minutes max), and after snapping a quick picture of the guest needing service we were placed into the next queue.
Almost immediately we were met with the next cast member who would help us with setting up the 2 Advanced attraction selection for each park day of our upcoming visit. For this part, the process is completed through traditional chat. The cast member asked which attractions I had in mind for our first day.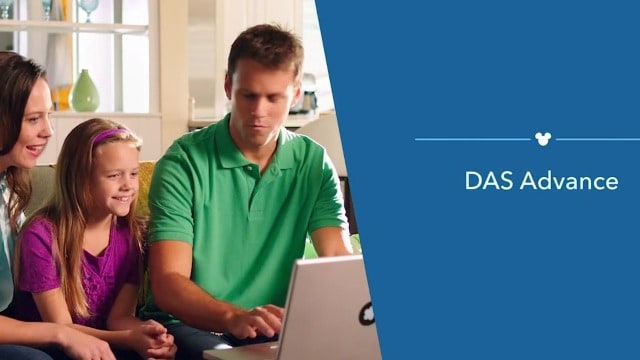 I gave a few requests and the general time of day and the cast member replied with our options. We repeated this process for each day of our trip. After about 15 minutes, we were finished.
Once you get through the queue, the process is great! The waiting is the hardest part…isn't there a song about that?
Tips and Recommendations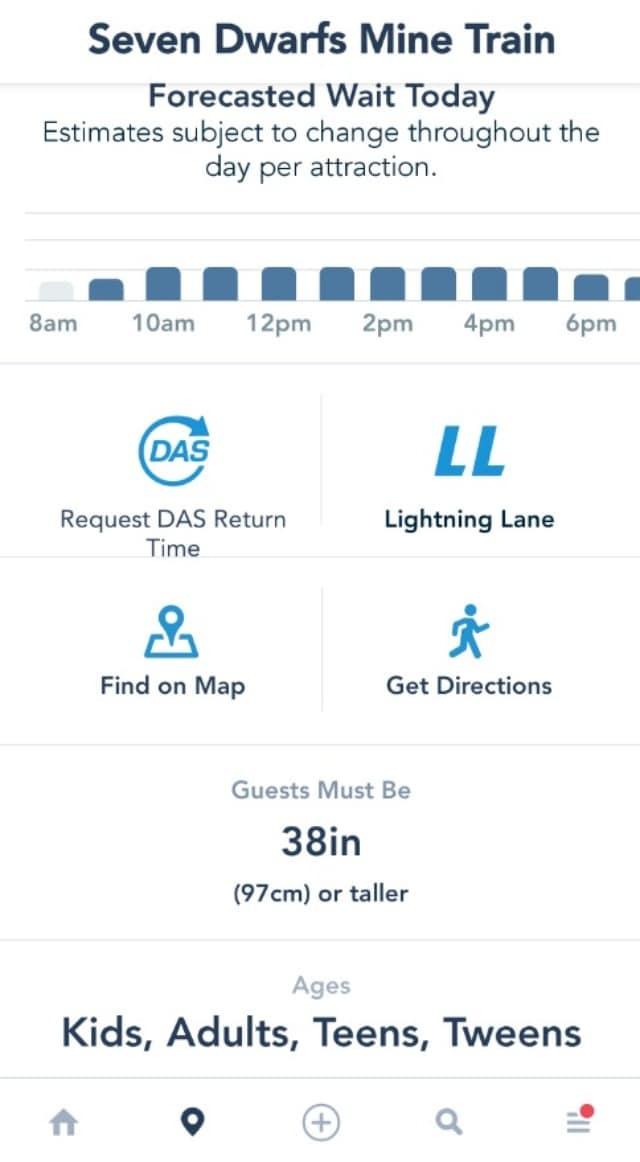 First off, the three cast members that worked with us through this process were tremendous. Shout out to Robbie, Monet, and Sparkle! Here are my tips to hopefully help more guests and families complete the process. It was frustrating waiting, and I don't have a way around that part. Haha!
Use Chrome web browser. I don't have any technical support to back this up, but I can tell you that we got through on Chrome. We had previously used Safari. Several of the guest reports on our last article indicated the same. The cast member on video chat confirmed as well that Chrome seems to be the web browser that most are getting through with.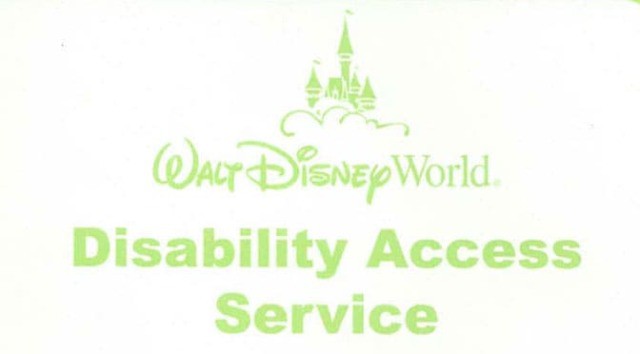 Disable sleep mode and screensavers. While you are waiting in the chat queue, do not let your computer go to sleep. If you have to reconnect, you move to the back of the line as if you just opened the chat per cast members.
Disable pop up blockers/ad blockers. When it is time for your video chat, a new smaller window will open for that chat to take place. Be sure you have your pop up blocker or ad blocker disabled. If you made it that far, you don't want to have that technical issue get in the way!
Have a skeletal plan of attractions ready. When you are ready to make your DAS Advanced ride selections, it would be helpful to have some targets in mind for each park day. For example, our first park day we will be traveling in the morning. I gave the cast member some attractions and I asked for late afternoon or evening availability. This helps the cast member streamline the process for you.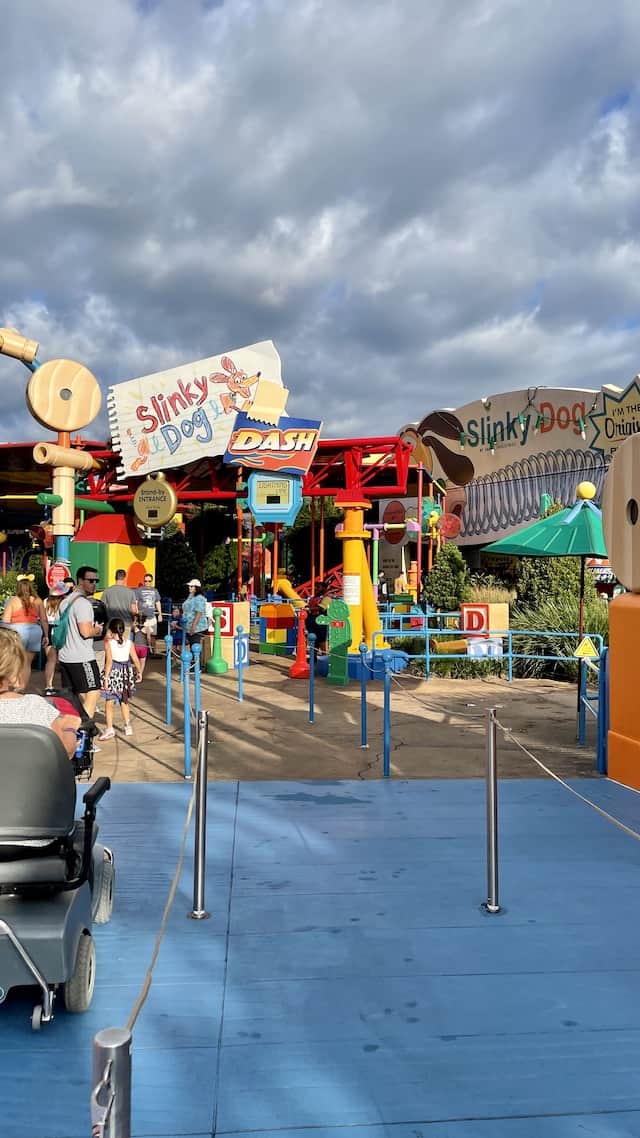 Link all members of your traveling party in My Disney Experience. In addition, make sure that each guest has a valid theme park admission and park pass reservation.
Have the DAS guest available for chat. As a reminder, make sure the guest requesting DAS service is available when it is time for the chat. This is difficult for many people to set aside multiple hours. One positive is that if the person requesting is not the planner for the trip, they only need to be there for the chat portion (for me it was about 10 minutes).
The other steps can be completed by the planner in your party outside of the video chat. The pre-registration form as well as the selection of your two DAS advanced attractions are done through traditional chat.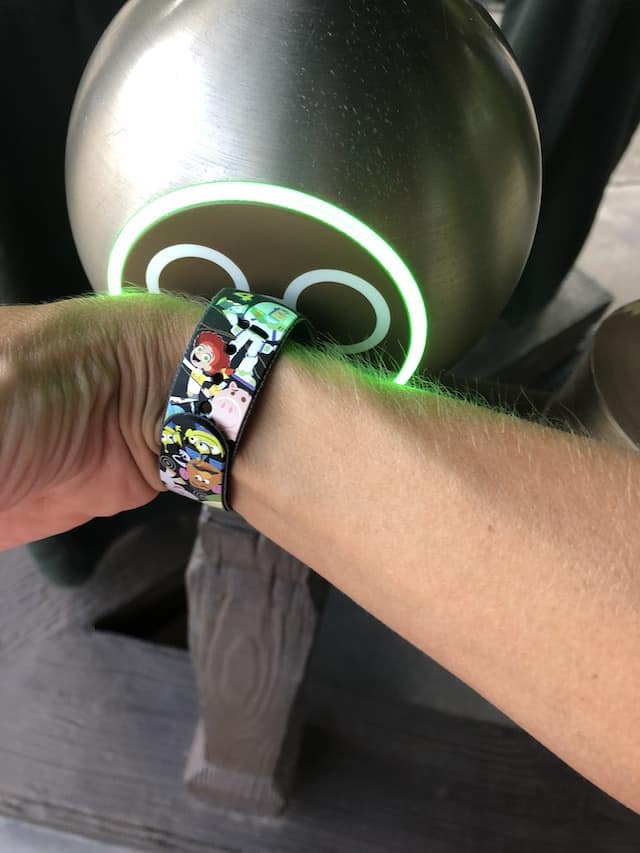 Since my last article the other day there were some small improvements. I still think there should be more updates as you are waiting on hold. Hopefully the tips above help you in this process and eliminate some frustration.
Have you tried the new DAS Advanced pre-registration system? Were you successful? Any additional tips for getting through? Let us know in the comments and on Facebook!
Are you planning a vacation? Reach out to our trusted travel agency sponsor Authorized Disney Vacation Planner
Mouse Class Travel
!