If you find yourself in need of a scooter at Disney, check out our tips to reduce stress and make it easier to get around.
Scooter Newbie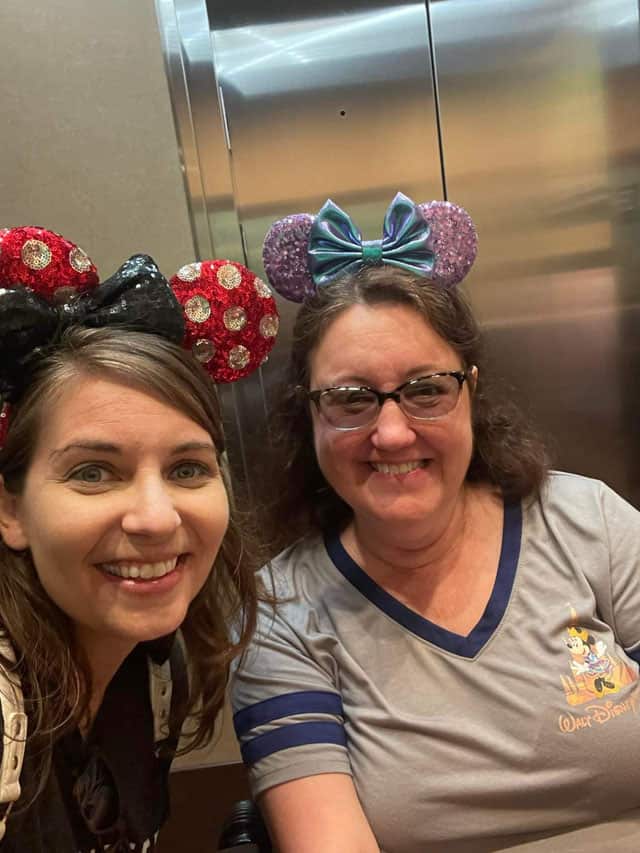 Due to an injury, I (Susan) found myself in an electric scooter at a recent visit to Disney. However, I had literally no idea what I was doing, but I learned so much. Then, I kept saying I wish someone had tips on how to get around without too much stress. Hopefully, these tips will help you if you find yourself in need of a scooter.
I thought for sure my injury would be better before my trip, but I was wrong! This left me scrambling because I had no idea how to go about reserving one.
At the Airport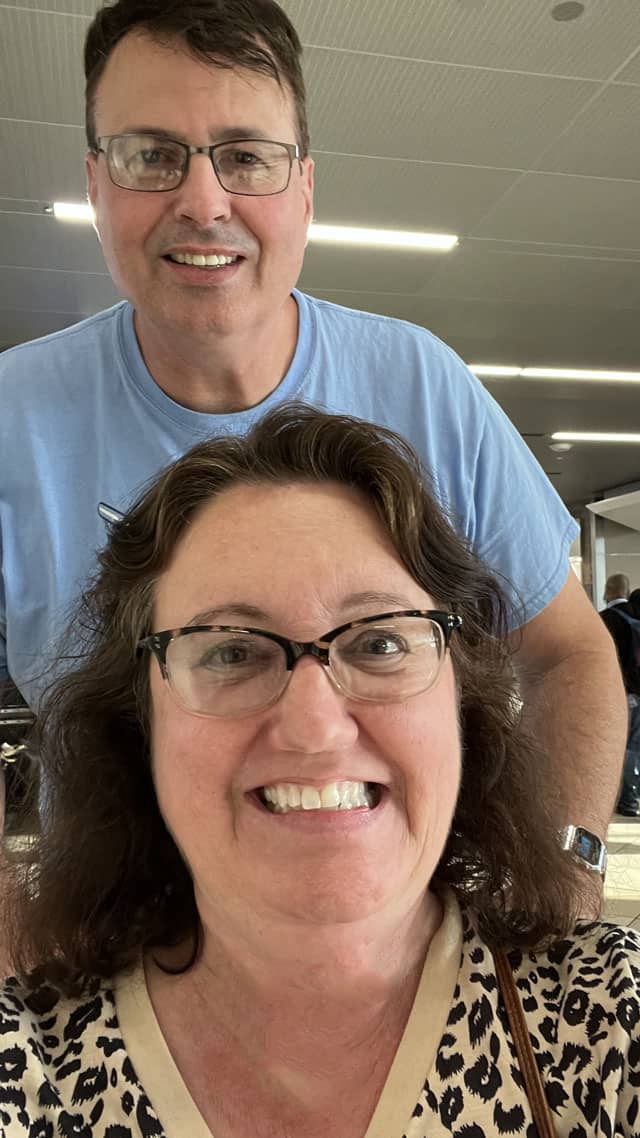 If you need wheelchair assistance at the airport, add "wheelchair assistance" to your ticket. This should be an easy ticket option, but if you have difficulty finding it, call the airlines beforehand. Also, they will give you a wheelchair the same day, but it may take longer to get assistance. One airport allowed my husband to wheel me to the gate but another did not.
Airline employees will wheel you and your luggage to and from each gate. Then, you will board first with guests needing assistance. You'll be asked if you can transfer from the plane entrance to your seat.
Featured Vendors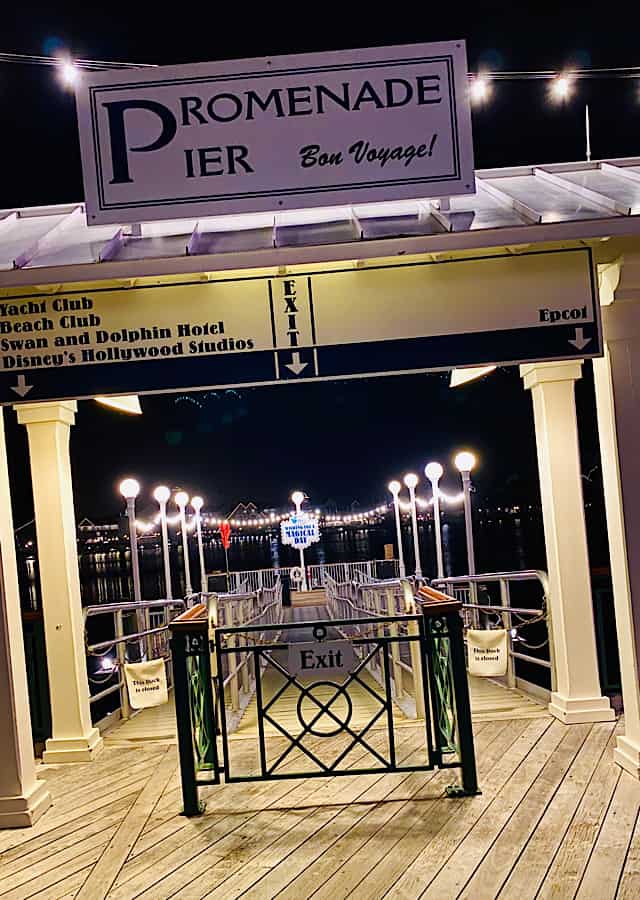 Disney's website provides information on their featured venders to offer stroller, ECV and wheelchair rentals at Walt Disney World Resort. Using a featured vendor, guests don't need to be present when the equipment is delivered to any Disney World Resort.
Preferred vendors work with Disney Resort cast members to manage deliveries and returns of rented strollers, ECVs and wheelchairs.
Renting Directly from Disney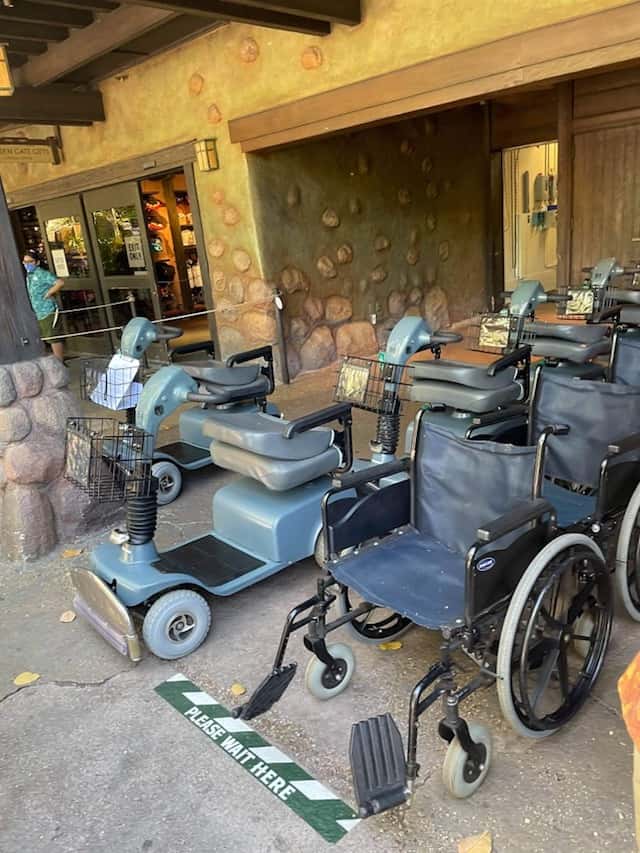 If guests require assistance, Electric Conveyance Vehicles (ECV) are available for rent at all Walt Disney World theme and water parks as well as Disney Springs. Daily Rentals are transferable between all locations. You pay just once for the day. Length of stay rentals are not available for ECVs. However, vehicles can be held if Guests leave and return to the same park on the same day.
ECVs rented from Disney may not be removed from the destination where they were rented. When exiting your location, simply return your ECV to the rental counter to receive your deposit. If you're at Disney Springs, your deposit will be returned at this time. If leaving one theme park and visiting another, present your rental receipt with your deposit to secure another ECV, if available.
ECVs are available on a first-come, first-served basis.
Reservations are not accepted, and quantities are limited. Please plan to arrive early.
Guests must be 18 years of age to rent and operate ECVs.
The maximum weight is 450 pounds. ECVs are not designed to hold more than one person.
I do not recommend renting a 4-wheel ECV from Disney. They are harder to steer.
Other Mobility Companies
I (Susan) found myself needing a very last minute ECV. I called several companies until I found one with next day availability. I was literally in the airport heading down at night needing it the next morning. A downside to using other companies other than a preferred Disney vendor is that you must be present when it is dropped off and picked up at a Disney World owned resort.
When using a non-preferred Disney mobility company for Disney owned resorts, guests are required to be present for scooter drop off and pick up.
However, the company I chose gave me a choice of times and simply met me in the lobby the next morning. The employee who dropped it off gave me tips and showed me how to use everything. It was a very easy process. When we checked out, we were staying at the Dolphin Resort. Since this is a non-Disney owned resort, I didn't have to be present when the company came. I just dropped it off at bell services.
Type of Scooter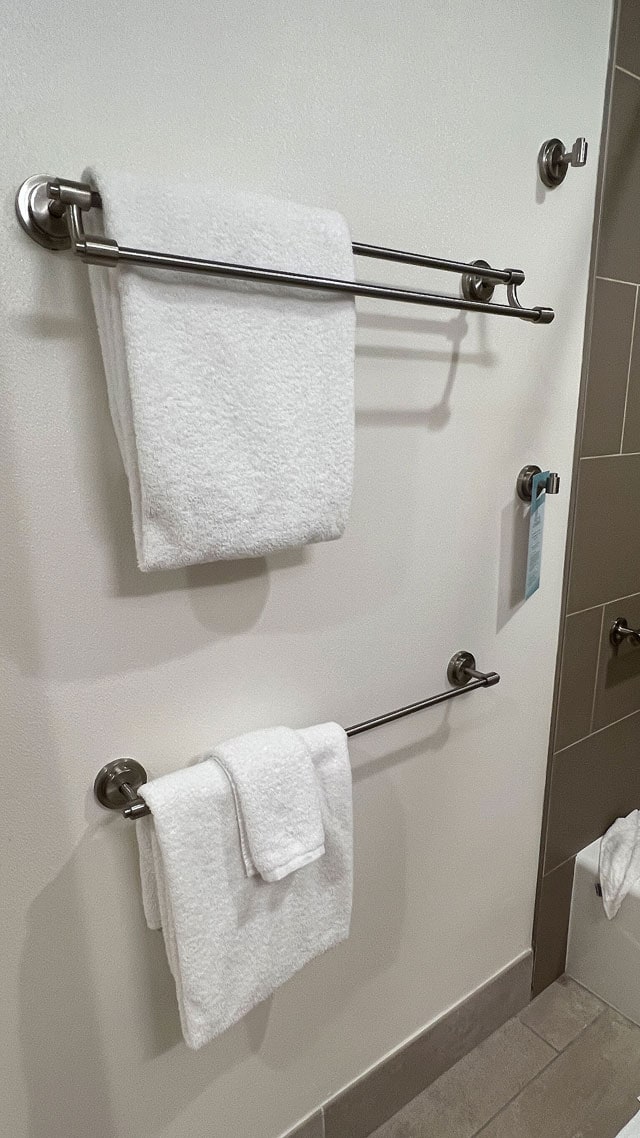 Because I booked at the last minute, I didn't ask what options were available but just took what they had. It came with lots of extras like a usb charger and phone holder. Both of these were very helpful since you need to use your phone for just about everything at Disney.
If you rent directly from Disney, you will receive a clunky 4-wheel ECV. I highly recommend a 3-wheel lighter version since it has a much greater turning capacity and is so much easier to handle.
Transportation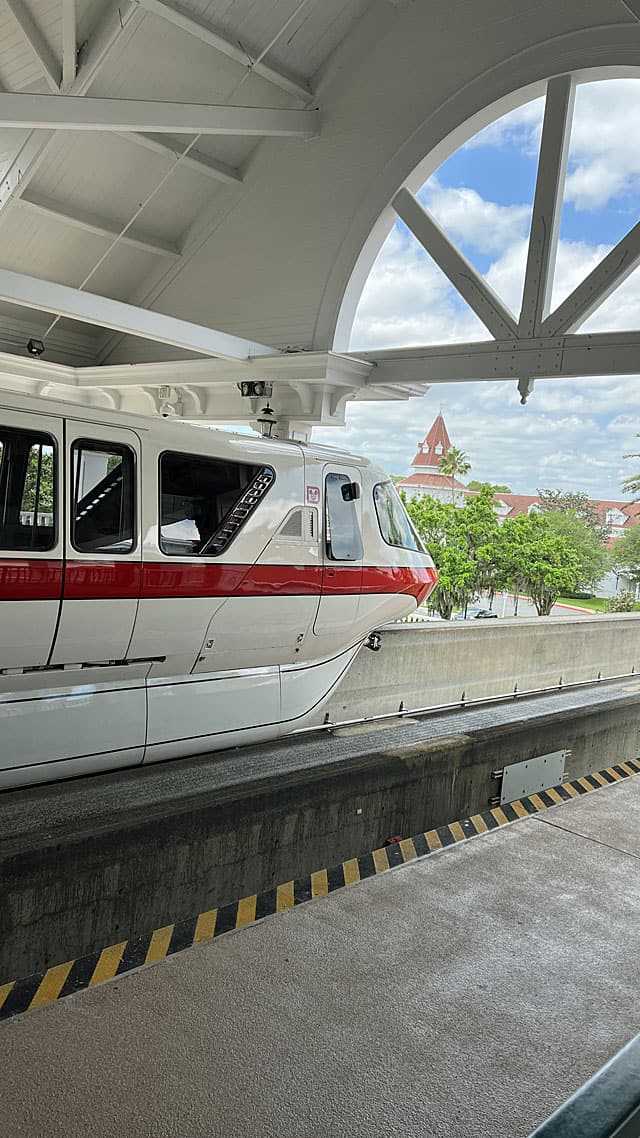 I was told to practice backing up before riding on Disney transportation. This is a great idea is you're not used to riding an ECV. We stayed at the Dolphin resort while using one and I used the boat, bus, and monorail. When riding the friendship boats, you'll be asked to back in at the rear of the boat. There is more room on boats to maneuver, and people are also loading while you're getting in place. This made me a little nervous, but I eventually got the hang of it.
For the bus, there is no one else boarding, and you'll need to basically parallel park after going up a small ramp. Cast Members will assist you if needed. Your family can board right after you which is nice to sit together. Note that while ECV's load first, they unload last. The monorail is the easiest to board because after a small ramp is put out, you go straight in. People load all around you, but I found it very simple. However, when exiting the monorail you back out. This was a little awkward but also not hard.
While I didn't ride the skyliner, it also accommodates ECV's. You will be instructed to board a still gondola, then go on your way!
When staying at an EPCOT resort, you can take your mobility scooter on the walking path.
Attractions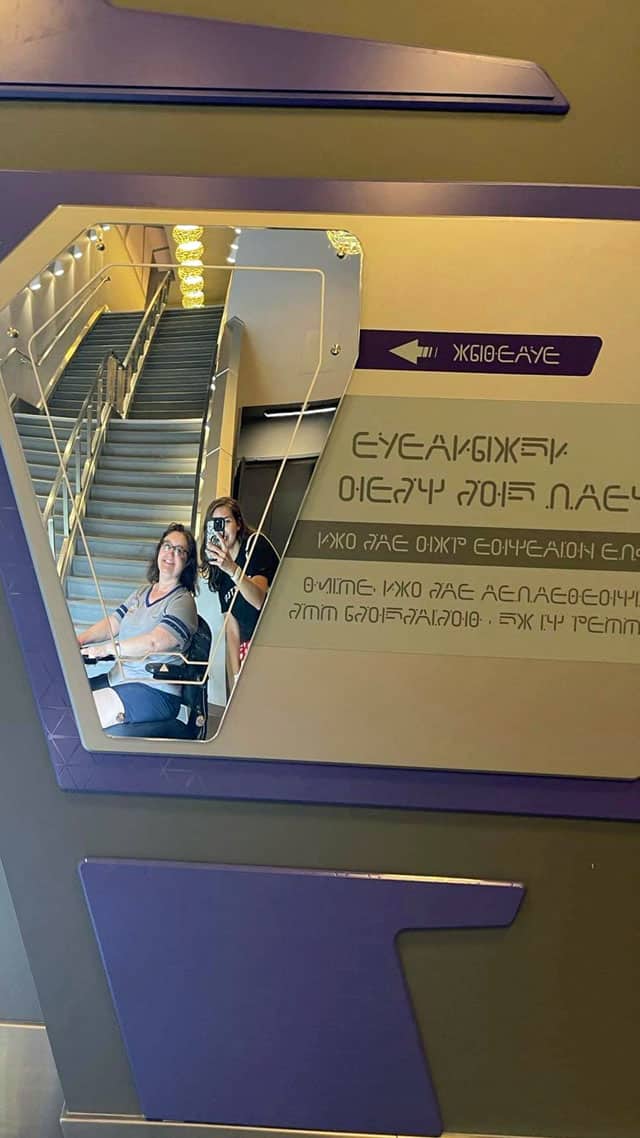 Entering attractions was a little tricky at first. Some rides have a separate wheelchair entrance, while others have you go through the queue. The 3-wheel ECV's are so much easier to weave in and out of the lines! I recommend asking a Cast Member before getting in line.
Each attraction cast member asks if you're able to transfer out of your chair to ride. While some attractions, like Soarin' and it's a small world, do not require guests to transfer, the majority of rides do. Cast Members will park your ECV at the exit of each ride, making it convenient to access.
All multi-level attractions have a nearby elevator.
Pacing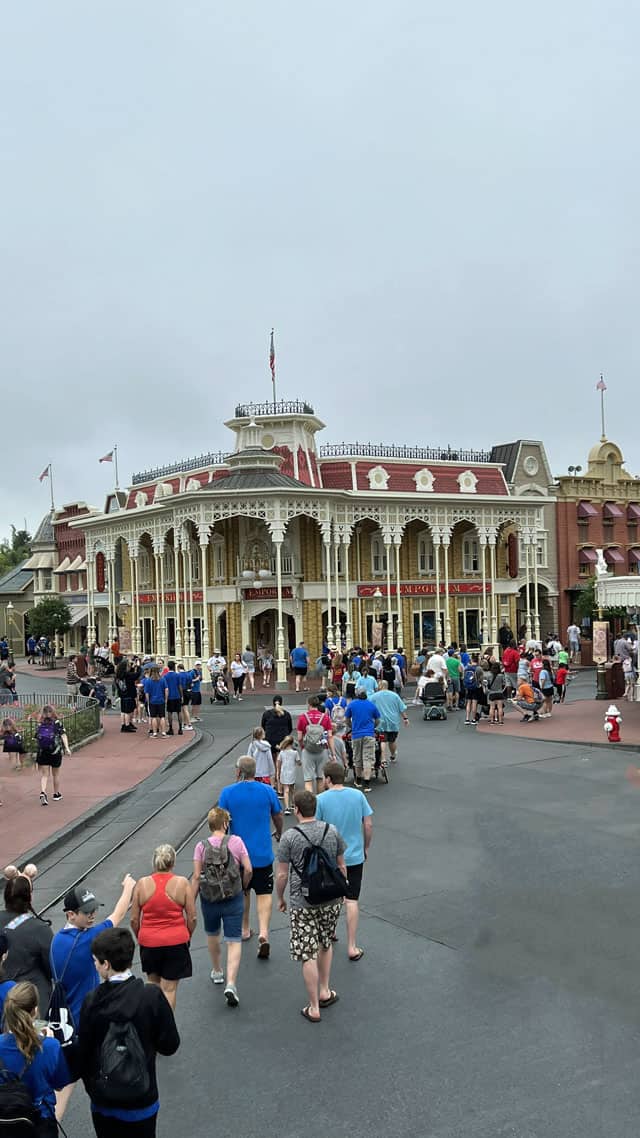 Remember that while you're having fun zipping around on your ECV, family members are still walking. To avoid wearing out family members and possible meltdowns, be sure to pace yourself to your party's walking speed. I may or may not have learned this the hard way.
While riding your mobility scooter, make sure you put sunscreen on your arms if you don't usually do that since they will get extra sun.
Final Thoughts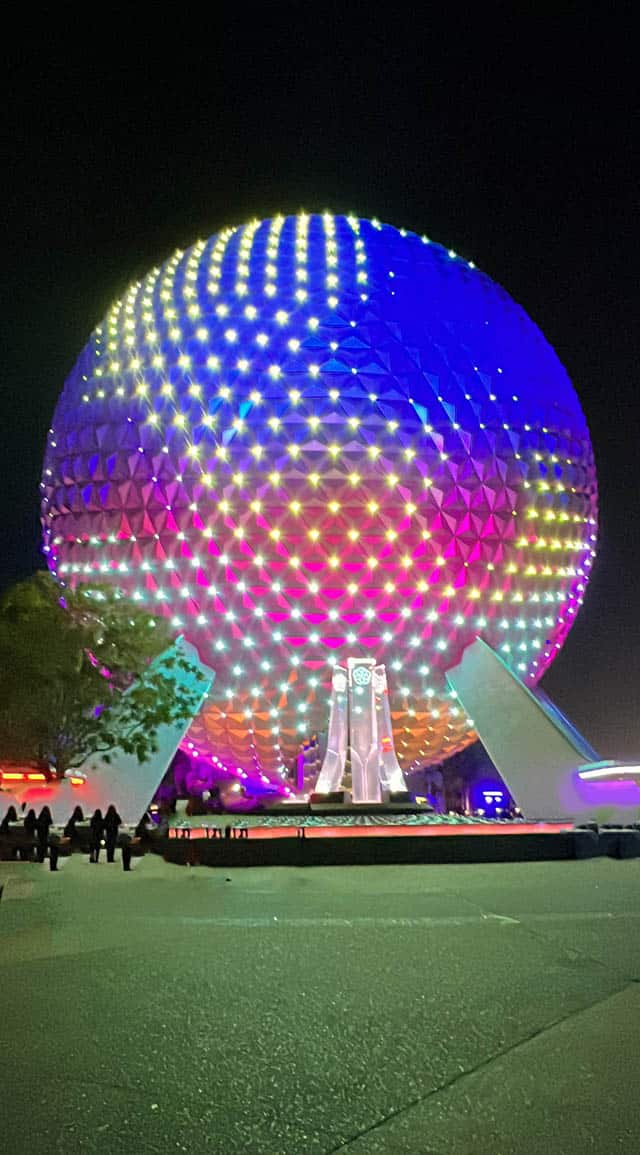 To charge, simply plug them into any wall unit. Works best to do this overnight at your resort.
If you find yourself in need of a wheelchair and have no idea what that will look like, don't panic! There is definitely a learning curve. Hopefully, you will try renting an ECV instead of cancelling your trip if your health allows it. And remember, if you are not well enough to go, it's okay. Disney isn't going anywhere! No one wants to cancel a trip, but sometimes it's unavoidable.
It's my hope that this post helps you make an informed decision. Finally, check out ways Disney accommodates guests with accessibility needs HERE.
Have you used an ECV at Disney? If so, what tips do you have? Please let us know in the comments below, or tell us on Facebook.

Are you planning a vacation? Reach out to our trusted travel agency sponsor Authorized Disney Vacation Planner
Mouse Class Travel
!