Check out everything you need to know about the Caring for Giants backstage tour. You'll see it's easily the best backstage tour Disney World offers!
About the Experience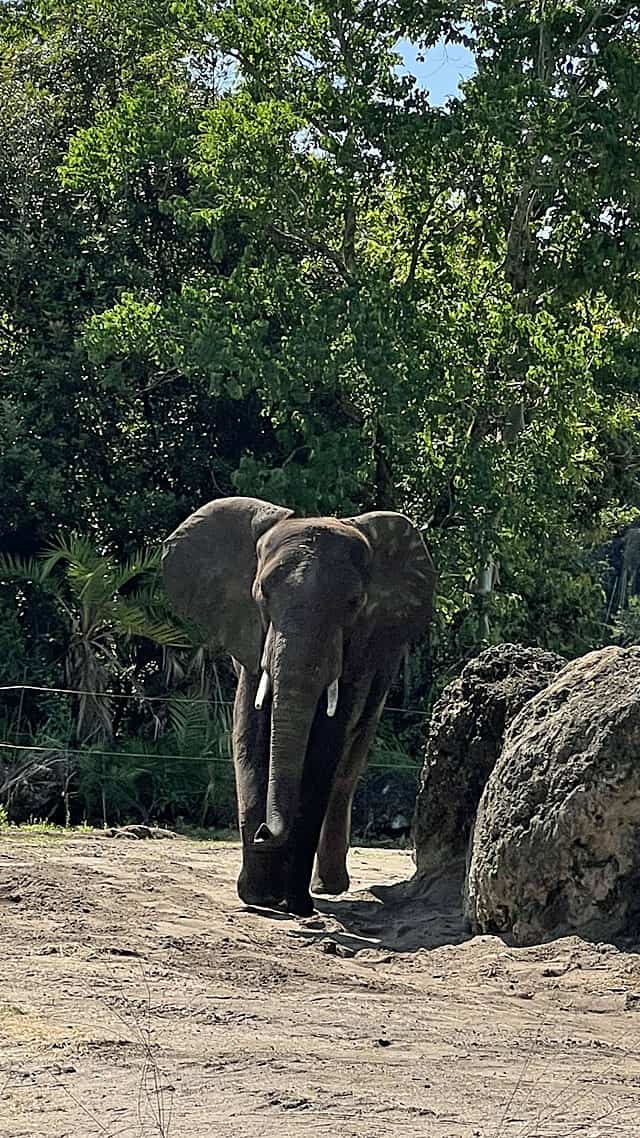 During this 60-minute experience, a fantastic Guide provides insight into the inner workings of Disney's African elephant herd. Your guide will provide a glimpse into the day-to-day care of these amazing animals and share stories of Disney's conservation efforts dedicated to the preservation of wild populations throughout the world. Check out the Save the Elephants project HERE.
Throughout this experience, you'll be able to observe the elephants from approximately 80 to 100 feet away, so you'll enjoy a closer encounter with the elephants than you would during other in-park experiences.
Need to Know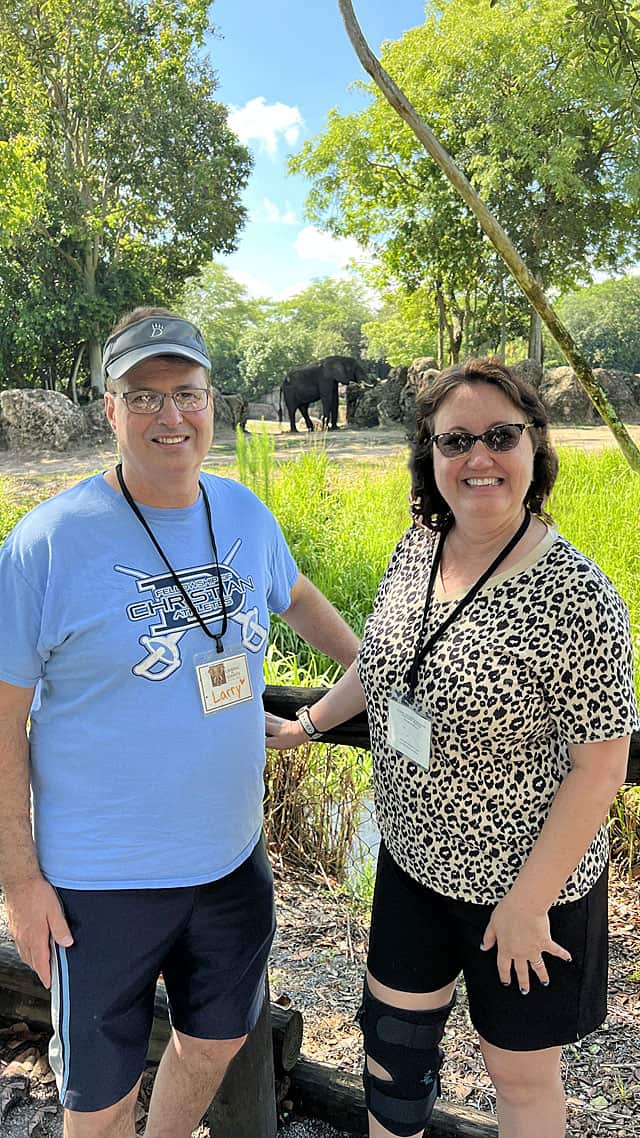 Theme park admission is required but is not included in the price of this tour. Be sure to book theme park reservations at Disney's Animal Kingdom before you go. Please keep in mind that this is an outdoor experience.
After entering the theme park, head to Africa toward the Kilimanjaro Safari. Disney recommends you check in 15 minutes before the start start time at the Curiosity Animal Tours kiosk. It's located across from the Kilimanjaro Safaris attraction entrance. Late arrivals may not be able to join the tour.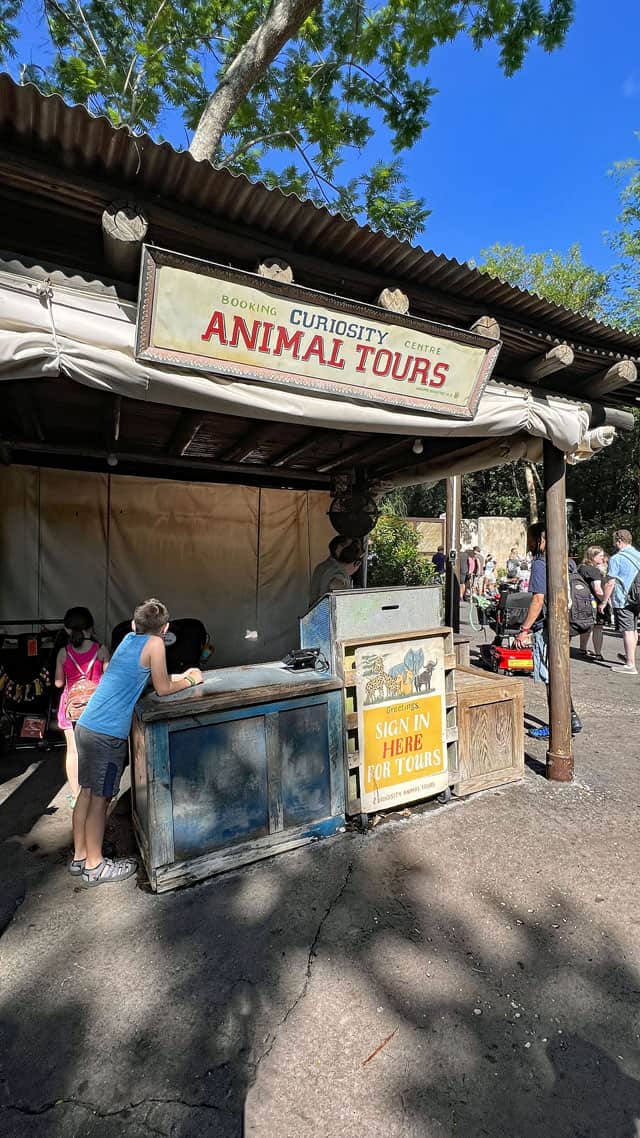 Be sure to check the weather forecast and wear comfortable clothes and shoes. There is minimal walking involved, but if you're like me (Susan), you'll want to stand the entire time to take in the views of the elephants (I leaned on a fence so it wasn't difficult standing).
Late arrivals may not get to join the tour.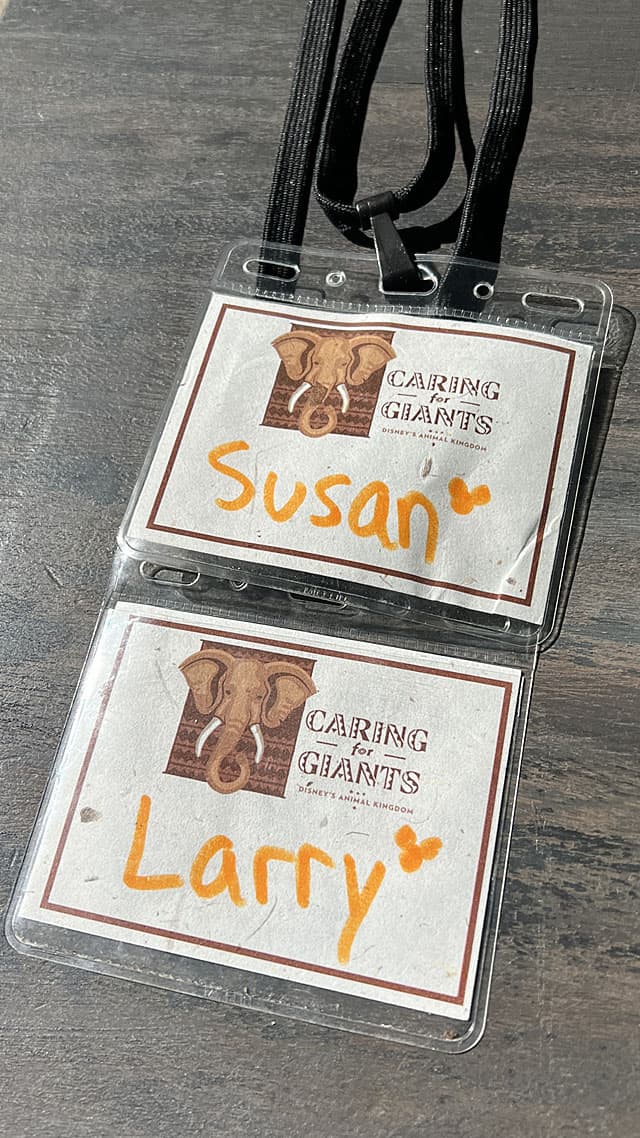 Take a look at the name tags we received above. Our guide shared that they were made mostly of recycled elephant poop. You heard that right!
Before starting the tour, the group, along with Disney's tour guide walks through a "Cast Member only" area. Keep in mind that Disney does not allow cameras, video equipment or cell phones while backstage. Our guide instructed that once we saw elephant areas we could begin shooting photos. I took so many!!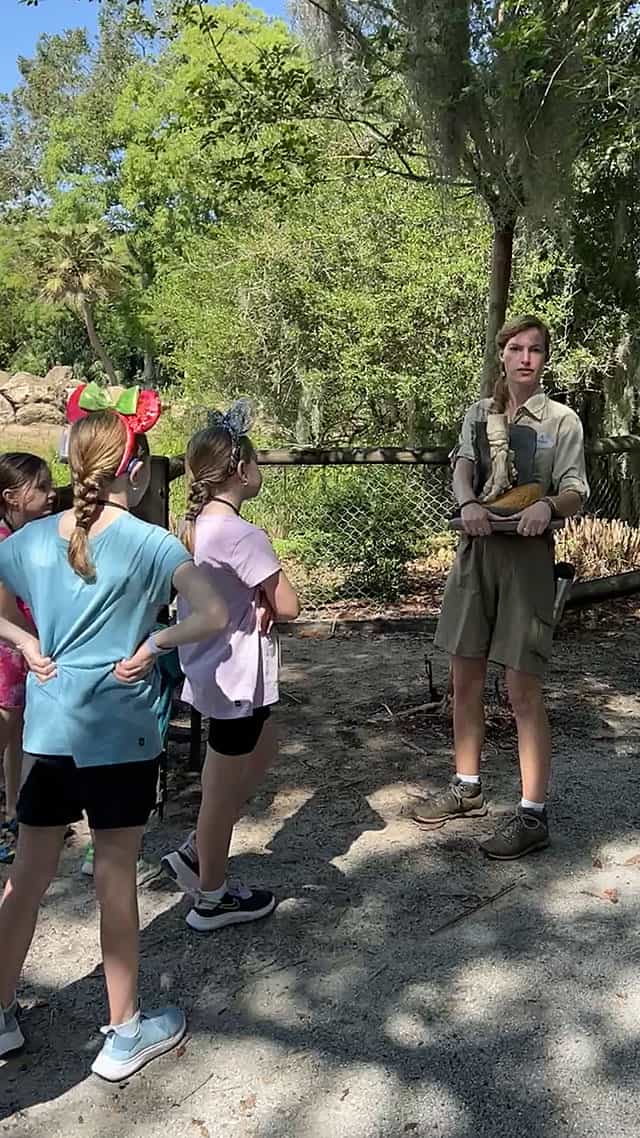 Many Disney backstage tours have age restrictions, and Caring for Giants is no exception. Guests under 18 years of age must be accompanied by a participating adult (18 years of age or older). Guests just need to be 4 years of age or older to participate.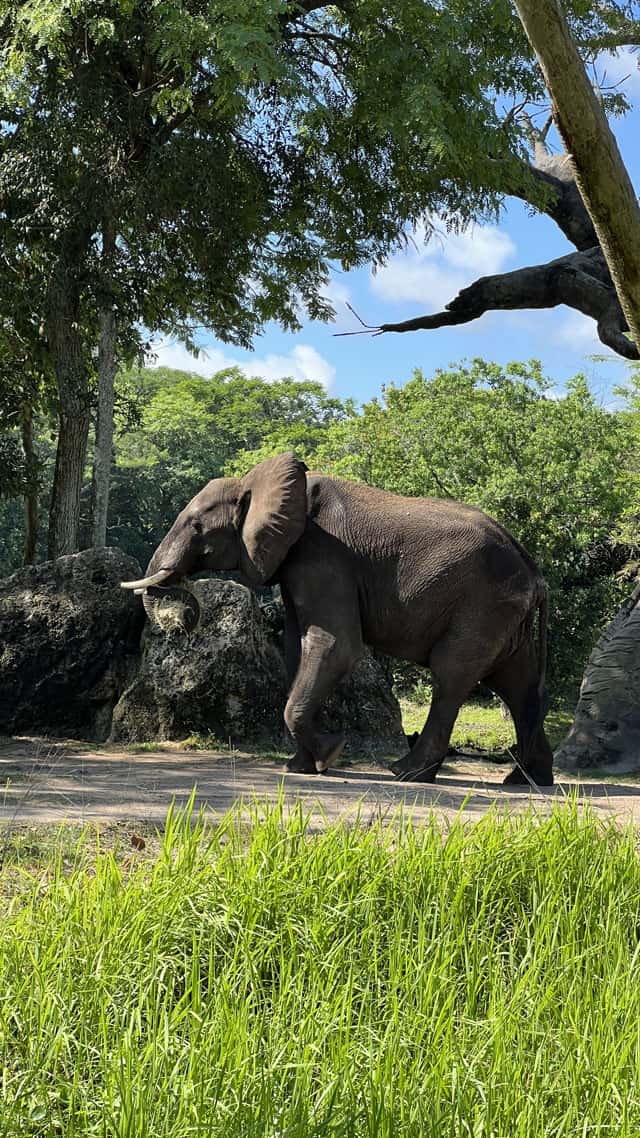 You will forfeit the entire price of this experience if you no-show or cancel within 2 days of your reservation. For information about service animal policies for this experience, please call the Guest Animal Experience team at (407) 938-1373.
Non-transferrable wheelchair guests may remain in their wheelchair throughout this experience. However, due to limited capacity onboard the backstage transport vehicle, all accommodation requests need to be confirmed by calling (407) 938-1373.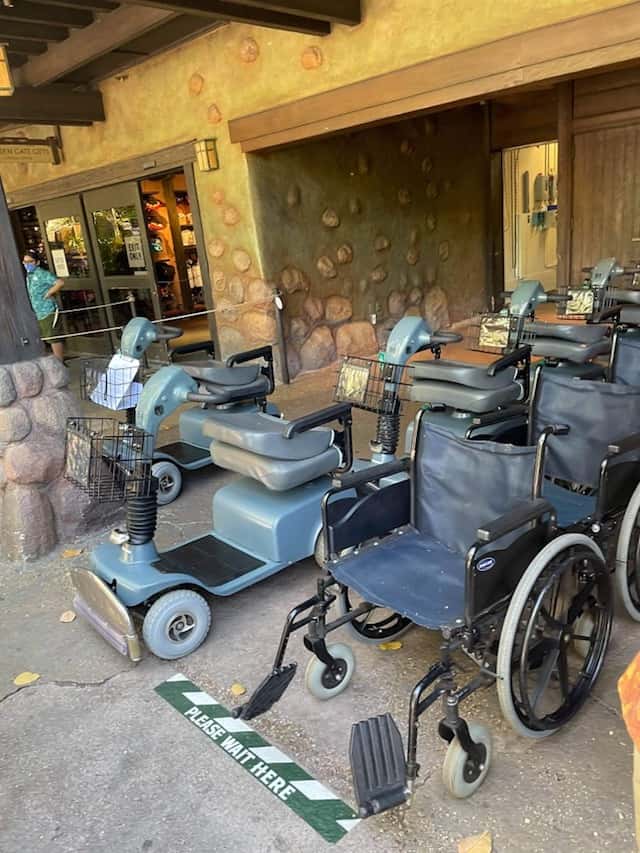 Guests using an ECV must leave their mobility device onstage where they will retrieve them upon conclusion of the experience. Guests must walk by themselves, or be assisted by a member(s) of their party in a courtesy wheelchair to participate in this experience.
This experience visits outdoor areas containing common allergens such as dust and hay. Since it's outdoors, there may be biting/stinging insects. However, we didn't experience any insects.
Getting Started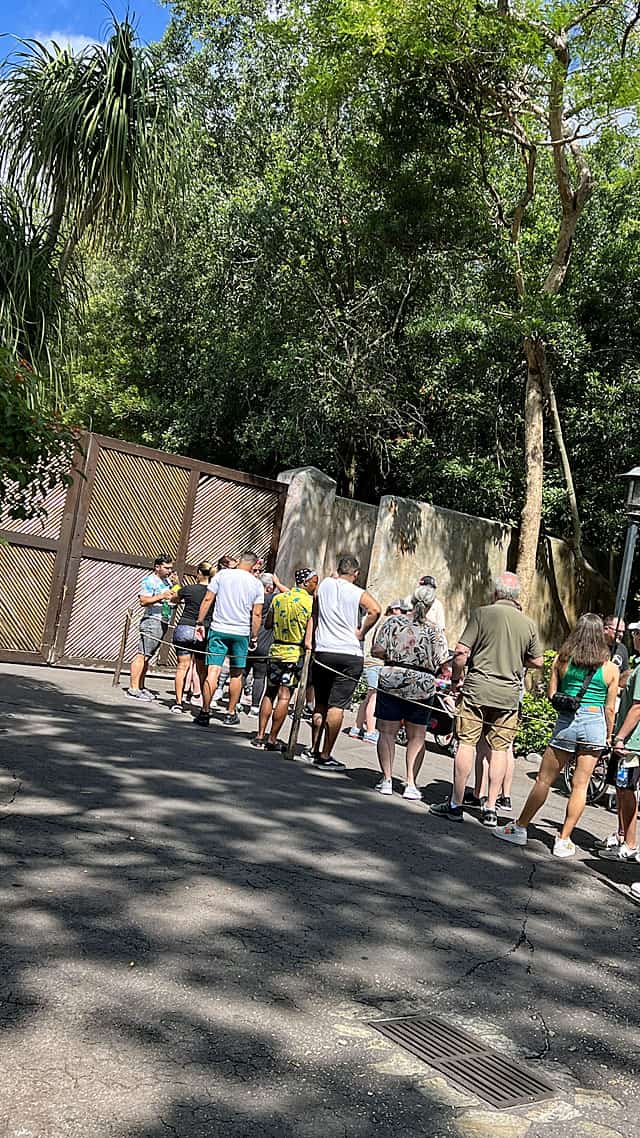 After checking in, we waited behind the kiosk for the start of the tour. We were so excited that this was a small group experience. We had 14 people in our group, and the Cast Member stated that this was the maximum size.
Promptly at 10:00am, our friendly tour guide explained that we were heading backstage and no photos were allowed there. We walked through a fence opening.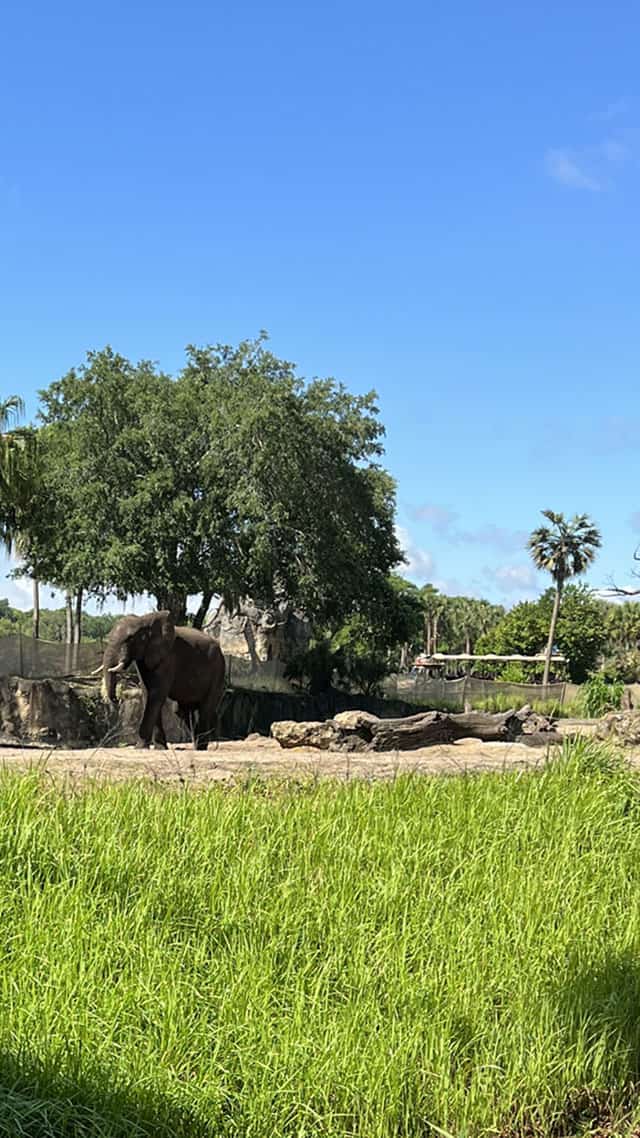 You can see the safari in the background of the picture shown above. On our tour, we were so much closer to these magnificent elephants.
After walking backstage for a few minutes, we came to a large parking lot. Here, we saw a few Kilimanjaro Safari vehicles parked which was cool. Our transport included an air-conditioned mini-bus. Also, due to a knee injury, I had limited mobility. I was asked at check-in if I was able to transfer from my wheelchair.
Since I was able to do that, our guide allowed me to park my wheelchair close to our bus. Then, I carefully climbed the stairs to sit down. It was a very short drive to our destination.
First Impressions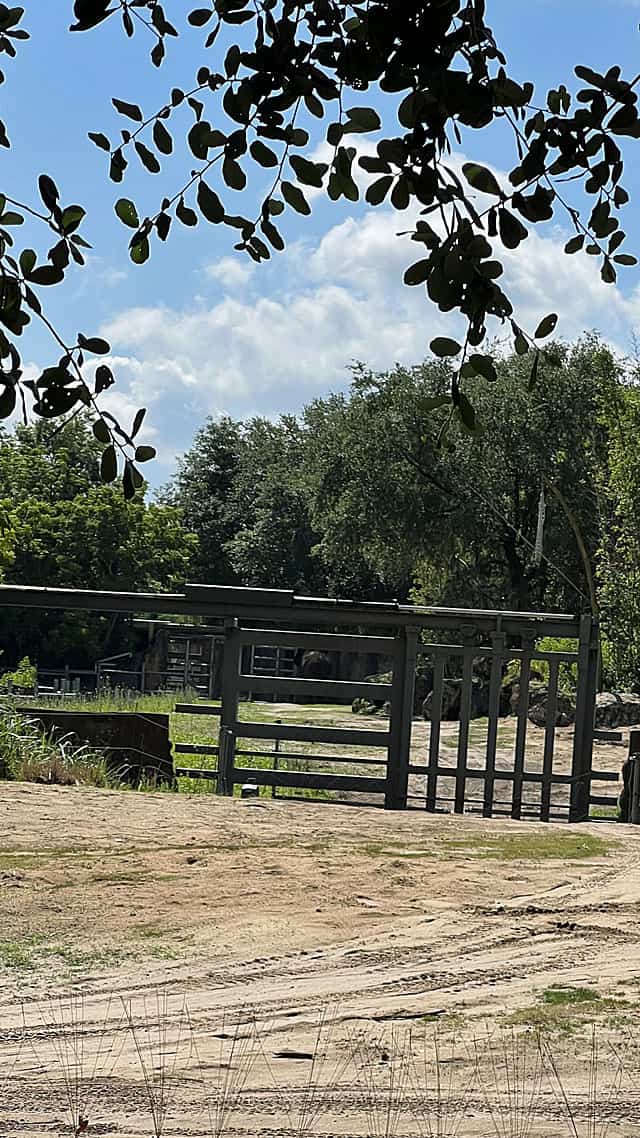 Mac, a male elephant, was behind the fence shown above. He didn't get close to us though.
Upon arrival, everyone took a series of ramps upward from the backstage road to our savanna view. There was a fence separating us from the savanna, which was nice to lean on. Note that there were also a couple of benches behind the walking path. I was way too excited though and wanted to stay as close as possible!
Our guide was not only friendly, but also incredibly knowledgeable about elephants and their care. She kept the kids engaged and encouraged questions along the way. This is such a wonderful tour for the entire family! I love that it's also educational.
Elephant Encounters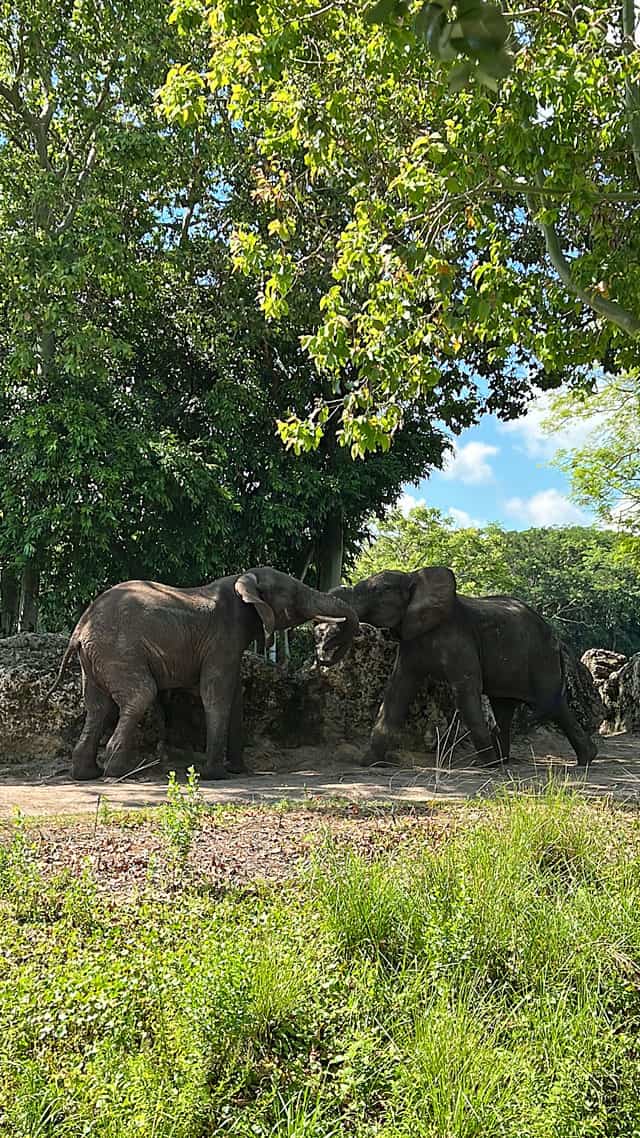 Our elephant experience was like nothing I've ever experienced. The two "teenage boys" shown above are Tsavo (right) and Jabali (left). Our guide said Tsavo was her favorite because he was mischievous. He was definitely the most entertaining!
Not only were we closer but seeing them playing together was something I'll never forget. They also ate leaves and straw and sprayed sand all over themselves. It was so cool seeing them for an extended period in their habitat rather than driving by at the safari.
Final Thoughts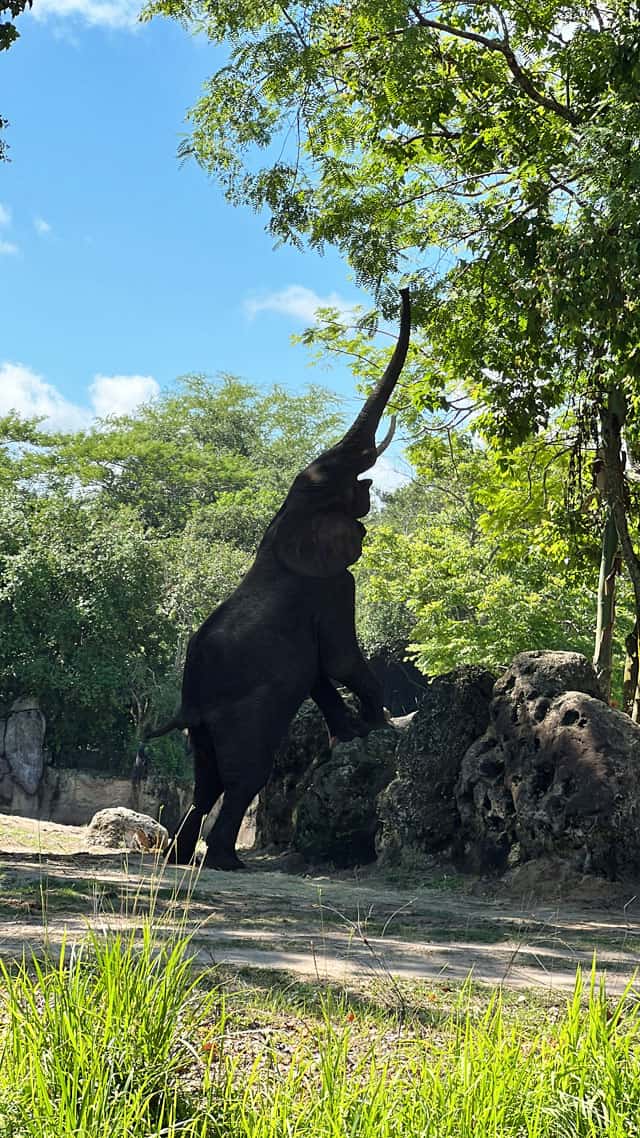 Disney's backstage tours, including this one, are incredibly popular so book early! This is one of the most reasonably priced tours at $35 per person (excluding tax). It's the best family tour because it's so fun and educational. Because these elephants stay in this area, you'll see so much more of the elephants. Elephant experiences aren't guaranteed, however. Our guide stated that they never force any animal to do something. They do entice them with food and treats.
Caring for the Giants backstage tour is a wonderful experience for the entire family!
When we were leaving, our guide told us about some of the girl elephants. Then, she gave us the line of the trip: "You don't mess with elephant drama." She said the elephant girls have plenty of it.
Have you taken any backstage tours? Will you check this one out for your next vacation? Please share your thoughts in the comments below or on our Facebook Page.