Are dessert parties worth the extra money on top of admission and/or special ticket prices? Let's take a look at why you may want to consider one and when you should stay away from them.
Dessert Parties at Disney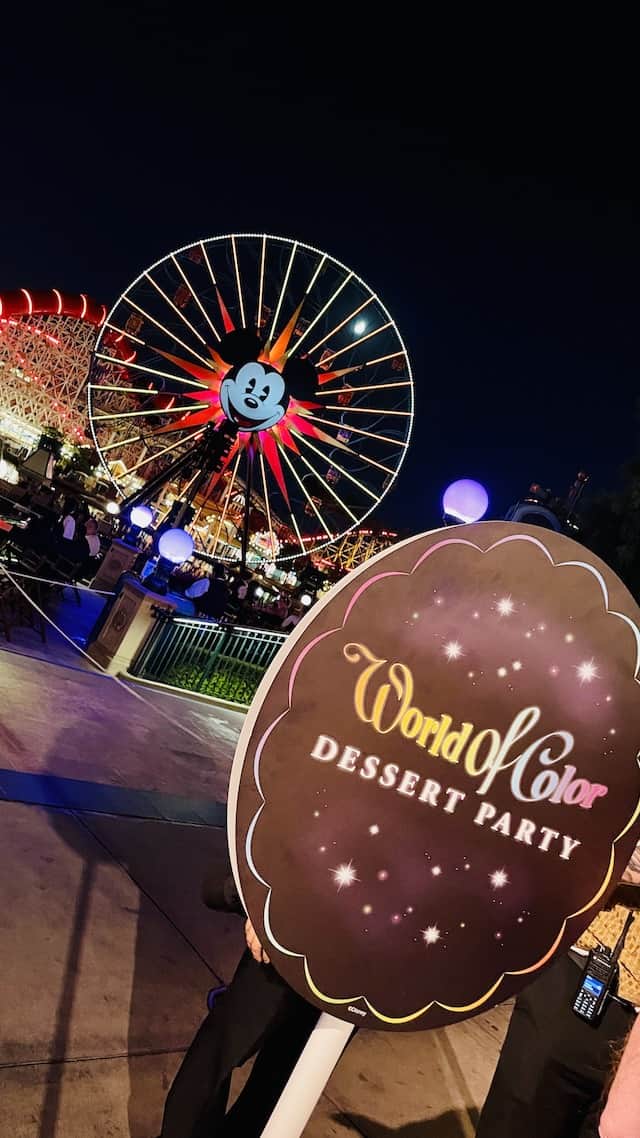 Disney World and Disneyland put on some great shows. In fact, they are so popular many guests wait hours for a great viewing spot! To alleviate some of the crowding issues, Disney offers dessert parties for several of its shows. These include Enchantment at Disney World and World of Color at Disneyland. Seasonal shows also offer parties like Oogie Boogie Bash, Mickey's Not So Scary Halloween Party, and Mickey's Very Merry Christmas Party.
What is included in a dessert party? Well, for one there are plenty of dessert options. These may be served buffet-style where you serve yourself, or it may be a plated dessert party. Disney also serves alcoholic and non-alcoholic beverages at these parties.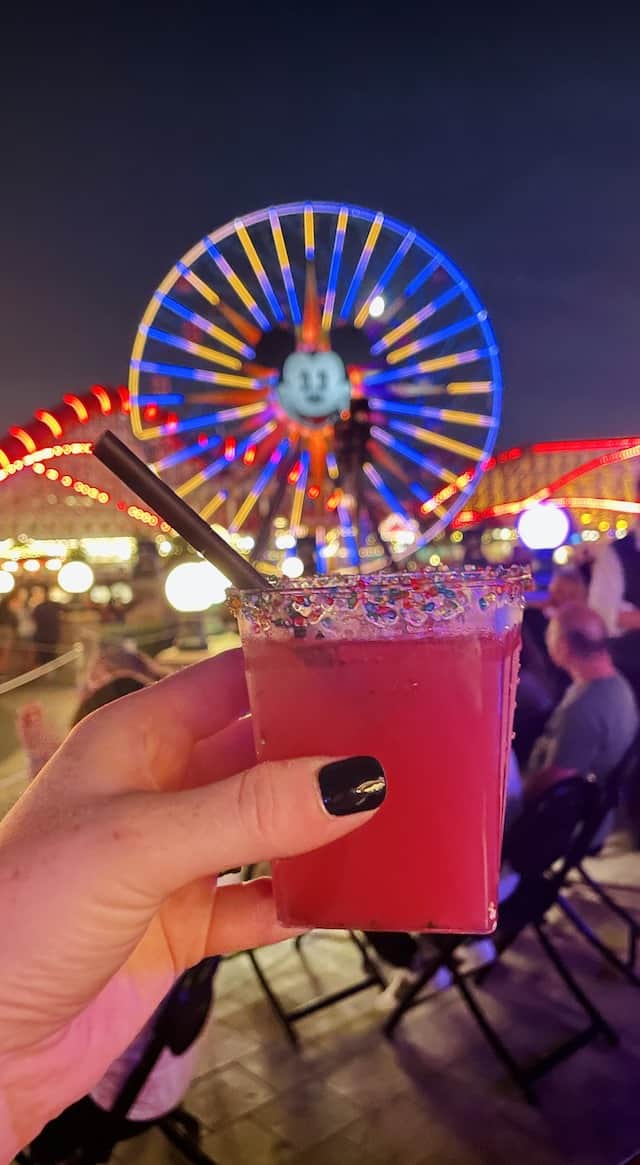 Second, and probably more important, is dessert parties offer fantastic reserved seating without the need to wait for hours. If you are willing to pay close to $100/person, you can skip the crowds and have your own seat or viewing area for the show. A search for dessert party/parties on our blog will bring up several reviews of various dessert parties at Disney World.
World of Color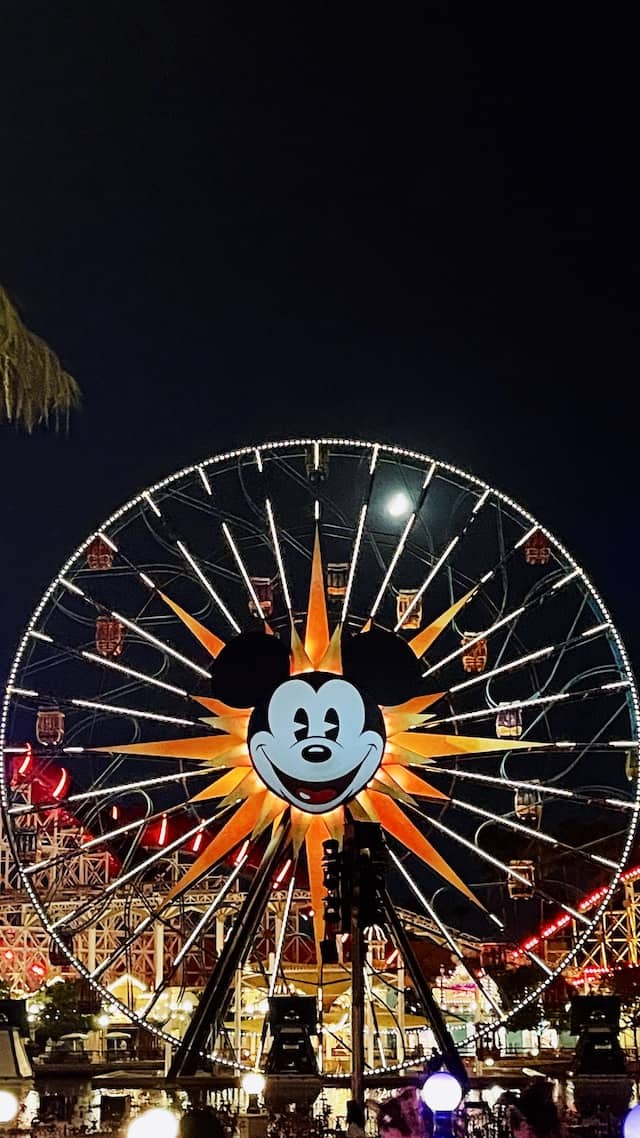 My family and I (Monica) completed our first trip to Disneyland, and we wanted to experience as much as we possibly could. We are certainly more of a Disney World family, so we were not sure if/when we would make it back to Disneyland. Therefore, we splurged on a lot of experiences.
We decided to stay at the Grand Californian for a few nights to get a taste of that Disney Magic we love when we stay at a Disney Resort. I also decided to book a dining package so we could enjoy Fantasmic! with good food and reserved seating. My family also enjoyed desserts with our World of Color viewing. It was all part of making sure we could experience as much as possible with as little of a headache.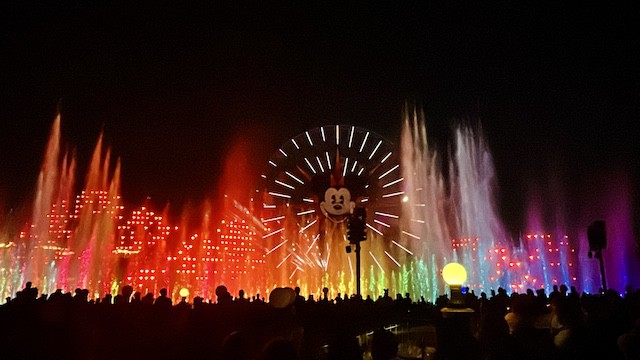 World of Color is a 22 minute show at Disney's California Adventure. It honestly reminds me so much of Harmonious without the barges. Water effects, lasers, and pyrotechnics work effortlessly with your favorite Disney and Pixar scenes to deliver a spectacular performance celebrating the magic of Disney storytelling.
The show was towards the top of my "must-do at Disneyland list." So, I began to research ways to see the show. You can see the show via standby, virtual queue, or dessert party. We chose the dessert options for a few reasons, which I will share below.
My Experience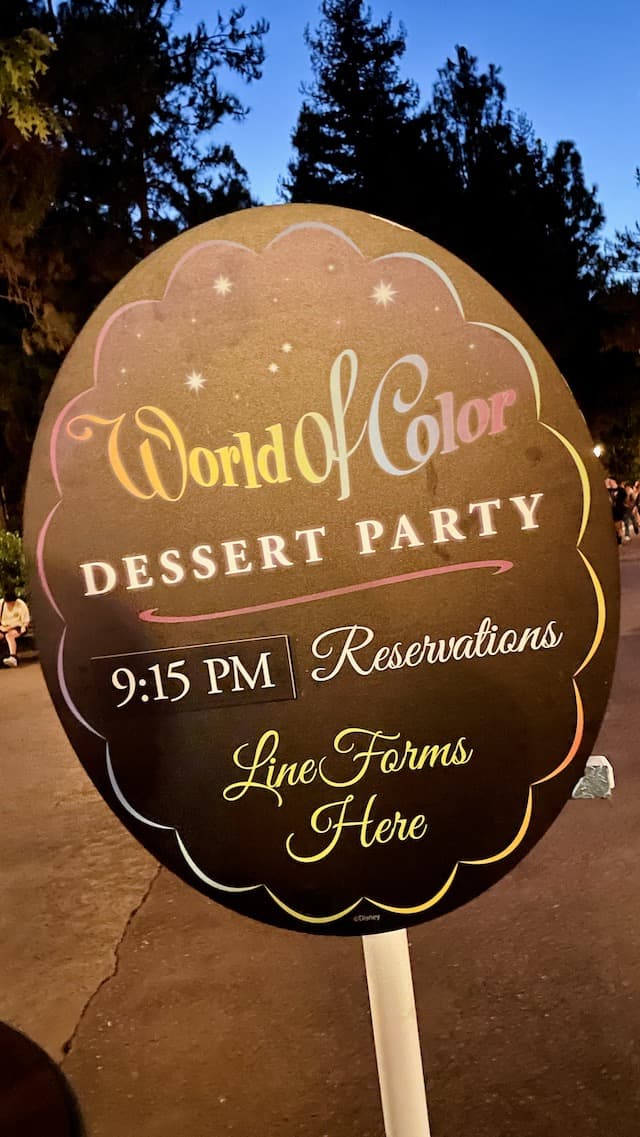 I happened to grab this dessert party for World of Color just a few days before my trip. I was on the fence about booking it because it would add roughly $600 to our budget. Kenny convinced me it was worth it to book a dessert party for World of Color for the seating. World of Color is standing room only except for the dessert party.
Overall, we had a wonderful World of Color dessert party experience. Checking in and waiting for your table can be a bit of a hassle. For dessert parties, seating is first come first served, so it's important to get there early. In the case for World of Color, you check in, choose your table, and then come back later to be seated.
For reference, we had the second show at 10:15 pm. I checked in at 7:45 pm, and we went back at 9:30 pm to wait to enter the reserved area. Cast Members led us to our table at 10:00 pm, and our server took our drink orders. We had drinks and our dessert plate shortly after.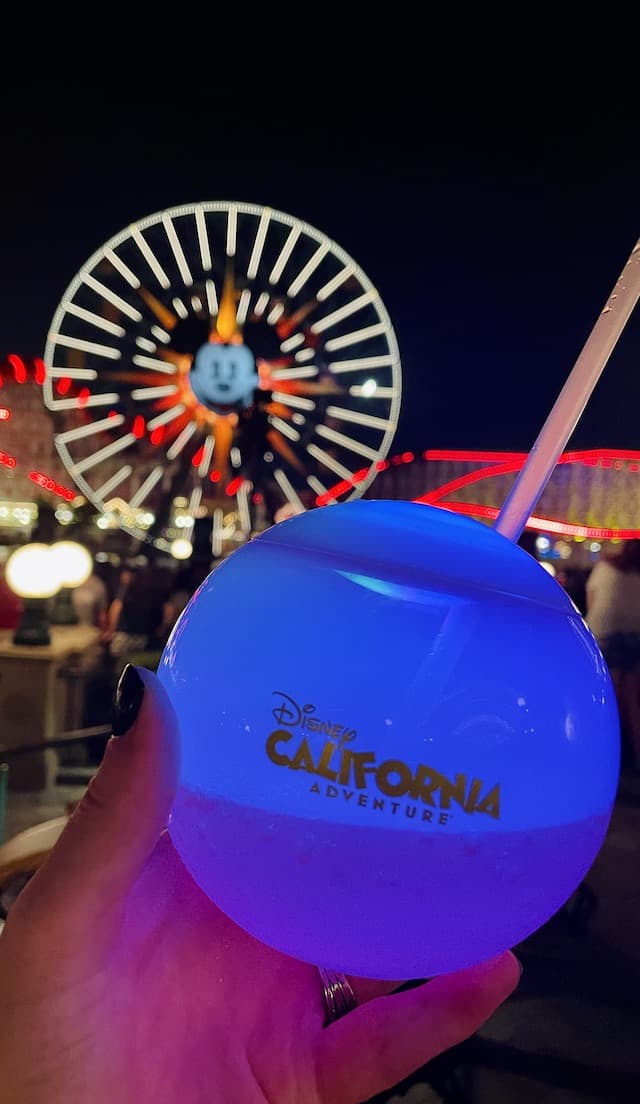 Speaking of food and drinks, each adult has the option to order two alcoholic beverages (small margaritas) plus sodas and water. Anyone under 21 can choose from waters and sodas. Children also receive a light up souvenir cup. Everyone gets their own plate of food, which includes crackers, cheese, grapes, a Rice Krispie Mickey, bundt cake, chocolate cake, and a cookie. The food is not spectacular by any means, so if food is important to you dessert parties may not be the answer.
However, we loved having a place to sit at our own table with food and drinks after a long day in the park. Our kids loved the show and they thought it was special getting our own space. Would I pay for it every single time? No. For me, these parties are one and done, so if I were to attend in the future I would just try to join the virtual queue. I love checking items off my Disney bucket list and being able to say I did…fill in the blank. You get the idea.
When you should consider a dessert party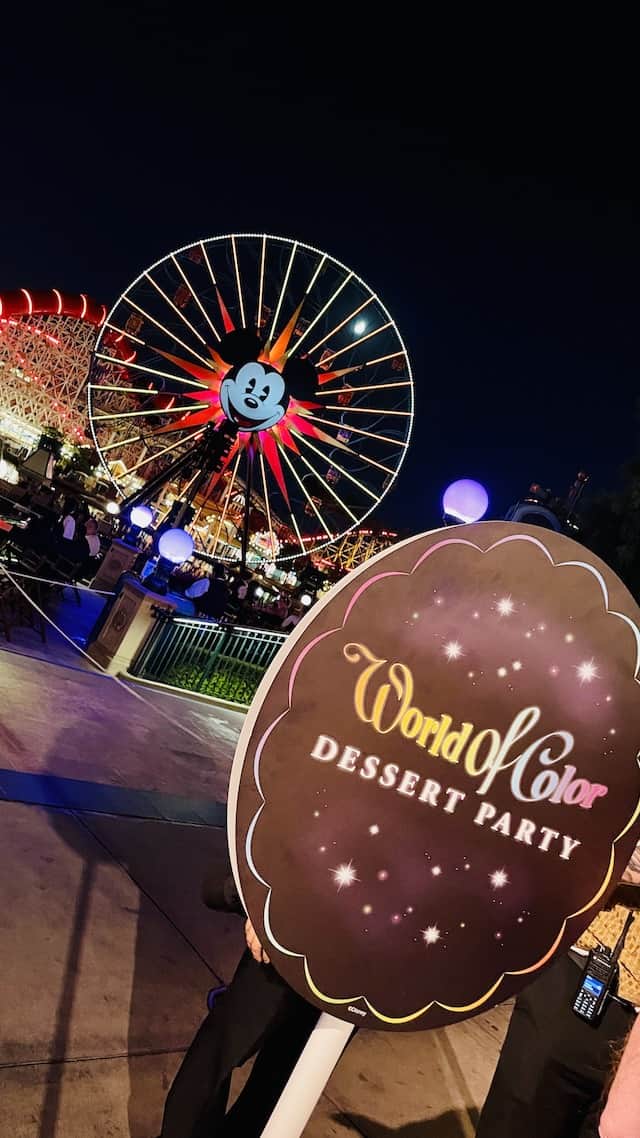 You want a reserved seat. Is there anything better than resting your feet after a long day in the parks? My kids do not like to wait at Disney, which is partly my fault for learning how to strategize park touring so well. I knew waiting for an hour with nothing to do would send them over the edge before the show even began.
You have conditions that limit your ability to stand or wait. Because you cannot utilize Disney's Disability Access Service (DAS) for shows, the dessert parties are great way to get around this. Yes, you will have to pay. But, I was willing to do so for the person in my travel party who utilizes DAS. It greatly reduces the anxiety you may feel trying to get a good spot and crowding in with hundreds of other people.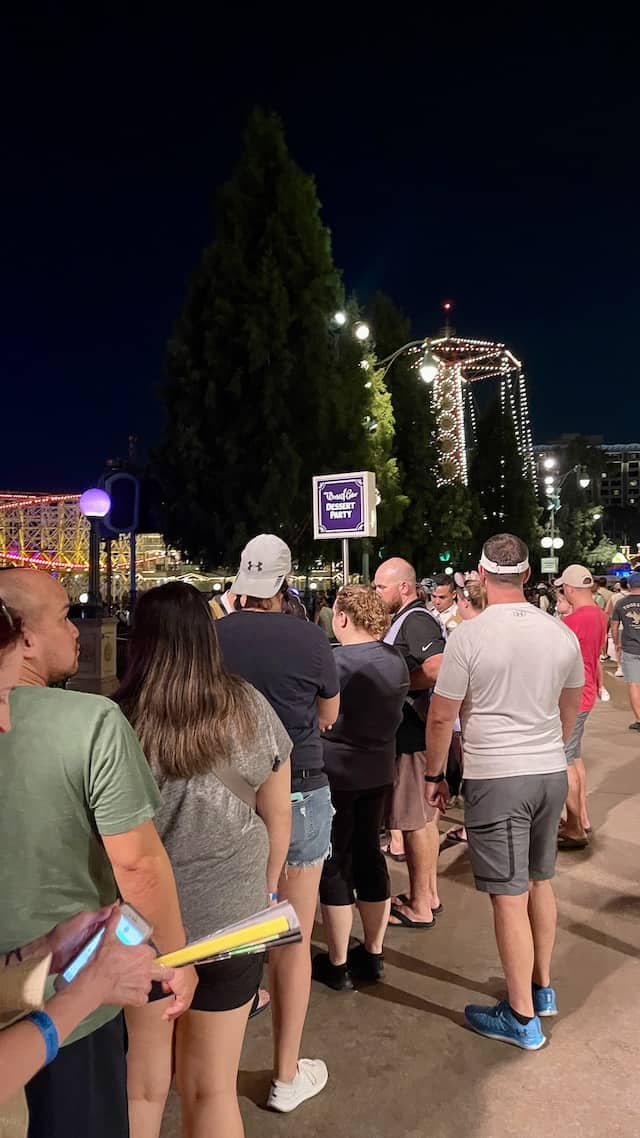 It's the only time you may visit. As I shared above, this trip may have been the one and only Disneyland trip I ever make with my family. I wanted to be sure we experienced as much as we could fit in while being smart about it. This meant multi-tasking with food and shows. My family got to sit at a table, have their evening snack, and watch World of Color. When in Rome…
When you should avoid a dessert party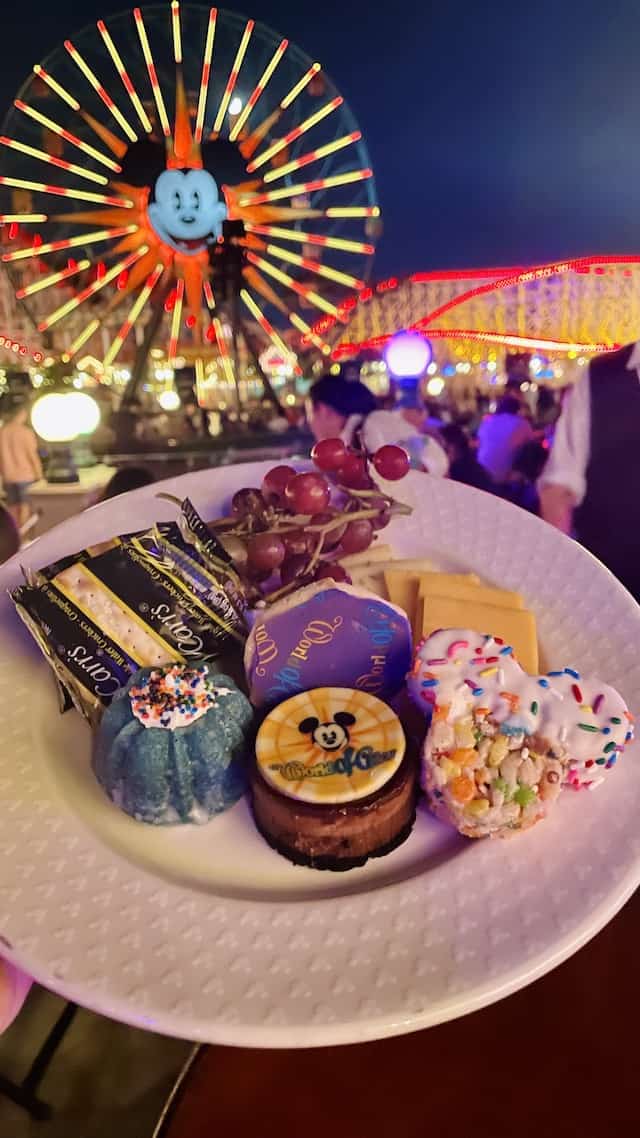 You visit the parks often. I typically do not book dessert parties for Disney World because I am there often see those shows multiple times. These are a bit different from Epcot festival dining packages which offer a different experience each time. I would rather spend my money doing new things.
Your travel party may not be able to stay up late. These shows are typically later in the evening. While they are not super late, after a day of park touring people in your travel party may be tired anyway. If you do not think your group will enjoy the show, I do not recommend spending the $100/person. My youngest son took a nap in his stroller while we waited for the show, and my husband ended up holding him most of the party. He did not really care to eat his desserts either because he was so tired. Thankfully the rest of my large family enjoyed themselves, but I would have been bummed if they did not.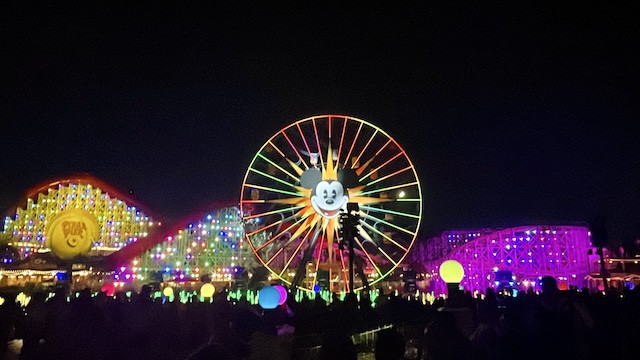 You do not care about the food or the show. If the desserts or the show are not a priority to you, I would not book a dessert party. Oftentimes, the food leaves a lot to be desired anyway. It's just not great food. Likewise, if no one in your party cares about seeing the show or would rather ride attractions, it is a giant waste of money and energy forcing them to take part in a dessert party.
Do you like to attend dessert parties, or do you tend to stay away from them? Share your experiences with us in the comments below and on Facebook.