I am all about making my Disney experience a little more special as well as convenient. Did you know there is one restaurant that offers private dedicated seating for Fantasmic! shows at Disneyland?
Fantasmic!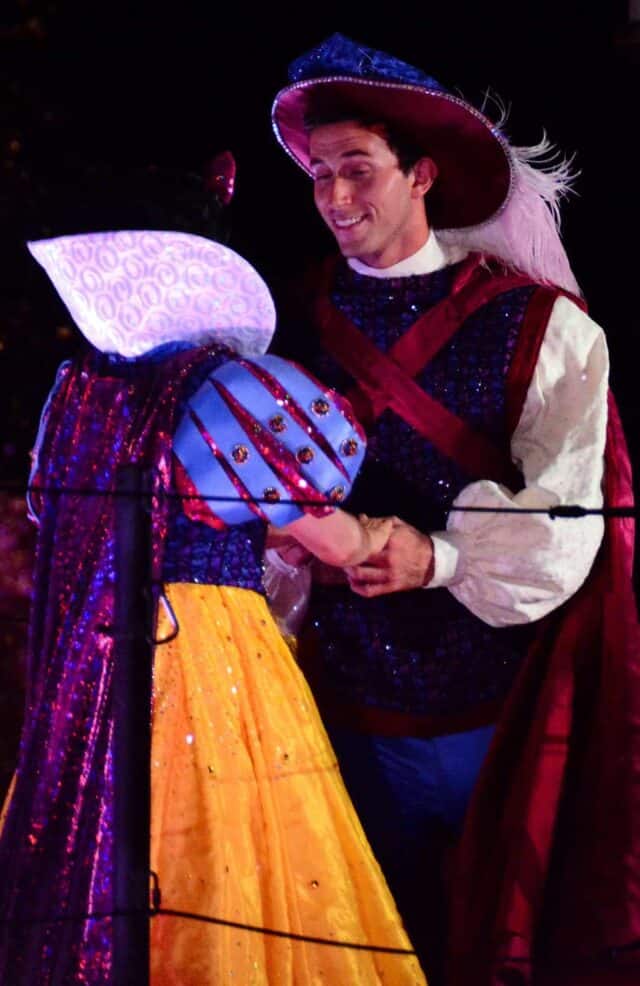 Fantasmic! is a nighttime show performed at Disneyland Park, Hollywood Studios, and Tokyo DisneySea. The premise of the show is that Mickey is transported into a dream where he dances along with music, lighting effects, and pyrotechnics. Various characters and scenes from popular Disney movies are part of the sequence as well.
The show takes a bad turn as Mickey is asked to enter the darker realms of his imagination. Maleficent turns out to be the mastermind behind the trap as she wishes to take over Mickey's dream. Various villains are part of this sequence as he fights the evil dragon.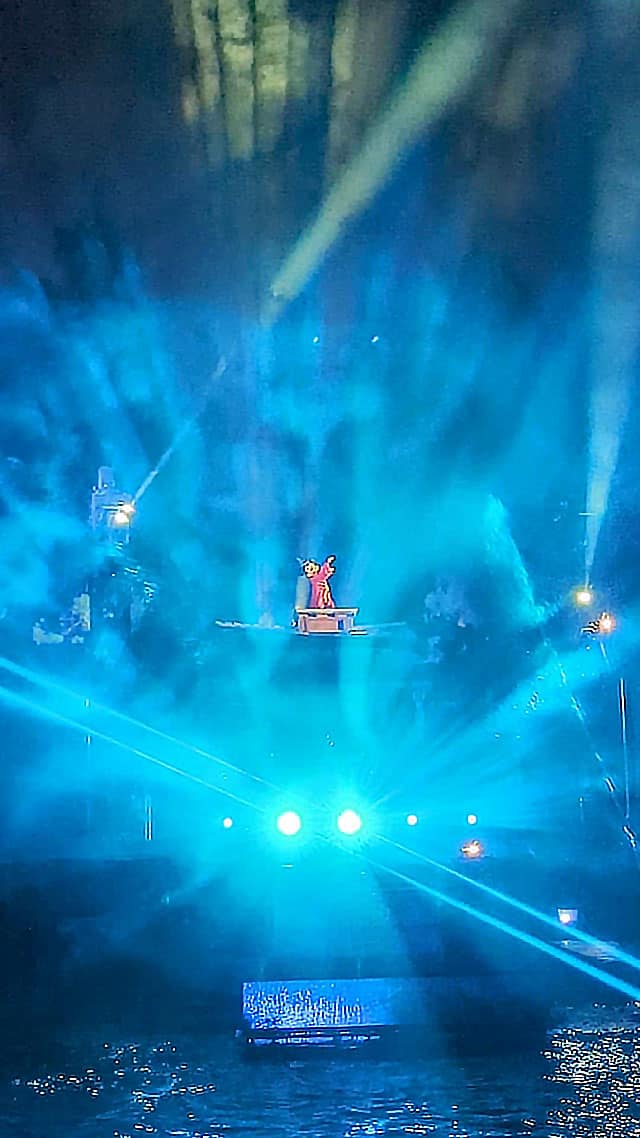 Mickey beats the dragon, destroys the villain, and all ends well.
The overall story is the same for both Disneyland and Disney World, with a only a few minor differences involving the show scenes. Overall, the show is so amazingly done. The storyline has plenty of excitement and drama, and the visual features will keep your attention. The show is wildly popular on both coasts, and as such, Disney offers dining packages that guarantees reserved seating.
Dining Packages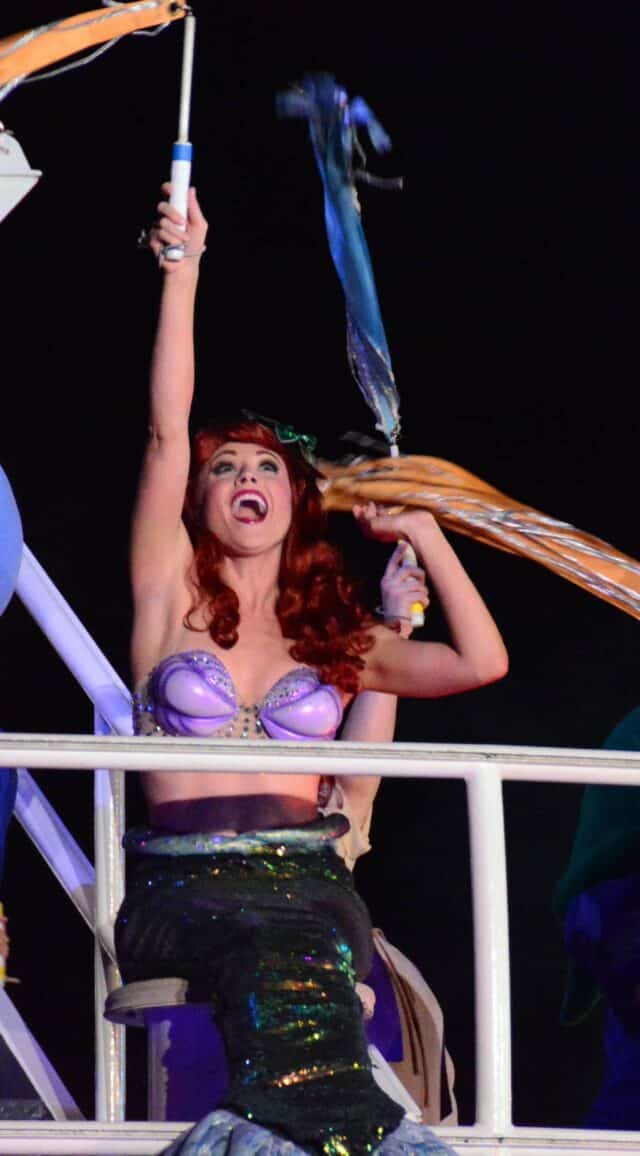 At Disney World, there are quite a few restaurants that offer dining packages for Fantasmic!. When you purchase a dining package, not only do you get a meal out of the deal, but you also get guaranteed viewing of the show. Pricing varies for each one, but you can look at this post HERE for more details.
50's Prime Time Cafe
Hollywood and Vine
Mama Melrose Ristorante Italiano
Sci-Fi Dine-In Theater
The Hollywood Brown Derby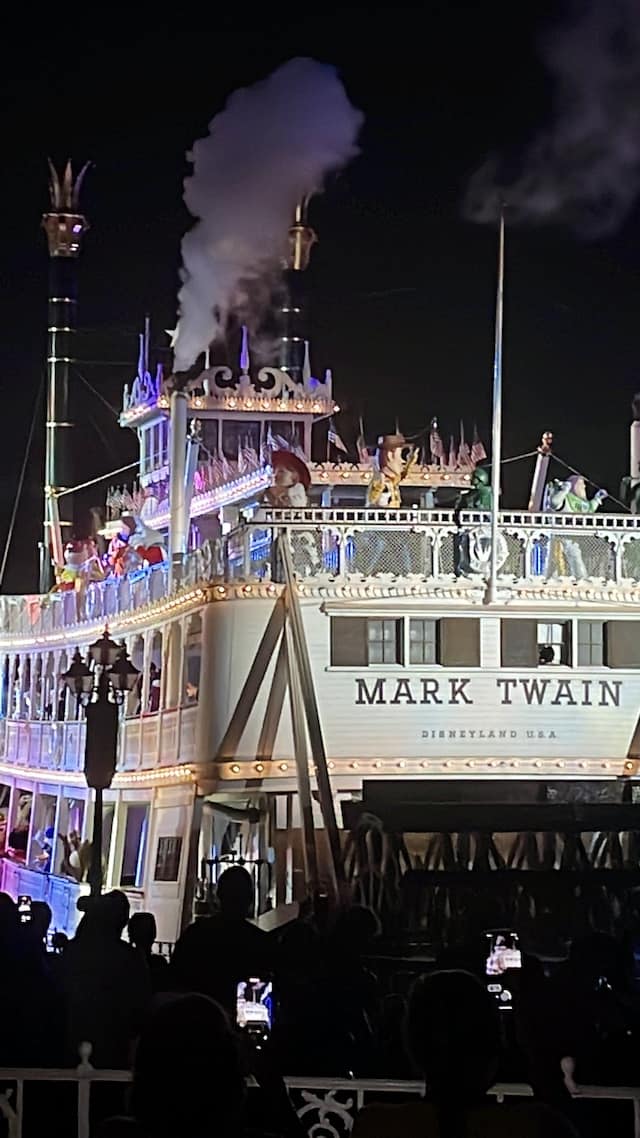 At Disneyland, there are a few different options. The type of package you purchase will determine where you sit. Disneyland is a bit different than Disney World because the show is not viewed in a theater setting with seating. Instead, it is performed right on the Rivers of America, and there is only a small dedicated viewing area. Cast Members will not let you stop and stand in the walkway. You have to go to the viewing area to sit/stand or continue walking on the path.
Blue Bayou and Hungry Bear offer a voucher to enter a separate viewing area along with your meal. River Belle Terrace has two types of dining packages. The standard package is like Blue Bayou and Hungry Bear. You eat at the restaurant, and then later in the evening you take your voucher to the viewing area and watch the show. The premium option provides the meal along with viewing the show right from your table as you eat!
River Belle Terrace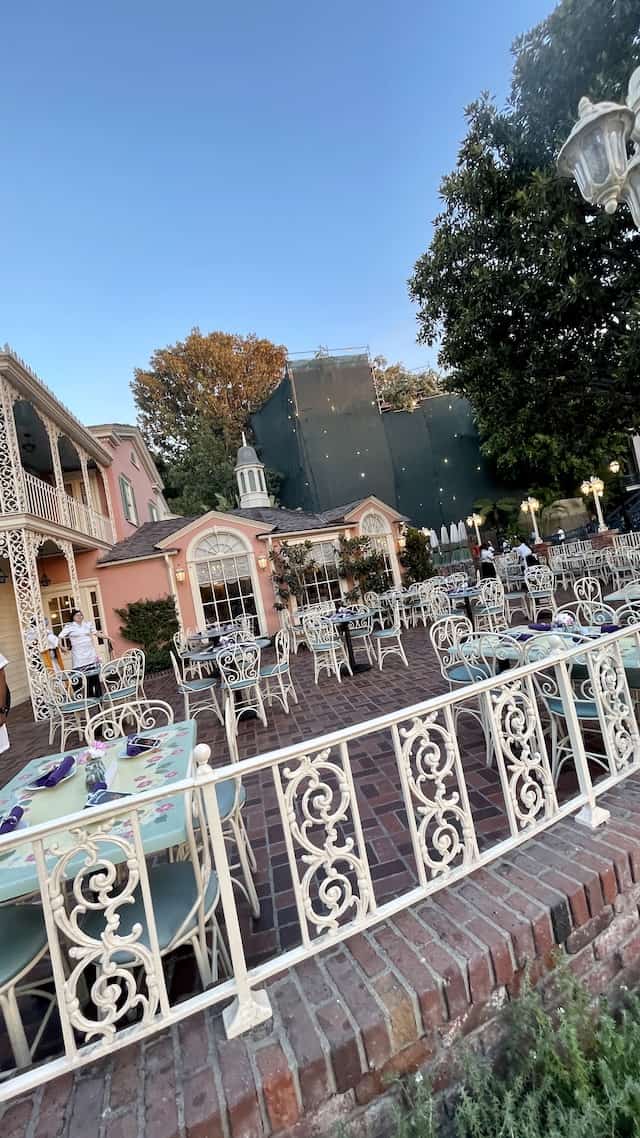 Being that it was my (Monica) family's first time to Disneyland, we wanted to experience as much as possible. I also knew sitting on the ground for an hour or so before the show started was not how my family wanted to spend our time. So, I opted for the premium River Belle Terrace package.
The cost is $75/adult (10 and up) and $45/child and your dining reservation is set for 7:15 pm for the 9:00 show. Fantasmic! is performed every day during busier times and weekends only during non-peak seasons. By being seated almost two hours before the show, it allows everyone to get seated on the outdoor patio and enjoy a 3-course meal before viewing the show.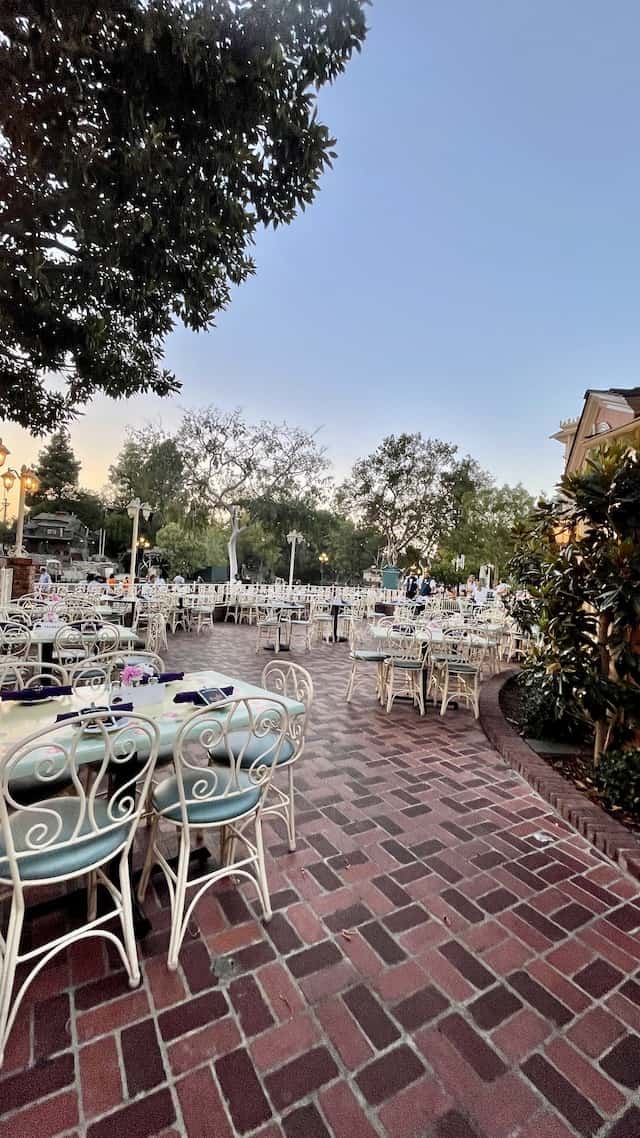 I did not count the number of tables, but if I had to guess I would say only a couple dozen tables are available, so reservations can be very hard to get. I stalked the system for weeks to get this reservation, so do not give up if you cannot get it right at 60 days.
Pirate tip: Disneyland is less strict than Disney World about opening up dining reservations. Not everything may open up right away. Keep trying if nothing is available the first day you can make reservations.
Another thing to keep in mind is that your table is already reserved ahead of time. This is not first to line up gets the best table kind of deal. There is no need to get there super early like we did! Your name is already on the table. However, there is really no bad seat on the patio. We were towards the "back", but we could see perfectly fine. No, the viewing is not as good as if you waited in line 2 hours before showtime and got a front row seat right on the water.
The food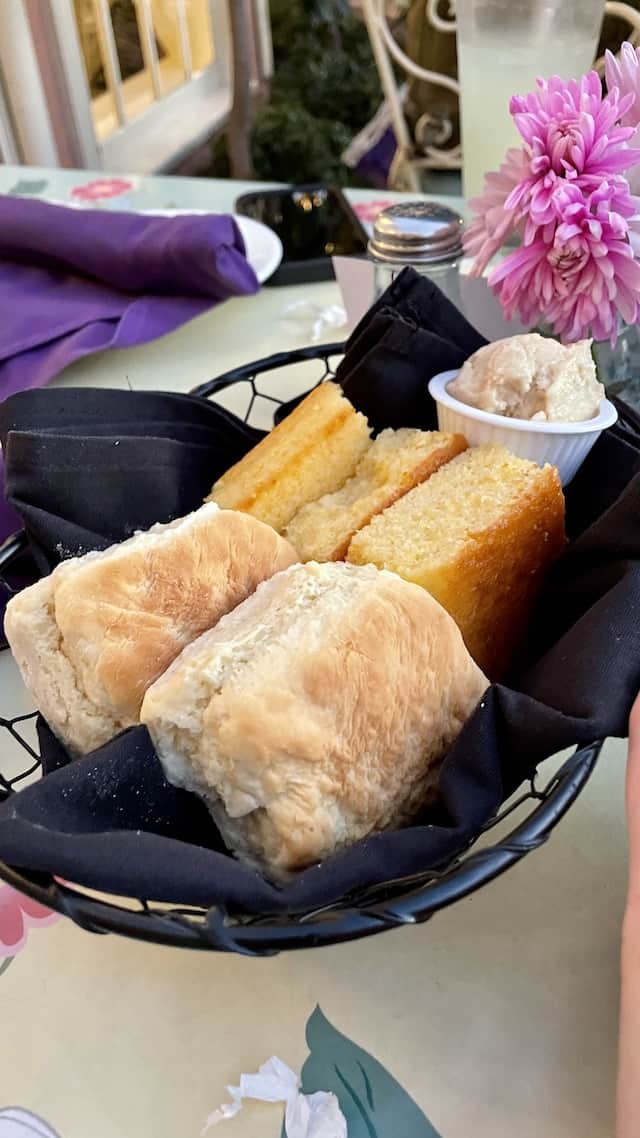 Upon checking in and getting your dedicated wrist band, a Cast Member will lead you to your table and take your drink and food order. They also bring out corn bread and biscuits as you wait. The biscuits were a bit dry, but my family really liked the cornbread.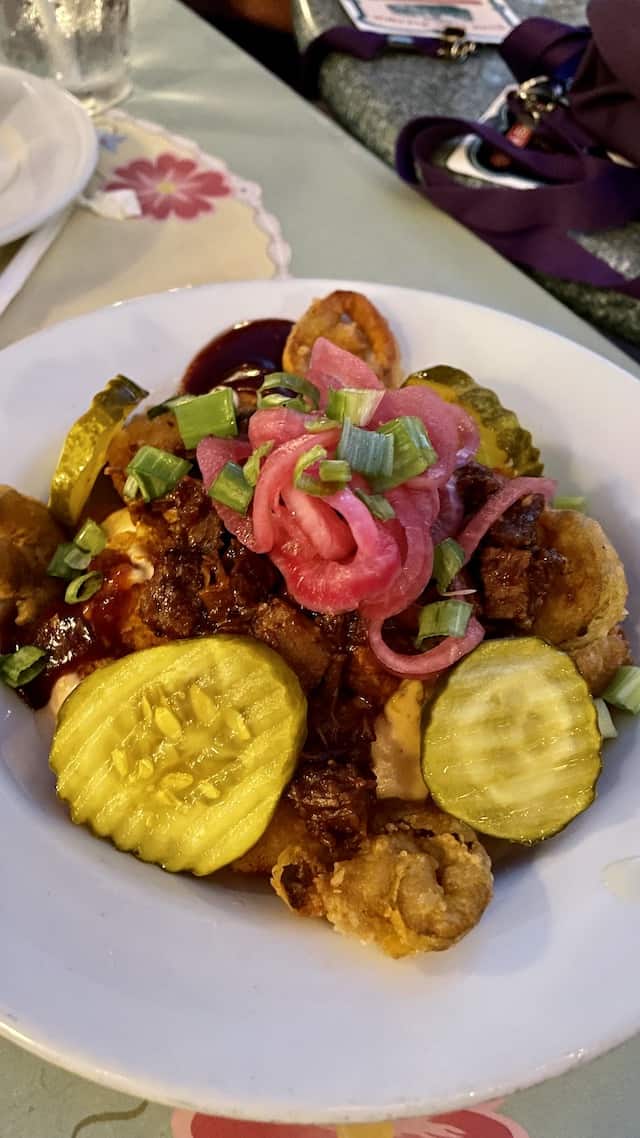 Starters include red beans and rice, loaded potato bites, and strawberry-pistachio salad. I cannot vouch for the red beans and rice or the salad, but the adults (my husband and I and our two oldest children) all loved the potato bites. It contained brisket, tangy BBQ sauce, cheese, and pickles. It was the highlight of the meal for all of us. The children got a plate of fruit to start with.
Entrees include New York steak and scallops, chicken and dumplings, shrimp pan roast, and BBQ tofu. I knew going in I was going to run into a few problems with my picky "adult" eater. Thankfully, you are able to order off the regular River Belle menu in addition to the special dining package menu, so he got a chicken sandwich.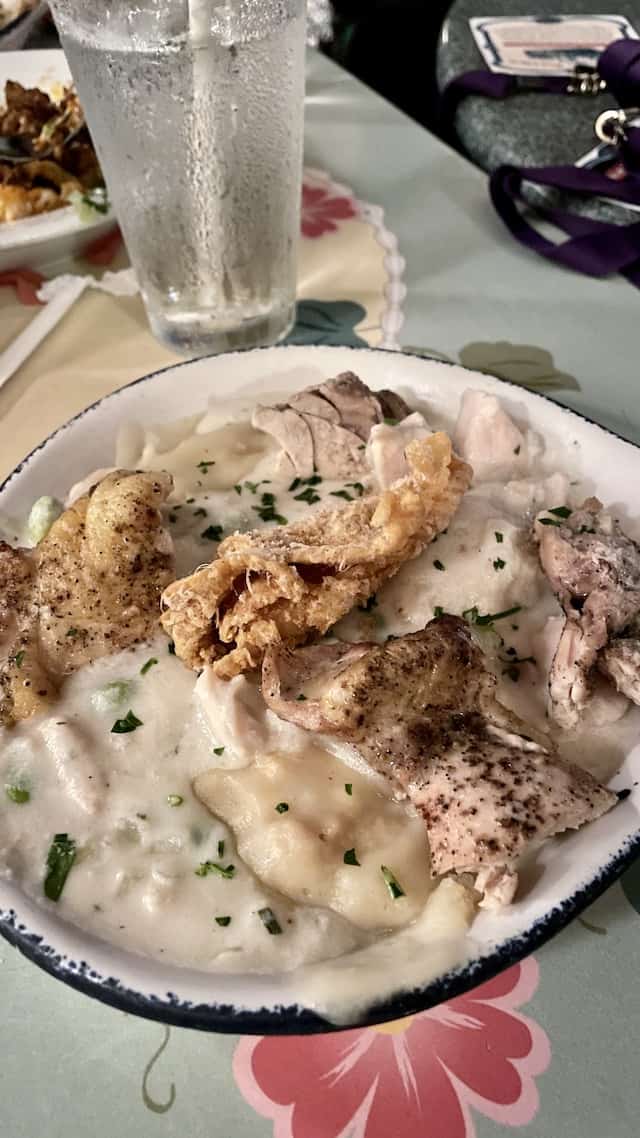 The other adults ordered the chicken and dumplings. Personally, I loved the dish, but my husband and daughter did not. I wish we had ordered a few more things off the regular menu, so we could all share if we wanted to.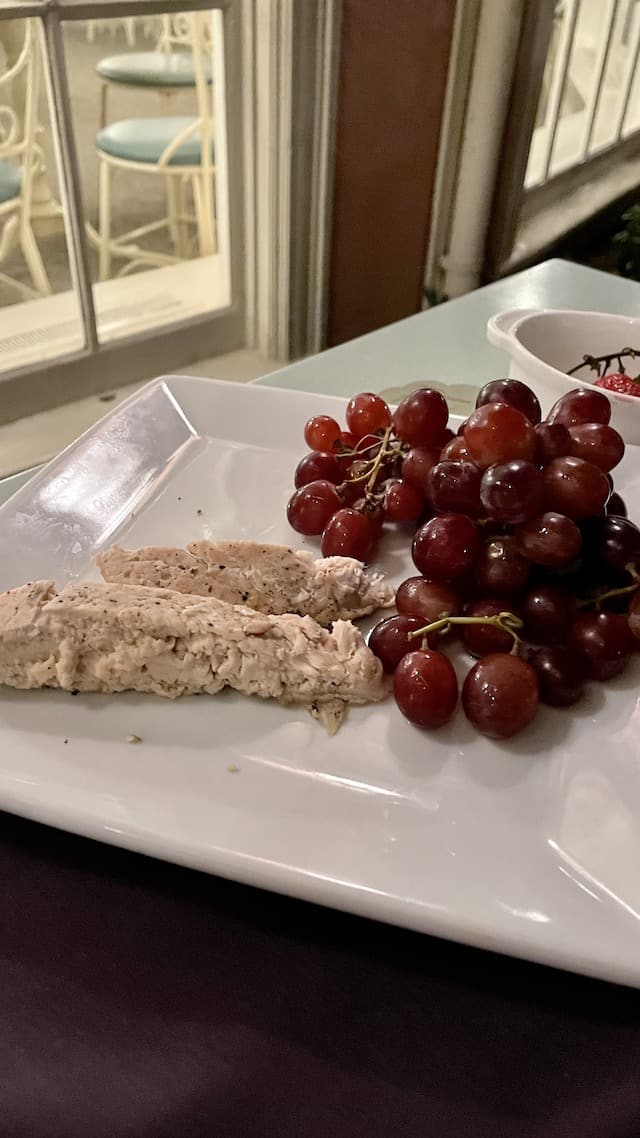 My younger children ordered chicken breast and more fruit for dinner. The youngest was very tired from a full day, and he slept through most of the dinner. My daughter enjoyed her chicken and grapes, although the chicken does not look very appealing to me. Kids, am I right?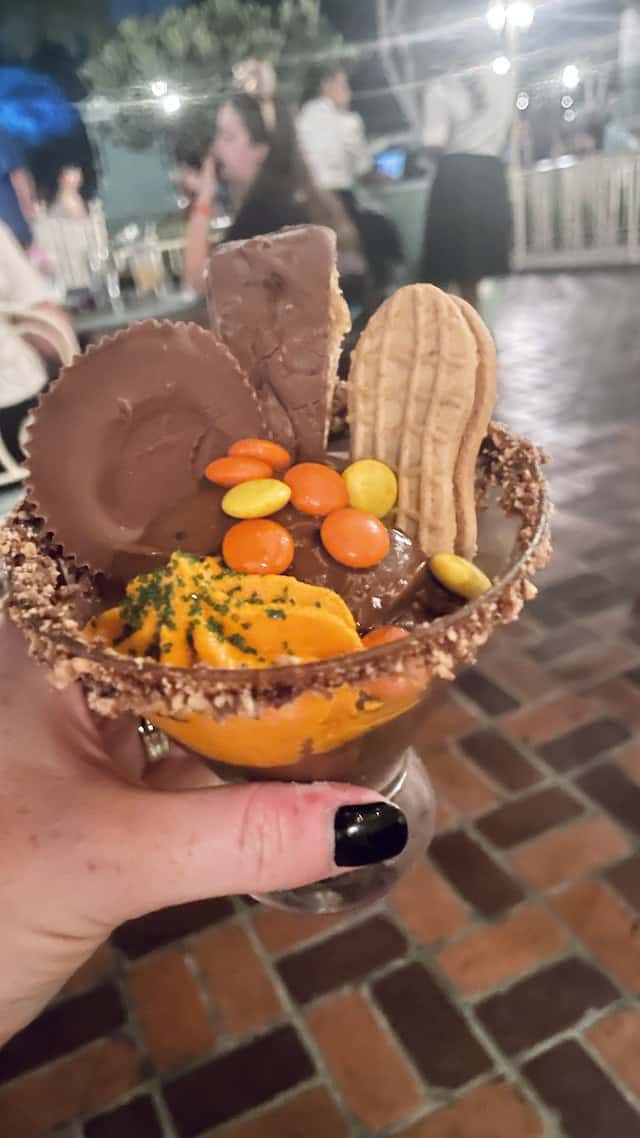 Dessert was a real treat – literally! We ordered the chocolate pudding with pieces of candy! My kids devoured them. They had fun Halloween colors since we visited during the Halloween season at Disneyland.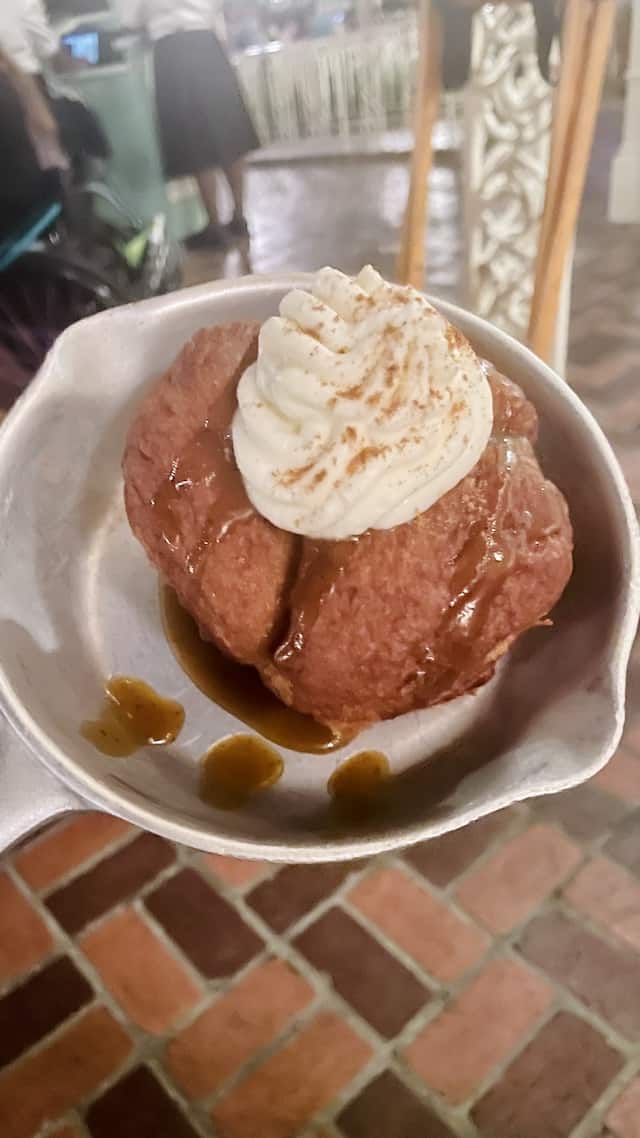 I had always heard great things about the monkey bread, so I ordered that. To be honest, I would have liked the chocolate pudding more, but it was still good.
The show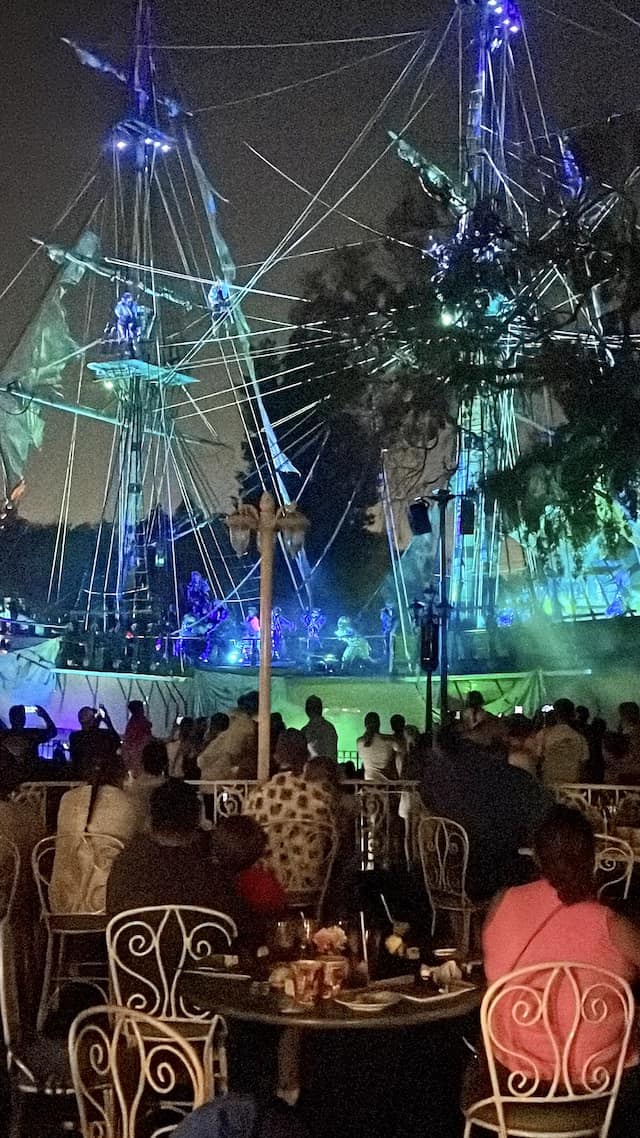 We enjoyed our meal and somehow managed to keep everyone entertained from 7:15 to 9:00. Then, the show started right at 9:00! It was so incredible to see Fantasmic! again. It made me realize how much I missed the show at Disney World. It is a bit different at Disneyland, but most of it remains the same.
One thing to make note of is that you may have an obstructed view. There were a few trees and lights blocking our view, so it was not completely unobstructed. You will also have others in your line of view from the seating area right on the water. Please do not go into this thinking it will be the best seat in the house. Depending on where you are, you will not see everything perfectly.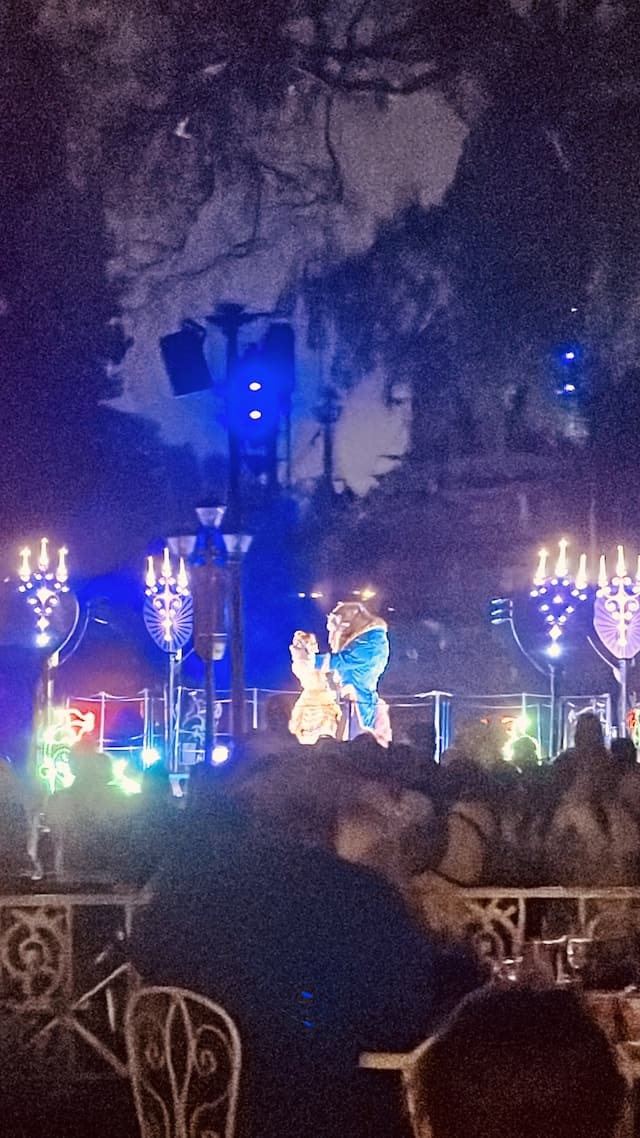 My family was okay with that. It was more about enjoying a new restaurant and show (my kids have never seen Fantasmic!) than trying to get the perfect spot. If you want a perfect view of the show, I suggest trying to get into a viewing area right on the water. You may have to get there a few hours early if you want to be right up front. The food had its highs and lows, but overall we were satisfied with our experience.
The best part was not having to crowd in with everyone right in front of the water. I have read mixed reviews about whether you are forced to sit or it's standing room only. I'm sorry I don't know that part, but I do know having a private table to spread out and watch the show was well worth it.
Have you ever watched Fantasmic! at Disneyland? Did you opt for a dining package? Share your experience with us in the comments below and on Facebook.