Are you considering a stay at a DVC Resort? Here is a review of a 2 bedroom suite at Bay Lake Tower complete with photos.
Bay Lake Tower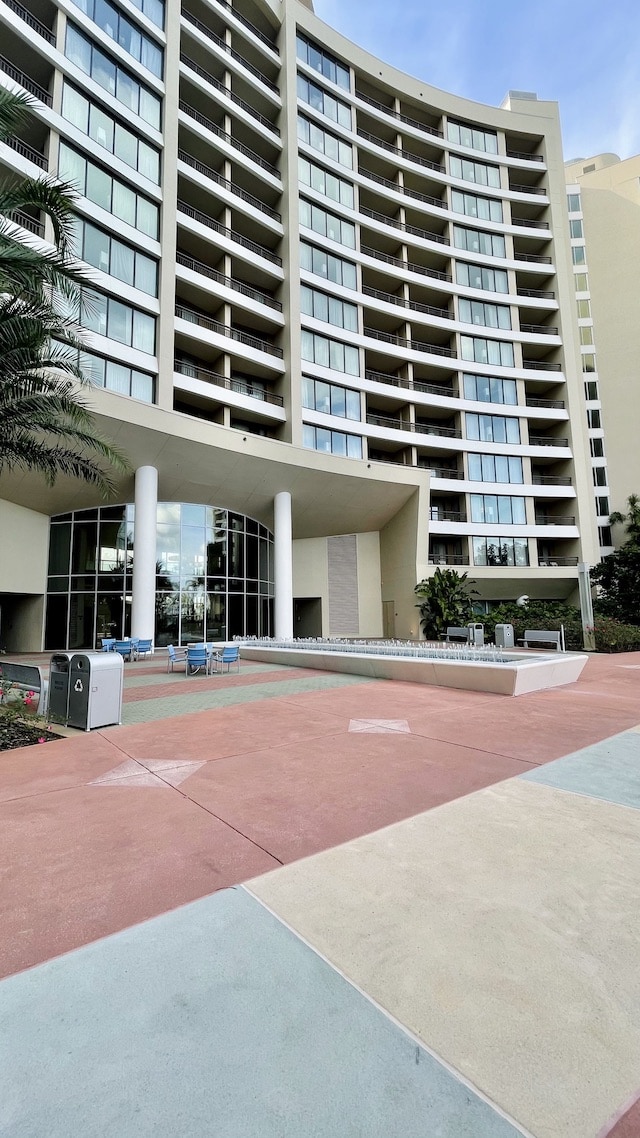 Bay Lake Tower (or BLT for short) is the Disney Vacation Club (DVC) tower at Disney's Contemporary Resort. The Contemporary was one of the first resorts built at Disney World, and Bay Lake Tower was added in 2009.
If you are curious about what DVC is, check out Heather's article HERE. Members can also rent their points out to non-members, which is how I book many of my own stays, particularly if I want deluxe accommodations. You can read all about the advantages and disadvantages of renting points HERE.
Transportation Options
I absolutely love staying at both Disney's Contemporary Resort and Bay Lake Tower for a Magic Kingdom-heavy vacation because it is possible to walk to the Magic Kingdom. There is nothing like being able to stroll to and from the Magic Kingdom. Better yet, BLT is just steps away from the Contemporary, so you also have the option of using the Disney Monorail for easy access to Magic Kingdom and Epcot as well as the other Monorail Resort Hotels.
Additionally, the Contemporary has delicious Disney table service options such as California Grill, Chef Mickey's, and Steakhouse 71 as well as quick service options like Contempo Cafe. It makes Bay Like Tower an attractive option for foodies. There is also a Joffrey's at Contemporary, which, for me, is a Disney Treat.
The Two Bedroom Villa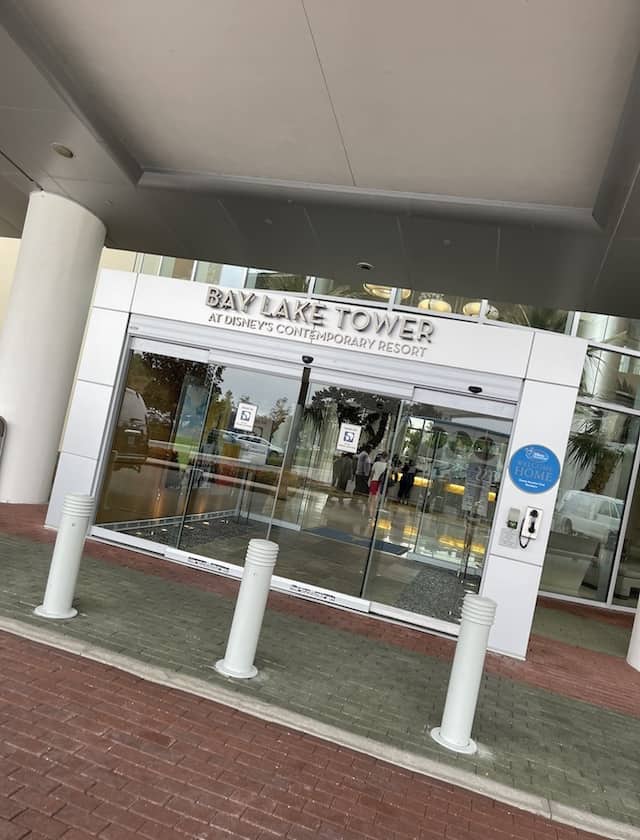 In addition to deluxe studio and one-bedroom, and three-bedroom accommodations, Bay Lake Tower offers two-bedroom villas. Rooms come with standard-view, lake-view, or theme park views.
My particular two-bedroom suite had a glorious view of the theme park although it was not a theme park view reservation. I still could have easily enjoyed sipping Joffrey's Chai Lattes and watching the Monorail trains go back and forth. There was also a delightful view of the fireworks in the evenings.
The two-bedroom villas sleep 9 people, which makes them great for larger families or groups of friends who are planning a visit. The floor plan includes 2 bedrooms, a full kitchen, a living room, 3 bathrooms, a laundry room, and a balcony.
Each two-bedroom accommodation has a king-sized bed in the primary bedroom, two queen beds in the second room, and a queen-sized sleeper sofa and a sleeper chair in the living room. The room I was in was a dedicated two-bedroom villa instead of a lock-off, which means it has two queen-sized beds instead of a queen bed and a second sleeper sofa in the second bedroom.
Decor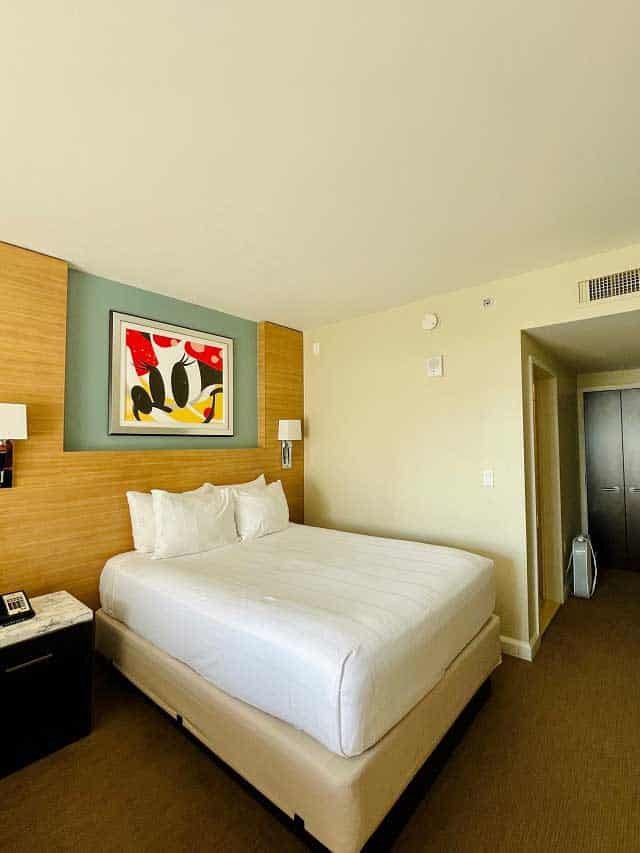 The rooms are not particularly beautiful or colorful, but they are perfectly functional. The color scheme includes natural tones with blue paint and accents. The finishes are dark wood cabinets and granite counters and big square tiles, reminiscent of the builder-grade materials that you'd find in apartments or suburban spec homes constructed around that 2009 timeframe. In terms of theming, they certainly do not scream "Disney." However, you will notice little pops of Disney in the wall art, which is fun.
Besides, as a person who stubbornly books studios or standard rooms the majority of the time, I was more enchanted with the sheer amount of space. 1152 square feet feels infinitely larger than say a standard room at Disney's POP! Century.
The Kitchen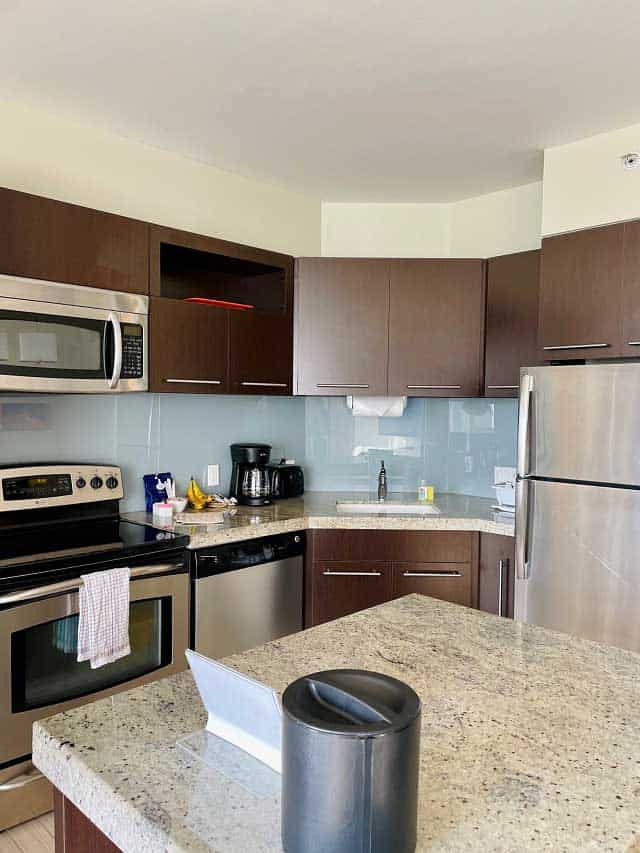 The kitchen is perfectly well appointed with a fridge, stove, oven, microwave, dishwasher, toaster, and plenty of counter space. You will find plenty of dishes, utensils, and cookware if you are interested in preparing meals in the room. There is also a nice island with barstools for perching while you eat or socialize.
The only appliance I used to prepare anything in-room was the coffee maker because I really enjoy having meals in the parks and resort hotels when I travel. I might even bring something to go from the quick service restaurant. However, I do also know that many groups may prefer to offset the cost of a large accommodation like this one by utilizing the kitchen to prepare meals.
The Dining Area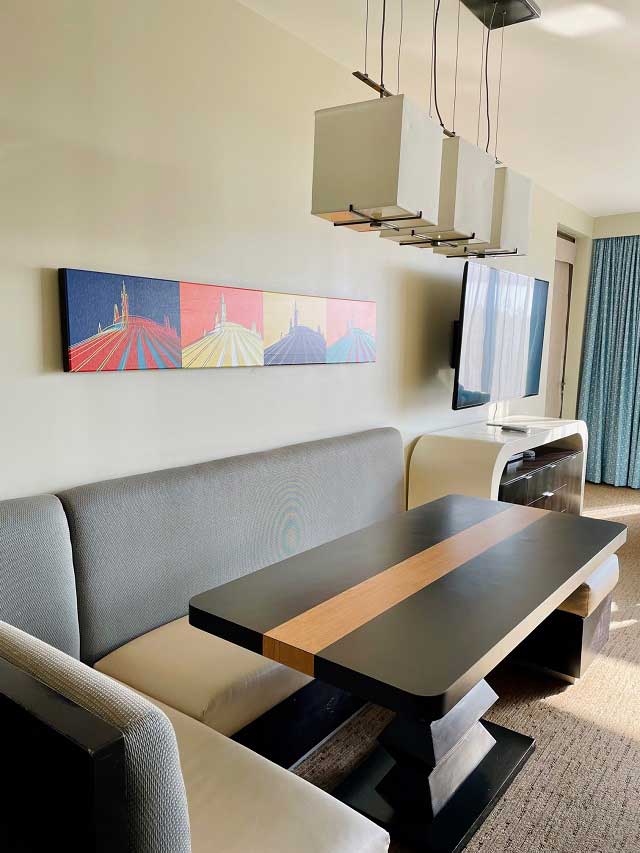 The dining area has a booth-style dining table, which is comfortable and fun. It is admittedly nice to eat to-go meals at an actual table in the room rather than at a desk or a coffee table, which is typically the way it goes in studios.
Living Area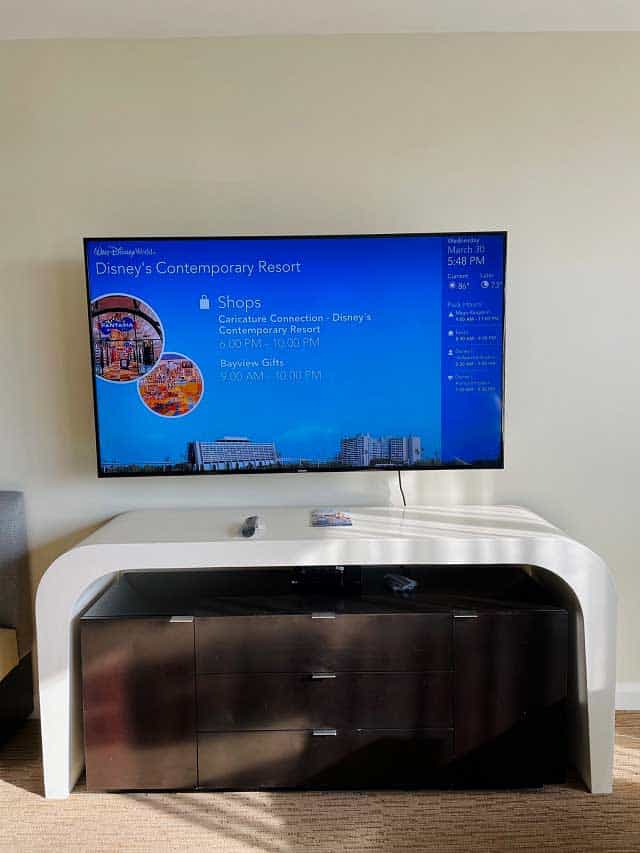 The dining area spills into the living area with the pull-out sleeper sofa and sleeper chair. There is also a dresser with a TV, which I would have left on the channel that provides information and plays Disney music all day if I were the only one making decisions. The outward-facing wall has large glass windows that let in plenty of light.
Laundry
The laundry closet has a stacked washer and dryer. I really do not care that much about having a fancy laundry room when I travel. I just love having one. It makes life so much easier and is one of the biggest perks of selecting a villa over a DVC studio.
Bedrooms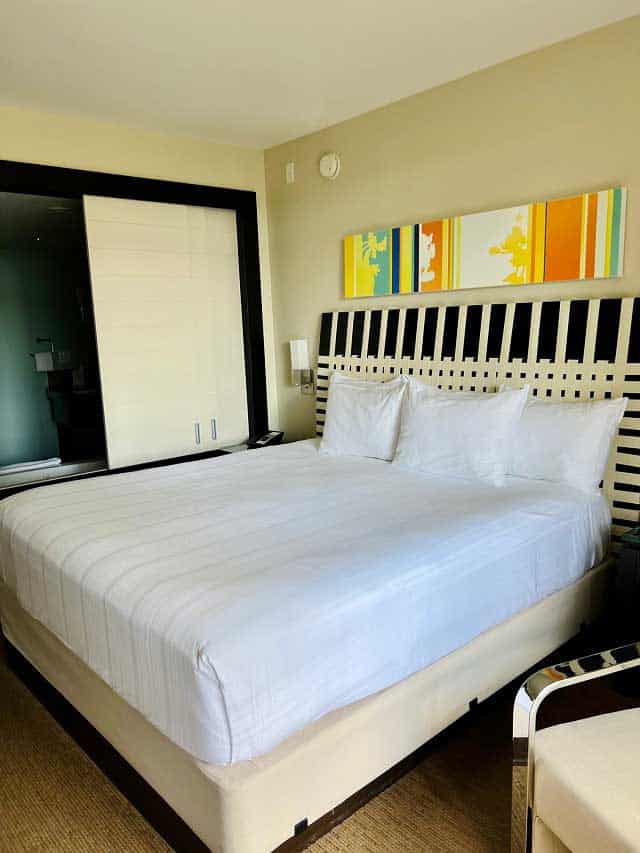 The primary bedroom has a nice king bed with a woven headboard. There is a television on top of the dresser. It has a large closet and an ensuite bathroom as well as a dedicated door leading to the balcony.
The second bedroom has two queen beds as well as a dresser and television and station area. Like the primary bedroom, it has a bathroom of its own. It is probably my favorite room in terms of decoration!
Bathrooms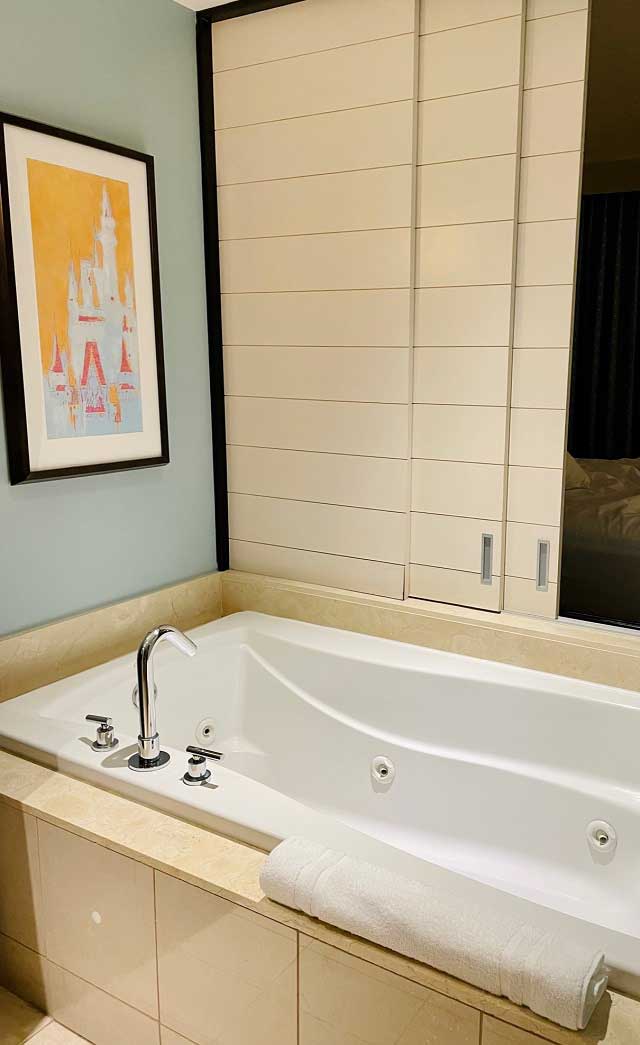 I cannot begin to say how lovely it is to have three full bathrooms in the space. This might give it an advantage over the two-bedroom villas at some of the other DVC resorts, which only have two. If you are looking for a two-bedroom villa elsewhere, be sure to check the number of bathrooms as they do not all have the same specifications.
As I mentioned, the first and second bathrooms are attached to the bedrooms. The primary bathroom has a separate jetted tub and a tile surround. It also has panels that allow it to open into the primary bedroom.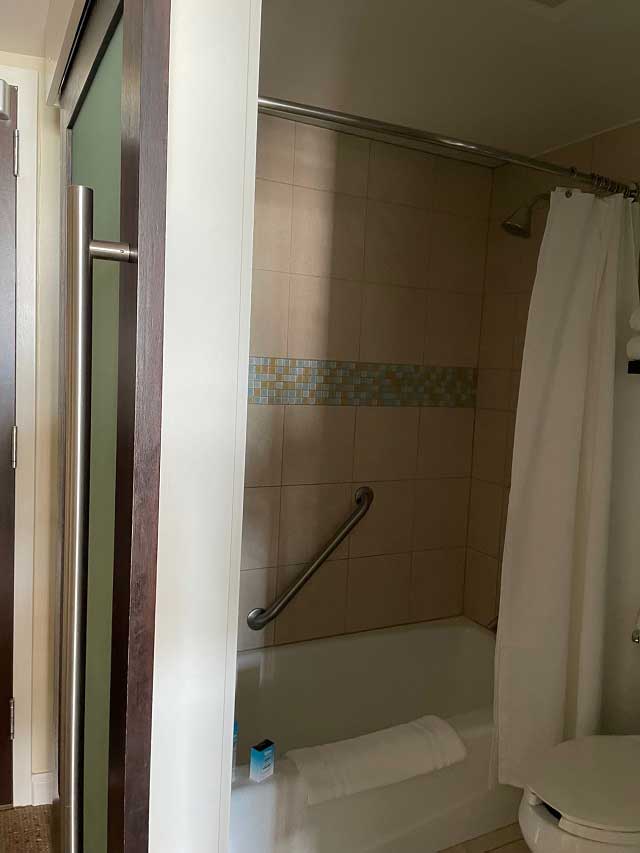 The second bathroom, which is attached to the second bedroom, has a tub/shower combo. It is relatively nondescript, which is unsurprising.
However, it does have a dedicated vanity. Just outside it also has a separate sink and counter space to expand the "getting" ready spaces.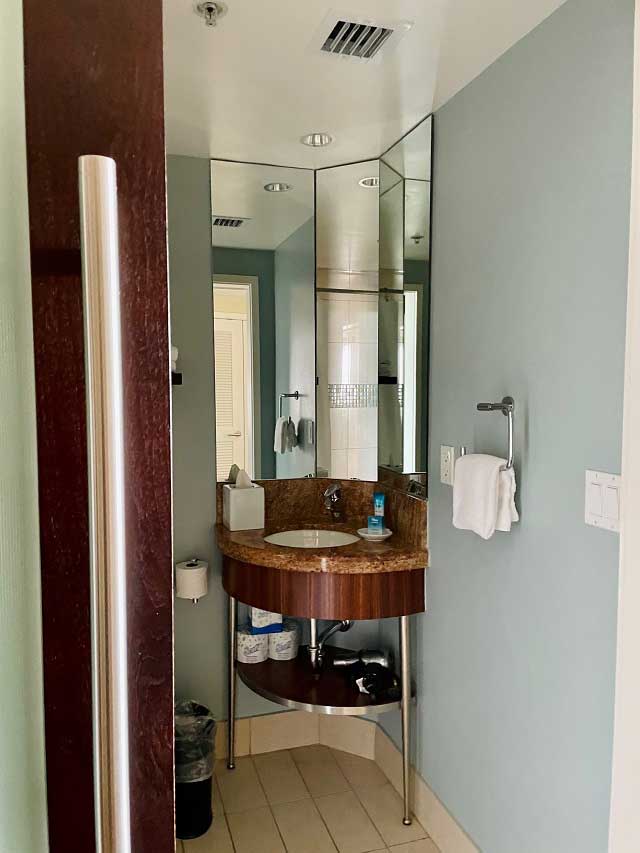 The third bathroom is attached to the living space, and it is relatively spacious for a third bathroom! It also has a shower/tub combination. It does lack counter space, but other than that, it is just right for increasing the overall getting-ready capacity of the place.
Outdoor Space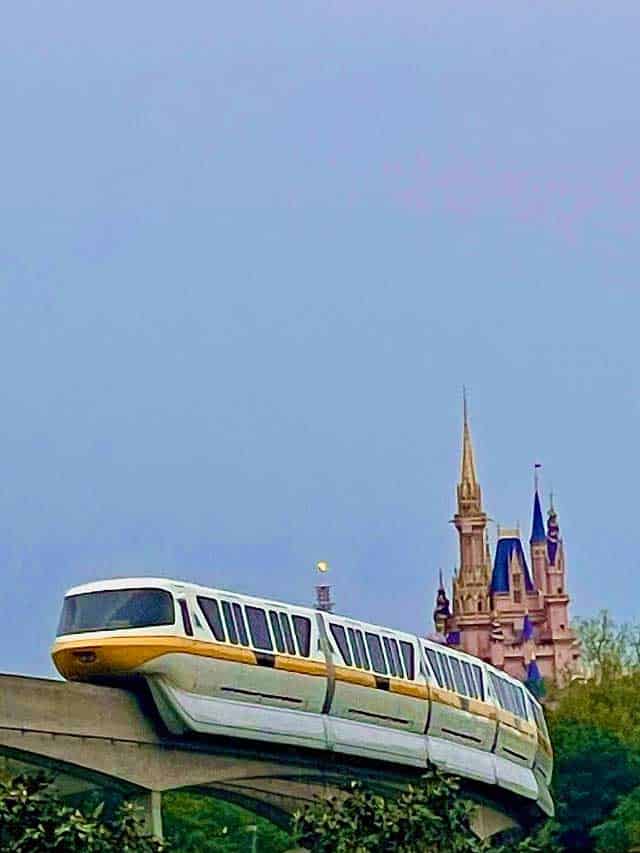 Each of the bedrooms had a nice balcony. It was perfect for watching fireworks or Monorail. The only preferable balcony view I can think off of the top of my head is the Savanna-View rooms at Disney's Animal Kingdom Lodge.
Overall, if you love the location and are indifferent to theming, this is a great choice for you and your larger travel party or for a smaller party with dreams of having no need to share a bathroom.
Have you had a chance to stay at Bay Lake Tower? Did you enjoy the accommodations and the fantastic location? Let us know on Kenny the Pirate's Facebook Page, or join our crew and continue the discussion!
Are you planning a vacation? Reach out to our trusted travel agency sponsor Authorized Disney Vacation Planner
Mouse Class Travel
!