Are you considering staying in the DVC rooms at Animal Kingdom Lodge? See whether the one-bedroom suite fits your needs.
Disney's Animal Kingdom Lodge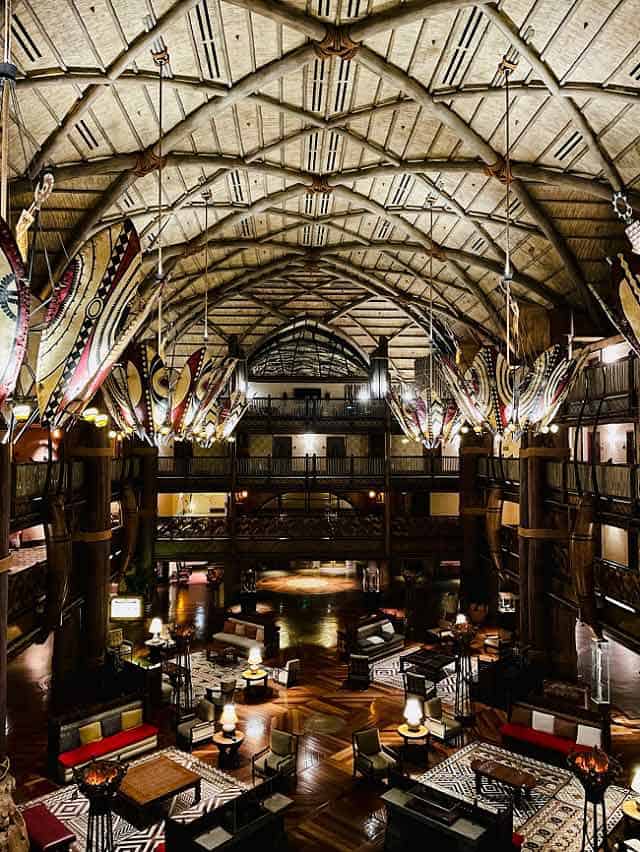 For a long time, Disney's Animal Kingdom Lodge has been on my (Katie's) Disney bucket list. Animal Kingdom is my favorite park, and the resort seemed like a perfect setting for a trip to celebrate a milestone birthday on the heels of a tough year.
If you have never been to Animal Kingdom Lodge, I can tell you, that it is one of the most amazing hotels I have ever stayed in. Certainly, you will not believe you are in Central Florida. The property has a transformative effect.
Two places to Dwell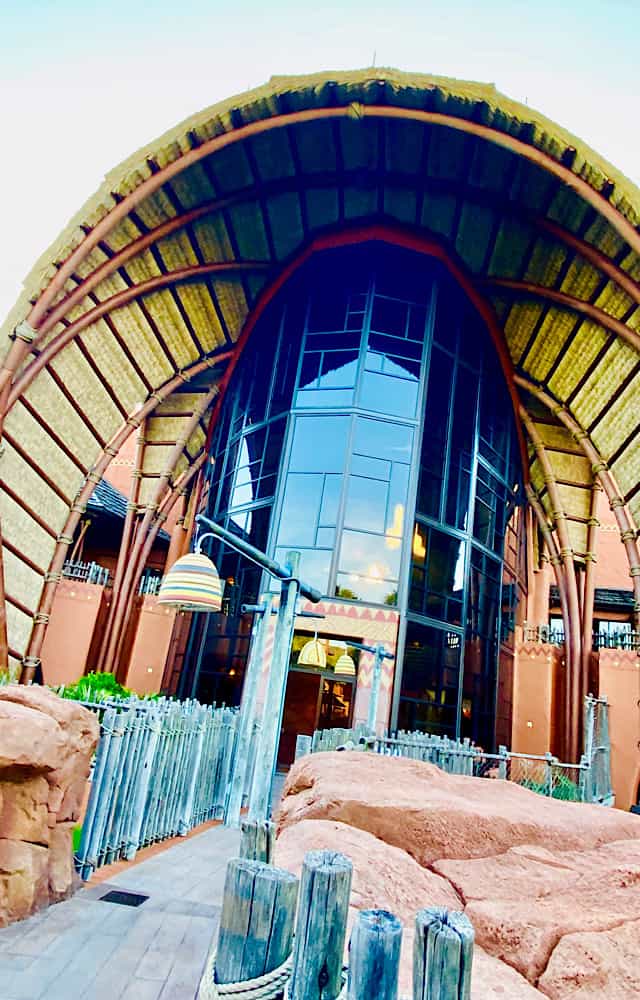 Animal Kingdom Lodge has two buildings. Jambo house is the main building where the bulk of the resort's amenities awaits. Some of the rooms here are DVC, and others are not. The other is Kidani, a dedicated DVC resort hotel.
For this trip, we selected a one-bedroom DVC villa in Jambo house with a savanna view. We were drawn to Jambo because we wanted to stay in the main building, near the amenities for our first stay at Animal Kingdom Lodge. This was important to us particularly because we planned more resort time than we usually enjoy on our trips.
Plus, we knew we wanted to dine at all the restaurants: Jiko, the Mara, Boma-Flavors of Africa, and Sanaa. A stay in Jambo House meant only having to make the trek between Kidani and Jambo House once. Additionally, the pool at Kidani was scheduled for refurbishment, so Jambo would be more convenient for pool time as well.
Jambo vs. Kidani One-Bedroom Suites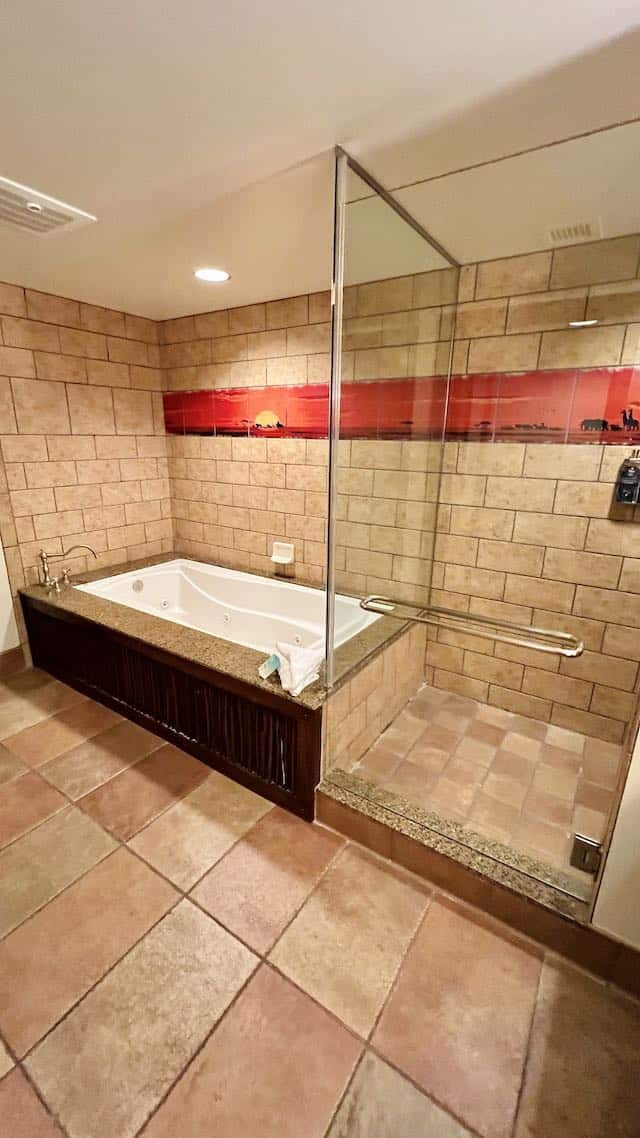 Because I was so certain that I wanted to stay in Jambo House, I did not give the one-bedroom villas at Kidani any consideration. However, maybe I should have because the one-bedroom villas in Kidani have two full bathrooms. This is a massive benefit and one that makes the choice of which building to stay in very difficult.
If you are torn between Jambo and Kidani, deciding will be even more difficult if you read Monica's review of the one-bedroom villas over at Kidani located right here.
Staying in a One-Bedroom Savanna View at Jambo House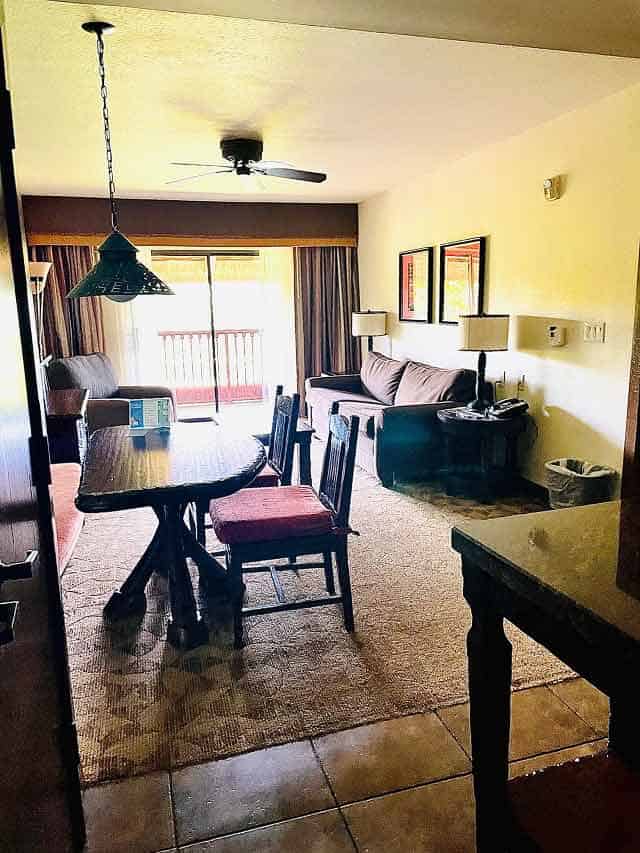 We are typically a DVC studio family because we like to stretch the budget as far as possible. But, this time we waited too long to look for DVC points to rent, and studios with a savanna view were booked solid. There was however a one-bedroom savanna-view room in Jambo house.
I was hesitant to grab it, not because I did not want to stay in the nicer room, but because I knew if we did, we would feel spoiled and probably would not want to go back to a deluxe studio on subsequent trips. Fortunately, I perished all those thoughts and booked the trip. After all, it was a special occasion.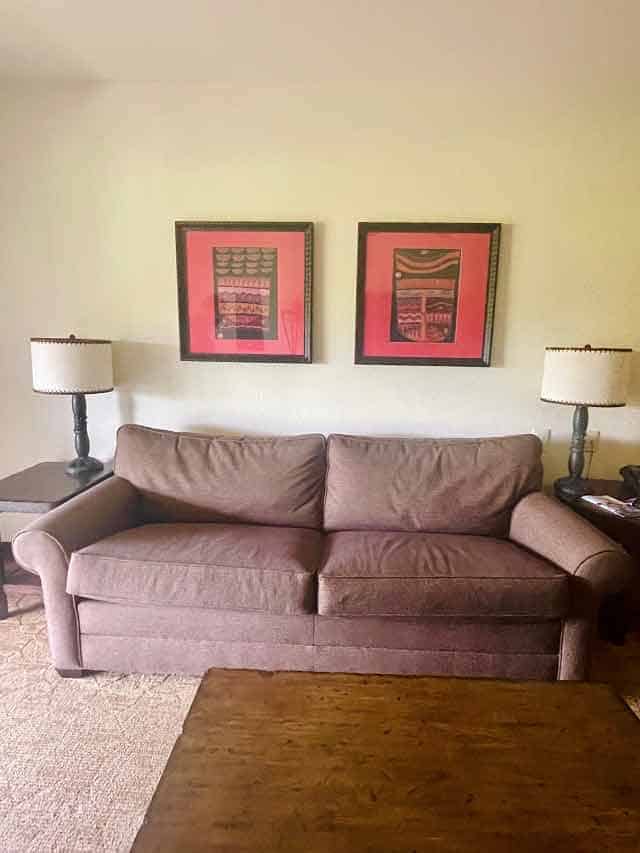 The one-bedroom DVC villas at Jambo house are nothing short of wonderful. I (Katie) was there with my husband and two children, who are also used to standard rooms and studios, and they were all so excited when we entered our home for the week and saw the size of it. At 720 square feet, it offers significantly more space than you will find in a deluxe studio or standard room.
The Kitchen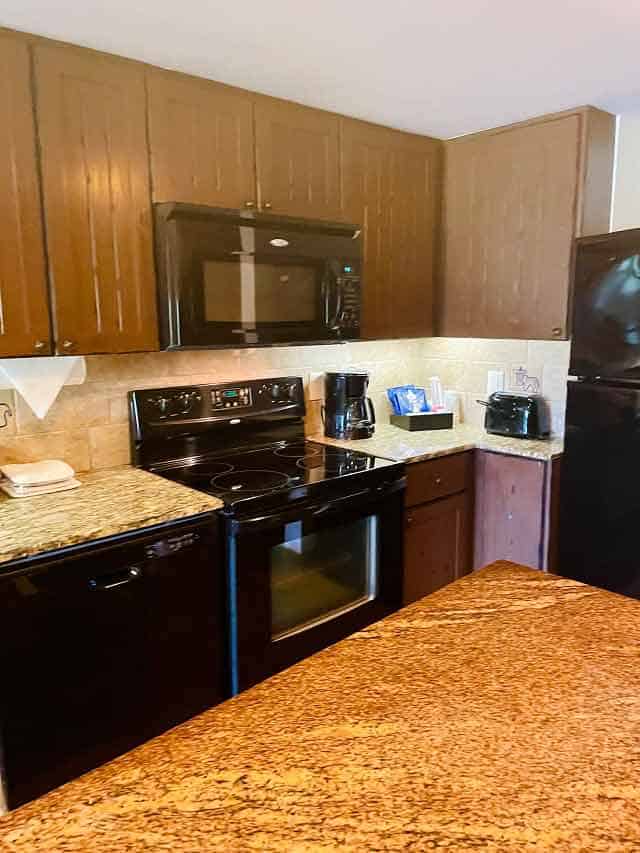 The kitchen in a one-bedroom is certainly an upgrade compared to the kitchenettes in the studio rooms. We found a good-sized island, a sink, a dishwasher, a full-sized refrigerator, an oven and stove, and a microwave.
We also noticed the kitchen was well appointed for in-room meal preparation. However, when we are on vacation, we prefer to eat out, so we did not use the kitchen for much more than storage for bottled water, bananas, and breakfast bars.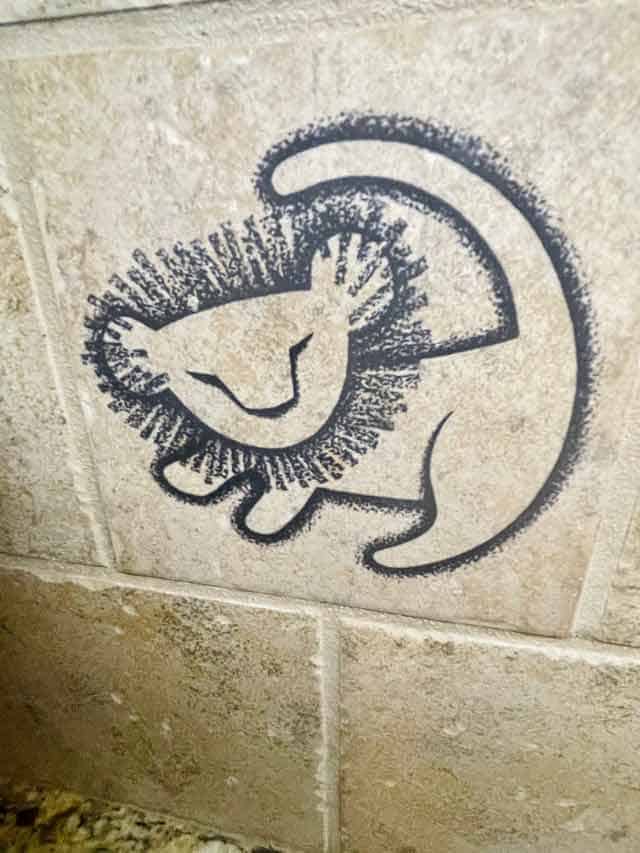 I did find the kitchen to be a little dark and a touch drab in terms of decor, especially compared to bright airy spaces like the refurbished rooms at Saratoga Springs. However, we did love the Lion King decorations we found sprinkled among the backsplash tiles. Those were a sweet touch.
The Living Area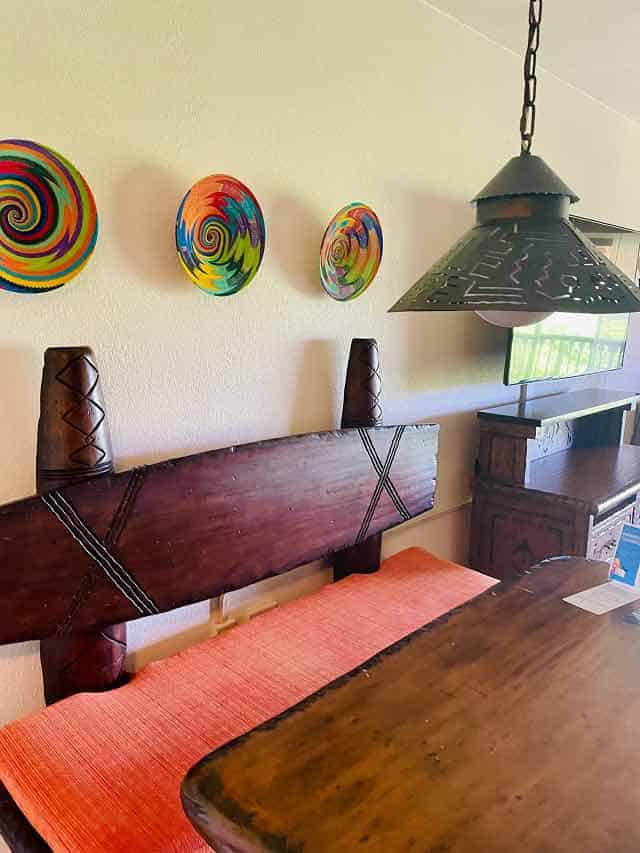 There is a small dining table and bench connecting the kitchen to the living area. As people who are accustomed to staying in studio and rooms at Walt Dinsey World, we found this table to be a nice touch. We certainly used it in the mornings to eat before a day at the parks and for any of the meals we had during the midday break – typically things we got to go from the Mara. Having a nice seating area is something I will miss during future standard room and studio stays.
There is a dresser with a television. The dresser is nice because it provides a space to unpack the kids' things and sort them to make getting ready in the morning easier.
The living area has both a fold-out sleeper sofa and a fold-out sleeper chair. These are standard fold-out furnishings and less charming than the murphy beds you find in a lot of the more recently refurbished or newer resort rooms. My kids love the pictorial scenes that folding out such beds reveals.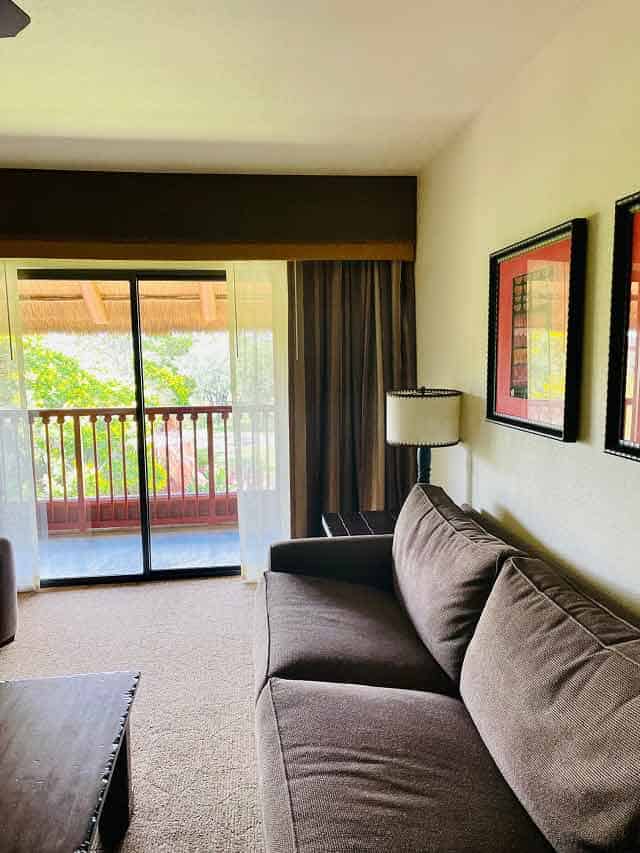 Nonetheless, the lack of those touches did not stop them from being excited to sleep on the pull-out beds. They thought they were great fun. Let's hope that delight in sleeper sofas lasts for many years to come!
Again, the decor is a little dark and drab, but it works. We did enjoy the little bits of theming we noticed here and there. The kids especially liked the intentional scratches in the wood.
The Bedroom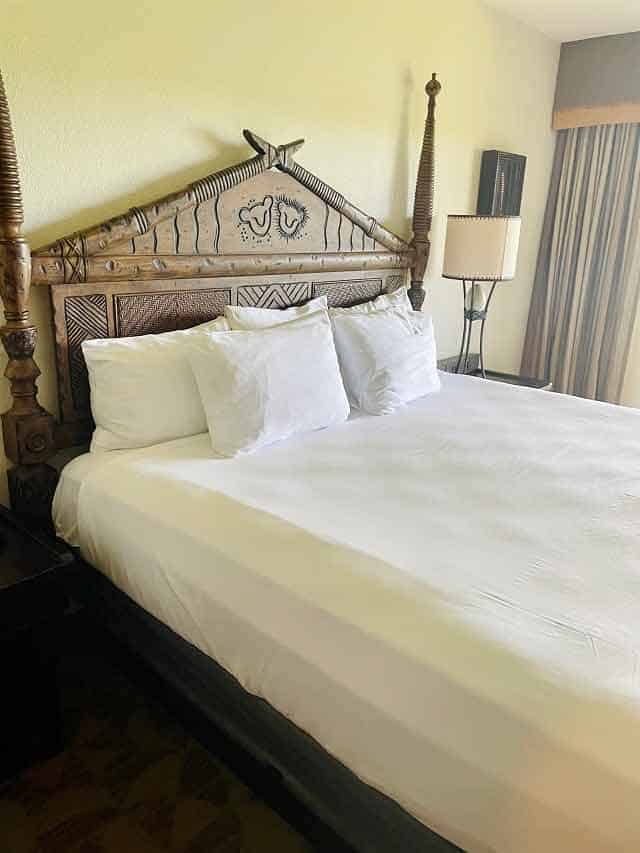 The bedroom has a king-sized bed that I found quite comfortable. It is dressed with the white linens that seem to dominate Disney bedroom decor as of late.
A dresser holds a television. It has several drawers for storage. There is also a chifferobe for additional storage. There are bedside tables, and my children noticed that the table lamps are adorned with Ostrich eggs.
The Bathroom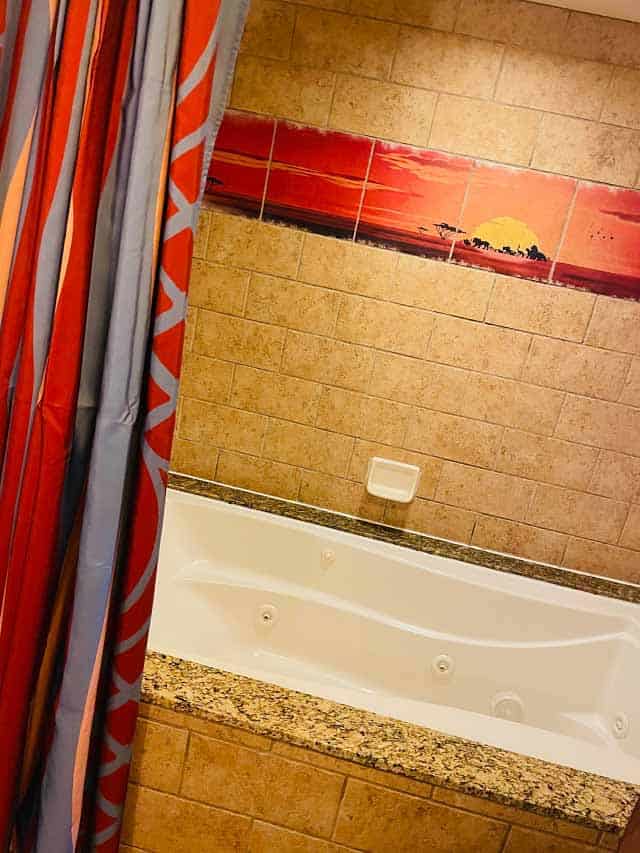 As I said, there is only one bathroom in the one-bedroom villas at Jambo House. This bathroom is significantly less luxurious than the one you will find at Kidani.
While it does have a separate room for the toilet, it does not have a separate tub and shower. However, the tub/shower combo it does have is jetted and huge. It is actually a bit difficult to get in and out of for adults and little kids alike.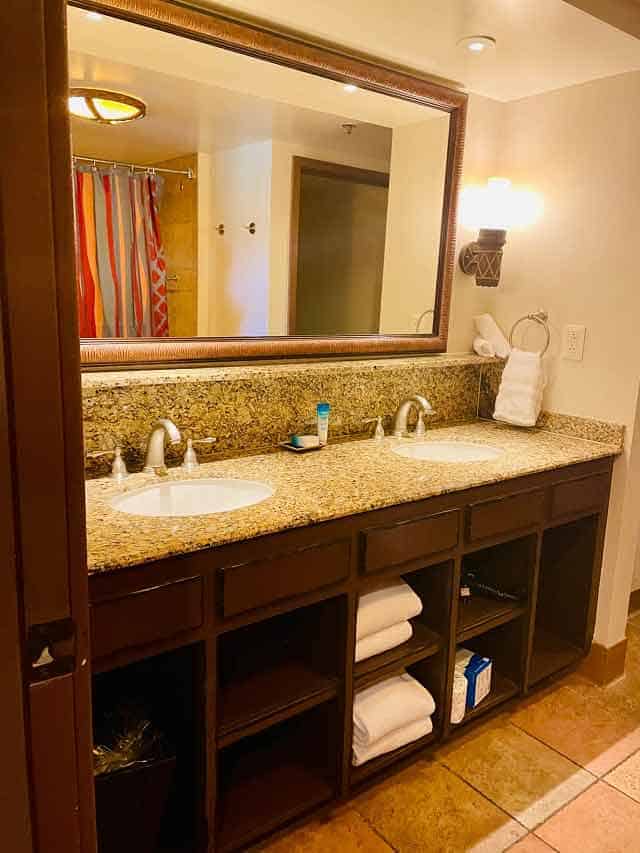 My family and I did love The Lion King-inspired decorations on the tiles inside of the tub-shower combo. It is really quite pretty. Additionally, having double sinks and lots of room on the counters is another benefit of the space.
The Laundry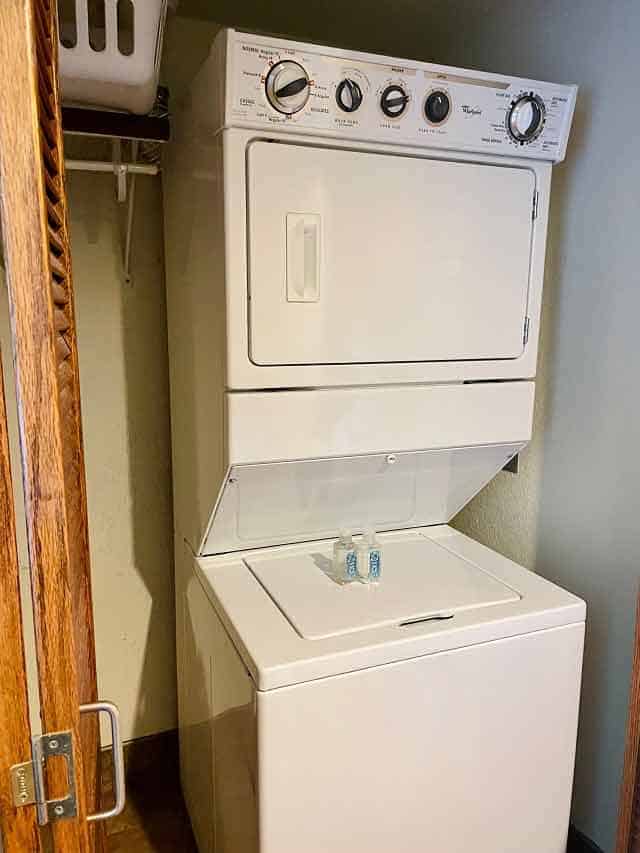 One of my favorite advantages of upgrading from a deluxe studio to a one-bedroom villa is having an in-room washer/dryer. The laundry closet has a stacking washer and dryer as well as a laundry basket and a fair amount of detergent. I especially love being able to do laundry when it is hot and everyone is sweaty. I would much prefer to bring home a suitcase full of clean clothes than a suitcase of laundry covered in Central Florida summer sweat.
The Outdoor Space
My very favorite part of the space was our large balcony overlooking the savanna. Sliding glass doors located in both the bedroom and the living room open out onto this space that spans across the length of both rooms. You might even notice the zebra faces on the chairs.
My children threw back the curtains while I was still exploring inside. I heard their squeals of delight from where I was and hurried to find them marveling at what they saw. The next moments were spent enjoying our new friends on the savanna.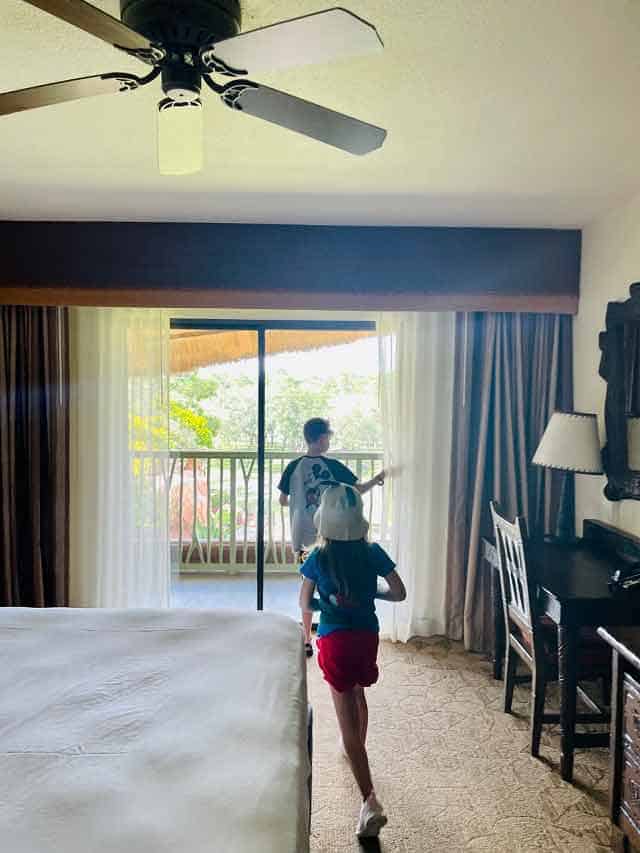 Disney's Animal Kingdom Lodge has four different savannas with a different combination of animals dwelling on each. Our room overlooked Arusha Savanna. Arusha Savanna typically has pelicans, geese, giraffe, zebra, wildebeest, eland, and gemsbok to enjoy.
The giraffes were not out during our stay, but we saw all of the other gorgeous animals, particularly during the afternoons while we took our midday breaks. We especially loved the zebras. However, the wildebeests were also fascinating. They came marching up all in a row each day and certainly seemed to have a carefully charted path to travel.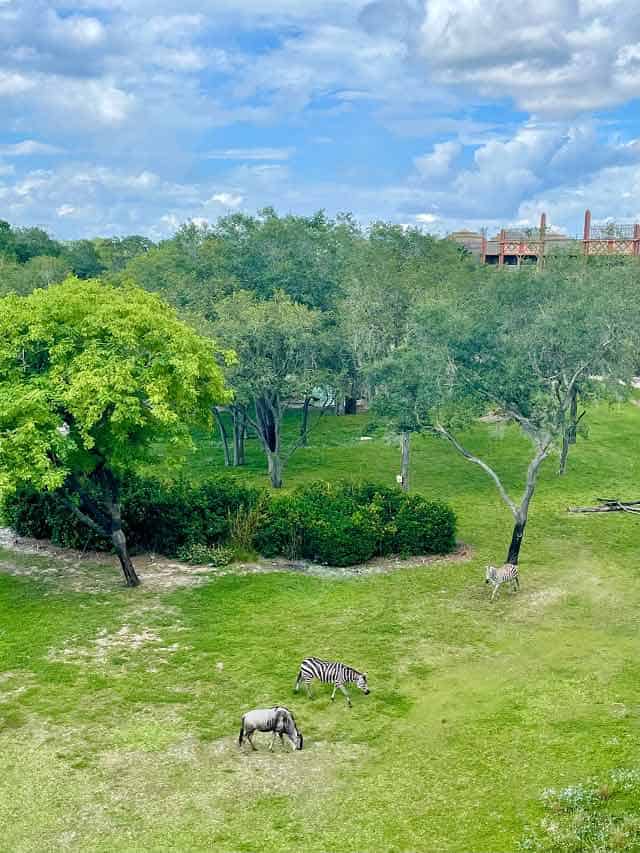 We intentionally planned to spend time in the room to enjoy the savanna. But, the time we gave ourselves simply wasn't enough. I could have enjoyed our room and our view for hours on end if only there hadn't been so much I wanted to enjoy in the parks, too.
Overall
While I was a little jealous of Monica's extra bathroom over at Kidani, the location of this room in Jambo house was perfect for this particular trip. We were just steps from the elevator, so we could avoid those notoriously long Animal Kingdom hallways and get where we were going quickly. Not only that, but we had zebras, wildebeests, and all our other animal friends to enjoy.
I will stay in Animal Kingdom Lodge again in a heartbeat! It is a gorgeous and relaxing resort. I know that if I do stay here again, a savanna view will be a must. That is an upgrade that is definitely worth the money in any scenario. I suppose that if you don't like animals at all, skipping the view is okay. But then again if you don't like animals at all, I'd recommend staying somewhere else altogether.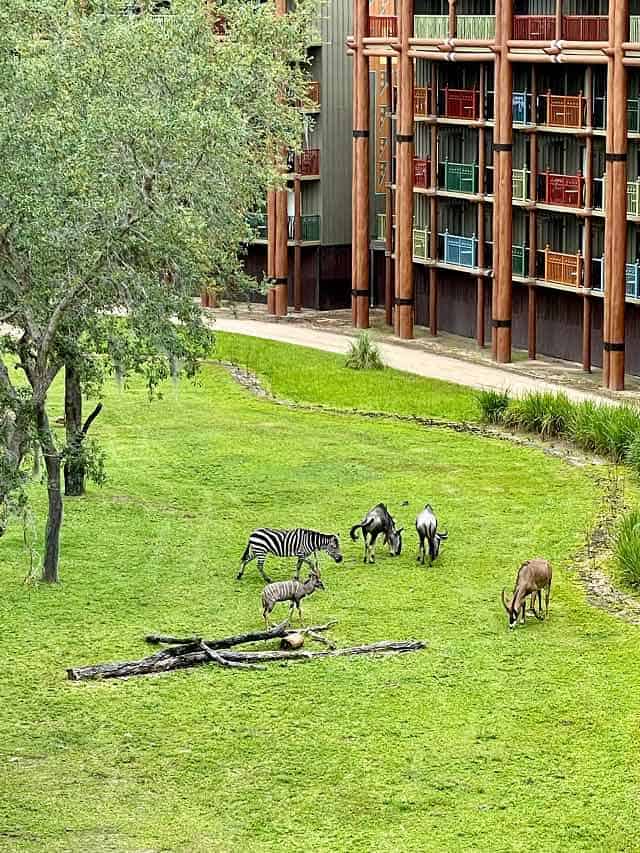 I would also love to stay in the one-bedroom suites again, especially on a resort-heavy trip. But my family would also be perfectly happy in the studios, especially if we planned to be in the parks most of the time.
Overall, it was an absolute treat to stay in this beautiful place. The whole experience was a little bit of pixie dust for the soul.
Have you enjoyed a stay at Disney's Animal Kingdom Lodge? If not, is it on your wish list?  Please, let us know in the comments or join our friendly crew to continue the conversation on Facebook.
Are you planning a vacation? Reach out to our trusted travel agency sponsor Authorized Disney Vacation Planner
Mouse Class Travel
!