Do you love dining at Sanaa? Check out these great new menu items.
Dining at Sanaa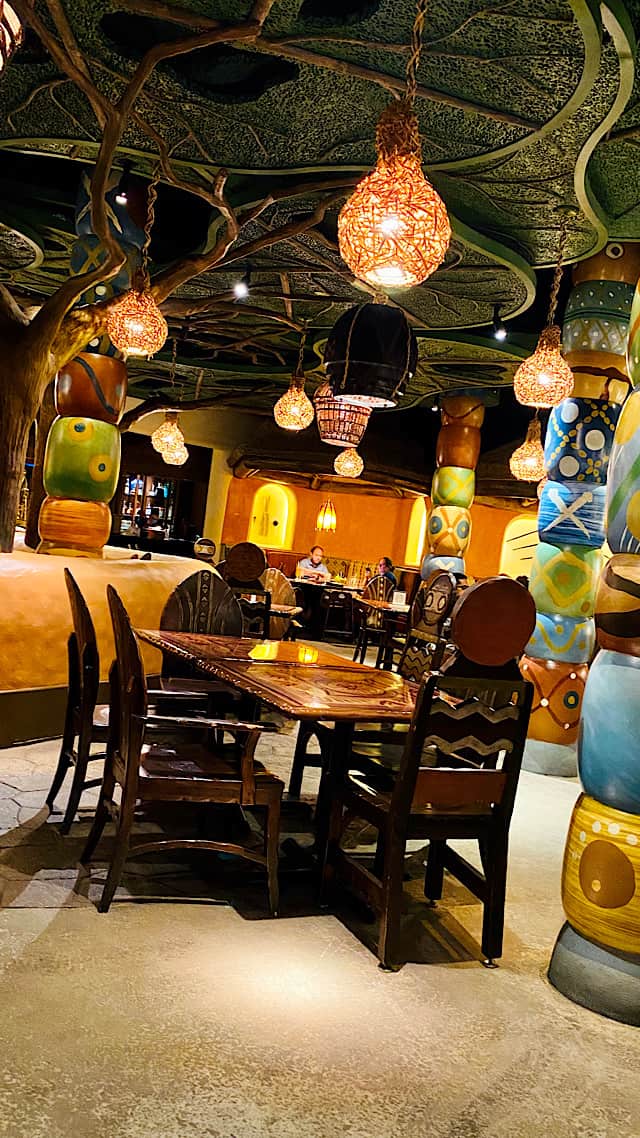 Sanaa is located inside Disney's Animal Kingdom Lodge. At this unique dining location, Guests take in a beautiful view to observe animals at different feeding areas while enjoying a delicious menu.
The restaurant gives Guests the feeling of being in a traditional spice market, decorated with handcrafted baskets, under the covering branches of an acacia tree. Check out Susan's full review of dining at Sanaa HERE.
Returning Appetizer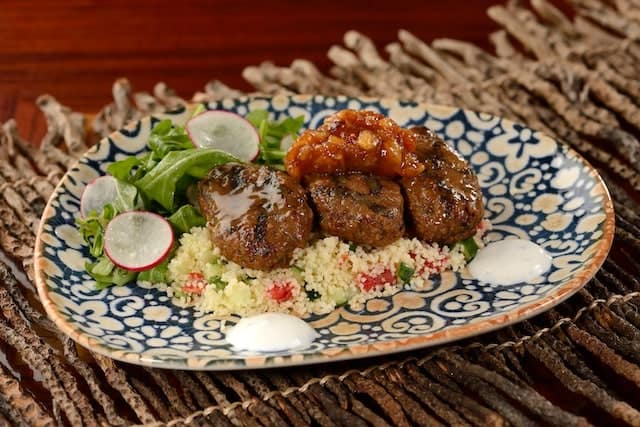 Disney Parks shares that starting today, Guests can enjoy these new menu selections at Sanaa.
A fan-favorite appetizer, Lamb Kofta, now returns for both lunch and dinner.  This appetizer is described as "infused traditional North-African flavors with spices like cumin and cayenne pepper to this char-grilled ground lamb with Tunisian couscous salad and ginger pear chutney."
Guests can rest assured that the delicious Indian-style Bread Service is still available on this updated menu.
Disney Parks shares that starting today, Guests can enjoy these new menu selections at Sanaa.
New Entrees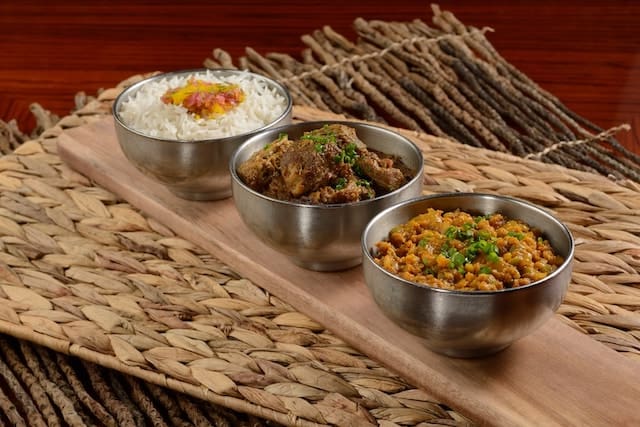 "For an entrée, the Potjie-inspired Slow Cooked Dishes are made in a potjie, a traditional cast-iron pot that dates back to the Dutch during the spice trade. The popular Butter Chicken is here to stay, with Chef introducing authentic pork selection and multiple plant-based additions to this 'Harvest'."
"The Pork Vindaloo has origins from Goa and features inspiration from Portuguese cuisine. This tender pork is cooked with paprika, garlic, tomato, vinegar, and a house-made spice blend – how delicious! The Lentil Daal is typically found in the Indian subcontinent and is made with yellow lentils and cooked in fragrant spices."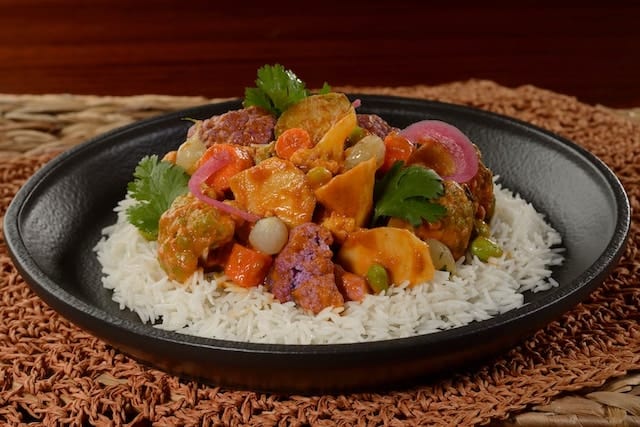 "The Zanzibari Vegetable Curry is inspired by the island of Zanzibar, also known as "Spice Island." This plant-based dish features seasonal vegetables, fragrant rice, and a mouthwatering blend of cloves, cinnamon, and black pepper."
They also have a delectable seafood dish for Guests to enjoy as well.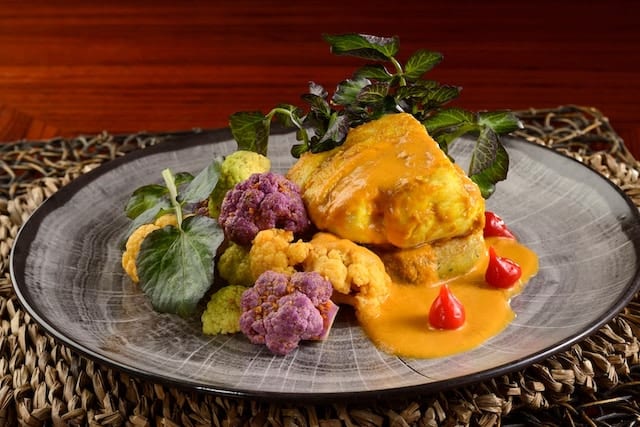 "Samaki Wa Kupaka, which means "coated fish," is quite a unique fish. Kingklip is commonly found along the Southern African coast. This moist, white fish joins the menu as a part of sustainable seafood initiatives and is absolutely delicious with a marinade of traditional Swahili cuisine, mango and turmeric, and topped with a tangy tamarind-infused coconut gravy."
This dish sounds delicious and is absolutely gorgeous with such vibrant colors.
Only Available for Dinner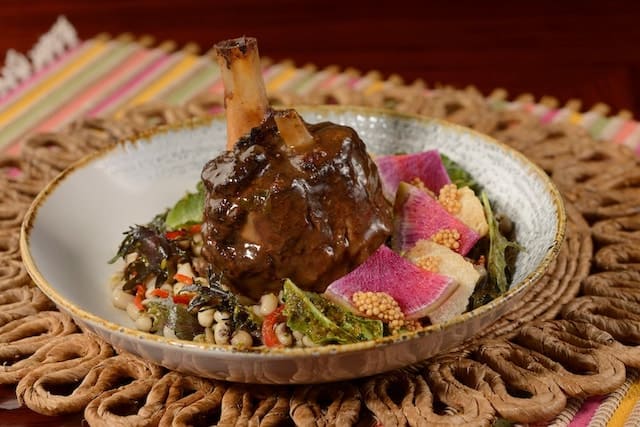 Guests with dinner reservations can enjoy two amazing entrees. The first is, "the fall-off-the-bone Pork Shank goes through a long braise process with flavors of cloves, nutmeg, and allspice before making it to your plate and is paired with one of the Chef's comfort foods – black-eye peas simmered in a chermoula herb blend."
As if this dish didn't sound amazing enough, they will also offer a Grilled New York Strip. This entree was previously offered on the menu, but now has an updated twist.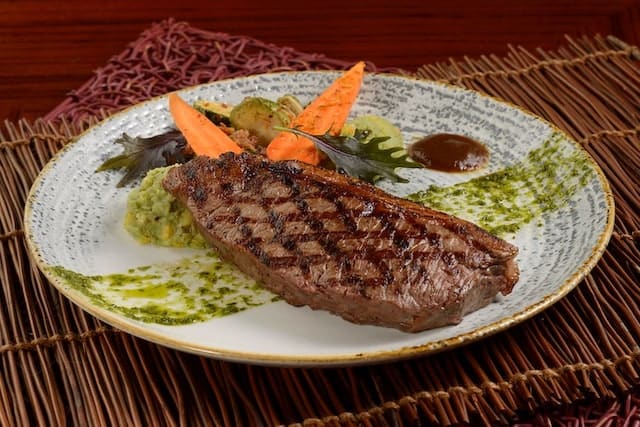 "As you take a bite of these decadent flavors, you'll be transported to Eastern Africa with this version of "meat and potatoes." The strip is perfectly paired with mukimo made with green peas, corn, and spinach, as well as harvest vegetables, herb emulsion, and fig sauce."
With so many delicious menu options, the only problem may be deciding which to try first.
Have you dined at Sanaa previously? What was your favorite dish? Which menu option would you most like to try? Will you plan to make a reservation for Sanaa for your upcoming trip to Walt Disney World? Share your thoughts with us on our Facebook Page.