Is it worth the cost to move from a value resort to a moderate resort at Walt Disney World? Here is why I usually say no BUT when I might say yes.
Walt Disney World Resort Hotels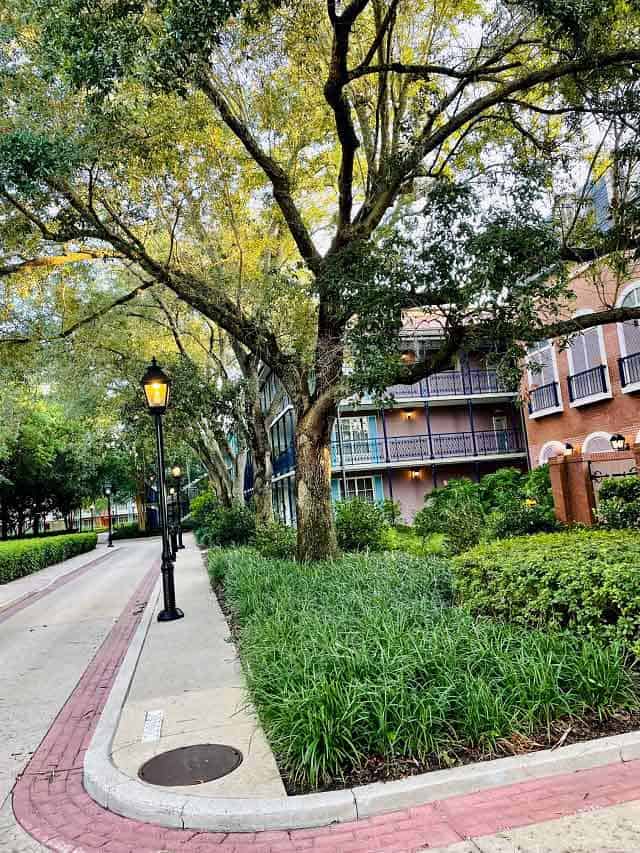 One of the biggest decisions when planning your Walt Disney World Vacation is deciding where to stay. Walt Disney World has more than 25 Disney Resort hotels to choose from. Couple that choice with Disney Springs area resorts and countless off-property offerings within driving distance, and the choice can seem daunting.
However, once you decide to stay in the Disney Bubble, the choices are at least categorized by price point. Disney World offers Deluxe Resort, Moderate Resort, and Value Resort Options.
Sometimes, Guests wonder whether it is worth upgrading from a Value Resort to a Moderate Resort. I (Katie) have stayed almost everywhere there is to stay in Walt Disney World, and now I almost always say "No" to this question with few exceptions. Here is a rundown of why I tend to select values over moderates.
Comparing Moderates to Values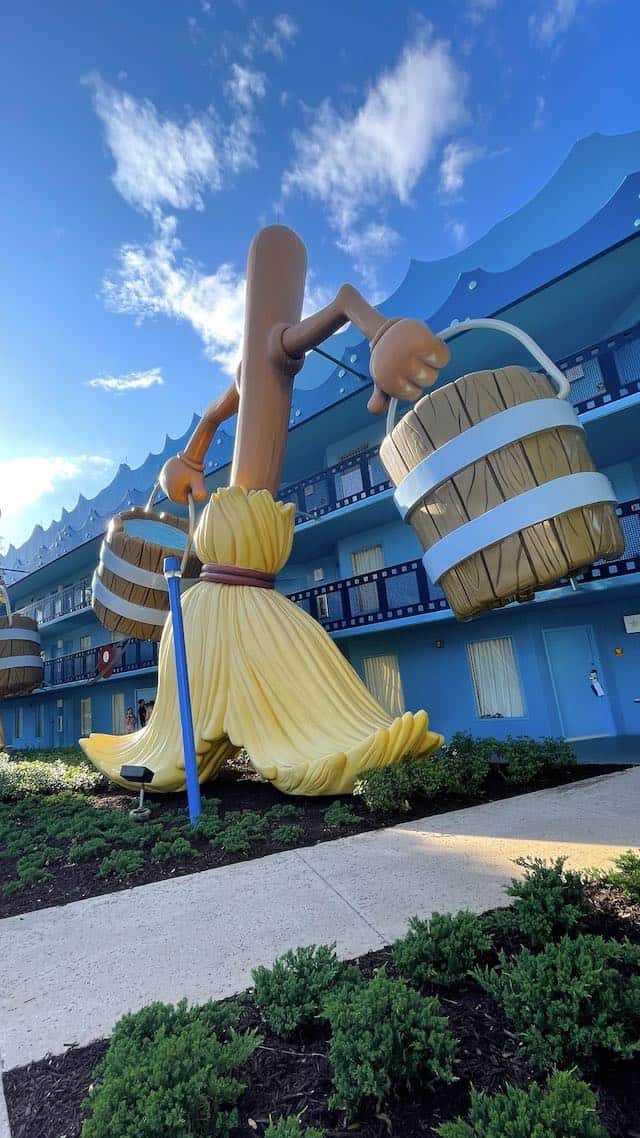 Honestly, the moderate and value resorts can be hard to compare. Rather than selecting between ALL moderates and ALL values, it is almost as if you are selecting between the moderate and value skyliner resorts and the moderate and value bus resorts.
For example, if you want to stay in a resort with access to the Disney Skyliner, which I would highly recommend if you are able to swing it, you should compare the value options: Disney's Pop Century Resort and the standard Little Mermaid Rooms at Disney's Art of Animation to the moderate option: Disney's Caribbean Beach Resort.
On the other hand, if you are looking at options that only offer bus transportation to the theme parks, you can compare the standard rooms in the remaining moderate and value options.
The only resort that has no direct comparison is Fort Wilderness. The campsites are categorized as value accommodations and the cabins are categorized as moderate accommodations. However, since the resort is in a category all its own, it won't be in the mix here.
How Value and Moderate Resorts Differ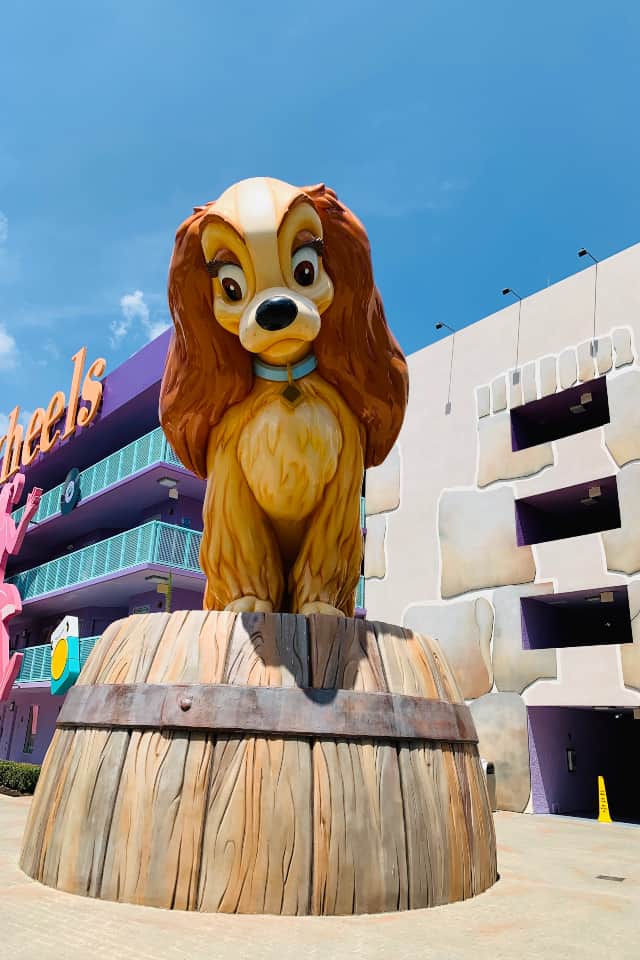 With that said, there are a few consistent differences between the dedicated value and moderate resorts. One, of course, is the room size. Moderates will give you on average up to 60 square feet more than value options in terms of space. However, the recent redesign of All-Star Resorts rooms and Pop Century rooms implemented such great utilization of space that they may feel nearly the same.
Do keep in mind that the subject of space does NOT take Family Suites at Disney's Art of Animation Resort and Disney's All-Star Music Resort into consideration. Those are built to accommodate bigger parties and therefore are larger (and also pricier than a typical value resort).
Next, moderates are more tend to be more elevated in terms of theming. You aren't going to find behemoth Disney sculptures and loud decor. So, some Guests find this gives their stay a more "adult" feel. For example, Disney's Port Orleans French Quarter and Port Orleans Riverside both have gorgeous grounds. And, Disney's Coronado Springs Resort offers the option to stay in the Gran Destino Tower, which is in a class all its own.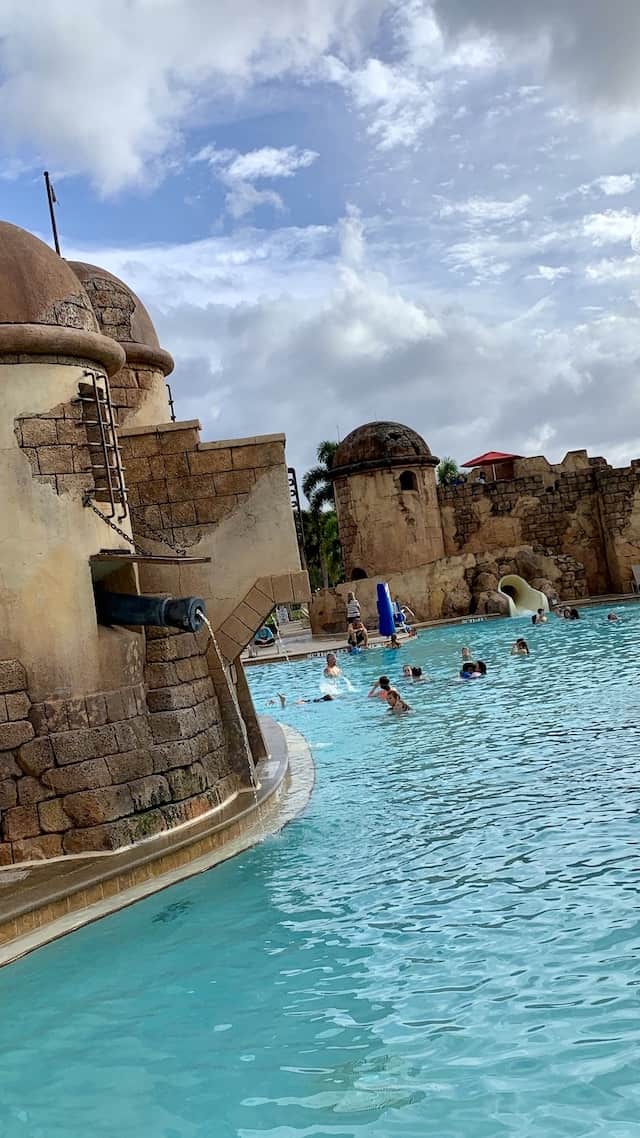 Moreover, Moderate Resorts also offer better amenities including swimming pools. Each has a water slide. You will not find slides at values. You will still find great pool-side activities led by enthusiastic Cast Members.
When it comes to dining, all resorts have a quick-service option. On top of that, moderate resorts have table service restaurants except for Port Orleans French Quarter. It only has a quick service option. You will also find themed lounges at moderate resorts. Value resorts only offer pool bars.
The Bus Transportation Factor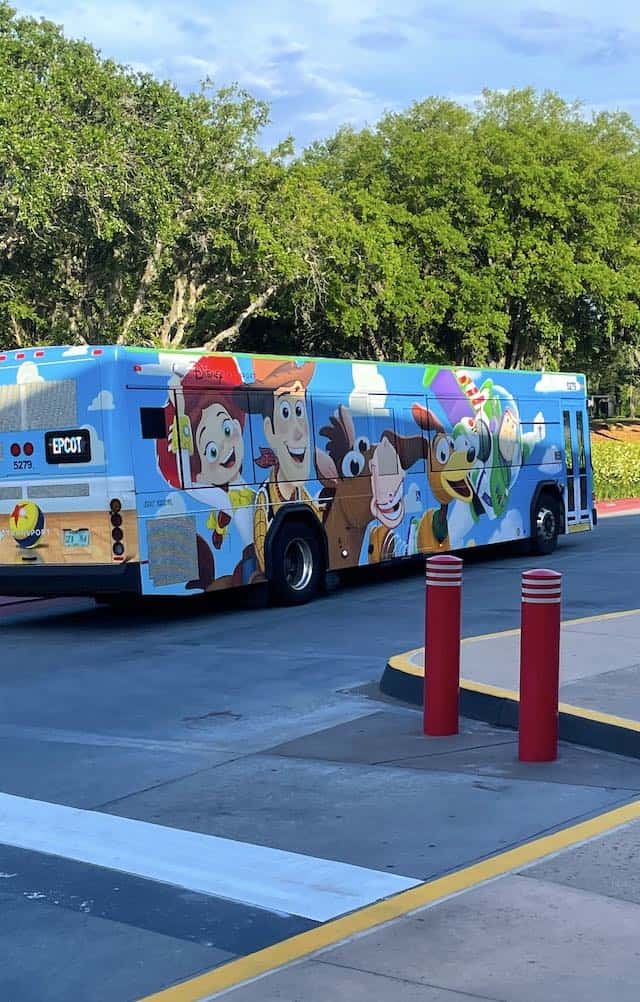 Unless you are staying at a Skyliner resort, a value is nearly always going to be a better option in terms of the bus transportation situation. This sounds counterintuitive, but hear me out. Most moderate resorts are large, sprawling beasts with multiple bus stops. The exception is Port Orlean's French Quarter, which is a one-stopper. In fact, if I am going to select a moderate resort, I typically gravitate toward POFQ for this reason alone.
Staying at the multi-stop resorts can mean having to wait longer for a bus on the way to the parks. This is because if you are not at the first pickup location, sometimes a bus will pull up and already be almost at capacity by the time it gets to your stop. You may have to wait through multiple buses at busy transportation times.
On the other hand, if your room is at the start of the route, you will find that stopping and picking up additional passengers really adds to the length of time it takes to get to the parks, and you will have to factor that in if you are trying to get someplace on time.
This can also prove to be a problem at the end of the day if you are staying in a room at one of the last drop-off points. It can be tedious to sit through so many stops waiting for yours, especially if you have little ones.
The values, on the other hand, each have one bus stop, and that's it. Everyone gets on and off at the same place. This can make lines seem longer in the morning. However, at least there is no "will there be room on this bus" guessing game. Also, the queues for buses at values hotel stops are somewhat more organized with switchbacks to show people where to line up. At moderates, it can be a bit of a free-for-all-all if there is a crowd at the hotel bus stop.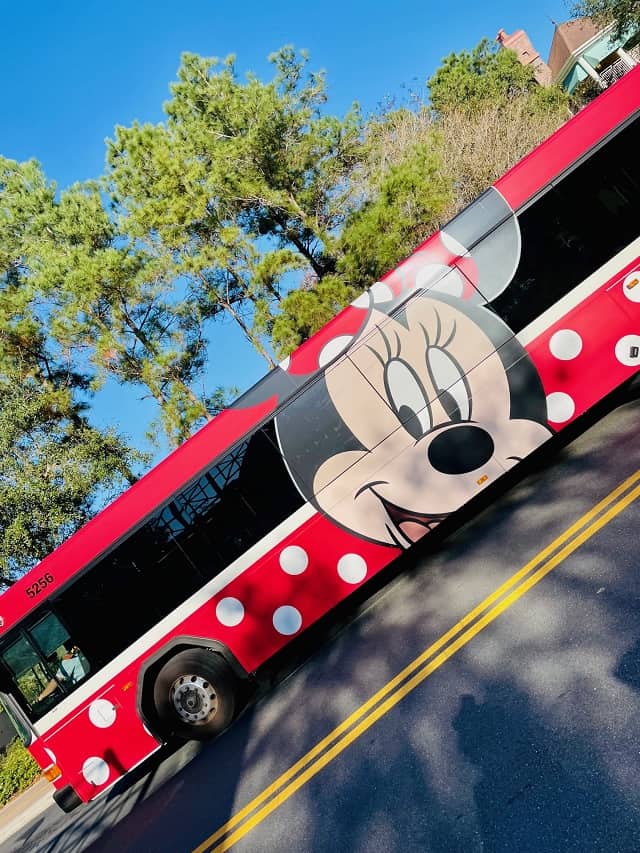 If you are considering upgrading from one of the All-Stars vs. Port Orleans Riverside or Coronado (with the exception of the Tower), I'd stick with value resorts to avoid the bus situation, especially if I were traveling with children.
Alternatively, if you are able, you might consider splurging a little more and going for one of the lower-priced sprawling deluxe resorts like Disney's Saratoga Springs Resort or Disney's Old Key West Resort if your date range allows you to take advantage of the Extended Evening Hours benefit afforded to the deluxe resorts. The benefit is a good trade-off for the multiple bus stops. For that matter, you could also consider adding The Walt Disney World Swan and Dolphin Resort to the mix for consideration.
The Skyliner Factor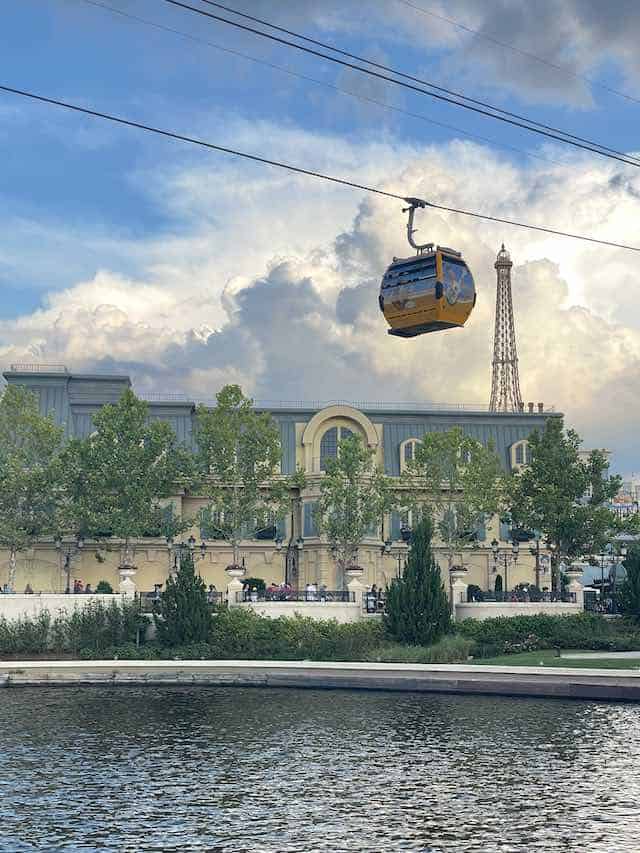 If you want to stay at a resort on the Skyliner, which is highly enjoyable, then things are simpler. As I mentioned you only have ONE moderate option: Caribbean Beach Resort, and two value options: Pop Century and Art of Animation. And, truly, unless you want to spend a lot of time at the pool, or unless you have 5 members in your travel party, it is not worth the upgrade to move from the standard rooms at AoA or Pop to CBR.
However, if the pool, resort grounds, and amenities are important to you, you will want to make that splurge. CBR has a great pool and an awesome restaurant.
The Value Factor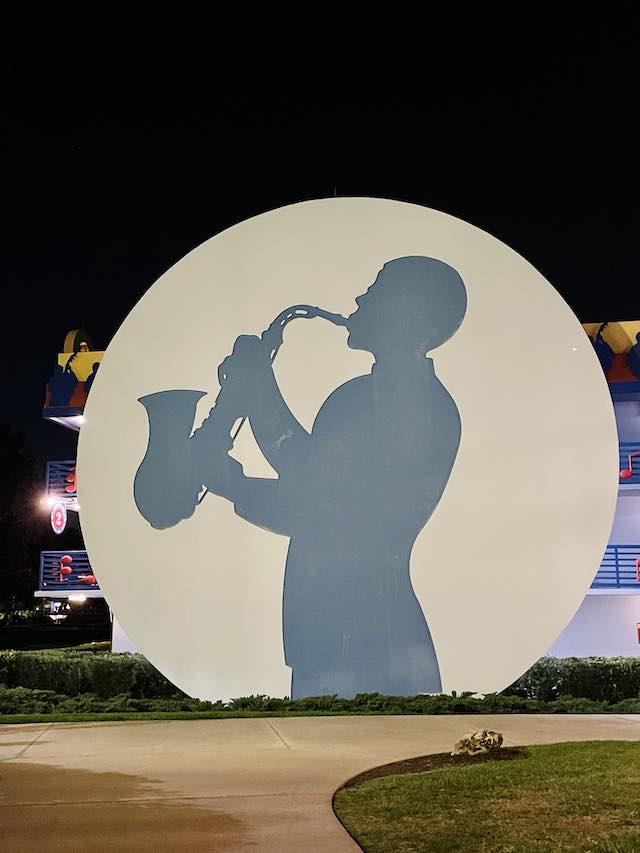 Obviously, if cost is a factor, you are going to be happier staying at a value resort. Moderates offer no advantages over values in terms of special access to theme parks. The benefits are the same.
However, they will save you some money. Depending on discounts and seasonal offerings, values are on average as much as $70 a night less than their moderate counterparts. This is not such a huge deal if you have a short stay, but it adds up quickly beyond a night or two.
Some people wonder how it is out of state annual pass holders can afford to visit Disney frequently. The answer is cutting costs everywhere. And, one of those is resort costs. Here is a little "Disney Math" example. If you visit Disney 4 times a year, and you select value resorts for a 5-night stay over moderate resorts, you are looking at an average of $1400 savings in accommodation costs over the course of a year.
That savings in itself can equate to an extra visit!
When Is Upgrading to a Moderate Worth It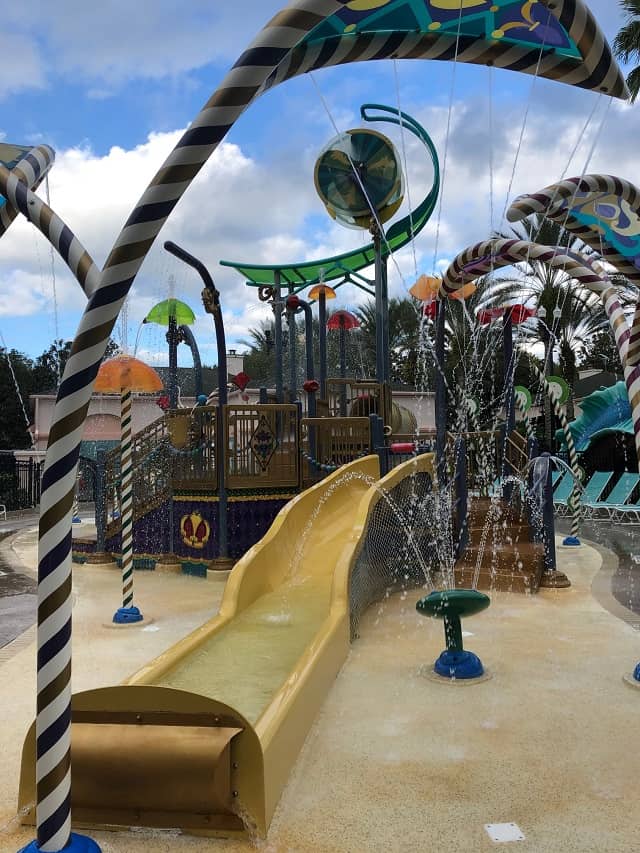 You MIGHT prefer to select a moderate over a value resort in a few situations.
Again, if you plan to spend a lot of time at the resort pool, and you have little ones who would get a kick out of a water slide this would be a good opportunity to upgrade. The pools are fun. There is nothing wrong with the pools at value resorts, but the moderate ones are significantly more memorable if you want a pool day.
The same is true if you plan to spend a lot of time at your resort. The moderates have more to offer. They are a bit quieter than the values. However, if you do not plan to spend time at the pool or the resort in general, save the money. If you are in the parks all day, you will only be using your resort as a place to rest and bathe anyway.
You might also prefer a moderate if you want 2 real beds. All of the standard value rooms offer a queen bed and a table bed. But, most standard moderate resort rooms still have 2 actual beds.
Lastly, if you plan to spend time in Disney Springs, you might consider 2 of the moderate options: Port Orleans Riverside or Port Orleans French Quarter. This is because you can enjoy a nice boat ride to Disney Springs. The boat itself can feel like an attraction if you have little ones in your travel party, and it can make Disney Springs more of an adventure for them.
At the end of the day, all of the resorts have their highlights. If you work with the criteria that are most important to you to make an informed decision, then you will enjoy your stay!
Do you have a favorite Value or Moderate Walt Disney World Resort? Have you ever been glad you did or did not upgrade to a different resort? Let us know in the comments! And, as always, feel free to share our content with others who are planning a Walt Disney World vacation!