Are you a camper? Read on to find out all the ins and outs of Disney's Fort Wilderness Campground and why it is a MUST DO!
Resort Overview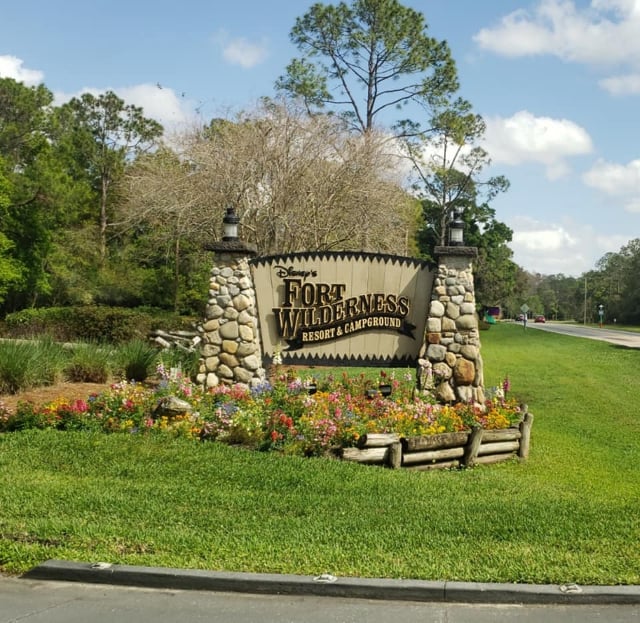 Feel close to the magic by camping near the magic! Guests will take in the American frontier with all different types of wildlife including deer, rabbits, ducks and armadillos that will roam the resort. Can you believe that this resort takes up 750 acres? You can relax in the great outdoors with only being minutes from Magic Kingdom!
At Disney's Fort Wilderness Resort & Campground you will find trails, two pools and entertainment and activities of all kinds! This resort is unique as you won't find any other resort like it at Disney. The resort opened on November 19, 1971. It consists of both campsites and cabins for guests to enjoy.
People travel from all over just to camp at the Fort Wilderness Campground without ever stepping foot in a park! The campground has a following all of its own. People love to participate in the holidays, and they go all out when decorating their campsite and golf cart.
Fort Wilderness Campground is commonly known as "The Fort." The campsites are in a category of their own when booking, and the cabins are considered a "moderate" resort.
Campsites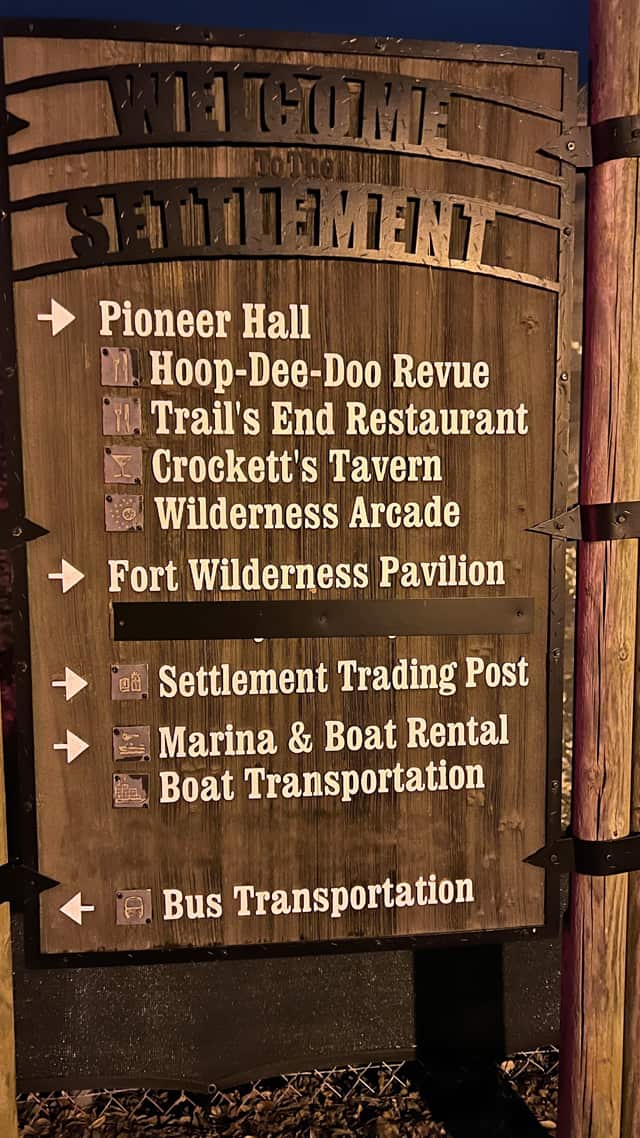 There are several options for campers to choose from. If you are looking to camp you will have four different types of campsites to chose from. This is an awesome spot for larger parties as you can have up to 10 guests per site!
Campsites can accommodate tents and even 45-foot and longer RV's. Don't want to rough it too much? Don't worry! Every campsite has water, cable television and electrical hook-ups. Campers will also find a charcoal grill and a picnic table.
Each site has landscaping that has your privacy in mind! So you even though you have neighbors, you won't feel they are too close. Many campsites have a sewer hook-up too! With your own camper you will feel like you are right at home within the Disney magic! Have a pet traveling with you? Bring the pup along! Many sites are pet-friendly. There is also a dog park for your pup to burn some energy as well!
Types of Campsites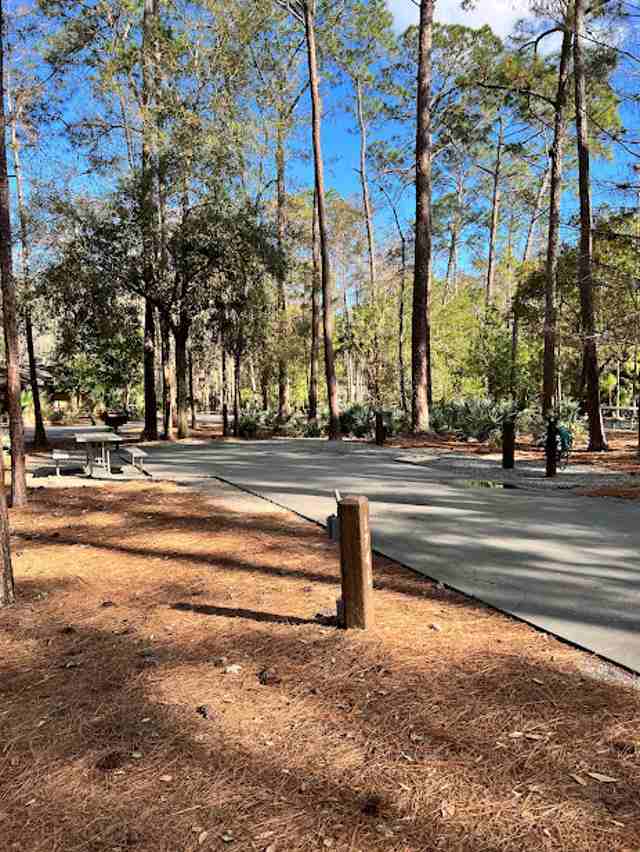 Some options for choosing your campsite include what kind of camper or tent you will be using and what location you would like. Here are the different types of campsites you can choose from:
Tent or Pop-Up Campsite: Room for a pop-up camper or a camper van-type vehicle, and up to 2 tents. This will accommodate equipment on a concrete pad up to 10 feet by 25 feet.
Full Hook-Up Campsite: Room for an RV plus a tent. This will accommodate equipment on a concrete pad up to 10 feet by 50 feet. You will also have sewage hook-up.
Premium Campsite: Room for larger style RV. This will accommodate equipment on a concrete pad up to 18 feet by 60 feet. You will also have sewage hook-up.
Premium Meadow Campsite: Room for larger sty RV. This will accommodate equipment on a concrete pad up to 18 feet by 60 feet. You will have sewage hoop-up. This campsite is located with proximity to the Meadow Trading Post, Meadow Recreation area, Bike Barn and Campfire Area. The Meadows is located in the center of the campground.
Preferred Campsite: Room for an RV plus a small tent. This will accommodate equipment on a concrete pad up to 10 feet by 45 feet. You will have sewage hook-up. This campsite will be close to the Marina. The Marina is located at the back of the campground which is how you access a boat or bus to Magic Kingdom.
You are allowed to park one car at your campsite for free!
Cabins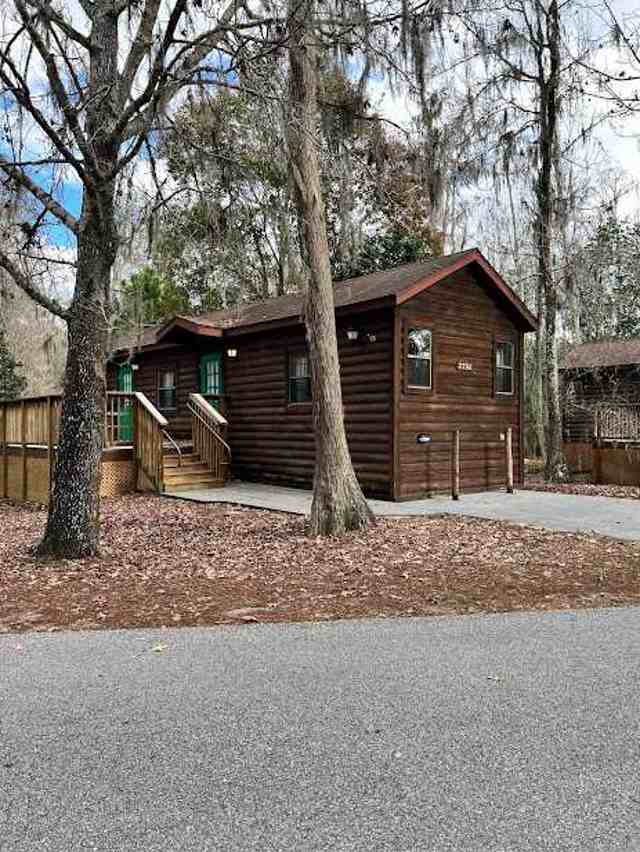 Don't have a camper, but want to enjoy the campground? You are in luck! You can book a cabin! These are homes away from home. Your private cabin is fully furnished with all the comforts of home. It comfortably sleeps 6.
Guests will find a living room, bedroom, full bathroom, private patio, charcoal grill and kitchen. The kitchen includes a full refrigerator, dishwasher, 2 countertop burners and a convection/microwave. You can park your car at your cabin, however it does cost $20 per day.
Be sure to check back soon for my full review on these unique room accommodations!
Check-in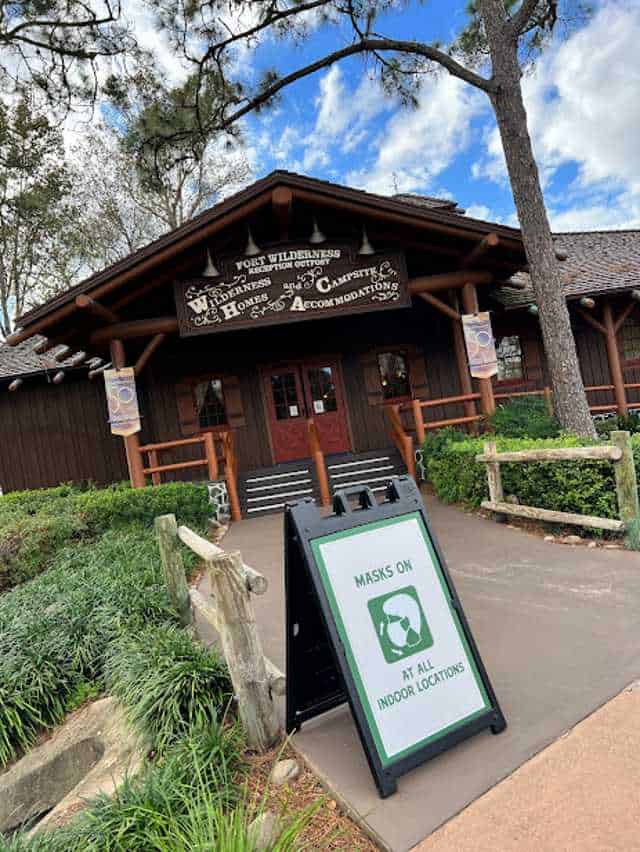 Check-in is at the Reception Outpost. As most guests are coming in pulling or driver their campers, Disney has a convenient large drive through check-in!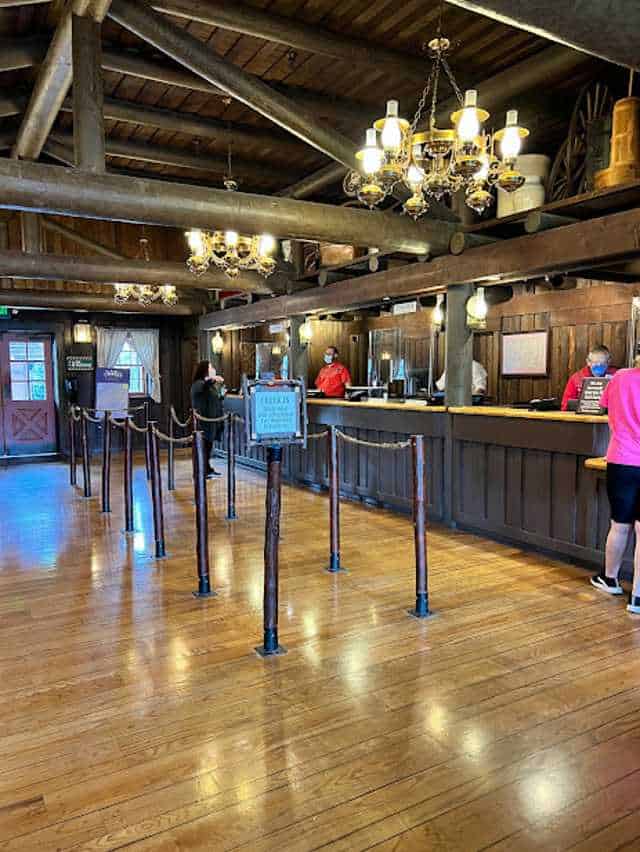 Inside the reception area you will find cast members able to help you with any of your vacation needs. Just outside is where you can pick-up your golf cart rental.
Golf Carts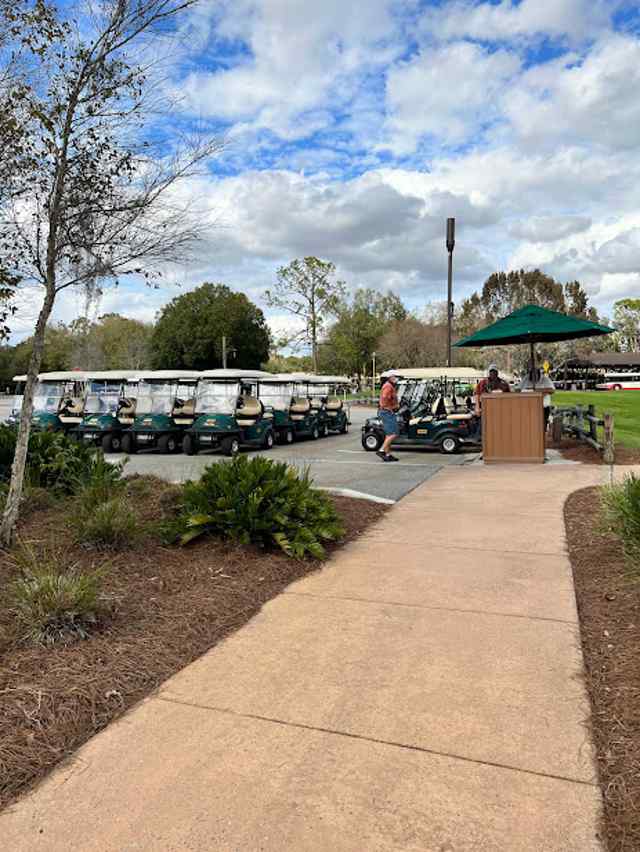 Do you have to have a golf cart? No, you definitely do not, but it does make it more fun! Having a golf cart makes it very eary to get around the resort, and there is parking for your golf cart through out the campground.
The best part about having a golf cart? Loopin'! This might have been my kids' favorite part of the whole trip! You ride around the different "loops" of the campground. It's a lot of fun to check out other campers set-ups during the day and at night. A trip to the Fort is not complete without some loopin'!
Decorating Your Campsite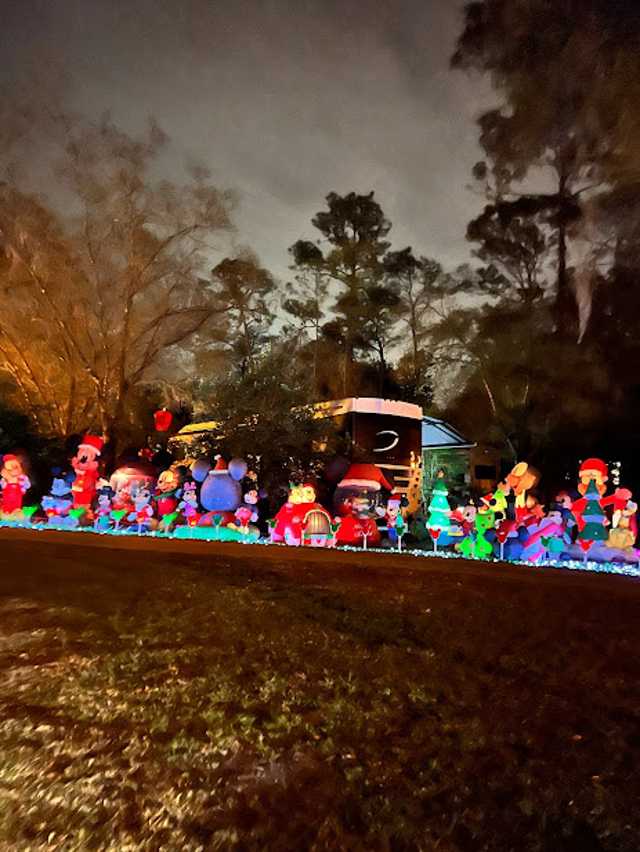 When you first enter the Fort you will notice that people go all out decorating their sites. It is so much fun to see everyone's set-ups. If you choose to decorate your campsite, just be sure to follow Disney's Decoration Rules:
Decorations may NOT:

Extend more than 10 feet from the site pad and should not encroach on neighboring sites
Be placed along any public sidewalks or roadways behind or alongside any campsite
Be closer than 3 feet from the roadway
Interfere with traffic flow
Be attached, wrapped, or placed on to ANY of the following: plants, trees, trash cans, fencing or structures
Obstruct sidewalks, trash cans, or Comfort Stations
Obstruct the site post (the site post MUST remain visible at all times)
Be placed on cabin deck stairs (deck stairs must remain free and clear of any decorations at all times)
Be placed higher than the cabin windows or door frame
Be used to create pathways through or around the campsite
Solicit or advertise sales, services or companies
Contain suggestive, offensive, or obscene material
Use intrusive bright lights, music, or sound effects (all decorations and effects must follow the Resort quiet hours)
Exceed 6 feet in height

Use of any flag, banner, sign or other material for commercial purposes, or as part of a demonstration, is prohibited.
Decorations that a person could enter or walk over/ under are not permitted. No such items are permitted to be erected or brought onto the property.
Extension cords are not allowed to cross any path or walkway.
Extension cords and power splitters/dividers must be suitable for outdoor use and must be in new condition.
Multiple power splitters and dividers may not be connected to one another creating a chain.
Shopping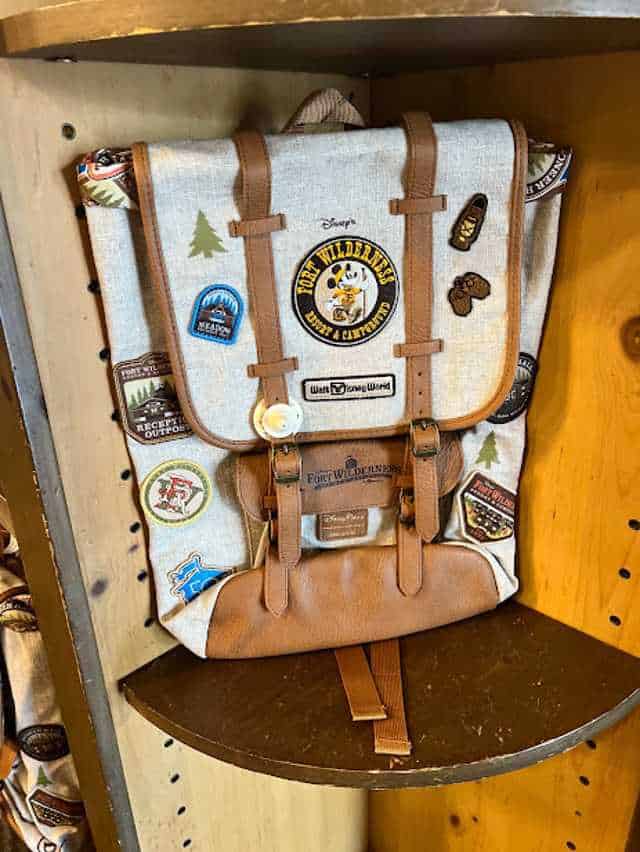 There are two places you can do some shopping at the Fort. You can find most items at the Meadow Trading Post which is located in the middle of the resort. The Settlement Trading Post is located at the back of the resort, near the Marina. This shopping area is smaller and tends to close earlier than the Meadow Trading Post.
At these shopping locations you will find all the things you could need. You will find groceries, camper needs (in case you have any issues or forgot anything) and even your favorite Disney souvenirs!
Dining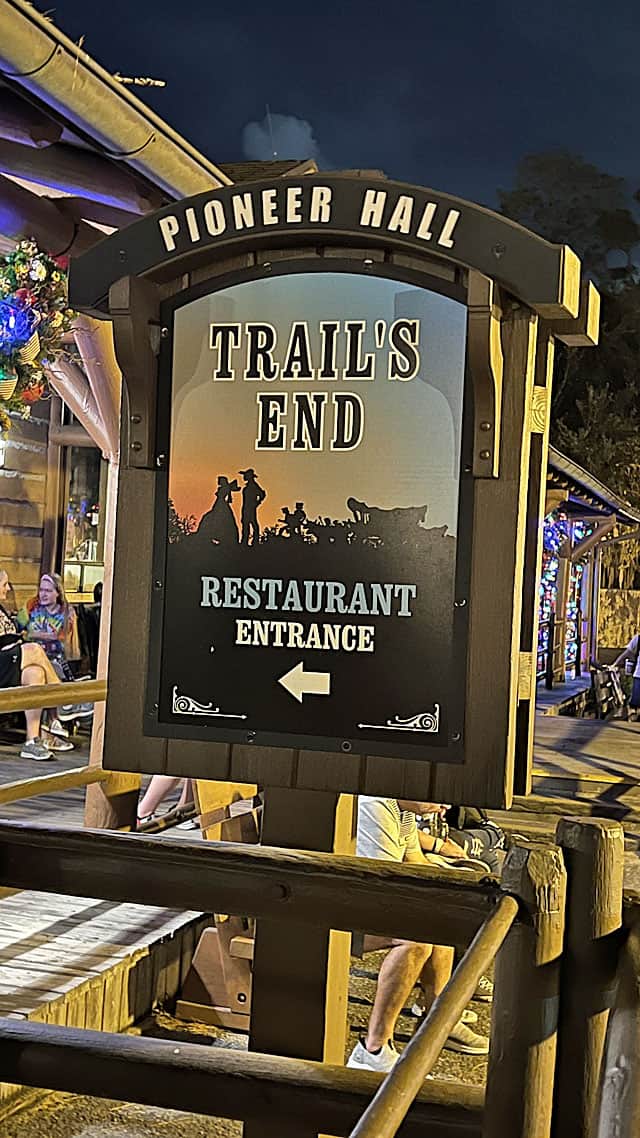 There are several dining options at the fort beyond your own campsite! Options include: The Chuck Wagon, Crockett's Tavern, Meadow Snack Bar, P&J's Southern Takeout, and Trail's End Restaurant. Hoop-Dee-Doo Musical Review will be returning later this summer.
The Chuck Wagon is located near the Meadows Trading Post. This offers a quick service type meal from a food truck.
The Meadows Snack Bar is located at the Meadow Swimmin' Pool and offers a quick service meal. A rapid refill drink station is located here, but it only available when the snack bar is open.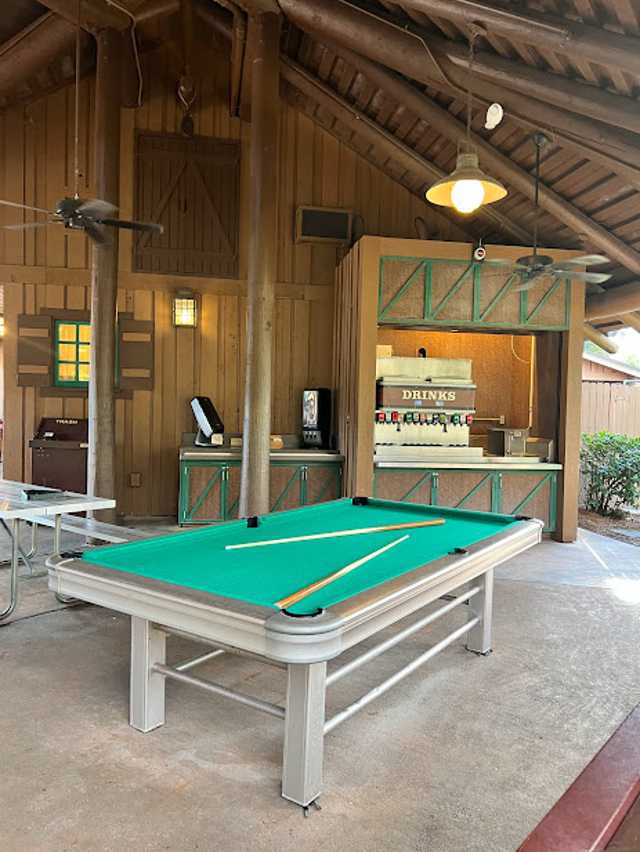 P&J's Southern Takeout is located at the back of the resort. This is what you will find open the most. It offers breakfast, lunch and dinner. You can purchase and refill your rapid refill mugs here as well. One of my favorites from here was the Iced Campfire S'mores Latte, and it was delicious!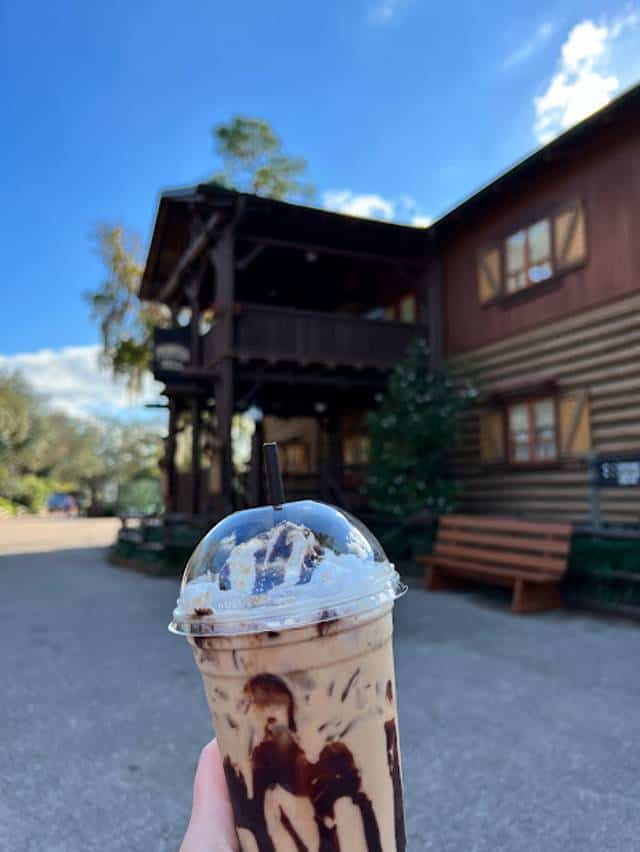 Crockett's Tavern is located at the back of the resort as well. It is available for take out through a walk-up window. This dining experience is only open for dinner.
Trail's End Restaurant might be one of the best kept secrets on property! So, shhhh don't tell! This family style restaurant is open for breakfast and dinner and is a fantastic value. Check out Susan's review HERE.
Pools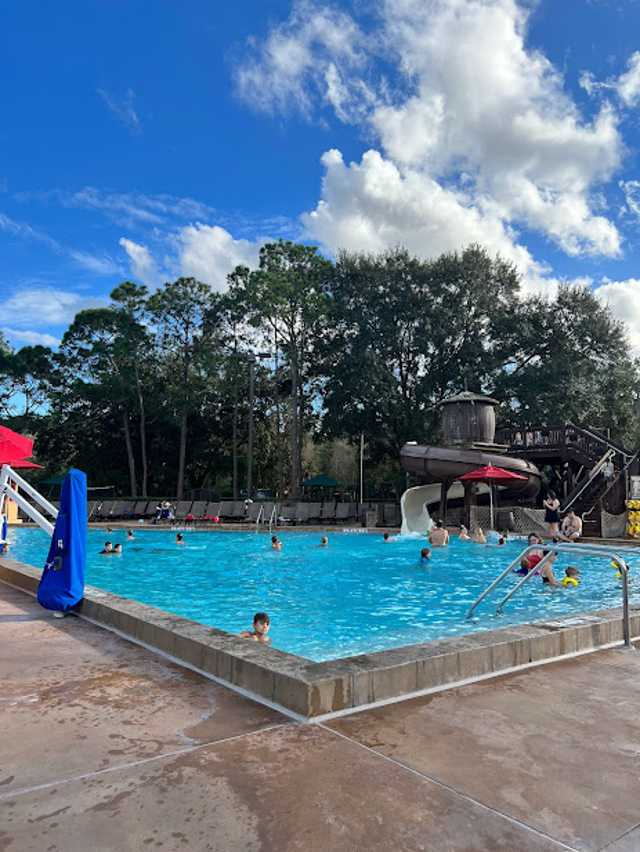 There are two pools at this resort. The main feature pool has a water slide and a kids splash area. This is the Meadow Swimmin' Pool and is located in the center of the resort. There are several recreational activities here (see the next section for all of your options!), a snack bar, and rapid refill station.
Pirate Tip: No Pool Towels are provided at either pool. Be sure to pack and bring your own from home!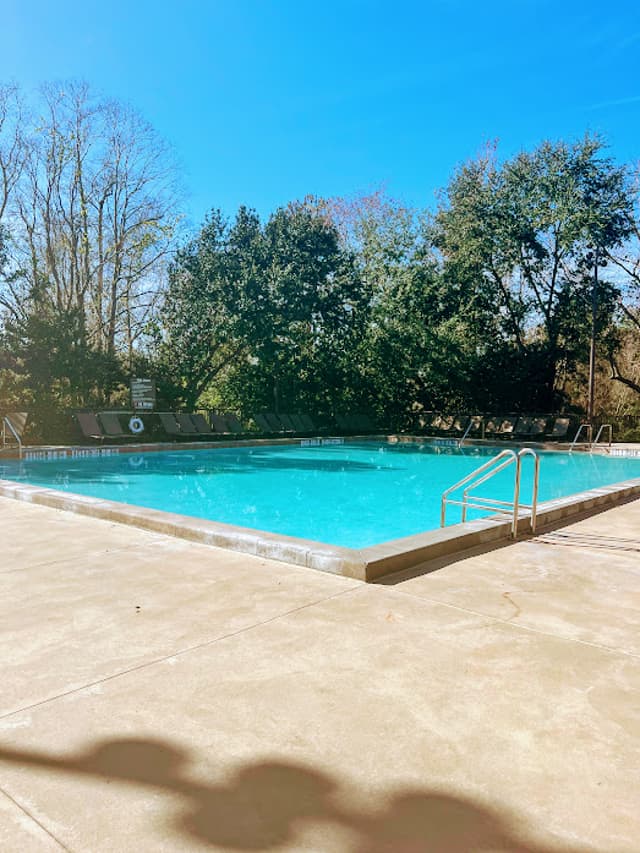 The Wilderness Swimmin' Pool is located near the cabins. This is a quiet pool as there are no lifeguards on duty, water slide, or kids play area. There is, however, a hot tub at each pool!
Recreation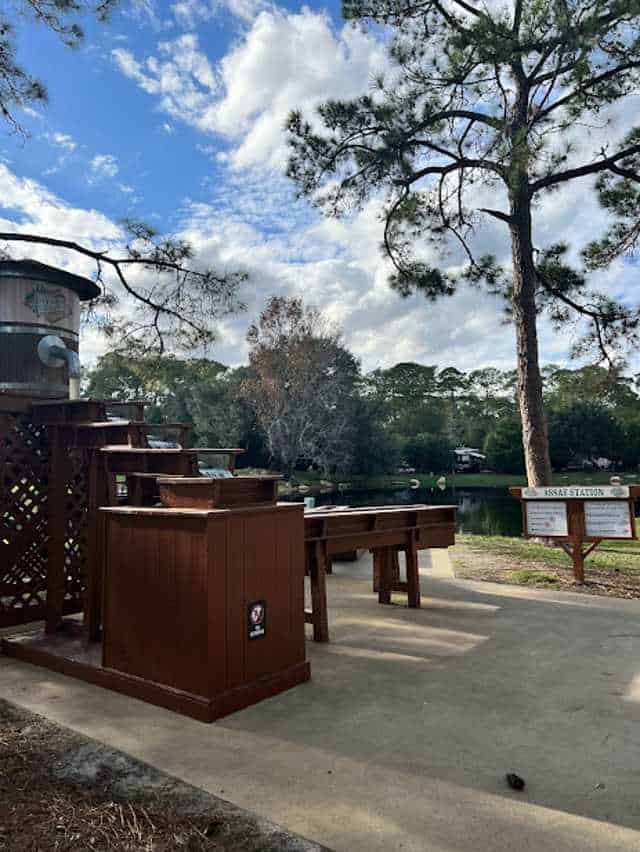 I think this resort may have the most to offer it's guests! There are so many things to do here, you will never have to leave! Activities include:
Pony Rides
Trail Rides
Fishing
Gold Mining
Playgrounds
Arcade
Pools
Horse-Drawn Carriage Rides
Tri-Circle-D Ranch
Bike Rentals
Canoe and Kayak Rentals
Motorized Boat Rentals
Basketball Courts
Volleyball Court
Wilderness Back Trail Adventure (Segway Tour)
Archery Experience
Comfort Stations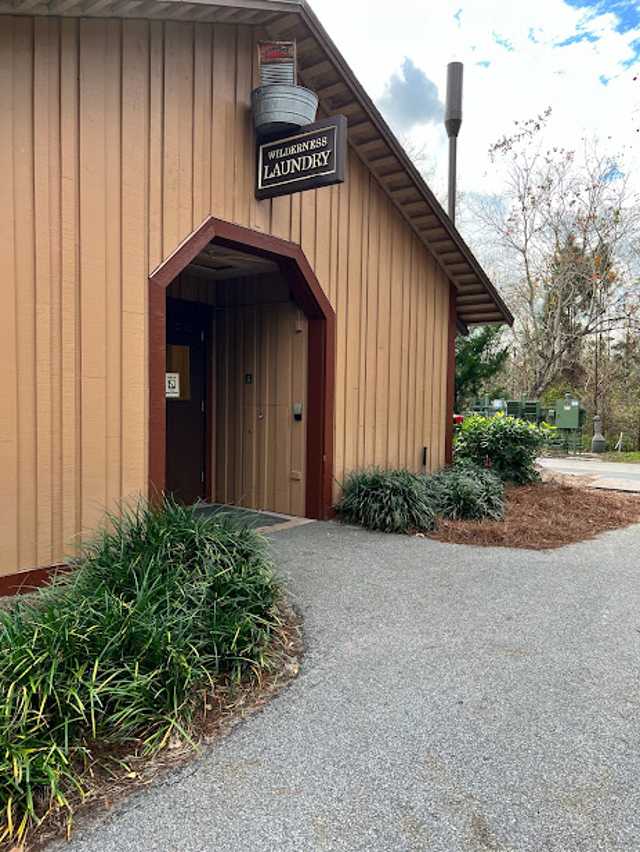 Comfort Stations are located throughout the resort. So if you don't want to or don't have bathroom accommodations in your travel trailer no problem! In each comfort station you will find bathrooms with showers. However, no shampoo, conditioner, body wash, or towels are provided. This is different from other resorts on property. The cabins have bath products and towels available to their guests.
Washers and dryers can also be found at each Comfort Station.
Transportation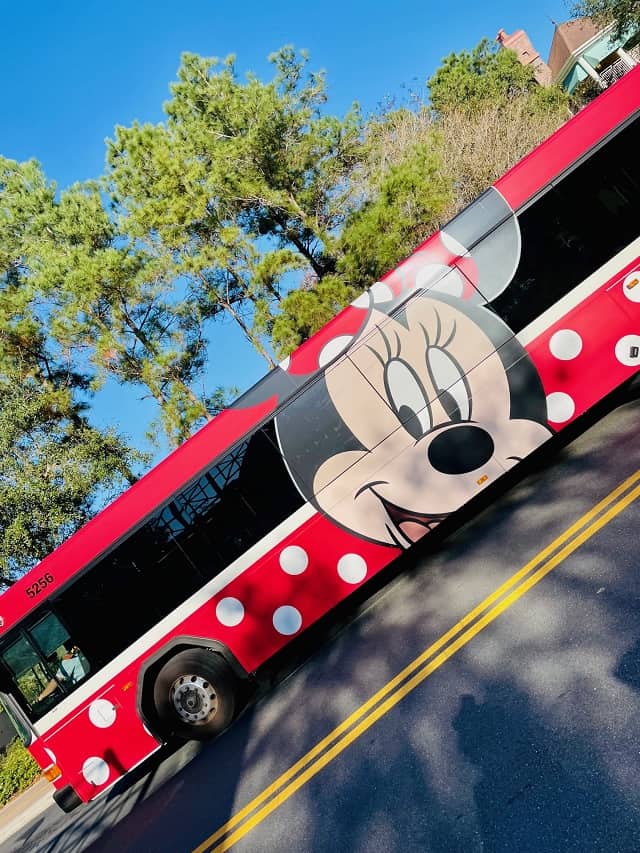 As you probably have figured out, this resort is MASSIVE! Walking this resort is not impossible, but it is a lot.
This resort is so big it has an internal bus system. With this internal bus system a golf cart is not needed, but I still enjoyed having one. The internal buses run early and often! I even found them to be running for runners to get to the Reception Outpost for the runDisney buses over Marathon Weekend.
There are a few transportation options when leaving the Fort. It is important to know where you are going as not all buses leave the same location.
The Outpost Depot is at the front of the resort. This bus depot services Hollywood Studios, Animal Kingdom, EPCOT, and Disney Springs.
The Settlement Depot is located at the back of the resort. Here is where you will find buses to Magic Kingdom! You can also take a boat from the Marina to Magic Kingdom.
Pirate Tip: If you are trying to rope drop Magic Kingdom, the buses are usually faster than the boats.
Contact Information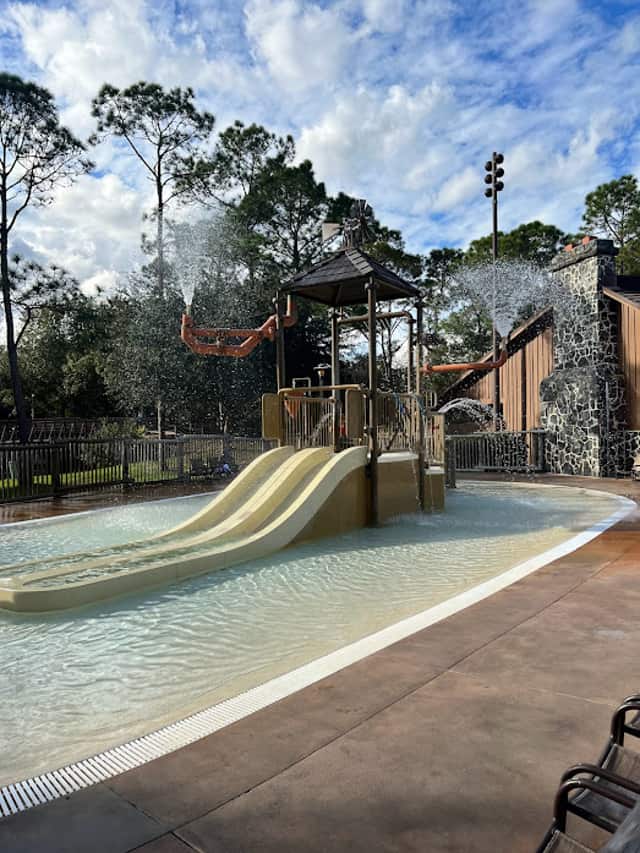 The mailing address and phone number for the resort is:
4510 North Fort Wilderness Trail
Lake Buena Vista, Florida 32830-8415
(407) 824-2900
Final Thoughts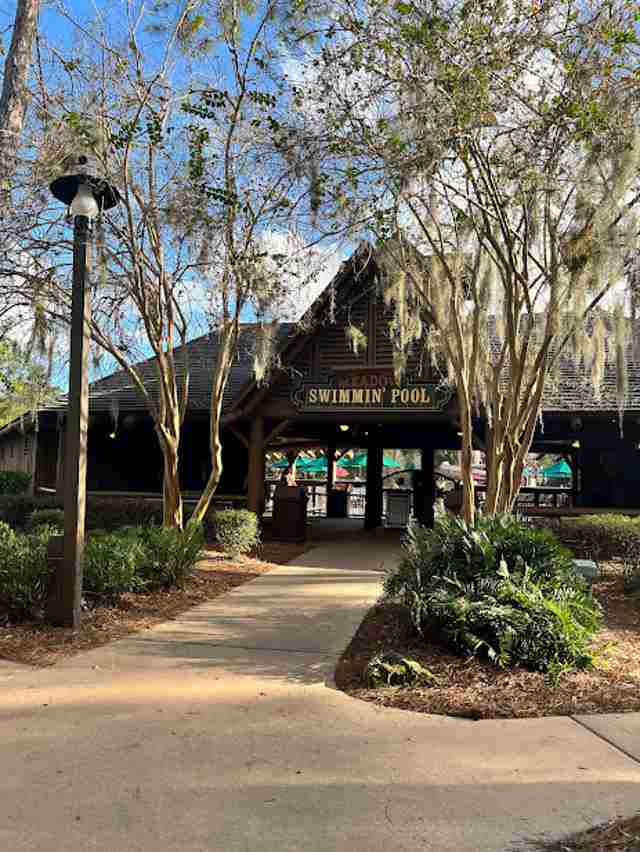 I always thought that the campground would be too far away from the magic and wouldn't feel like Disney. Boy, was I wrong! This is now my favorite resort when we are not staying at a DVC resort. I loved how Disney captured the outdoors. Staying at the Fort was a vacation in it's own.
My family ended up staying here by chance. I was pleasantly surprised at how much I ended up loving this resort. We have already booked another stay! I hope you and your family find this guide helpful, and enjoy your next stay at the Fort.
Have you stayed at the Fort Wilderness Resort and Campground? Will you be staying there on your next Disney trip? Let us know on the Kenny the Pirate Facebook page. Don't forget to join the KtP crew page too!