Do you have any restaurants that are on your must do list when visiting Disney World? There is now another one to add to your list that you may not have heard of before.
Caribbean Beach Resort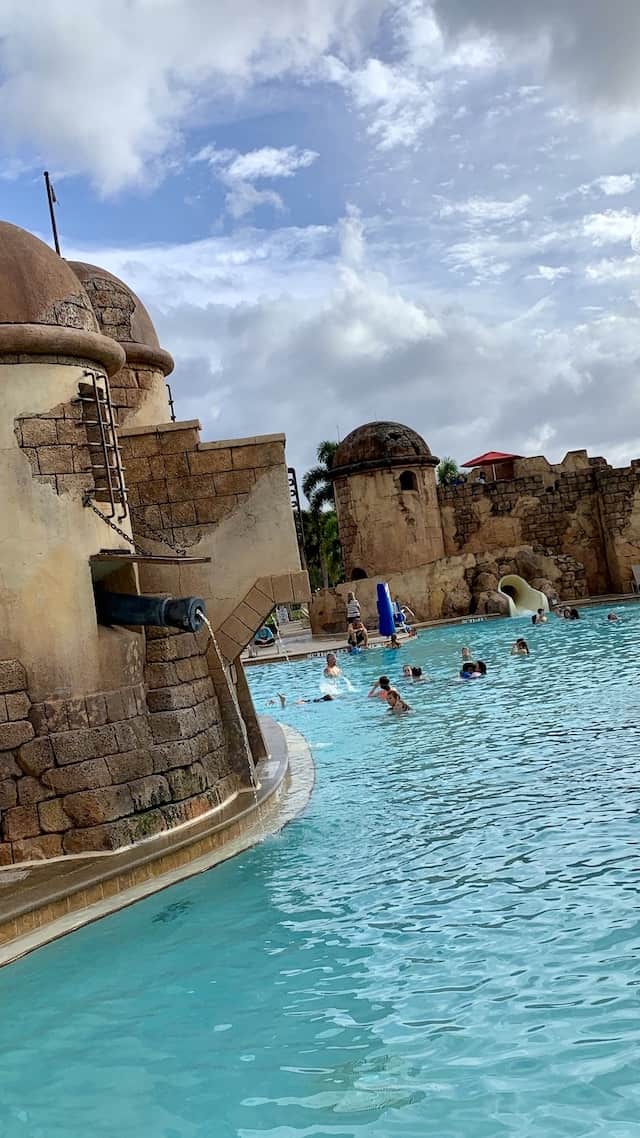 Caribbean Beach Resort is one of the five moderate resorts on property. Guests are transported back in time to the laid back and relaxing beach vibes of the Caribbean Islands. Sandy beaches, hammocks, and the vibrant colored buildings make you feel like you are taking a tropical vacation within a Disney vacation.
Caribbean Beach Resort was built in the late 1980s. It opened on October 1, 1988 as Disney's first moderate resort. There are 5 distinct areas in this resort. Each island – Barbados, Jamaica, Martinique, Trinidad, and Aruba – is made up of several buildings. Each section features brightly colored buildings and are reminiscent of the culture and architecture of the Caribbean Islands.
For the complete resort guide click HERE.
Sebastian's Bistro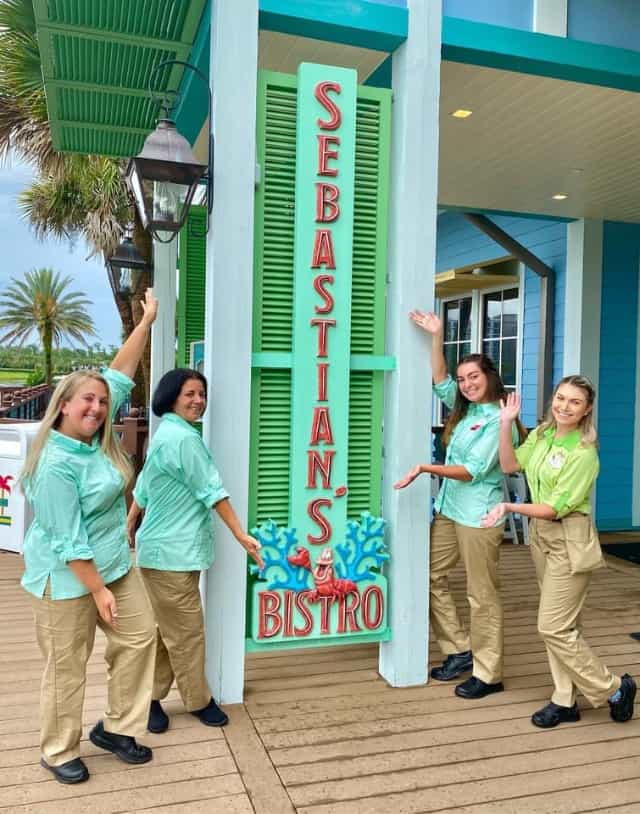 Sebastian's Bistro is a table service dining option at Disney's Caribbean Beach Resort. Disney describes it as, "transport your taste buds to "island time" with delightful family-style dishes infused with rich Latin and Caribbean flavors."
You tend to only hear about the character meals or the meals at the deluxe resorts. Sebastian's Bistro is found at a moderate resort, but it is well worth your travels to this resort.
You can get here by bus or Skyliner. Caribbean Beach Resort is the central hub for the Skyliner, so it may not be too challenging for some to get to. My (Heather) family tends to not stay at Skyliner resorts. My family might be rare in not loving the Skyliner for transportation. Read here how Disney made my family's decision on where to stay HERE.
The Menu
This is a tropical meal that will make you feel that you are truly visiting the Caribbean. Adults can dine for $32, plus tax and gratuity and children (ages 3-9 years old) can dine for $19, plus tax and gratuity. This is not too bad of a price for an all-you-care-to-enjoy dining experience.
The menu is a "Taste of the Caribbean." You will start with Buttery House-baked Pull Apart Rolls, a spice necklace salad and a Taste of the Caribbean, which is your main course and sides. The meal is completed with a House-made Coconut-Pineapple Bread Pudding. All of the offerings are served family style, and you can ask for more of any item!
In the above picture, you can see the specialty cocktails available. I always love trying a restaurant exclusive that can't be found anywhere else.
The Dining Room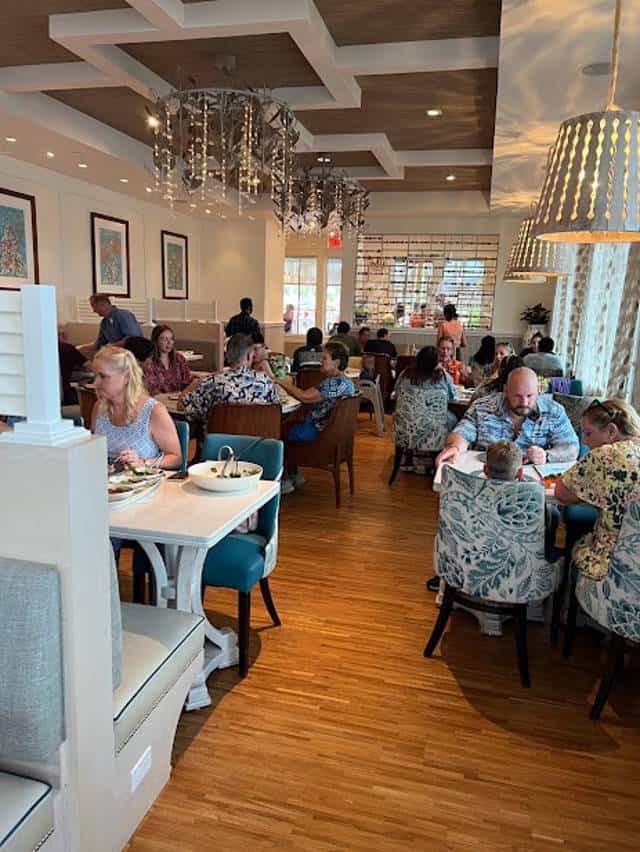 Sebastian's Bistro is not a very big restaurant compared to other restaurants on Disney property. The dining room is an "L" shape. It gives you a cozy dining experience.
As this restaurant is small, you would think you would have a harder time snagging a reservation. Fortunately, that is not usually the case. Many times you can even get SAME DAY reservations! This hidden gem is at a moderate resort, which may keep the crowds away.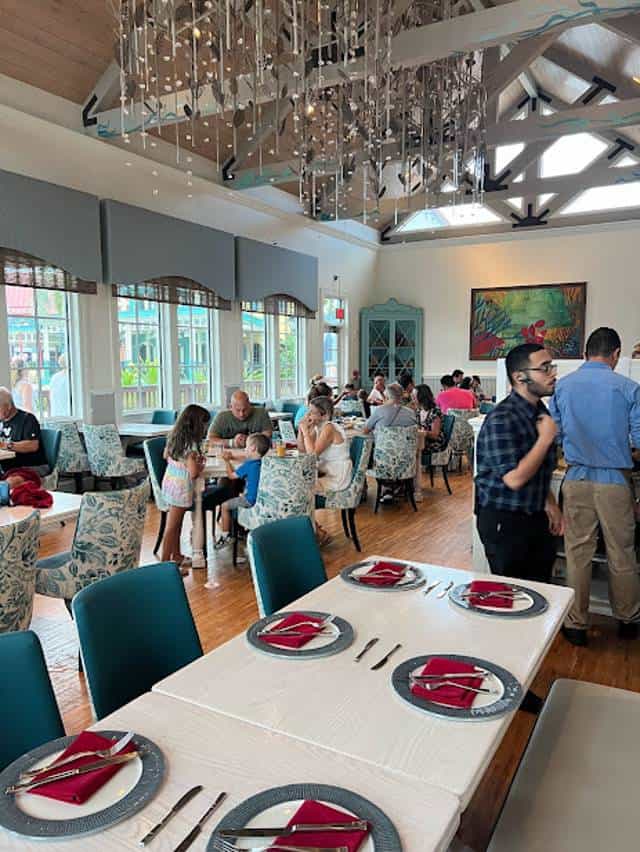 They still put a decent amount of tables in here which range from regular table tops to booths. I personally love the brightness and decor of this restaurant. Check out those gorgeous lighting fixtures!
Our Experience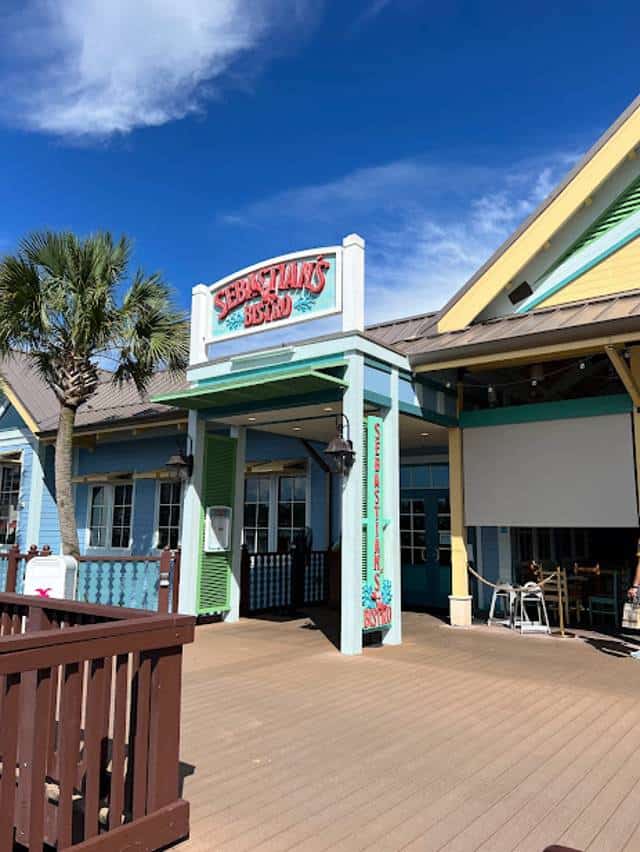 We arrived by car to the Caribbean Beach Resort. Security at the entrance of the resort was very helpful directing us where to go. This is a large resort so directions are helpful! Our bands and IDs were checked and we were on our way!
Once parked, we headed into the Old Port Royale. Here you will find the lobby, gift shop and quick service restaurant. We checked-in through the My Disney Experience app and began to explore Old Port Royale.
It did not take long for our text to come through saying it was our turn. We proceeded to the restaurant, which is just behind Old Port Royale. The entrance to the restaurant is along the dock. You get a beautiful view of the Skyliner and Riviera Resort!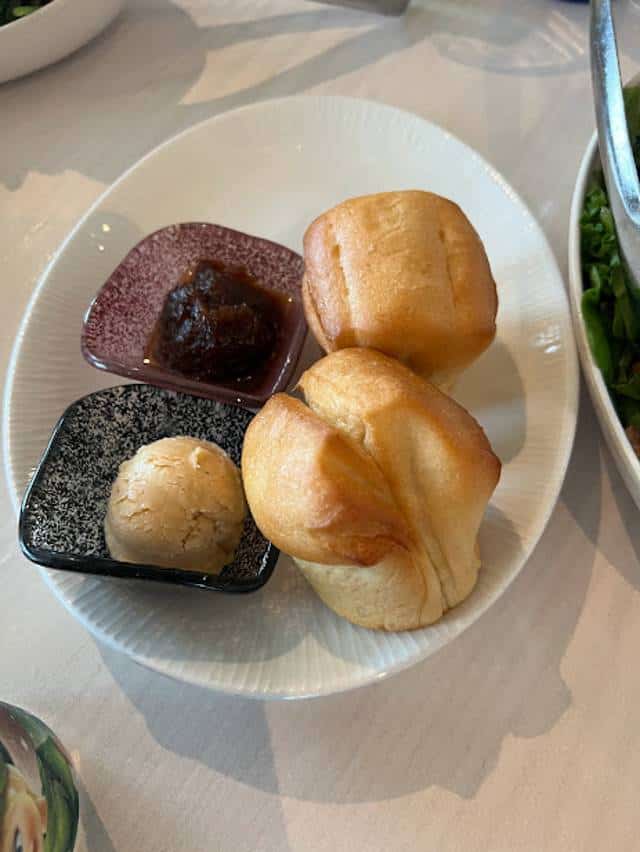 The meal starts with the Buttery House-baled Pull-apart Rolls. These rolls are served with a Guava Butter and caramelized onion jam. The rolls were soft and fluffy and the perfect start to our meal. Personally, I didn't feel the Guava Butter had much flavor on it's own, but when I added the caramelized onion jam…yum! The jam was savory, sweet and delicious!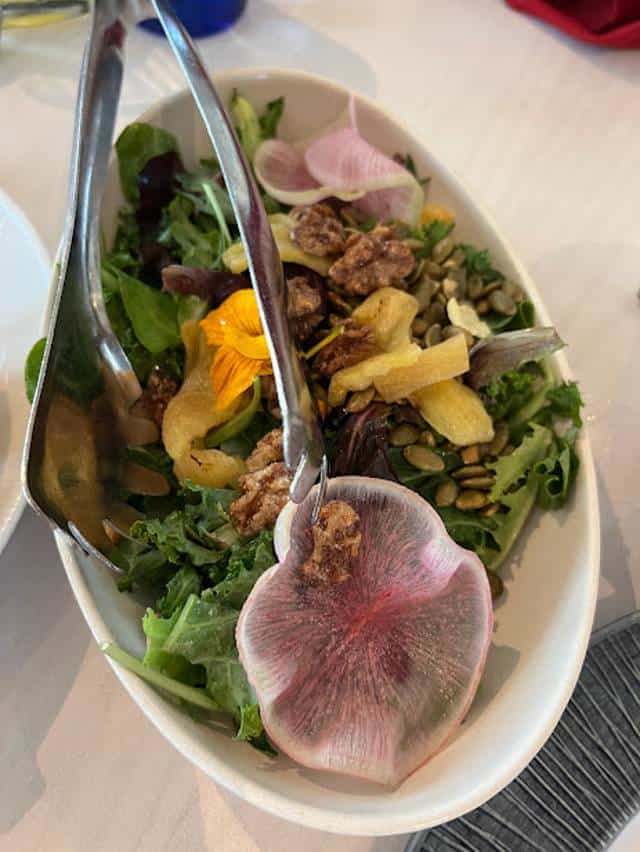 The Spice Necklace Salad was next to arrive at the table. The salad was of mixed greens and kale with spiced candied pumpkin seeds, tropical fruit, and radish with key lime dressing. This salad was BEAUTIFUL! It was light and fresh and exactly what I would expect when visiting the Caribbean!
The spiced candied pumpkin seeds and the walnuts added the perfect crunch. There was walnuts on this salad even though they aren't listed in the description.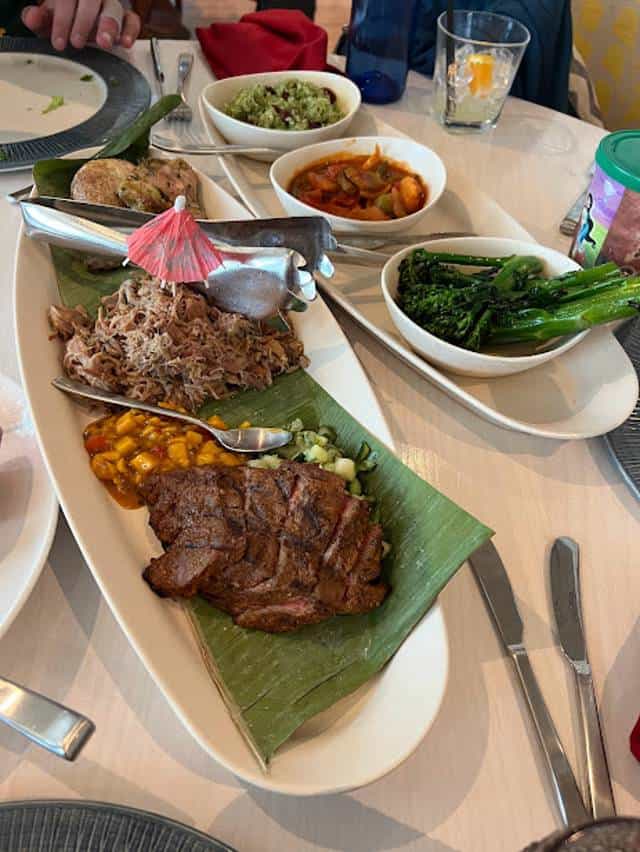 The main course was quite the feast! We received a platter that had oven-roasted chicken, slow-cooked Mojo pork with Mango Sambal, Grilled Chili-rubbed Beef with Mojito Relish. Another platter was served which contained the sides: Cilantro Rice and Beans, Vegetable Curry, and Grilled Seasonal Vegetables.
Just look at these platters! There was so much flavor! My favorite was the Grilled Chili-rubbed Beef with Mojito Relish. It was tender and flavorful, and the Mojito Relish was the perfect accompaniment. The oven-roasted chicken was the next thing I tried. This chicken was tender, juicy, and full of flavor. I know sometimes I'm afraid of getting dry bland chicken, but you won't find that here.
The slow-cooked Mojo pork with Mango Sambal added another great option to the platter. With this pulled-pork style, it was tender and not overdone. You were surely transported to the islands with this feast!
Personally, I preferred the rice and beans over the other sides. The vegetable curry was okay. It did offer lots of flavor, but just wasn't what I would prefer. The seasonal vegetable we were served was broccolini. I thought these had the perfect doneness – just a little bite to them without being raw or overdone.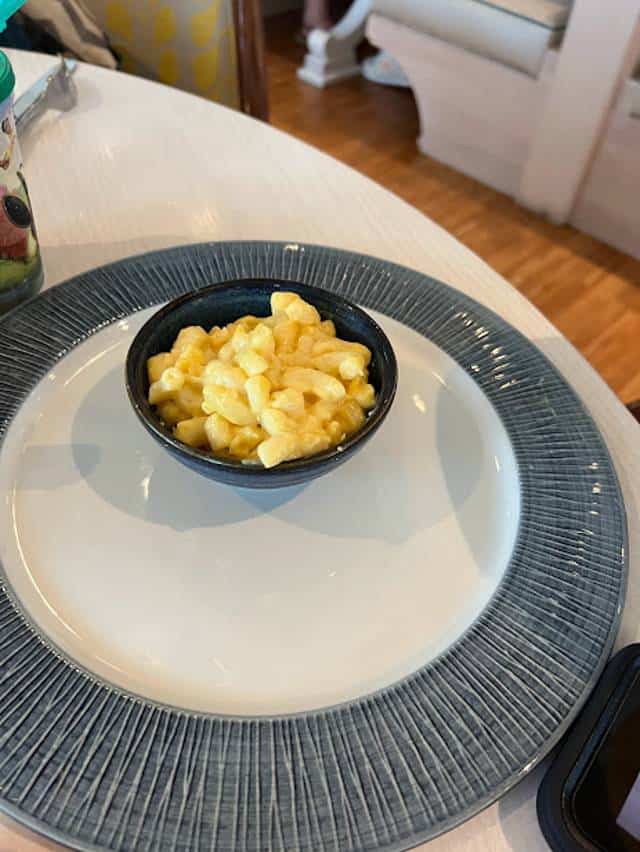 My oldest son is a pretty picky eater, so these flavorful options were not for him. He was able to choose between chicken tenders or macaroni and cheese. He opted for the macaroni and cheese.
This wasn't Kraft Macaroni and Cheese, but it still offered traditional mac and cheese flavors for even the pickiest eaters.
But what about dessert?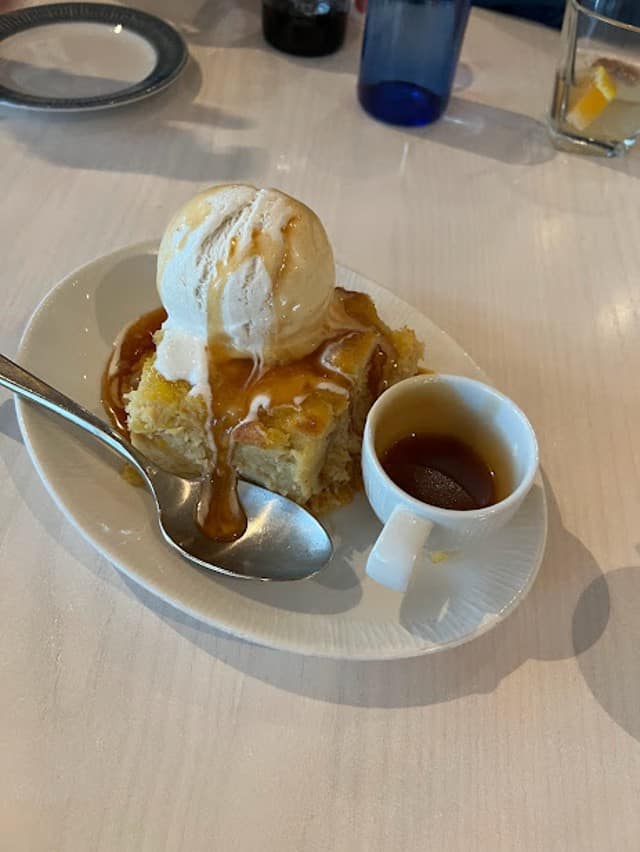 If you go for here for one thing and one thing only, it will be for the dessert! This dessert is worth the trip alone!
For dessert a House-Made Coconut-Pineapple Bread Pudding is served with caramel sauce and vanilla ice cream. This decadent dessert feels like you have transported to an island paradise. And dare I say it? I do, this bread pudding takes the cake for me over 'Ohana!
The caramel is poured over top of the warm bread pudding after it is brought to your table. The warmth of the bread and caramel with the cold of the ice cream makes for an amazing treat.
Final Thoughts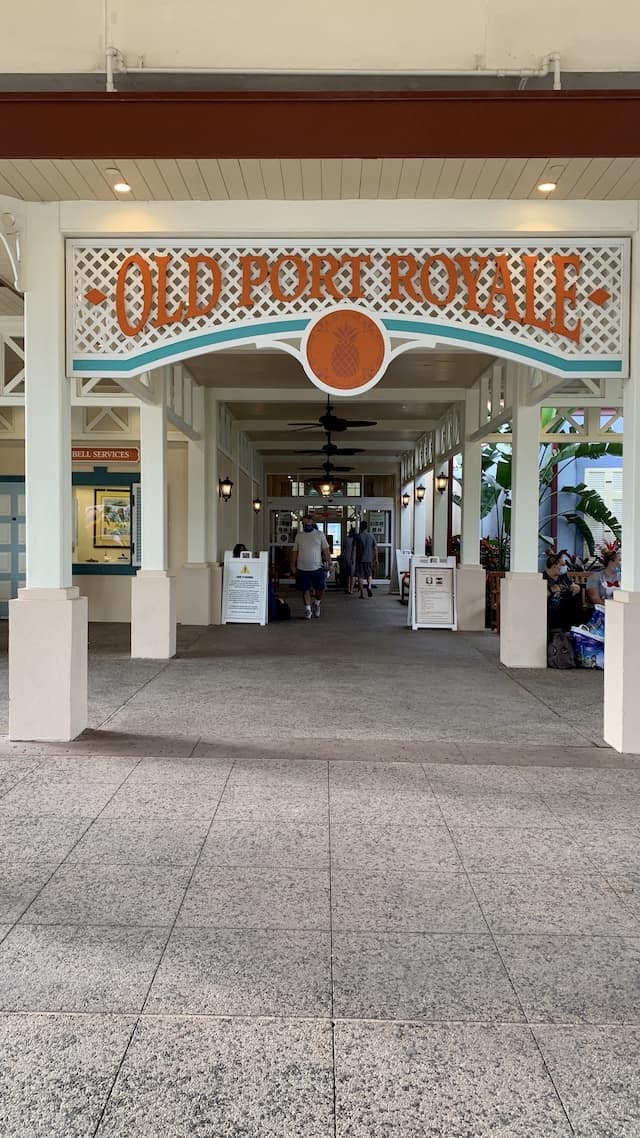 Sebastian's Bistro may not be on your radar or even near any of your park plans, but you should make the trek. This hidden gem will soon be on your must do list. Be taken away briefly to the islands with a tropical and flavorful feast! You won't walk away hungry!
If you are a late diner, you can even enjoy EPCOT's nighttime fireworks from the restaurant. Like this restaurant need another reason to fall in love with it…but I found another one!
Pirate Tip: Make your reservations near EPCOT's nighttime fireworks and you can enjoy them while you eat!
Have you been to Sebastian's Bistro? What do you think of it? Will you be trying it or visiting it on your next Disney trip? Let us know int he comments below and share this post with a friend who would love this meal too!