If your taste buds crave adventure, you will want to head over to Sanaa. It serves up some of Disney World's most unique flavors, but it has foods the less adventurous crowd will like as well.
Sanaa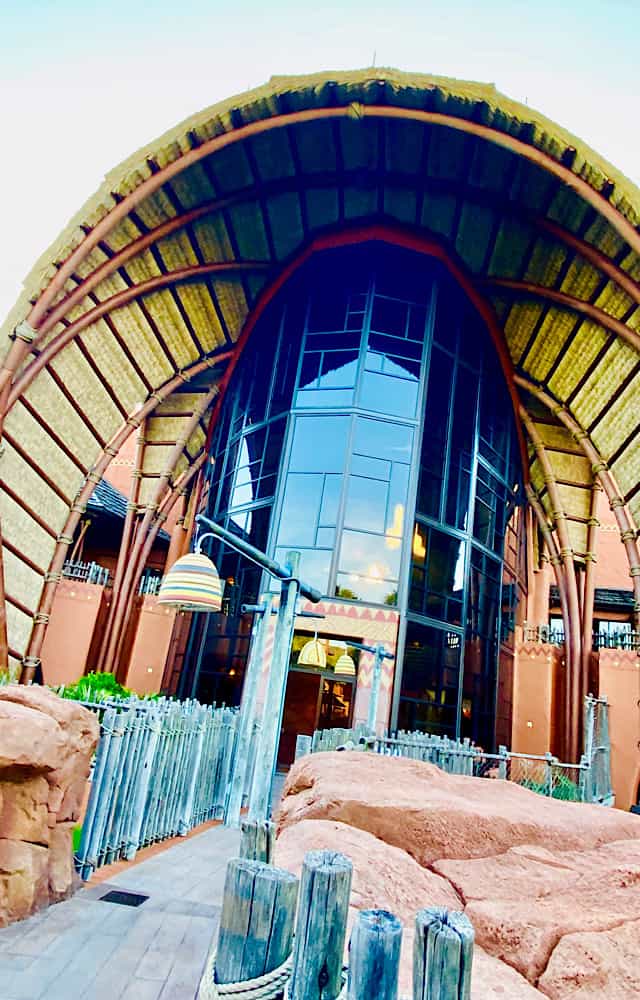 If you head over to Disney's Animal Kingdom Lodge, you will find Sanaa. The restaurant is tucked away at Kidani Village, a DVC property popular for its sweeping views of Sunset Savanna.
If you are staying at either Jambo House or Kidani Village, Sanaa is easily accessible. You can also easily catch a bus from Disney's Animal Kingdom if you are in the park and want to give it a try. Simply hop off the bus at Kidani Village. However, it might be hard to tear yourself away from the park since Animal Kingdom boasts some of Disney World's best food options. It is almost unfair to have so much good food concentrated in one resort and theme park.
If you are not staying at Disney's Animal Kingdom Lodge, it can be tricky to get to Sanaa. You will either need to transfer to a bus at one of the theme parks or Disney Springs or you will need to drive or utilize ride share. But, you will find the unique flavors and gorgeous setting are worth the journey.
Meal Periods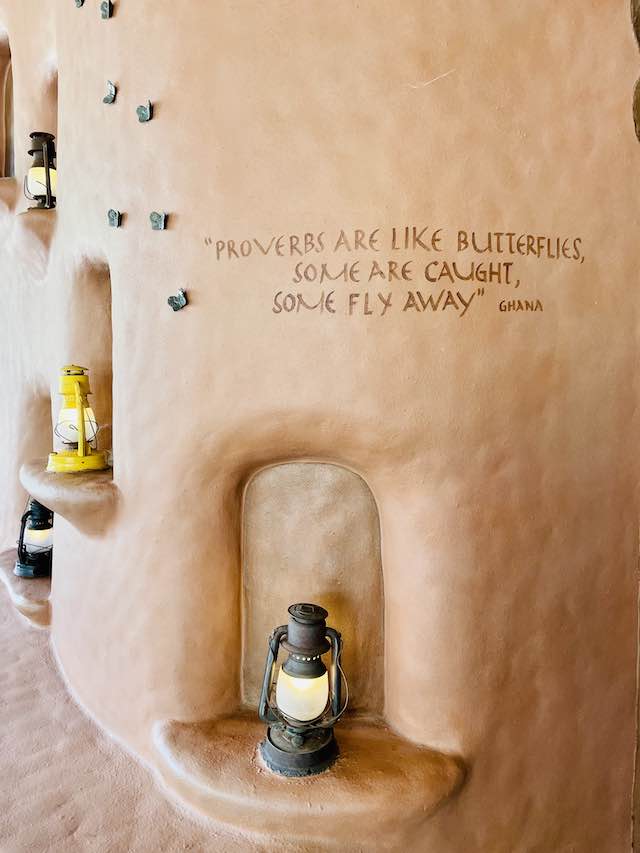 Sanna is a quick-service restaurant for its Kuamsha Breakfast, and it does not require reservations. However, it shifts to table service perfection for the lunch and dinner meal periods. Reservations are strongly encouraged for those meals and are often hard to come by.
When I (Katie) read Susan's review of Sanaa shortly after the parks reopened after the historic closure, I knew I wanted to bring my family along to try lunch or dinner someday. The restaurant is known for its African cooking infused with Indian flavors. It is a place for foodies, yet it has options for those who are not quite ready for such culinary ventures.
Atmosphere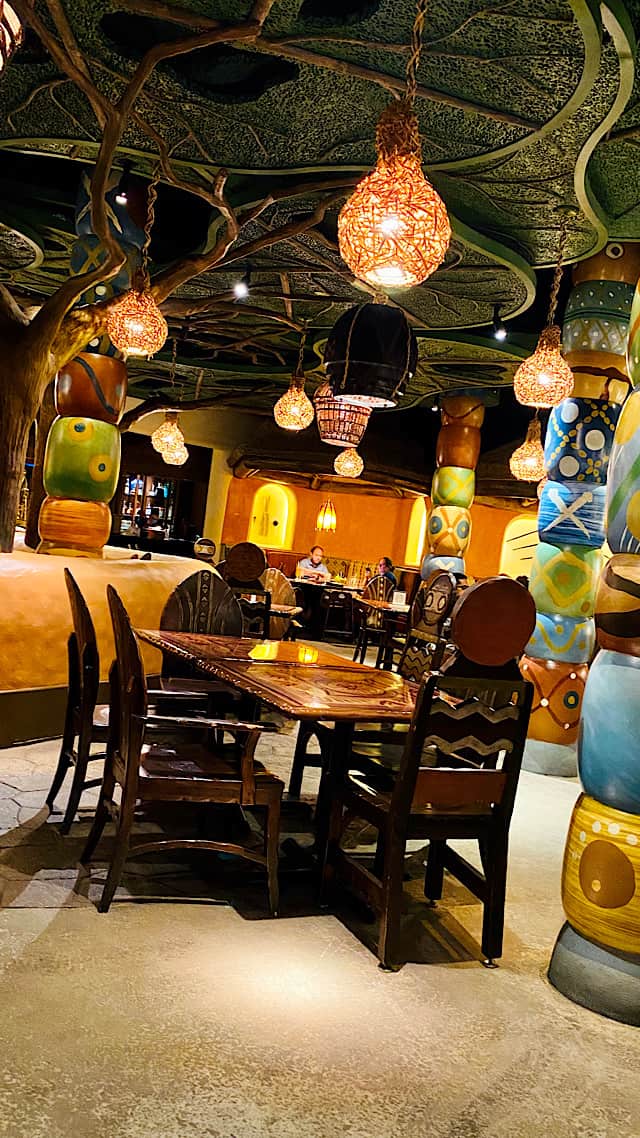 Sanaa, like most of what you find at Disney's Animal Kingdom and Disney's Animal Kingdom Lodge, completely immerses you in gorgeous African theming. The restaurant itself is themed as a traditional African Spice Market. There is even a tree at its center.
Through the windows, diners can catch a glimpse of Sunset Savanna and the many animals that make their homes there. These include gazelles, zebras, giraffes, kudu, ostriches, cranes, tortoises, and more!
My own children love spotting the animals when we visited. And of course, I love seeing the animals. It speaks right to my soul.
Sanaa Bread Service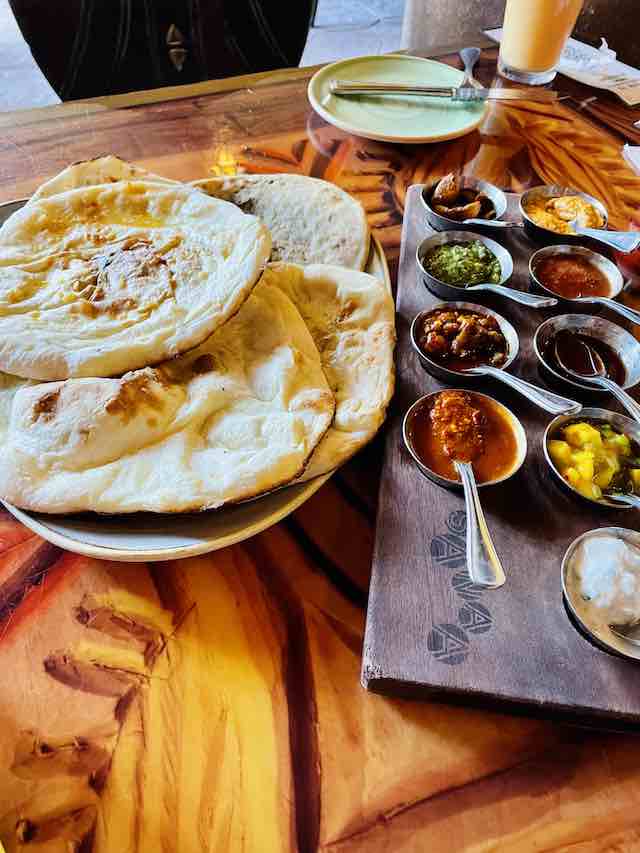 Sanaa is home to one of Disney's most renowned and best appetizers. You may have heard of the legendary Indian-style Bread Service. After all, it has its own fan following. It is what I most looked forward to trying! And it did not disappoint.
This service includes Five Breads- Traditional Naan, Garlic-Ginger Naan, Spiced Naan, Onion Kulcha, or Paneer Paratha. These breads come with nine accompaniments – Cucumber Raita, Roasted Red Pepper Hummus, Mango Chutney, Tomato-Date Jam, Tamarind Chutney, Coriander Chutney, Garlic Pickle, Red Chile Sambal, or Spicy Jalapeño-Lime Pickle.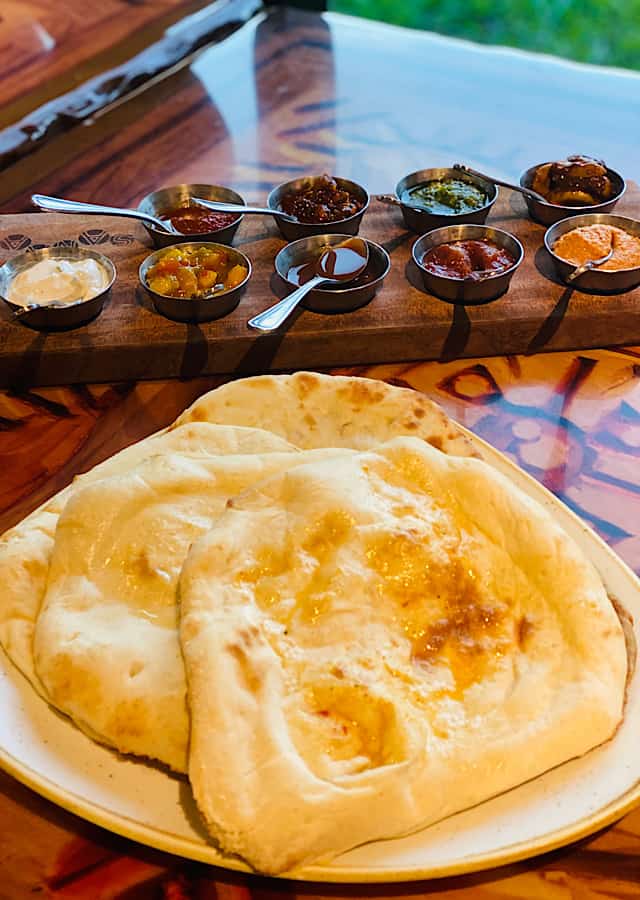 It is such fun to taste so many combinations of bread and sauces, and there are 45 possibilities to try during the service. My favorites were the traditional Naan with Cucumber Raita or Mango Chutney. However, my husband loved the Garlic-Ginger Naan and had different favorites.
Drinks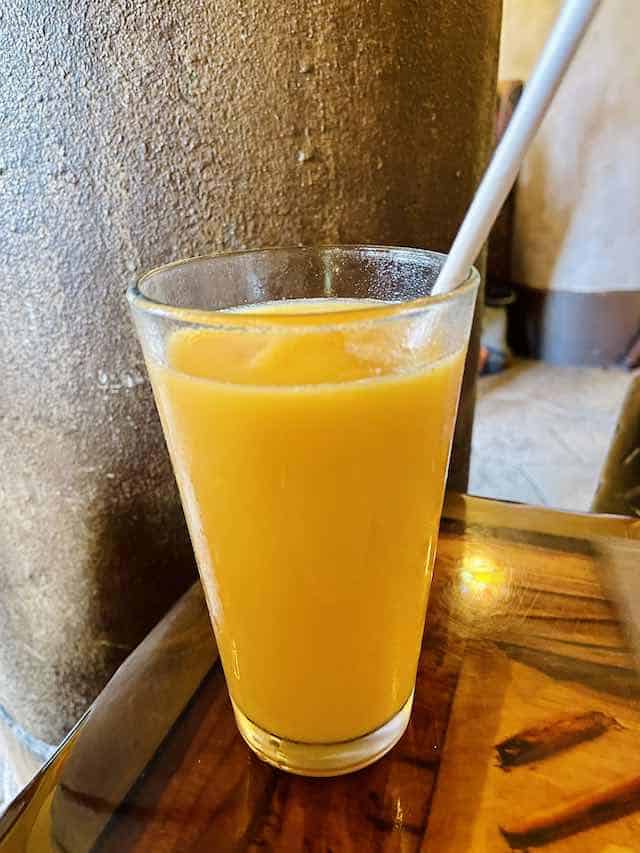 We usually skip drinks and opt for water. However, my family cannot resist a Mango Lassi offering. Sanaa serves a Mango Lassi Smoothie, and it was everything we hoped it would be. While it isn't quite as saturated with flavor as traditional Mango Lassi, it was still very yummy and refreshing on a hot summer's day.
Entrees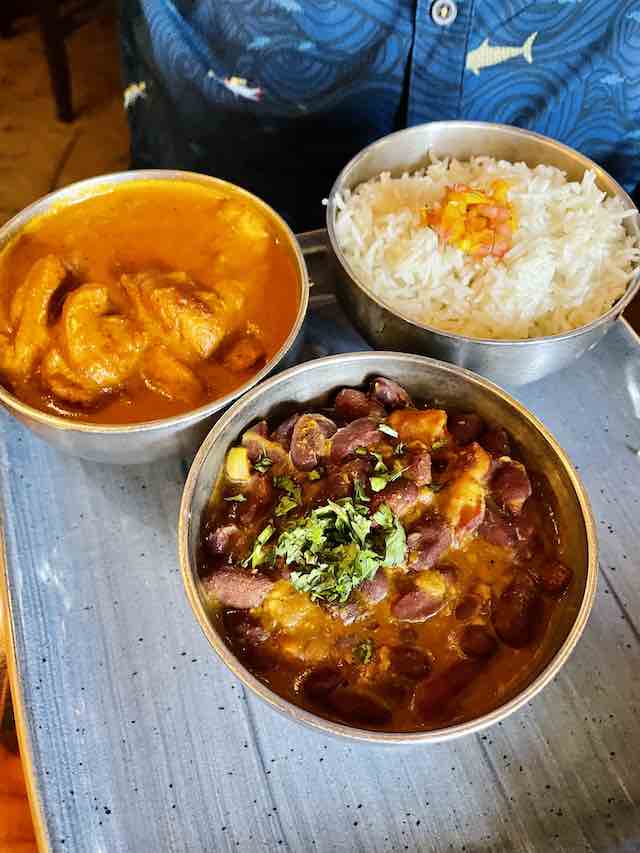 I probably could have filled up on bread and sauce, but I could not leave without trying some entrees. My husband had the Potjie Inspired and selected the Butter Chicken and scented Basmati Rice.
This was one of the Indian-inspired dishes, and he selected it because he really enjoys Indian food. He enjoyed it very much. The servers brought out more Naan for him to enjoy with the meal.
I had the Samaki Wa Kupaka, which is the day's sustainable fish served with Roasted Cauliflower, Yuca Katlesi, and Coconut Gravy. I absolutely loved this dish. The flavors were bright and delicious, and the fish was nicely cooked. I especially loved all of the vegetables. They were perfectly seasonsed and delightful.
I was sad that I was too full to finish the meal. Fortunately, we were staying at Jambo house in a one-bedroom suite and could head back to store the leftovers for later. The dish was great – even reheated!
Kid's Meals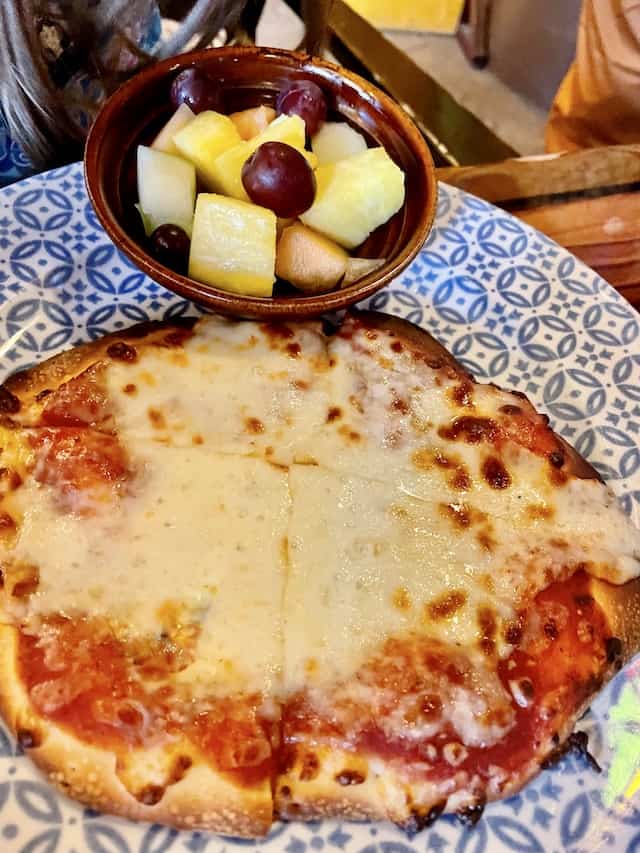 Both of our children selected the kid's cheese pizza. Sometimes they will try new things, but today was not that day! For sides, each of them selected fresh fruit and a Pumbaa's Dessert Grub.
I love when Disney restaurants let kids select dessert as a side. It keeps them happy during what could become a lengthy meal and it saves money as well. Desserts around the parks start at $6.49 for a single Mickey Bar, so having a tread with a meal is a great option to absorb a little bit of expense.
The kids reported that Sanaa has the best kid's cheese pizza on Disney property. That is pretty high praise considering there is pizza almost everywhere. I tried it and can see the appeal. It was pretty tasty for theme park pizza. It was hot, bubbly and fresh, and the crust was nice and crisp.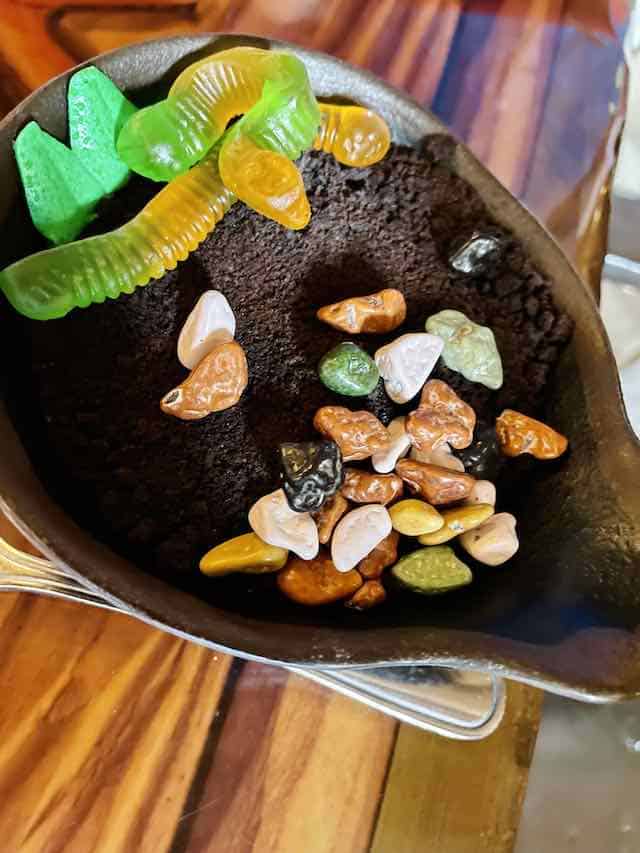 They also both LOVED the desserts. Pumbaa's Dessert Grub is one of my kids' favorvite Disney desserts. It is basically a dirt cake with candy rocks and gummy grubs. But the dirt cake has chocolate pudding, cookie crumbs, and marshmallow cream.
The pair of them have actually asked to return to Sanaa someday, which would be fine with me because I love it. I think the only table service restaurant they like better is Flying Fish.
Overall Impressions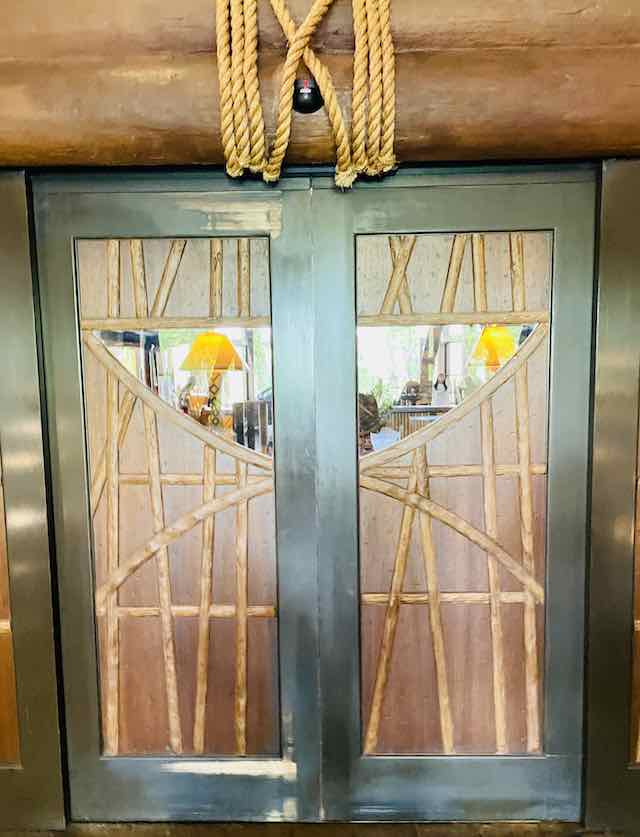 Sanaa is a great place to head if you love trying new things. Fortunately, those with less adventerous palates and even children can find meals that suit them as well. And, everyone will love the views and the animal visitors.
One could easily stay at Animal Kingdom Lodge to enjoy all of the dining experiences alone! We have lots of reviews for you if you want to see what else there is to enjoy.
Do you know someone who is heading to Walt Disney World who will love Sanaa at Disney's Animal Kingdom Lodge? Be sure to share this review so that they do not miss out on all it offers. Also, let us know your favorite things to eat there in the comments or on Facebook.