Looking for something great to eat during a trip to Walt Disney World? Here is a foodie's guide to Disney's Animal Kingdom Lodge.
Disney's Animal Kingdom Lodge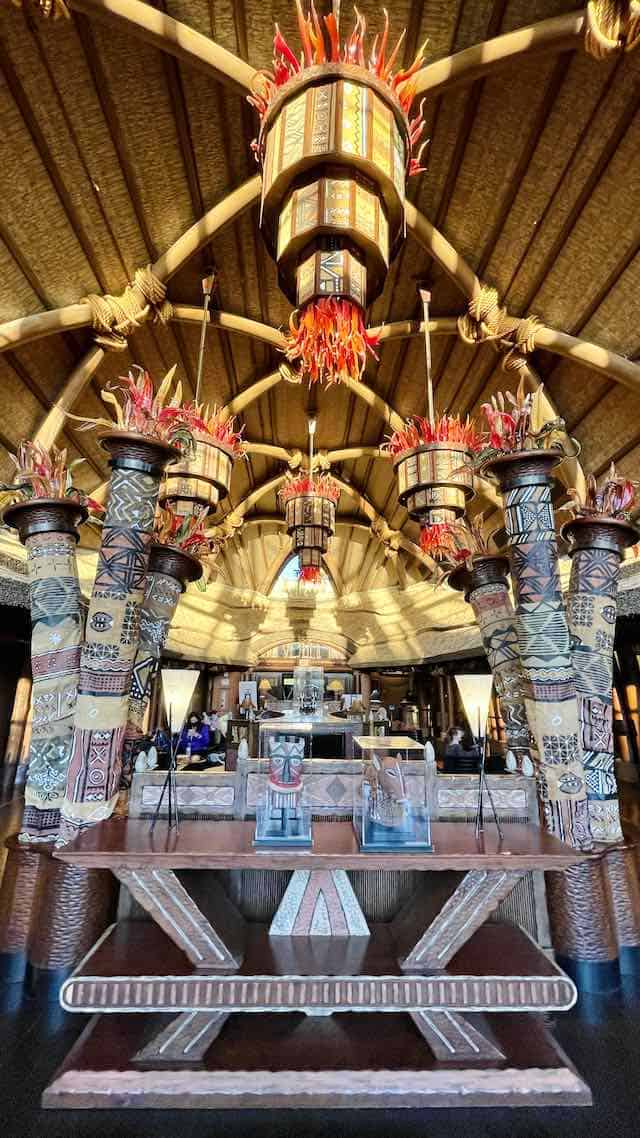 One of the most glorious Walt Disney World resorts is Disney's Animal Kingdom Lodge. It truly transports you from central Florida to a savanna paradise.
Perhaps one of the most impressive things about staying at Animal Kingdom Lodge is the vast array of delicious Disney cuisine. Many of the dishes are unique to the restaurants at Animal Kingdom Lodge, so if you want to try them and you aren't staying there, you will have to make the trek.
Animal Kingdom Lodges's Restaurants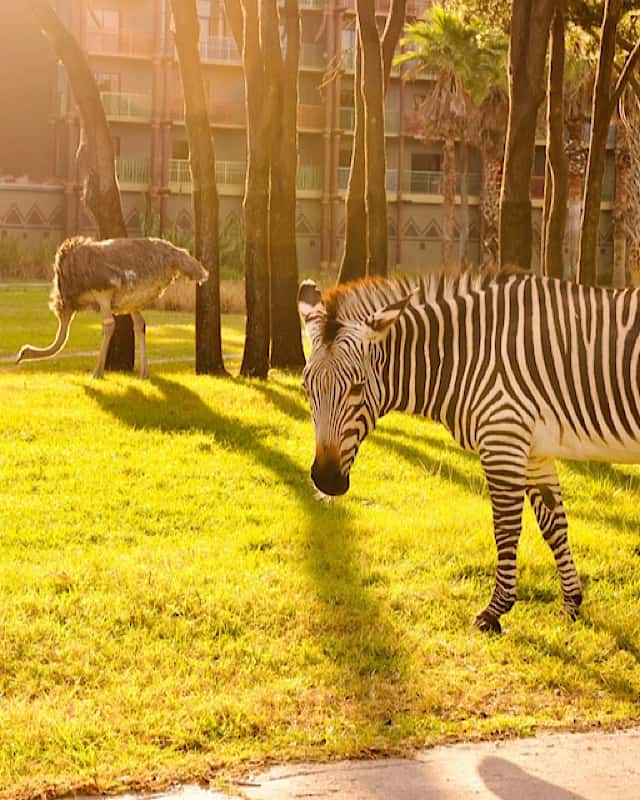 In terms of dining, Disney's Animal Kingdom Lodge is one of the strongest resorts on property. There are so many good things to eat! This is because all four of its restaurants are great options. There are no weak spots. In fact, if you stay there, the struggle will not be finding something good to eat, but choosing which of the fantastic options to eat and which to leave behind. Even better, all 4 restaurants are kid-approved in my (Katie) household.
Jiko-The Cooking Place is the signature restaurant at the resort. It is located in Jambo House on the first floor. Dining at Jiko is a truly special experience. For a full review, head over here.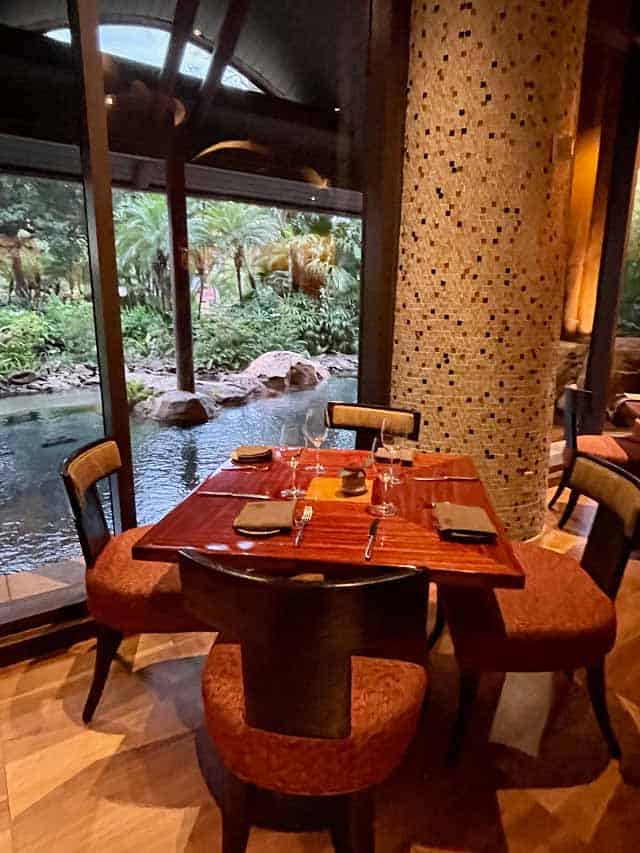 Situated near Jiko is Boma-Flavors of Africa, Animal Kingdom Lodge's buffet-style restaurant. Although buffets are not usually my thing, I make an exception for Boma. It is hands down the best buffet in all of Walt Disney World. It is a place where I feel truly sad when I become full and have to leave behind all the other things I wanted to eat. You can read about Boma's fantastic breakfast here and dinner here.
Tucked in down the hall is the quiet quick service restaurant The Mara. I do not usually find quick-service restaurants peaceful, but there is something different about the Mara. Not only is it pleasant, but it is also home to quite a few of Disney's culinary treasures.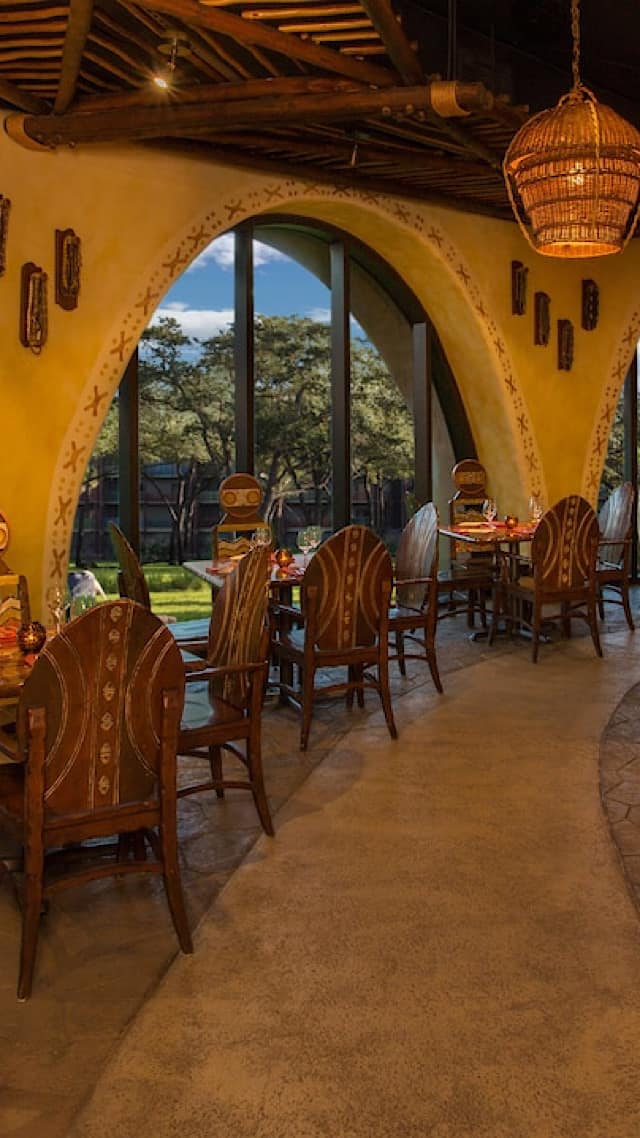 Finally, over at Kidani, which is AKL's dedicated DVC complex, Guests can enjoy dining at Sanaa, which is a bit of a hidden gem. Sanaa is easily one of the best table service restaurants in Walt Disney World for the adventurous eater. For a full review, head over here.
It is truly a foodie paradise. If you love Disney food, here are some of the items you are not going to want to miss.
Zebra Domes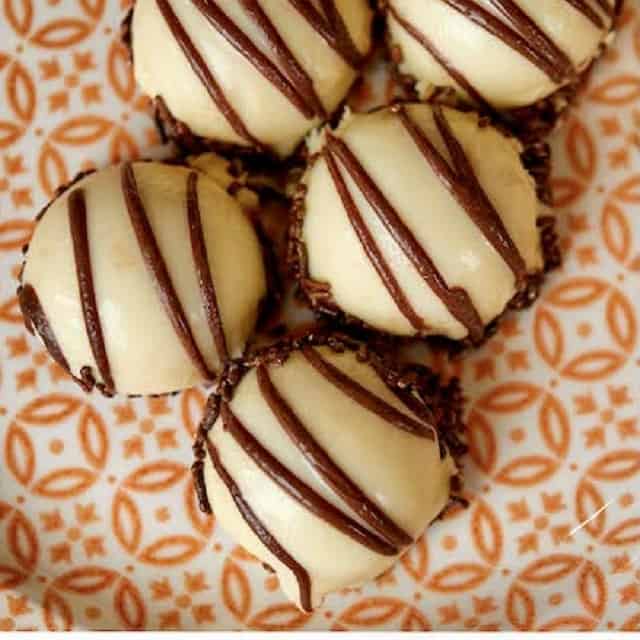 One of the best things you can do for yourself is to try the Zebra Domes. These little desserts are unique to Disney and to Animal Kingdom Lodge. They come in boxes of four. They are light, sweet, and flawless. If you want them, you can find them at The Mara. That is, you can find them if they have not sold out. You can also find them on the buffet at Boma.
What exactly is a Zebra Dome? A Zebra Dome is chocolate mousse baked with Amarula cream liquor-coated in white chocolate and drizzled with chocolate stripes and chocolate shavings. It is definitely something special that you will not find anywhere else.
Nyala Brownie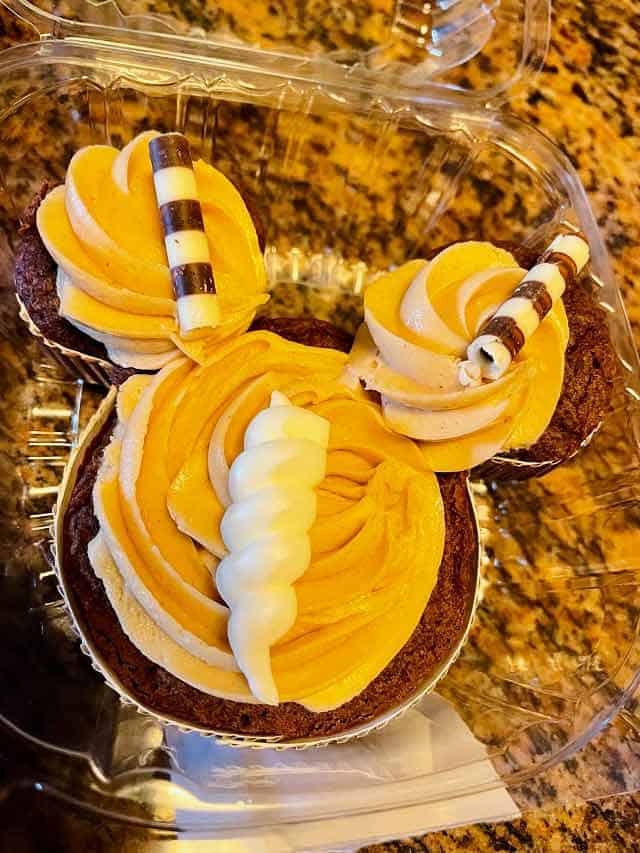 The Nyala Brownie is another dessert that you will only find at Animal Kingdom Lodge. More specifically, you will only find it in the Mara. This brownie is one of the best-kept Mickey-shaped secrets in Walt Disney World.
It is also one of the best brownies in Walt Disney World if you like peanut butter. This hunk of chocolate goodness is a Mickey-shaped brownie with peanut butter buttercream and a vanilla buttercream stripe. I know most things taste better when they are Mickey-shaped, but this particular thing would taste good even if it were Hades-shaped. It is decadent, rich, and everything you could want in a chocolate-peanut butter snack.
Indian-Style Bread Service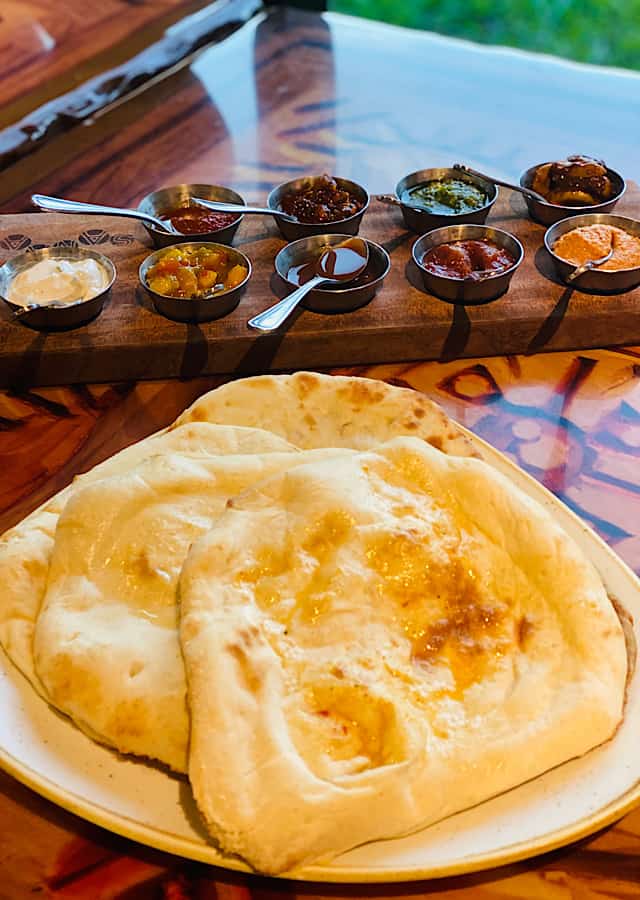 The Sanaa Indian-Style Bread Service has become a bit legendary in Walt Disney World. It is certainly one of Dinsey's best appetizers and maybe one of the best anywhere.
This exceptional service comes with your choice of Traditional Naan, Garlic-Ginger Naan, Spiced Naan, Onion Kulcha, or Paneer Paratha. It also comes with nine accompaniments. These include Cucumber Raita, Roasted Red Pepper Hummus, Mango Chutney, Tomato-Date Jam, Tamarind Chutney, Coriander Chutney, Garlic Pickle, Red Chile Sambal, and Spicy Jalapeño-Lime Pickle. It's a feast in itself.
Sustainable Fish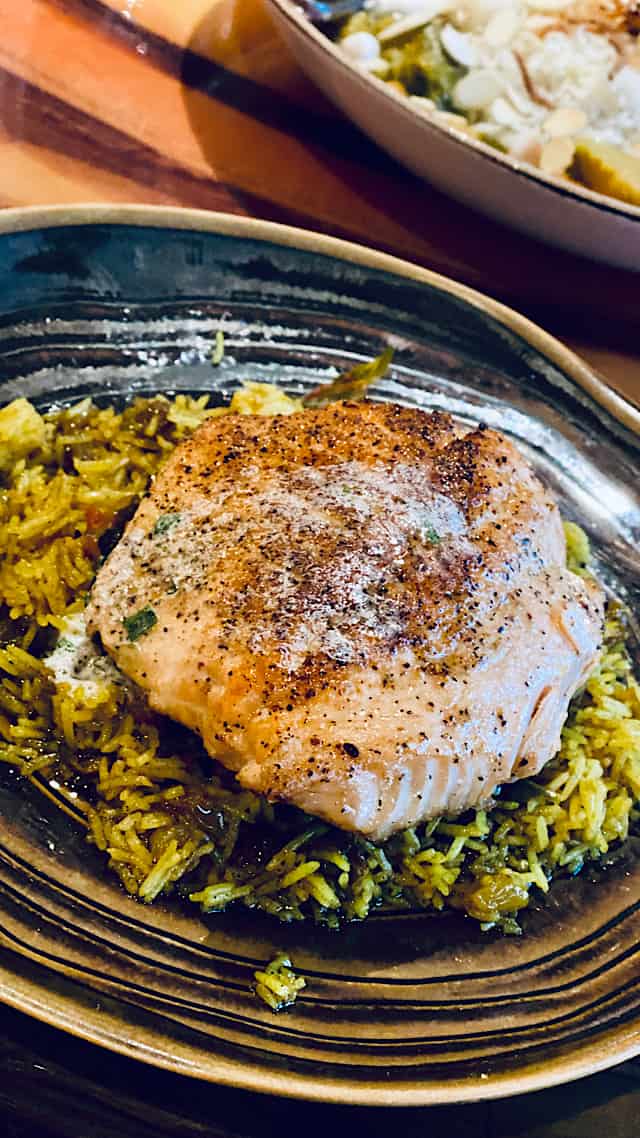 The sustainable fish dish as Sanaa varies from day to day, but it is going to be a great choice regardless of the day's catch. It will be accompanied by seasonal vegetables and prepared with spices and sauces with unique African or Indian-inspired flavors. It is sure to be something unique;y delicious.
Oak-Grilled Filet Mignon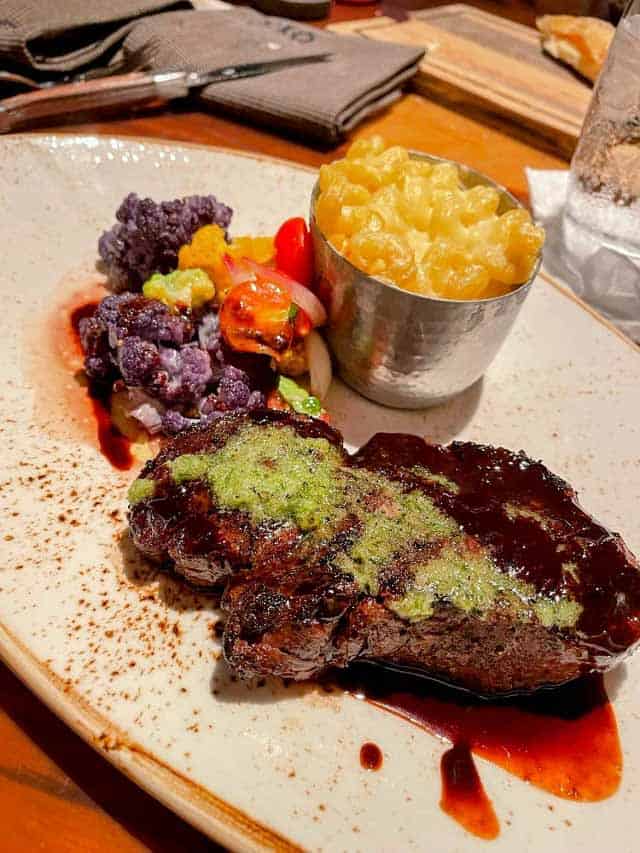 If you dine at Jiko, and you like steak, you may consider forgoing all of the other entrees to try the Oak-Grilled Filet Mignon. Although there are plenty of good places on Disney property to get steak, none of them are quite like the steak at Jiko. The flavor profile is unique and rich. While everything on the menu is fantastic, this is one of the best entrees, especially since it is served with delicious mac n cheese.
Butternut Squash Soup
If you love earthy soups, this soup is the one for you. You can only find it at Jiko.
I love butternut squash soup in general, but I have never had one as uniquely wonderful as the one served at Jiko. It is blended tableside as the server pours creamy soup over parmesan crisp, slow-poached egg, and preserved pumpkin. The pumpkin gives it a sweetness and the egg gives it a lovely richness as it combines with the soup. It is downright decadent and something I dream of having again.
French Toast Bread Pudding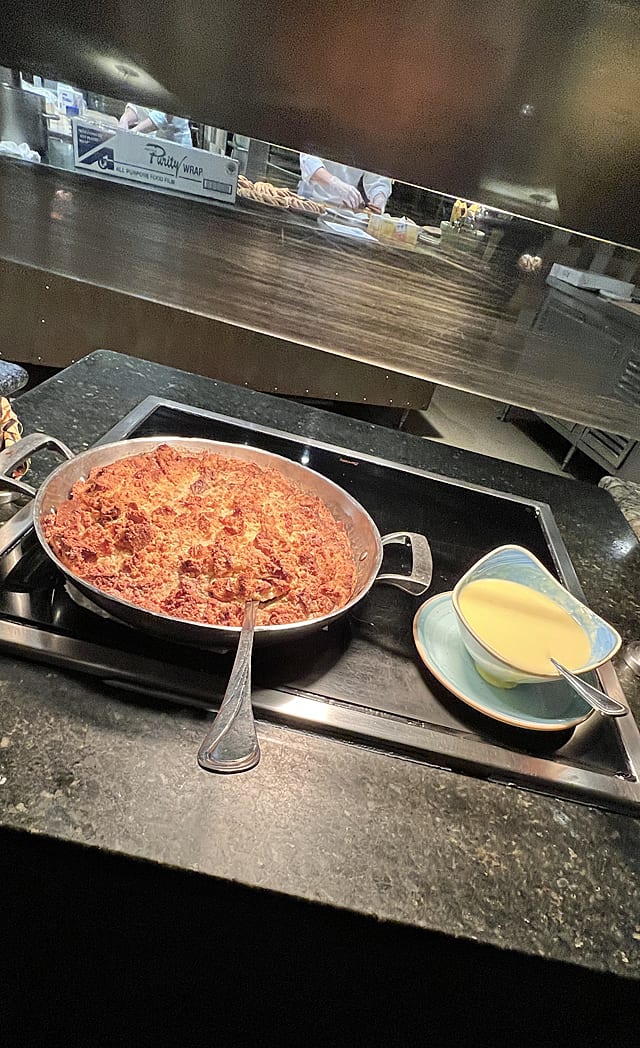 If you want a sweet breakfast offering, Boma has you covered. The French Toast Bread pudding is really more of a dessert than a breakfast, but it is too delicious to pass up. It is one of the items that you can only find at Boma. While there are other French Toast bread puddings, namely at the various quick service restaurants, they do not measure up to this one.
It is not overly sweet as some bread pudding can be. And, like most bread pudding, the sauce is what makes it dazzle. At Boma it is served with a vanilla sauce, and since it is a buffet, you control how much goes on your bread pudding. We will not judge you if that amount is large.
Avocado, Papaya, Grapefruit Salad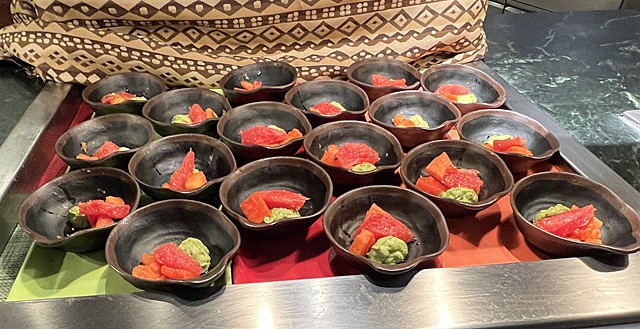 If you are enjoying breakfast at Boma, you are in for many unique treats. One of the more nutritious offerings comes in the form of a beautiful little salad made from Avocado, Papaya, and Grapefruit.
Not only is the dish beautifully plated, but the flavors are also uniquely good. The bitterness of the grapefruit works so nicely with the avocado. If you are craving plants to fuel you for the day, be sure to save room on your plate for it.
For the Little Foodies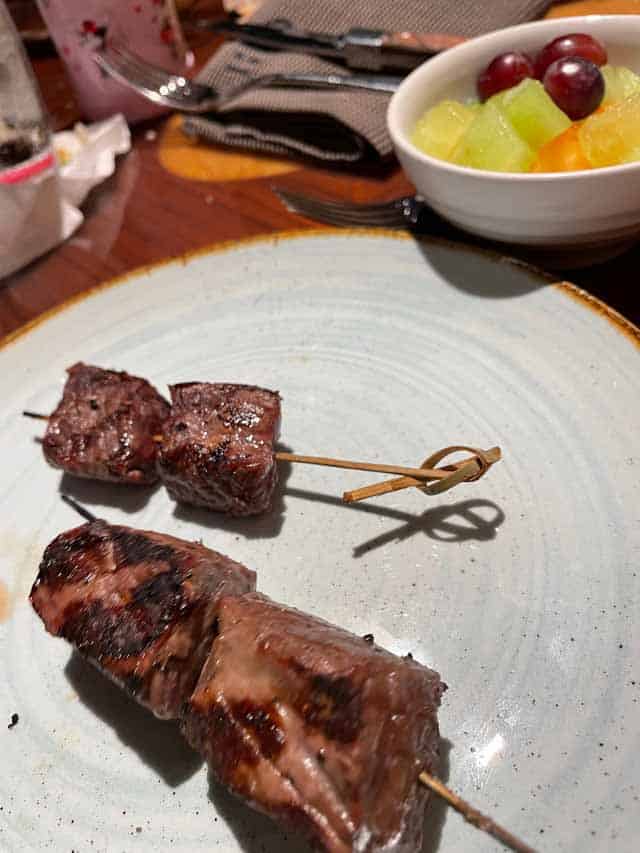 If our kids enjoy eating, or if they don't, Animal Kingdom Lodge has good things in store for them. My own kids really enjoyed their meals there.
Jiko serves up a Steak Sosatie, which is beef on a skewer. It is one of the more interesting options on the kid's menu. It was tender and flavorful, though it did not have the unusual spices and glazed found in the preparation for the Oak-Grilled Fillet. My little one specifically asks for Steak Sosatie when we visit restaurants now and is typically disappointed to find they have none.
The kids also really loved the cheese pizza over at Sanaa. They dubbed it the best pizza on Disney property, which is a big deal since they have tried a lot of the cheese pizzas around Walt Disney World.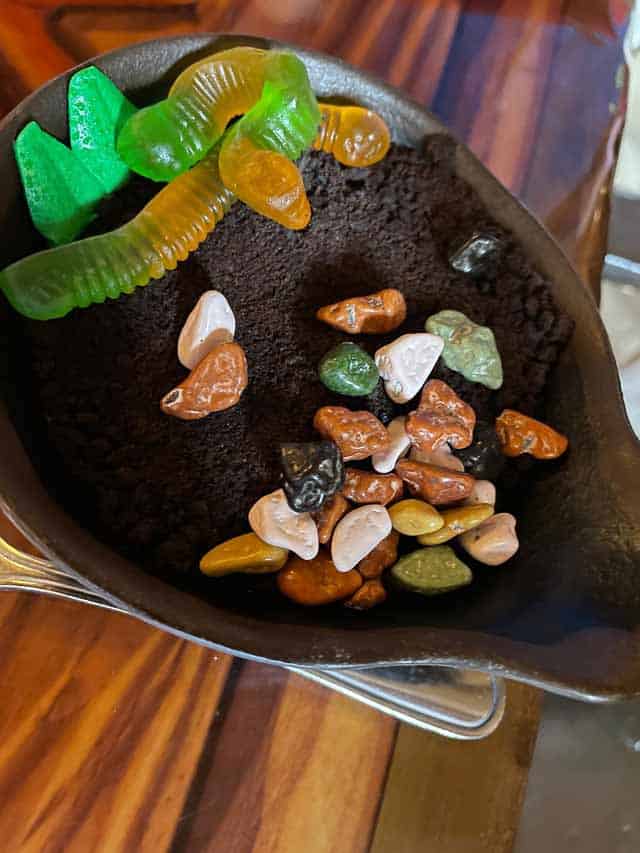 They also really love the unique dessert options at Animal Kingdom Lodge. You can find Pumbaa's dessert Grub at several locations including Sanaa and Jiko and within Animal Kingdom itself is Pumbaa's dessert grub. This is a fun twist on Dirt Cake with chocolate pudding, chocolate cookie crumbs, marshmallow cream, chocolate rocks, and gummy worms.
A fun and interactive dessert can be found exclusively at Jiko. The African Shield comes with a shield-shaped cookie as well as a small chocolate cake with ice cream. Additionally, it comes with "paints" to decorate it.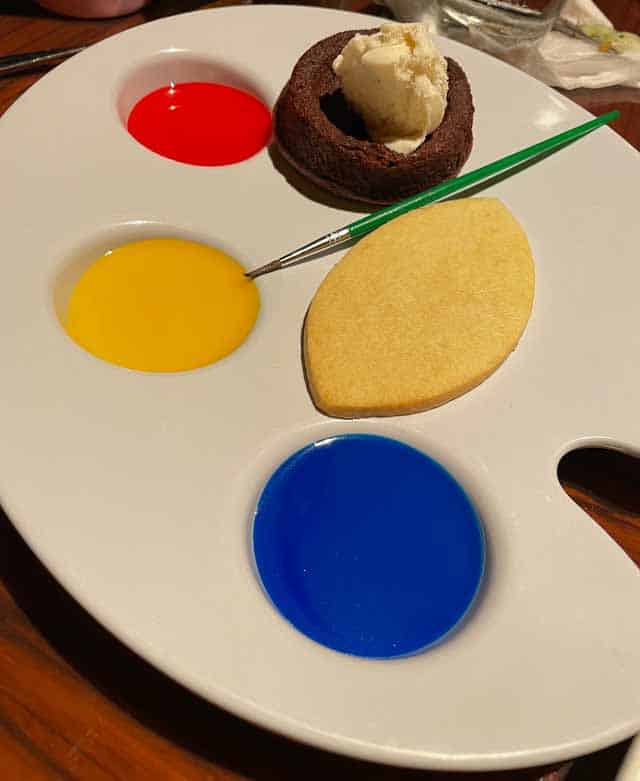 The kids adored everything about Boma breakfast. They were tickled to find Lion King waffles in addition to Mickey waffles. They loved the fruit and pastry selection as well as the omelets and carving station. Additionally, they said it was some of the best restaurant bacon they have ever had.
Final Thoughts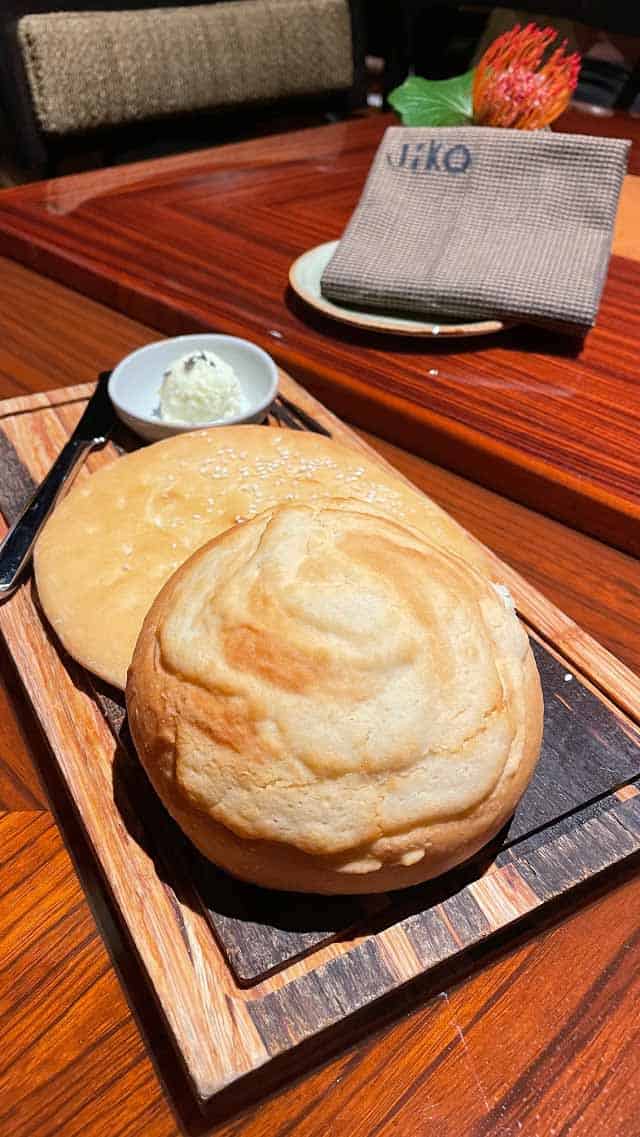 Overall Disney's Animal Kingdom Lodge has food to delight everyone from the most adventurous eater to those who live on pizza and bread. If you want to stay somewhere where you can enjoy delicious meals, this is the place for you. Additionally, it is a really fun resort to visit if you have any downtime planned and want to see the animals on the savanna and eat all of the amazing dishes.
Have you had a chance to dine at any of the restaurants at Disney's Animal Kingdom Lodge? What were your favorite dishes? Did I miss any of them? Please, let us know your thoughts on the Kenny the Pirate Facebook page. Don't forget to join the KtP crew page, too!