Looking for a good Walt Disney World dinner? Kona Cafe might just fit the bill perfectly.
A Note About Kona
Please, note thatas of now Kona is currently open for mobile ordering only (to go) while the restaurant undergoes refurbishment. Disney expects the restaurant to reopen in the fall. I have noted items in the review that are on the current mobile ordering menu (as of 8/23/22).
Kona is currently open for mobile ordering. The dining room is expected to return this fall.
An Easy Dinner Reservation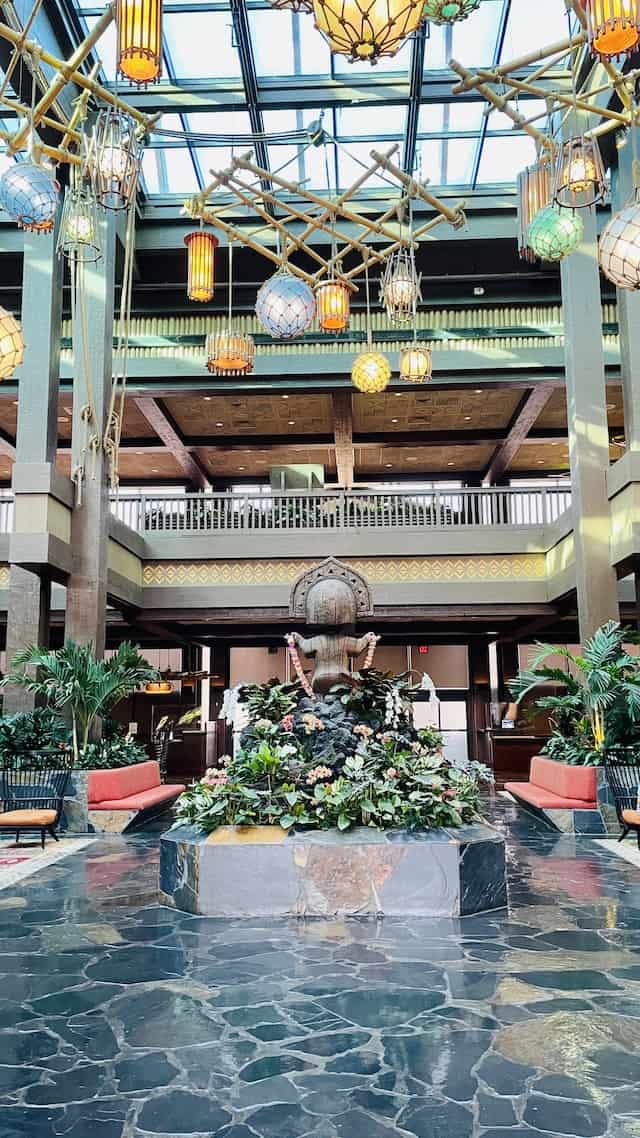 If you are wanting to enjoy a delicious sit-down dinner convenient to the Magic Kingdom and all the hotels on the Monorail Loop, Kona Cafe might be a great restaurant to try. While breakfast at Kona can be a tough reservation to find, dinner reservations at Kona Cafe are much more readily available. But, don't let the availability fool you. Kona has a menu filled with delights.
I (Katie) recently visited Walt Disney World with one of my dear Disney friends. We had not made an advanced dining reservation for the last night of our stay at Disney's Polynesian Villiage Resort. It was pretty rainy, but we were hungry, so I decided to try to join the Mobile Walk-Up Waitlist for Kona Cafe.
The Mobile Walk-Up Waitlist List is available for select restaurants at Walt Disney World. It allows Guests to get on a waitlist for a restaurant that allows advanced dining reservations. After pressing the "Now" button a few times, a time popped up. We grabbed it and headed to the Great Ceremonial House.
Kona Cafe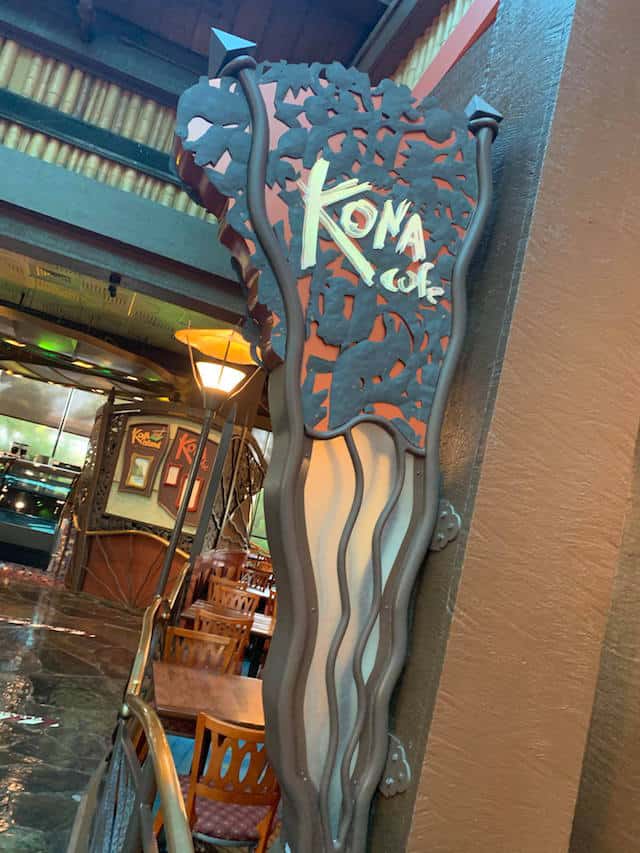 For those unfamiliar with Kona Cafe, it is a table service restaurant at Disney's Polynesian Villiage Resort. It is located on the second floor of the Great Ceremonial House.
While it is not as well known as 'Ohana, it is arguably just as good, if not more consistent than the popular all-you-care-to-enjoy style restaurant. It is also a much more cost-effective option since it has a la carte menu pricing.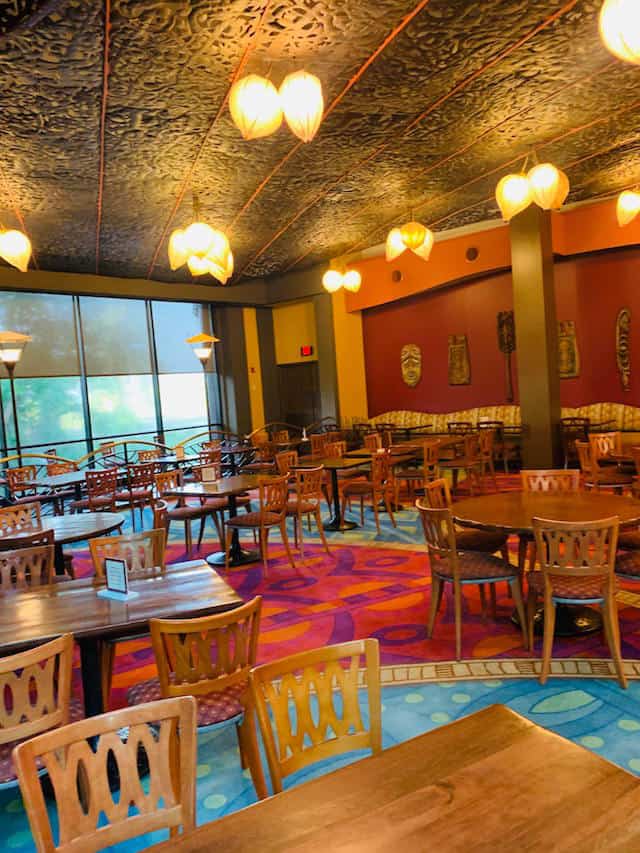 Dinner is pretty good at Kona Cafe. Is it my first choice for a memorable meal? No. For me, that title goes to Jiko, Le Cellier, or Topolino's Terrace. But, for most people every night cannot include a signature restaurant. And, when it comes to regular ole Table Service restaurants, Kona Cafe is one of the best.
Unfortunately, on this particular night, our server warned us that Kona was running on a limited menu due to an outage that caused a loss of electricity to specific refrigeration units. As a result, a lot of food was, sadly, unusable including all the chicken and steak. While I was sad to head of the food waste, I was not sad to be offered only a limited menu. What our server did not realize is that I have trouble deciding what to order when confronted with too many good choices. So, the limited menu helped me narrow it down a bit.
Bread Service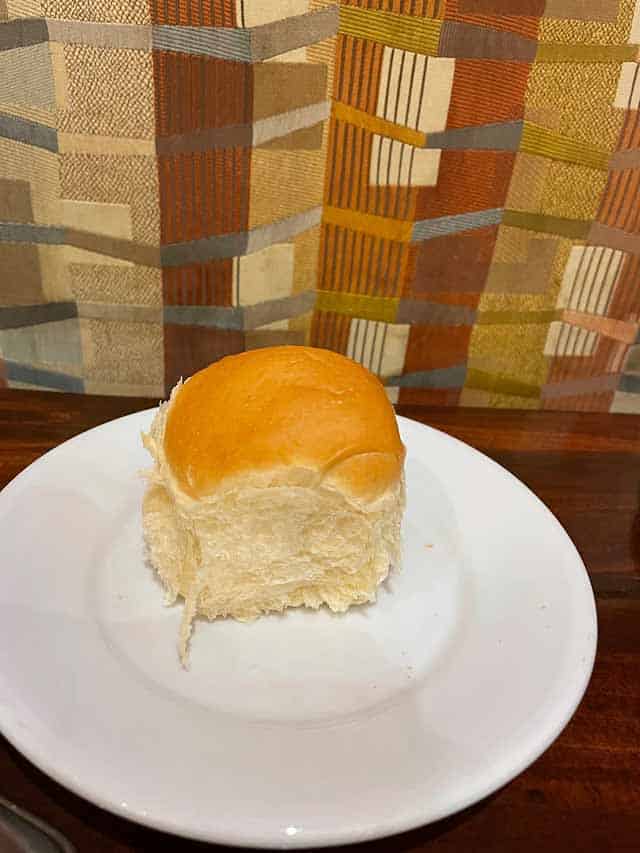 Before I go into what we ordered, you might be interested to know that dinner begins with complimentary bread service. The restaurant sends out relatively normal Disney Dinner rolls. These can be found at other restaurants around Walt Disney World.
It is not the most impressive bread service, but it just so happens that I like regular ole Disney dinner rolls. They are soft, and you can spread butter on them, so what's not to enjoy? Plus, at this point in the Disney continuum, I will happily accept anything that is still free.
Seafood Coconut-Curry Soup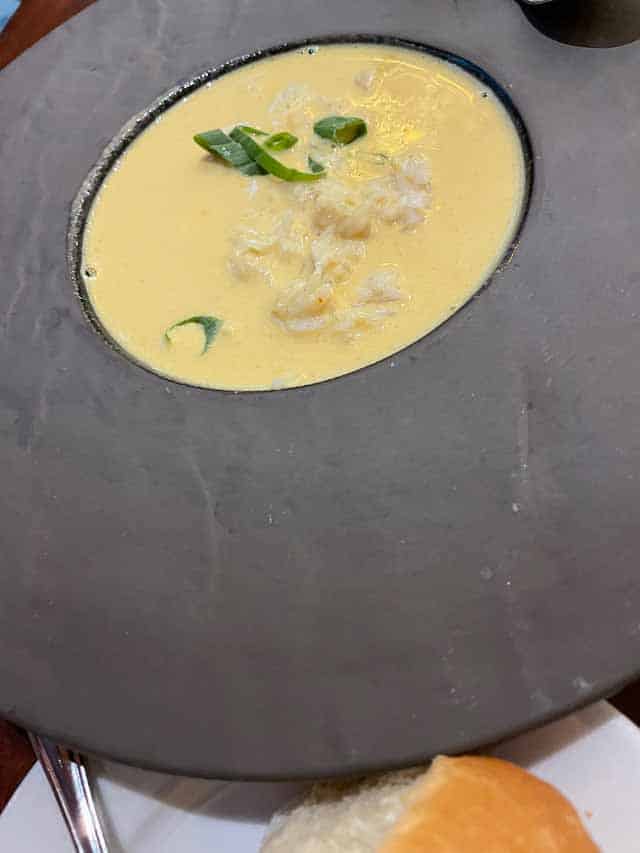 That night the soup was still available. Rather than order an entree, my friend decided to order a combination of other menu items, which is a fun idea because it means tasting more things!
The soup is filled with shrimp, scallops, and crab. It is savory and flavorful with heat from the curry. The kitchen did not skimp on the seafood in this soup, which is always a pleasant surprise.
Rainbow Poke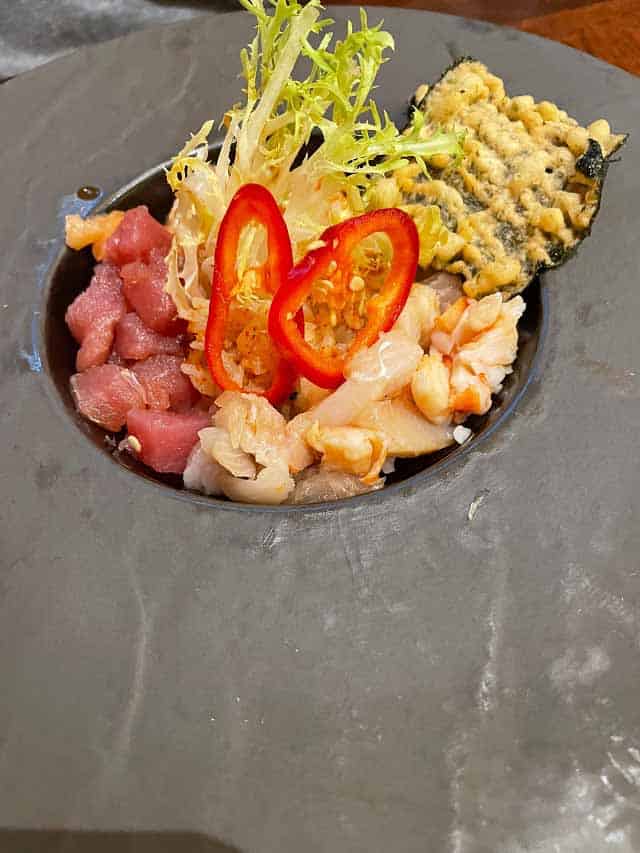 Ordering soup meant there was plenty of room to have the Rainbow Poke. This dish includes tuna, salmon, shrimp, hamachi, fresno chili peppers, lotus root, and spicy ponzu. Various poke bowls are available for mobile ordering.
I can happily report that not one bite was left behind. It is a nice combination for those who want to try a variety of the proteins. If you enjoy poke, you will like this little dish.
Kona-braised Short Rib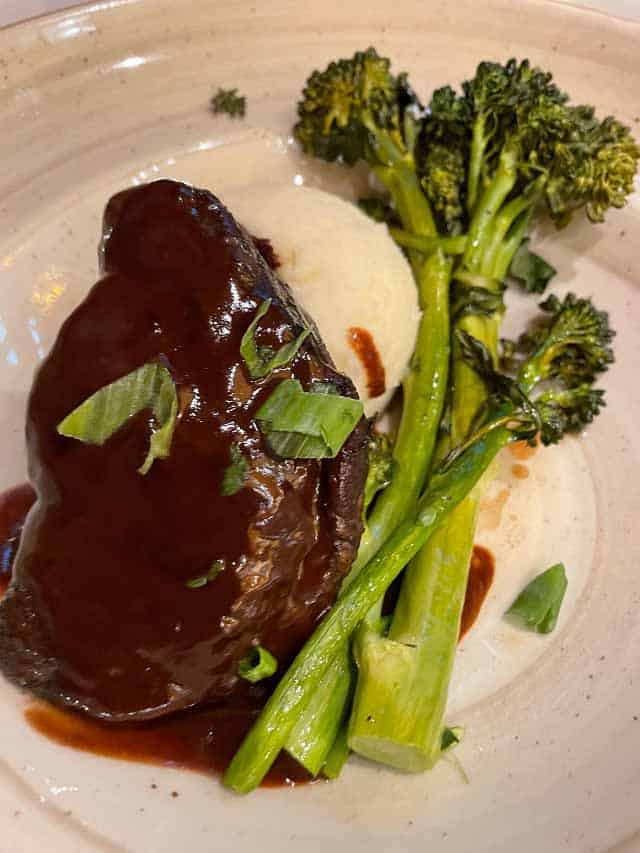 I have been to Kona for dinner several times over the years. And after trying multiple dishes, I have to say that the Kona-braised short rib is my favorite dinner entree I have ordered at Kona Cafe to date. The menu has changed a good deal as time has passed, but in this case, the change was a good one!
This dish is a Kona coffee-braised short rib over creamy mashed potatoes with broccolini. The meat itself was ridiculously tender, and I loved the savory flavor. The potatoes were creamy and smooth and paired well with the sauce. Sometimes broccolini can be meh for me, but I enjoyed this, especially with what was left of the sauce. Overall, this dish was a happy surprise. I am excited for a chance to return and have it again.
Dessert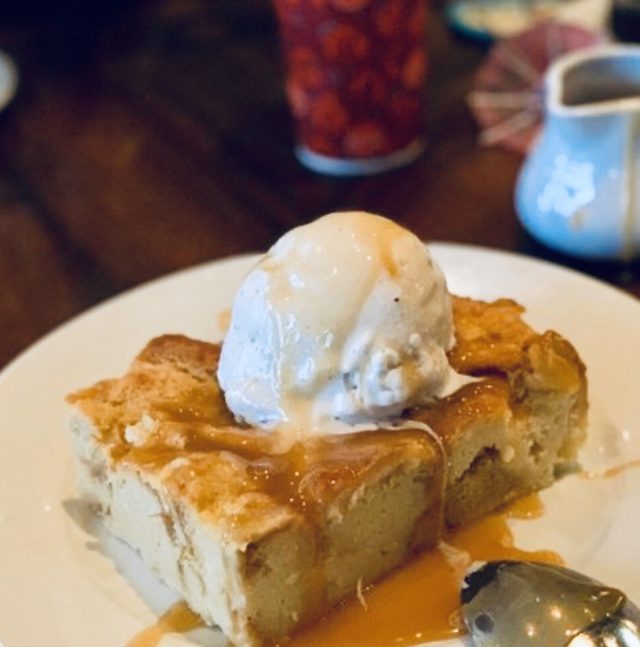 What would life be without dessert? Fortunately for Kona Cafe diners, the restaurant is very close in proximity to 'Ohana. While it is not on the online menu, often diners can order the wildly popular 'Ohana Bread Pudding as a sweet end to their meals. In fact, many people do not realize that it is generally available on the mobile ordering menu for Kona Cafe.
This dessert is warm, rich, and absolutely heavenly. The caramel sauce and ice cream complete it. It is one of my favorite things to eat in all of Disney World, and I love that I can get it without an 'Ohana reservation now. At any rate, ask your server if it is available during your visit. You may be pleasantly surprised.
A Sweet Alternative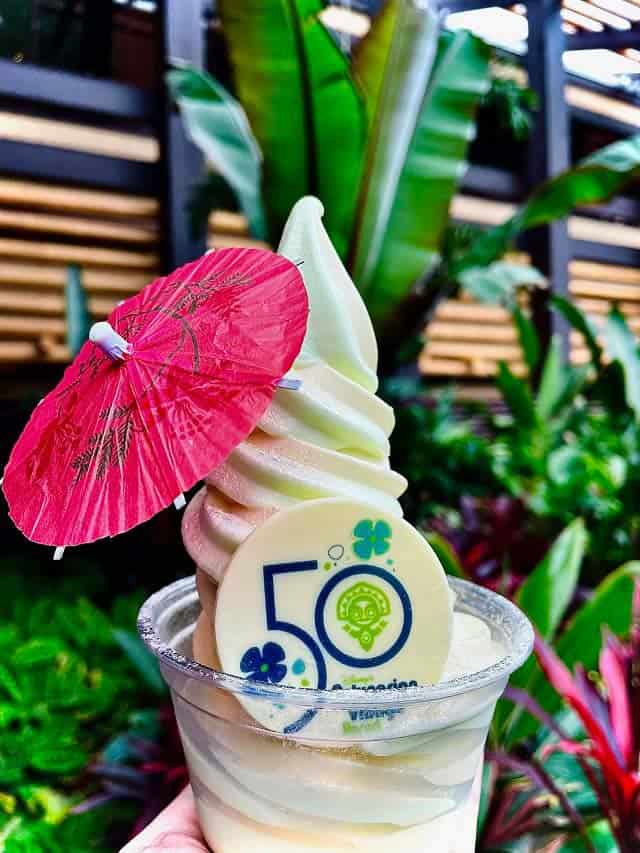 Of course, if they are out of bread pudding, you can still chalk up a win in the dessert department. This is because Pineapple Lani is just downstairs selling DOLE Whip. You can head down and enjoy a classic float or one of the 50th Anniversary treats as well.
Have you had a chance to enjoy dinner at Kona Cafe? What did you think of it? Please, let us know your thoughts on the Kenny the Pirate Facebook page. Don't forget to join the KtP crew page, too!
Are you planning a vacation? Reach out to our trusted travel agency sponsor Authorized Disney Vacation Planner
Mouse Class Travel
!