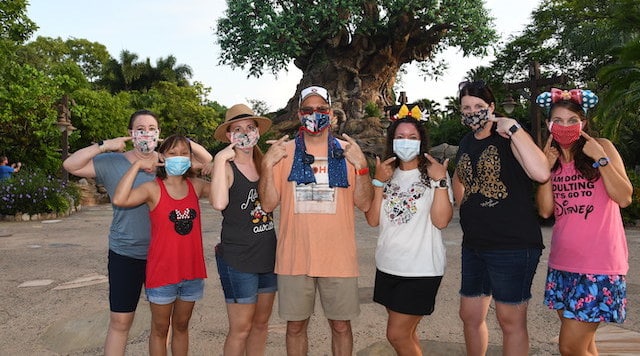 Disney fans were excited when Walt Disney World reopened, but many have questioned if it is safe to return this year. A group of our Kenny the Pirate writers attended the reopening of Walt Disney World. Hear our overall view of the safety and health protocols that are being implemented in the Disney Parks, at the Disney Resorts, and in Disney Springs.
Health and Safety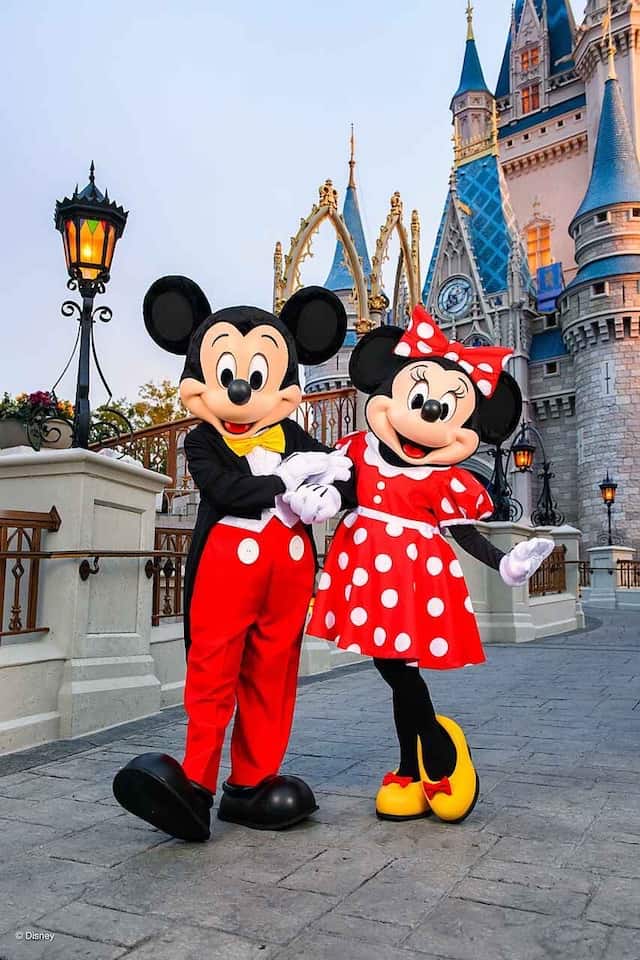 One of the biggest concerns that Disney Guests are worried about is in regards to the following of health and safety guidelines. Quite a few people predicted that Disney Guests would not consistently wear face coverings.
Others questioned if Disney Cast Members would be able to consistently implement these health and safety protocols.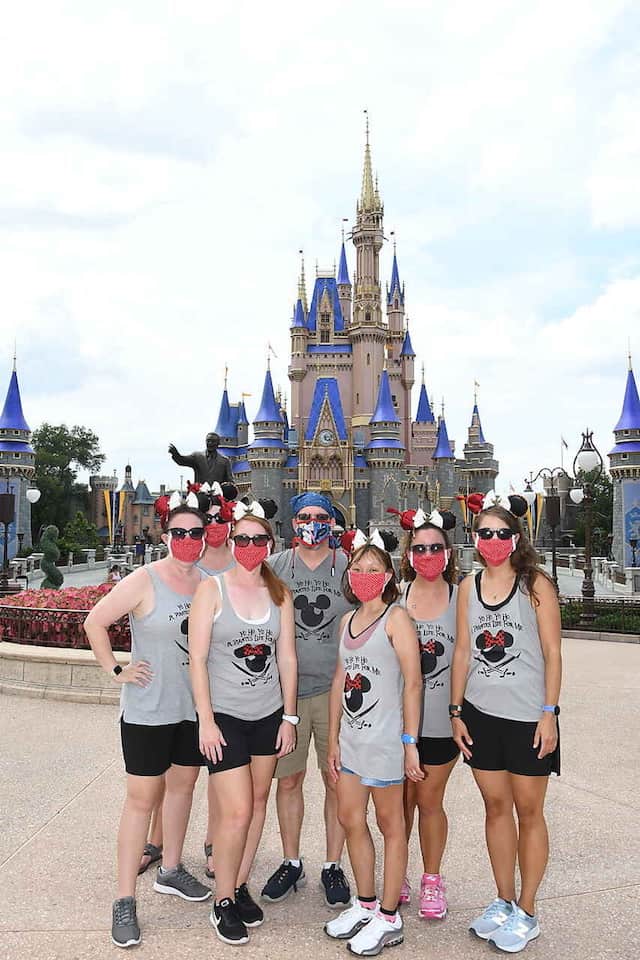 We will review the following health and safety concerns: face coverings, safety for Cast Members, cleanliness of the Parks and rides, and social distancing.
We will also share the current crowd level in the Parks, Resorts, and at Disney Springs.
Acceptable Face Coverings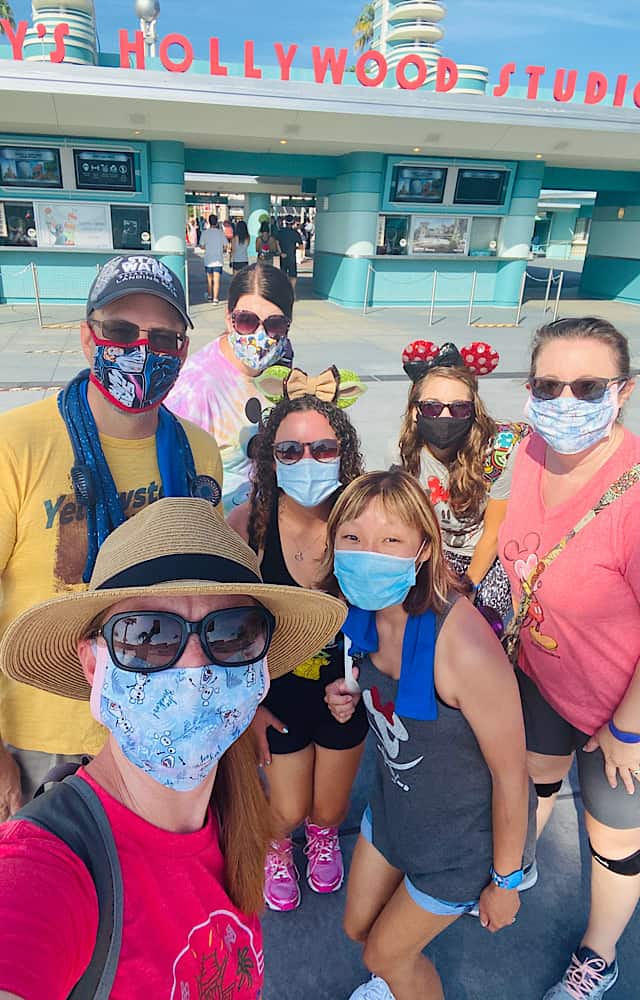 When Disney Springs reopened, the requirement was simply that all Guests must wear a face covering. I saw quite a few pictures of Guests in Disney Springs with very creative face coverings.
The concern was that although their face was covered, stricter guidelines would have to be addressed.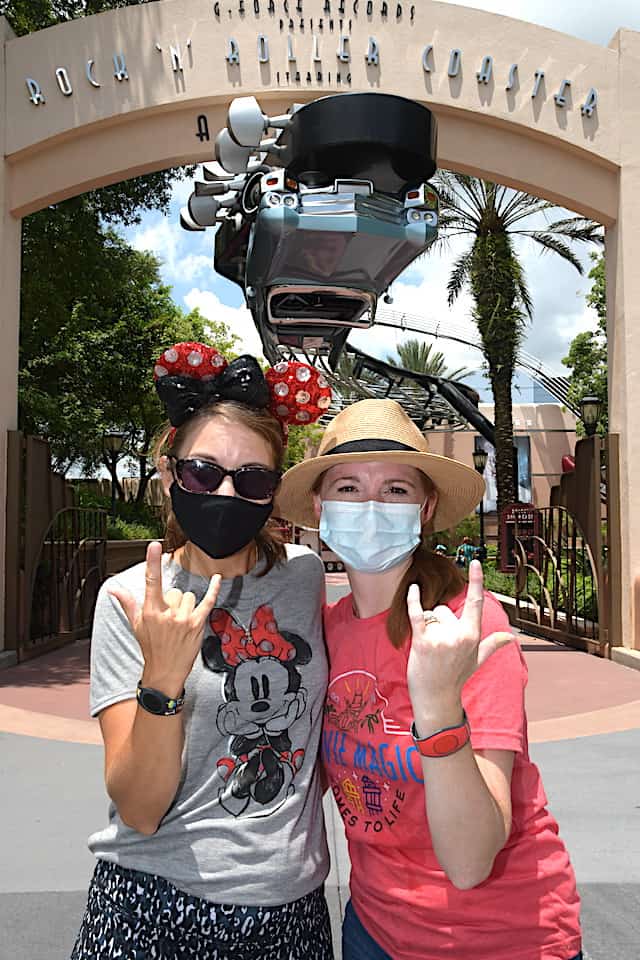 Originally face coverings were required for Guests 3 and older. During the reopening of Disney Springs, the age requirement was adjusted.
Now children ages 2 and older are required to wear face coverings while at the Disney Resorts, Disney Parks, and while visiting Disney Springs.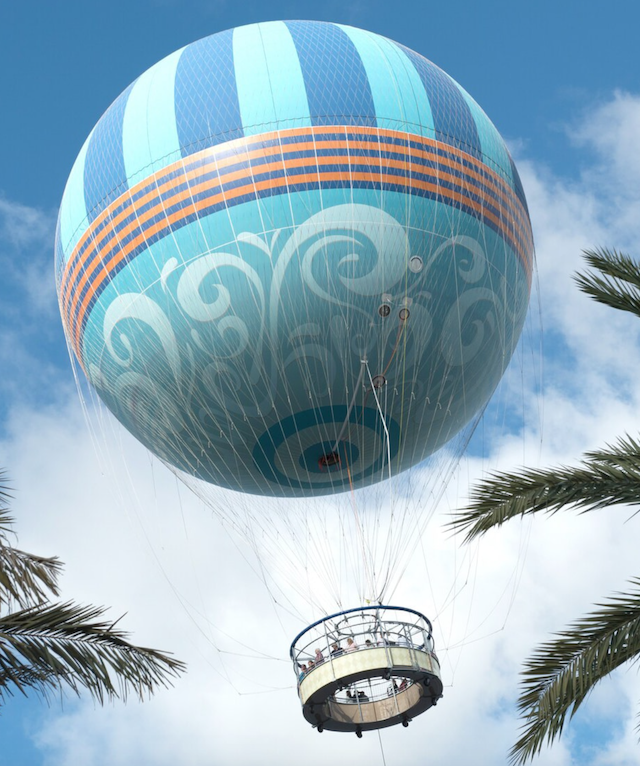 Prior to the reopening of Walt Disney World, new guidelines stated that face masks must be secured with either ties or loops around Guests ears.
This eliminated the use of the Gaiter style mask.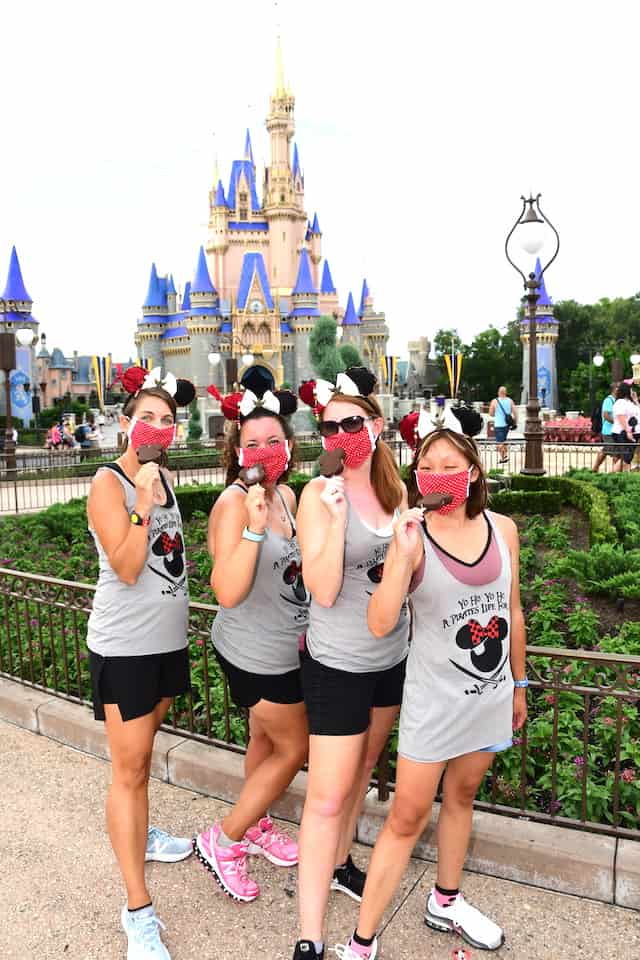 Masks were to be worn at all times except when eating or drinking, or while Guests are enjoying one of the designated Relaxation Stations.
Find a complete guide to the Relaxation Stations HERE.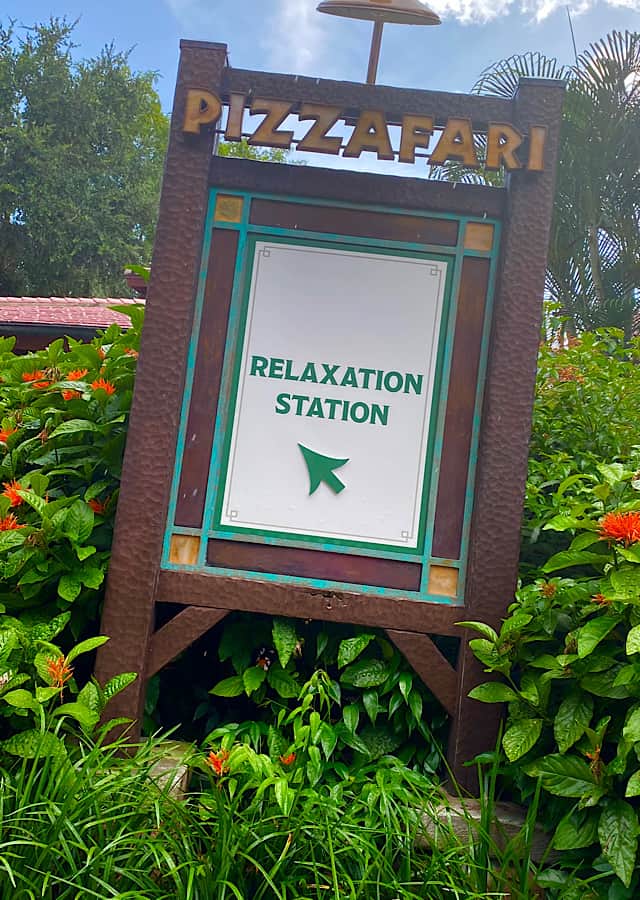 After Walt Disney World reopened, even more changes were made to the face covering policy.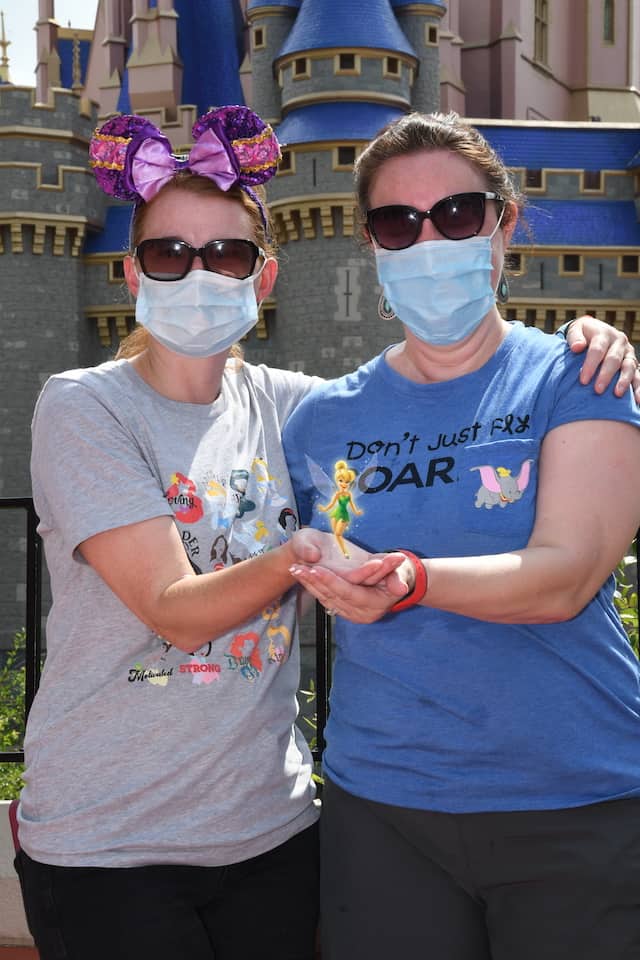 Including:
Face coverings must consist of 2 layers of fabric
Fully cover chin
Fit securely on both sides of the face
Do People Follow Face Covering Guidelines?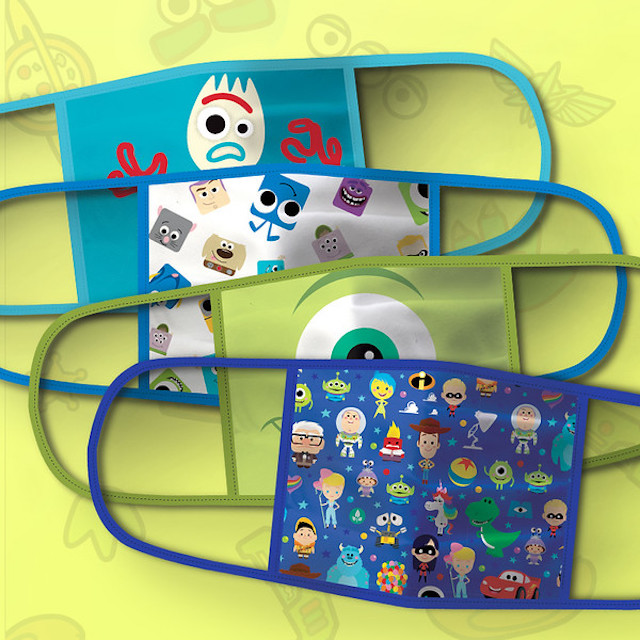 Some Disney Guests were encouraged to hear that Walt Disney World had clear face covering guidelines, but many questioned if Guests would actually follow them.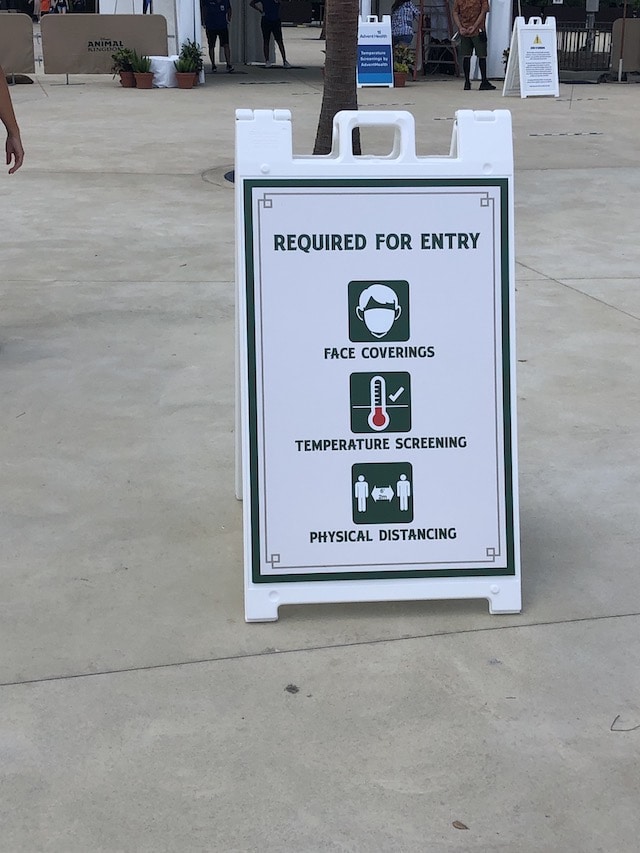 While we were visiting the Disney Parks we only saw a few younger Guests with their face coverings pulled past their nose.
Cast Members very nicely reminded Guests to pull up their face coverings. This kind reminder was always well received and followed immediately.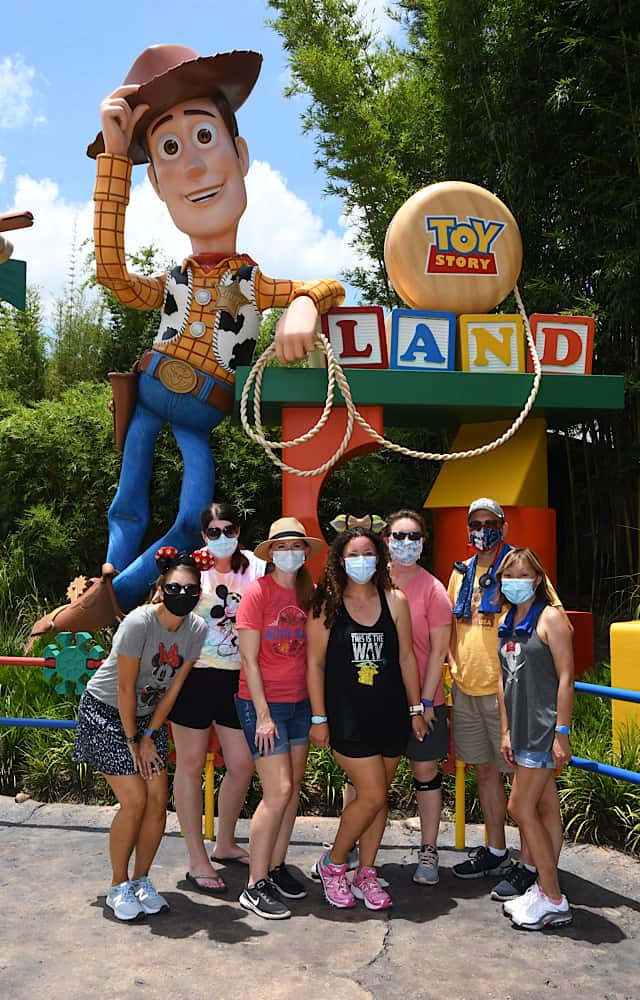 I was shocked to see a few ride photos from the Annual Passholder preview days where Guests had removed their masks while riding an attraction.
Although Guests are seated on attractions with proper social distancing, face coverings are required for the duration of the attraction.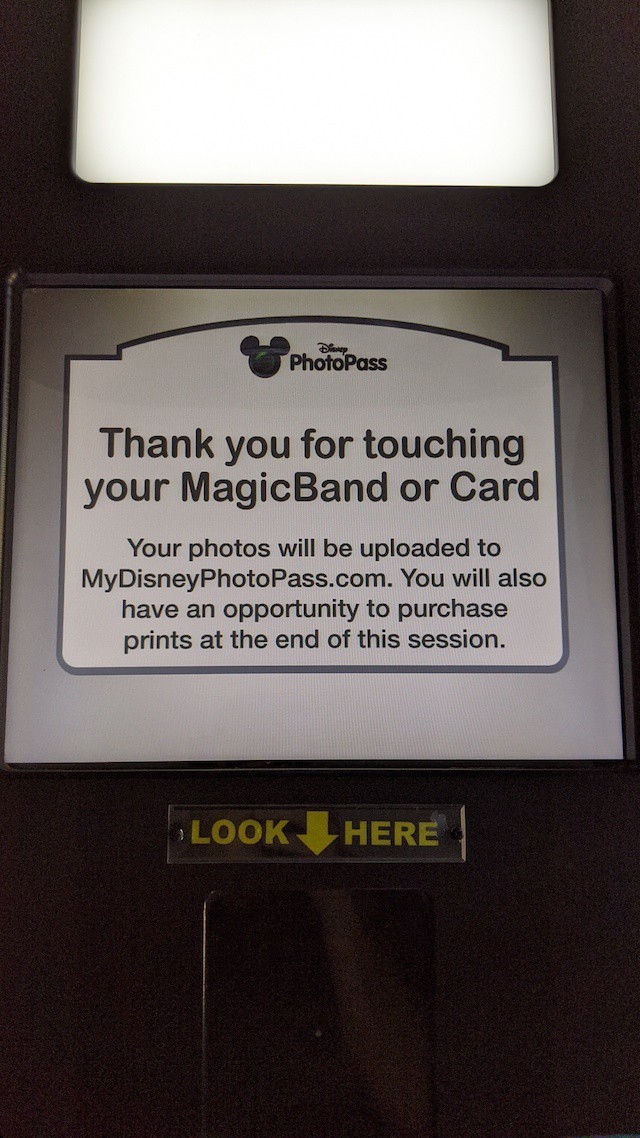 We shared with you that ride photos would be previewed to ensure that Guests were wearing their face coverings. Upon leaving an attraction, Guests could see their ride photo located in the attraction's gift shop.
Now when Guests view these screens they simply state that photos will appear on the My Disney Experience app for viewing at a later time.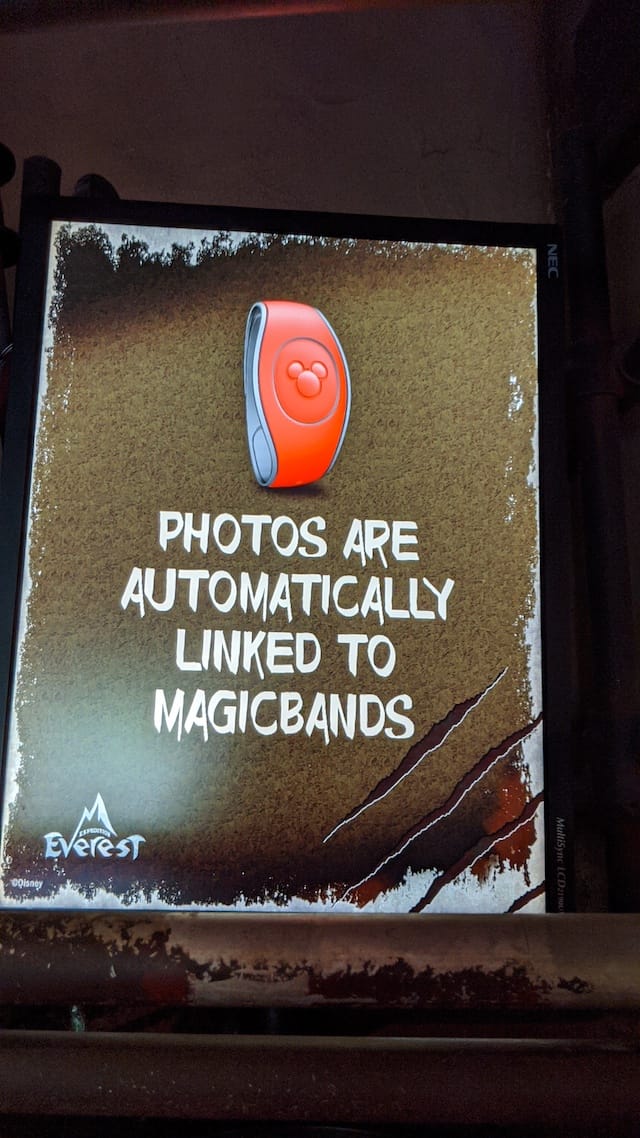 If a Guests removes their mask while on an attraction those Guests seated near that individual will be unable to view their attraction photo.
We were riding Everest and our group was seated near the back of the attraction.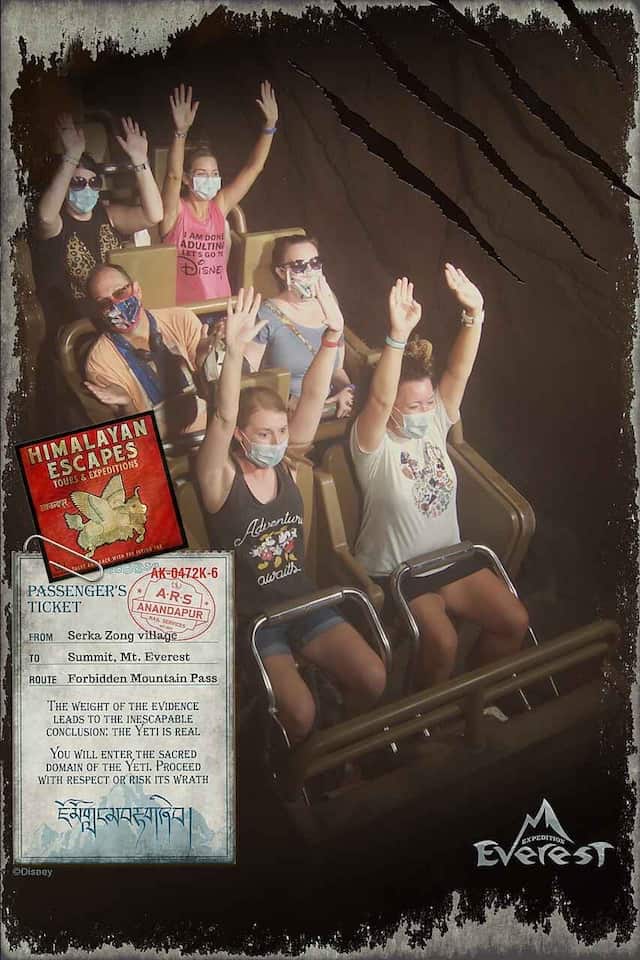 At one point, I saw a Guest a few rows ahead of us holding his face covering in his hands. I figured our ride photo would be affected. We later received this photo (above), possibly because he was seated so many rows ahead of us that it didn't affect our photo.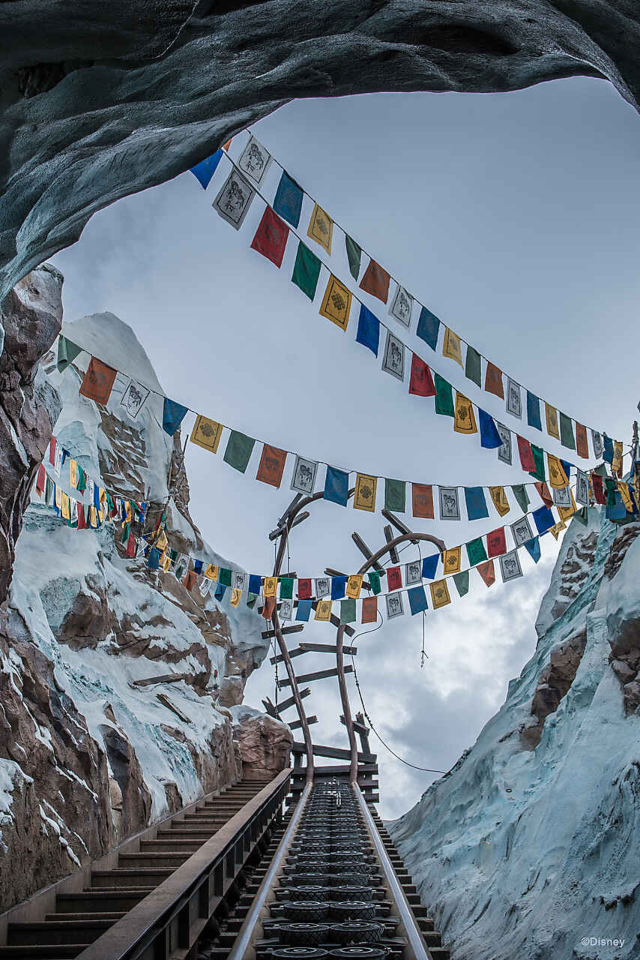 Although it is difficult to monitor Guests wearing face coverings on an attraction, this is one way that Disney can help encourage Guests to wear face coverings at all times. Read all about our experience in wearing face masks during our entire Disney trip HERE.
there is now a Delay in Ride photos for Guests. These photos are previewed to ensure that all guests are wearing face coverings during the entire ride.
Crowd Levels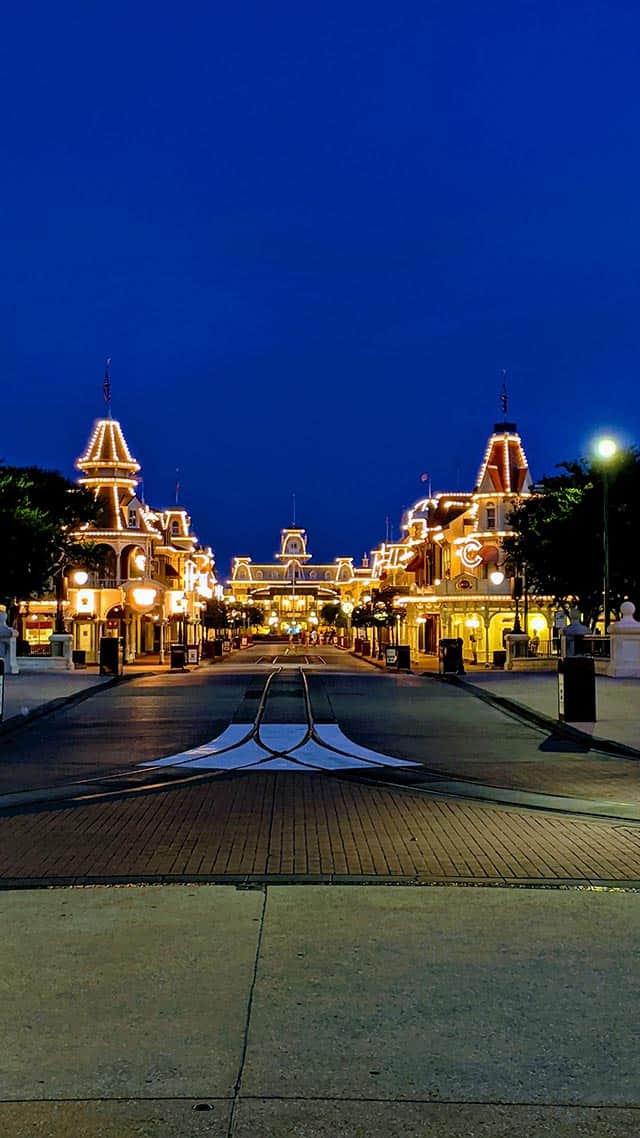 We were simply astonished at the low crowds at Magic Kingdom and Animal Kingdom. I felt very safe while in these Parks and social distancing was very easy to maintain.
Read all about how low crowds are one of the ways that the Disney Parks are still magical even during their reopening.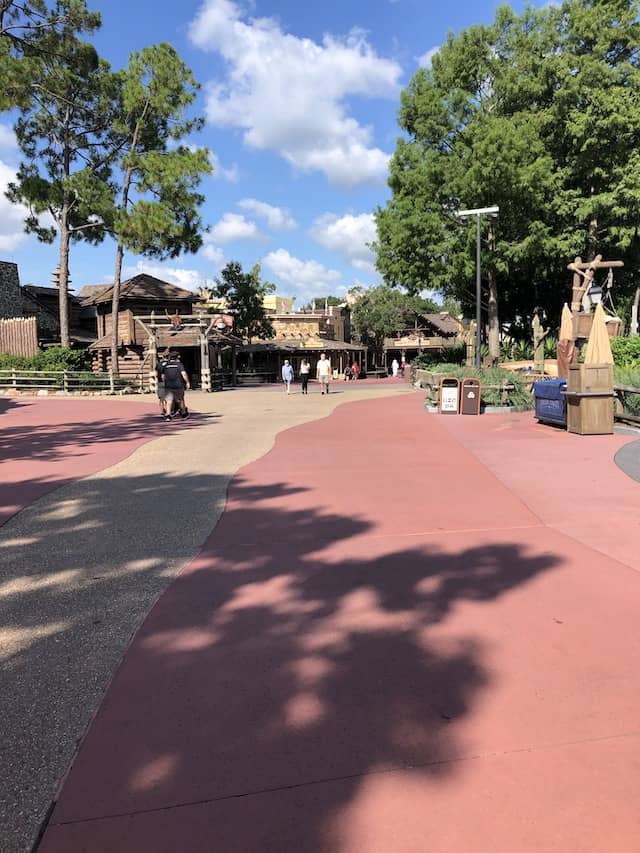 Our Kenny the Pirate writing crew attended the reopening day of Hollywood Studios and found that the crowd levels were quite higher than the other Parks.
The social distancing markers were great, but with the higher crowd levels it seemed like it took more of a concentrated effort to maintain social distancing.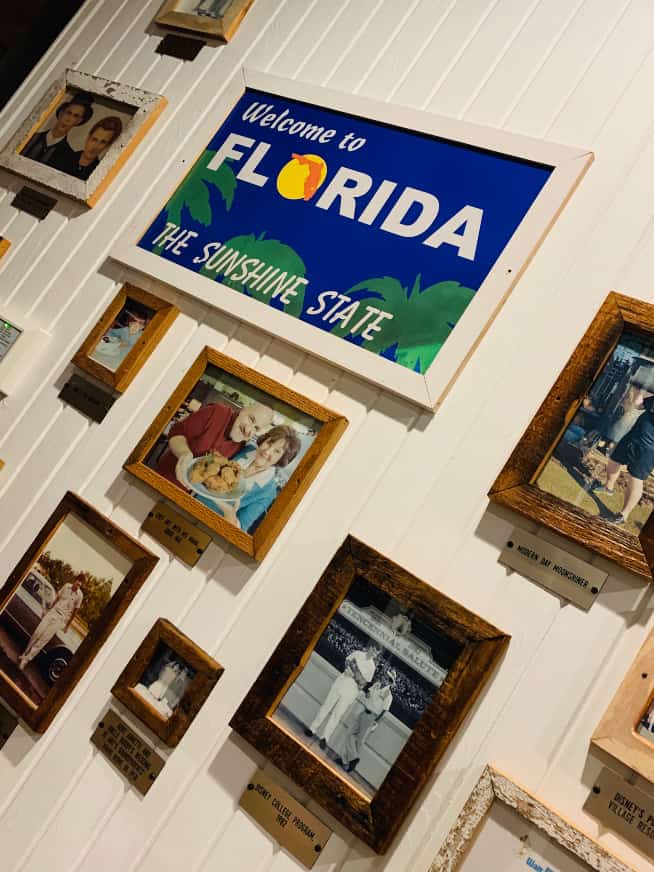 We visited Disney Springs on a Monday to dine at Chef Art Smith's Homecomin'.
I was personally shocked at the large number of people present at Disney Springs. Many Guests were not properly wearing face coverings and there was no social distancing.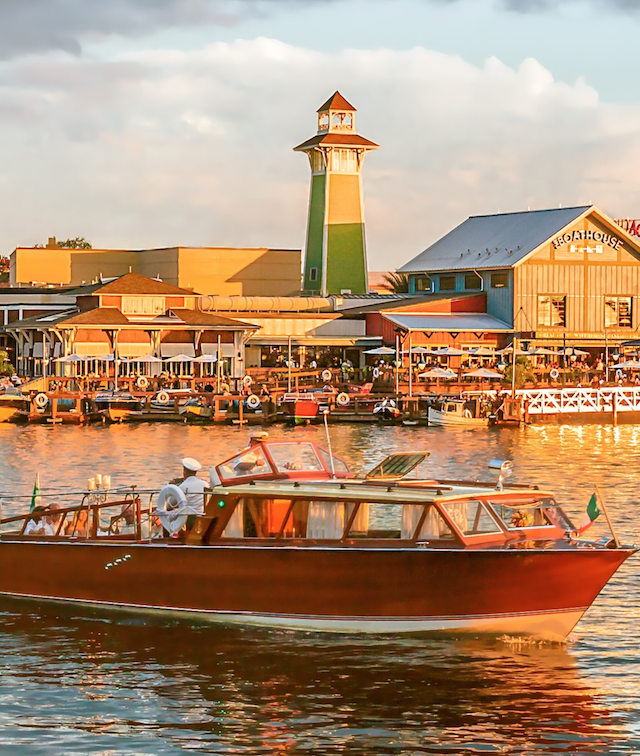 Once we arrived at Chef Art Smith's Homecomin', we did enjoy our dinner. However, the following evening we all chose to avoid returning to Disney Springs for dining or shopping due to the larger crowds and the low compliance to health and safety protocols among Guests.
WE experienced the highest crowd levels at Hollywood Studios and at Disney Springs.
Safety for Cast Members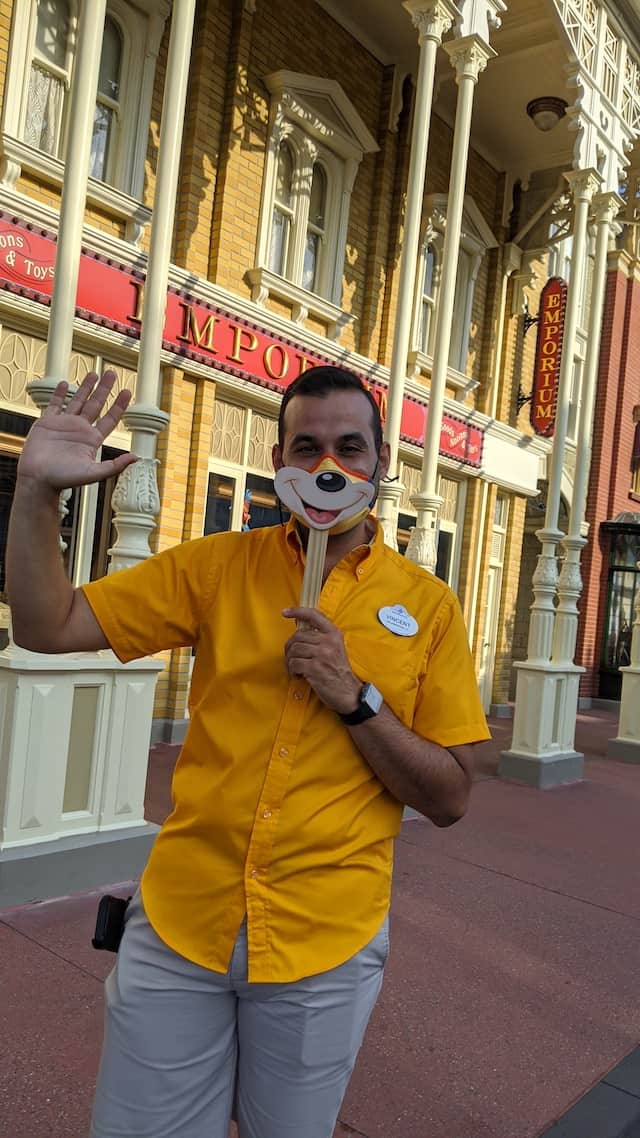 All Walt Disney World Cast Members wear face coverings and maintain social distancing. Those Cast Members who may need to come in direct contact with Guests will be wearing a face shield in addition to their face mask.
Cast Members were even able to help create magically inspired face masks for the Parks.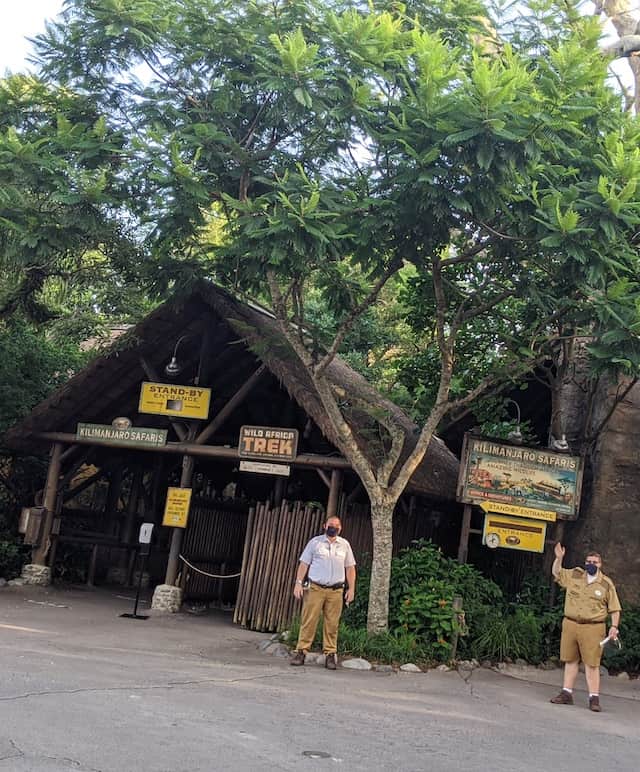 Cast Members were very welcoming of Guests, and they appeared happy to be able to return to making magical memories for Disney Guests.
If a Guest approached a Cast Member closer than 6 feet, then the Cast Member's first line of defense appeared to take a step back.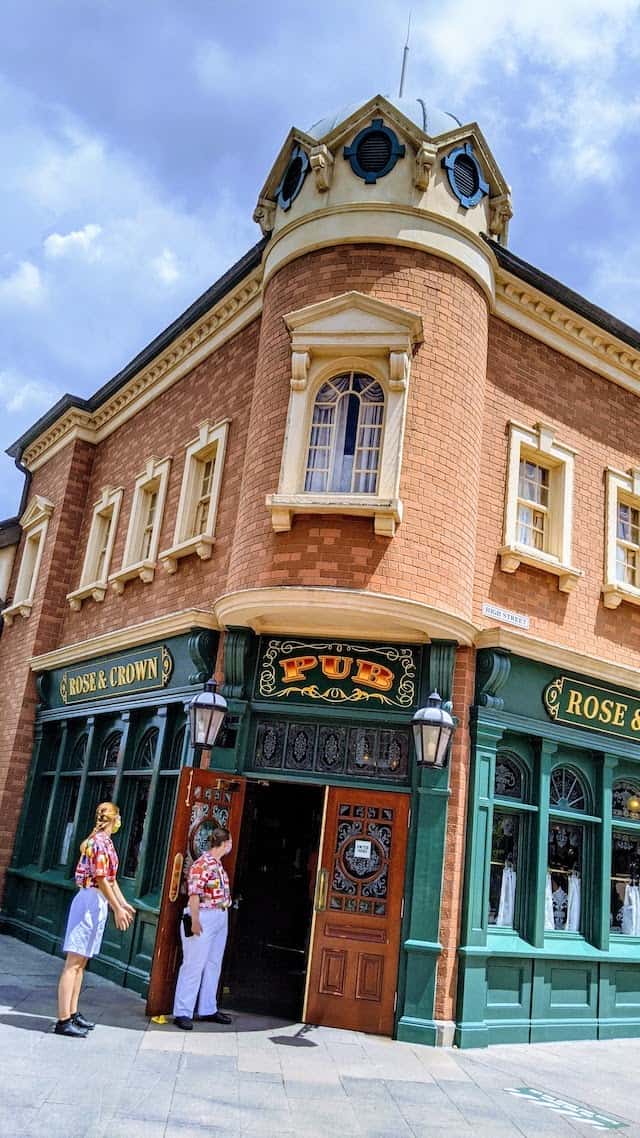 On a few occasions we noticed Cast Members take steps back from Guests that were not mainintaing social distancing guidelines.
If the Guest failed to keep the 6 feet distancing, the Cast Member would request that the Guest take a step back.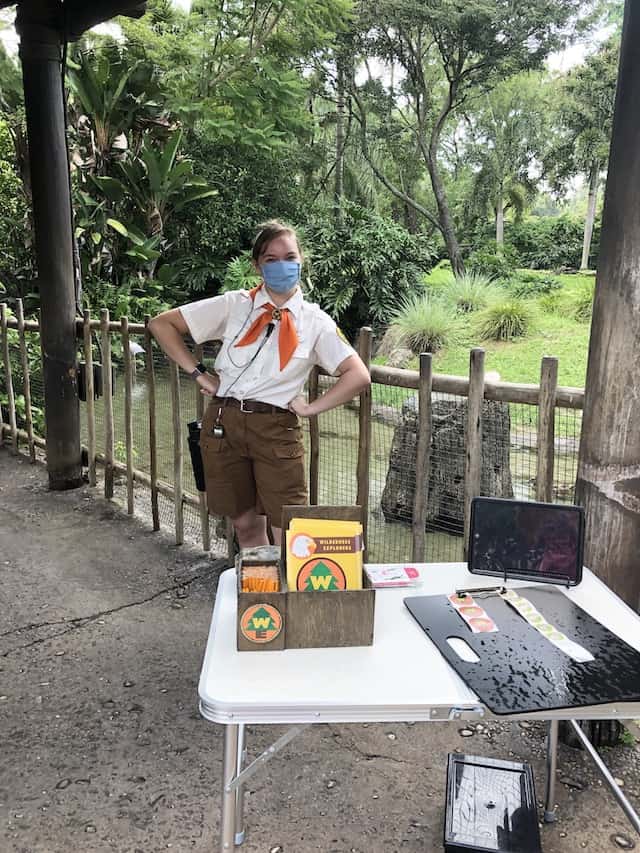 All Cast Members were very respectful in requesting social distancing and Guests happily complied to this request. It is often easy to forget about social distancing especially when you return to "the most magical place on earth."
Cast Members understand this and these polite reminders are great ways to keep both Cast Members and Guests safe.
All Cast Members wear Face masks and those that may come in direct contact with guests will also wear a face shield in addition to their face mask.
Cleanliness of the Park and Rides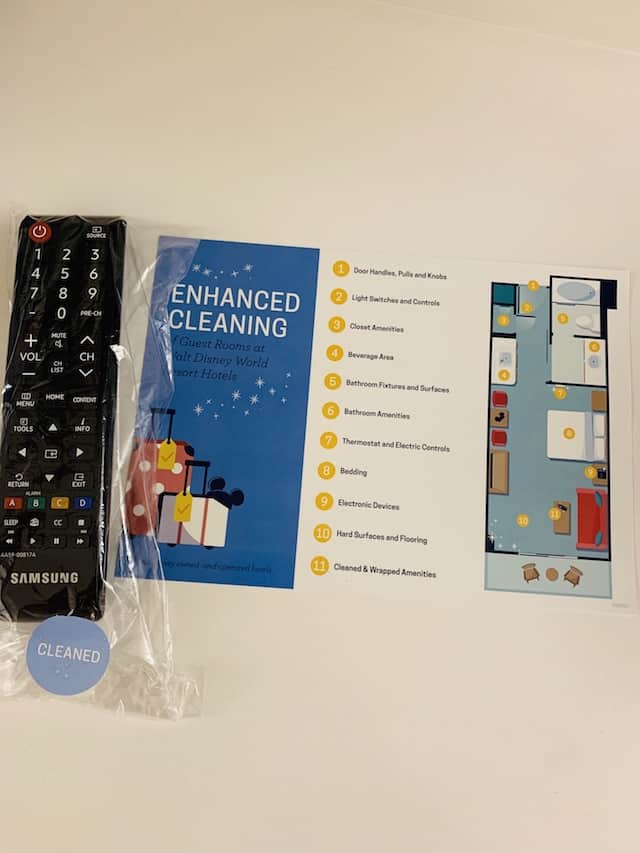 I have always personally been impressed with the overall cleanliness of the Disney Parks.
During our most recent trip I was more mindful of so many Cast Members cleaning and wiping down high contact surfaces.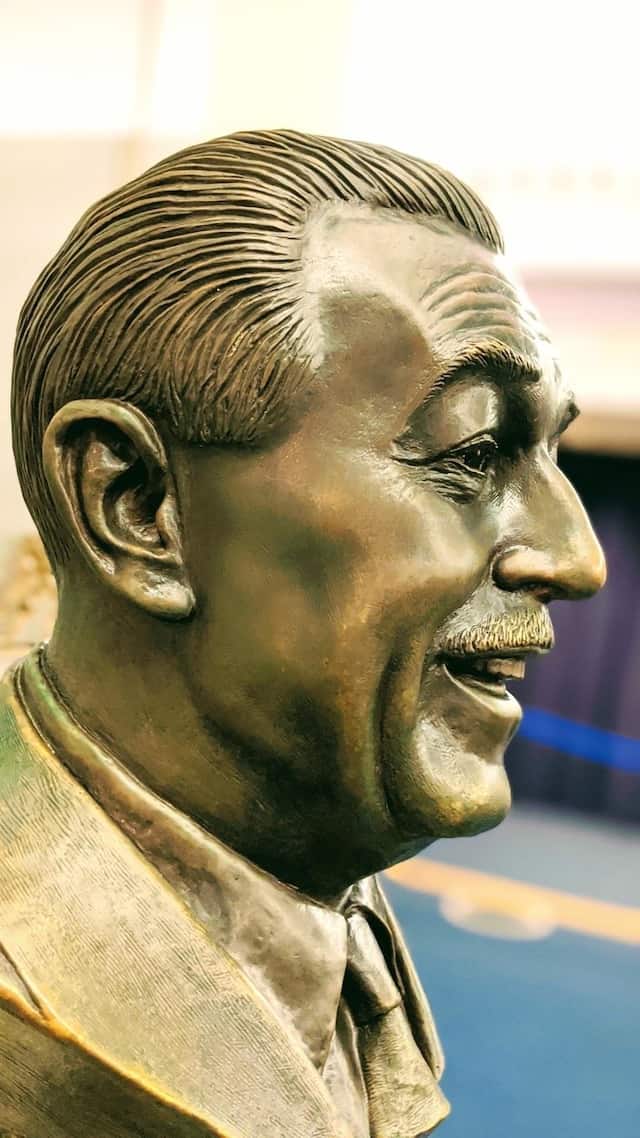 An attraction is closed periodically throughout the day for cleaning. We were waiting in line while observing a few of these cleanings. Cast Members will take a pump spray container with a wand attached, and spray down all ride vehicles.
The attraction vehicle that was sanitized would then be sent out without Guests. This allows the cleaning solution to dry thoroughly before accepting passengers.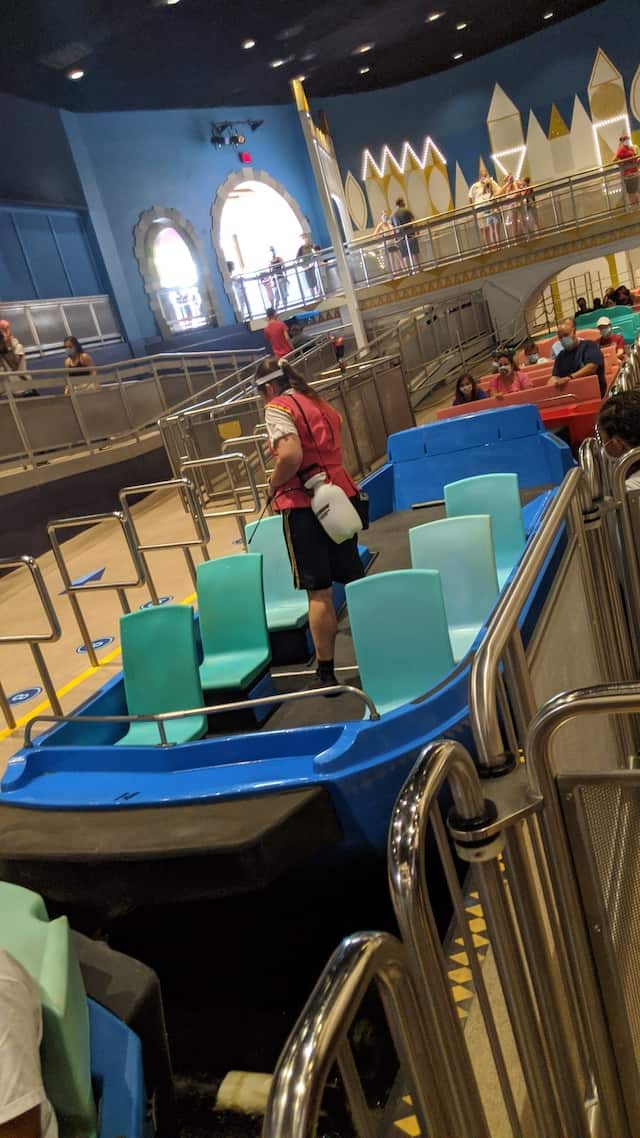 Cast Members will disinfect remaining ride vehicles and use the same protocols. Many voiced concerns that each ride vehicle is not wiped down between Guests – in particular, high contact surfaces such as handles, seatbelts, and harnesses.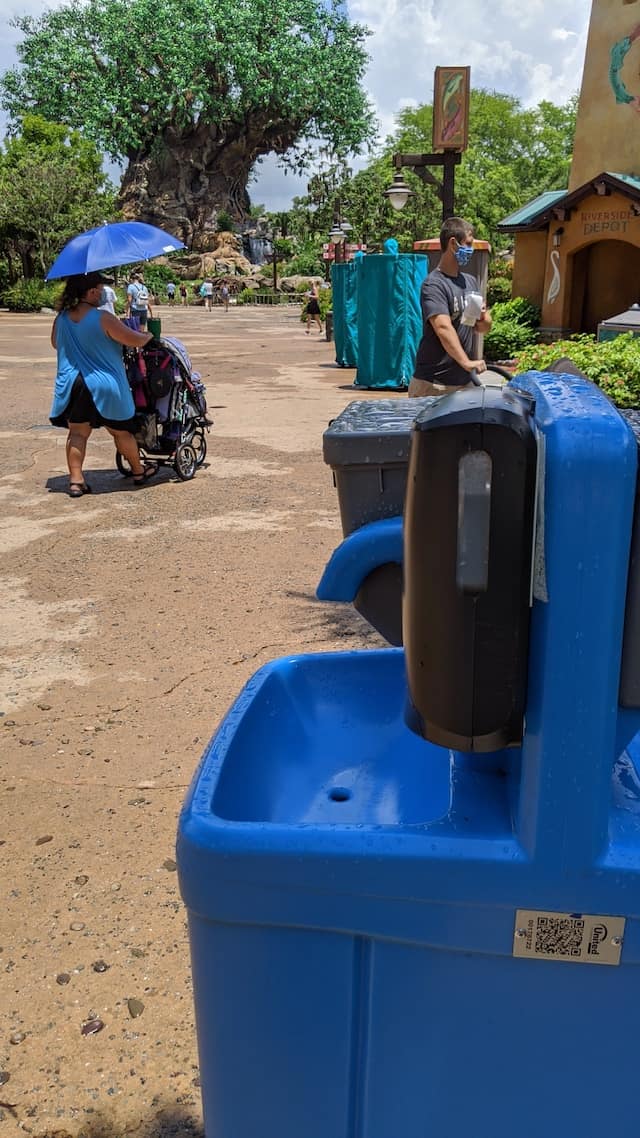 This did cause myself a bit of concern, but I also relied heavily on the hand sanitizing and hand washing stations. Hand washing stations were located frequently throughout the Park.
Hand sanitizing stations were located at both the entrance and exit of each attraction. Personal hand sanitizer is also recommended to bring as well.
Guests do not have access to Certain high contact surfaces. These include the interactive queue experiences such as at 7 Dwarfs Mine Train and the Many Adventures of Winnie the Pooh ride.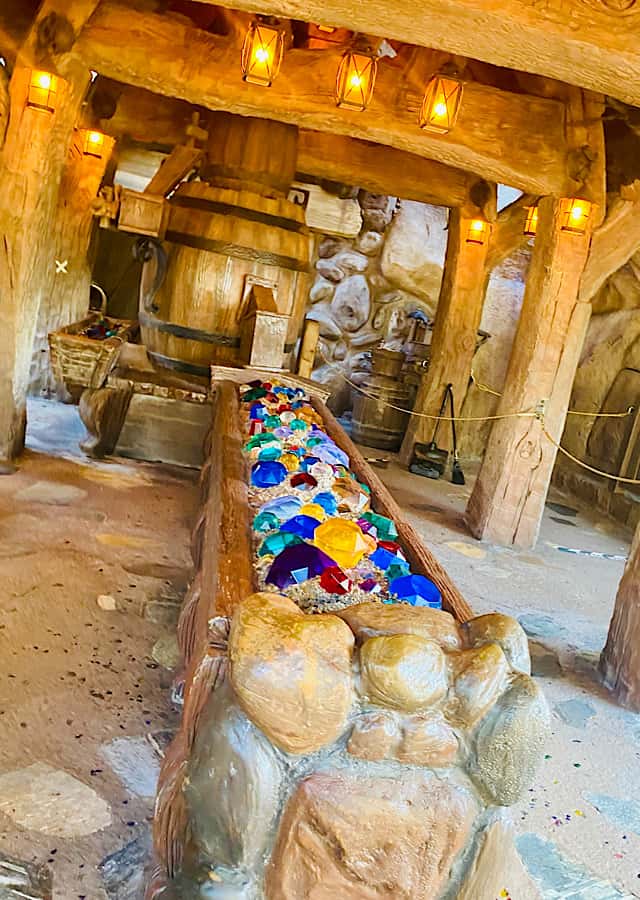 Hand sanitizer is located at the entrance and exit of every attraction. Hand washing stations are located throughout the parks as well.
Social Distancing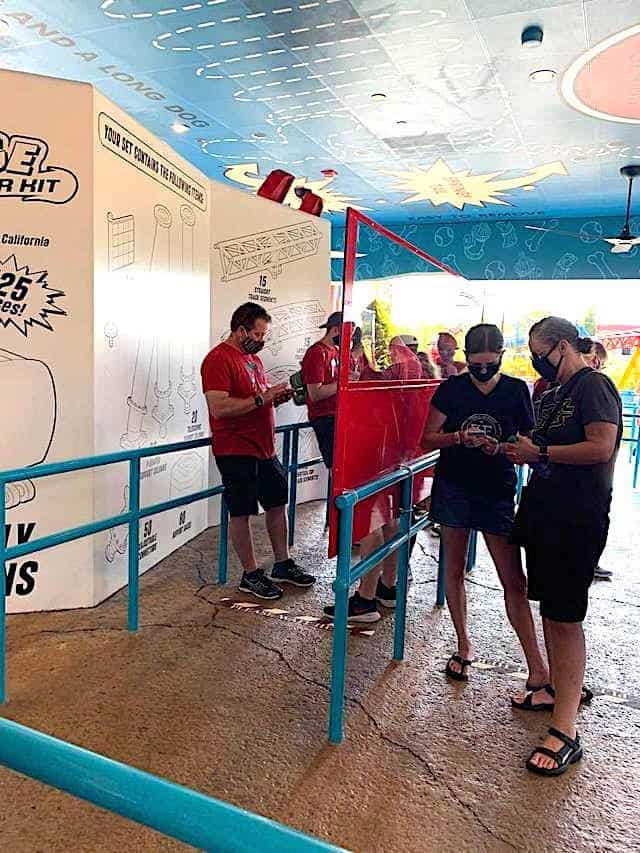 Social distancing markers are located on the ground throughout the Disney Parks. These are extremely helpful to allow groups to stay together while maintaining social distancing while in line for attractions, at mobile order locations, waiting for Disney transportation, etc.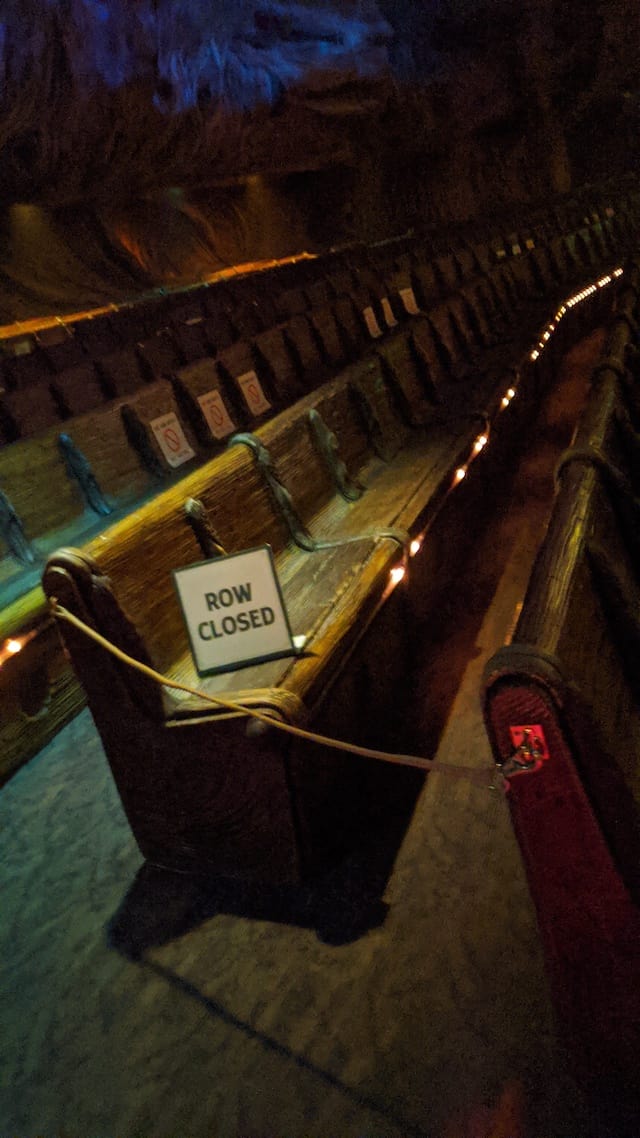 Rows and seats are closed off to allow for proper social distancing.
I was very impressed that all Guests followed the social distancing guidelines, and it was a very welcome change. The day that we visited Animal Kingdom, we were simply able to walk onto Flight of Passage.
However, social distancing markers were located from the entrance of this attraction all the way down the bridge to Africa.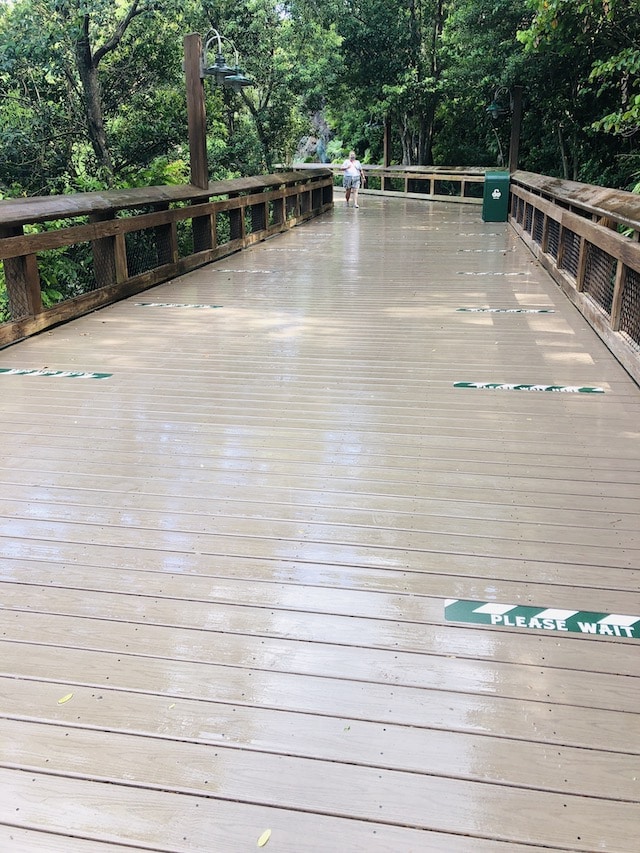 It appears that Disney World is already prepared for social distancing when the Parks resume to full capacity.
Now, let's see what some of the KtP writers who attended reopening have to say about the health and safety measures!
Maggie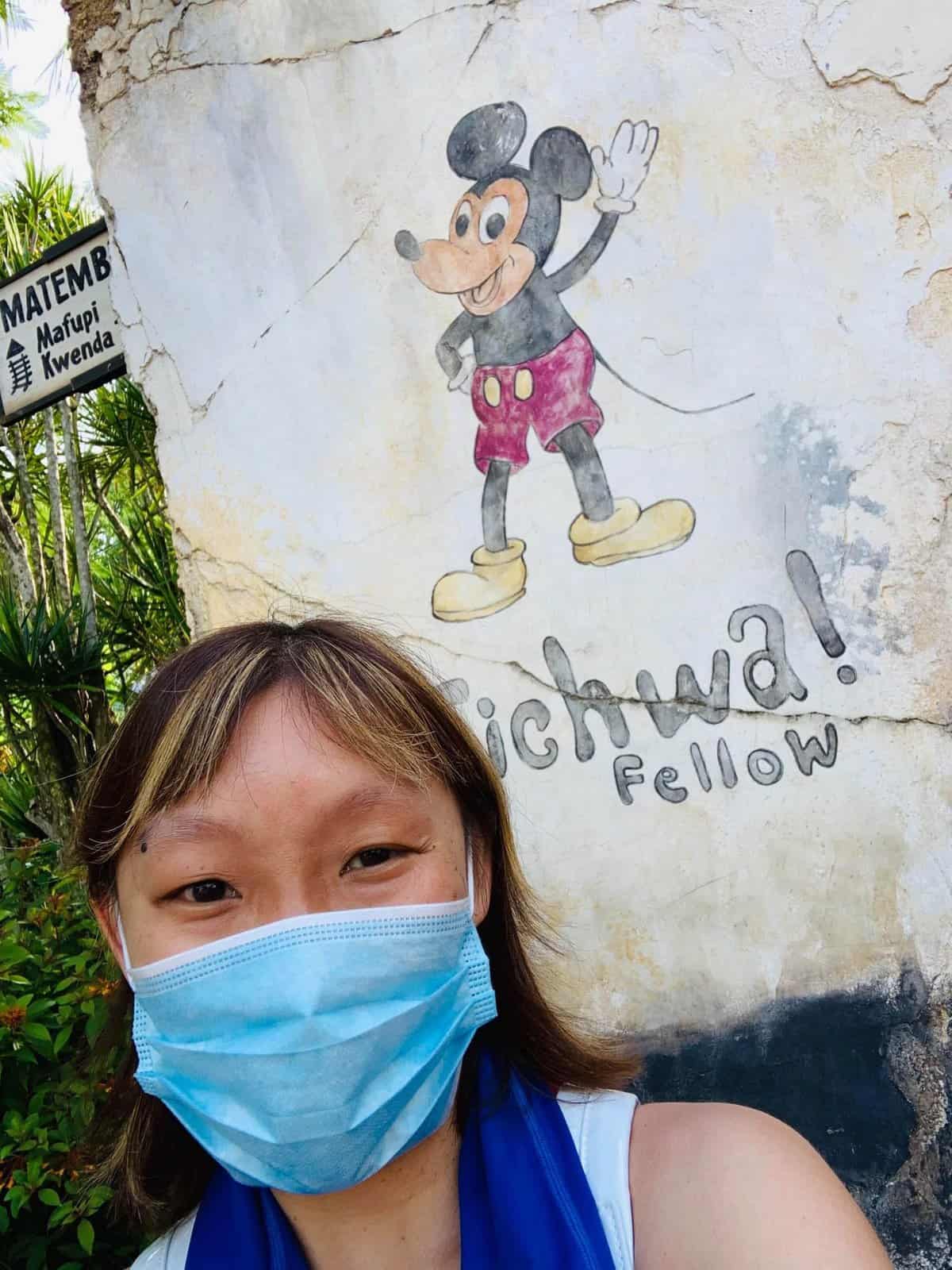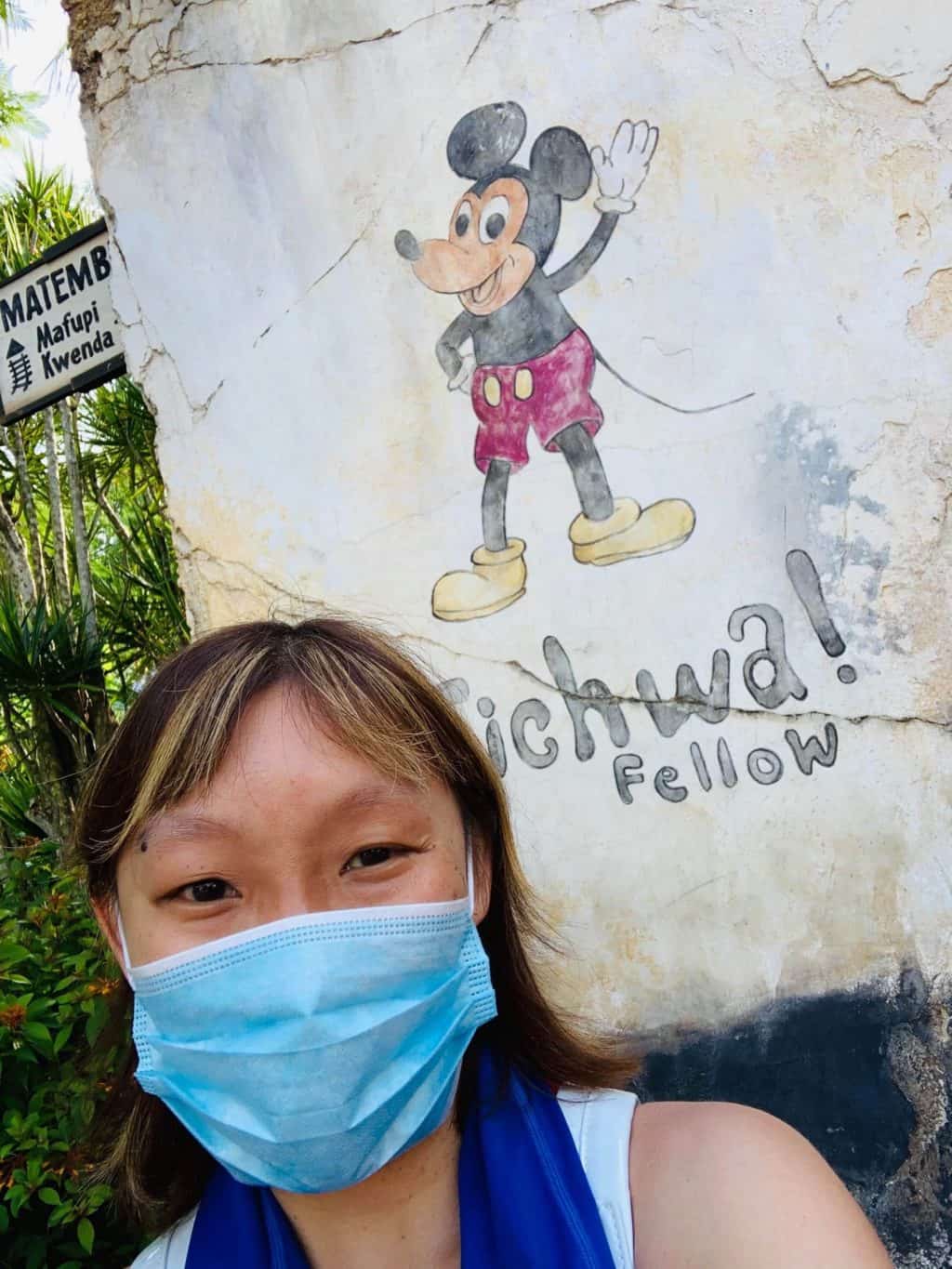 "When I was trying to decide on whether or not to go to Disney, their safety and cleanliness protocols were very important to me. I felt extremely safe at Walt Disney World and in my Resort. There were plenty of hand sanitizers throughout the Parks."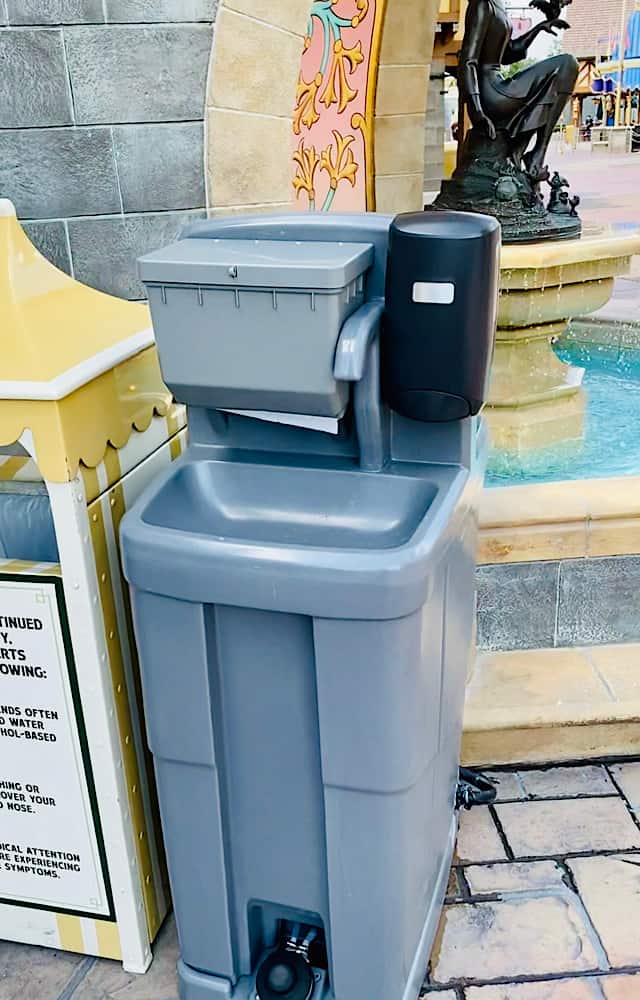 "Cast Members were always seen cleaning. The social distancing in queues were followed well. I felt fine eating in dining areas, and I feel the safety is taken very seriously and wearing masks is strictly enforced."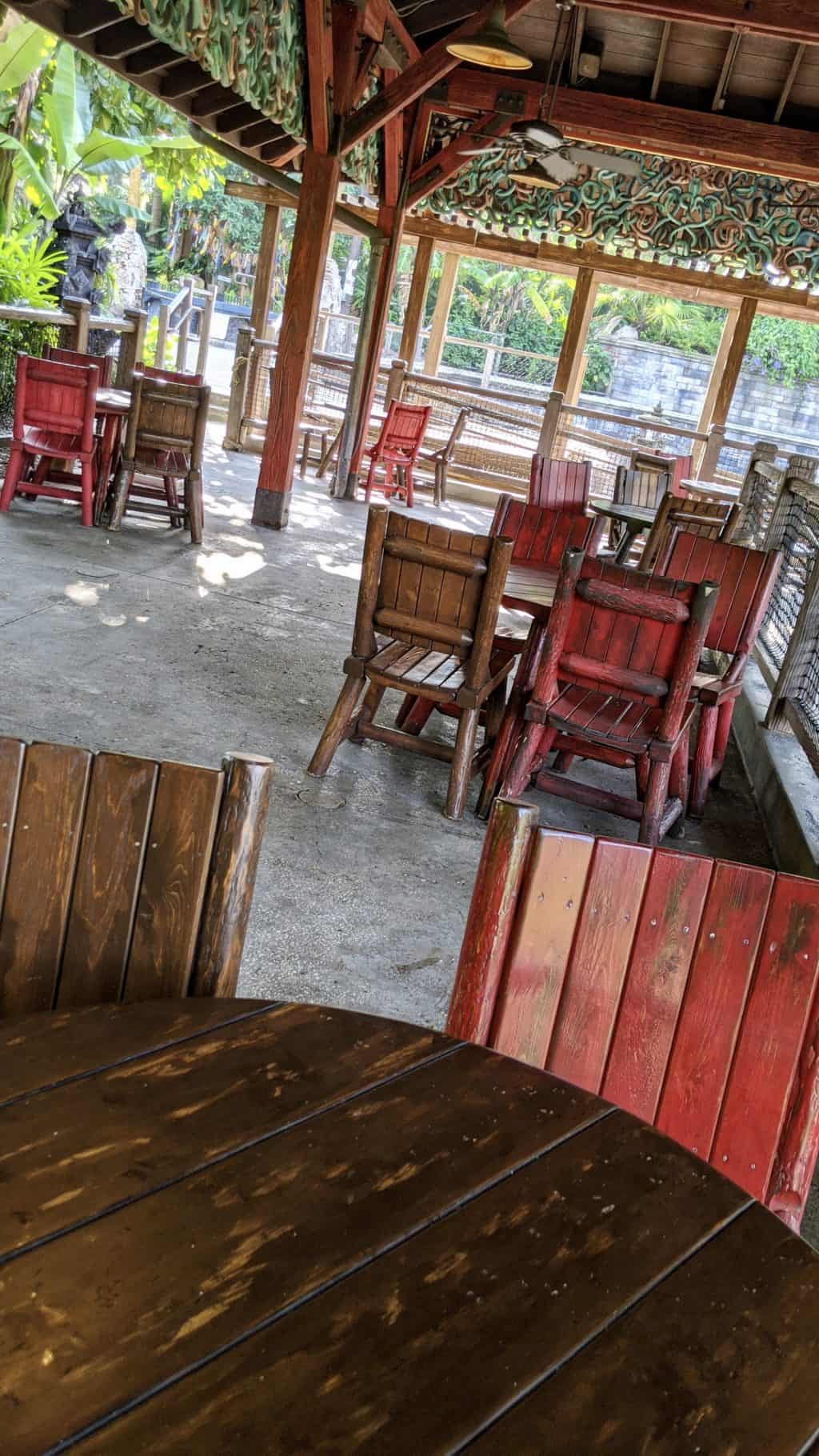 "Disney Springs was noticeably busier when we visited than the Parks. I found myself weaving in and out of people and it felt a little uncomfortable at certain times. However, while the restaurant we visited felt busy, I felt like we were set apart far from other Guests while seated at our table."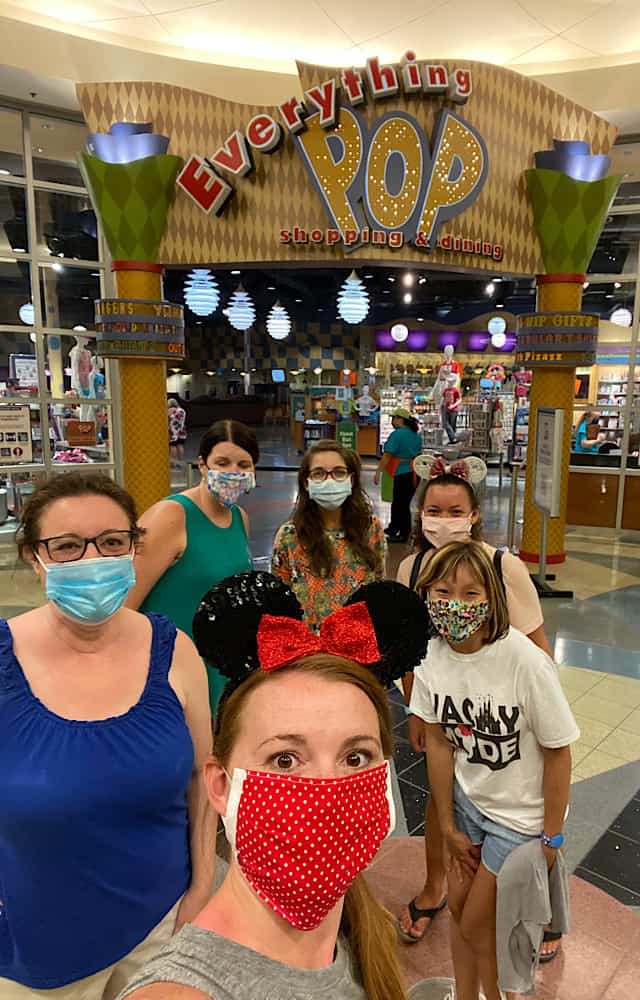 "Our Resort also was clean and safe. The main pool area seemed busy and crowded and at full capacity. We went to one of the quieter pools that wasn't as busy.
Overall, I feel that Disney has done a great job at making their Guests feel safe and their Parks and Resorts clean! I'm looking forward to my next visit."
Jess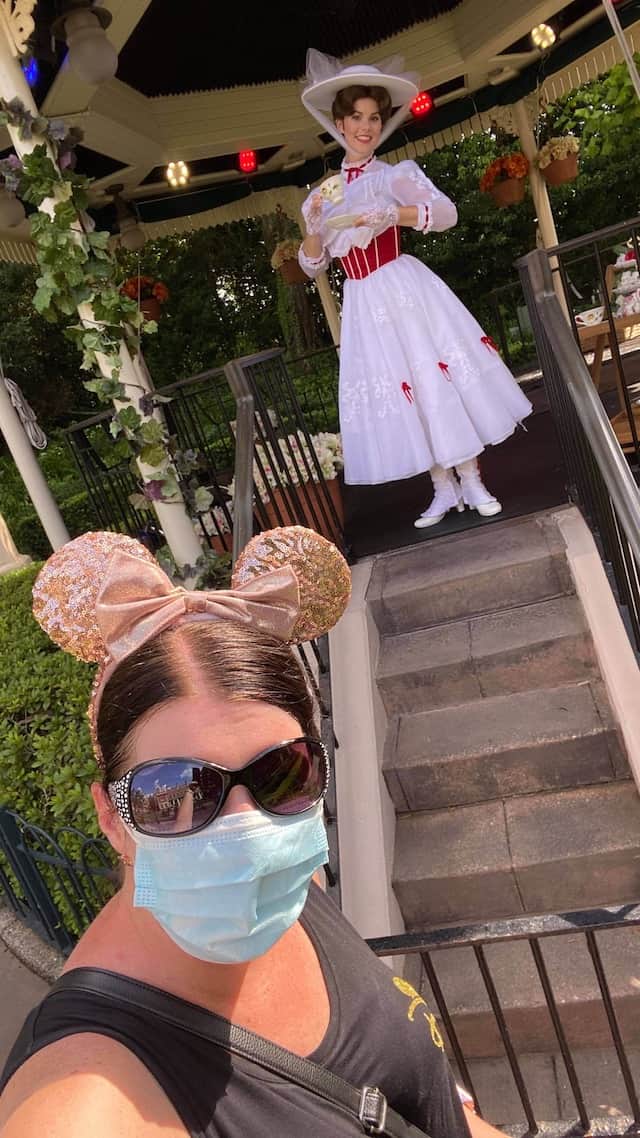 "I will admit I was extremely nervous to visit the Parks and went back and forth a few times before I finally decided to go. When I saw the safety measures in place on social media during the Cast Member preview and Annual Passholder previews, it eased my mind some."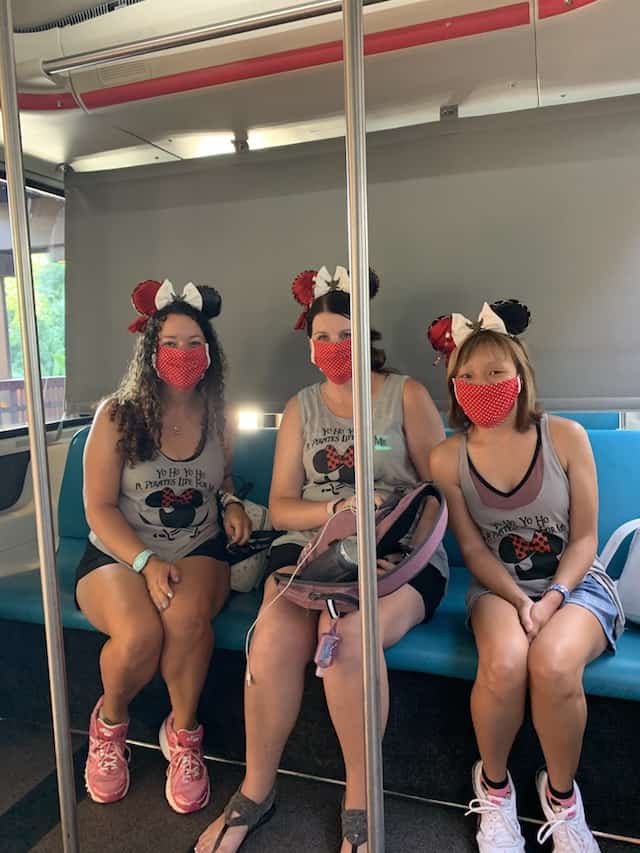 "It took me physically being in the Parks and seeing safety measures strictly enforced to feel comfortable. I felt very safe on rides, there is sanitizer at every entrance and exit. It did feel quite sticky after a few uses so I suggest bringing your own or stopping to wash your hands after every few rinses. Guests stayed distanced in line queues and Cast members spaced Guests apart on rides."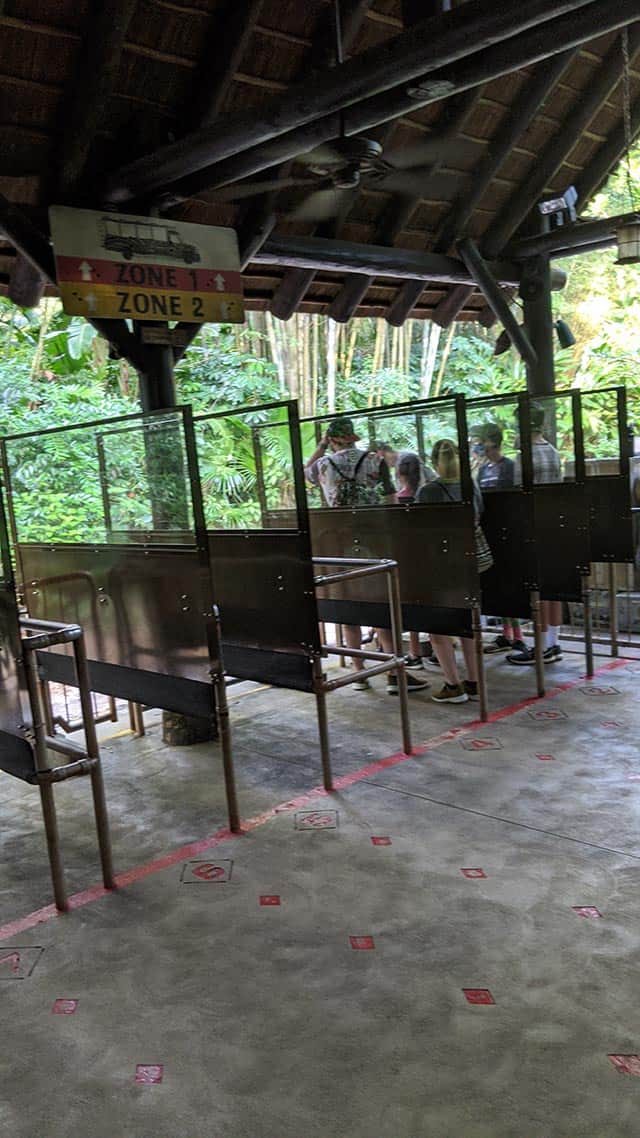 "The plexiglass rows in queues like Kilimanjaro Safari and Gran Fiesta Tour starring the Three Caballeros made me feel slightly confined, but I understand their purposes."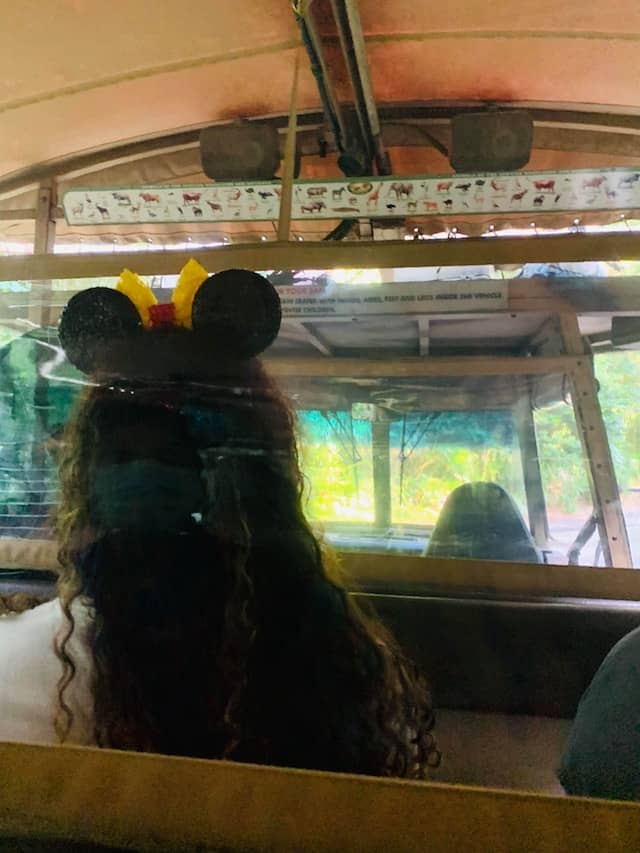 "Mask compliance was 100% for Cast Members and very high for Guests as well. I saw a few Cast Members gently reminding Guests that the policy was that masks must cover the nose and mouth. I do agree with the updated policy that Guests must be stationary and distance when eating or drinking. This eliminates any confusion and helps Cast Members to enforce the face mask policy."
"Mask compliance was 100% for Cast Members and very high for guests as well."

Jessica Watkins
Jamie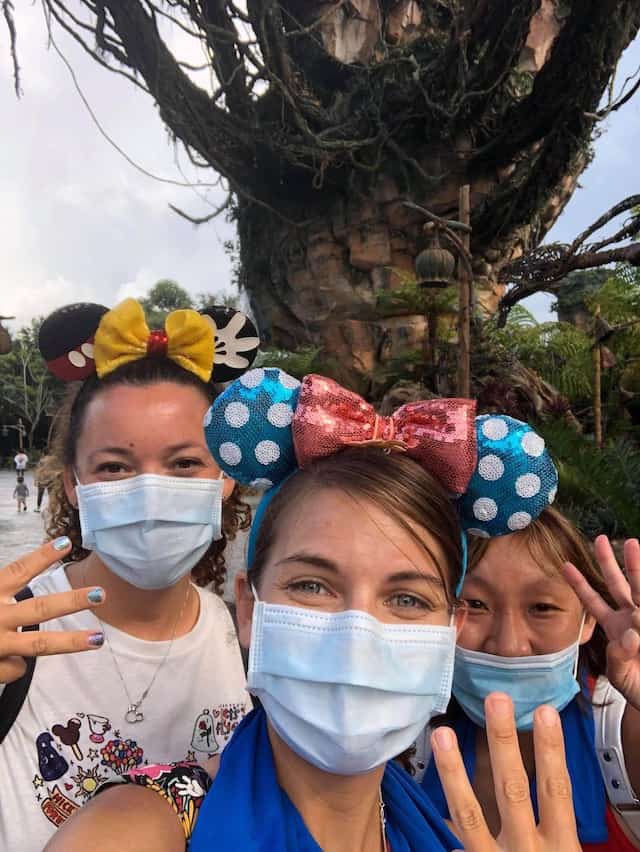 "I felt extremely safe in Walt Disney World. I saw Cast Members firmly (but politely) enforcing the face mask and social distancing guidelines every place that I visited."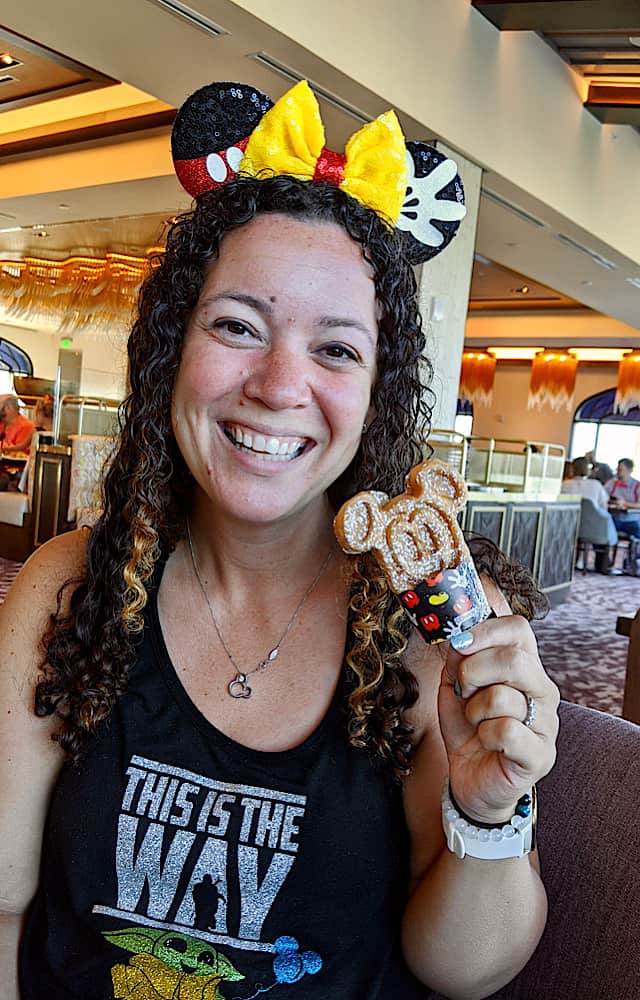 "The social distancing markers on the ground were extremely helpful to and and to the other Guests. These ground markers helped each Guest to know where to stand so that we could maintain social distance. Even the partitions on the rides helped me to feel safer."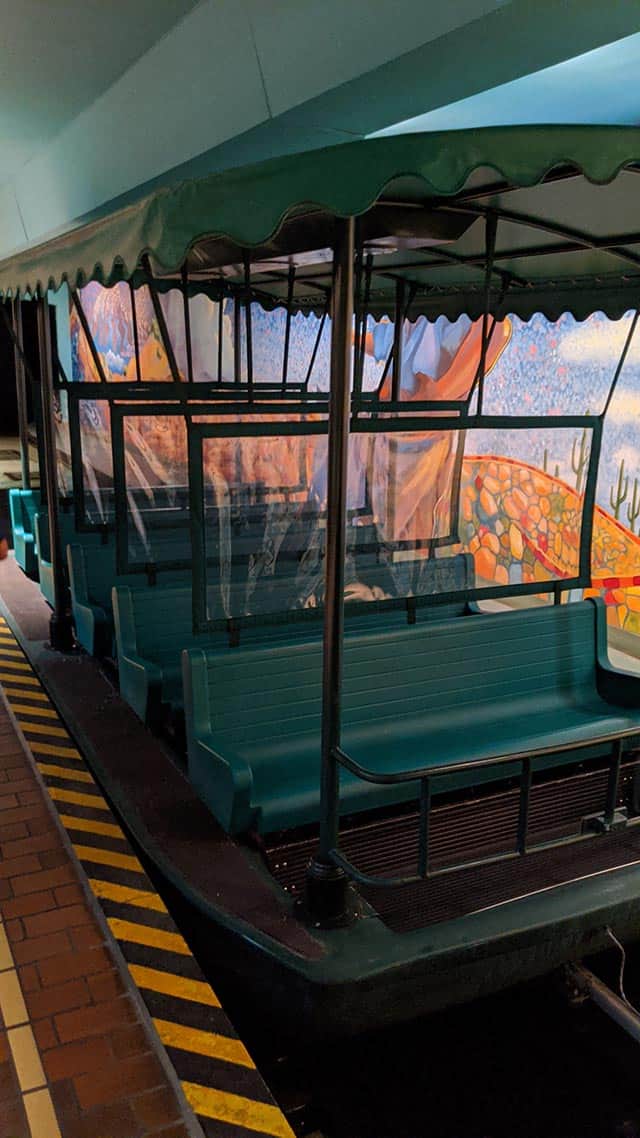 "The change I appreciated most was the hand sanitizer stations being so accessible. I felt a lot better knowing I could clean my hands easily, which helped me to feel more comfortable overall."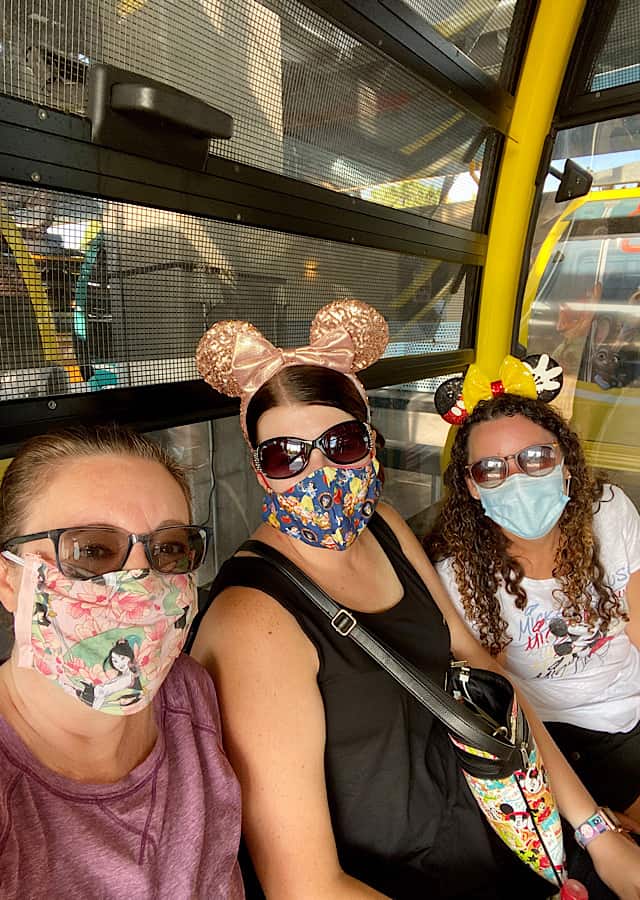 "The one place I didn't feel safe was Disney Springs. We ate at Chef Art's Homecomin' one evening. The restaurant was packed, in my opinion. I also felt uneasy walking around Disney Springs, as I witnessed lots of unmasked people ignoring social distancing rules. I would most definitely visit Walt Disney World again, but I would not go back to Disney Springs."
"the one place I didn't feel safe was Disney springs….I would most definitely visit walt disney world again, but i would not go back to disney springs."

Jamie Fonseca
We hope that this review of the health and safety of the Walt Disney World Resorts and Parks was helpful. Each family must make the best decision concerning their family's safety. We hope that this article may help to alleviate some concerns and question that you may have regarding the health and safety of the Disney Parks.
What do you think of the health and safety protocols listed in the article? Will you and your family be visiting Walt Disney World in the near future? Share your thoughts with us on our Facebook Page.