Do you love Star Wars: Galaxy's Edge? Join us in reflecting on its inaugural year!
Happy Birthday, Galaxy's Edge!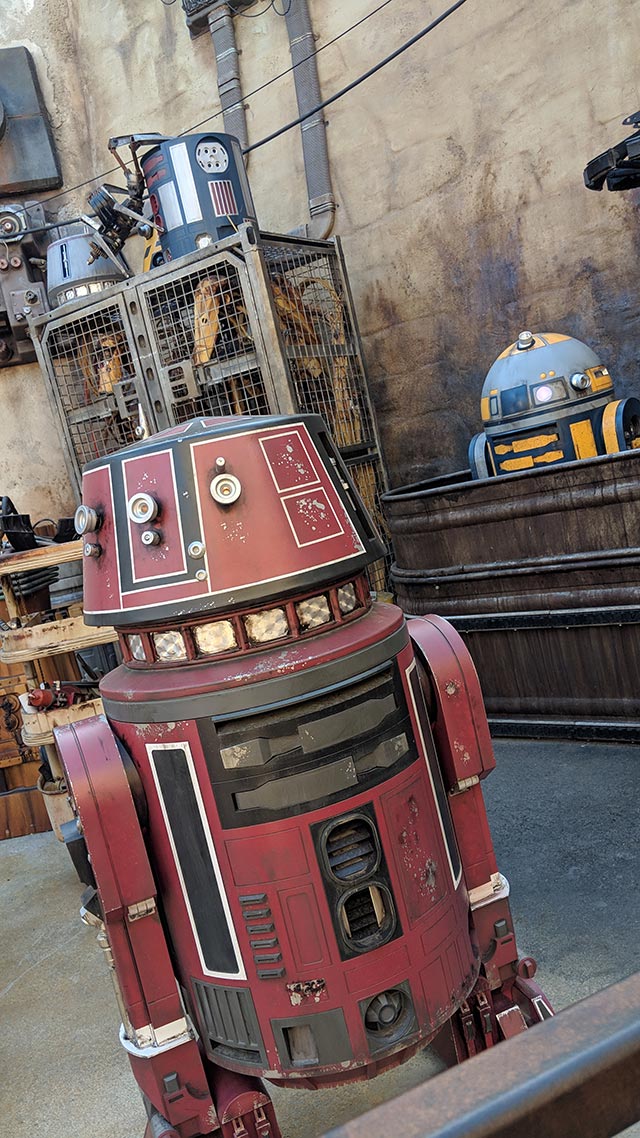 Star Wars: Galaxy's Edge in Walt Disney World is turning ONE! Can you believe it?
Part of the reason it seems like Galaxy's Edge can't possibly have been open for an entire year already is because-well…it HASN'T. Hollywood Studios was closed from March 16-July 15, which is about 1/3 of the year.
Of course, GE was not totally empty while it was closed. Check out one of Josh D'amaro's posts from the park's closure.
Even though the land has had a very unusual first year, multitudes of guests have managed to enjoy it! If you haven't visited Galaxy's Edge yet, you are in for a treat when you return to the parks!
Whether you love Star Wars or not, the land can be fun and exciting, even for those who have not seen a single film! Let's look back at a year of Batuu and all of the things we love about it!
Celebration on Social Media
Zach Riddley, a Disney architect, designer, and Imagineer took to Instagram to display some of his favorite Galaxy's Edge details! The photos give some perspective into the attention and care expended on designing Black Spire Outpost.
If you love details, you will want to check it out! Take a look at all of the photos in the post.
Additionally, Disney Parks Blog joined in the anniversary scene. They posted this cool video of the interior of Dok Ondar's Den of Antiques.
The cool thing is that it is a 360 degree video. You can move it around to see all the details!
The shop is full of unique items. It's a fun place to visit even if you don't plan to bring anything home, particularly if you are like me and love animatronics.
Memory Lane: The Grand Opening!
Star Wars Galaxy's Edge in Walt Disney World's Hollywood Studios opened to the public on August 29, 2019. There were, of course previews prior to the opening, so select guests got a sneak peek, including some of our own Crew Members!
While most of the land was complete, it had to open with just one attraction, Millennium Falcon: Smuggler's Run. It would still be several months before Rise of the Resistance would open.
While the opening day crowd's in the Disneyland version of GE were not as massive as anticipated, Hollywood Studios experienced quite a rush. Certainly crowds were much larger that day than they will be today because although Hollywood Studios is popular on weekends, it is not operating at full capacity just yet.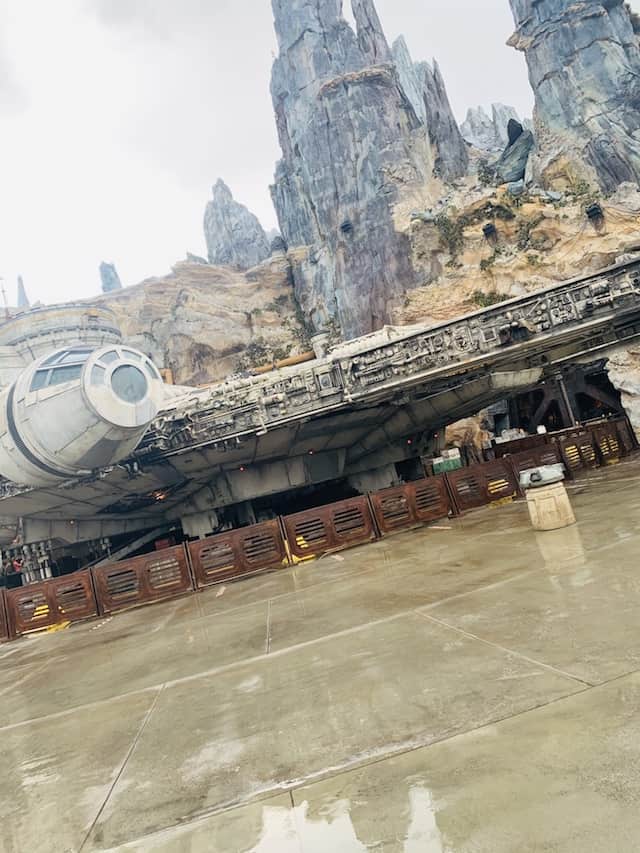 Fans lined up and waited to enter the parking, load into Disney transportation, or walked over early from Epcot area hotels.
Disney rolled out Extra, Extra Magic Hours for resort guests allowing them to enter several hours ahead of opening at HS, MK, and AK. My family got to experience these, and they were AMAZING.
If you are up for a walk down Extra Extra Magic Hours memory land, check out Kenny's review here. We'd love to see something similar return someday whether it be Extra Magic Hours or Early Morning Magic.
We Love The Rides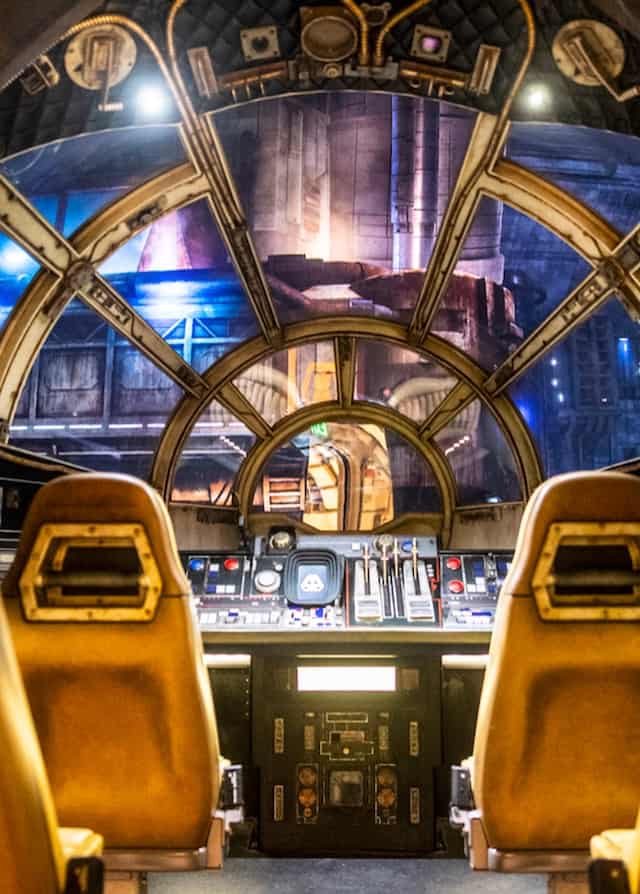 Galaxy's Edge had one attraction running on opening day: Millennium Falcon: Smuggler's Run. It is a game-style simulator where guests act as a team to complete a mission.
The ride did not offer FastPass+ when it first opened, so Slinky Dog Dash got some competition at Rope Drop. FP+ finally started popping up early this year, and now, of course, Fastpasses have been suspended until further notice.
You might even be able to unlock a fun Chewie mode on the ride. For details, click here.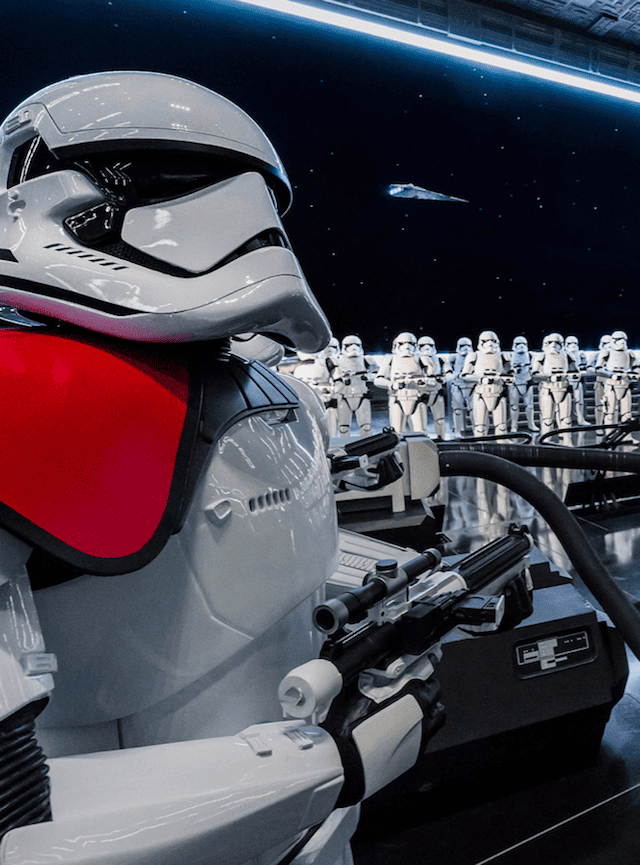 The second attraction, which debuted in December of 2019 is the highly anticipated Star Wars: Rise of the Resistance. The immersive experience can be described as part pre-show, part simulator, part walk-through, and part ride, It utilizes high quality animations and a state of the art trackless system that puts guests in the middle of the action.
Experiencing it is not easy. Guests must secure a Boarding Group in order to be assigned a return time.
Currently, a chance of a boarding group is offered twice a day. To read up on how to increase your chances of scoring a boarding group click here.
We Love the Characters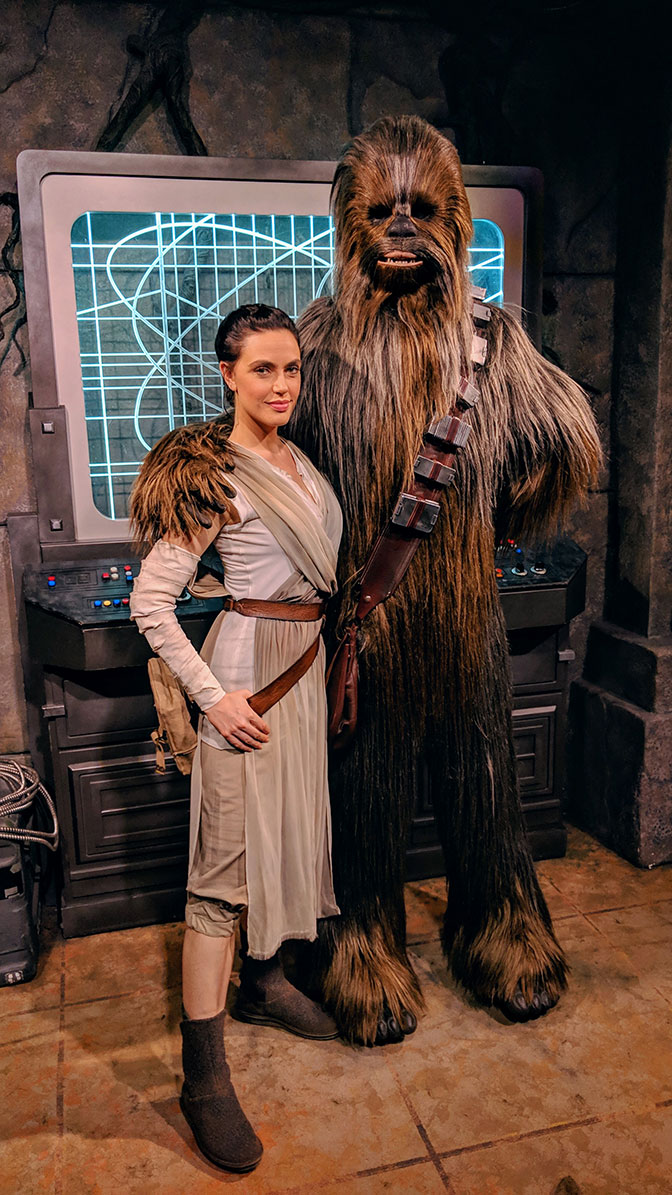 Batuu is crawling with characters from the latest Trillogy in the franchise. Guests love seeing Chewie and Rey moving through the land.
Storm Troopers patrol the grounds, and now and then Kylo Ren joins them! Of course, now these interactions must be experienced from an appropriate distance.
Beyond that basically every Cast Member in Batuu has a back story! You can ask them about theirs, or if nothing else, you can greet them by saying, "Bright Suns."
We Love the Photo Ops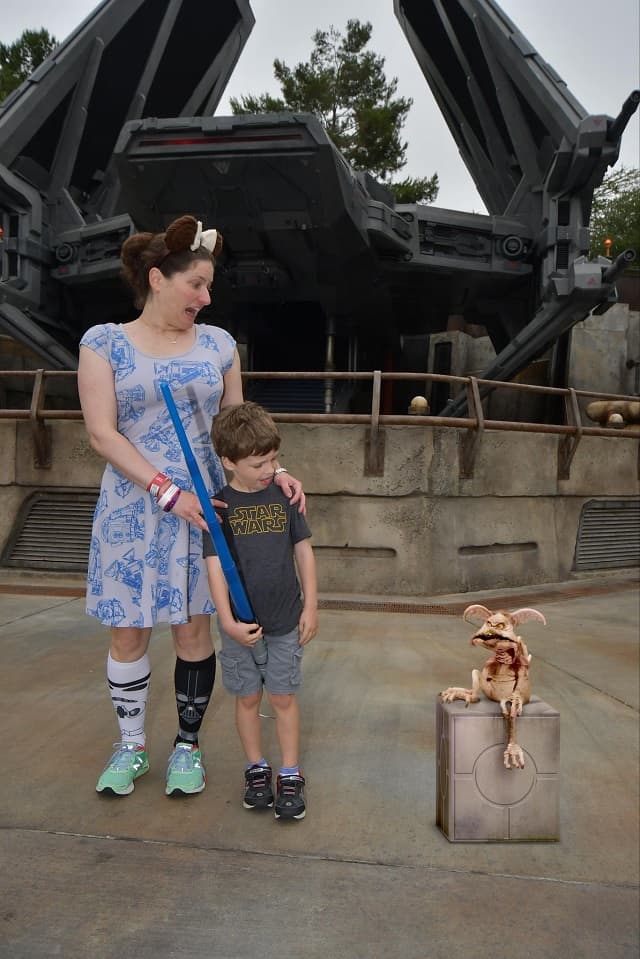 Galaxy's Edge has a number of fun photo ops and Magic Shots. One is an areal photo that captures the travel party as well as the land.
Rumor has it the photographers are doing a phenomenal job of working with guests right now! For a Memory Maker review click here.
Another is a new option featuring Baby Yoda, or as Disney insists on calling him, The Child. It's my current favorite Magic Shot.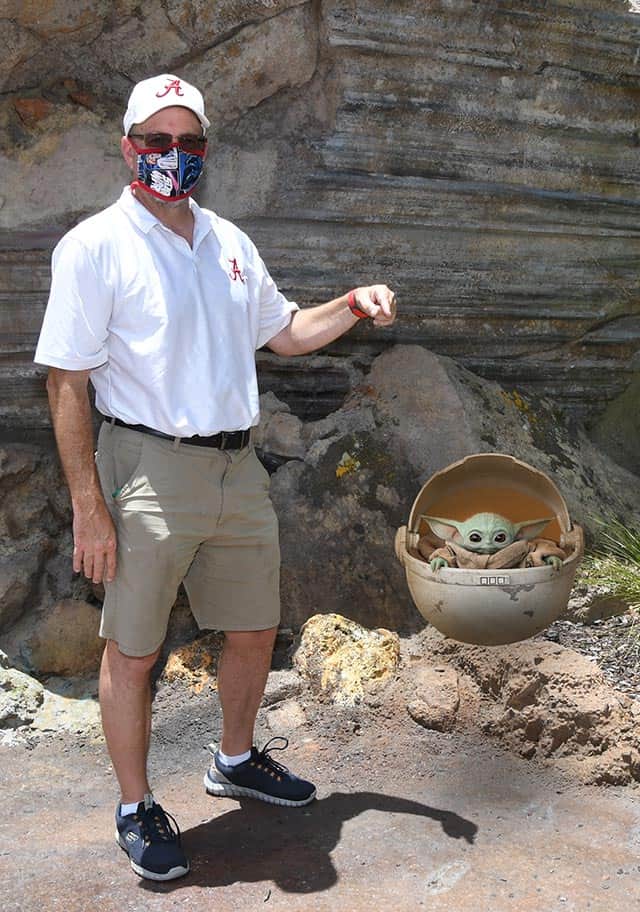 Of course, Kenny managed to find him. Check out a review of the Magic Shot here.
As always, Kenny has photo op locations listed on Character Locator. Subscribe for all the Pirate Secrets!
Ways to Celebrate!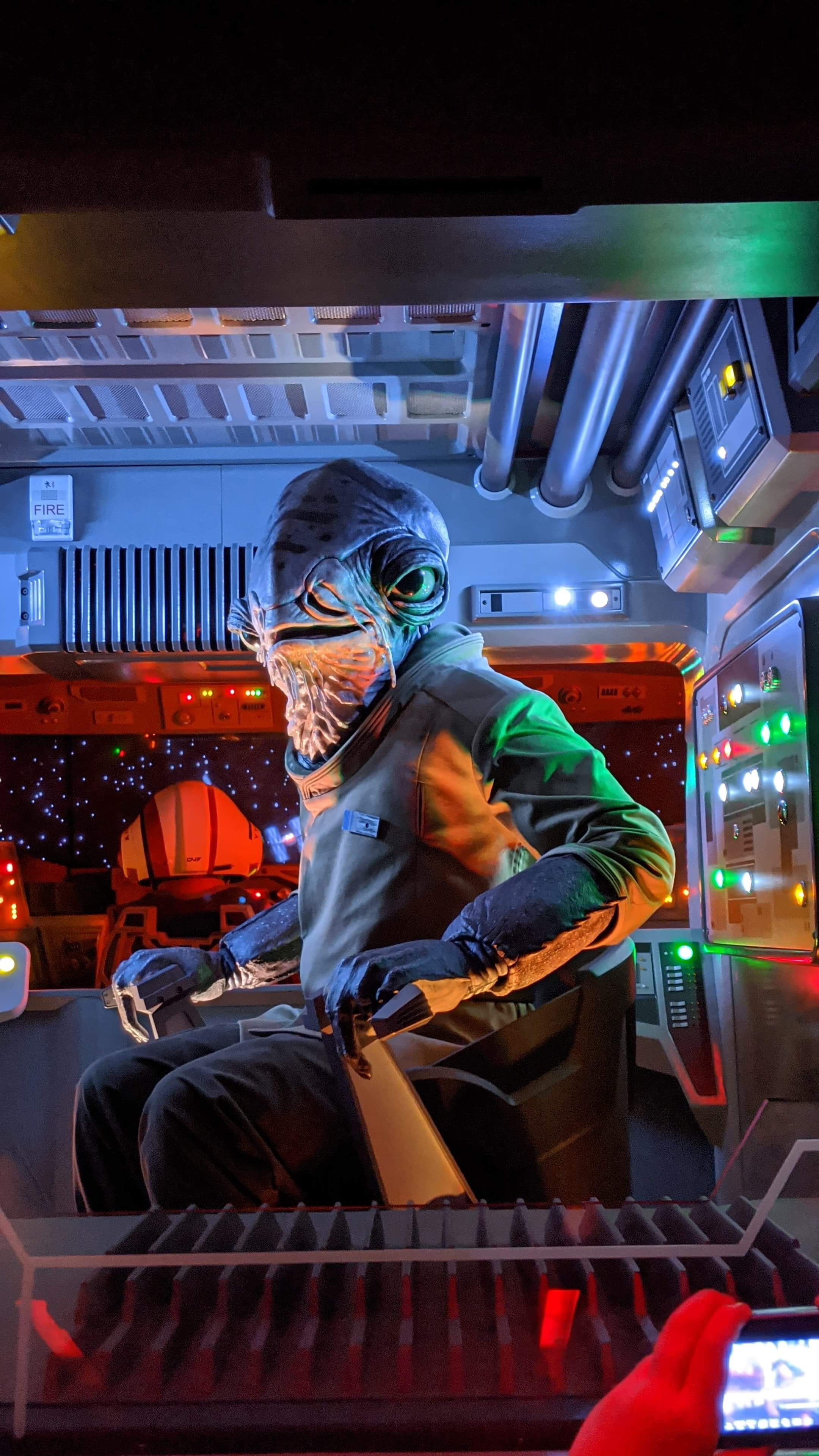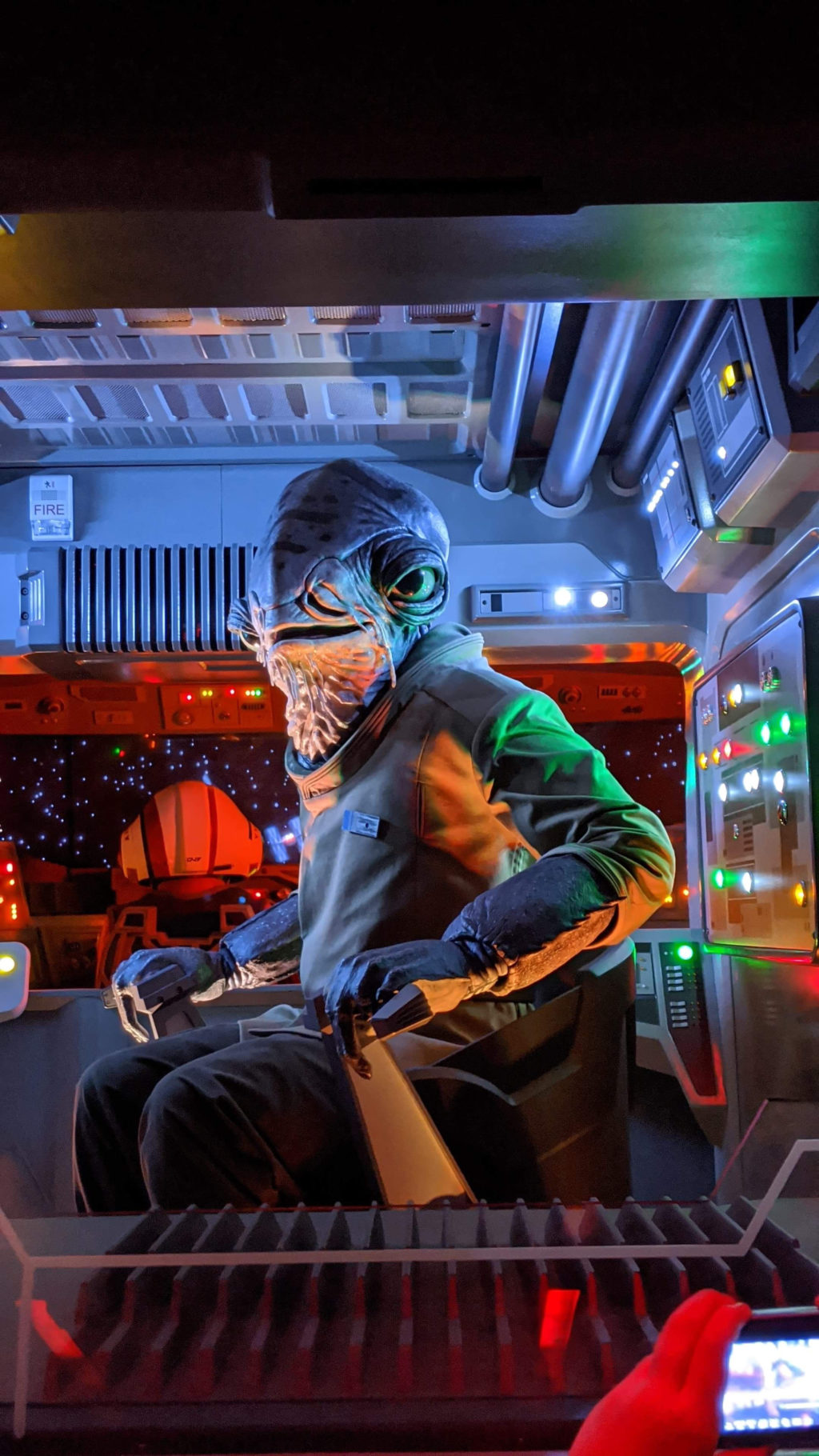 Obviously, the most exciting way to celebrate Galaxy's Edge's anniversary is to head to the parks. However, with the current park pass system, it is tough to grab a day in Hollywood Studios on the weekend. Also, the Pandemic is limiting travel for many would-be guests.
So, you can enjoy the park from home! If you are missing the park, you can check out some gorgeous Galaxy's Edge sunrise photos by clicking here.
You can also check out a second video from Disney Parks Blog. This one features a first person perspective walk through Oga's Cantina!
The video also has 360 degree elements. Once you see the DJ, you can check out the details and the fun atmosphere.
If you want to jazz up your Zoom meeting, you can grab some fun backgrounds. Check out the full story here.
If you want to do some Star Was shopping, you can find all kinds of fun items. Click the links for a peek at Star Wars rugs, build-a-bear Baby Yoda (one of our writers JUST found one this week!), or even these Galaxy's Edge items at Target.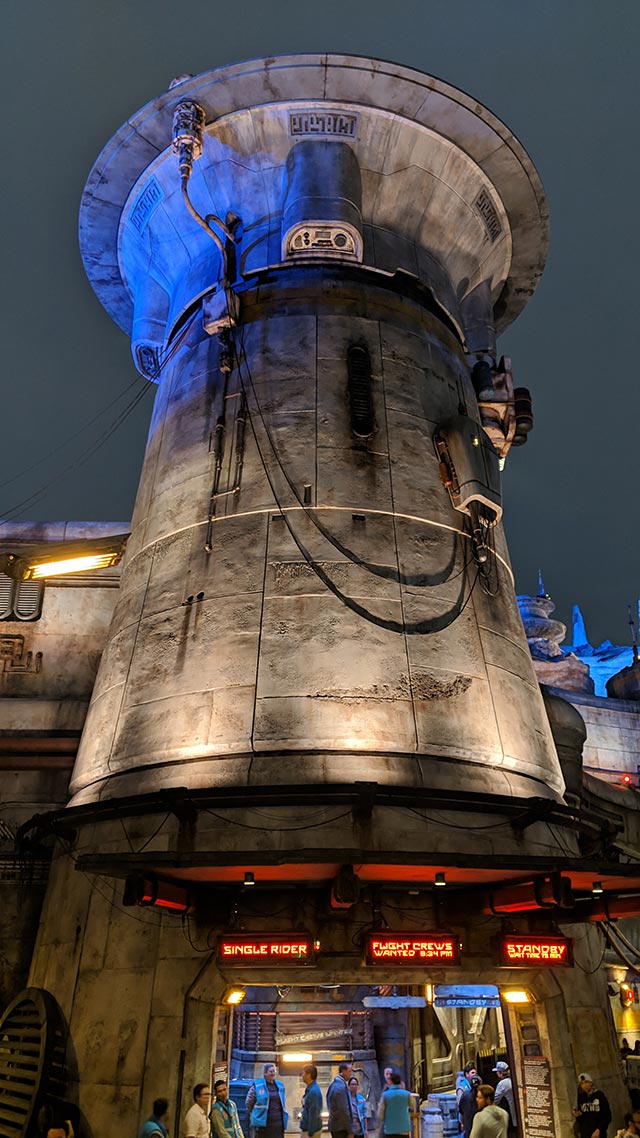 If you are planning a visit soon, check out this guide to visiting Hollywood Studios since it reopened. It will give you all the details so that you can get the most out of the park.
Have you had a chance to visit Batuu? What do you love most about it? Let us know your favorite toy in the comments on Facebook and in our Facebook group!