Are your floors in need of a little bit of character? If so, Ruggable has launched a fun line of Star Wars rugs that might be just what you are looking for!
What's a Ruggable?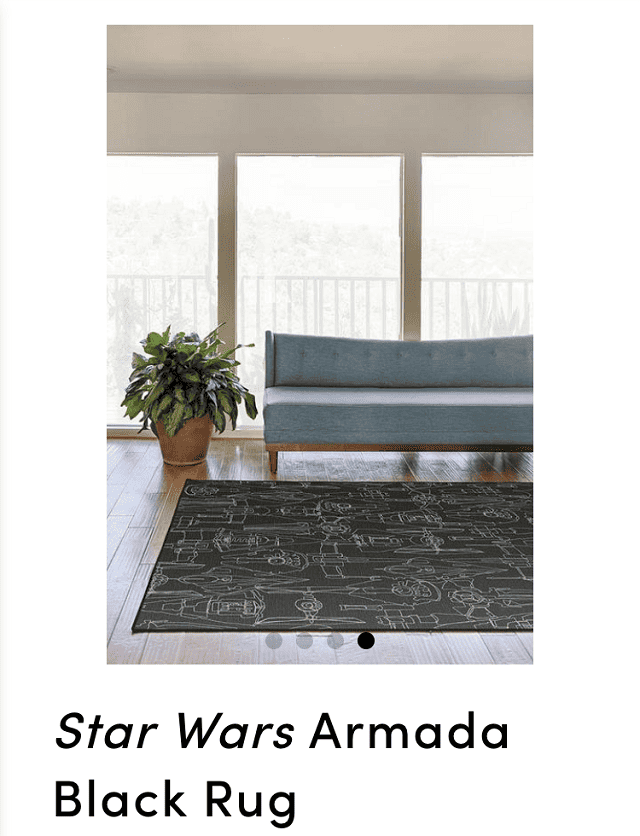 Ruggable is at it again! The popular rug company has launched a set of Star Wars designs!
Ruggable is a company known for manufacturing washable rugs! That's right! If these rugs get messy, they can go right in the wash.
These Rugs go right in the wash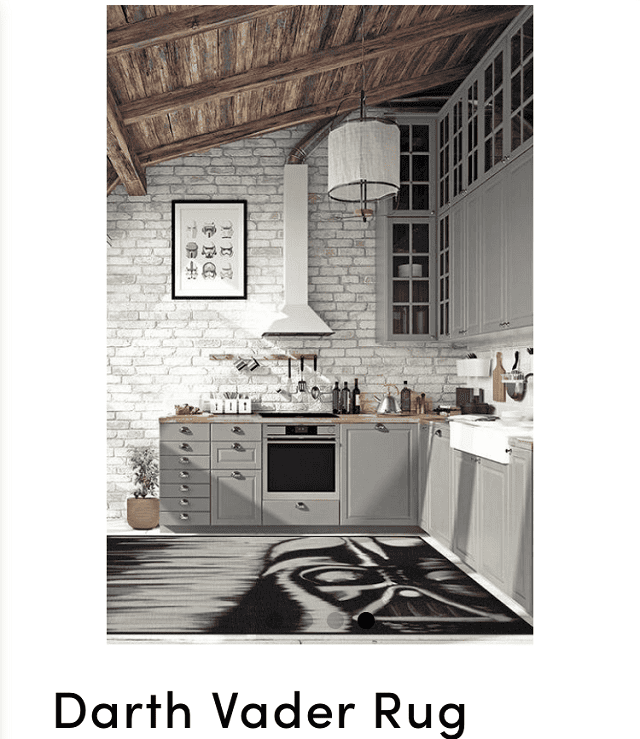 They are perfect for families who anticipate spills. If you have young kids or a new puppy, these rugs might fit your lifestyle.
Each rug comes in two pieces with a base pad and a topper. If the topper gets soiled, it peels right off and is ready to spread back out once it is clean.
Ruggables come in several sizes, all designed to fit into a standard washing machine. Currently the company carries 8×10, 6×9, 5×7, and 3×5 sizes, runners, and round rugs.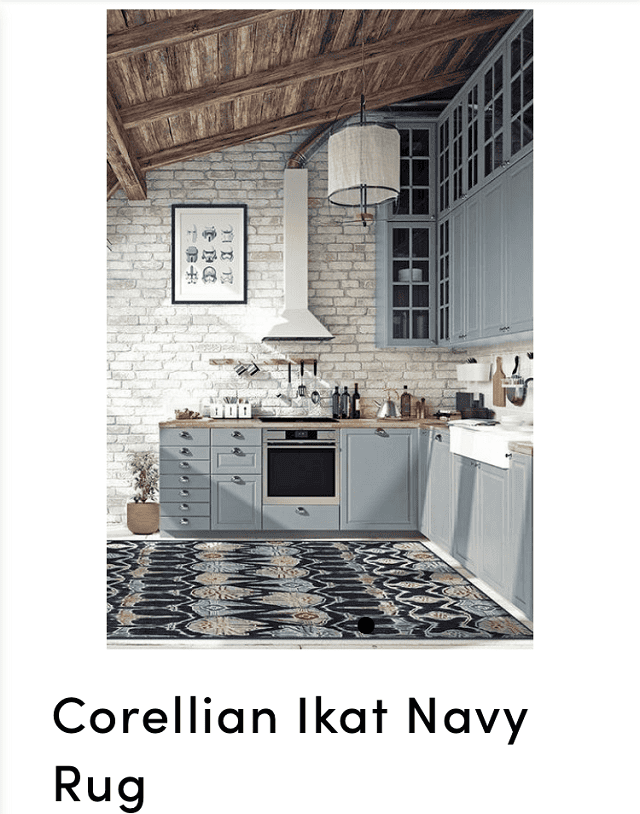 Ruggable previously launched a line of Disney rugs where hidden Mickeys abound! They are perfect for adding a little magic to your rooms.
Some of our Crew members contributed photos of their own Disney rugs by Ruggable in action. Check them out here.
Star Wars Designs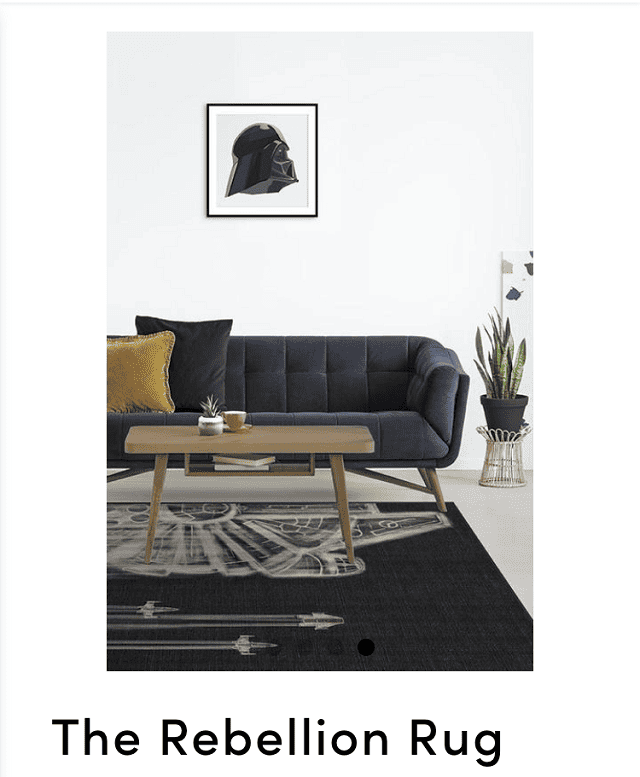 Now there are new rug designs from a Galaxy far, far away. If you love Star Wars, you may want to check out these unique floor coverings
Ruggable has started dropping Star Wars rug pics on Instagram! One of them has some cleverly hidden Vaders and bounty hunters!
Check out this IG post featuring the Darkside damask Charcoal print. Do you see a Sith peeking out from the pattern?
While some of the designs are in-your-face Star Wars, I love how others are a bit more subtle. You can get just a peek of your favorite fandom and still feel like you are in a grownup space.
Check out the toile pattern for example. From afar, it says, "French Country."
But, upon closer examination, you can see that those familiar blue and white designs are actually scenes from Star Wars. Vader and ships abound.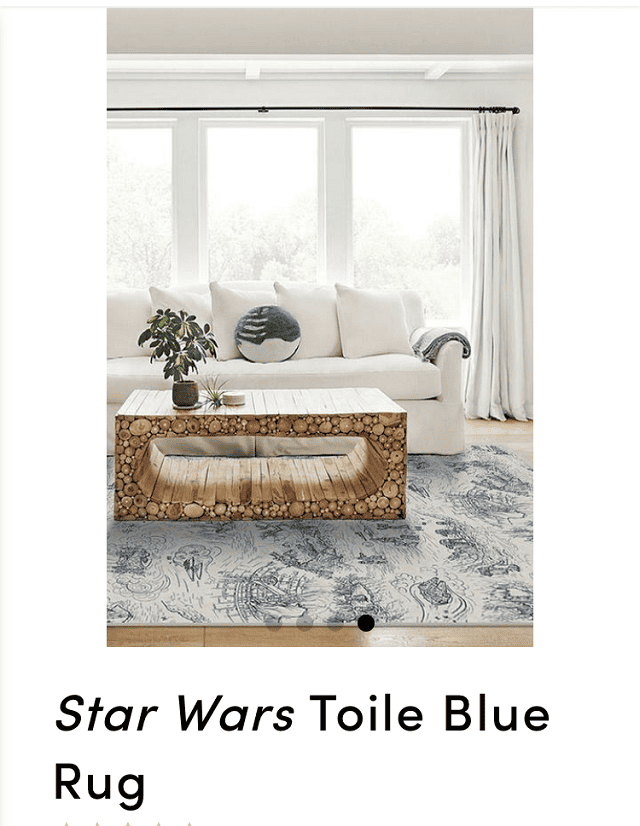 I actually think this rug would look great in fellow KtP writer Ashley's home. Check out her gorgeously designed Star Wars room here.
She probably has room for just one more rug, right? Maybe just a small one?
Here is a more detailed photo of the Toile pattern. I love the ATAT walkers.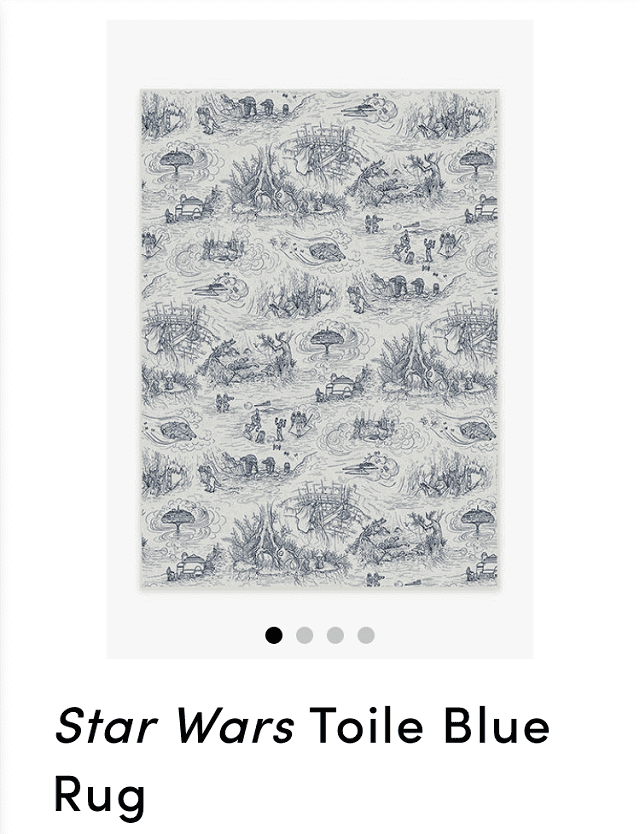 This rug also comes in black and white. If you want a more monochromatic look, it may be just the thing for you.
I think it looks gorgeous in the stock photo from Ruggable. Who wouldn't want to dine in that space?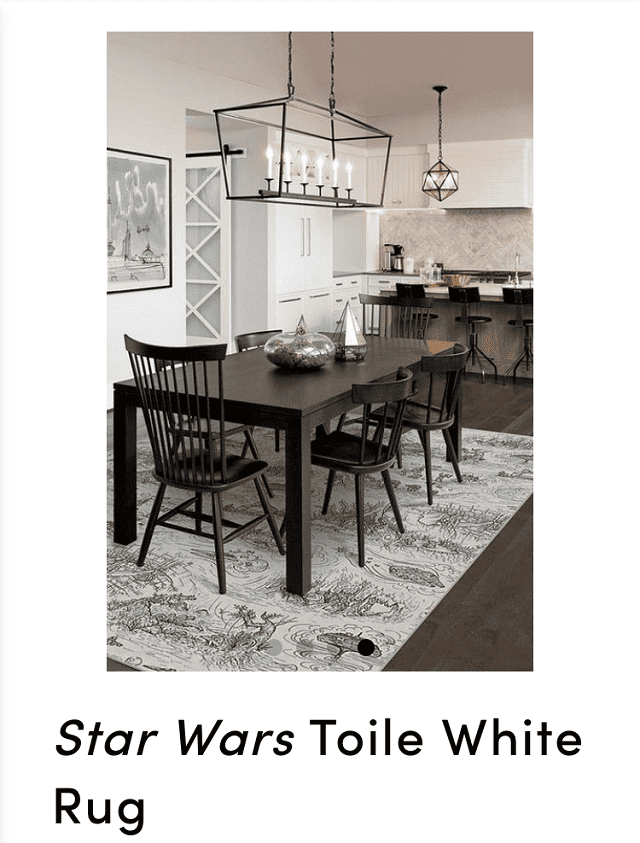 Choosing your Rug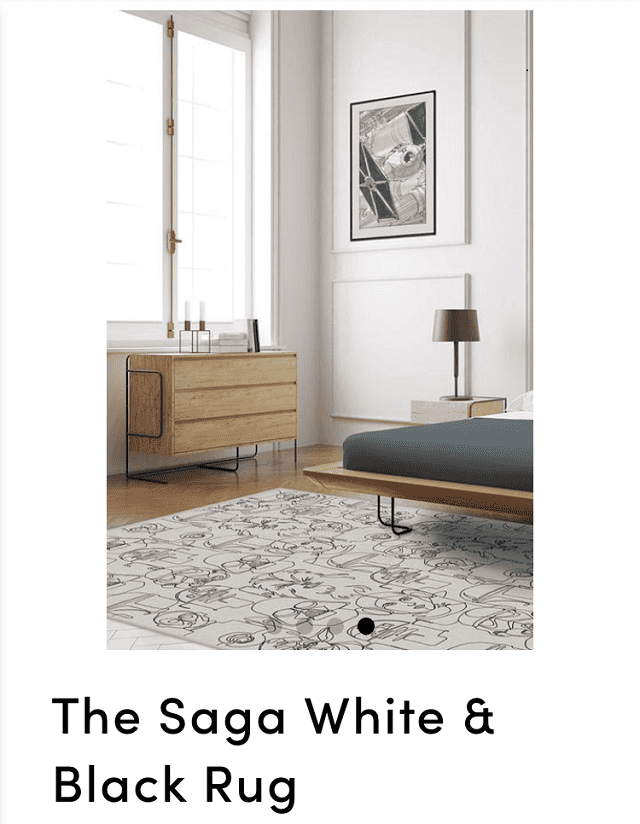 Ruggable is certainly not short of options for fans. There are currently 20 Star Wars designs.
Having so many options presents its own challenge. If anything the challenge will be narrowing it down to just the right one!
I am kind of into the abstract nature of this TIE fighter houndstooth print. Can you make out the TIE fighters?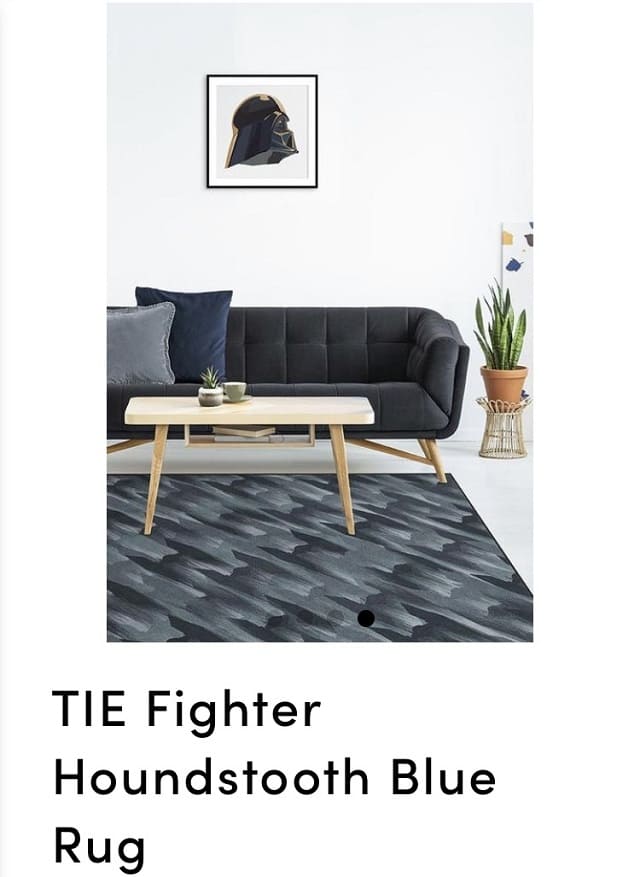 If you have been searching for just the right rug, you might consider checking out Ruggable. It looks like they are also running a promo on their website if you sign up for e-mail that will save you 15% on your purchase!
What do you think of the new Star Wars Collection by Ruggable? Do you own a Ruggable already? We'd love to see! Comment with pics on Facebook!