When we started renovating our new home last fall, one thing I knew for sure was that I wanted a Star Wars theme for my son's bedroom. Today I'm sharing all the details of how I made that possible!
Why a Star Wars Bedroom?
My son is 7 years old and really started to get into Star Wars on our last few trips to Disney World. He's built up an impressive collection of lightsabers, Star Wars toys, and LEGO sets over the past few years.
On our last trip to Disney World, he even said that Star Tours is his new favorite ride.
We were also lucky to be able to go out to Disneyland for the opening week of Star Wars: Galaxy's Edge. Piloting the Millennium Falcon and tasting blue milk had a real impact on him.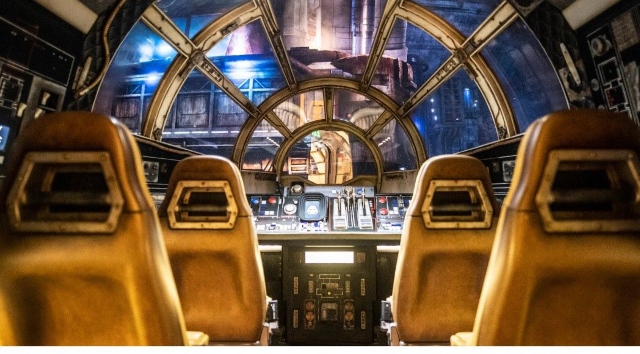 I also feel that Star Wars is a classic theme that he can hopefully enjoy throughout his entire childhood. I am lucky to have a talented designer friend to help me with his bedroom, and I'm so happy with how it turned out!
On with the tour!
Room Details
I found this amazing wallpaper by York Wallcoverings on Wayfair. It features several of the Star Wars ships including X-wings, Snowspeeders, the Millennium Falcon. It came in black, silver, and navy and I decided to go with navy which fit the overall color scheme of the room best.
Wallpaper can be pricey and is a big commitment. However, you can achieve a similar look with wall decals. I've seen a lot of amazing Star Wars themed wall decals while browsing on Wayfair, Etsy, and Pottery Barn Kids.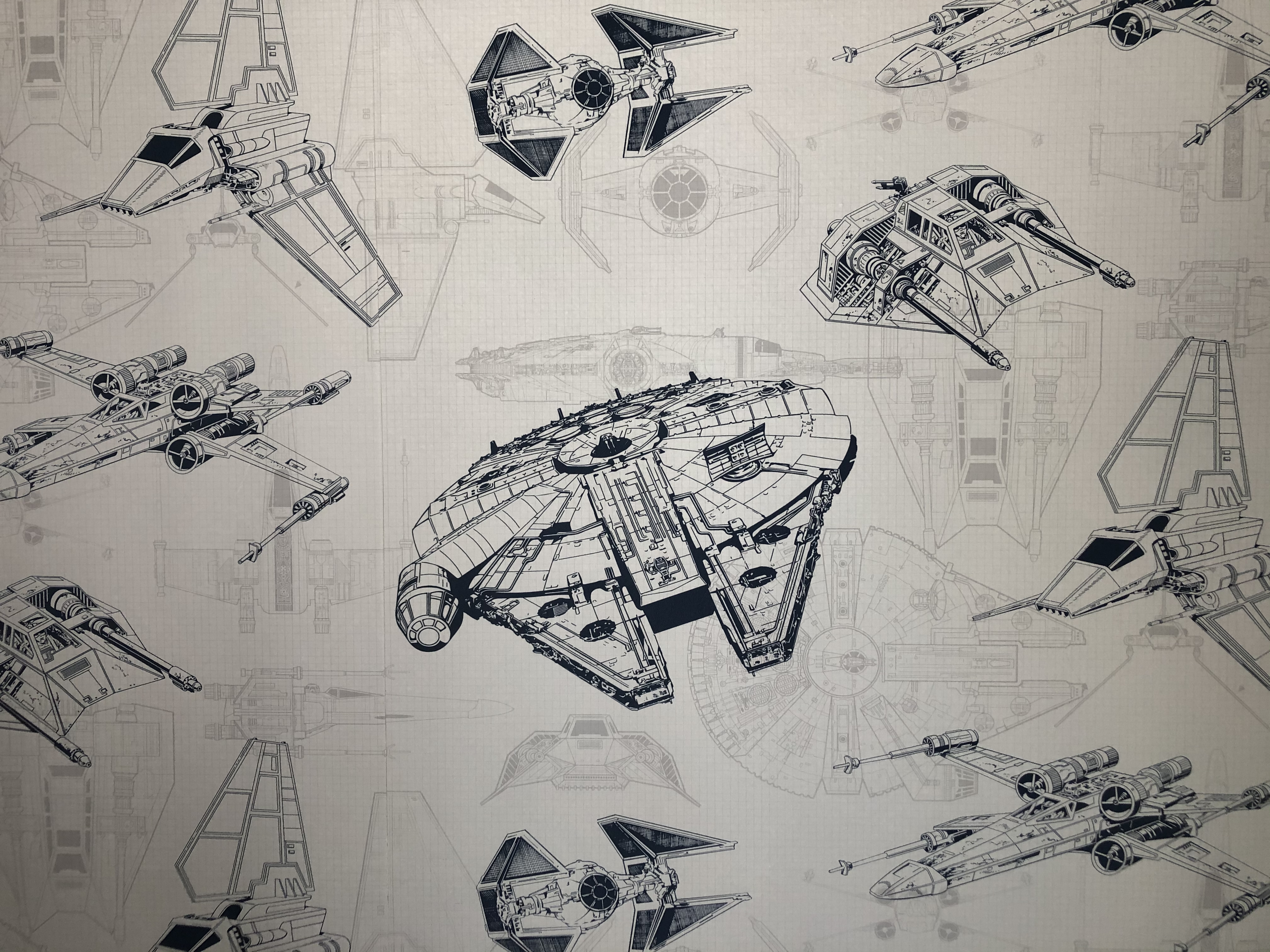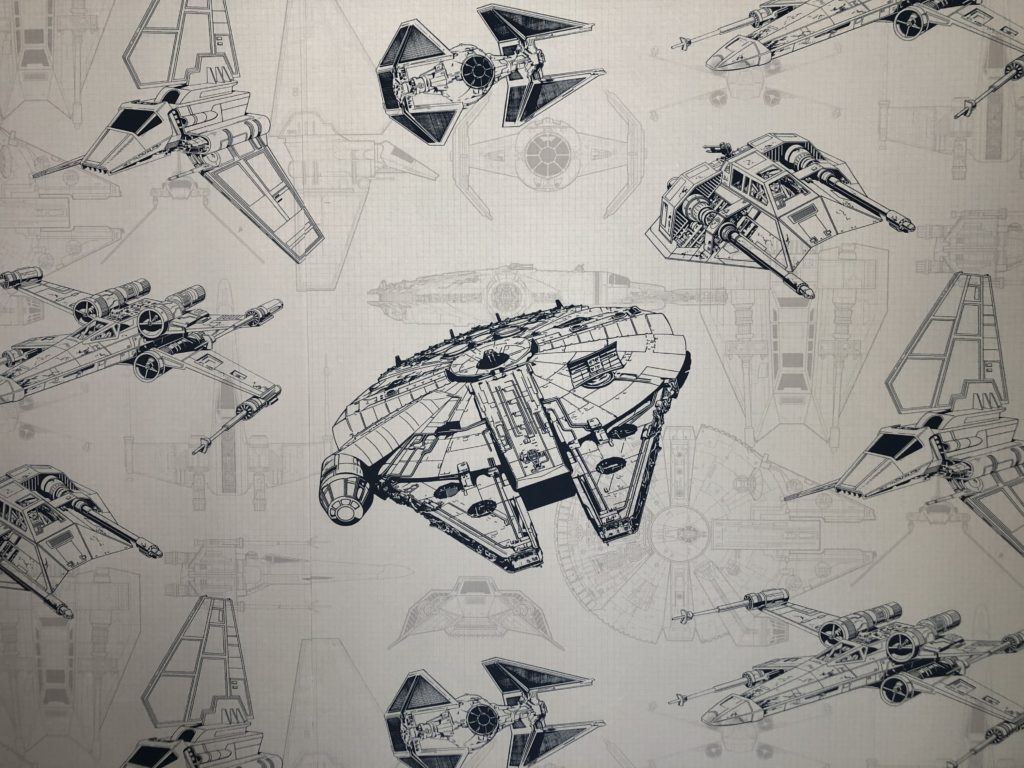 We painted the ceiling, around the window frame, and the inside of the built-in bookcases that are flanking the window in Sherwin Williams Naval. It's the perfect shade of moody classic navy and matches the blue in the wallpaper perfectly.
I love how it creates the illusion of a night sky.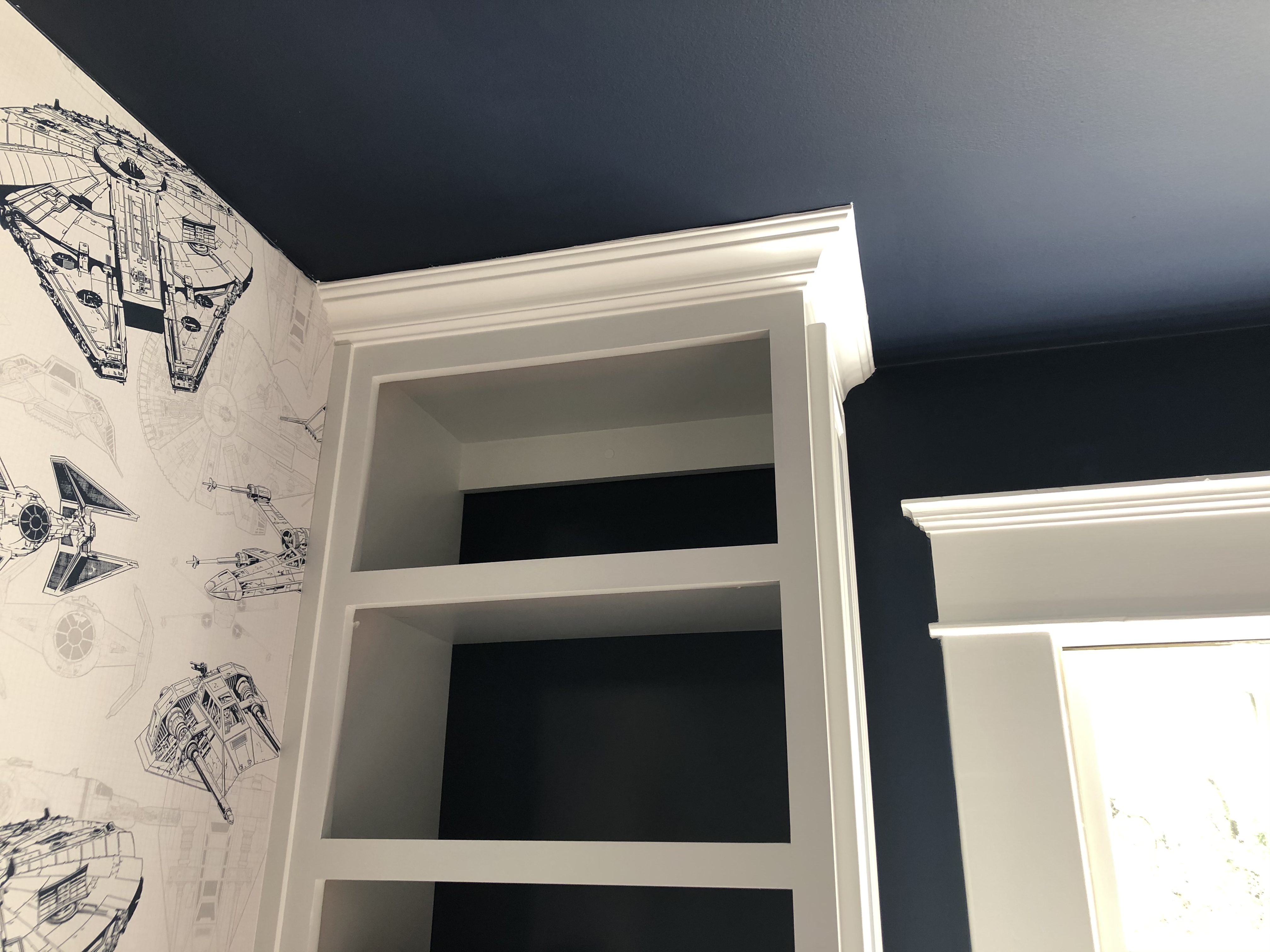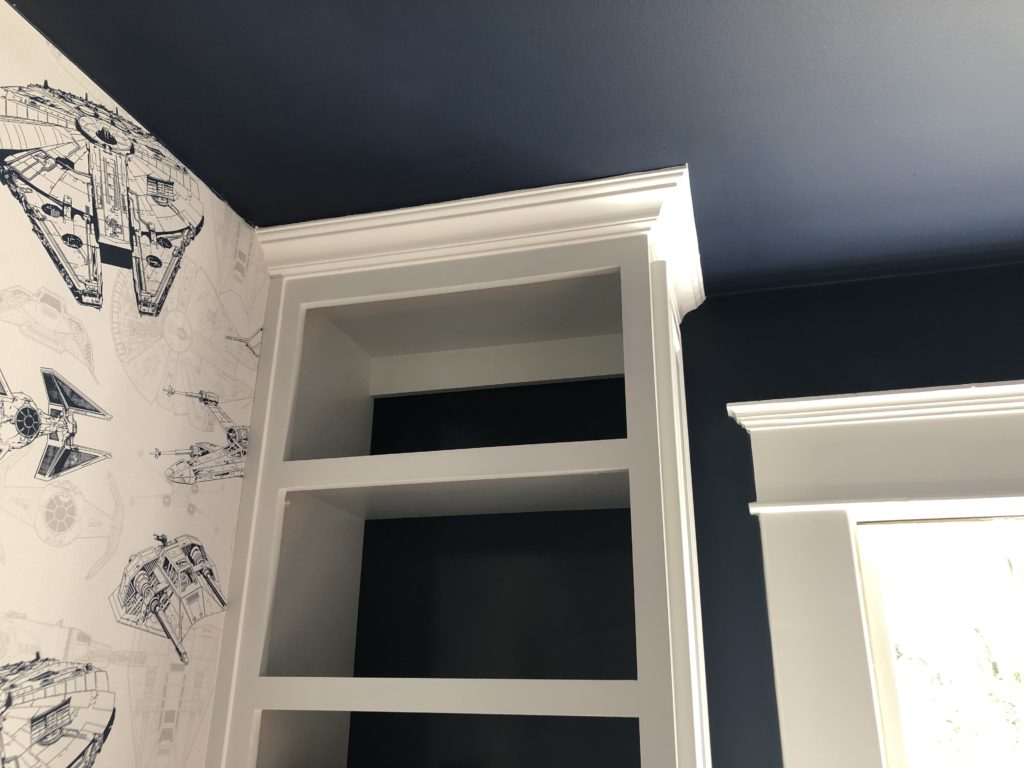 I found this awesome light fixture by Orren Ellis on Wayfair to hang over his window seat. It almost looks like a planet.
My friend and I are planning to paint hyperspeed lines on the navy ceiling in metallic paint coming out from the base of the light fixture which I think will look so cool!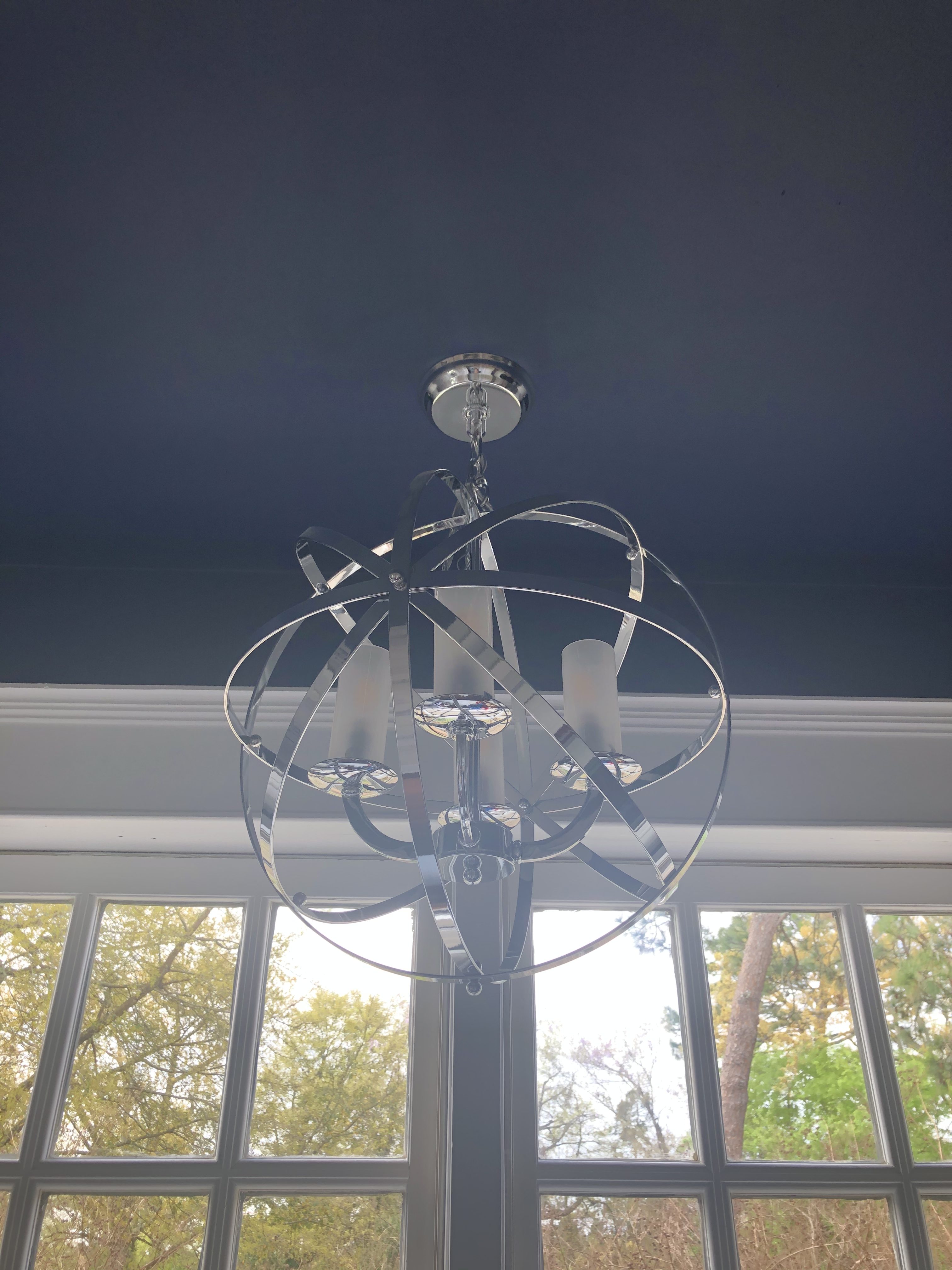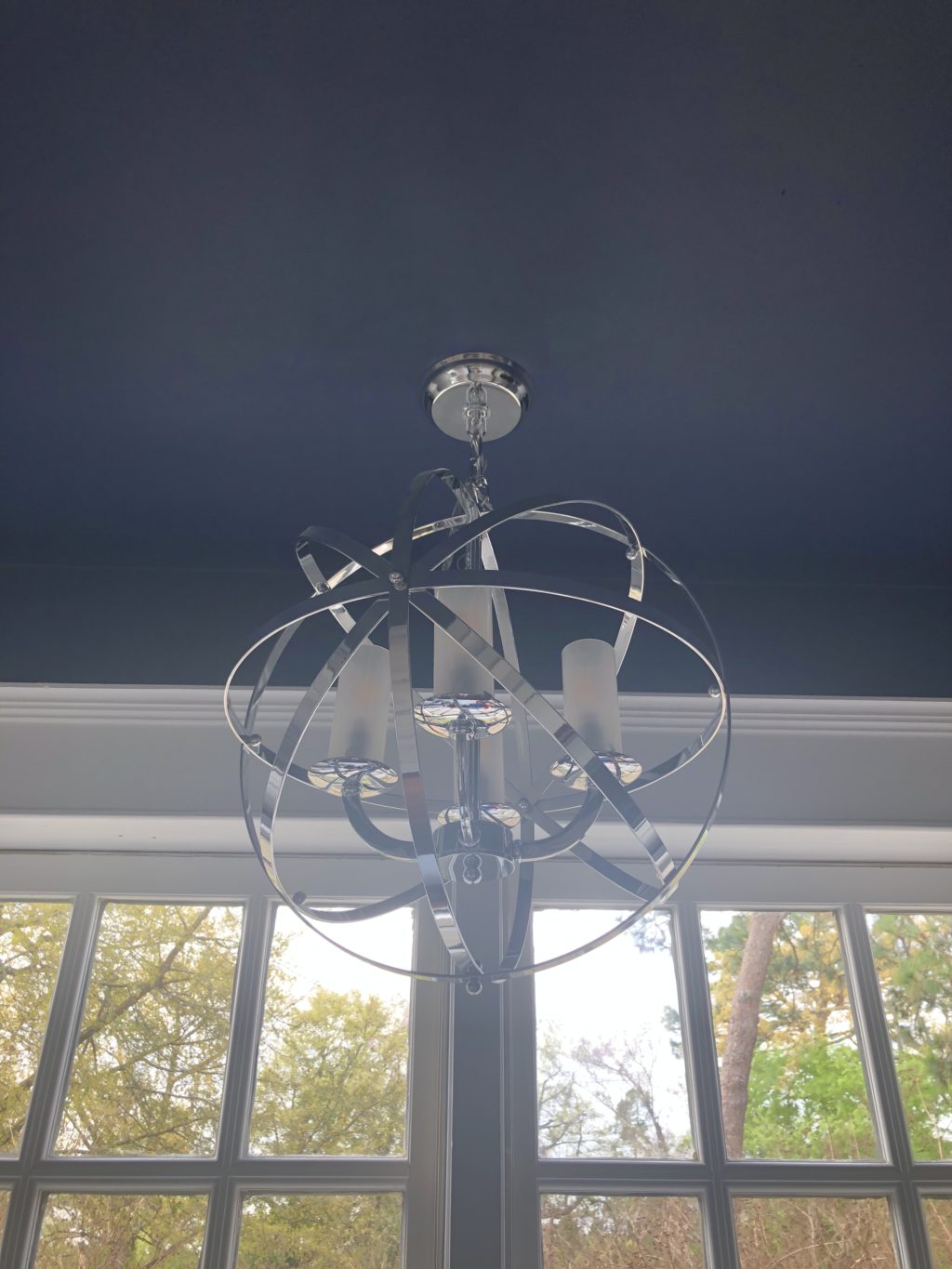 All of the bedding and this adorable R2D2 beanbag chair are from the amazing Star Wars collection at Pottery Barn Kids.
I love the oversized Millennium Falcon on the quilt and the adorable R2D2-shaped pillow.
The sheets have some ships that help tie it into the wallpaper and also feature BB8 and C3PO, which provide nice pops of orange and gold.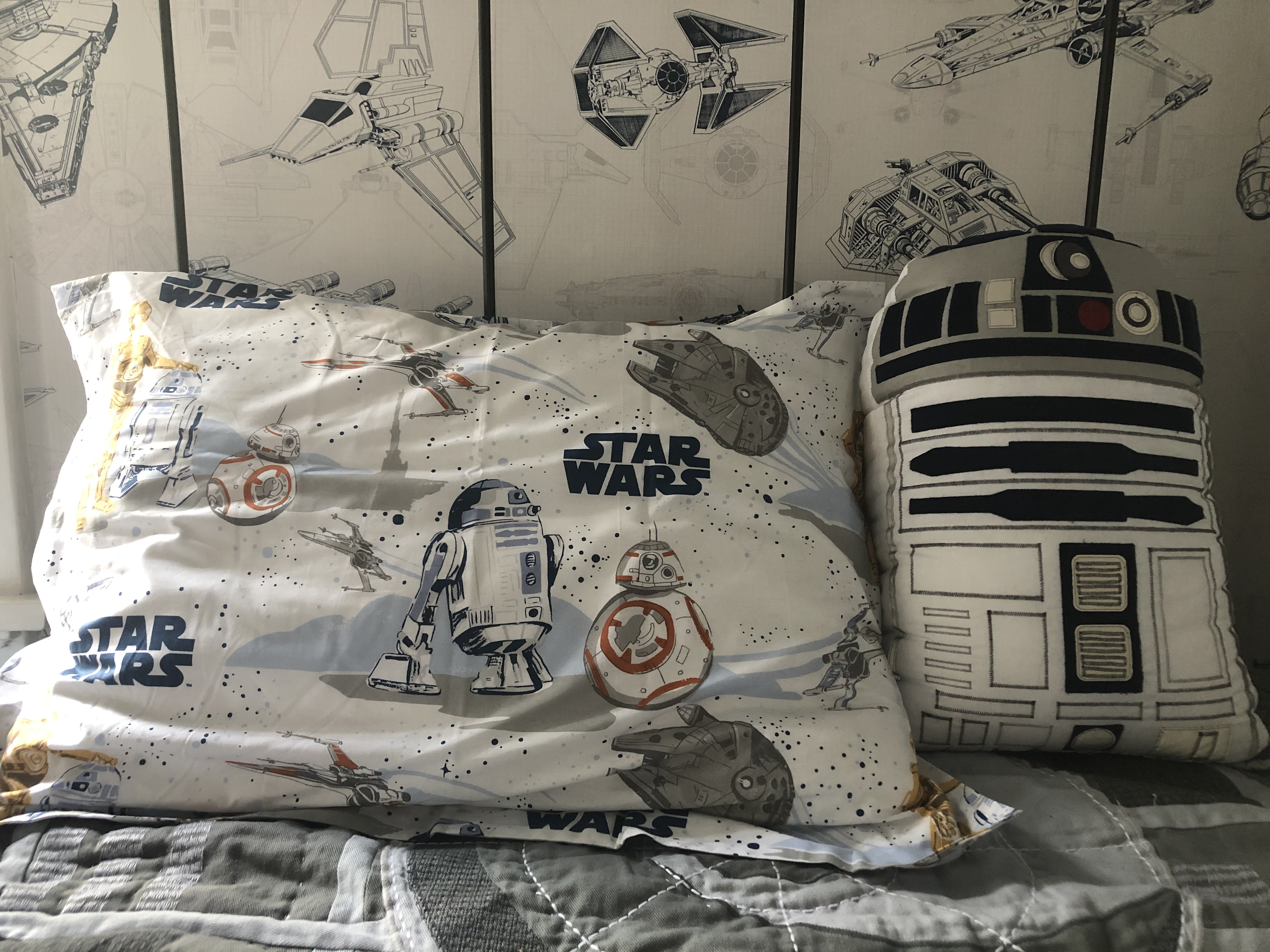 These beanbag chairs and huge and super comfy. I think it will be a nice spot for my son to sit and read, and I'm sure he'll have fun incorporating the oversized R2D2 into his imaginative play.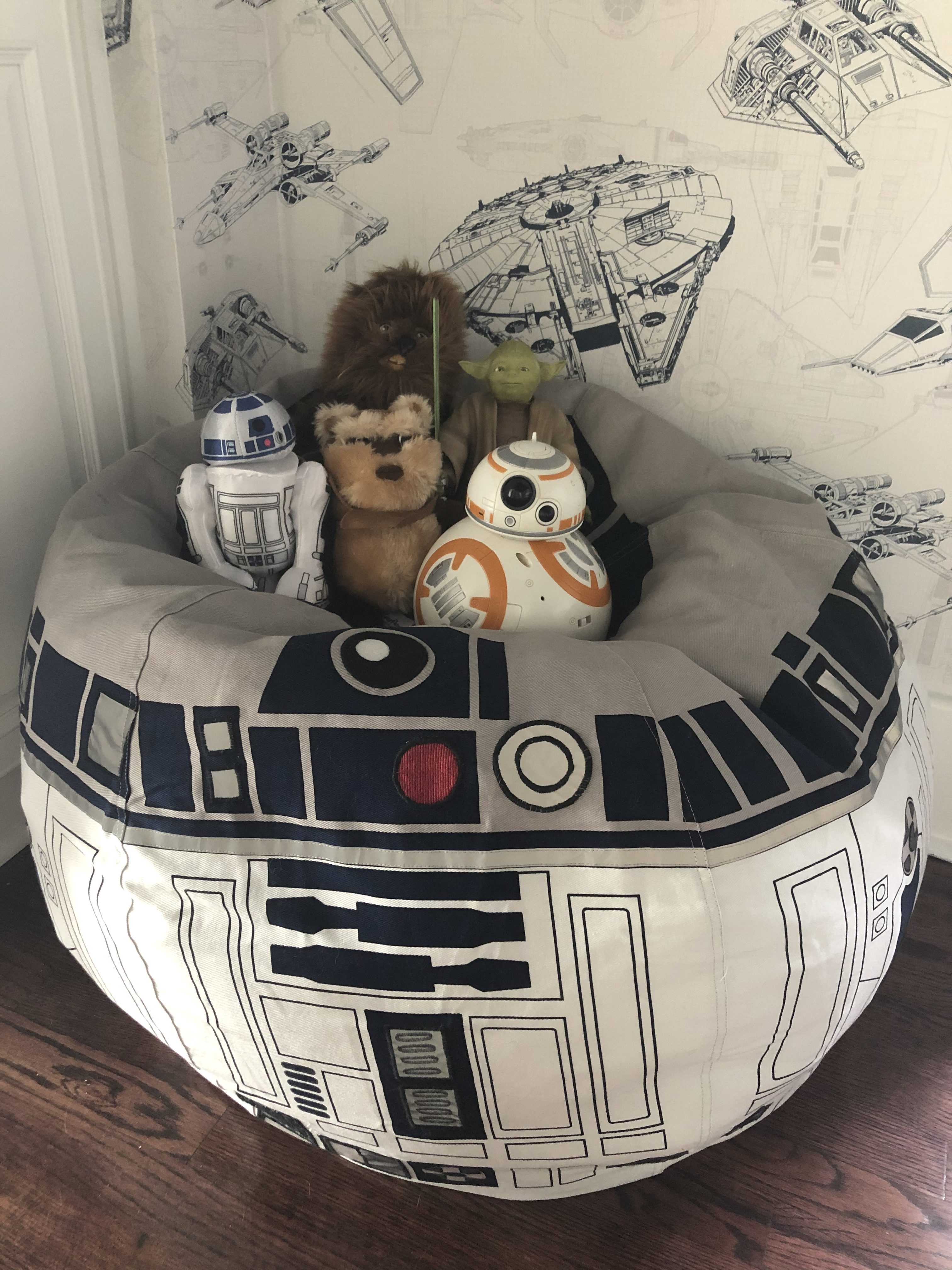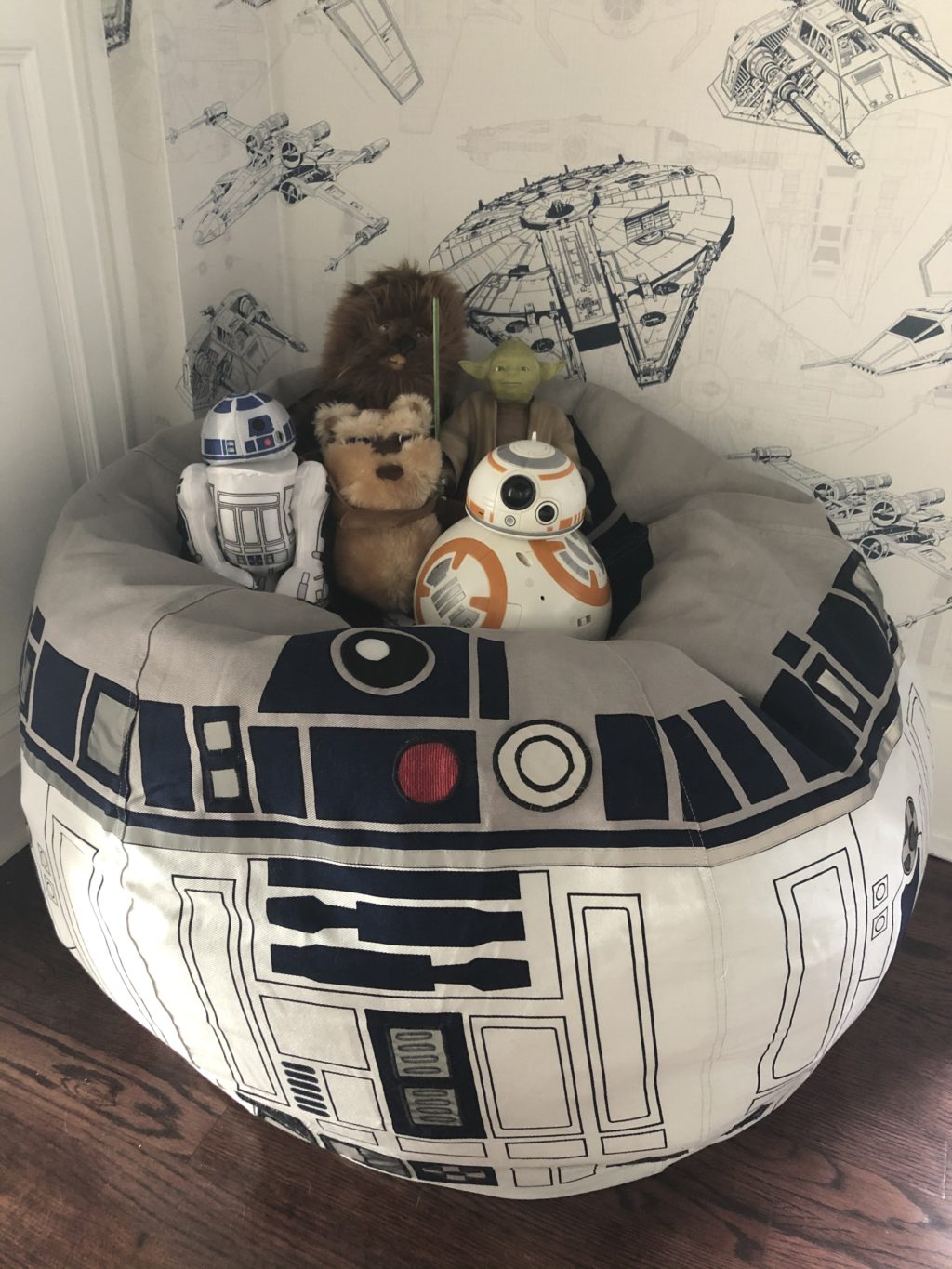 The top shelf of his bookcase is the perfect spot to display his Mickey ears collection. Of course, I made sure R2D2 and BB8 have a prominent position.
Once he is no longer playing with his LEGO sets regularly it might be fun to also display some of his favorite Star Wars sets on the upper shelves.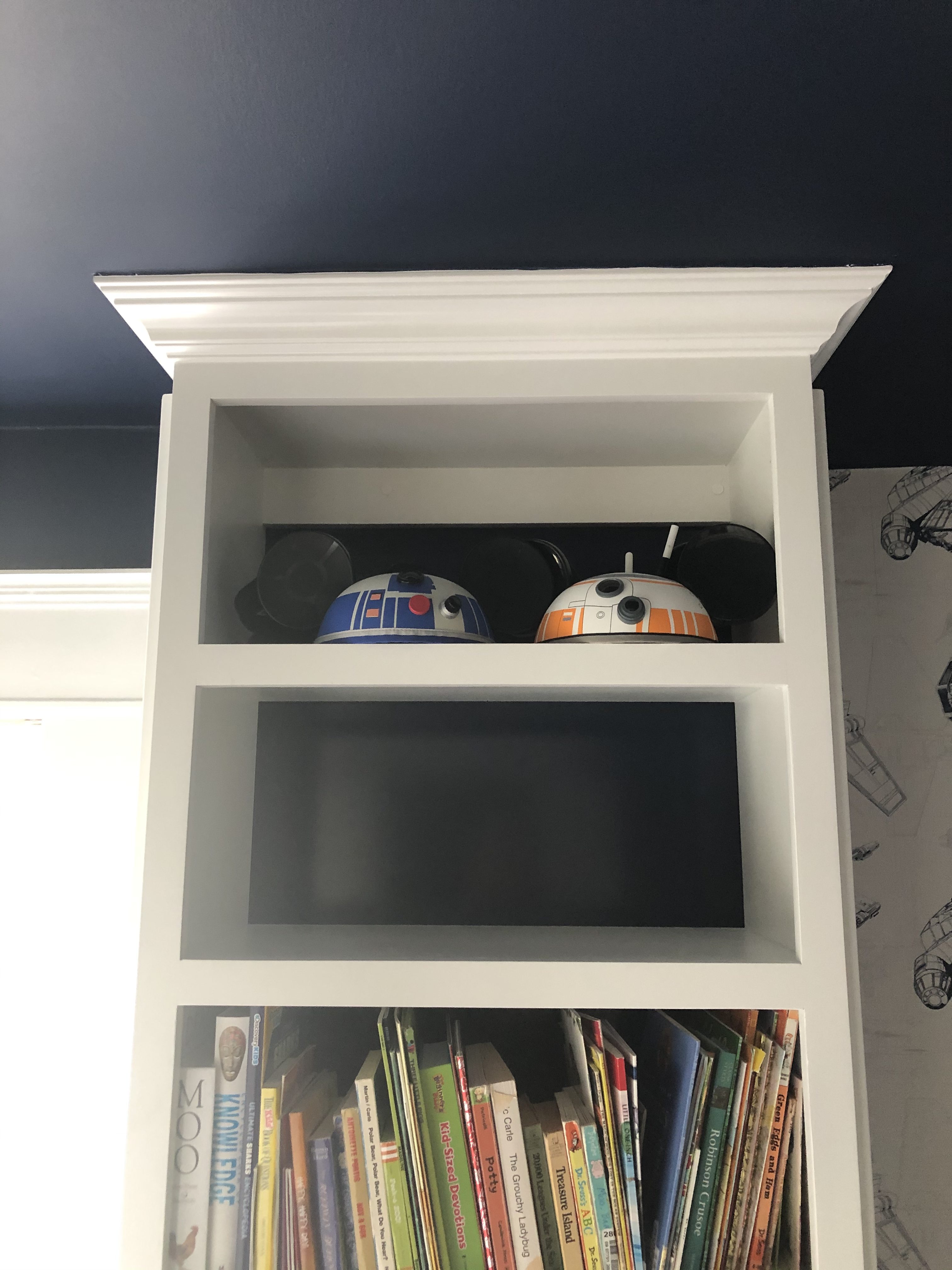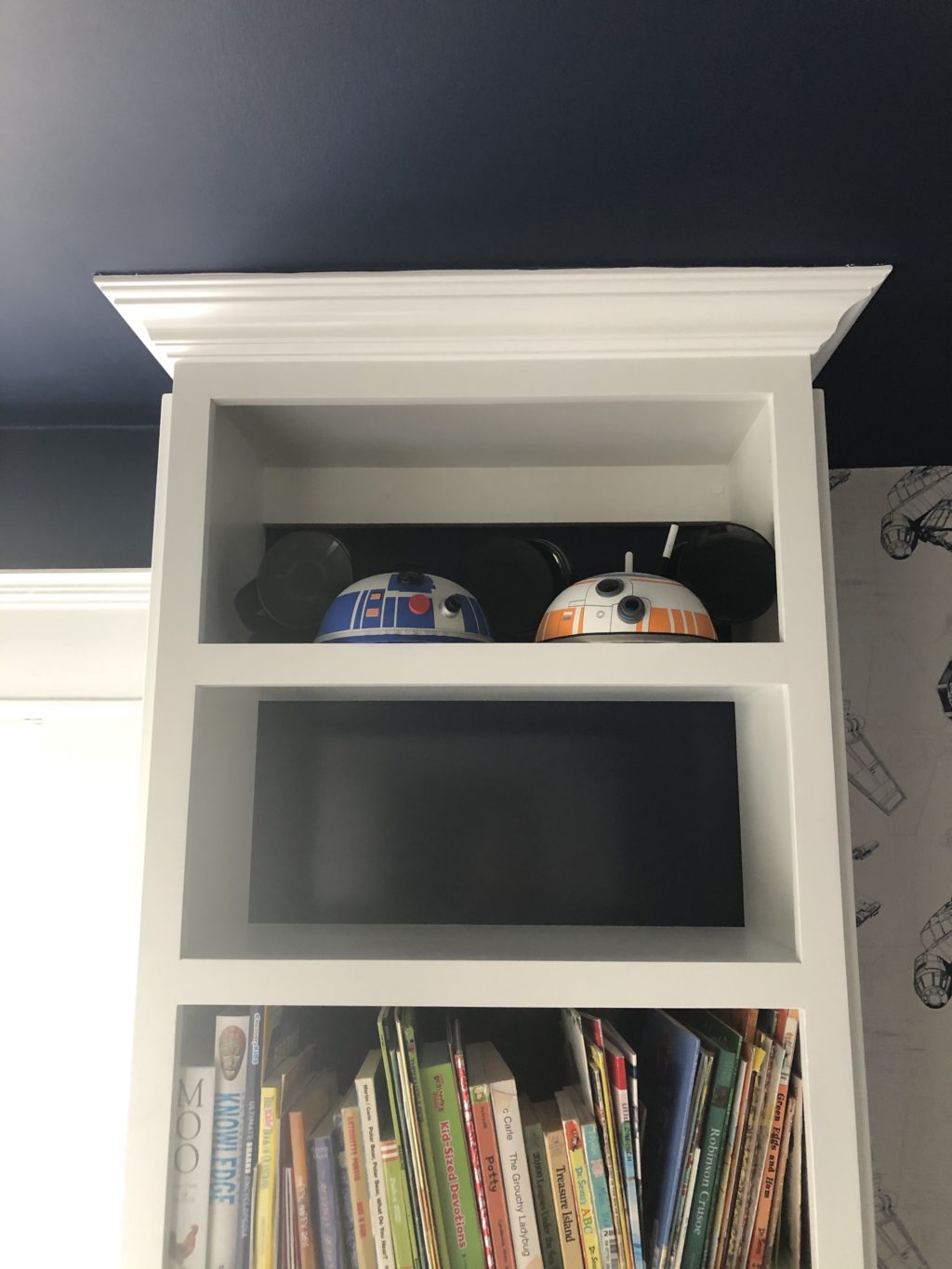 My talented friend hung the wallpaper for me and I love how she cut out this Millennium Falcon so that it looks like it is flying up into the night sky.
My son came up with the idea to put a few more ships on the navy ceiling. We have some leftover wallpaper so we may do that next. Maybe with some metallic hyperspeed lines coming out from behind!
Another idea we've talked about is adding some glow in the dark "stars" on the ceiling with stickers or glow in the dark paint.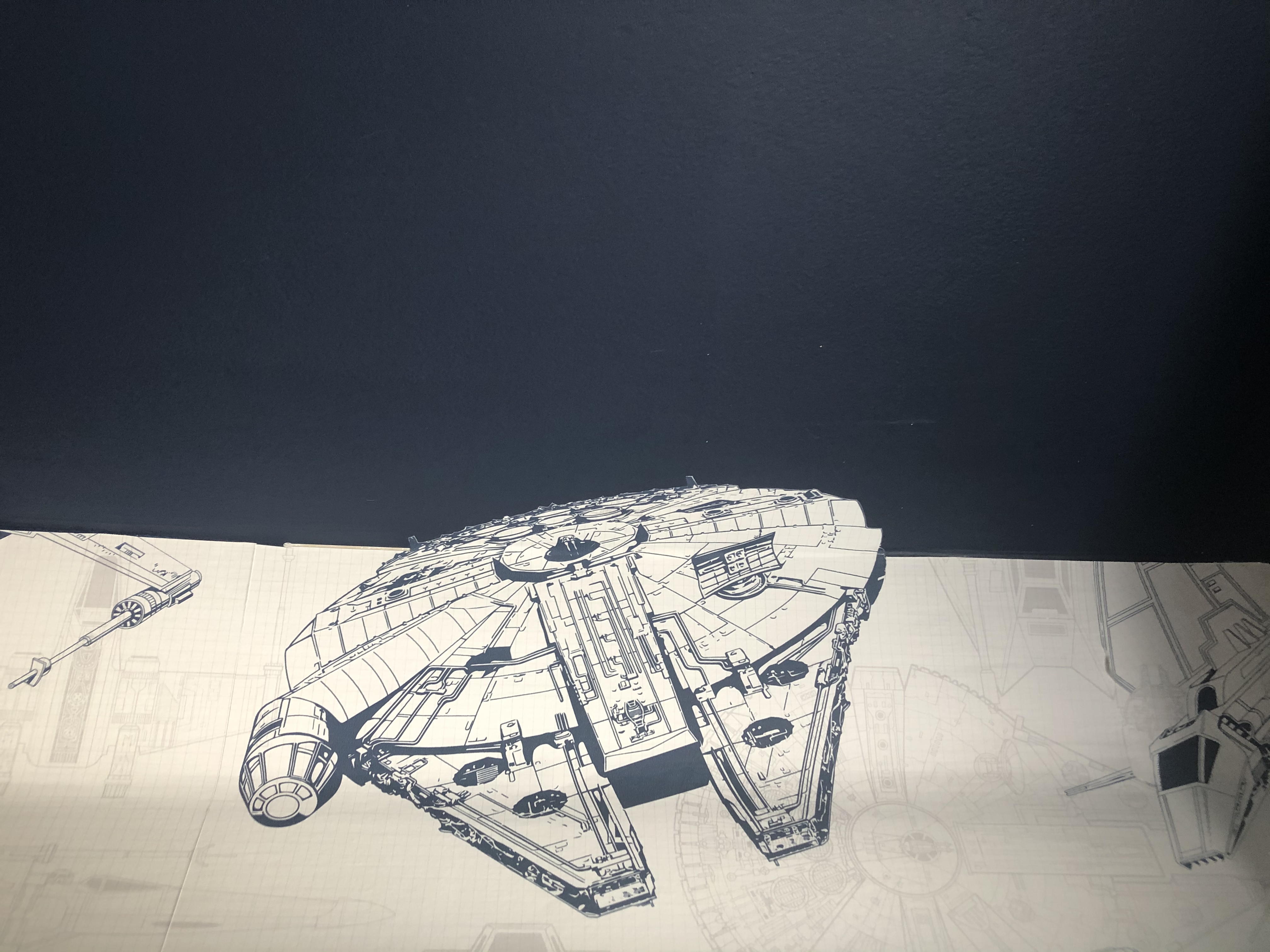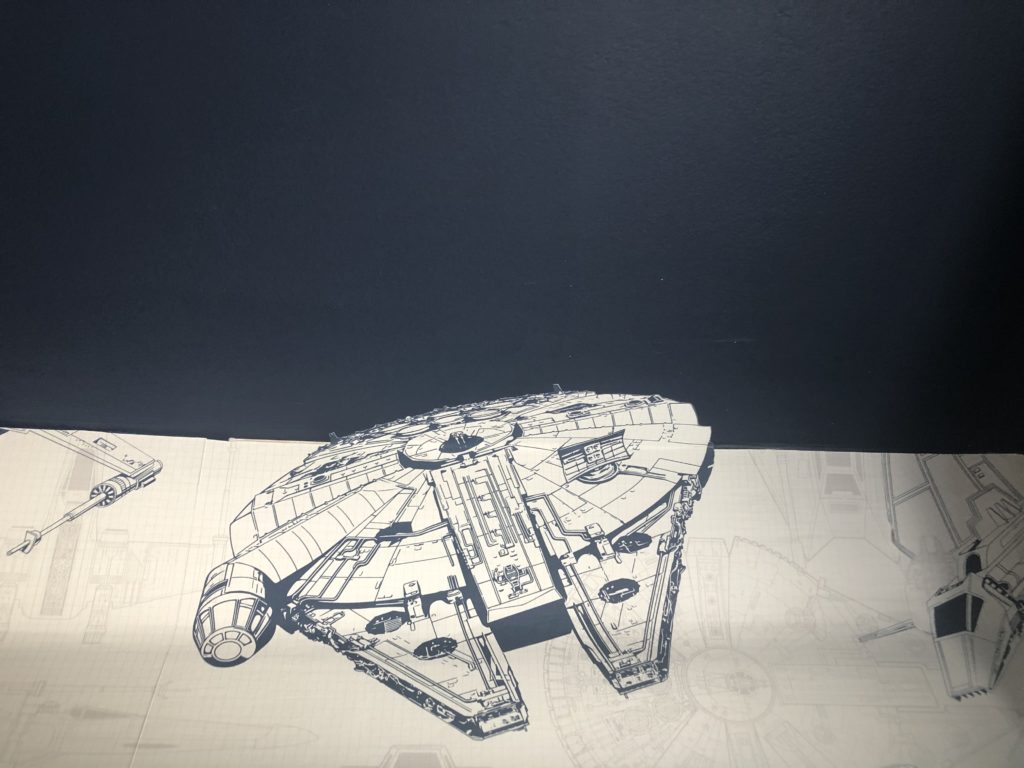 His room had a small linen closet where we added built-in drawers. The spaces between the drawers and the walls make a perfect spot for lightsaber storage! We may add some hooks so they can hang on the walls.
We also painted the inside of this closet navy and may add some cut out ships and/or glow in the dark stars on top of the navy.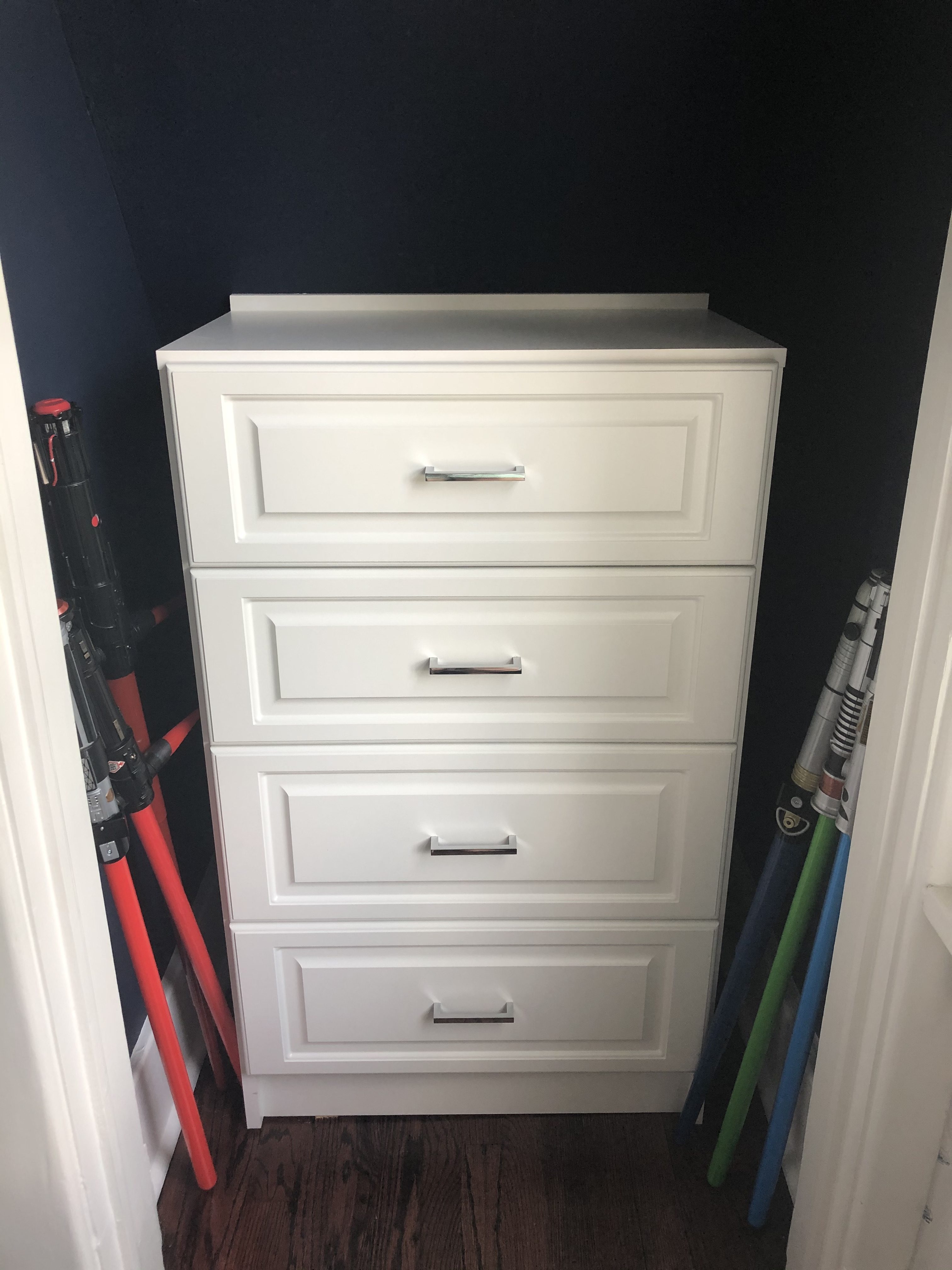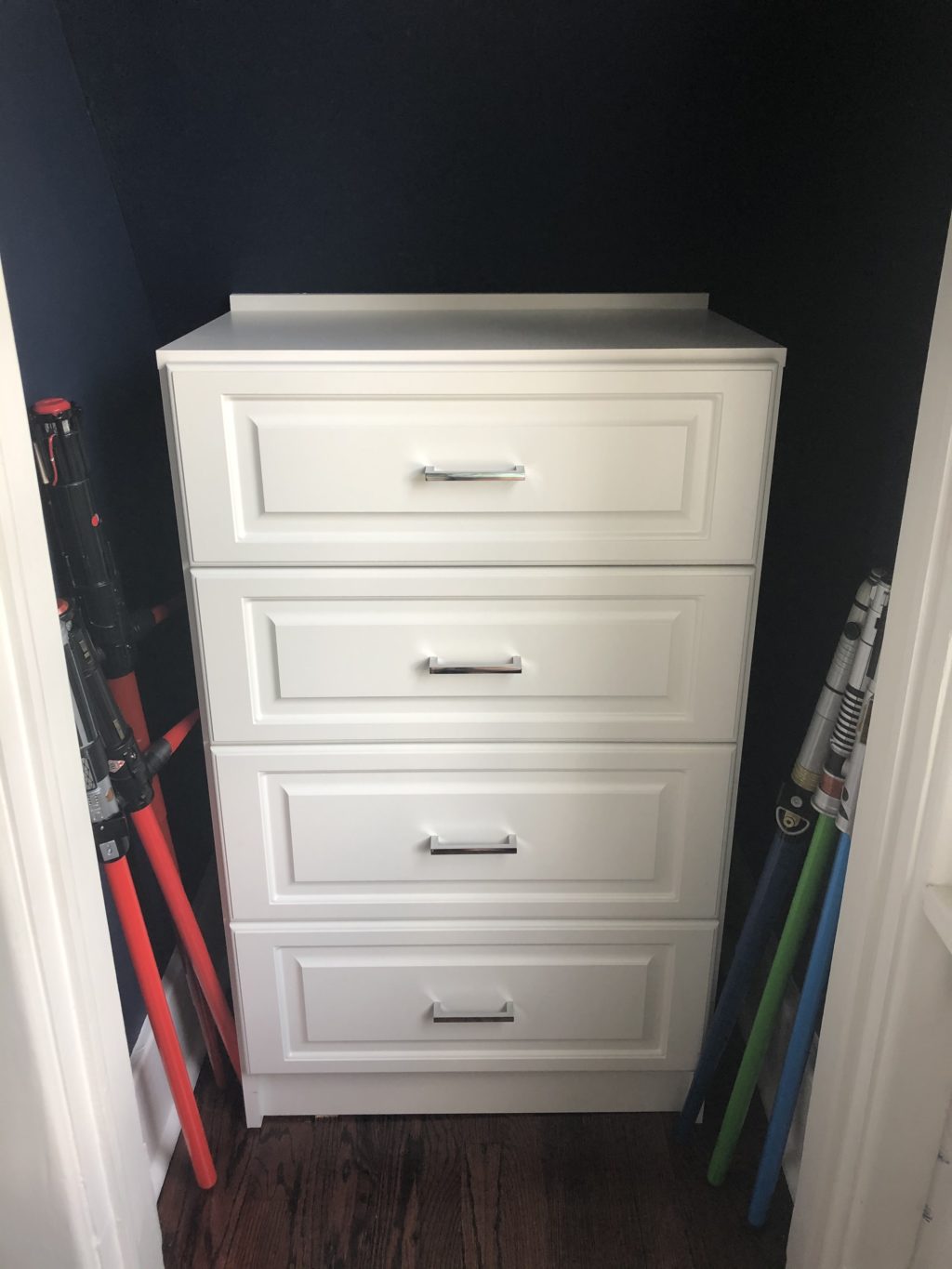 One of my favorite details of the room is all these amazing Star Wars light switch plates I found on Etsy. My son especially loves playing with this "Light Side/Dark Side" switch.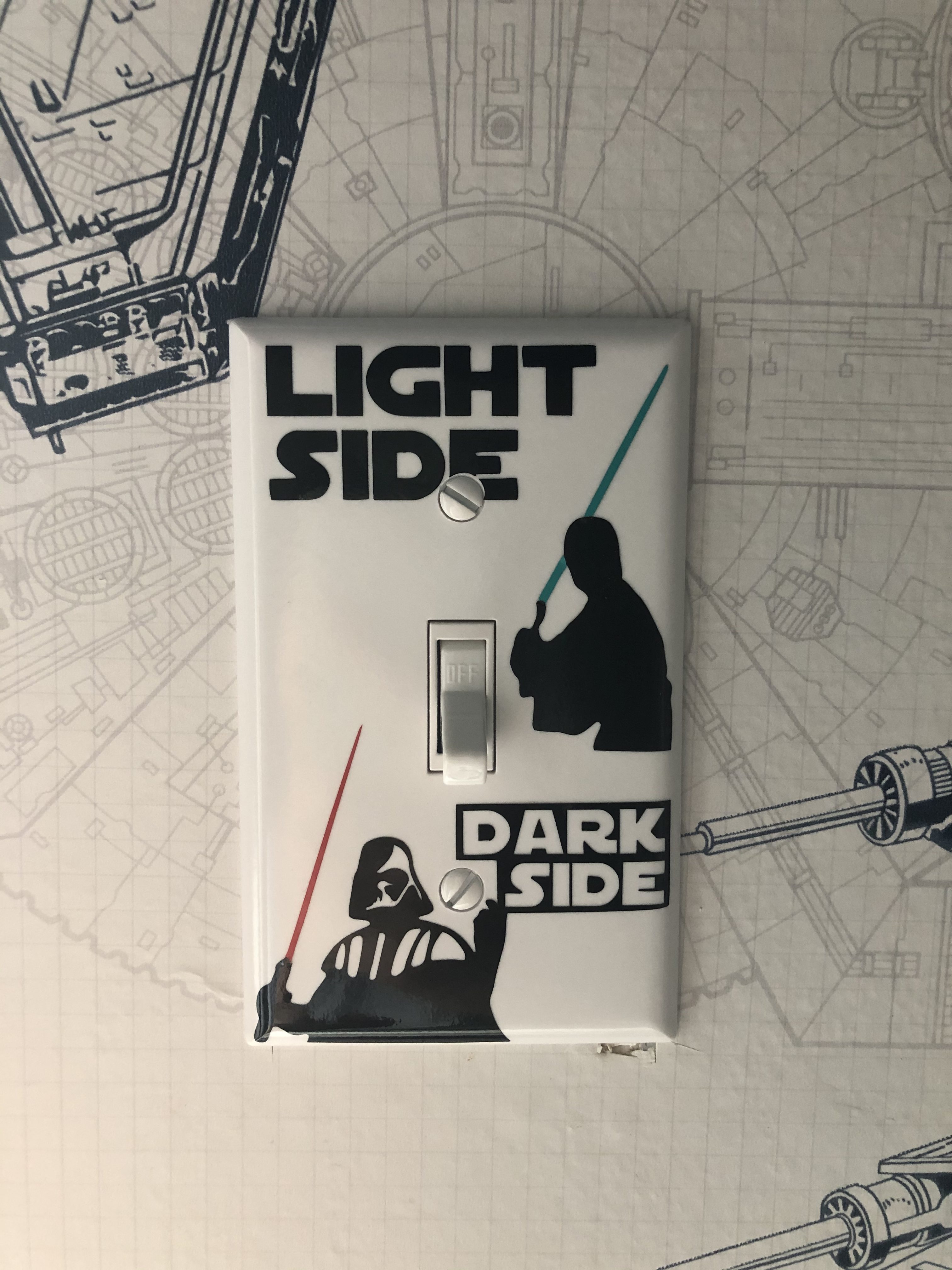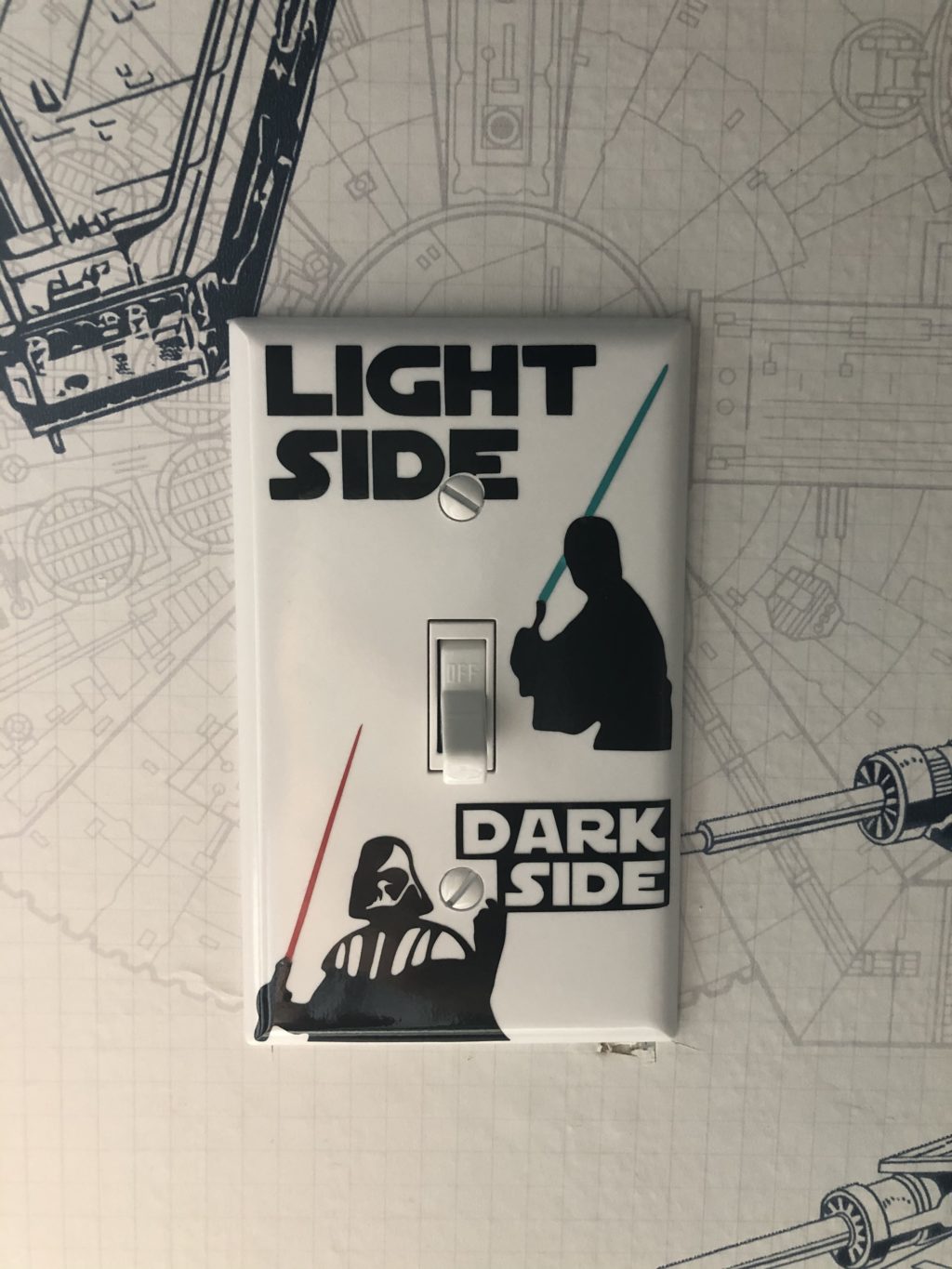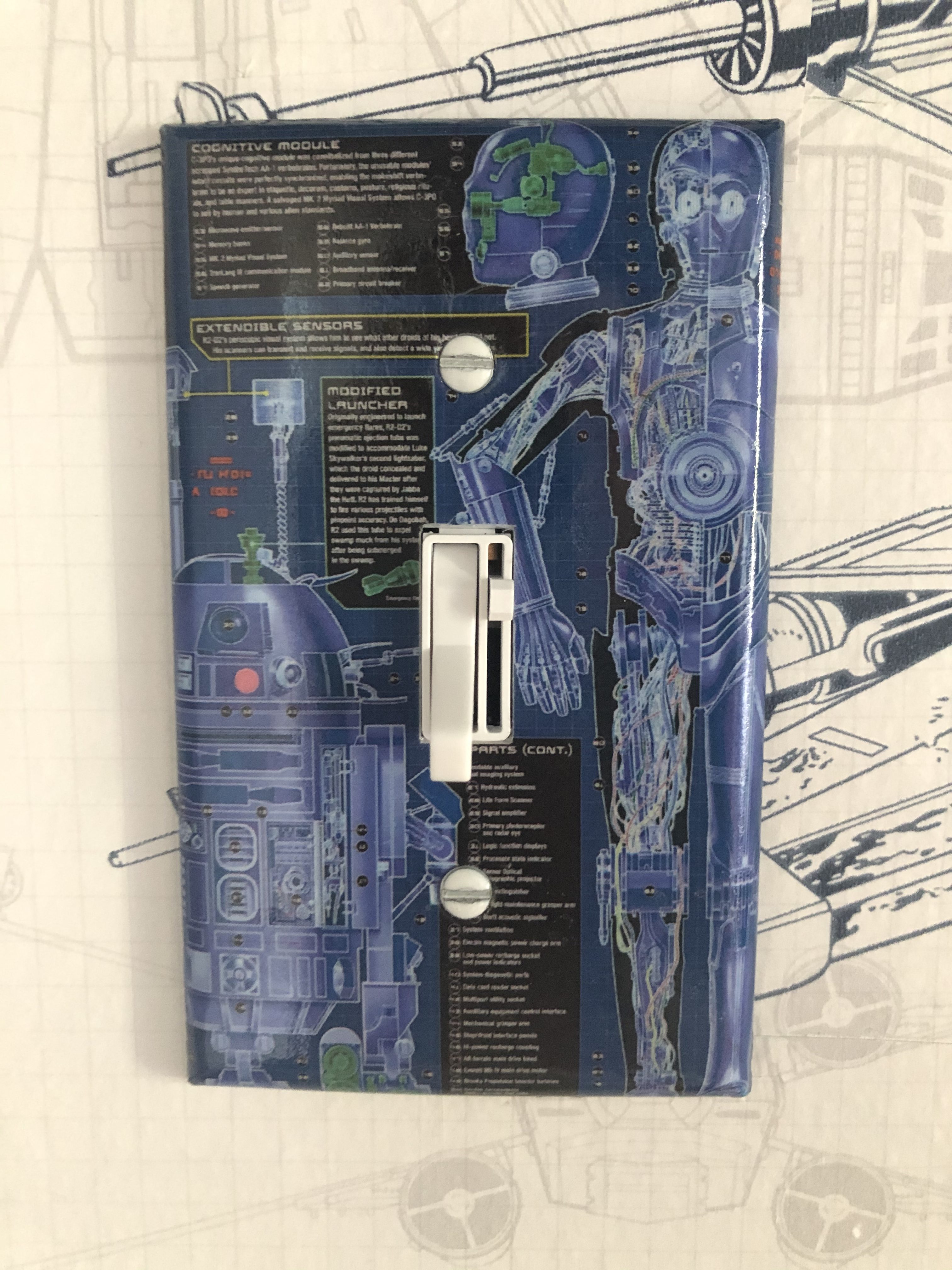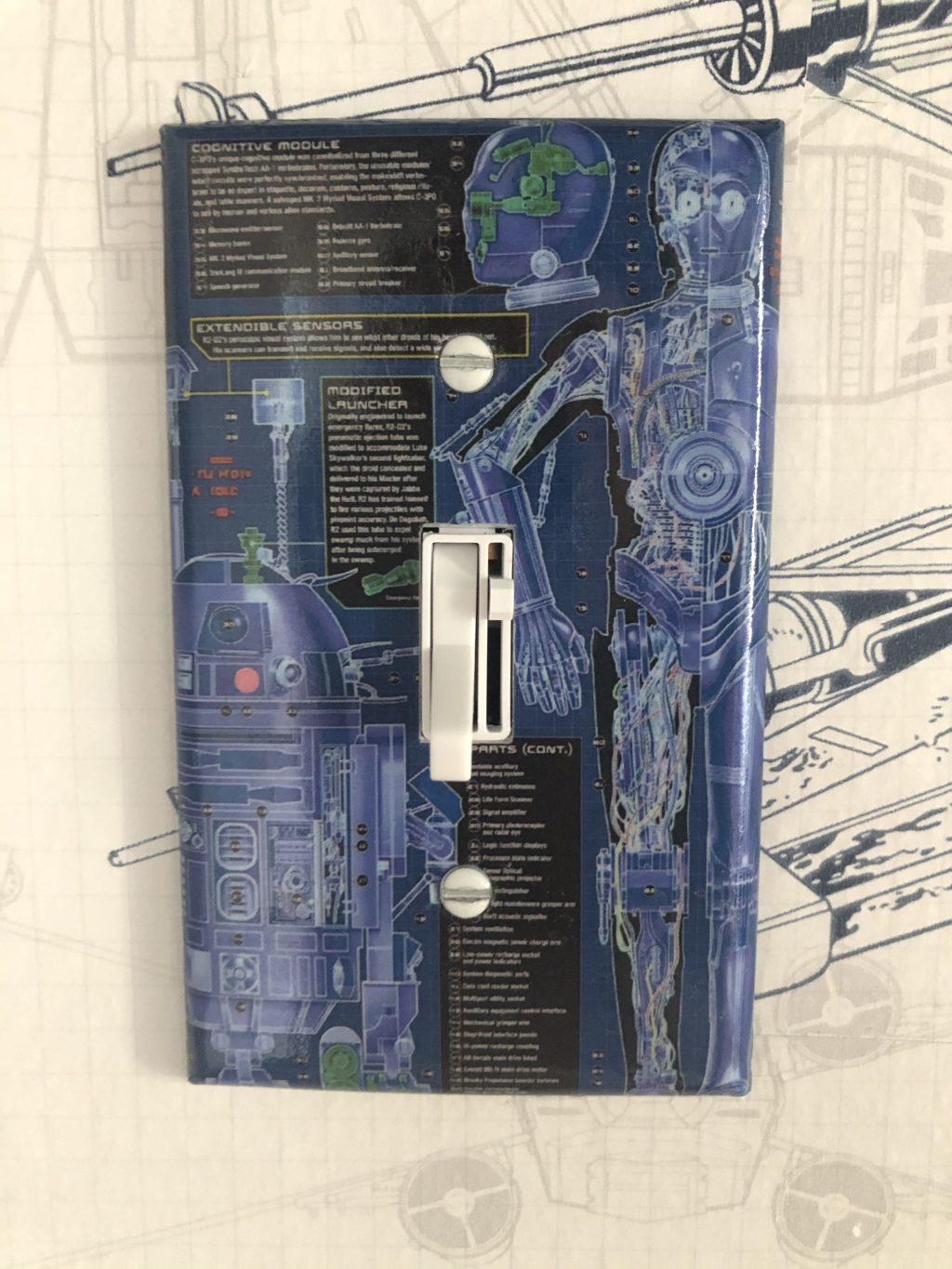 I love the illusion of an aged copper patina on this switch plate. It looks like it would fit right in on Batuu.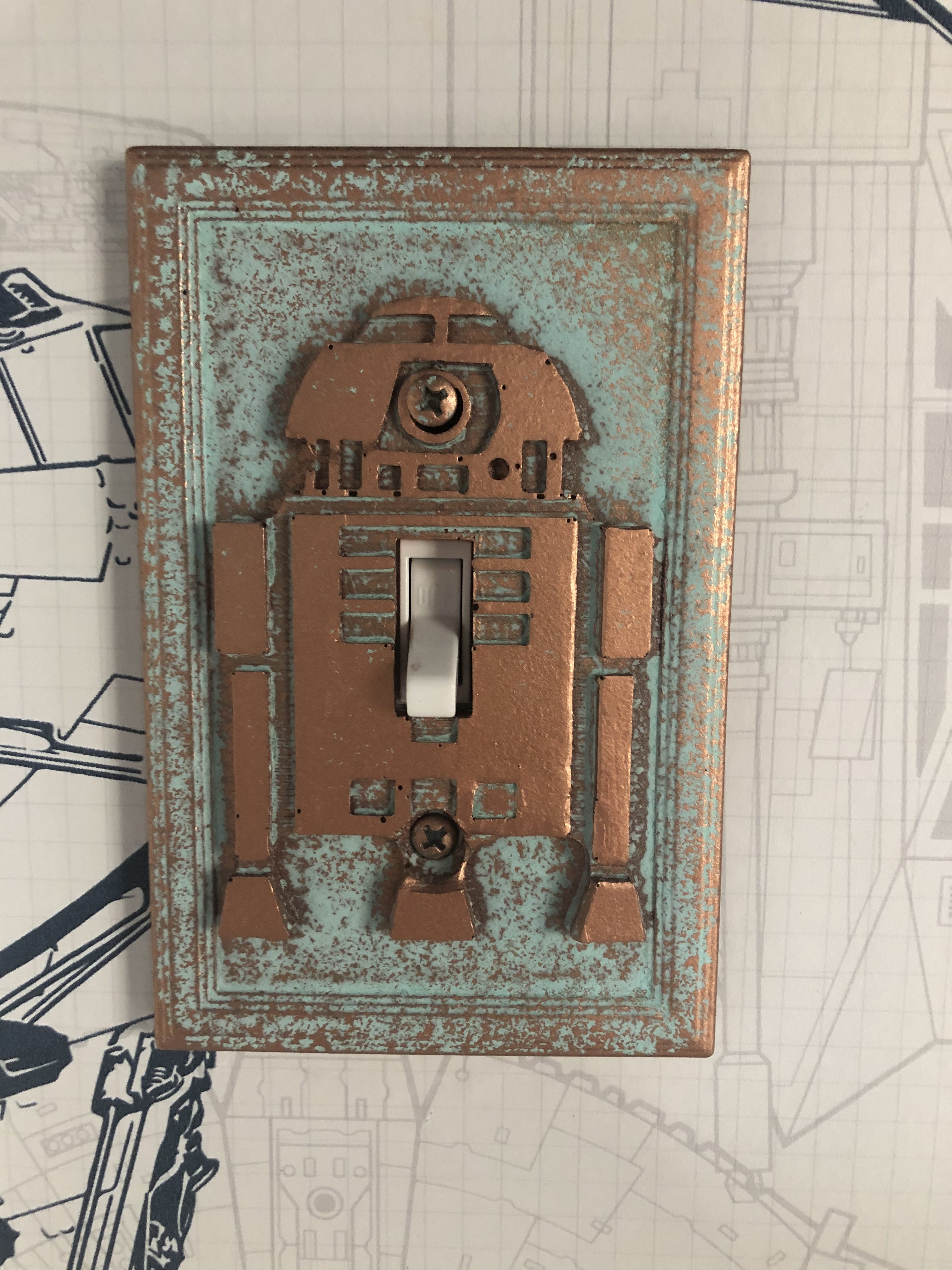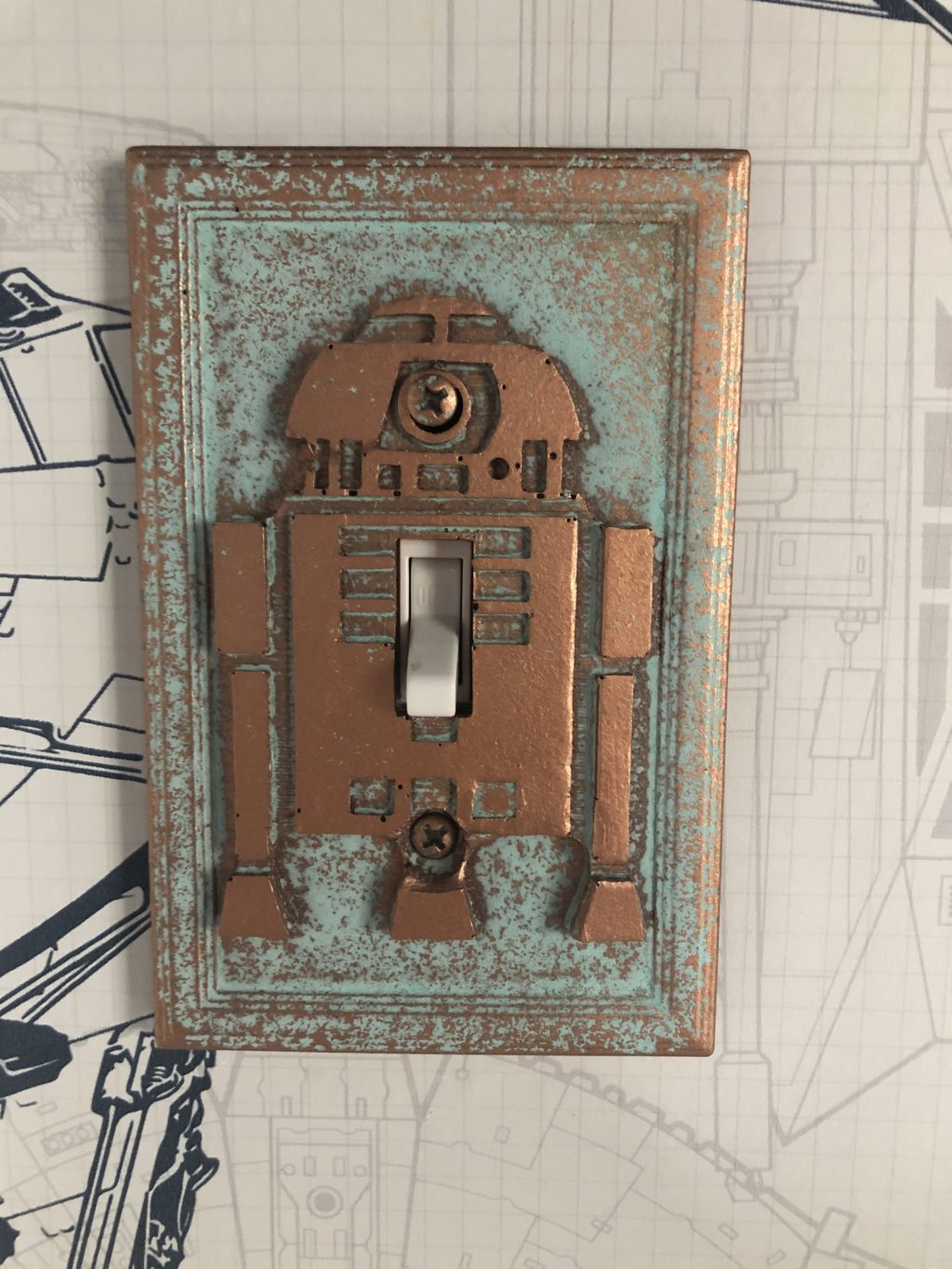 The blue and white on this R2D2 switch plate is a great match for the wallpaper!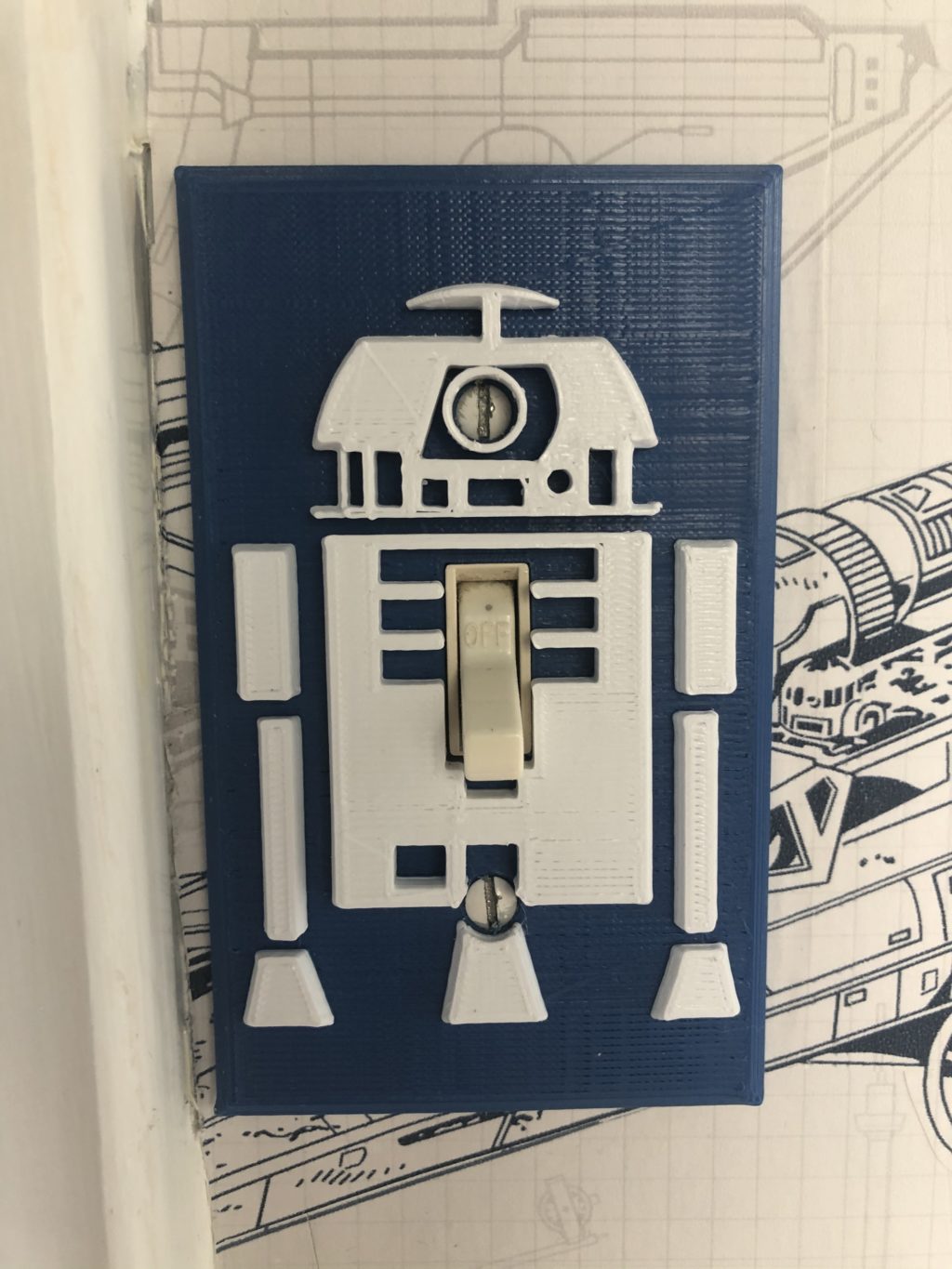 The room is still a work in progress. We want to add some ships, stars and hyperspeed lines to the ceiling.
My friend also found these neat hexagonal shelves that remind me of the Millennium Falcon cockpit. We may hang them in the bedroom framing the ships or in the bathroom with cutouts of the wallpaper framed inside.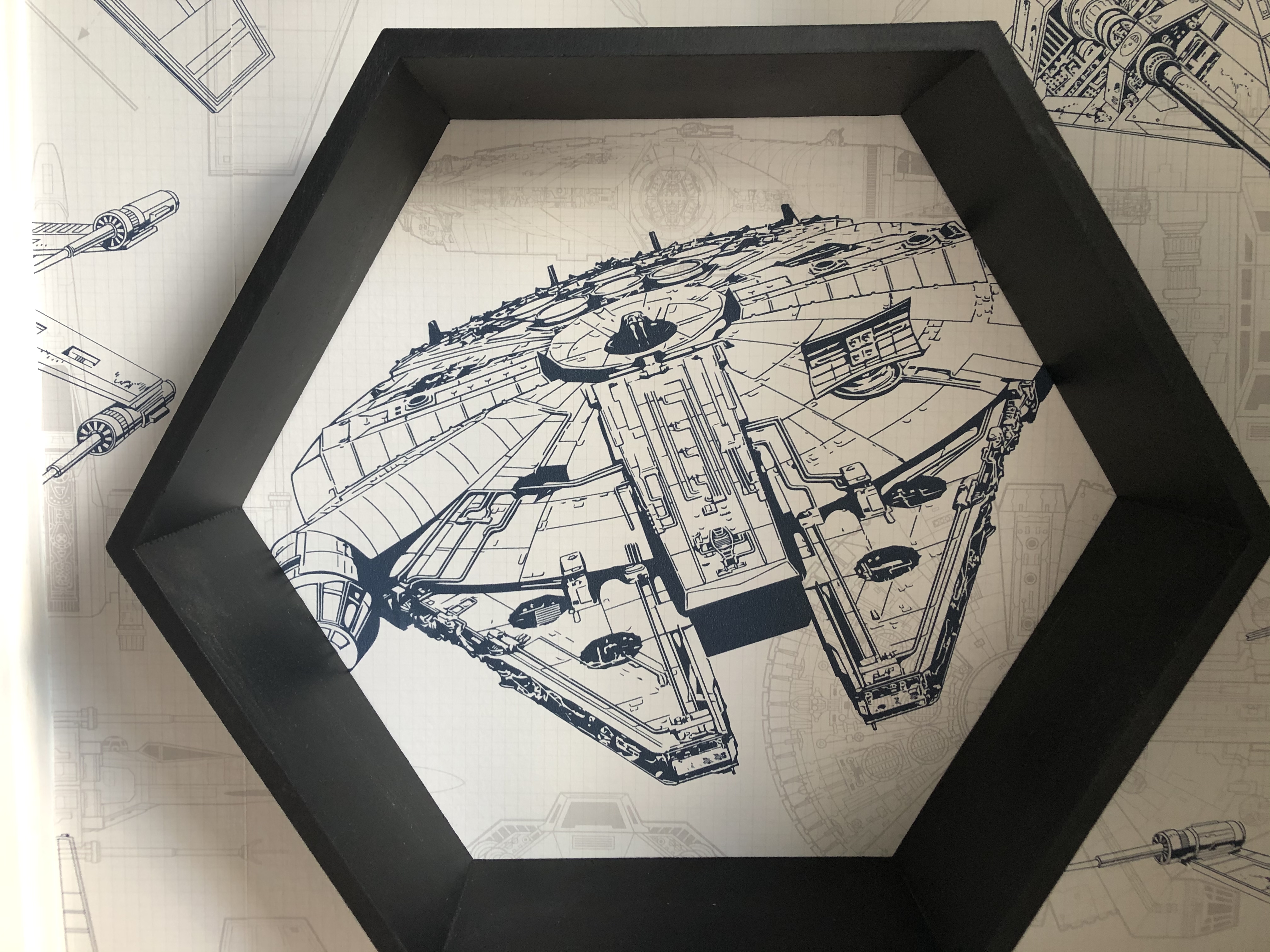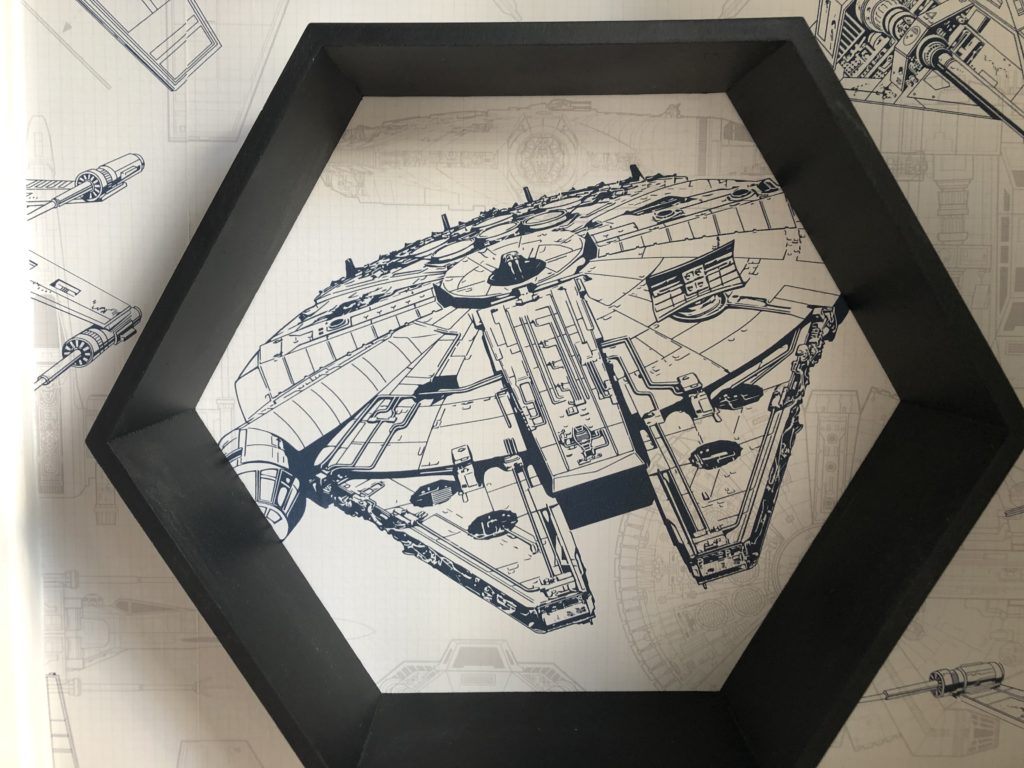 Eventually, we will custom make roman shades and a window seat cushion in some kind of navy celestial fabric.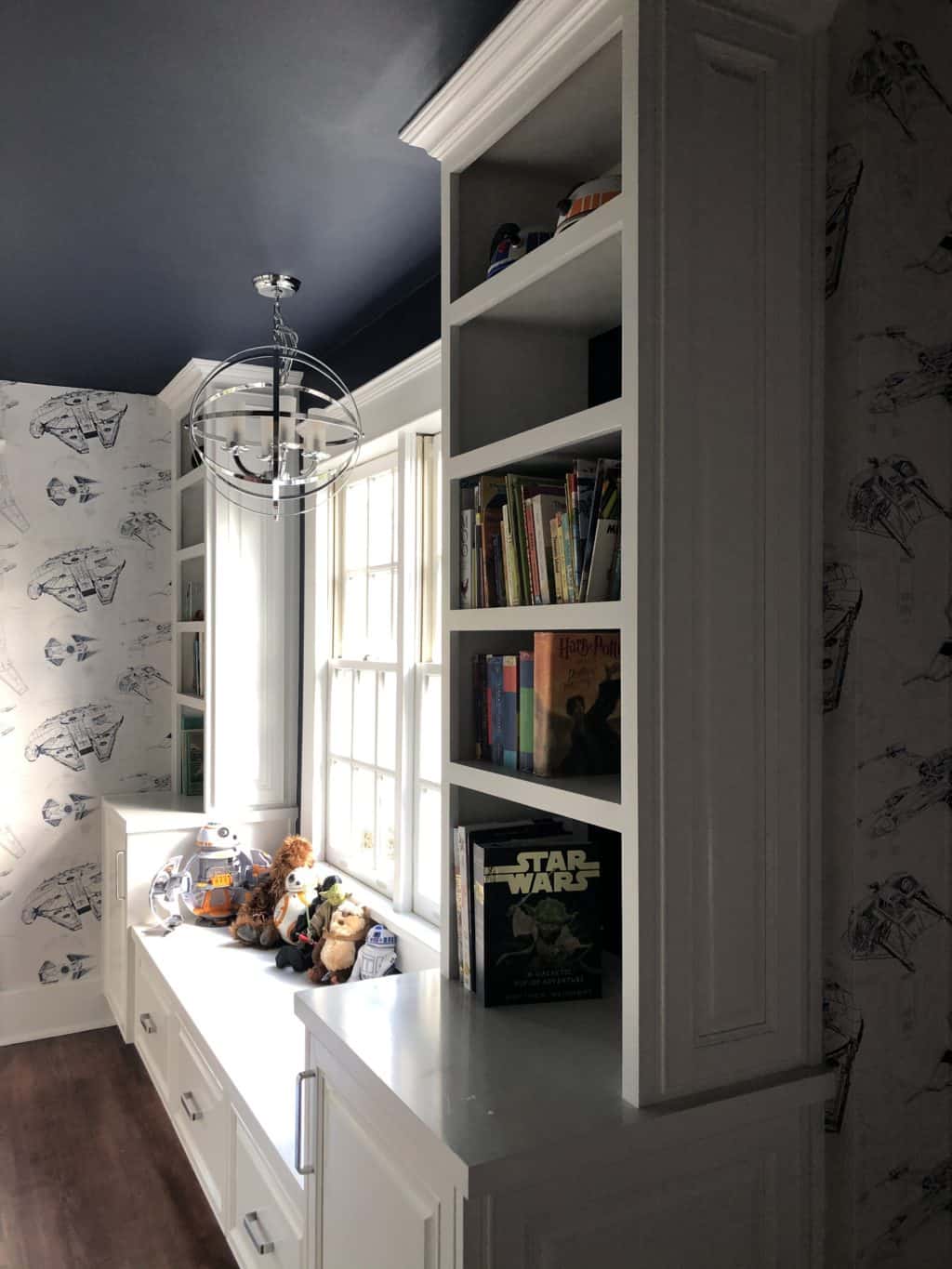 Do you have a Star Wars or Disney themed room in your home? We would love to see it! Comment with pics on Facebook!
Ashley Beckwith McKellar
Follow me on Instagram: @disneyparksmom