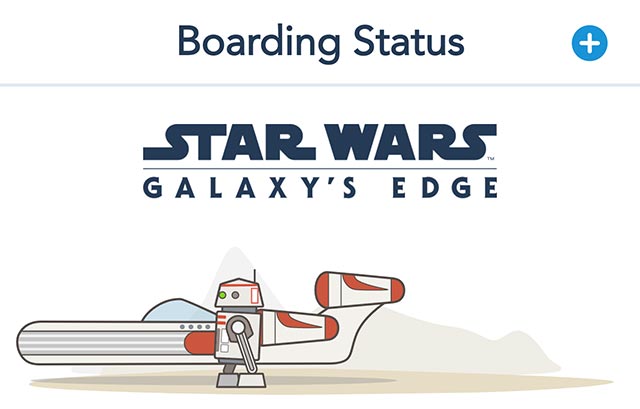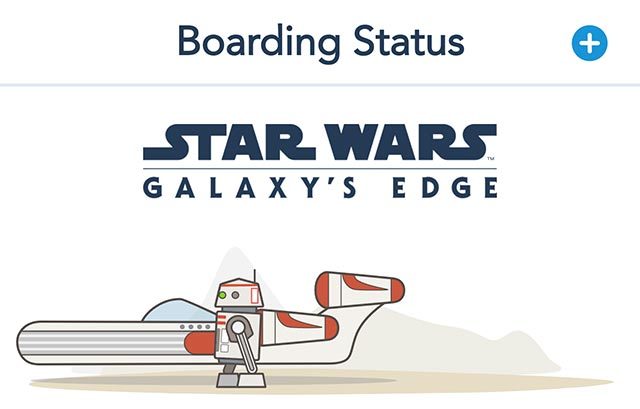 Disney's Hollywood Studios recently opened the most anticipated and, in my opinion, the best attraction in Disney Parks history. Massive crowds want to ride, but are turned away because the Rise of the Resistance Boarding Groups are usually gone before the park officially opens. Here's a complete guide on how to score a boarding group and what happens when the ride breaks. There are NO ride spoilers!
When should you arrive at Disney's Hollywood Studios?
It's still very early in the history of this terrific attraction, but I suggest arriving at least 90 minutes before the announced park opening. Two hours would give you an even better chance at riding Millenium Falcon or Slinky Dog Dash with no wait at park opening.
This seems crazy, right? Who wants to go on vacation and show up 2 hours before a park opens. It's worth it! If you aren't in the park before it officially opens, you probably will not ride Rise of the Resistance. There is NO stand by queue. You MUST have a boarding pass!
How to reserve your boarding group.
At around 30 minutes before park opening, you'll be allowed to enter the park. However, you cannot reserve a boarding group until the EXACT moment of park opening. If you attempt at any point earlier, it will not work.
NOTE: Do not use Disney World wifi. when reserving rise of the resistance boarding passes, be sure to use your cellular data, when available.
The boarding groups are usually totally gone within a matter of minutes, then they move to backup boarding groups, which do not guarantee you access to Rise of the Resistance.
At official park opening, not before, you can take out your phone and book a Rise of the Resistance Boarding pass from the My Disney Experience app. You'll find the boarding pass area prominently featured right under the map. Click on that section.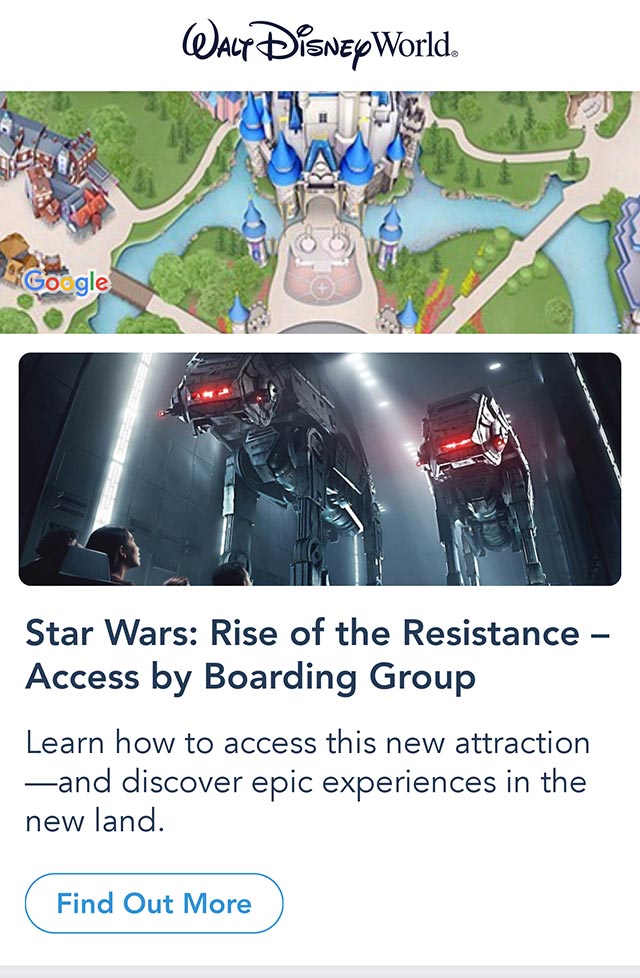 Next, you'll find a button on the bottom right that says "Join Boarding Group." Tap that button. If you see an error message that asks if you are already in the park, then CLOSE the app. Backing out does not work.
If the button works, then it will let you choose the members of your group. However, if the system doesn't recognize even one member of the group, you must CLOSE the app again until it does. It's a bit of pain, but it's the only way to book them in the same group.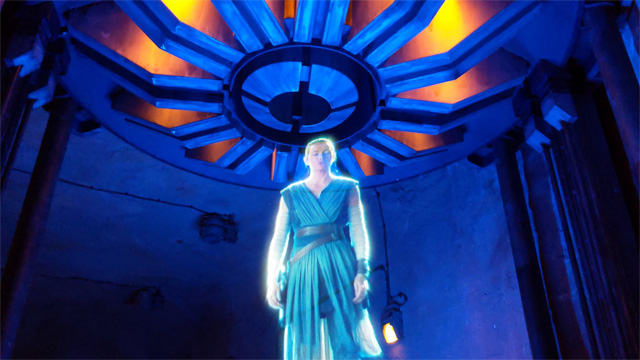 Do all members of your party have to be present?
YES. EVERY member must be in the park. No one can sleep in. No one can be late. As I mentioned above.
Should we all be looking at the same time?
No. One person should have everyone linked to a central account and have that one person book the boarding pass for the entire group. If multiple people are attempting at the same time, you'll likely create an error and won't receive a boarding group pass. If people book individually, you also will not receive the same boarding group number.
One person books the entire group!
Can I use DAS?
Yes and no. First, EVERYONE must have a boarding pass. Even if you have DAS, you must have a Rise of the Resistance Boarding Group . You can't stroll up and ask for DAS or ask for a boarding pass. Those using the DAS access may have to plead their case a bit to get the Cast to allow you to use the Fastpass entrance area as many don't know how it is supposed to function.
Here is an example of how one of our writers actually experienced the Disney Accessibility System (DAS) at Rise of the Resistance. It has some helpful information.
How do I use the boarding pass?
Throughout your wait for your group to be called, you can check "My status" on this page again. It will just show the progress with little green bars being filled and tell you what groups are being called.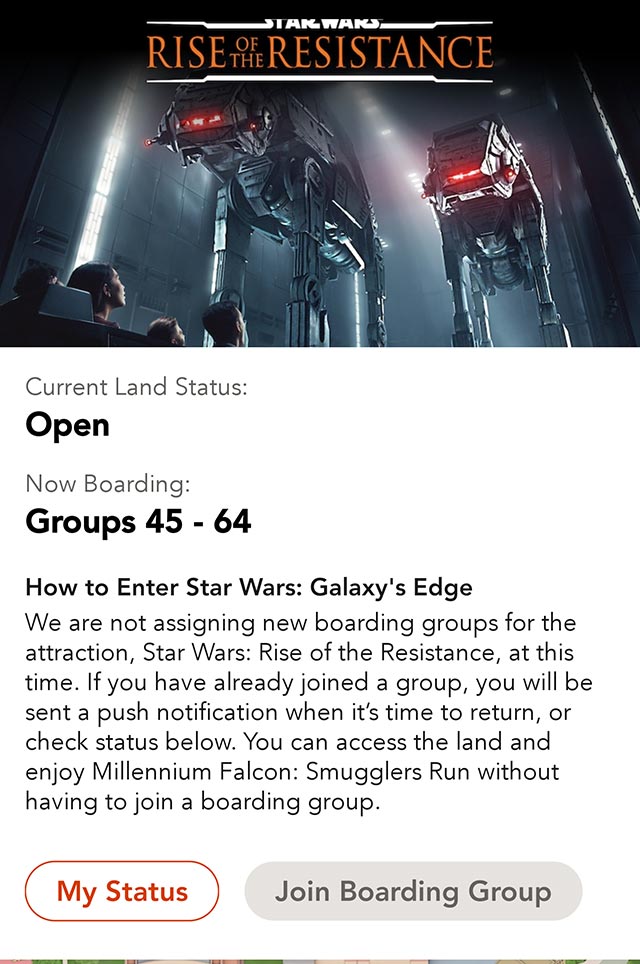 When your boarding group is active, you'll receive a popup notification on your phone. You can also check the available groups at the attraction with that long blue sign to the left of the attraction below
How long do I have to use the boarding pass?
You'll need to return to Rise of the Resistance within the 2 hour boarding window that is allowed for boarding. However, if the ride breaks down, and it will, you can return anytime through the day.
You'll want to be at this spot in the photo below. This is the area they use to tap magicbands and tickets for the returning boarding groups. You'll then be sent through the regular stand by line.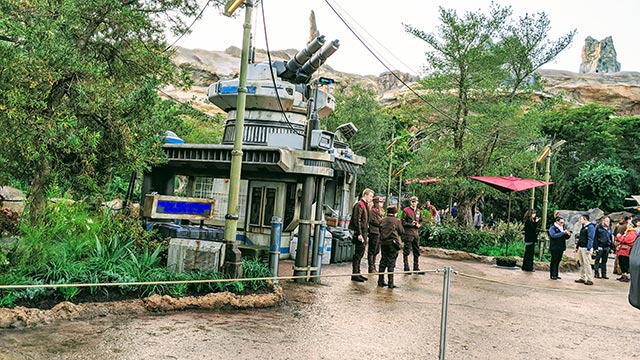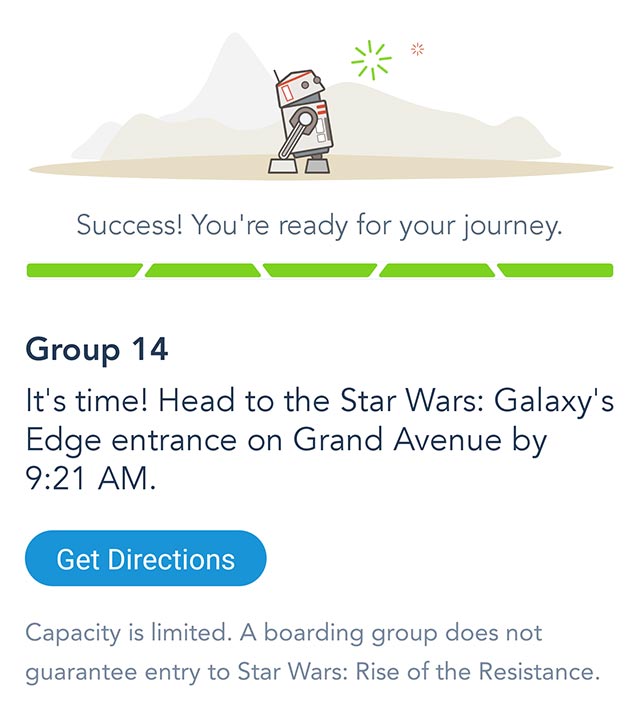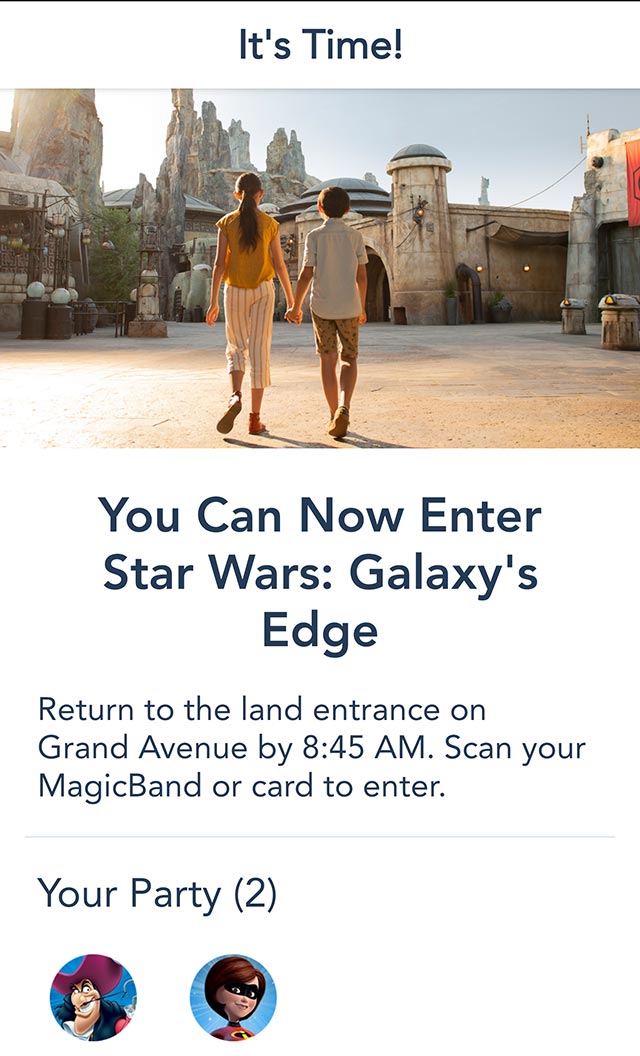 How long is the wait?
If you have one of the first boarding groups, you'll have little or no wait. If you have a later one, you wait could be 45-70 minutes. It does not post a wait time and it breaks frequently, so your wait could become longer. One of our writers basically turned the experience into a free Character Meal, you can view that post here.
If it breaks while you are in line, it means that you may have to stand or sit in the queue for a long time. They don't usually evacuate the entire queue when a breakdown occurs. I was evacuated 3 times in 3 days and each time I was in the actual attraction at some point.
There are a large number of bench seats built into the actual queue, which comes in handy when the ride should break down.
What is the guest recovery for a break down?
The cast are prepared for the ride to breakdown. It's new and untested and it happens several times per day. The Cast Members will first present you with a paper Fastpass like the one below. This will actually function as a real Fastpass when the ride re-opens.
Guests who use these paper recovery Fastpasses are allowed to take the short walk through the Fastpass line and avoid the entire queue. You'll be placed in the holding room before the first part of the attraction.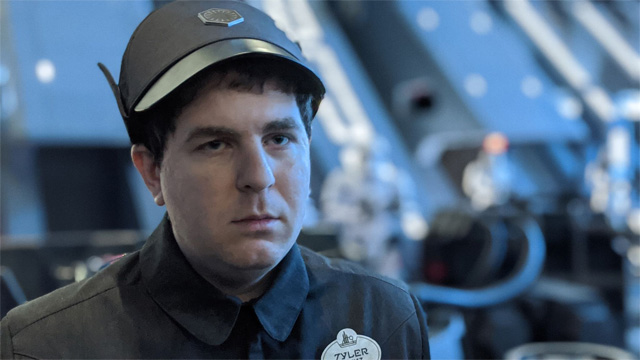 If they ever do offer Fastpass, you'll be happy to have it. You don't really miss much in the queue. It's just rock work and props.
I was informed by some Cast Members that they would accept these paper Fastpasses for up to 7 days from the date of issue because they realize that you may not have planned to return the following day.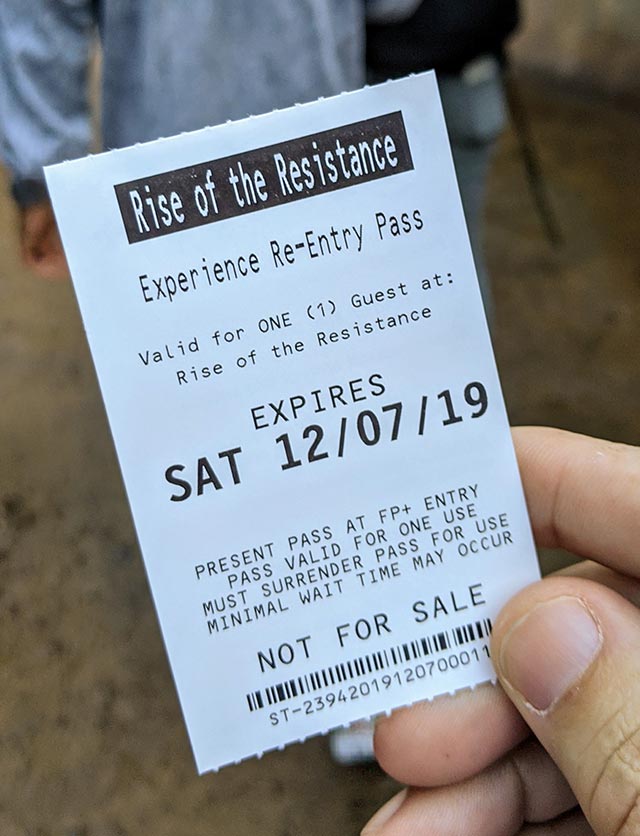 In addition to the paper Fastpass, you should be given a "Multiple Experience" Fastpass digitally on My Disney Experience.
NOTE: Rise of the Resistance is listed as a "Fastpass" on this list. It is actually giving you access to the Rise of the Resistance Boarding Group line, this digital version acts like a Fastpass everywhere in Hollywood Studios EXCEPT Rise of the Resistance. It is a great plus for the Millennium Falcon though!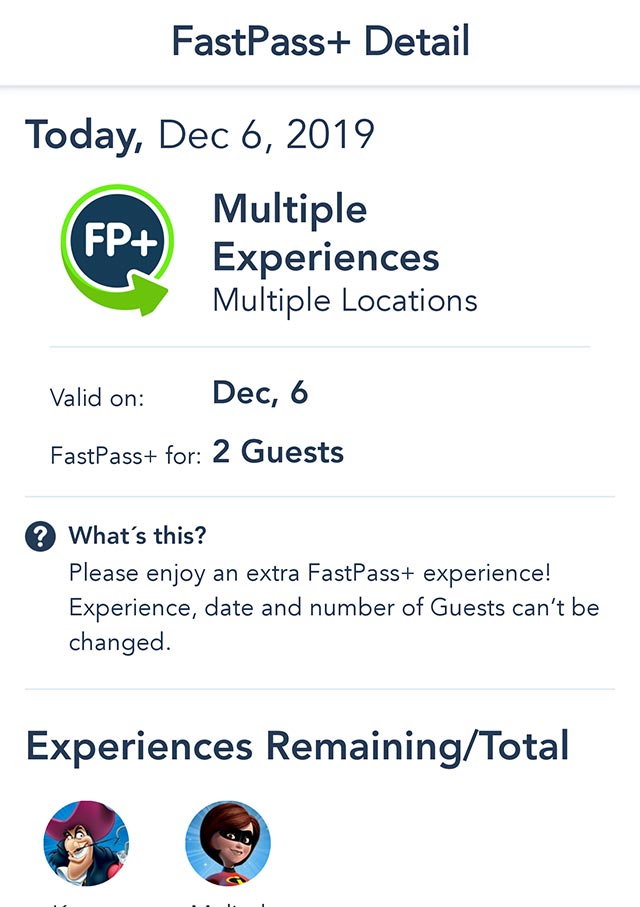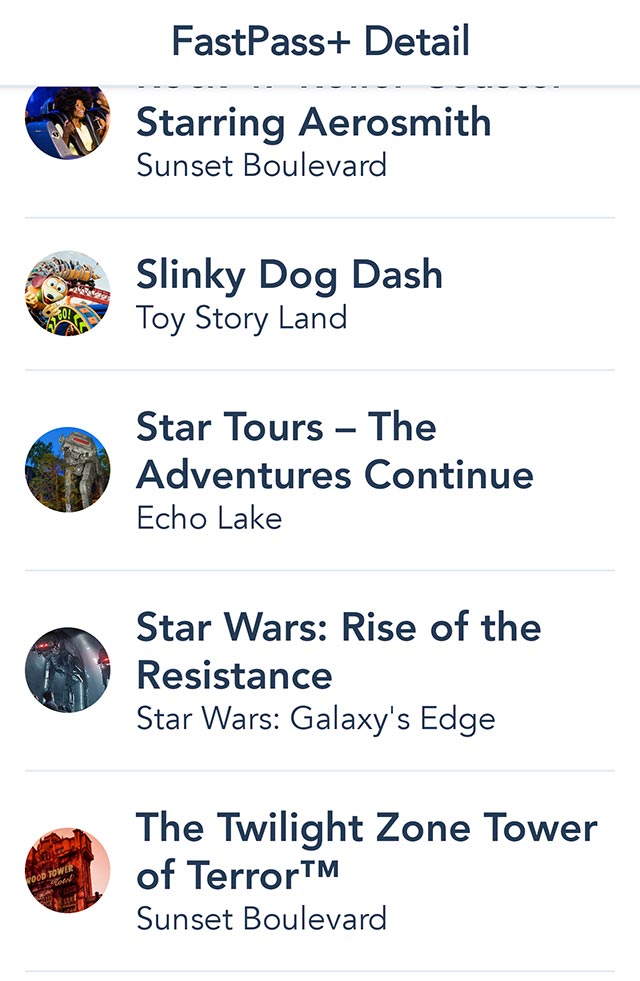 What happens if my Boarding Group is never called?
If you have an actual Rise of the Resistance Boarding Group, and the ride never calls for you that day, you'll be given a Multiple Experience Fastpass for the following day that includes EVERY ride at Walt Disney World.
Additionally, Disney World has often given away a free one day park hopper ticket to those who where not called for boarding. This is for the regular boarding groups, NOT the backup boarding groups. The backup boarding groups are not compensated in any way, if there group is not called.
As a local, it's a great benefit to have an extra ticket. As a first time guest or out of town visitor, that would be a major disappointment to miss out on the ride because no regular line was allowed to be formed.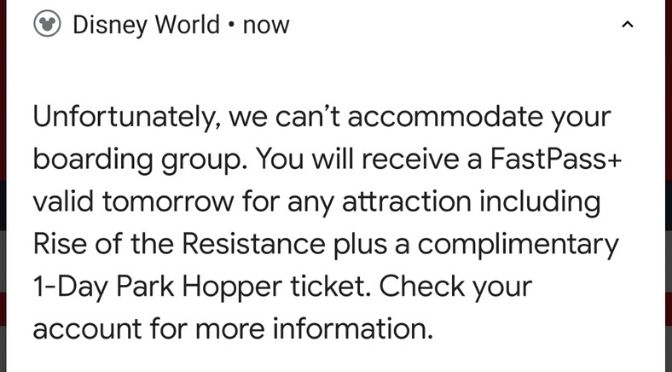 All new attractions need time to become seasoned attractions and have all the many moving pieces work in sync. Many days the ride works quite well and all boarding groups are accommodated, other days the ride experiences a great deal of downtime, like the story here when the guests had to wait 7 hours before they began calling boarding groups.
This attraction IS worth the wait. It is a unique and interactive experience that goes beyond being "just a ride." When guests do take part in the Resistance, they usually walk away with a big smile on their faces.
If you have any questions for me. Leave them in the comments below or hit the big blue Facebook button below and leave a comment there!
KennythePirate