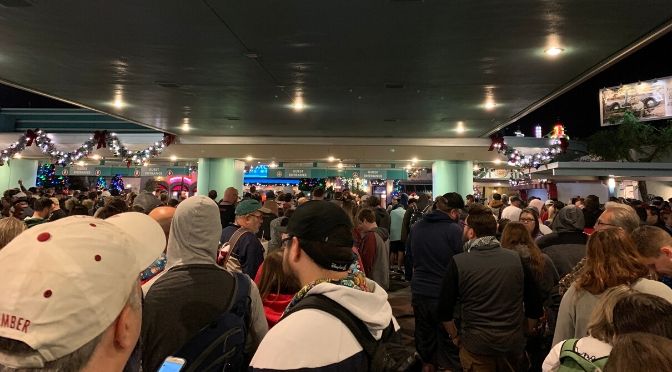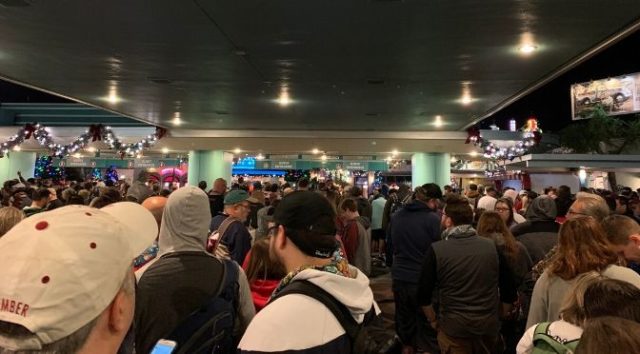 You may be seeing people's experiences riding Star Wars: Rise of the Resistance rolling out on social media.  Most people are reporting the ride is amazing, and it is absolutely incredible (don't worry, there are no ride spoilers in this article-you must experience it for yourself).
But what you may be curious about is the actual experience of attempting to ride this incredible new attraction on opening weekend.  Did things go smoothly?  Absolutely not.  Was it worth it?  Depends on your perspective.
Our day started early.  Kenny had suggested that we arrive at the park no later than 5:30am in order to secure a boarding pass.  Following the reports of the first few opening days, we knew boarding groups for the day were usually closed around 8:30 am.  We also knew if we attempted to get a boarding group anywhere near 8:30, we were likely to get a later boarding group – meaning we would not be able to ride the ride until late in the day or evening. We were excited to have an opportunity to ride Rise of the Resistance, but we had plans later on in the evening, so we knew we had to listen to Kenny's advice.
It's a good thing we did!  We arrived at the parking lot around 5:20, and we were quite surprised to see how many cars were already in the parking lot.  We decided to forgo bags and carry everything in, so we could skip bag check and get a closer spot in line.  Ultimately that did not matter, because as we arrived at bag check, there was no one in line.  I'm not sure what time they opened bag check, but we walked straight through and joined 500 (or more) of our new closest friends to wait for the park to open.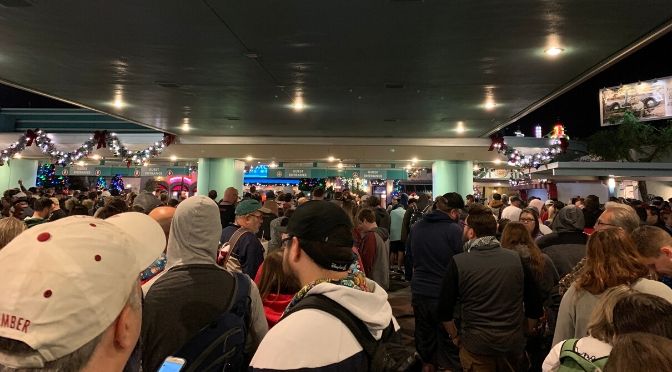 Waiting was not as bad as you might think.  Yes, it was early and cold, but everyone was in such high spirits.  We chatted with the guests around us and it helped pass the time.  We even witnessed a lively Disney World vs Disneyland debate! I've never been to Disneyland, but apparently their castle is very tiny?
A few minutes after 6:00, the crowd let out a big cheer.  Then….nothing happened.  We were too far back to figure out why the cheer and why we weren't moving.  Finally, a few minutes before 6:30, a second cheer, and this time we were let in!
It turns out, in someone's excitement, they scanned their band before the Cast Member asked them to.  We were told this reset the entire system to the day before and they had to shut down and restart.  I am not sure if this is valid, but I guess it is certainly possible!  Either way, take note: if you are first in line at rope drop, DO NOT SCAN YOUR BAND UNTIL TOLD TO DO SO!  Thanks for your cooperation!
The line moved pretty quickly and we were through the gates about 6:29ish.  As soon as we got through, I had the My Disney Experience app up and running, and I attempted to grab a boarding group for my husband and I.  Automatic fail: the app told us we were not in the park.  I thought maybe it had not recognized it yet and retried.  Fail.
I thought possibly I had to go back out of the app and try again, but again, fail.  I must have tried 7 or 8 times, but each time the app said I was not in the park.  I was telling my husband to quickly find a CM because I couldn't look for one and use the app AND walk at the same time, so he located one quickly.
I explained what was going on and she calmly scanned my magic band and suddenly, boarding group 24 appeared on my app.  I was grateful, but a little annoyed.  I wonder what group I might have had if Disney's technology actually worked?  Throughout the day, many people I spoke with had the same frustrations of not being able to get a boarding group without help from a Cast Member.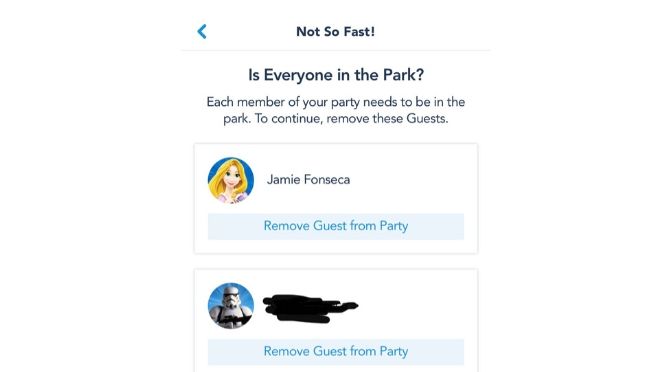 We realized we had a fairly good boarding group, so we decided to take advantage of the open park and headed to Toy Story Land.  We got in the queue for Slinky Dog Dash around 7:00 and walked right on to ride.  By the time we got off, the wait was up to 90 minutes!  We then walked over to Toy Story Midway Mania and again walked right through the queue and onto the ride.  Afterward, we hit Woody's Lunchbox for breakfast, then wandered over to Star Wars: Galaxy's Edge.  
On the way there, my husband stopped and rode Star Tours, this time with about a 5 minute wait. While he was riding, our boarding group for Rise of the Resistance was called, so we hurried over. For reference, boarding group 24 was called at 8:13 am.
By the time we got from Star Tours to Rise of the Resistance, we were met with bad news: the ride went down.  Having followed the news over the past few days, I knew this was bound to happen and shrugged it off.  We decided to head over to the Millennium Falcon and wait out our time on that attraction.  
The posted time for Millennium Falcon was 45 minutes, and we waited about 40.  My husband and I received the cards for left and right pilot.  One of the engineers mentioned he had never been a pilot and I happily passed off my card to him; piloting is not for me! 
I'm glad I did because it was my first time riding, and after watching, I'm convinced I would've crashed us immediately!  I won't go into too many details about the ride here, but I will tell you I was incredibly impressed and had an absolute blast.  Well done, Disney!
After waiting and riding Millennium Falcon, we decided to try again for Rise of the Resistance. When we arrived at about 9:30, the ride was still down and they wouldn't let us wait in line. Some people were congregating around where the ride opens, so we decided to wait there so at least we'd be closer to the front of the line when the ride finally did open.
They announced guests with earlier boarding groups  or guests with FastPasses would join the queue first.  They took a group in and then closed the line again.  We waited in that line until about 10:20, when they announced the ride went down again and that we could no longer stand there and wait.
Chaos ensued. People began yelling at Cast Members.  I was impressed with how calm the CMs remained as they explained to guests that they had no way of knowing how long it would be until the ride reopened.
They were not handing out FastPasses for a return, and this was concerning to me as my boarding group expired at 10:13 am.  They said not to worry, that I could just scan in and their system would see that I had an expired boarding group and they would let me in no problem. They informed me that all Cast Members would know that boarding groups 10-27 were down for over two hours that morning, and they would let us through without an issue.
I felt uneasy with this, so we went to a different Cast Member, only to be told the same thing, but she advised I take a screenshot of my expired pass "just in case."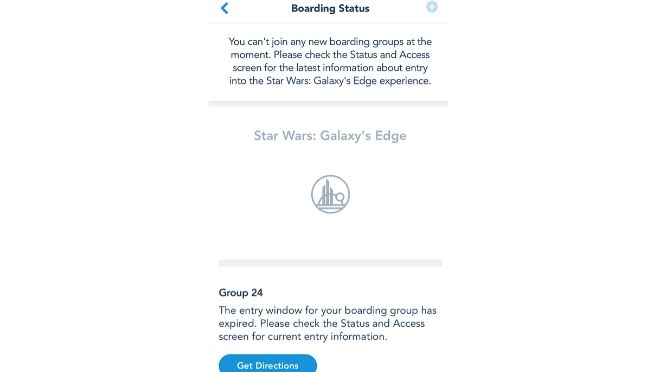 We decided to leave the park and get out of the madness for a bit with the plan to return later in the afternoon, hoping we could use our expired boarding pass to join the queue.
We returned to Hollywood Studios around 4:00 p.m. and headed straight to Rise of the Resistance.  When we arrived, predictably, we were denied boarding since our boarding group expired.  We explained what happened and they sent us over to a guest services Cast Member.  That CM said they needed to get someone else to help us.
A different CM came over, tapped my band, and asked, "Why are you 400 minutes late for your boarding group?"  I was kind of shocked.  I explained what had happened and she said "ok, that sounds reasonable.  You may join the line."
Seriously? They didn't know that the ride was down for over 2 hours that very morning? Either way, we happily went on our way and got into line about 4:24.
About 15 minutes later, I realized we had stopped moving.  Shortly after, a Cast Member came through and announced the ride was down for an extended time, and they would be providing us with snacks and water bottles.
Everyone kind of groaned and sat down in the queue.  Some guests left immediately.  My husband and I accounted for our time this morning and decided we had waited this long, we might as well stick it out.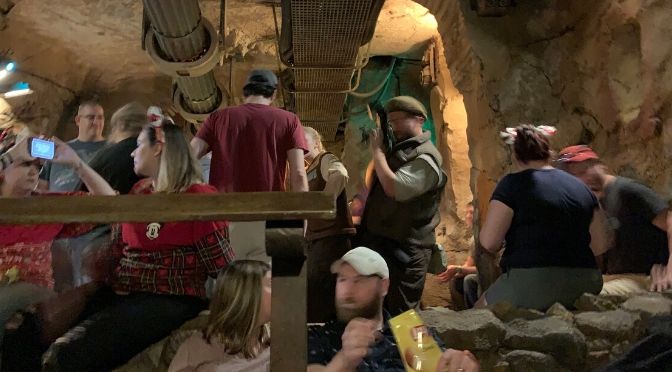 After about 15 more minutes of waiting, Cast Members came through with buckets of snacks to choose from.  There were bananas, Cuties mandarin oranges, wrapped cookies, chips, and grapes. They let us take as many things as we wanted and passed by us four different times to offer more snacks.
They also came through with (warm) bottled Dasani waters that are unique to Star Wars: Galaxy's Edge and allowed us to take as many of those as we wanted.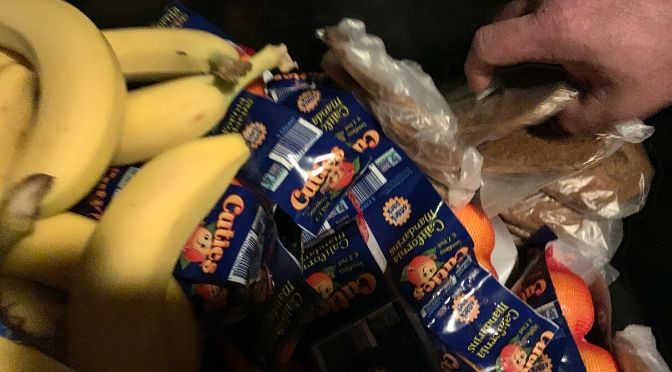 The snacks were ok….not overly exciting. But that cookie…oh my goodness. It was chocolate chip, slightly undercooked, and delicious. We made sure to grab a few more for later as they came through each time!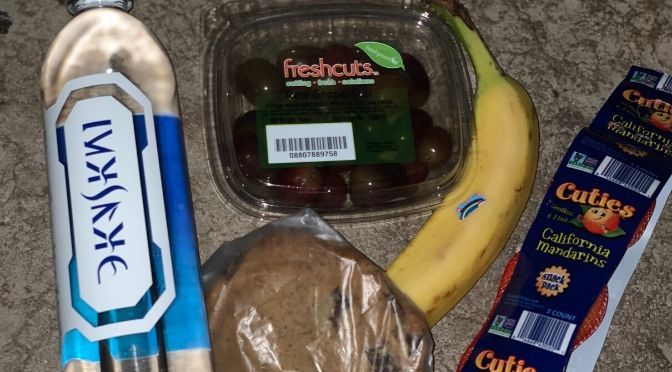 Cast Members walked through and joked and talked with us, and kept it light-hearted. I talked with one CM and asked approximately how many people were currently in line stuck with us.  The CM informed me the queue for Rise of the Resistance can hold a 35-45 minute wait, and that the queue was full.  
Snacks slightly helped annoyed guests, but what really helped was what happened next.
Rey came through with a PhotoPass photographer and a mechanic in training for the resistance and met with each guest individually, and spent a good amount of time with each one!  She was fantastic.  After her, Chewbacca came through.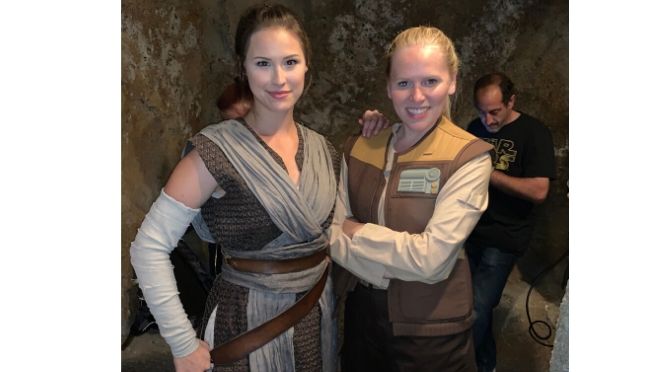 When I asked him for a picture, he fixed his hair and gave me a great big smile!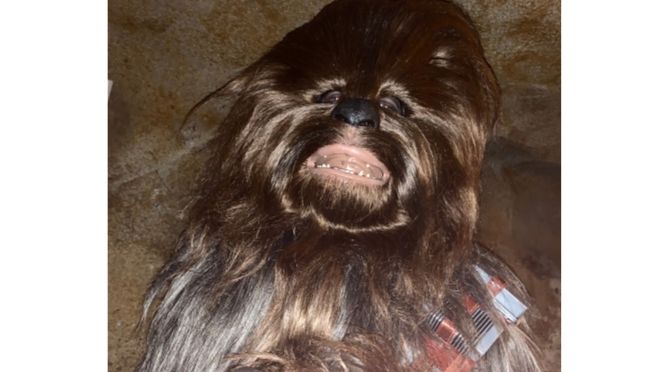 The character meets were a great way to lift everyones spirits. Suddenly everyone was laughing, posing for pictures together, and having a blast! It no longer felt like an inconvenience, it was an exciting enhancement to our experience!
Who knew, a free "character meal" just for waiting for an extended period of time to ride a new attraction!
One of the guests waiting near us informed us that when Rise of the Resistance goes down, it takes a full hour to reset the ride.  A few minutes later, and about an hour after we were stopped, we started moving again!  We were incredibly excited, and everyone was cheering.
We waited for another 15 minutes until we got to the first room.  Again, you'll find no spoilers here, but wow!  The "preshows" themselves are most definitely part of the attraction.  When we finally boarded our vehicle, we ran into another snag: our doors would not close.  CMs ran over from out of nowhere.
Our entire vehicle went silent-would we really have waited all this time just to have to the ride shut down again as we were on it?  It took several minutes, but finally, they got the doors to shut.  We all set out a collective sigh.  What a journey!
The ride itself is something I really can't describe, other than to tell you it is like nothing you have ever ridden before.  I'm still processing it. It was absolutely incredible.  But guess what?  When it was over, the doors got stuck again!  Again, several Cast Members came running over to unload us.  They got the doors open, and we unloaded.  Everyone around us was cheering, what an experience!
All in all, we waited an hour before the park opened, 2 hours during our boarding group time, and another 90 minutes in the actual queue. We met so many other guests and had a blast with them.  We got a free, unexpected character meal.  And we got to be among the first to experience Star Wars: Rise of the Resistance on opening weekend.
Worth it?  For us, it was!  However, I'm not sure I would attempt another opening weekend attraction in the future. Next time I'll sit back and let them work the kinks out first!
What do you think?  Did Disney make it right for us?  Would you have waited that long to experience Star Wars: Rise of the Resistance?
Jamie Fonseca