We recently ate dinner at Spice Road Table, but it fell short of our expectations. Take a look at this review to see why.
Location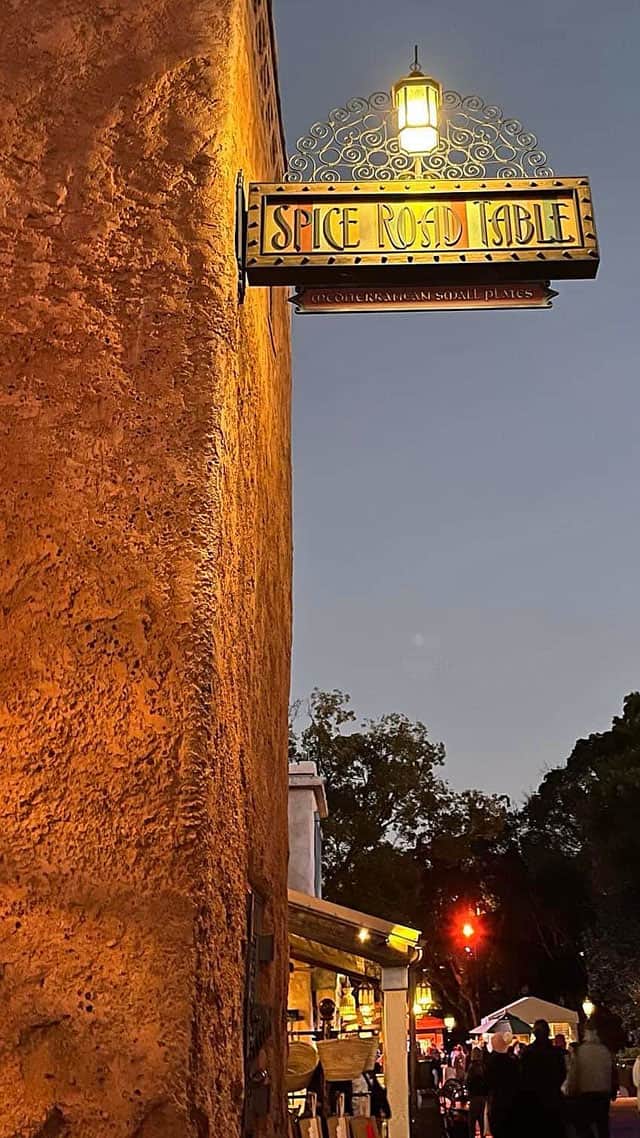 Spice Road table is located at EPCOT's Morocco World Showcase Pavilion. You'll find the Morocco Pavilion between France and Japan. It's also one of the Friendship boat stops that run on World Showcase Lagoon.
From the front of Epcot, the quickest way to get here is by Friendship Boat. If you're coming from International Gateway, turn right toward France.
Checking In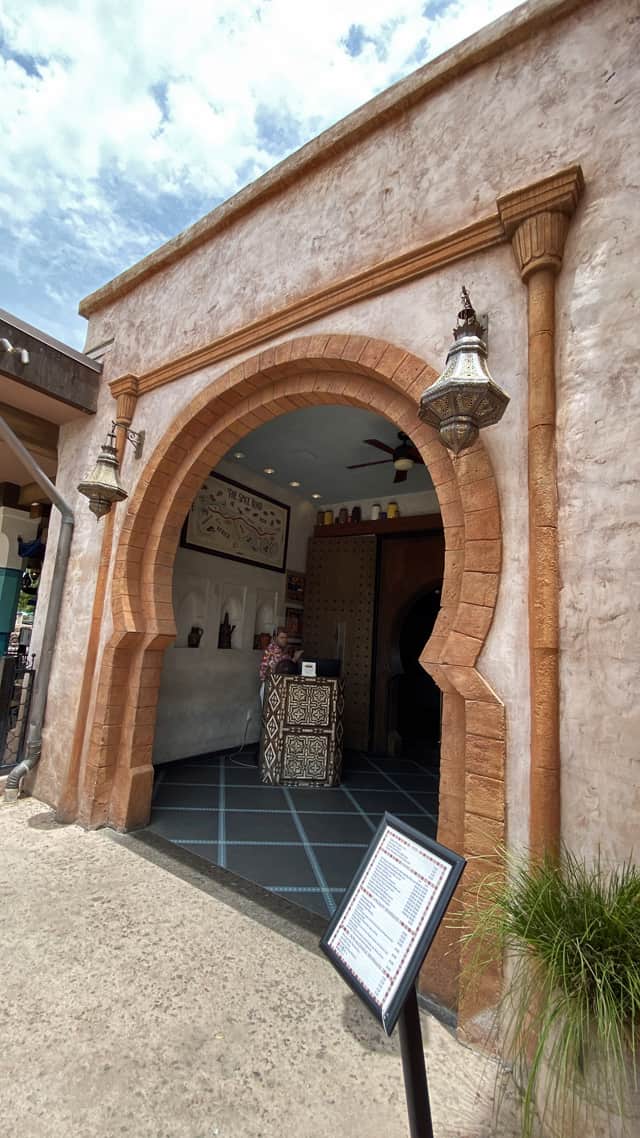 When you get close to the restaurant, check in using the My Disney Experience app. Here, you'll confirm your party size along with specifying any dietary needs. However, I highly recommend confirming this at the podium. When you receive the notification that your table is ready, go to this podium shown above. From here, a cast member will to the walk you to your table.
It was very cold when we ate dinner there in January so I asked for an indoor table and didn't mind waiting. Instead of accommodating us, they said the indoor tables were full and we had a warm table with a heater directly above it.
He quickly whisked us to our table. However, this was not the case at all. It was very cold eating outside and the heaters were not close. It was so cold that evening the food runners were wearing Snuggies! My friend and I sat close, trying to stay below the heater, but I would not eat outdoors during cold evenings again.
I don't recommend eating outdoors if it's too hot or cold.
Theming and Seating Accommodations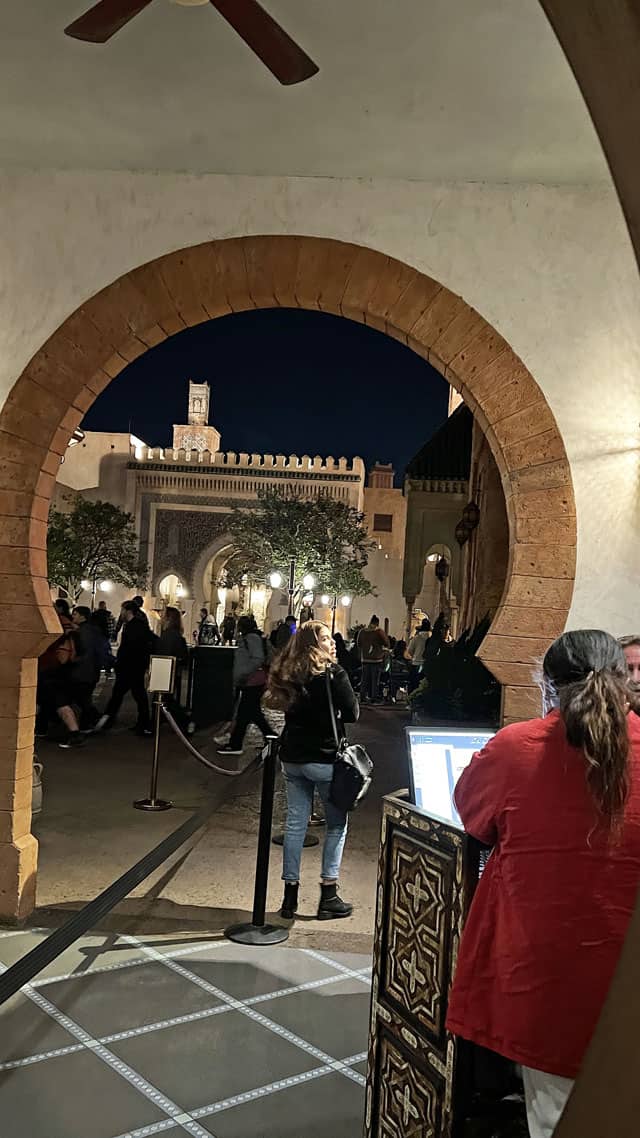 Enjoy Mediterranean touches and open air dining as you take in the beautiful waterfront view. Attention to detail here is amazing! Everything from the architecture to lighting and draperies make you feel that you're no longer in a theme park. Be sure to take it all in when dining here.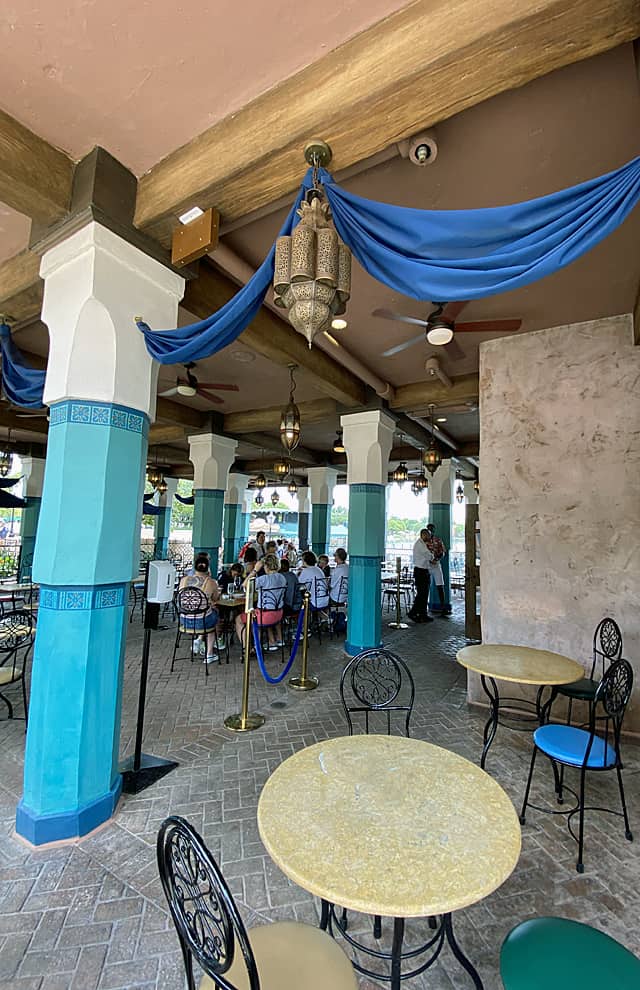 Shown above is the larger outdoor dining area. Seating is plentiful and rarely full. When the weather is nice, I recommend sitting here and enjoying the view. However, if you're looking for air conditioning, or in our case heat, opt for indoor seating.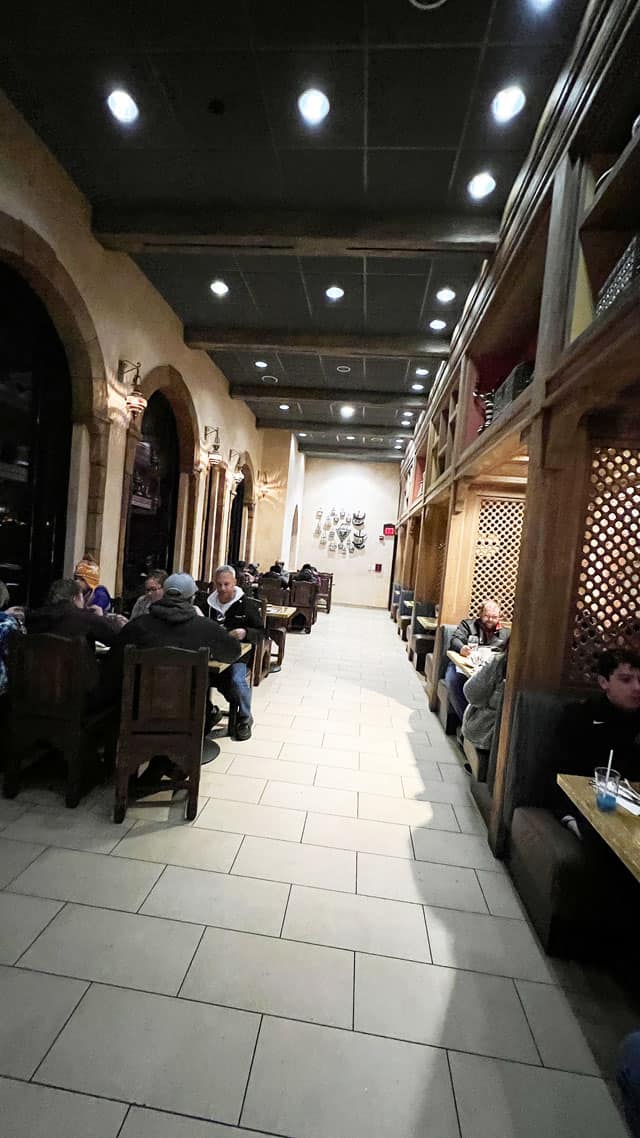 It feels like Spice Road Table is two separate restaurants with the bar in the middle. To the left of the bar, you'll find the outside dining area. Or take a turn to the right to locate the indoor tables.
Much smaller than the outdoor space, there are about 10 tables available inside. As you can see from the picture above, half of these tables sit waterfront making them perfect for fireworks viewing. Compared to the outdoor theming and feel, this area felt drab.
Evening reservations may be difficult to find due to concert and fireworks dining packages being booked here.
Evening reservations may be difficult to find due to concert and fireworks dining packages.
Bar Area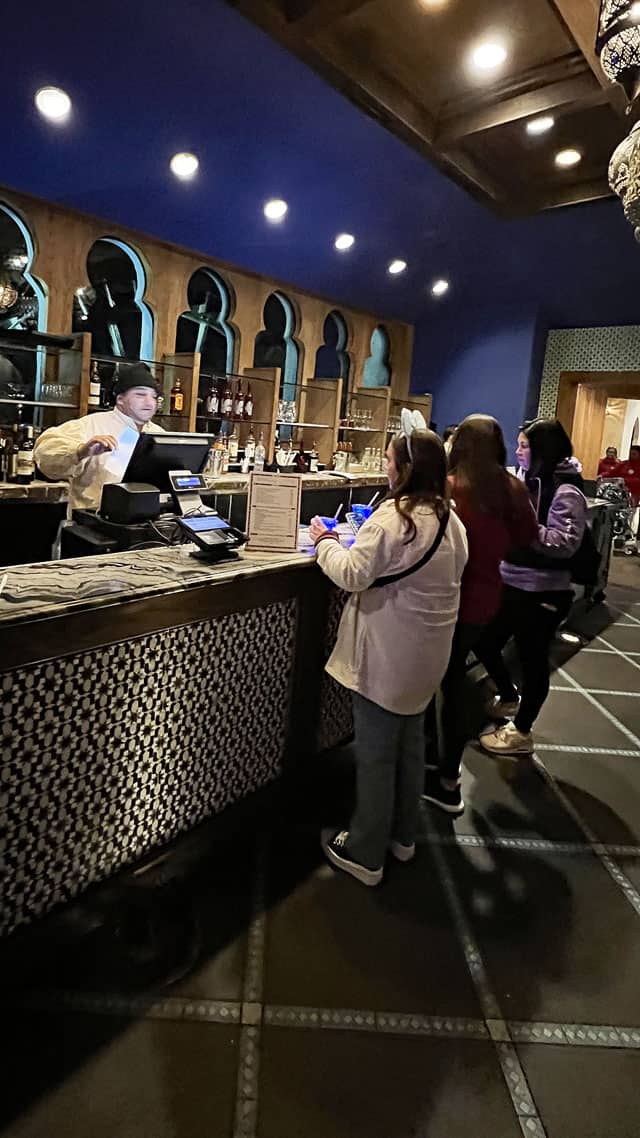 At the center of the restaurant is the large bar. Drinks are made fresh here and were top notch. There was a line to order drinks to go here also. I highly recommend giving them a try! They are so much better than most of the quick service drinks.
You can order drinks to go at Spice Road Table.
Menu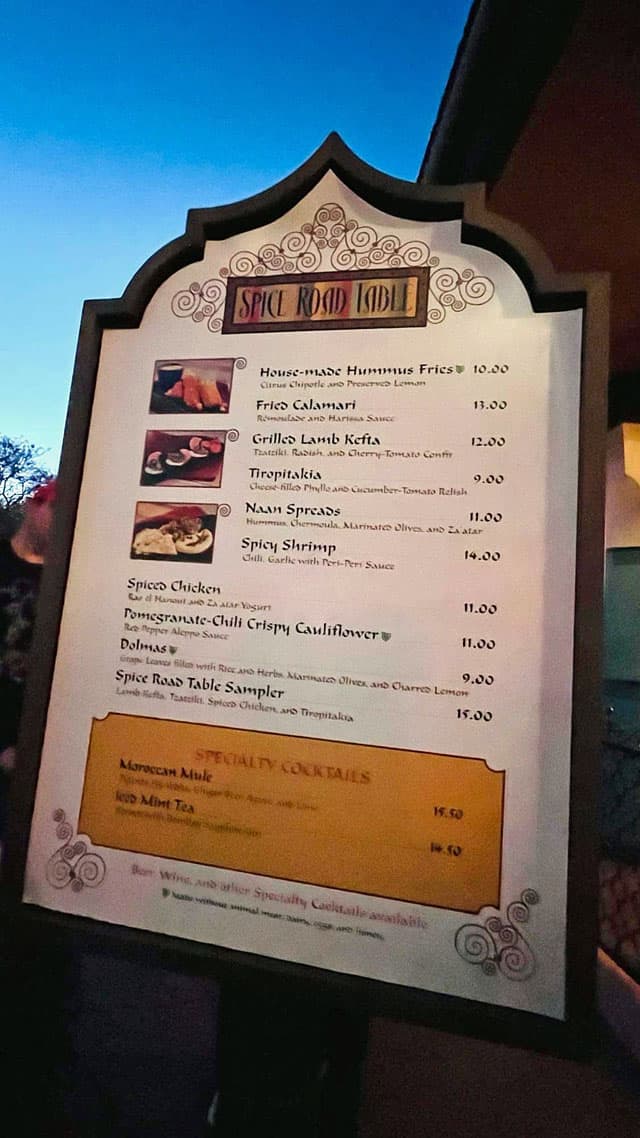 The menu consists of a variety small plates, including a dessert platter. Take a look at the reasonable priced dishes served at Spice Road Table:
House-made Hummus Fries Citrus Chipotle and Preserved Lemon (Plant-based) $10.00
Fried Calamari – Rémoulade and Harissa Sauce $13.00
Grilled Lamb Kefta -Tzatziki, Radish and Blistered Cherry Tomato $12.00
Tiropitakia – Cheese-filled Phyllo, Cucumber-Tomato Relish $9.00
Naan Spreads – Hummus, Chermoula, Marinated Olives, Za'atar $11.00
Spicy Shrimp – Chili, Garlic, Peri Peri Sauce $14.00
Pomegranate-Chili Crispy Cauliflower – Red Pepper Aleppo Sauce (Plant-based) $11.00
Spiced Chicken – Ras el Hanout, Mint Yogurt and Tabbouleh $11.00
Dolmas – Grape Leaves filled with Rice and Herbs, Marinated Olives, Charred Lemon (Plant-based) $9.00
Spice Road Table Sampler – Lamb Kefta, Spiced Chicken and Tiropitakia $15.00
Dessert Platter – Assorted Moroccan Pastries $10.00
What We Ordered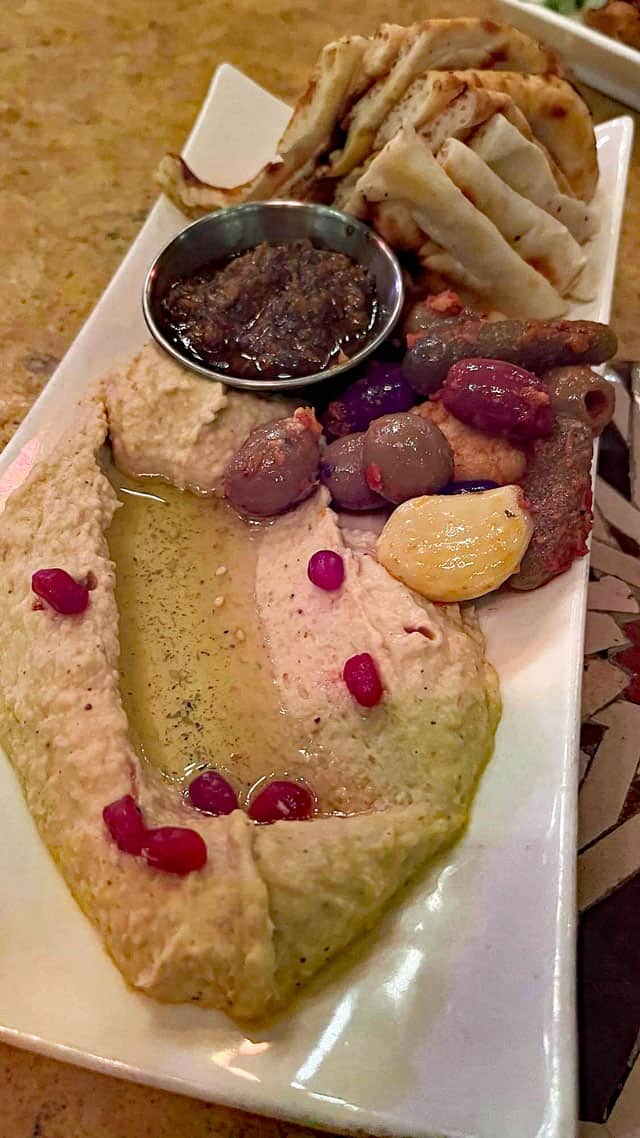 We (Susan & Maggie) loved being able to try multiple small plates. It made the evening more fun sampling new items. First, we ordered the Naan bread with spreads shown above. Both of us really enjoyed this dish.
The hummus and coriander based Chermoul bursted with fresh flavor. And the olives were were plump and tasty. However, the naan bread was pretty standard. If it had been house-made, this dish would have been a home run.
Small Plates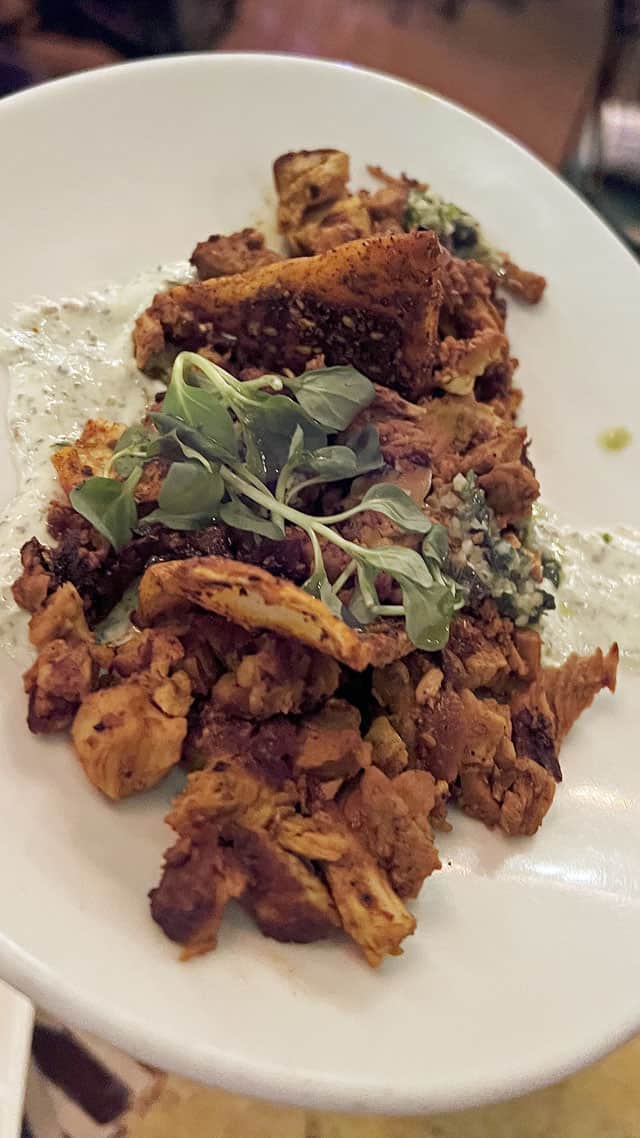 There is a difference between spiced and spicy food. Pictured above is the spiced chicken infused with Ras el Hanou (spice blend consisting cinnamon, cumin, coriander, allspice, salt, pepper, and ginger).
While the chicken lacked heat, it was incredibly tender and delicious. The addition of mint yogurt and tabbouleh along with the wonderful spice blend made this dish our favorite! I would definitely order it again.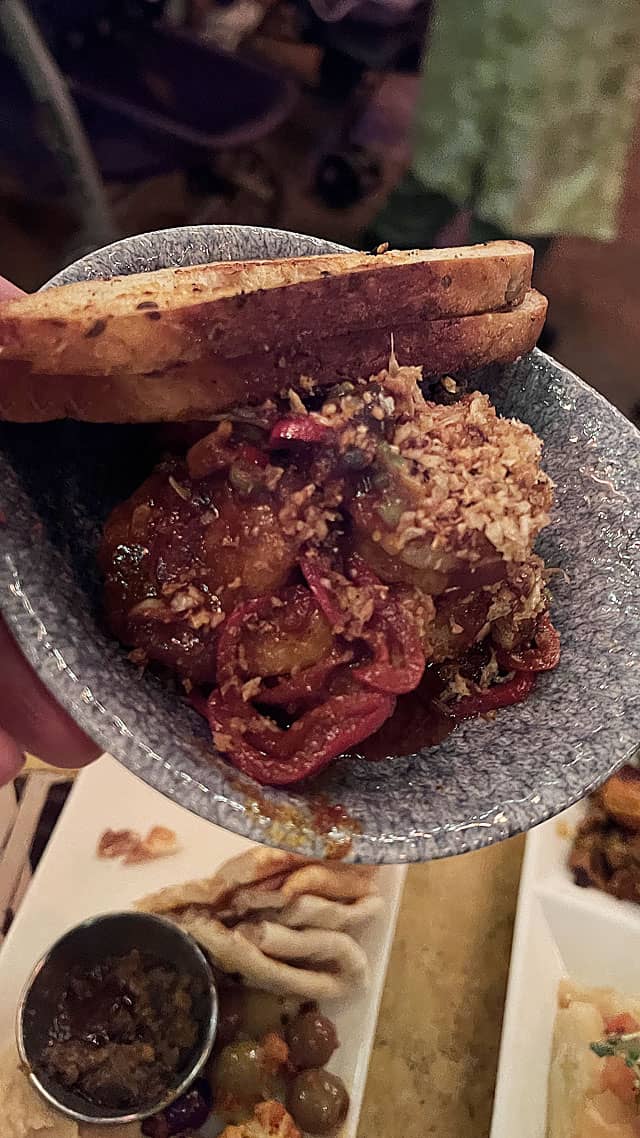 Shown above is the spicy shrimp served with cherry peppers, chili, garlic, and Peri Peri hot sauce. For some reason this dish took quite a bit longer to prepare. It arrived 20-25 minutes after our other small plates. If I had known this before ordering, I would have skipped it.
By the time it arrived, I was ready to move on to desserts. While the shrimp were large, I could only eat 2 of them due to it being so spicy. I rate this dish as hot rather than medium or mildly spicy.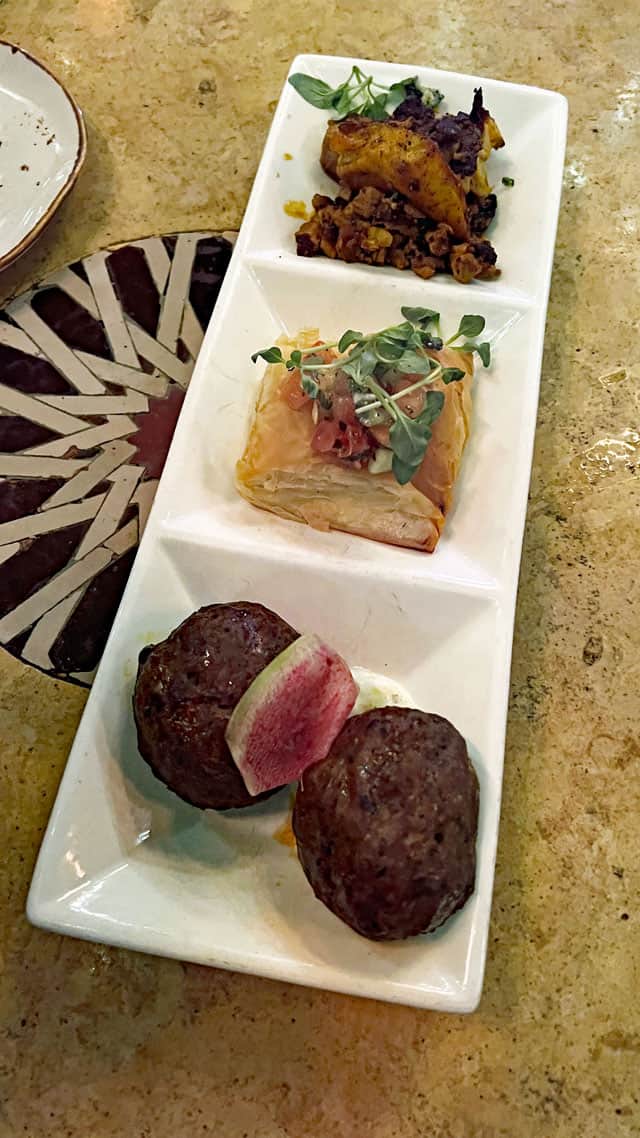 We also ordered the sampler with Tiropitakia, Spiced Chicken & Grilled Lamb Kefta. I wasn't familiar with Kefta before ordering and didn't really care for this item. The Kefta didn't have much flavor to it and I wouldn't order it again.
However, the Tiropitakia was flaky and light. While there wasn't much cheese filling the addition of the cucumber-tomato relish made this enjoyable.
Desserts
There is only one sweet choice here, the Morocco pastry dessert sampler. Our least favorite was the almond marzipan cookie. It was too dense and the only flavor was almond paste. Next, the Karydopita (spiced walnut cake) was overly spiced. I enjoyed a bite of it, but the cinnamon overpowered this cake.
Last, the baklava was our favorite! It was incredibly flaky and delectable. It's too bad you can't order this by itself. Note: There is a pastry window to the right of the restaurant serving individual Morocco pastries.
Service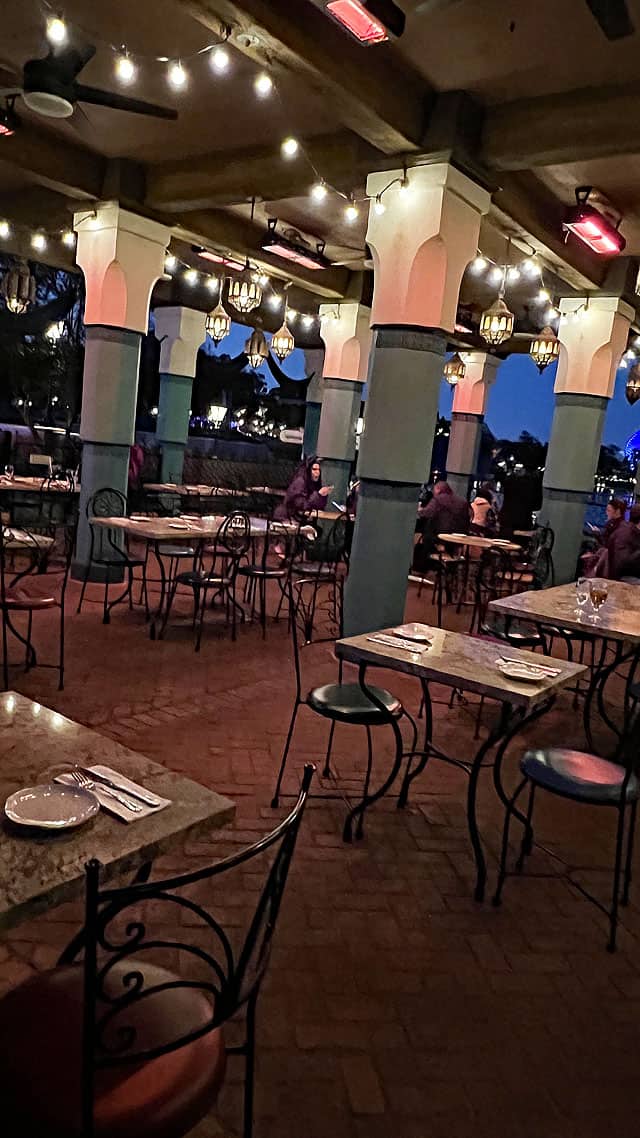 I was most disappointed about the lack of service we received. When we were seated, the waiter came over and asked if we were ready to order. We were not and asked for a few minutes to decide. A few minutes turned into 15-20 minutes for him to return. If I had not been wanting to review Spice Road Table, I would have probably left.
After taking our drink order, it was several more minutes before taking our food order. Not only was the service slow, but we rarely saw our server. If we spotted him, we had to call him over and let him know what we needed.
As a former server, I totally get when they get crazy busy and can't give the level of service they would like to. However, this was not the case that evening. While the inside was full, only 4 outside tables were used and there appeared to be ample wait staff.
Final Thoughts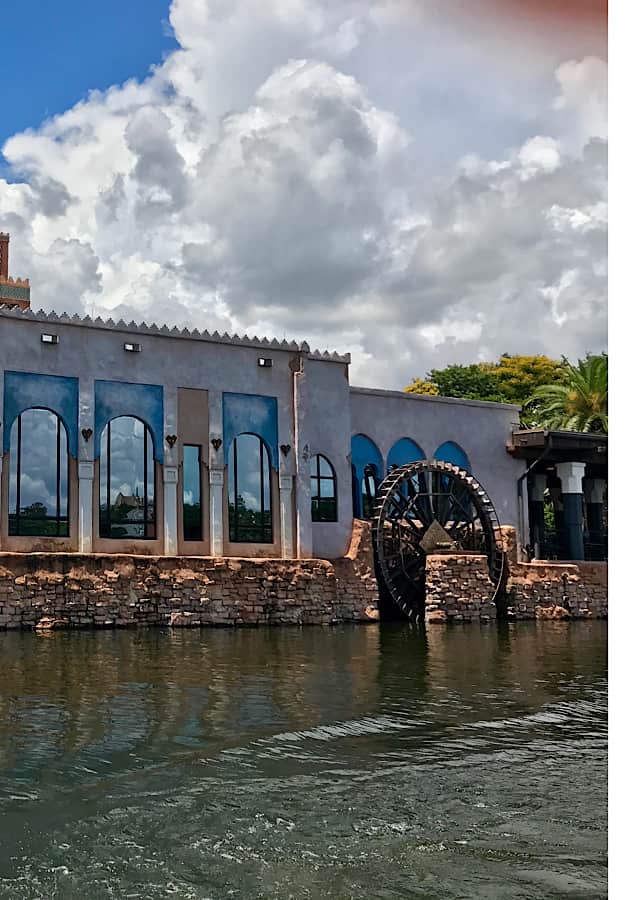 Our meal took close to 2 hours. I wasn't expecting that from a table service that served small plates. When I'm on vacation at Disney, time is limited, and I was disappointed at the service and time it took to eat here.
Not only that, but the food was hit-or-miss. Because of the food and service, I would probably not eat here again. There are better Mediterranean options at Disney.
There are better Mediterranean options at Disney.
If you're at EPCOT during one of its popular festivals, try the chicken skewers at the nearby Tangierine Café. They are delicious and super quick. While visiting Disney's Animal Kingdom, Yak & Yeti and Tusker House offer wonderful food and service. Or, try my favorite restaurants at Animal Kingdom Lodge, Sanaa and Boma breakfast or dinner. You can't go wrong with any of these choices!
Have you eaten at Spice Road Table? Or would you like to try it in the future? Please share your thoughts and worst restaurant experiences in the comments below and share this post with a friend.