Here is where you can find the most amazing Asian cuisine at Disney World in an authentic setting! The best part is you may not even need a reservation!
Yak and Yeti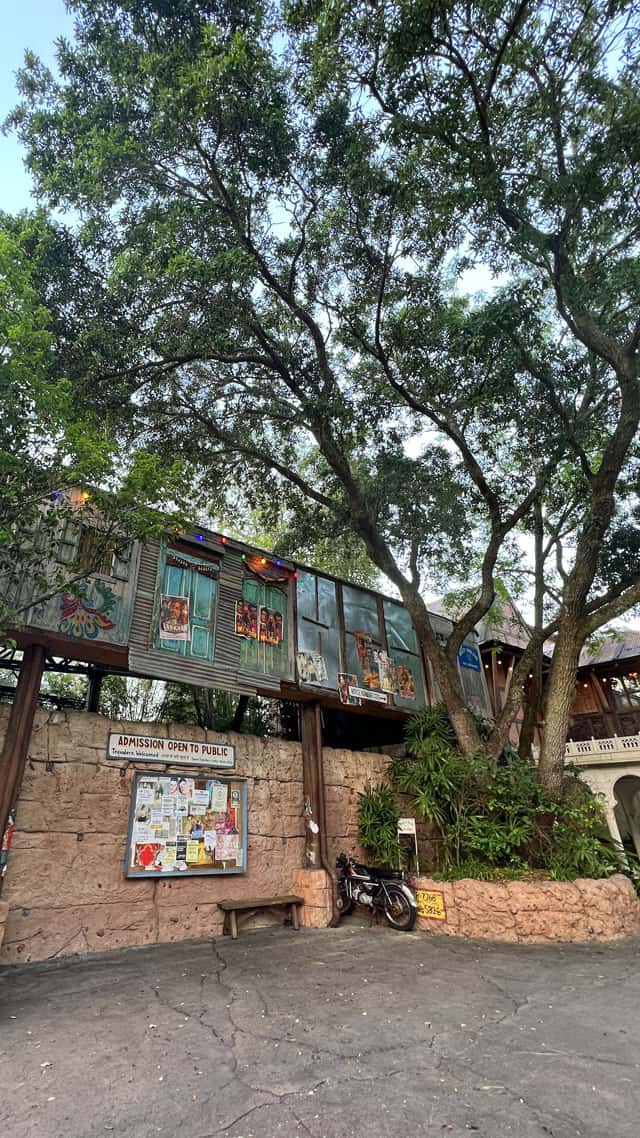 When visiting Disney World and getting in all those steps, do you work up an appetite? I (Susan) sure do! Although sometimes I prefer to grab a quick bite to eat, sometimes I need to take time and slow down at a table service location. On my last visit to Disney, I chose somewhere I've been wanting to visit for some time, Yak and Yeti.
To eat at Yak and Yeti, make your way to Disney's Animal Kingdom. Follow the signs to Asia. At the base of Expedition Everest, you'll find Yak and Yeti Restaurant, a table-service eatery serving dishes from various regions across Asia.
Check-in is located at the front inside of the restaurant. Here, cast members were friendly and helpful. We simply told them we had a Landry's Select Card (without a reservation). Then, they took my cell number and we received a text within a few minutes that our table was ready.
Theming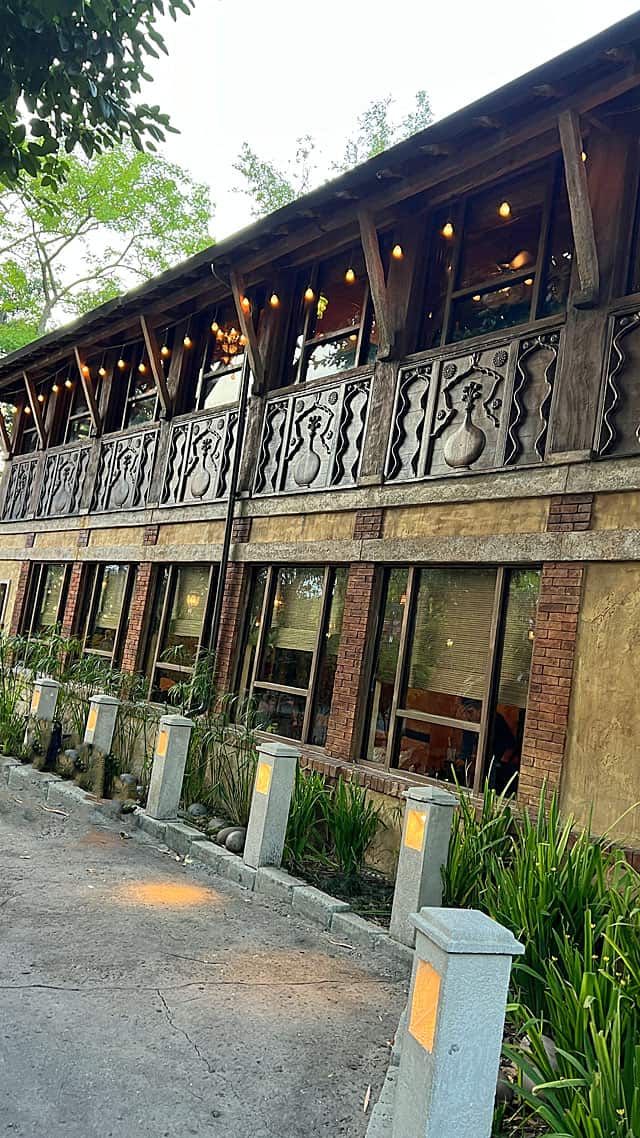 Here in the town of of Anandapur lives a rich merchant, Arjun, who has fallen on hard times and has turned his large home into the Yak and Yeti Hotel. The backstory here is that guests about to travel Mount Everest stop at this "hotel" to rest and refresh.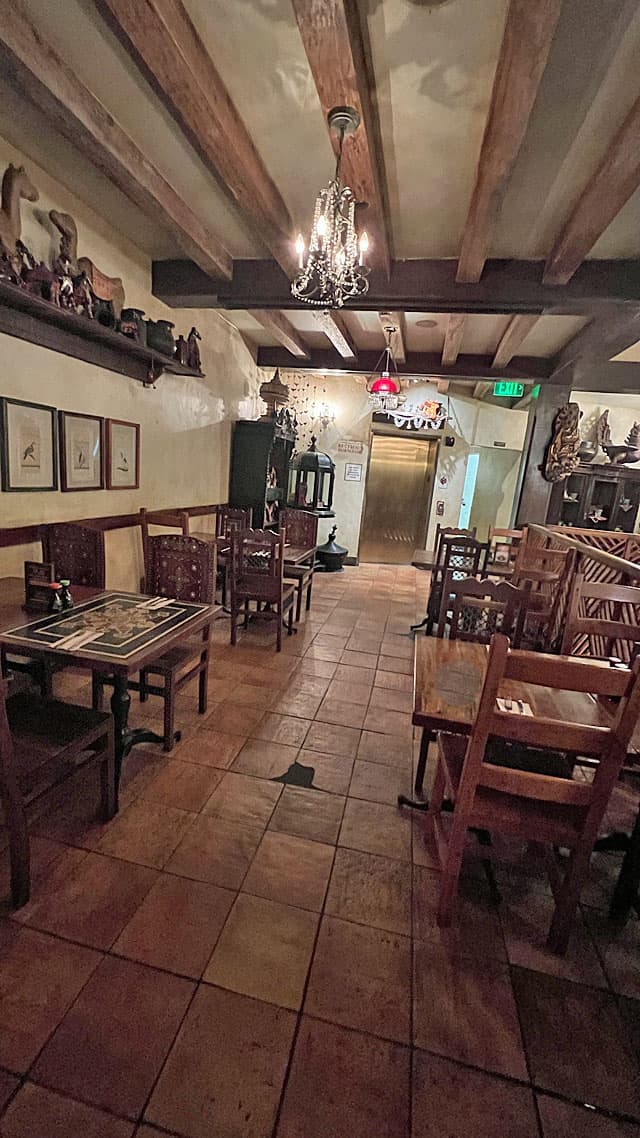 The décor as well as the furniture at Yak and Yeti includes mismatched artifacts Arjun has collected through his years of travel in Southeast Asia.  The theming here is some of the best in all of Disney World. You definitely won't feel like you're in a theme park!
There are two levels to the restaurant with multiple areas on each story. I was so impressed with the extensive theming in every area of this restaurant.
Menu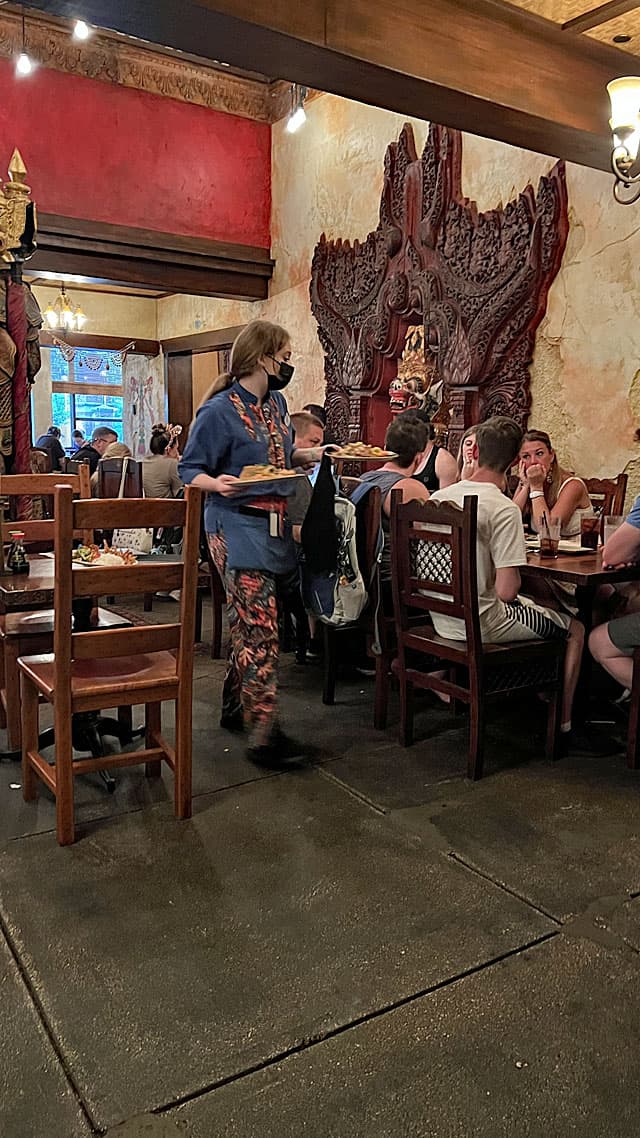 Decorated with the proprietor's collection of Southeast Asian artifacts, this eatery offers a menu of sweet-and-sour chicken, ahi tuna nachos, pork pot stickers and Kobe beef burgers. Not only that, but diners will find vegetarian options as well as kid-friendly choices like cheeseburgers and mac and cheese.
Unique alcoholic and non-alcoholic beverages include cocktails, chilled sake, Asian beers, wine and an assortment of hot teas. Those with exotic tastes might want to try a specialty drink from the full-service bar.
Be sure to save room for one of the sumptuous desserts like chocolate pudding cake, mango pie or fried wontons served with fresh pineapple and ice cream.
What We Ordered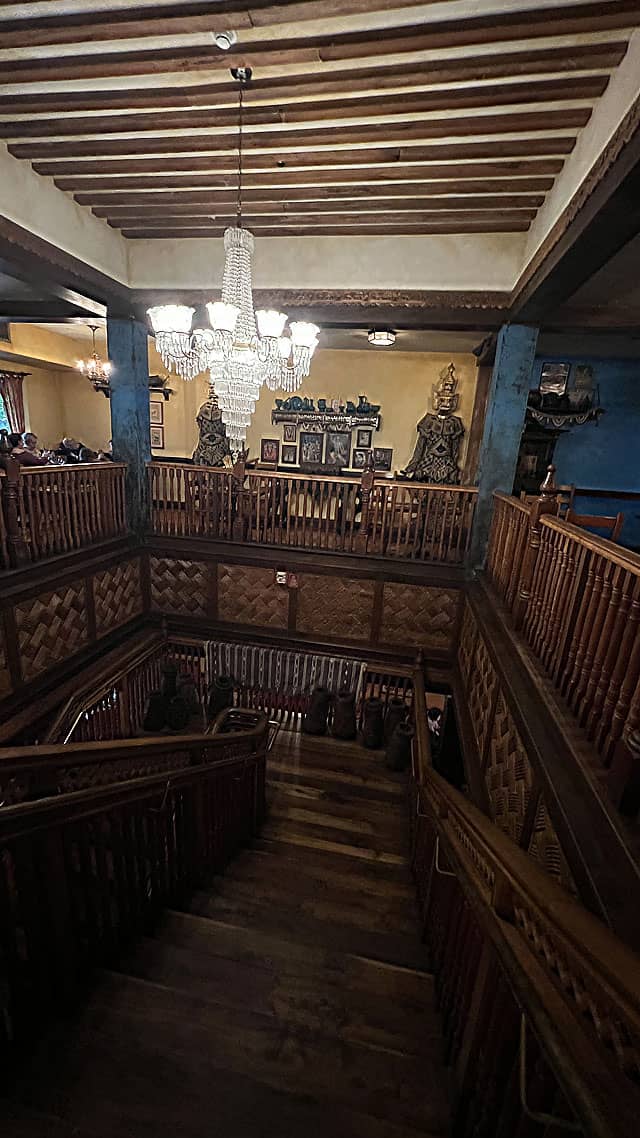 The menu here is extensive, making it hard to choose! See which items we chose below.
Appetizer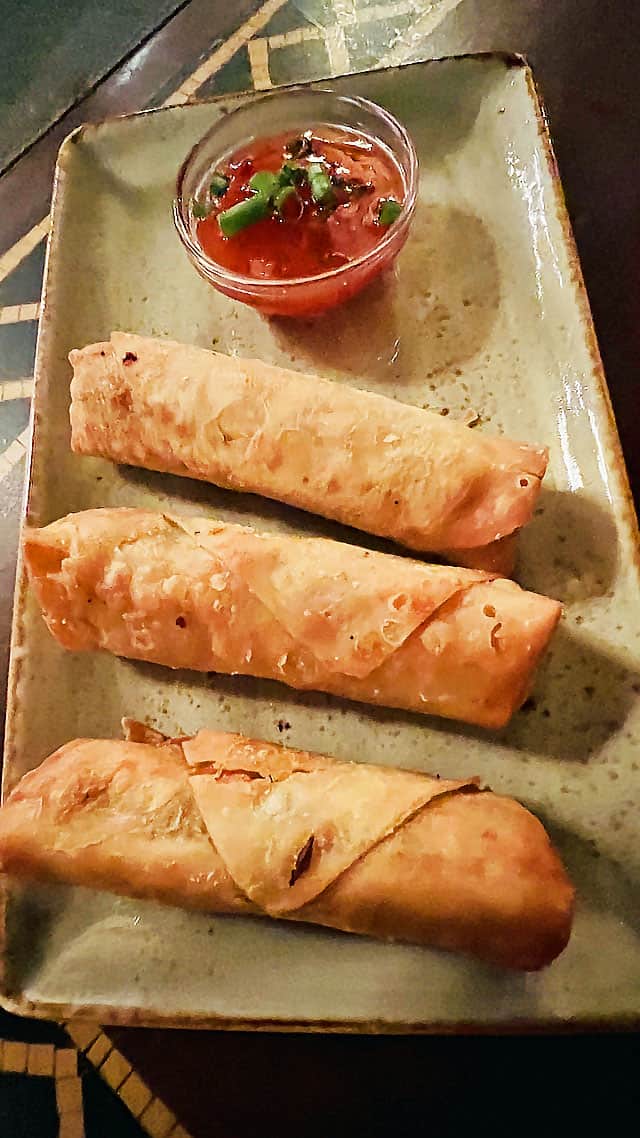 For our appetizer, we chose pork egg rolls. We received 3 generously sized egg rolls served with chili plum dipping sauce. Each egg roll was full of delicious pork and veggies.
Chicken Tikka Masala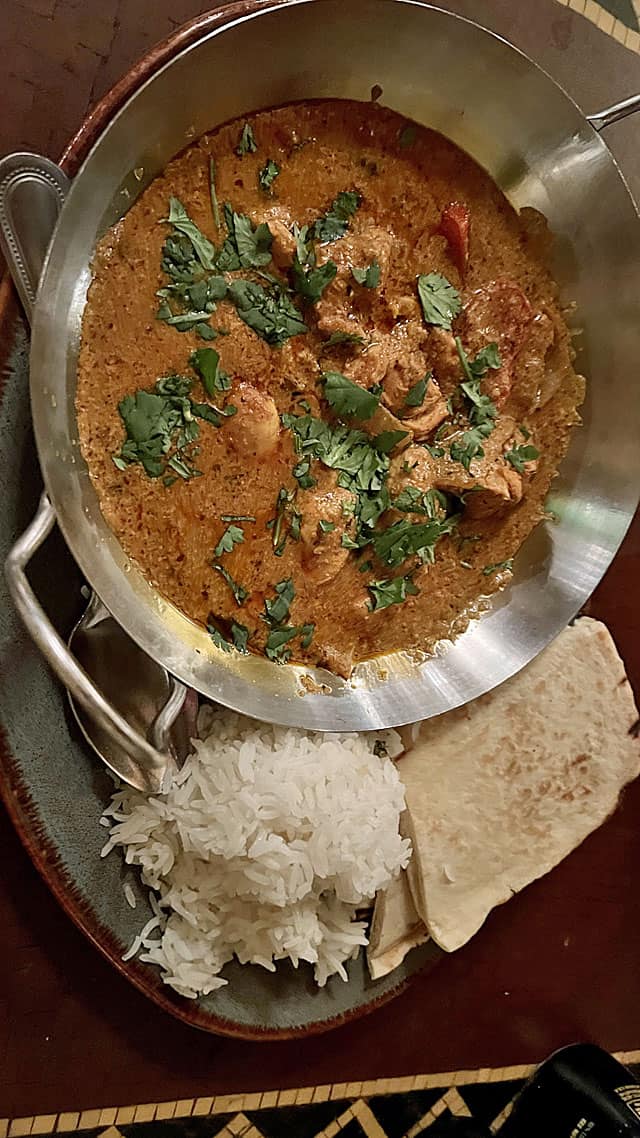 I absolutely love the dishes at Sanaa. At Yak and Yeti, I found a similar dish, Chicken Tikka Masala. It may not be evident from the picture above, but the portion was huge! Along with other Disney dining locations, this entree is easily sharable. Between the infusion of spices and slow-cooked chicken, the flavors were some of the best I've ever tasted.
This dish had boneless chicken breast marinated in yogurt and freshly ground herbs cooked in a traditional Masala sauce, jasmine rice, and garlic naan. Naan bread is simply the best!! And, dipped in the Masala sauce made its even better! The chicken was fork tender. However, the dish had a medium to medium-hot spice level. If you're not a fan of heat, please try something else.
Coconut Shrimp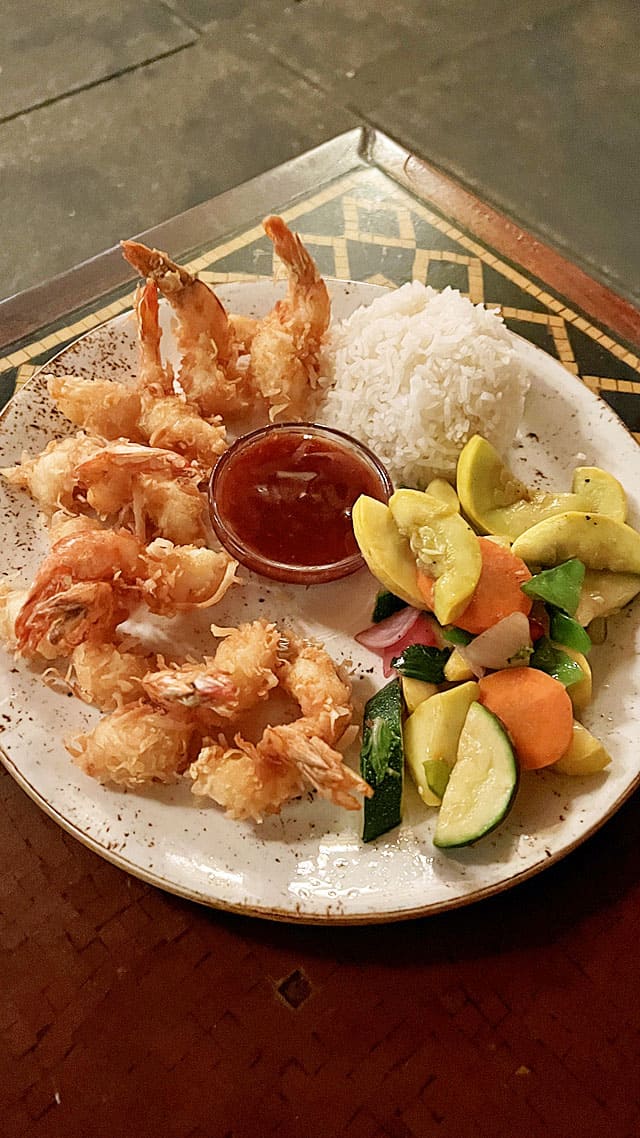 My friend ordered the fried coconut shrimp. The coconut crusted shrimp, jasmine rice, stir-fried vegetables served with plum barbeque sauce was delicious. Although the shrimp was fried, the coconut gave the shrimp a light and crunchy texture, and it was not at all heavy.
Additionally, the shrimp was fresh and abundant. My friend wasn't able to finish the dish due to the large portion. She enjoyed the plum barbecue sauce also. The veggies were nice, and I'm always a fan of jasmine rice. I'm not sure why, but it has such a better texture and flavor than other rice.
Dessert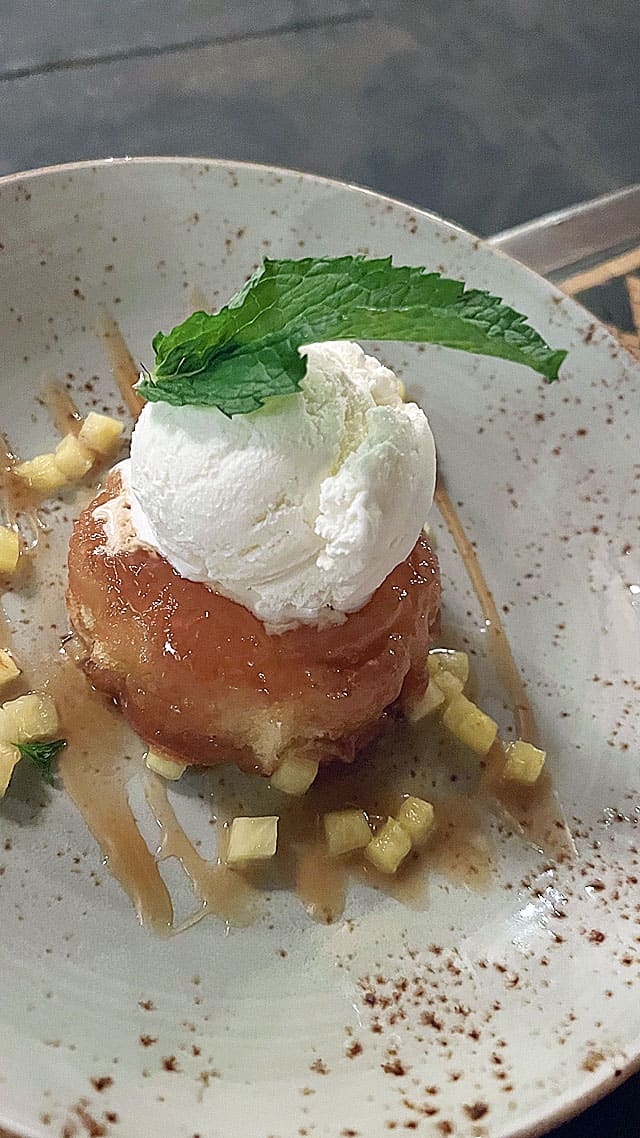 I was so stuffed after the first two courses but was determined to try dessert. I sure am glad I did! We tried the upside-down pineapple cake. What can I say about this dish, but OH MY! The cake melted in my mouth and the addition of ice cream and caramel sauce made this one of the absolute best desserts I've ever eaten.
How to Eat Here without Reservation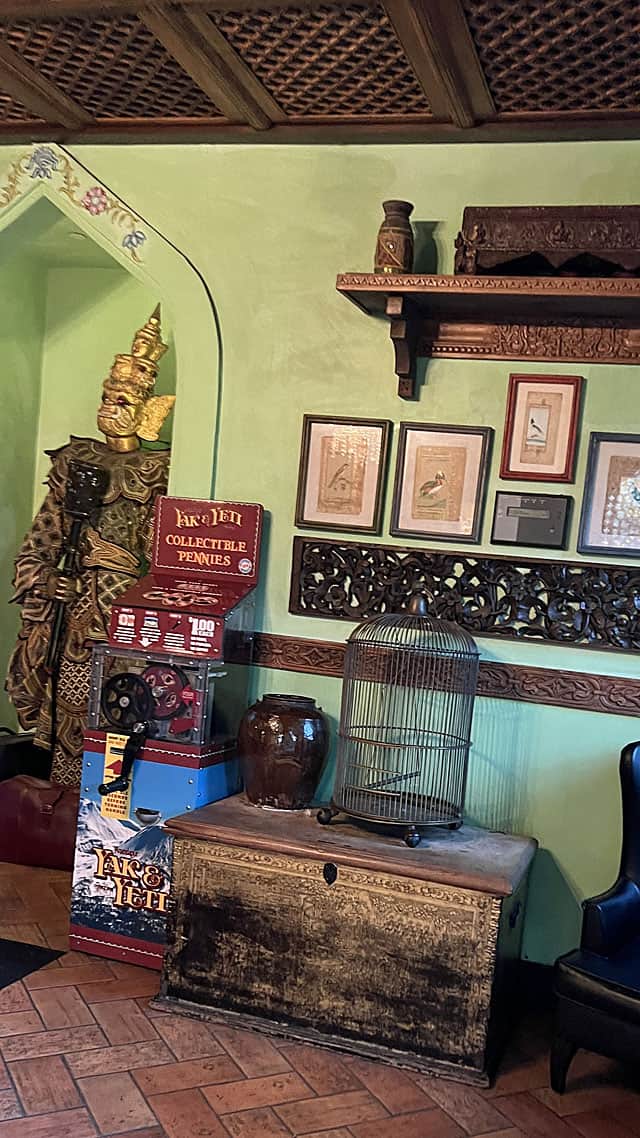 Like some of the other dining spots, Yak and Yeti isn't owned by Disney. It's owned by the Landry's restaurant group, which offers a card that can get you in Yak and Yeti without a reservation. This is a refreshing change to most Disney table service locations.
To join the Landry's Select Club costs $25. However, right after signing up, you'll be issued a $25 credit for any of the Landry locations. Not only that, but you'll also be given a $25 free birthday reward to use during your birthday month. To become a member of the Landry's Select Club, go to their website HERE.
Present your membership card to your server and earn 1 point for every $1 spent on eligible food, beverage, retail, and online and in-store gift card purchases at any participating location. When 250 points are earned, they are converted into a $25 REWARD.
Book an Event at Yak and Yeti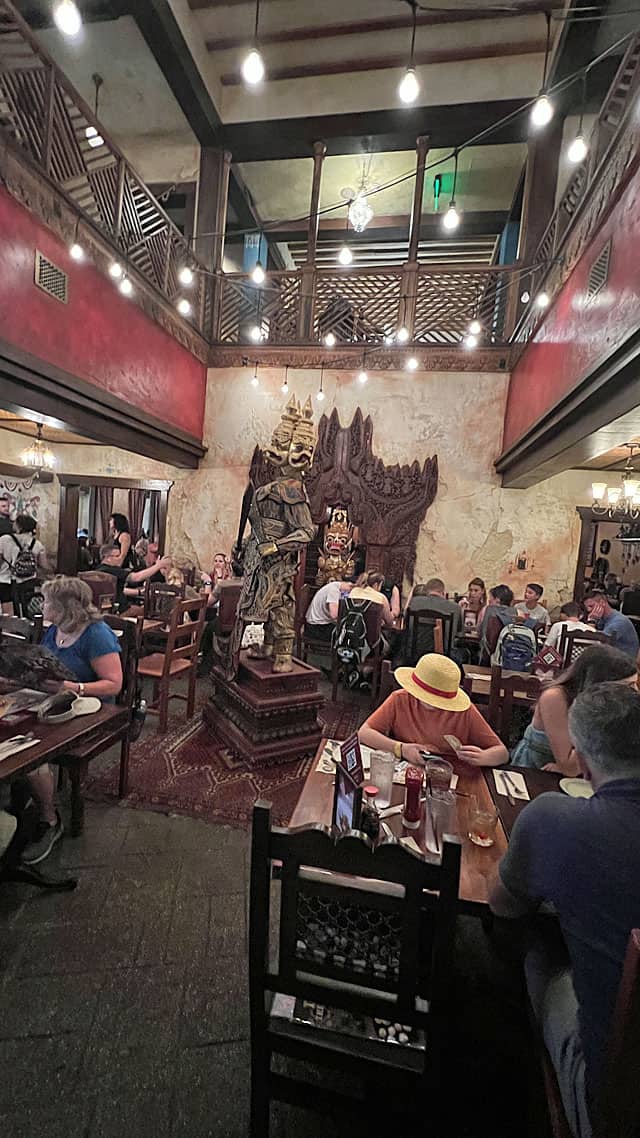 Let the team at Yak and Yeti create the perfect event for you! Whether you are looking for a private birthday party, company event or private dinner, Yak and Yeti has private dining areas to fit many needs. To do this, fill out a form HERE.
Final Thoughts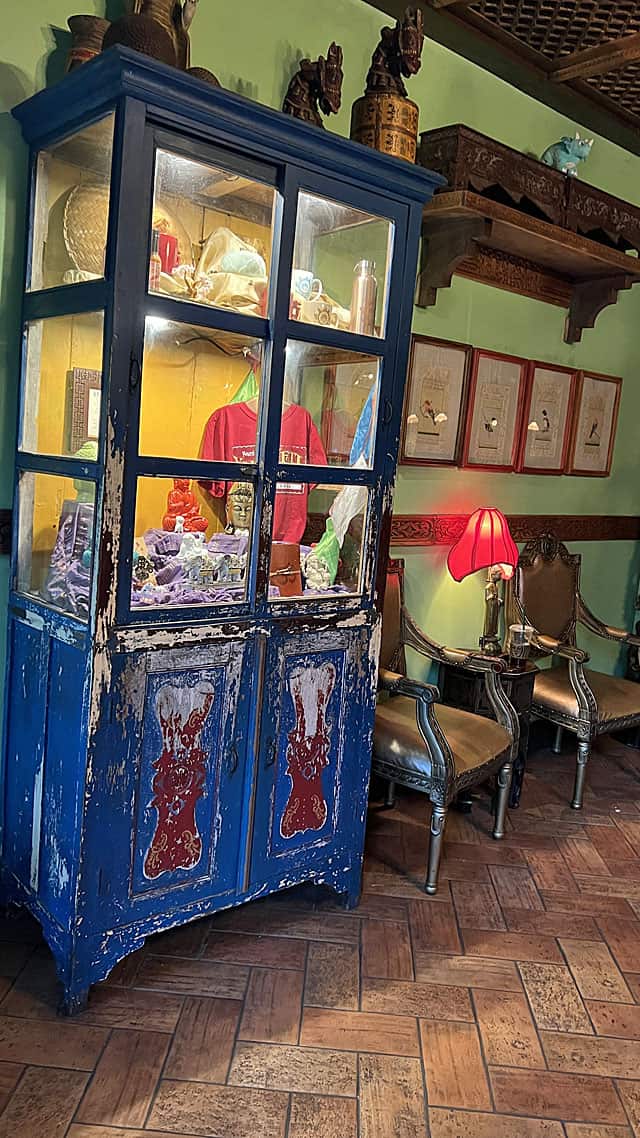 We were seated on the main level of the restaurant. However, I walked through the entire restaurant, including upstairs. Please check out the entire restaurant if you eat here. There are so many amazing areas here.
When my children were young, we enjoyed character meals. However, now that they're grown and I go on adult trips, I actively seek wonderful food at a decent price. And, I definitely found that at Yak and Yeti. The food, service, and theming are all top-notch here! I hope you'll give it a try on your next visit to Disney's Animal Kingdom.
If you can't get a reservation here, you can call the restaurant at try the restaurant's direct line at (407) 824-9384. There are also new menu items available here for a limited time. Check out Kate's review of these items HERE.
Have you eaten at Yak and Yeti? If so, did you like it? Or, would you like to try it in the future? Please let us know your thoughts in the comments below and on Facebook.