Tusker House offers a full buffet along with our favorite Disney pals, but is it worth the steep price tag?
Tusker House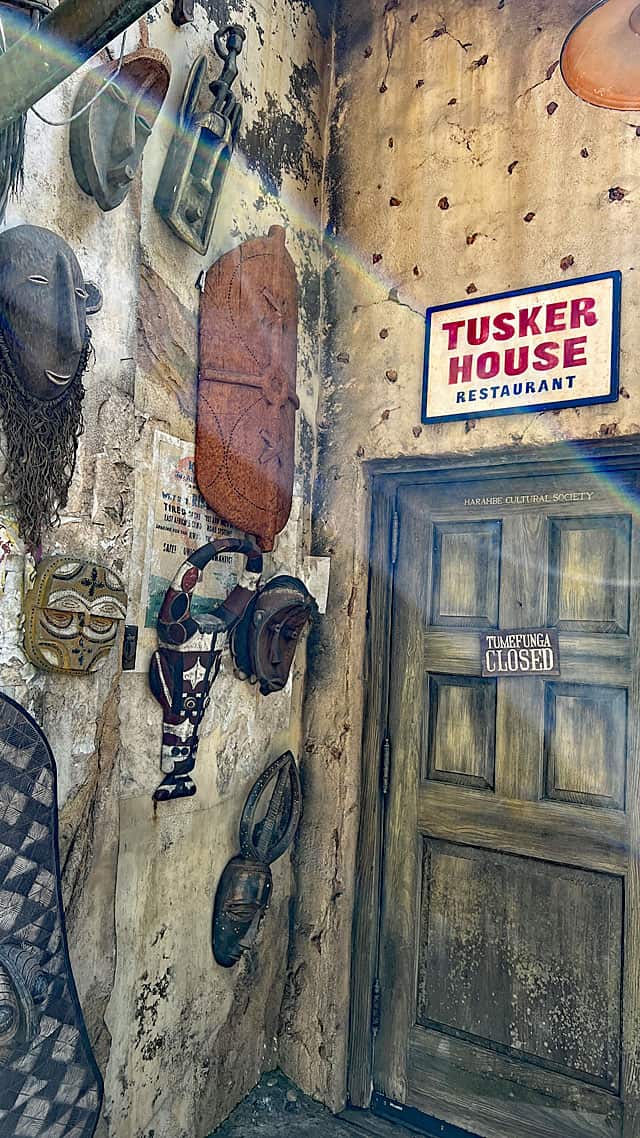 Tusker House is located at the Africa section of Disney's Animal Kingdom theme park close to the amazing performers. Look for the covered seating area to find the check-in location.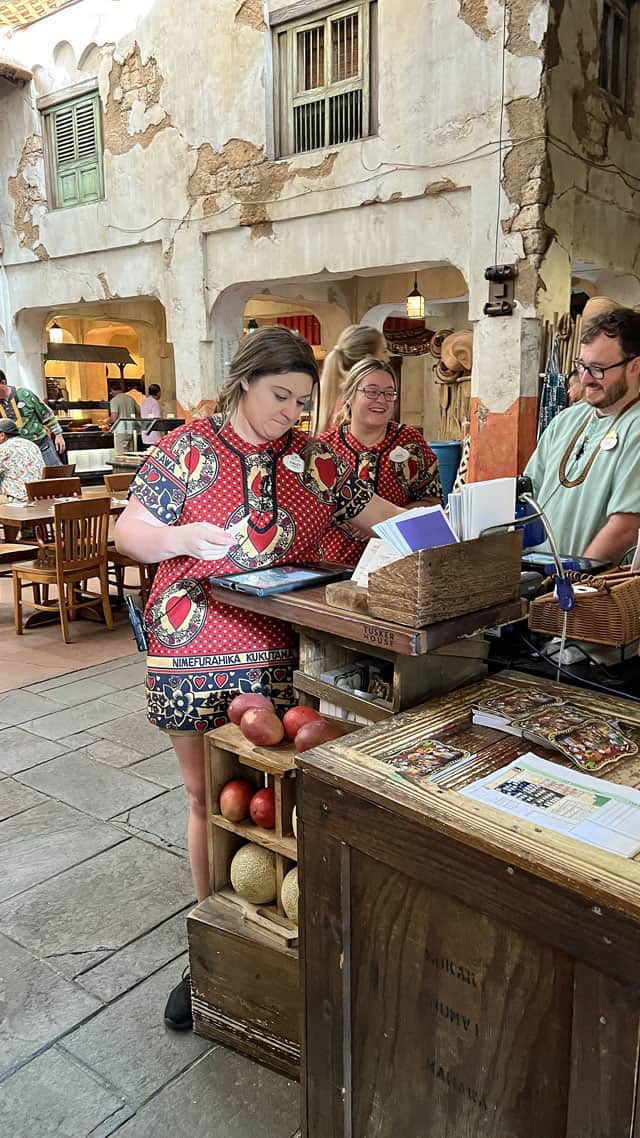 When you get close to the restaurant, check in using the My Disney Experience app. Here, you'll confirm your party size along with specifying any dietary needs. However, I highly recommend confirming this at the podium.
I recommend confirming dietary restrictions at the podium.
When you receive the notification that your table is ready, go to this podium towards the back of the covered seating area. From here, you'll be instructed to go to inside the restaurant to the host stand so they can walk you to your table.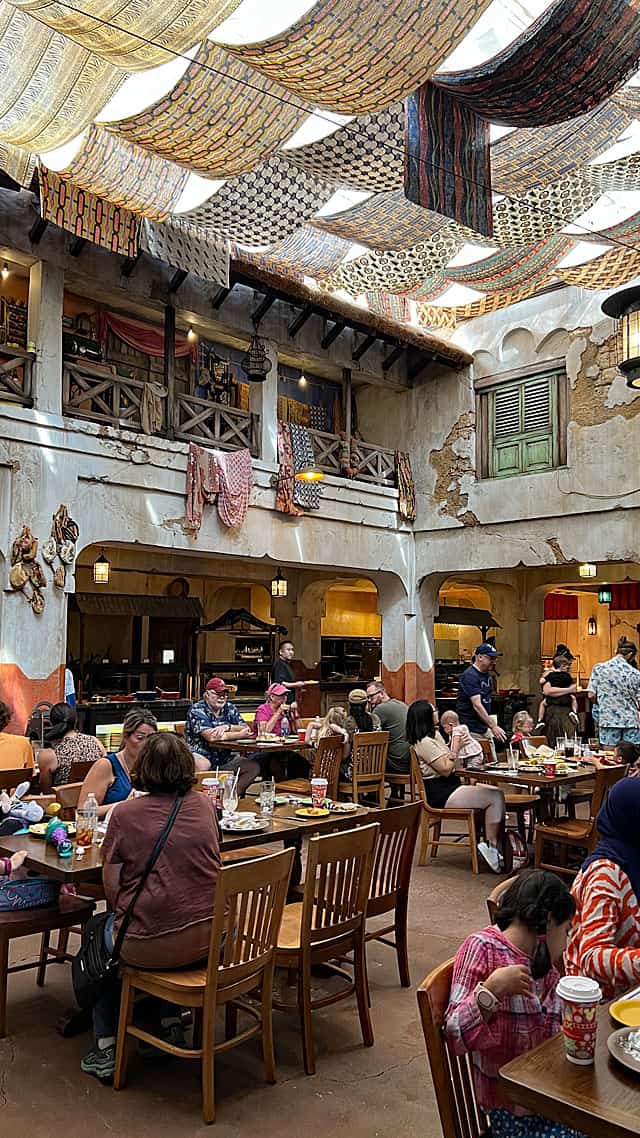 When entering Tusker House, you feel like you stepped into an open-air African market. This ties in well with the African theming found outside the restaurant.
Tusker House serves breakfast, lunch, and dinner. Breakfast food offerings are different than lunch and dinner, but the characters remain the same.
At Tusker House, the plentiful buffet offers favorites for breakfast, lunch and dinner. While you dine, snap a photo of your Disney friends as they travel throughout the dining rooms celebrating their latest expedition.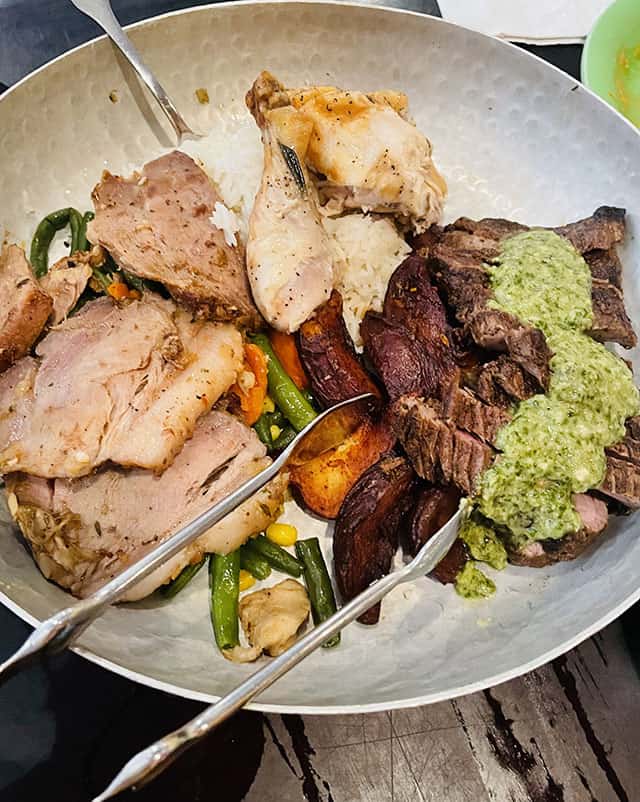 Food Offerings
When Tusker House re-opened, characters were present with social distancing, and the meal was family-style. We're so happy that the buffet recently returned!
The buffet recently returned to Tusker House!
Take a look at the everything served at Tusker House and let us know what you think.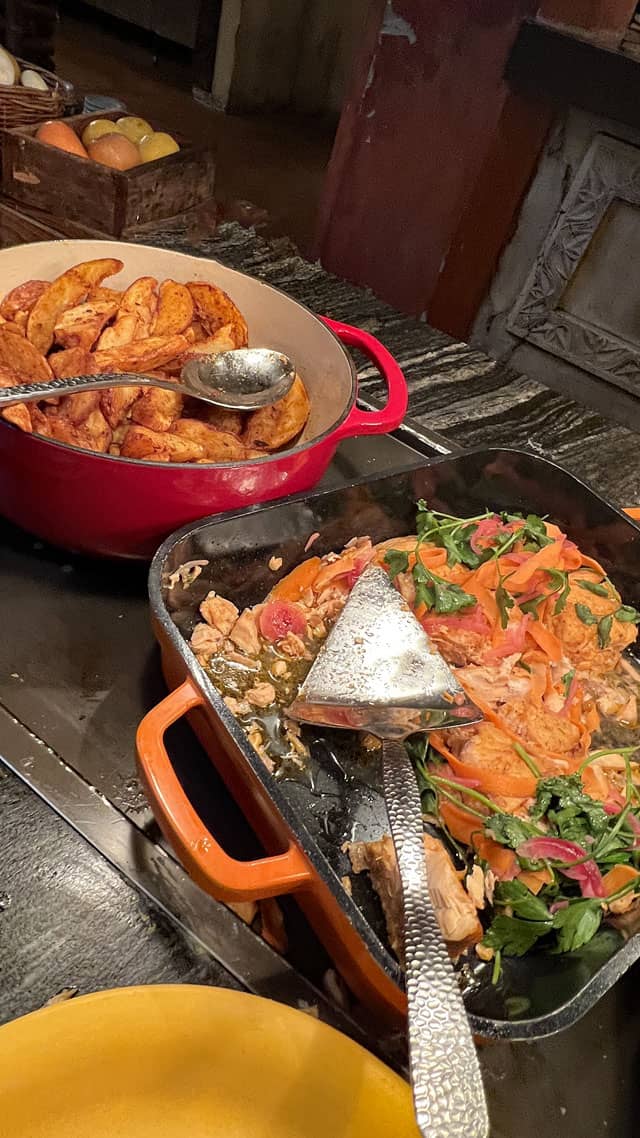 For breakfast, munch on Safari Bread, Mickey and Simba Waffles, and Durban Chicken and Egg Curry with Jasmine Rice. Lunch and dinner offerings include Moroccan-Spiced Beef, Berbere-Marinated Pork, Spit-Roasted Herb Chicken and Cape Malay Green Curry Shrimp and more.
Bread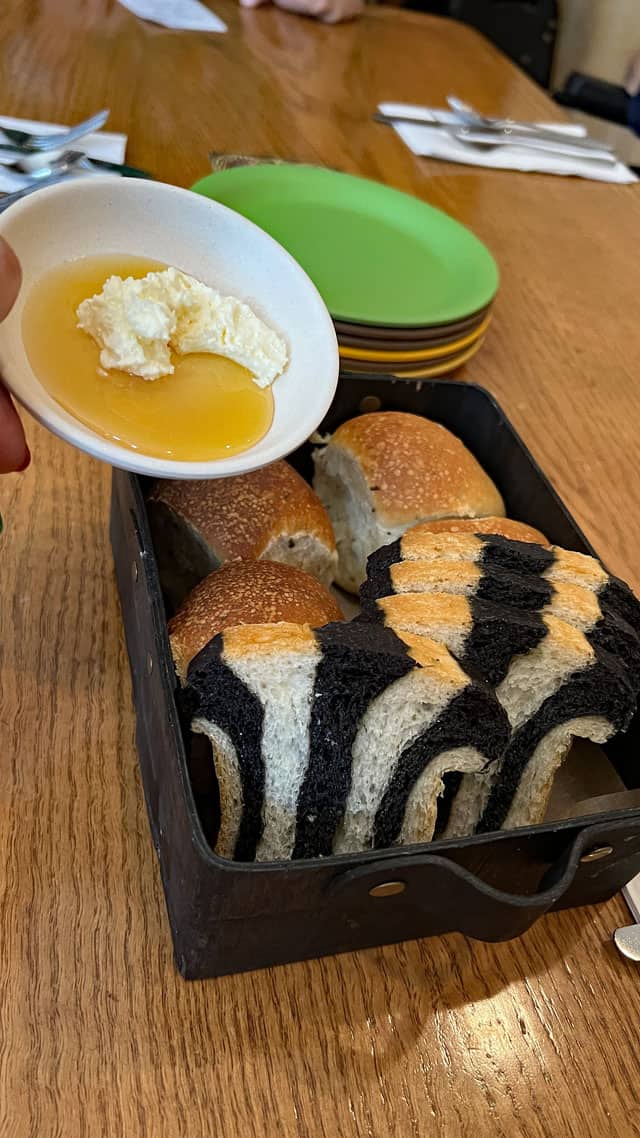 In addition to buffet offerings, you'll also receive a basket of Zebra Bread and Rosemary Honey rolls. And, there's soft butter drizzled with honey! While the Zebra Bread was fresh, it didn't have any flavors that popped.
However, the Rosemary Honey Rolls were amazing! The addition of rosemary was so delicious. Our table agreed this was our favorite bread at Tusker House.
The Honey-Rosemary rolls were amazing! Try them with the honey butter.
Bread served on the buffet may include the following:
Mini Zebra loaves
Honey-Rosemary rolls
Cornbread muffins
Naan Bread
Pappadum
Don't miss all of the wonderful sauces and dips. They go well with the bread and roasted chicken:
House-made Hummus
Mango Chutney
Coriander Chutney
Tzatziki sauce
Sweet and Spicy Mustard
Tandoori sauce
Be sure to sample all of the sauces to see which is your favorite. The Coriander Chutney is my (Susan) favorite sauce with the Naan bread.
Salads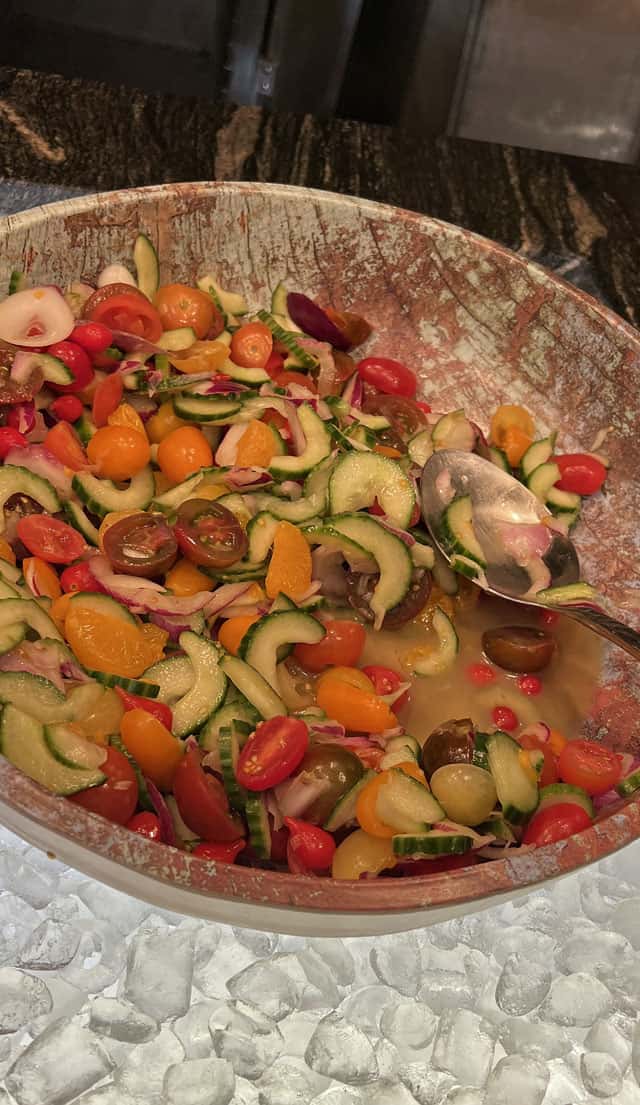 Traditional African dishes include a variety of herbs and spices that set it apart from other cuisines. Not only that, but unique vegetable combinations make these salads amazing.
The buffet features these salads:
Black-eyed Pea Salad
Kachumbari
Roasted Cauliflower Salad
Quinoa and chickpea Salad
Salad Greens with Toppings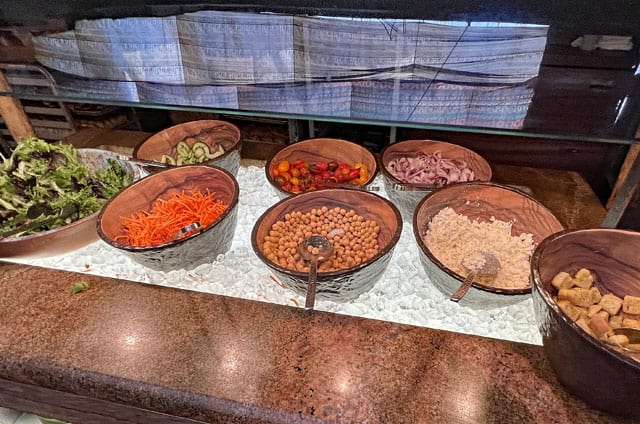 Salad dressings include House made Ranch, Sambal Vinaigrette, and Coconut Curry Vinaigrette.
Soups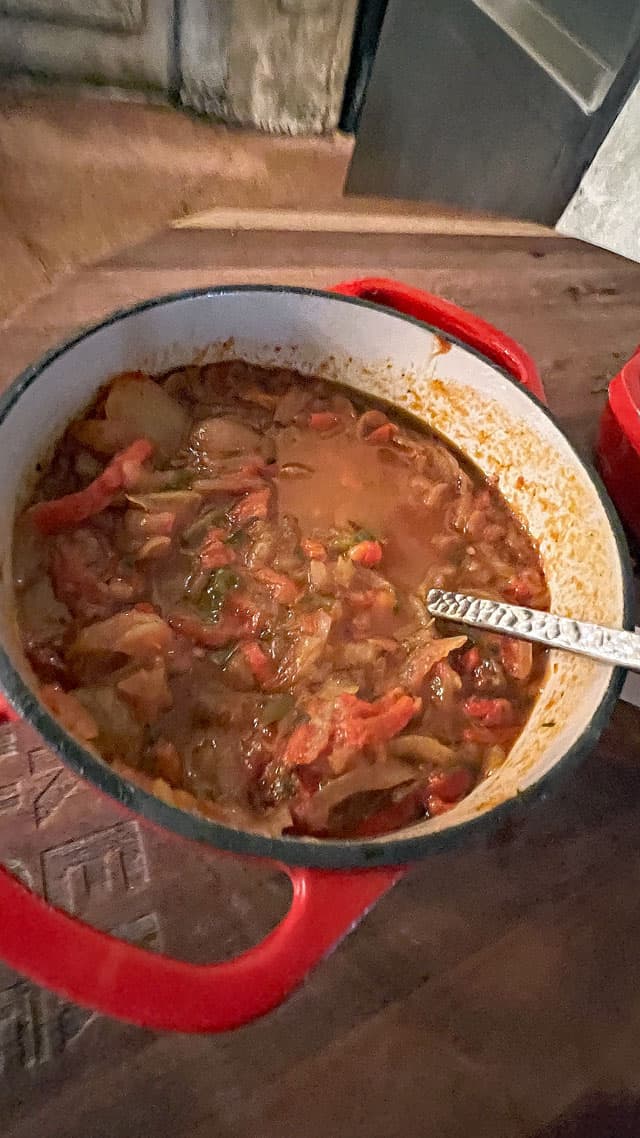 African soups are cooked for a long period of time allowing everything to blend together. This process gives the soup an amazing depth of various flavors.Take a look at the soups offered during our meal:
Soups at Tusker House have an amazing depth of flavors!
Harira is a zesty, fragrant tomato-based soup with chickpeas, lentils, and is plant based. It's seasoned with ginger, pepper, cinnamon and fresh herbs.
Sides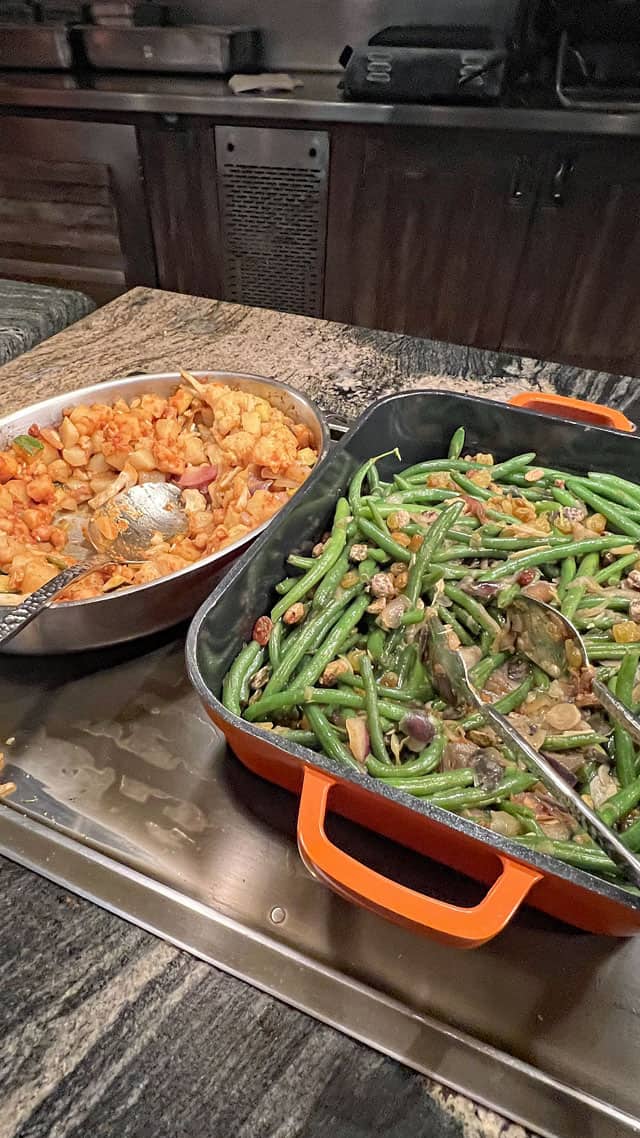 Sides here combine a blend of African dishes with more traditional items allowing everyone to enjoy something.
Feisty Green Beans
Jasmine Rice
Roasted Potatoes
House-made Macaroni & Cheese
The house-made Macaroni & Cheese was creamy and a favorite in our group.
Entrees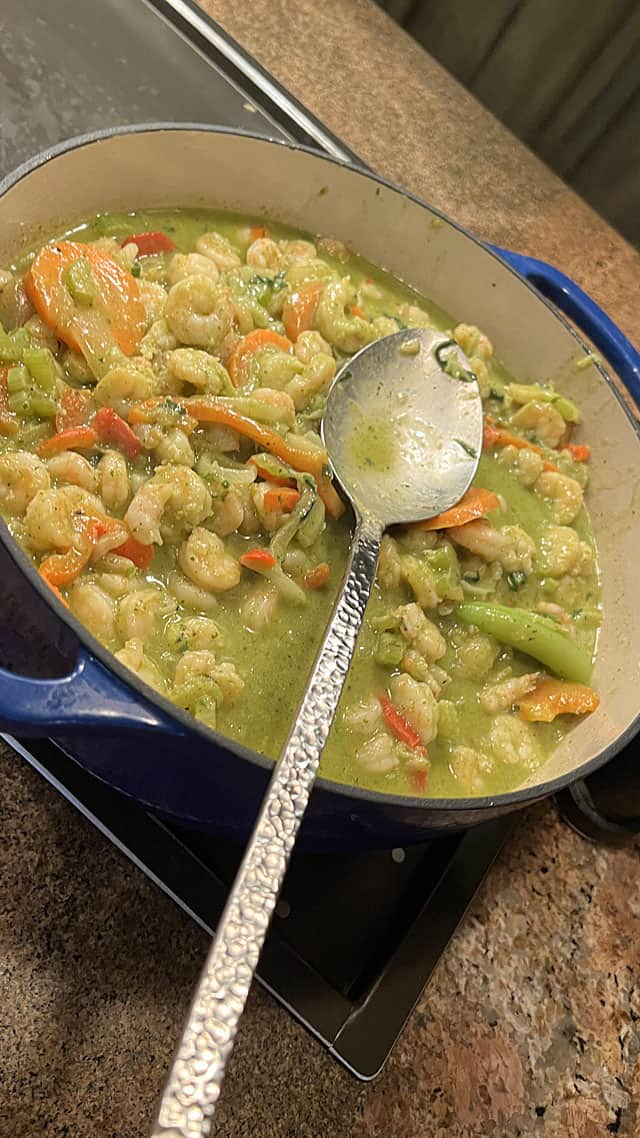 I never realized how much I love dishes with curry in them until I ate dinner at Sanaa. Take a look at the Green Curry Shrimp above – so delicious! This is one of my favorites and didn't have spice to it like some African dishes.
Don't miss these main dishes served at Tusker House:
Spit-roasted Tandoori Chicken
Berbere-marinated Pork
Green Curry Shrimp
Chicken Curry
Za'tar Braised Beef
Chermoula Salmon Filets
Another not-to-be missed item is the spit-roasted chicken shown above. My mouth is watering just thinking about it! Please try it with the Tandoori sauce. The Tandoori sauce does have a bit of kick to it though.
The spit-roasted chicken is perfect for those not wanting spice or sauce added.
Plant-Based Dishes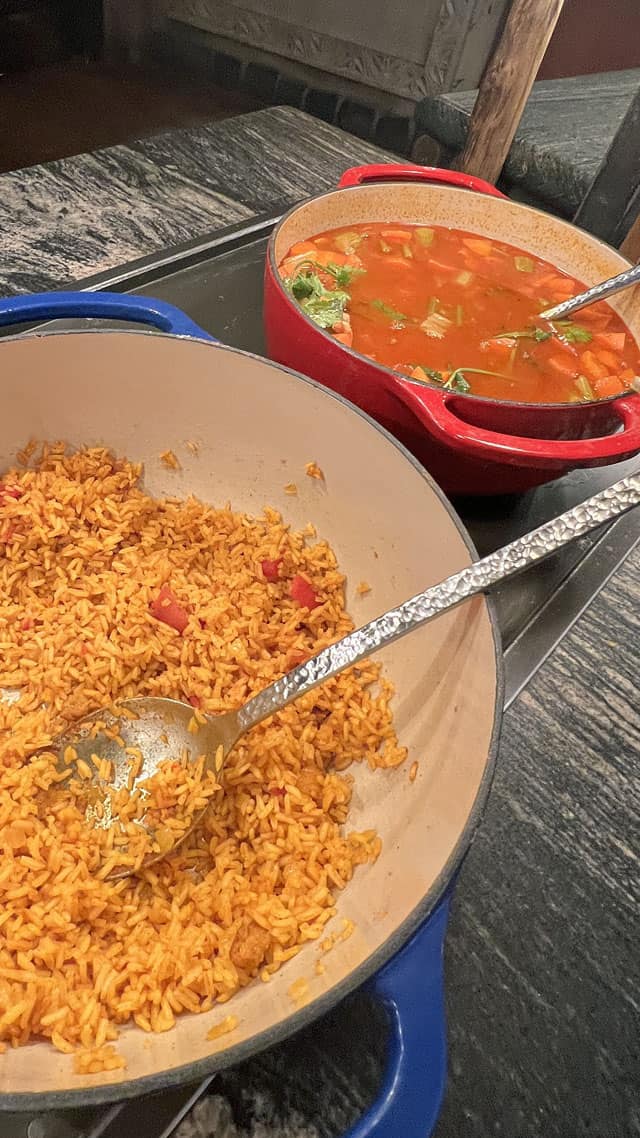 African cuisine naturally lends itself to wonderful plant-based dishes. Here is what you may find during your meal:
Plant-based Jollof Rice with Beyond Sausage
Roasted Root Vegetables
Mashed Potatoes
Feisty Green Beans
Cauliflower Bunny Chow
Doro Wat Chicken Curry
Jasmine rice
Children's Area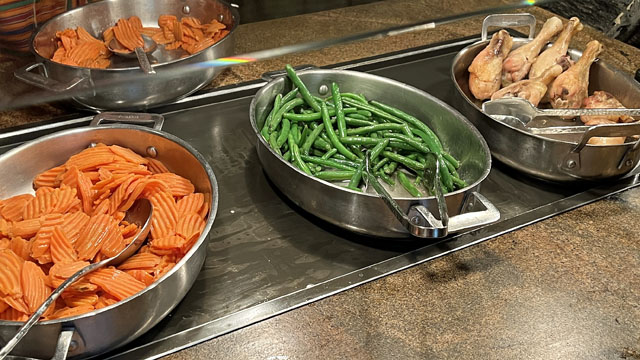 Kids of all ages can enjoy American fare here also. These are appreciated by those who prefer less adventurous options:
Corn Dog Nuggets
Macaroni and Cheese
Chicken Legs
Green Beans
Mashed Potatoes
Be sure to show your children this area to satisfy their hunger!
Desserts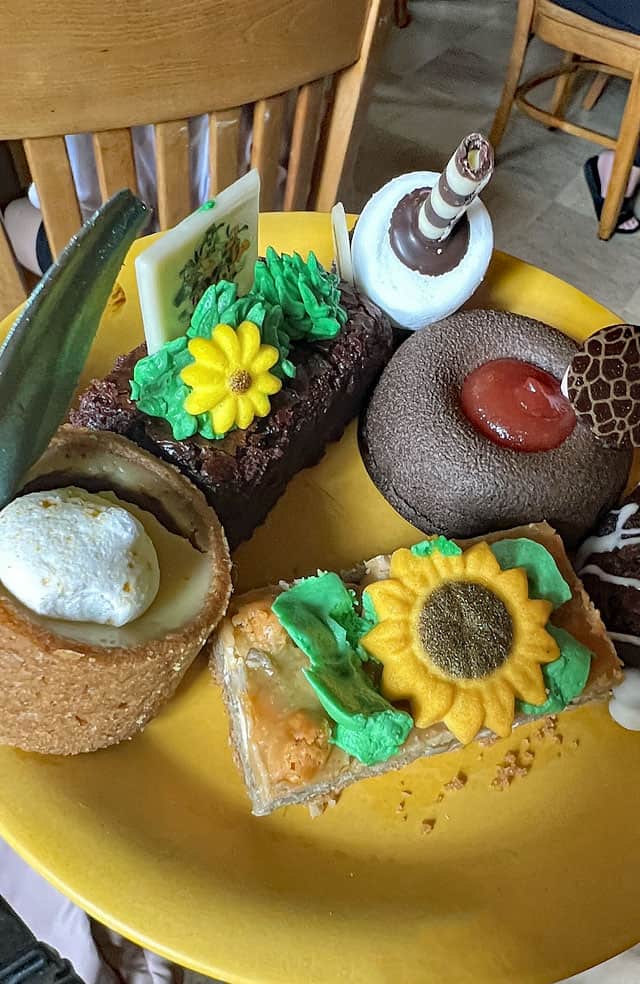 How can you go wrong with so many dessert options? Desserts may change from time to time, but there's one constant, you're bound to find something you love! Just take a look at the wide variety:
Baby Flamingo Cupcakes
Baby Bee Cupcakes
Double-Chocolate Zebra Cookies
Fab Five Safari Brownie
S'mores Pop
Plant-based Chocolate Mousse
Fresh Fruit Salad
The plant-based Chocolate Mousse was extra creamy and one of our favorites. The cupcakes were pretty, but just standard Disney cupcakes, nothing special.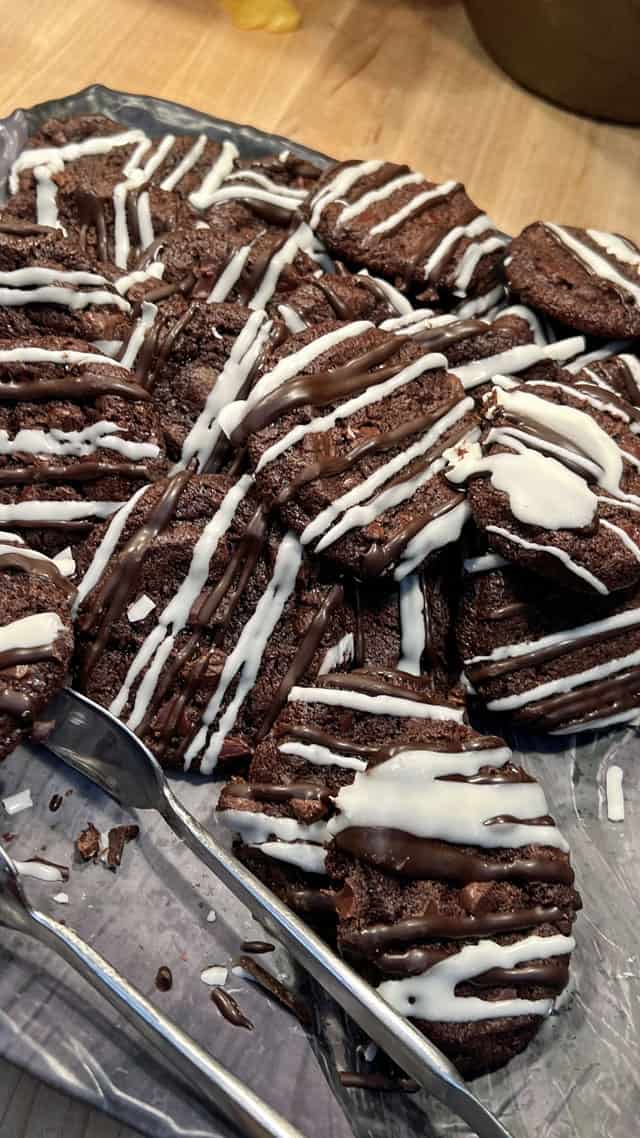 Our favorite item was the Double Chocolate Zebra Cookies! They had so much chocolate goodness and just the right amount of crispiness and softness. You may find yourself going back for more!
The Double Chocolate Zebra Cookies topped our dessert list.
Service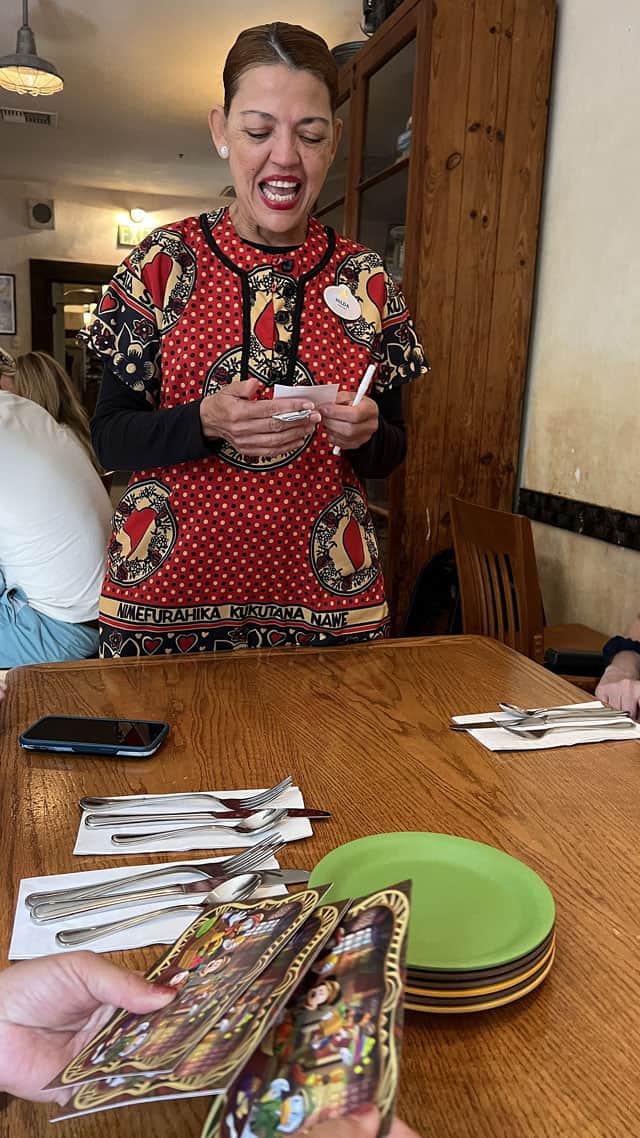 While service is a bit different at a buffet, it's still an important part of your experience. We were seated by a cheerful hostess who explained the buffet, characters, and asked if we had any questions.
Our server kept our drinks full, plates cleared off the table, and gave us tips on when characters would arrive. We were very pleased with our service.
Characters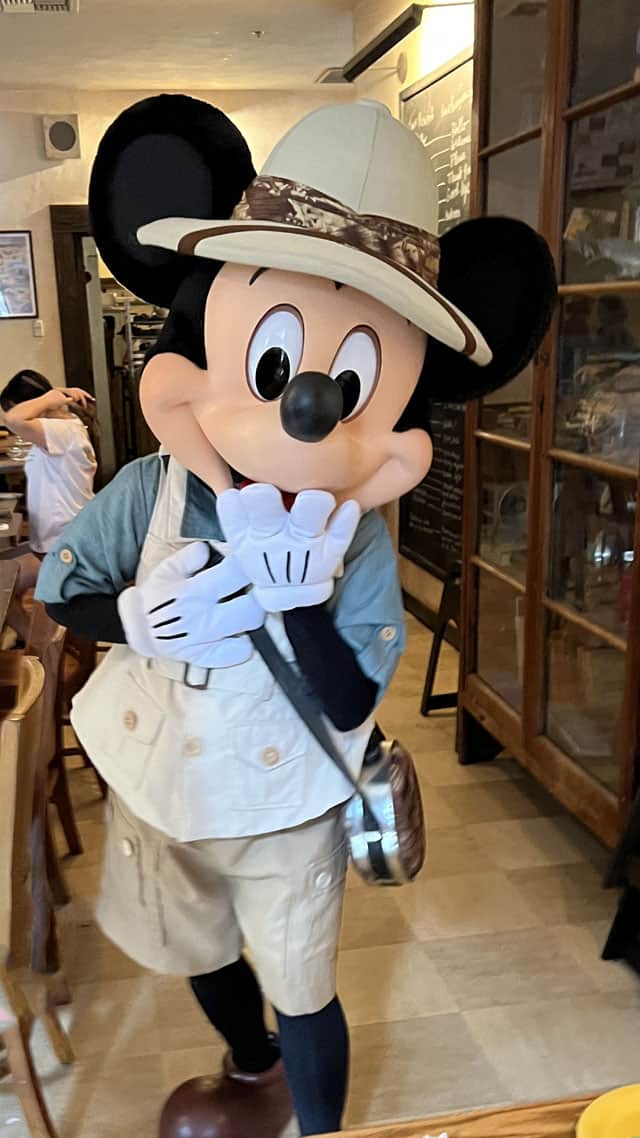 Oh my goodness! Characters are adorable here decked out in their safari gear. Character interactions were really great! Each one allowed us to pose with them for several pictures. Some even came around twice!
Pirate tip: For the best photos, have the person taking the shots stand up.
At Tusker House, you'll see Mickey Mouse, Goofy, Donald, and Daisy. Characters may sign for you, and children are given autograph cards. Adults can get them too, just ask your server.
Final Thoughts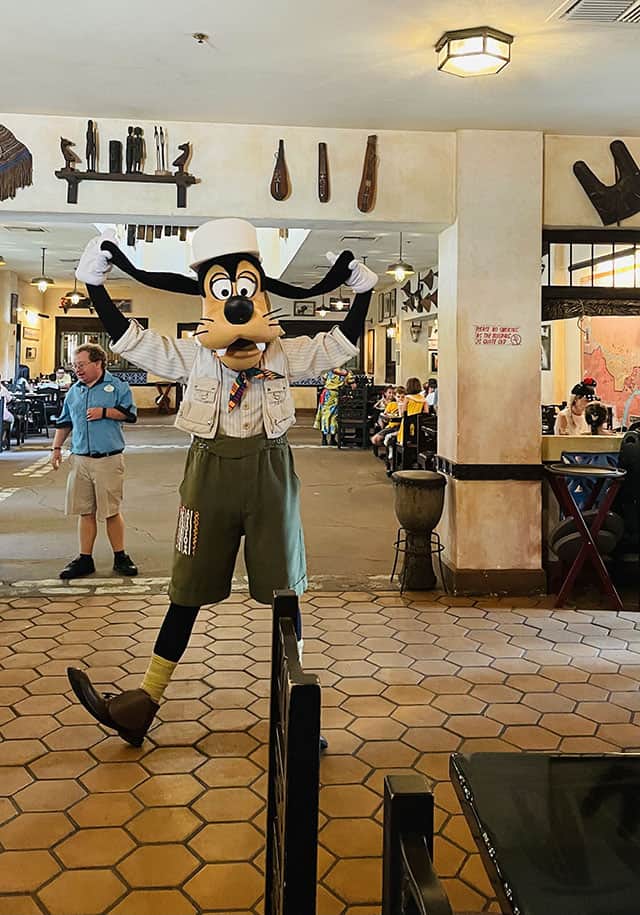 Like other Disney character meals, Tusker House is on the pricey side. However, between the exceptional food, fun characters, and personable service, it was worth it for us! We would definitely go back.
If you're wanting to try a mix of Indian and African cuisine, try Yak & Yeti located in Asia at Disney's Animal Kingdom. There are no characters, but it's also less expensive and top notch food.
The exceptional food, fun characters, and personable service made it worth the steep price tag.
We never felt rushed and thoroughly enjoyed our meal. Although the main dining area can get a bit noisy, we were seated in a side room which was much more quiet. If anyone in your party has noise sensitivities or you prefer a quieter room, let them know at the outside podium.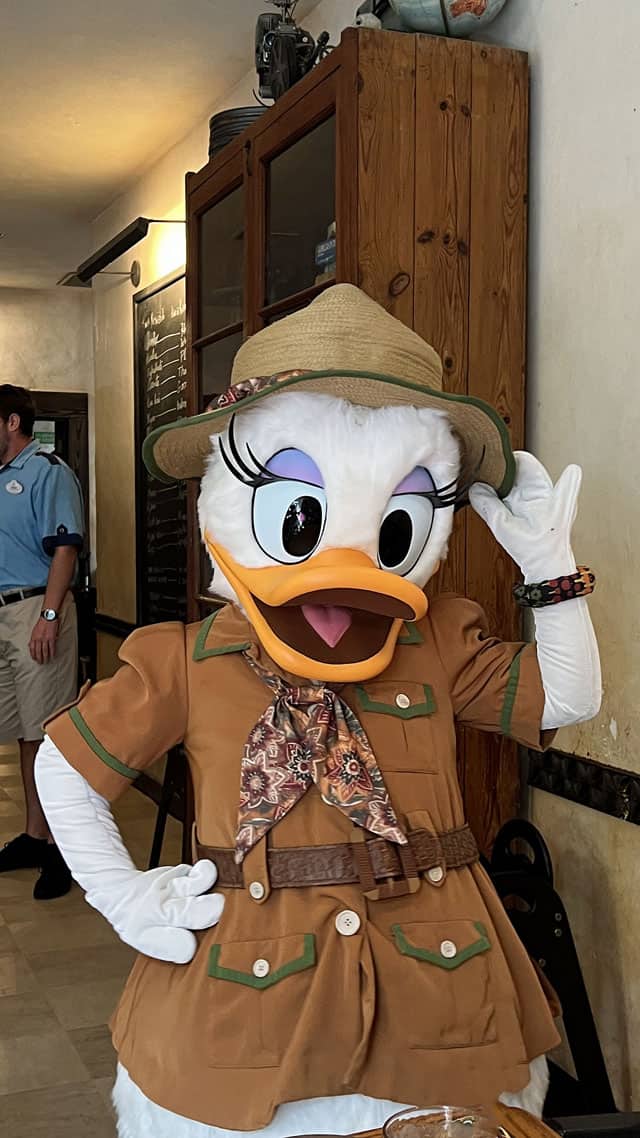 While the buffet gives guests a much wider assortment of choices, the downside is you need to time it right to meet characters as they make their table rotations. This can be especially difficult for those going with children. However, if you miss a character, let your server know and they will do their best to help you meet them.
Have you eaten at Tusker House before? If so, did you like it? Or, would you like to try it in the future? Please let us know your thoughts in the comments below and on Facebook.