Looking for a delicious Disney breakfast for your family that won't break the bank? We may have found the best breakfast value!
Breakfast Options at Disney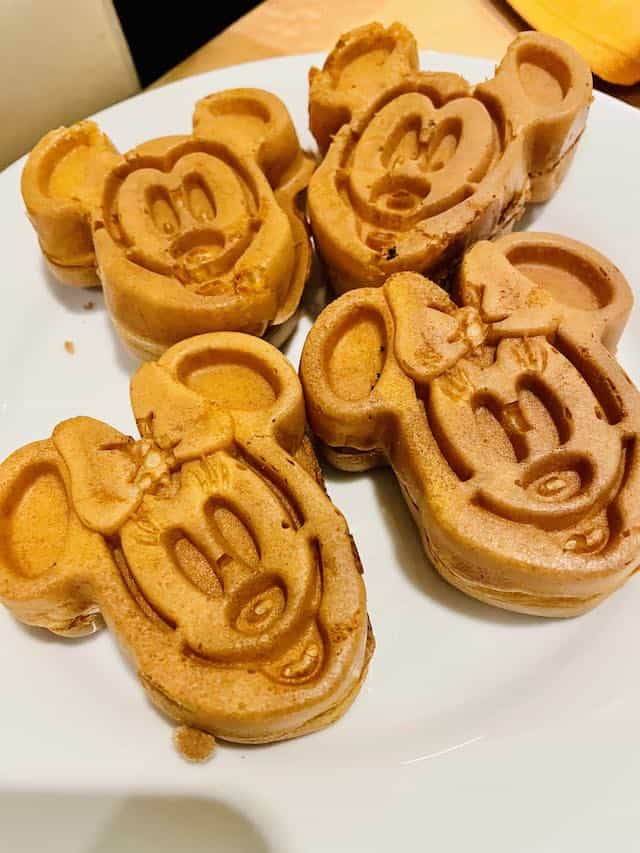 There are so many types of breakfasts at Walt Disney World to fit all budgets and appetites. From the delicious (but expensive) character breakfast options that allow you to feast on all you care to enjoy while meeting your favorite characters to quick bites to grab in the parks like the delicious offerings at Sleepy Hollow, there is truly something for everyone!
When choosing a breakfast option with kids, there are so many factors to consider. I (Jaelyn) have two young boys, and when we eat breakfast at Disney we make decisions based upon so many factors. Are we trying to rope drop? If so, we often follow this breakfast hack in order to make our rope drop experience go as smoothly as possible. Is it a rest day? If so, we like to maximize our time and money by eating a late character breakfast that can serve as breakfast and lunch. Our top considerations are often convenience of location, speed and quality of service, menu selections, and price.
During a recent trip, we dined at a table service restaurant on property that provided excellent value for our family and met the needs of convenience, service, menu, and price. Read on to find out why this restaurant offers great value for families at Disney!
Disney's Wilderness Lodge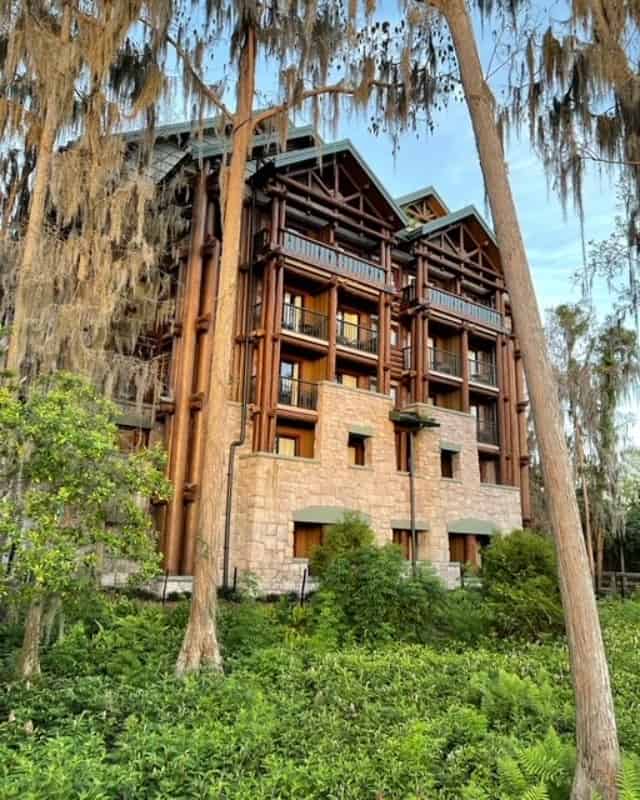 Disney's Wilderness Lodge is a deluxe resort located in the Magic Kingdom resort area. Though not on the monorail, this resort provides amenities that make it an excellent option for guests looking for an immersive stay. Personally, I think the Wilderness Lodge is the absolute best resort for a holiday visit to Walt Disney World and one of the best options for convenience, dining, and excellent accommodations for all guest groups. My favorite accommodation, the alternate studio, is available here as well!
When it comes to dining at the Wilderness Lodge, there are several options. First, Wilderness Lodge is home to the Territory Lounge and Roaring Fork, two dining options that do not require reservations and include alcoholic and non-alcoholic drinks and food options. There are three table service restaurants: Story Book Dining at Artist Point, Geyser Point Bar & Grill, and Whispering Canyon Cafe. For this article, we will be focusing on the option located in the heart of the iconic Wilderness Lodge lobby: Whispering Canyon Cafe.
Convenience of Location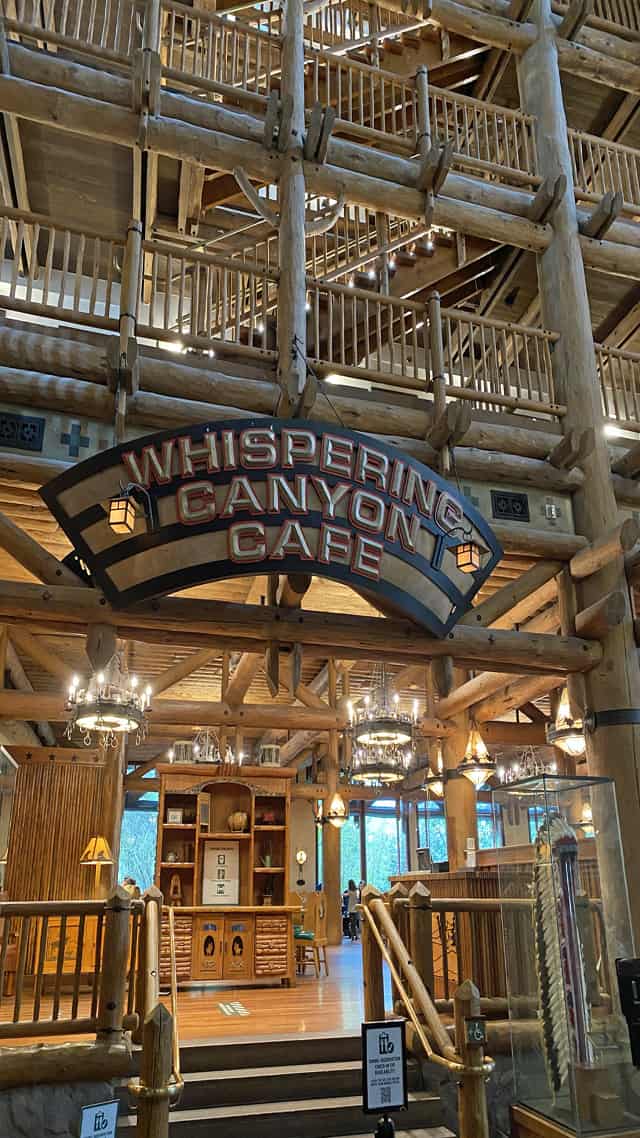 First, Whispering Canyon Cafe is a convenient restaurant for guests of the Wilderness Lodge and visitors to Walt Disney World in general. With its prime location in the lobby, the restaurant can be seen (and heard!) the moment you walk into the space. Guests staying in the lodge proper or the Copper Creek or Boulder Ridge DVC spaces can easily access the restaurant.
What's more, the restaurant is a boat ride away from the Magic Kingdom. In the Magic Kingdom itself, there are few options for a table service breakfast in the park. The available restaurants are character dining experiences, which always carry a higher price tag. Other surrounding resorts in the area offer table service breakfast as well, but many of these are also the more expensive character breakfasts (Chef Mickey's, Ohana, etc.).
When it comes to a convenient location for an affordable breakfast where families can really fuel up before a day of fun, Whispering Canyon Cafe can't be beat.
Speed and Quality of Service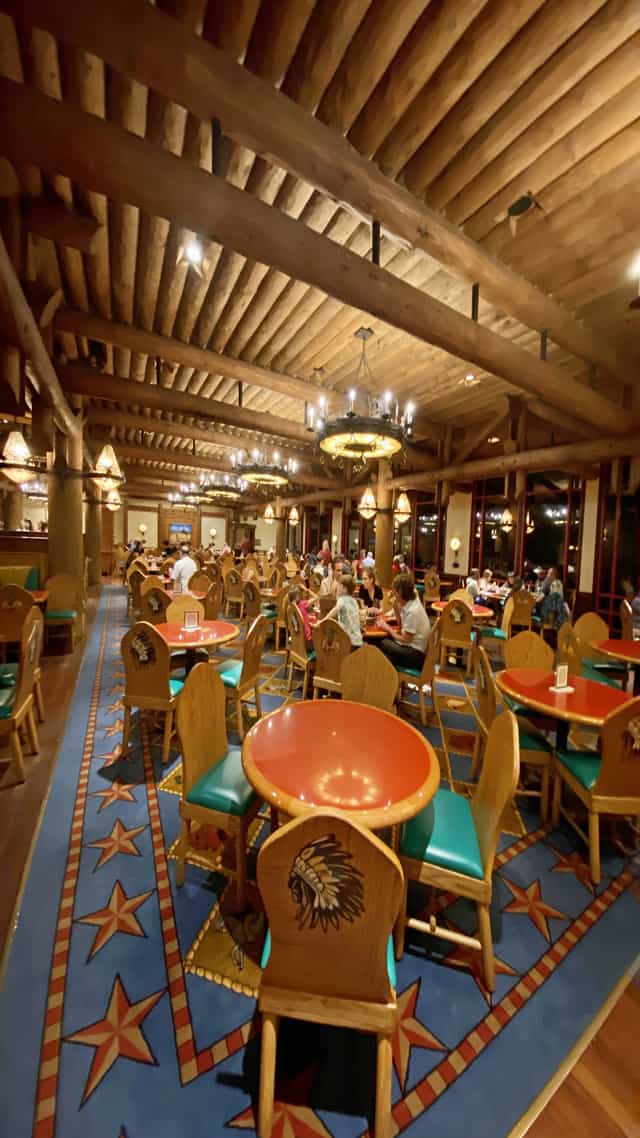 When I am traveling with my young children, speed and quality of service matter immensely to me! I love when the server interacts with my children and when their food is delivered quickly, giving them something to do and limiting the waiting and "down time." A key for successful travel with toddlers is exactly this…eliminating the down time!
Whispering Canyon Cafe is a very interactive restaurant. Guests can expect to heavily interact with their servers through shenanigans and jokes. Three different tables asked for ketchup while we were there! Our server was great with my kids. She told jokes to them, taught them some napkin tricks, and even talked to my son about his kindergarten class! She made sure the boys had food quickly and kept refills flowing on their POG juice, making the experience even more relaxed and enjoyable for me and the other adults in my party.
The food came quickly and easily, making it an excellent pre-park breakfast selection. You won't have to worry about missing rope drop or your Genie+ return time due to slow service here!
Menu Selections and Price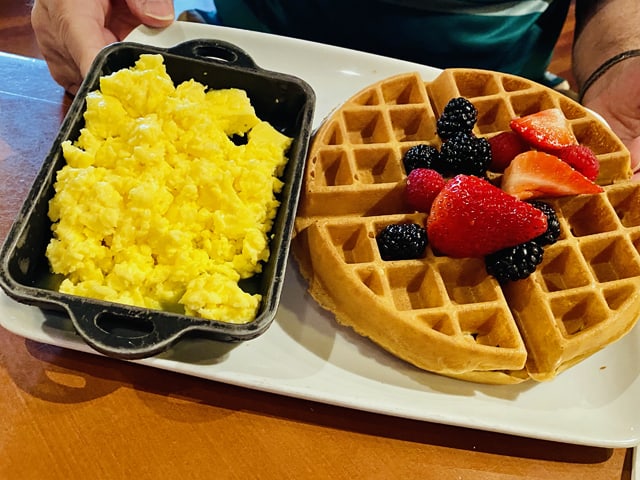 Breakfast menu selections include three all-you-care-to-enjoy skillets for adults (all at the price point of $26 per person), as well as various standalone entrees of varying prices.
On the children's menu, kids can order a create-your-own entree for varying price points or the all-you-care-to-enjoy pioneer skillet for $14 per person.
Both of my boys opted to order the pioneer skillet, which includes scrambled eggs, bacon, pork sausage links, Mickey-shaped biscuits, country potatoes, and Mickey-shaped waffles. We paid a total of $28 for breakfast and my boys ate plates and plates of food…likely the most they ate during the trip in its entirety! For reference, one child can eat at 'Ohana at the Polynesian for $29, making Whispering Canyon Cafe effectively 50% cheaper (but without the characters).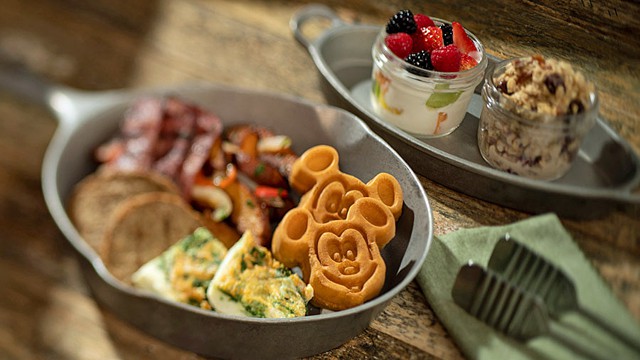 The menu options here are so approachable and familiar too, making it a great option for picky eaters. I often find my kids eat their best meals at Disney at breakfast time as the options feel more familiar and they are not yet tired and hot from a day in the parks. The excellent options yet comfortable safety of the menu selections at Whispering Canyon are another reason why this breakfast is a great value for families.
Overall Thoughts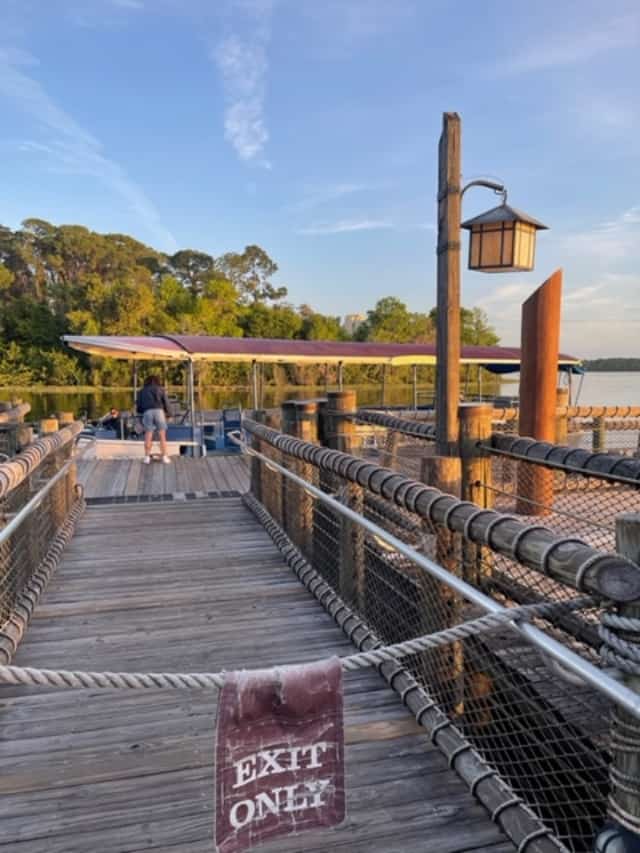 Overall, Whispering Canyon Cafe at Disney's Wilderness Lodge is truly a hidden gem and a high value selection for breakfast for families. Its convenient location, excellent service, solid menu, and great prices make it a winner in the Magic Kingdom area and through the entirety of the Walt Disney World Resort. Even if I weren't staying at the Wilderness Lodge, I'd travel over just to eat at this great restaurant with my family!
Here are some other reviews our KtP team has covered in the past:
What are your thoughts about the value of a breakfast for families at Whispering Canyon Cafe? Can you think of other restaurants that seem to allow you to get more "bang" for your buck? Comment below and share this post with your favorite Disney breakfast friends!