We cannot figure out why more people aren't talking about Raglan Road. If you are looking for unique dining in Disney World, you have found an absolute gem!
Disney Dining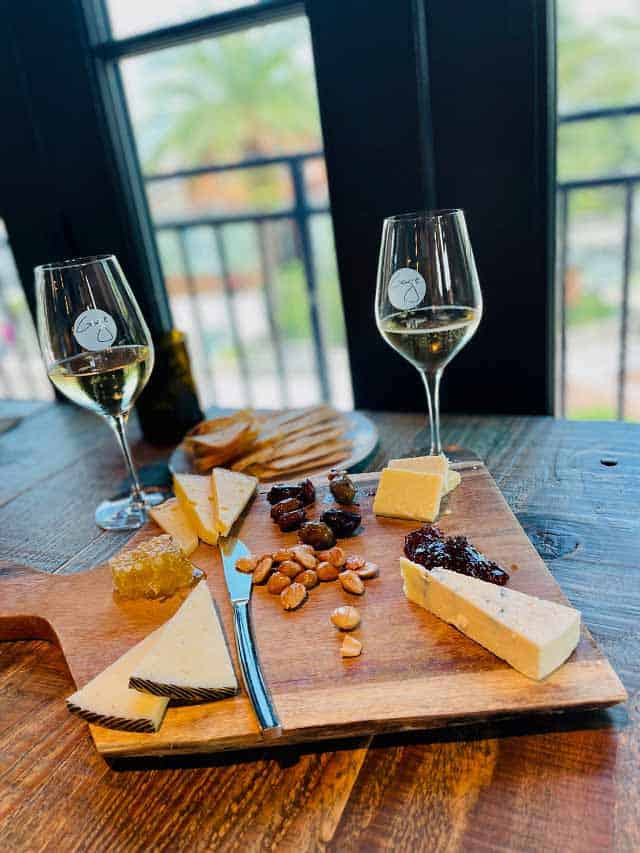 One of my (Katie's) favorite things about eating in Walt Disney World is that there are so many dining options beyond typical theme park food like pizza, chicken nuggets, fries, soft pretzels, and hot dogs. That is not to say that there is anything wrong with those foods. Certainly, Disney World has excellent renditions of each. In fact, there is some downright delicious pizza over at Via Napoli and one of the best burgers you've ever had over at Steakhouse 71.
However, there is something special about enjoying fine cuisine in the midst of a theme park vacation. If you like discovering delightful flavors from all over the world, Walt Disney World has some amazing culinary experiences for you.
Raglan Road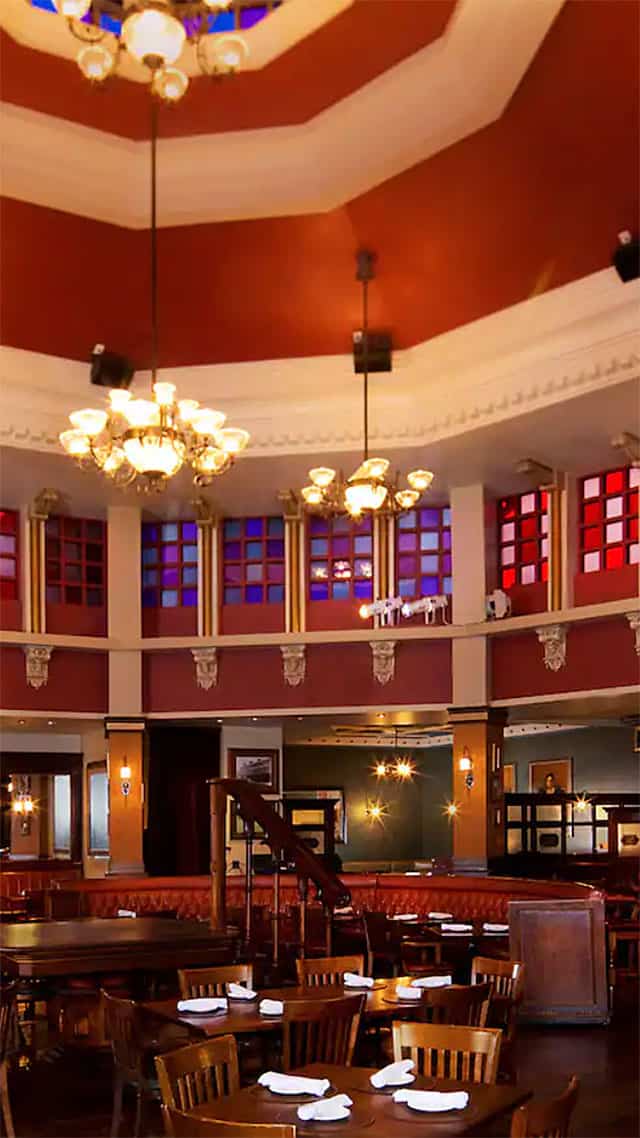 One such delightful dining experience lies in the heart of Disney Springs. Raglan Road is an authentic Irish Restaurant and Pub. It might just be the most underrated dining experience in Walt Disney World. Raglan Road is special not just in terms of its unique menu, which is fantastic in itself. It is also home to authentically Irish live entertainment for Guests to enjoy.
People are always talking about Chef Art Smith's Homecomin or The Boathouse or Morimoto Asia. And while those are all delicious options worthy of renown, it seems to me that Raglan Road should be mentioned just as often.
Location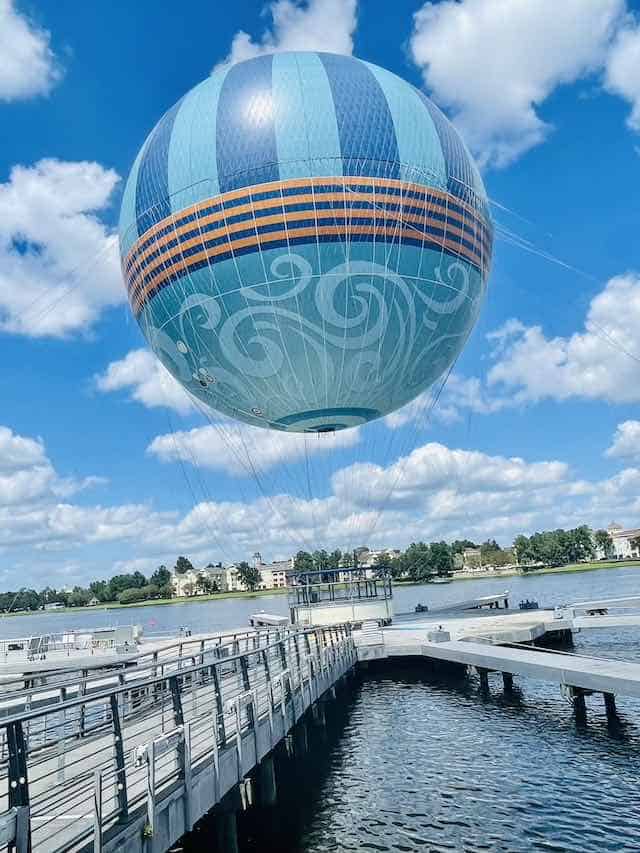 If you want to get to Raglan Road, you will need to head to Disney Springs. It is accessible by bus from every Walt Disney World resort hotel. Additionally, boat transportation travels from Disney's Port Orleans-French Quarter, Disney's Port Orlean's-Riverside, Disney's Saratoga Springs, and Disney's Old Key West Resort. Naturally, you can also drive or utilize ride-share.
Raglan Road is located in the Landing. It is near other great eateries such as Gideon's Bakehouse and Wine Bar George. It is pretty easy to find as it has a unique pub-like appearance.
The Rollicking Raglan Brunch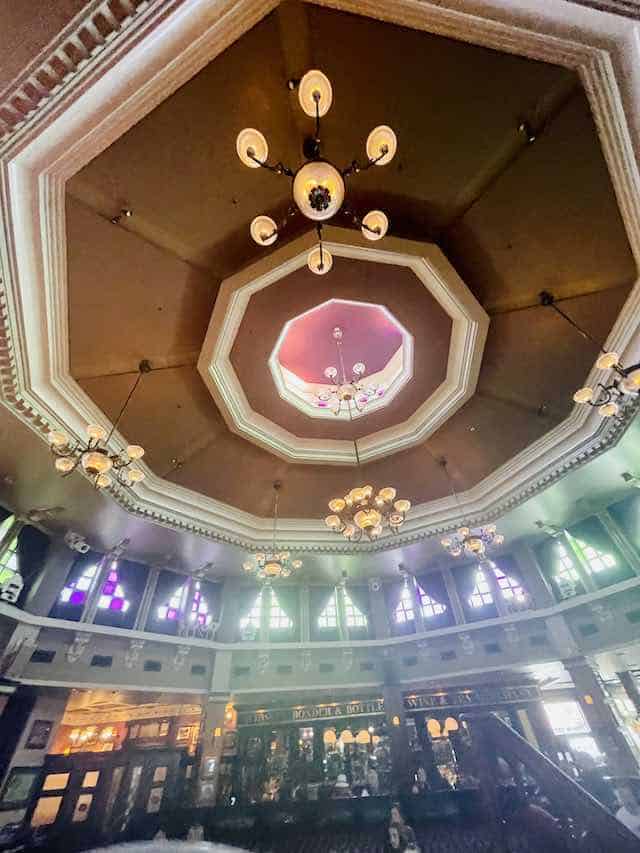 If my family and I drive to Walt Disney World, we like to treat ourselves to one final meal on departure day just to soak up one last bit of magic. We typically chose brunch, as we did on our departure day on this particular occasion, because it lets us sleep in a bit and ease into our travel day. It also serves as both breakfast and lunch so that we don't need to stop for a meal until supper time.
On this day, we did not just settle on any old brunch, we decided to try The Rollicking Raglan Brunch! I had not heard very much about this brunch, but I was intrigued by the description.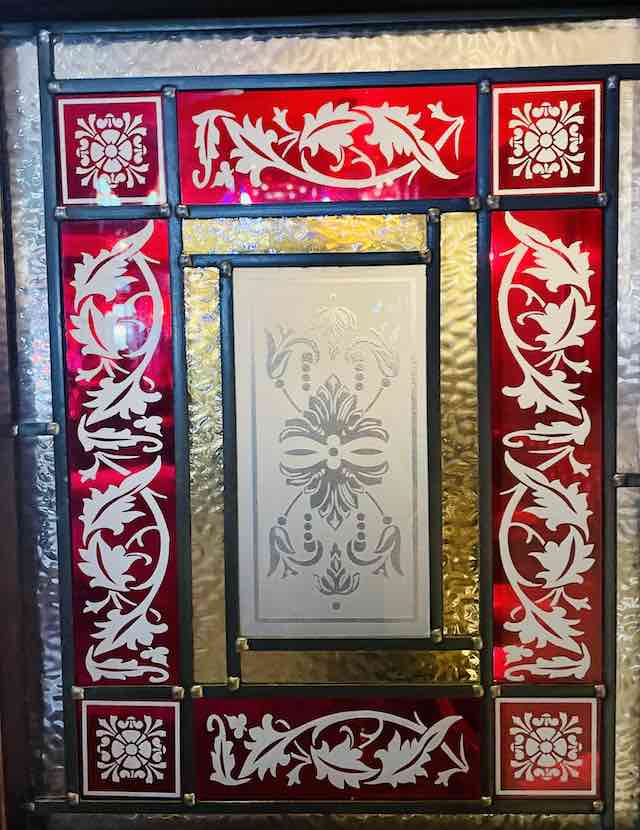 Join us for this high-spirited weekend event—Saturdays and Sundays from 9:00 AM to 3:00 PM. Anticipate a menu packed with lip-smacking Irish entrées, sides and specialty morning cocktails. Plus, the Rhythms of Raglan Dance Show hits the Main Stage from noon to 3:00 PM.
It sounded like a fun adventure different from any other dining experience. And we were rewarded with just that!
Atmosphere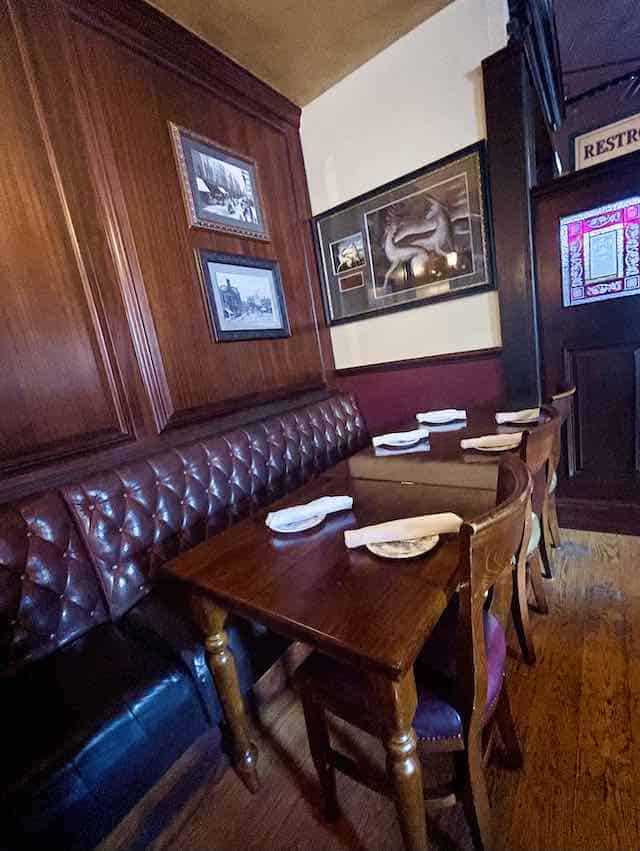 Raglan Road is really a beautiful pub. It feels like you have stumbled across the place where the locals hang out in Ireland. It certainly leaves nothing to remind you that you are in a shopping district associated with a theme park.
If you go while the live entertainment is available, you will immediately be greeted by either Irish music or perhaps the rhythmic tapping of shoes on the stage. And during brunch, entertainment is in full swing!
Entertainment Schedule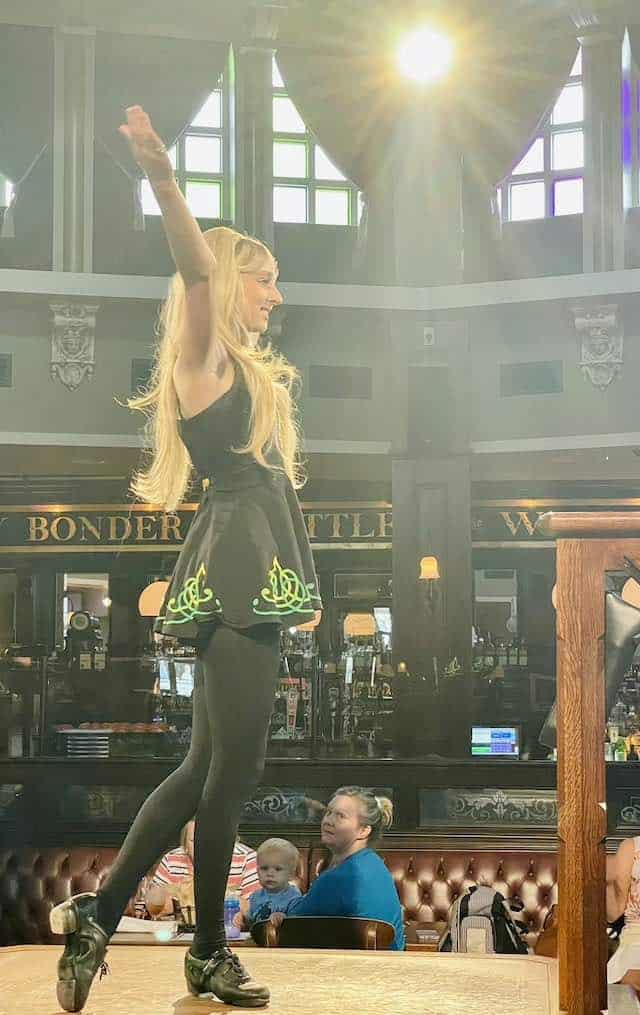 Brunch is not the only time Raglan Road is Rollicking. The current entertainment schedule offers nightly fun. Showtimes vary and are subject to change. However, this is the published schedule:
Main Stage: Monday to Friday from 5:00 PM to 10:00 PM, Saturday and Sunday from noon to 10:00 PM
Patio Stage: Daily from 6:00 PM to 10:00 PM
The Rhythms of Raglan: Daily from 5:00 PM to 10:00 PM; additional performances Saturday and Sunday from noon to 3:00 PM during The Rollicking Raglan Brunch
Live Music and Dance Shows: Daily from 5:00 PM to 10:00 PM
Live Bands: Daily from 5:00 PM to 10:00 PM
Brunch Menu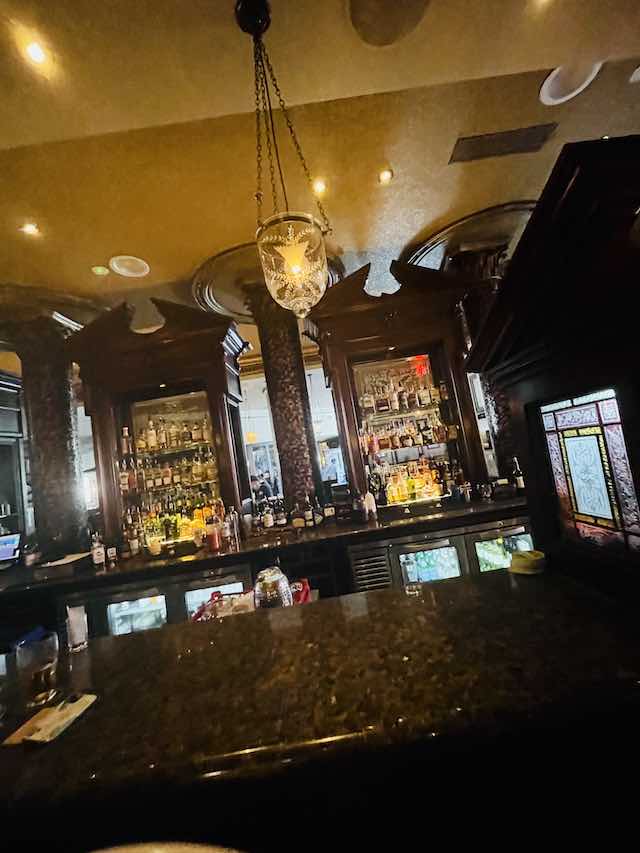 Raglan Road offers a good bit of traditional Irish food. Brunch is no exception. However, if you are new to Irish food and want to ease yourself in, brunch is a great option because some offerings will be familiar to diners who like to play it safe.
For example, Irish spins on pancakes, Fench toast, and avocado toast are available. You will also find burgers, chicken pot pie, salads, and Fish & Chips among the less familiar items. I think it is possible to find something for everyone!
Bread Service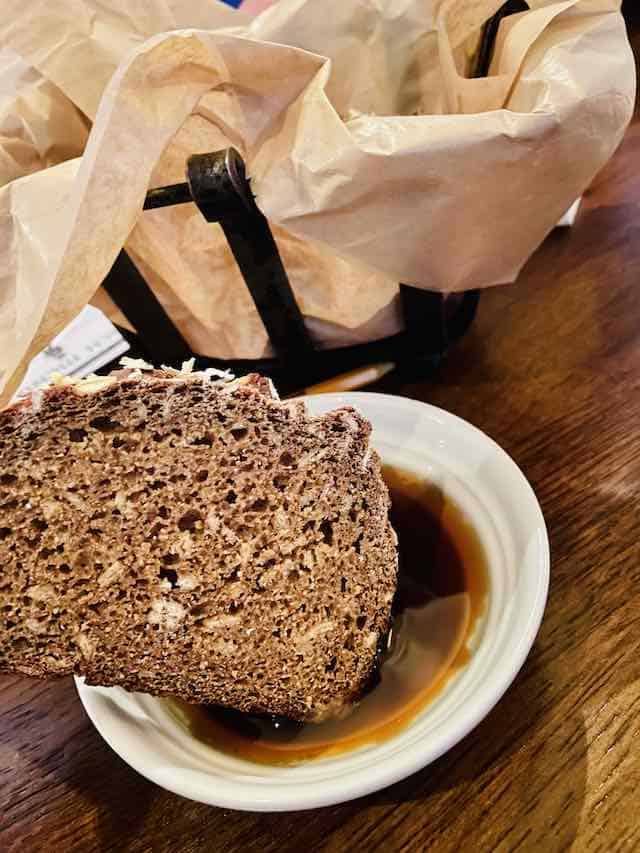 The meal begins with a bread service, which is always appreciated. It is brown bread served with syrup to dip it in.
This is an aesthetically beautiful service, but it was not altogether memorable flavor-wise. No matter though because the meal only got more and more fantastic from there.
Starty Stuff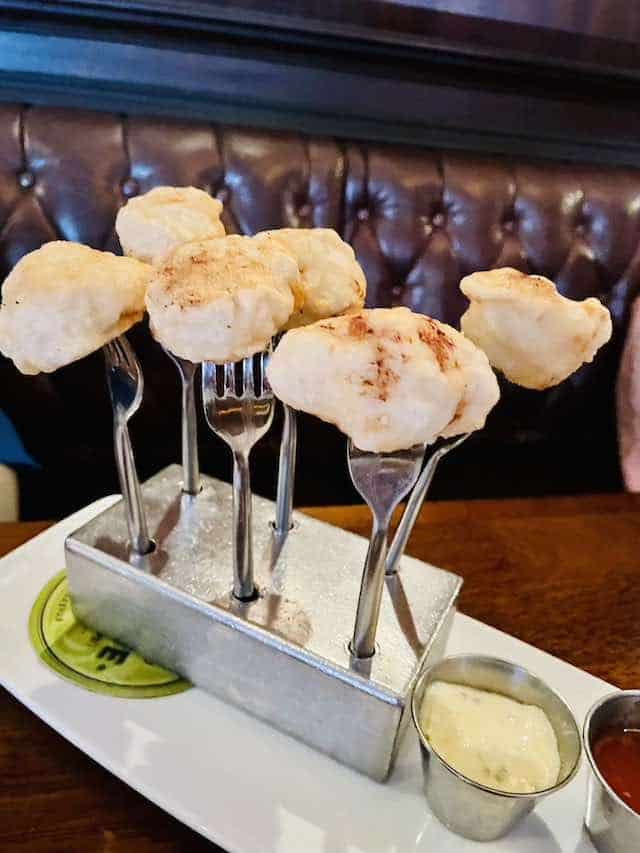 The appetizers here are labeled as "starty stuff," and some of them are fit to be a full meal. In fact, my husband ordered the Scallop Forest from this section of the menu as his meal.
The Scallop Forest is Foleys all natural Georges Bank sea scallops in a golden batter served with a citrus lime dipping sauce & sweet chili jam. These scallops did not disappoint! The batter is a bit heavier than what I am used to from typical fried scallops, but it worked given their size. Had they been smaller, it might have been overwhelming. The citrus lime dipping sauce was the perfect accompaniment.
Brunchy Stuff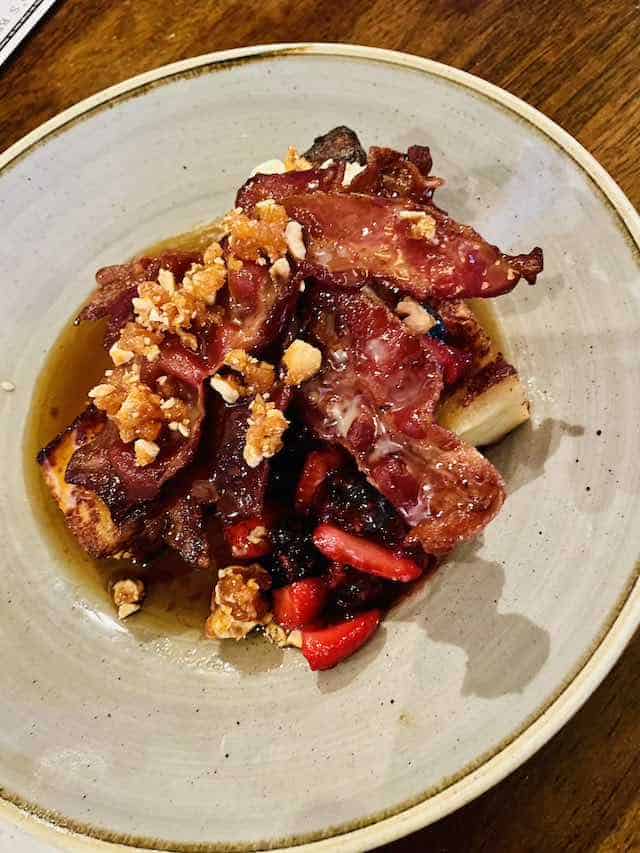 We also sampled some "Brunchy Stuff." I ordered a round of "It's Okay to Drool" for the table. This dish is Raglan Road's famous Bread & Butter pudding, French toast style with vanilla mascarpone, mixed berries, hazelnut crunch, and crispy maple glazed bacon.
I feel the need to try French Toast Everywhere I go because I love it so. This was especially appealing because I also adore mascarpone. And the dish was just as lovely as I imagined it would be. It is sweet, and it is heavy, so ordering one to share was the right call.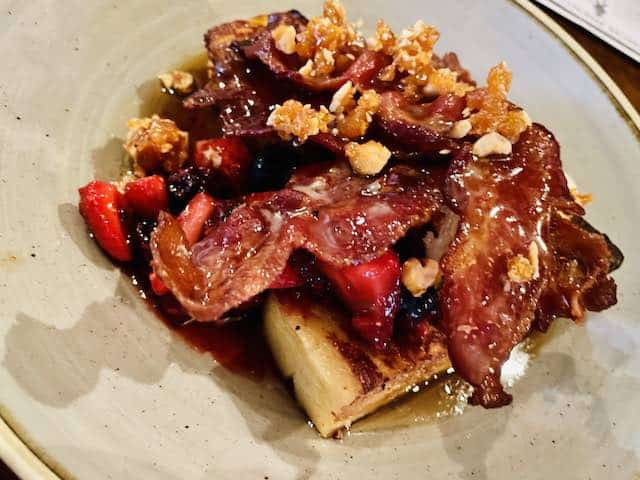 I loved this dish. And can we talk about that maple-glazed bacon? It was exactly what you want your bacon to taste like. Both of the children loved it. In fact, my only complaint about the entire dish is that sharing that particular component was not easy because everyone wanted more of it.
For my actual entree, I wanted to order way too many things. So, I asked our server what she would choose, and she instantly told me to try "ALL THIS… & EGGS ON TOP." This is not something I would normally have gravitated towards, but I went with it to combat my indecision.
The dish is pulled slow-braised beef, potato hash with sautéed mushrooms, green onions, and mushroom ketchup topped with 2 sunny side-up eggs. All I can say is wow. This was a flavorful and delightful dish that felt like the ultimate savory comfort food. The eggs were perfectly cooked and enhanced the other elements beautifully, and it was a huge portion. I shared it and we still didn't finish.
I loved it. In fact, I find myself craving it, and it is not something I can replicate at home or find locally. If you like savory egg dishes, this one is a winner.
Kid's Meals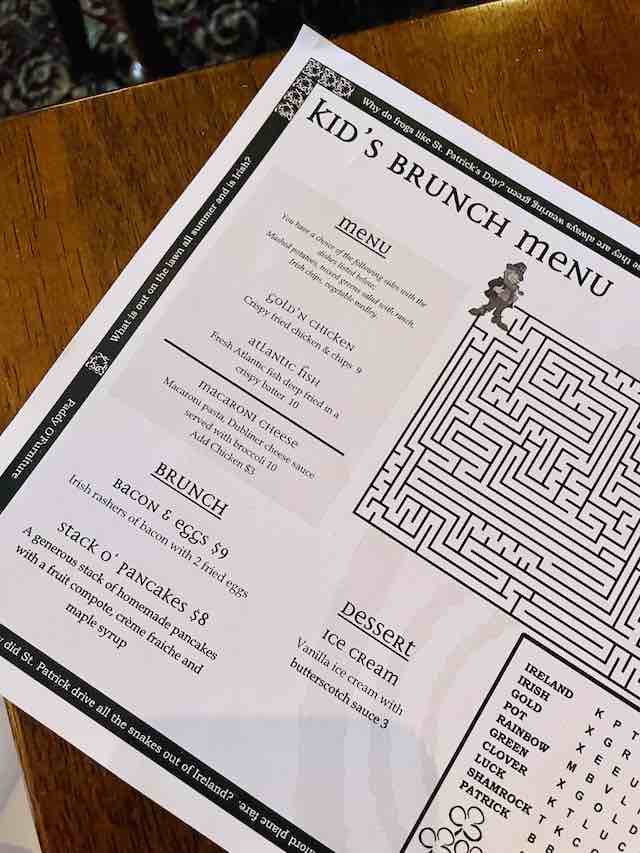 Raglan Road offers a mixture of items for children to enjoy. My two both ordered the Stack O' Pancakes, which are described as a generous stack of homemade pancakes with a fruit compote, crème fraîche, and maple syrup.
I tried them, and they were pretty good pancakes, but they were not as special as the other menu items we tried. One of my kids liked them and the other said they were just okay.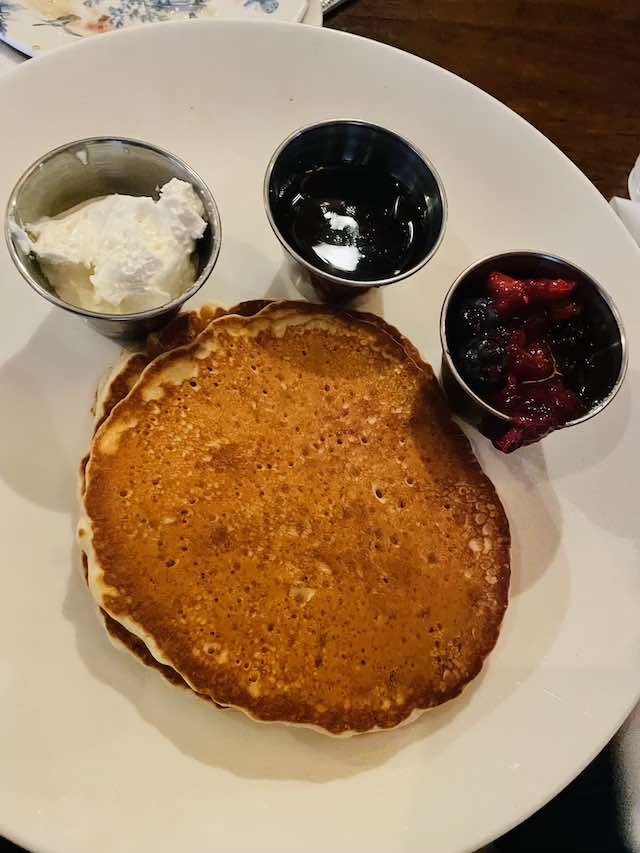 Of course, we were also all comparing them to the French Toast we'd shared, which was definitely a special dish. They vanished nonetheless.
They also ordered sides of eggs with the pancakes. This option definitely helped provide a nice punch of protein. Everyone liked the eggs.
All-in-all the kids had more than enough to eat. But they loved the whole vibe of the place perhaps even more than the meal.
Entertainment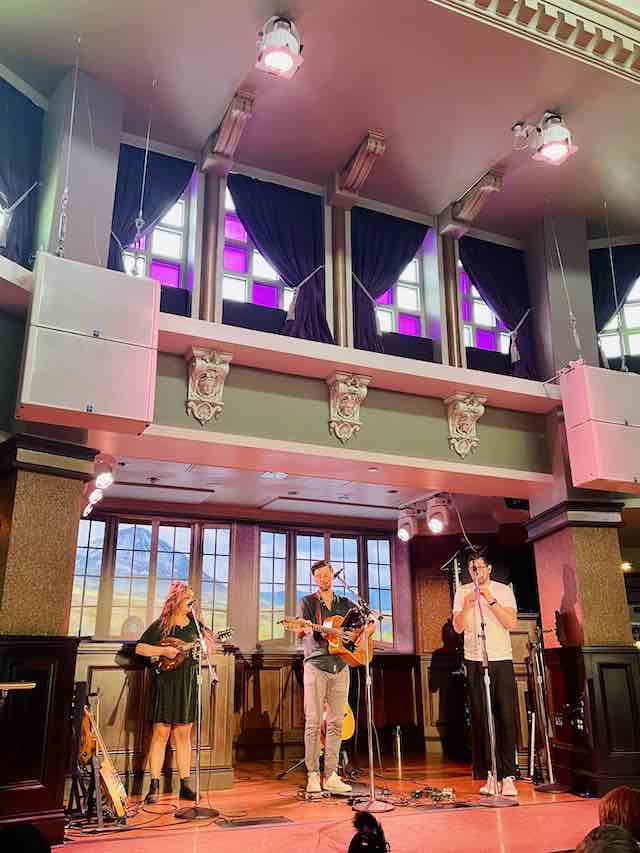 Everyone loved the entertainment. We could hear the instrumental music and lilting Irish voices singing from the stage in the other room, but we were also able to leave our table to watch if we wanted to. If I had realized where the entertainment took place, I would have requested to be at a table in the room with the stage.
Tip: Try to request a table where the entertainment is in plain view.
Best of all, the children and I enjoyed the traditional Irish dancing. If the children and I heard the sound of tapping, we hurried to watch. The dancers were fantastic, and we enjoyed several performances.
Overall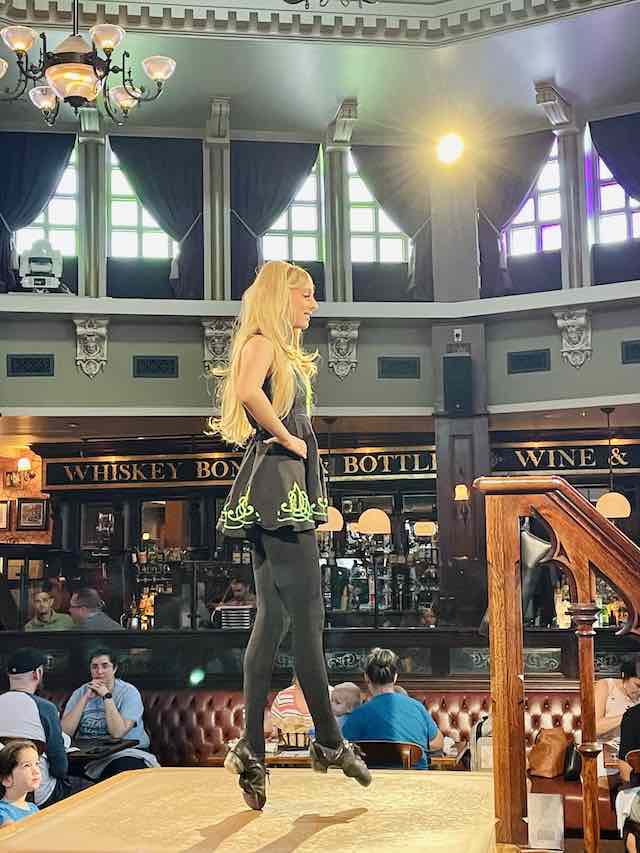 On the whole, we had a marvelous time at Raglan Road. We enjoyed our meals, the music, and the dancing thoroughly. It was a perfect meal to end our vacation. As I said, I do not know why I have not heard more about Raglan Road. But perhaps it is because those who love it keep it well under wraps.
Perhaps part of the reason I liked it so well is that I had heard so little and therefore had no bar for my expectations to live up to. But, I suspect the primary reason we all enjoyed it is that it's delicious. I do know that I will be going back because there are so many more things I want to try and so much that I want to have again.
Have you ever been to Raglan Road in Disney Springs? Let us know what you thought of it in the comments or join the conversation on Facebook.