If you want an amazing place to grab brunch, or any meal really, Wine Bar George is the place to be. We have a full review for you right here.
Wine Bar George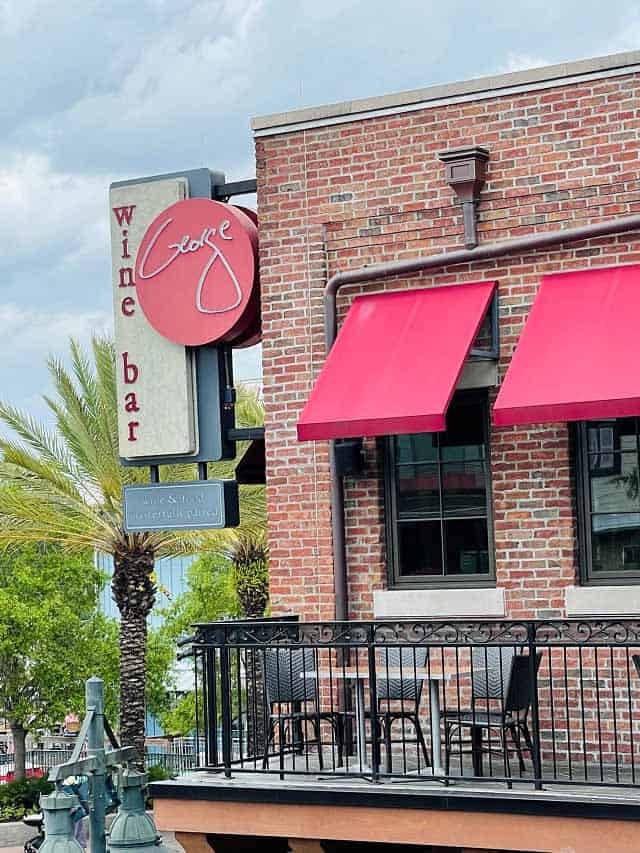 Don't let the name fool you. Wine Bar George is more than just a wine bar. Your own Kenny the Pirate and I (Katie) were having a conversation, and he stated that he never would have chosen Wine Bar George based on its name alone as someone who does not frequent wine bars. Luckily, he has some foodies in his crew to steer him toward culinary treasures.
You should know though, dear readers, that in addition to having an impressive collection of wine to offer, Wine Bar George has some of Disney's most flavorful foods on its menu.  Master Sommelier George Miliotes is responsible for all the delightful food and wine pairing. Guests most definitely can enjoy a meal there regardless of whether they drink wine.
A trip to Wine Bar George means heading to Disney Springs, Walt Disney World's shopping and entertainment district. You will find Wine Bar George in The Landing, near Jock Lindsey's Hangar Bar, Raglan Road, and Gideon's Bakehouse.
Brunch Bar George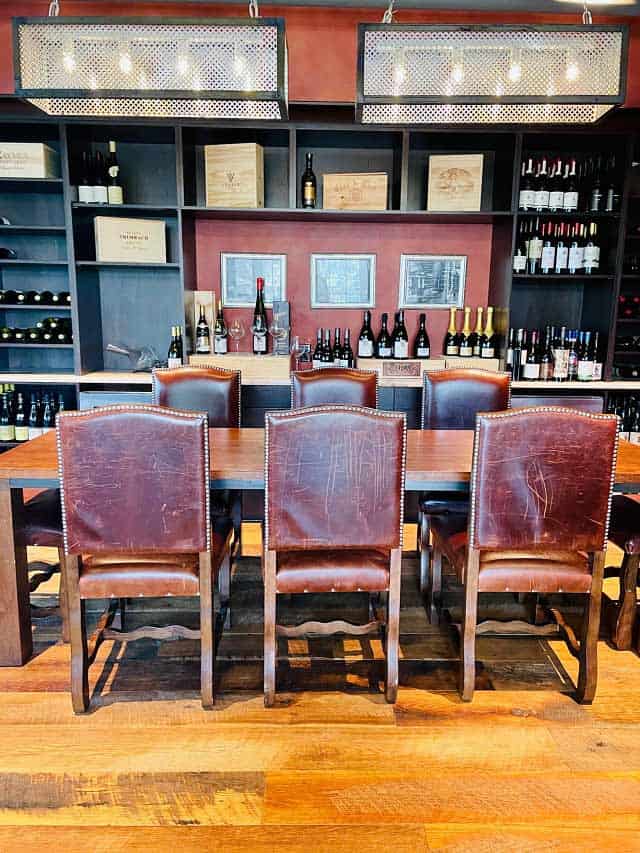 I have been to Wine Bar George several times for lunch and dinner, and it has become one of my very favorite places to go in Disney Springs. In fact, I enjoy it so much that I have not diversified my Disney Springs dining as much as I would like. I keep ending up right back there enjoying Saganaki on Fire with my dining companions. You can read my original Wine Bar George review right here.
However, I had never had the occasion to visit for brunch before the meal reviewed here. Wine Bar George was gracious enough to host us for this meal. Now, I will be looking for an excuse to go back for more brunches.
Wine Country Brunch at Wine Bar George occurs on Saturdays and Sundays from 10:30 AM – 2:00 PM. Brunch includes an extensive menu of uniquely delicious fare. There is sure to be something to please every palate and preference.
To Start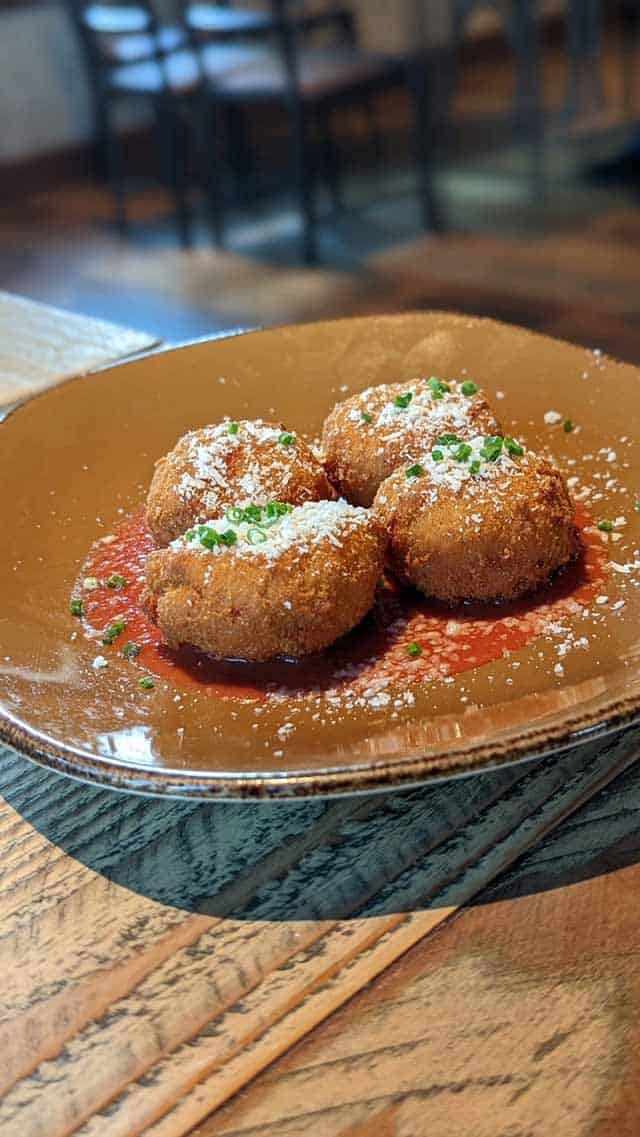 We were lucky to try several dishes to start the meal. One of the many benefits of dining with friends is that it means getting to enjoy more dishes than you could all on your own.
Of course, we had to start with the Crispy Mac & Cheese Bites. This dish comes with four fried macaroni and cheese bites served atop a lovely tomato nage. True to form, they were creamy, warm, and delicious.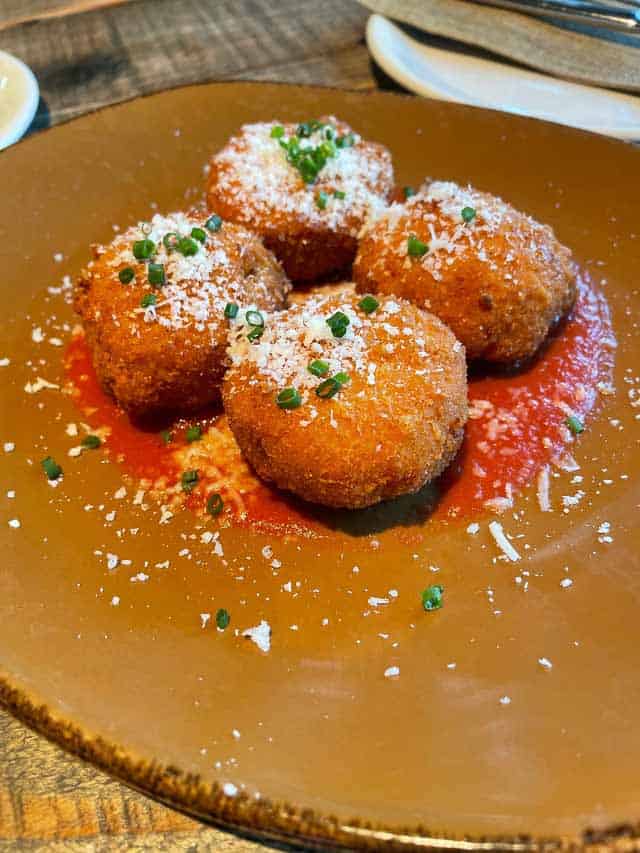 These mac & cheese bites are a quintessential Wine Bar George dish. If you visit with your travel party, this dish is a safe bet as the mac & cheese bites tend to be crowd-pleasers.
We also had to have hummus, a simpler dish that we all agreed was enjoyable. The hummus is served with both naan and cucumber. We found this particular hummus to be perfectly blended for a light flavor. No one ingredient overpowered the others, and it made for a delicious addition to the meal.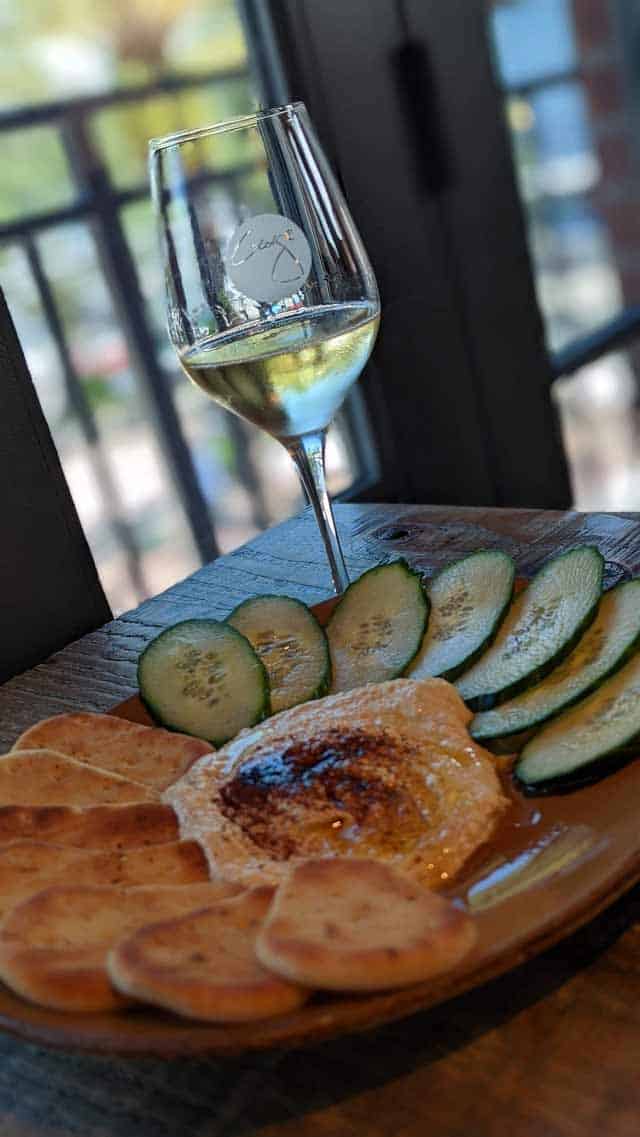 It pairs marvelously with both the bread and the cucumbers. Our wonderful server even offered to replenish both cucumbers and naan for us in case we wanted a bit more.
Boards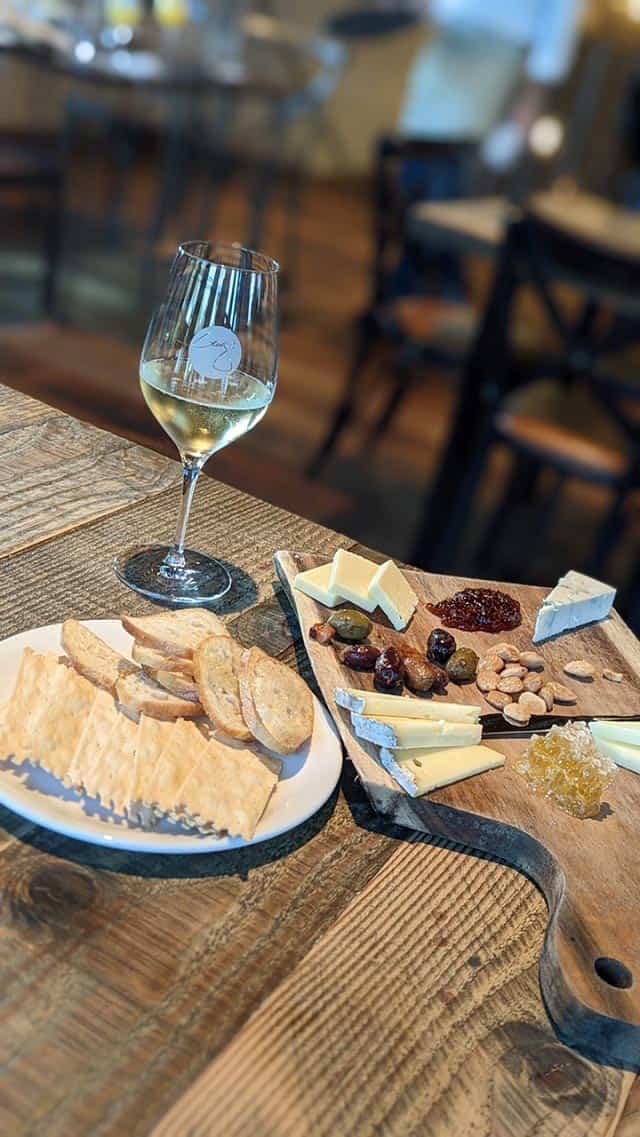 What would a wine bar be without amazing boards? Wine Bar George offers an Artisanal Cheese Board and a Charcuterie as well as a Big Board, which is a combination of the two with a few extras. We selected the Cheese Board.
It was love at first sight. The board was, of course, beautiful in its presentation, like edible art. Four types of artisanal cheese, which on this particular day included blue cheese, cheddar, and a manchego, adorned the board. The cheeses were accompanied by spiced olives, a glorious fig jam, local honey, and glazed nuts as well as a plate of crackers and crostini.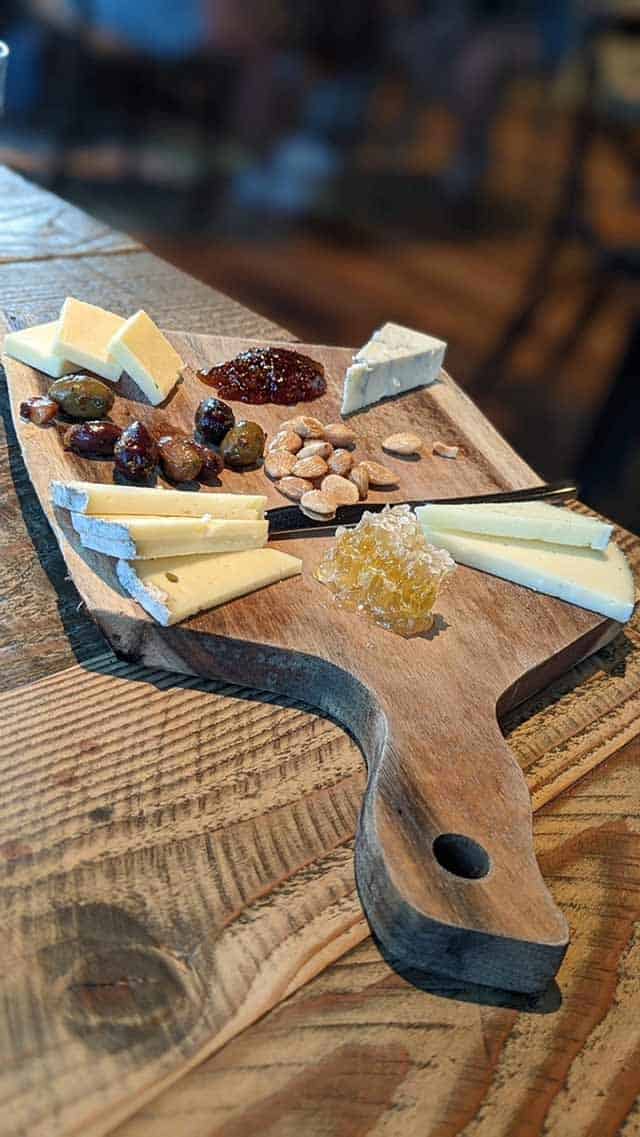 We loved the elements of the board. The olives were perfectly spiced. The cheeses paired beautifully with both the fig jam and the honey. That fig jam was particularly special. Our server noted that it is a local product, one I wish I could find at home.
If you love a good board, this is an excellent one to try. I am excited to return with a larger group and split the Big Board in the future.
Entrees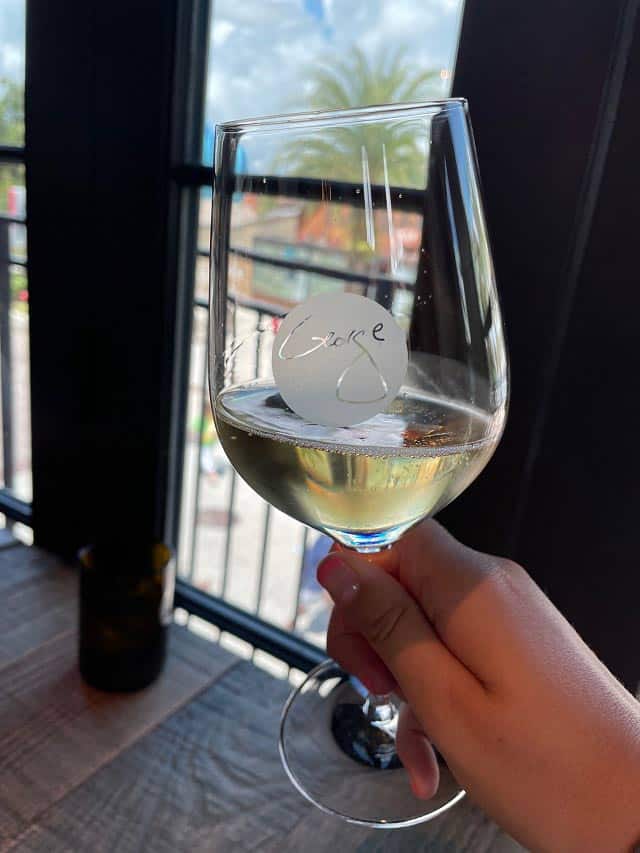 We had such a lovely time dining upon our board and starters that we nearly forgot to order. The Wine Country Brunch currently has a wide range of offerings.
Guests can order anything from a savory omelet to salt of the earth biscuits and gravy. I had trouble deciding between the omelet and the French Toast, so our server let me know that I could elect to order a half portion of French toast as a side if I wanted to. And that is exactly what I did.
Sausage Gravy & Biscuits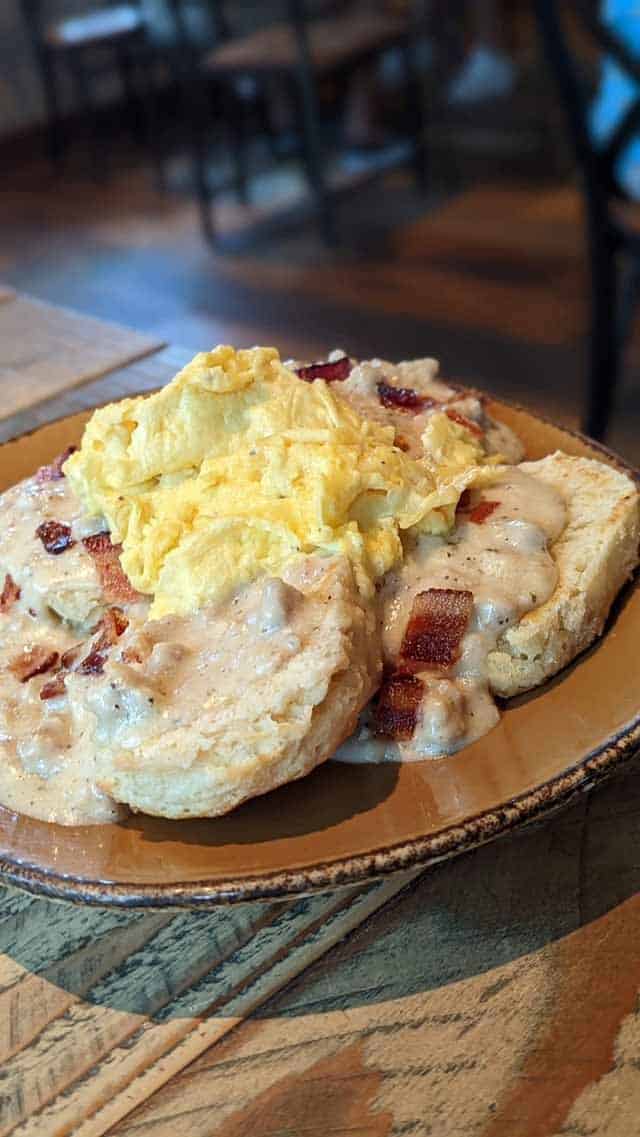 The Sausage Gravy & Biscuits is an extremely hearty dish brimming with biscuits, sausage gravy, bacon, and egg if you desire. If you are looking for something light and delicate, this is not the one for you. However, if you come with a big appetite and want a brunch that will make you feel full and jolly, this will fit the bill
This dish is a substantial portion of brunch. You may even consider it a sharable dish, particularly if you decide to enjoy starters, boards, and side dishes. The flavors work well together and give it a Southern flair. In fact, I would describe it as a celebration of Wine Country meets Georgia Country.
Fried Chicken Biscuit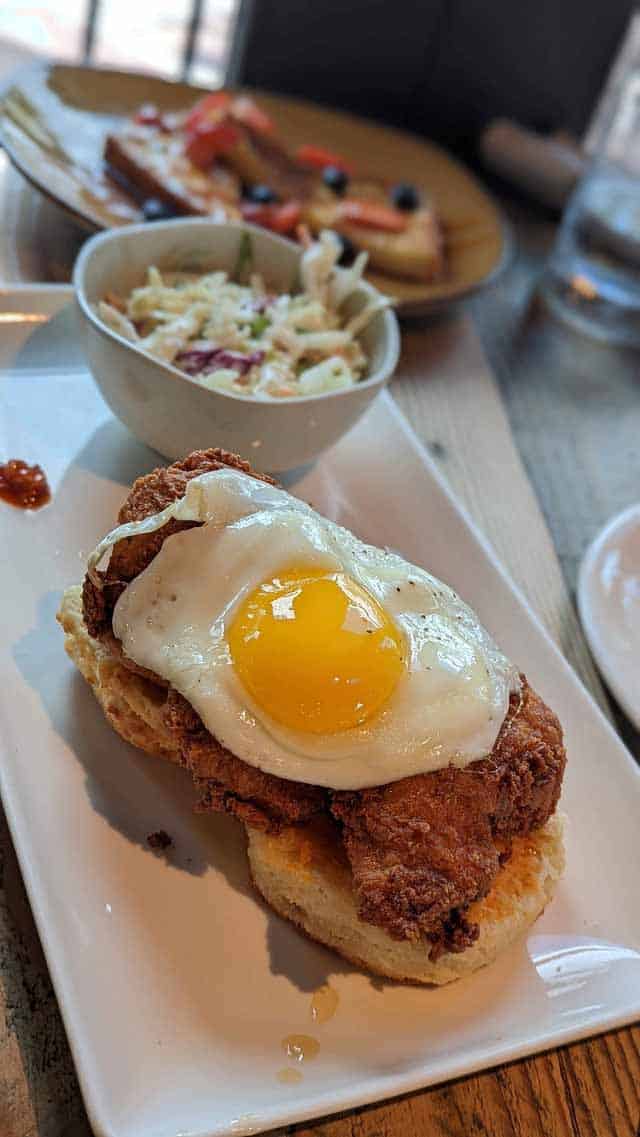 The Fried Chicken Biscuit is another dish with a Southern feel. Like the Sausage Gravy & Biscuits, it is also quite a substantial dish. Open biscuits are served with an ample helping of fried chicken, pimento cheese, and bacon relish. The whole dish is topped with a perfectly cooked sunny-side-up egg. It also comes with a side of slaw.
Hearty and filling, this dish is not going to let you go home hungry. It is another potentially sharable portion. We found it to be a delightful combination of savory flavors. The chicken was fried nicely, and the egg ran down to create perfect bites of chicken biscuit goodness.
Now, about that slaw. This was such a perfectly seasoned slaw dish that it demands mention. I do not think I have ever dreamed that I would have a full conversation with my friends about how amazed we were at the flavor profile of slaw, but here we are. It is an exceptional side dish, so if you order anything that comes with it, be sure not to leave it on the plate untouched.
Wine Country Omelet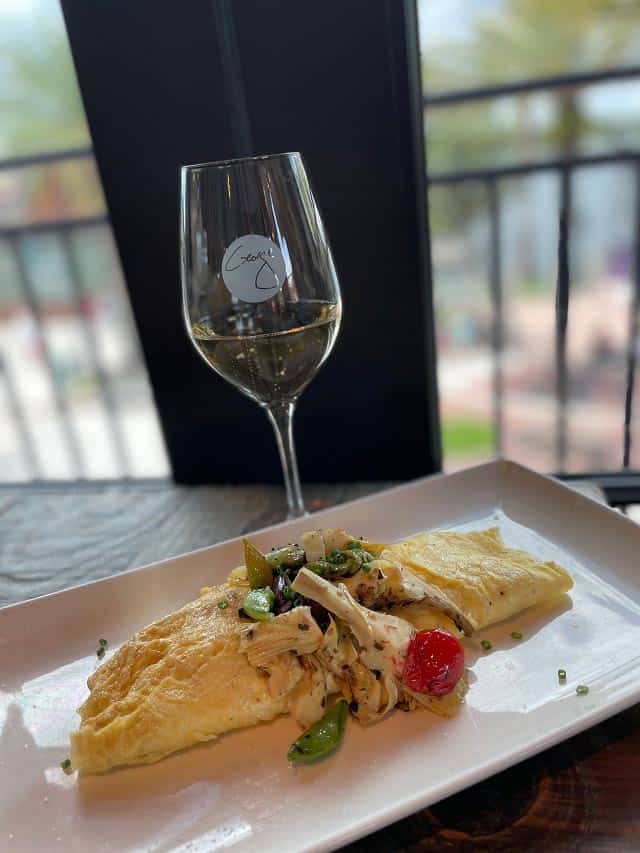 The Wine Country Omelet, for me, was the highlight of the meal. It is truly special. In fact, it is one of the best, if not the best omelet I have ever had anywhere in all my years of brunching. It is certainly my very favorite omelet in all of Walt Disney World. It is the sort of thing you will find yourself craving.
The egg is thin and delicate and nearly crepe-like. It is filled with melty Havarti. The dish also includes artichoke, tomato, olives, and sugar snap peas. The combination is both creative and delightful. I was so sad not to be able to finish every last bite. But, then again I don't know what previous bites I would have sacrificed in order to finish the omelet.
The French Toast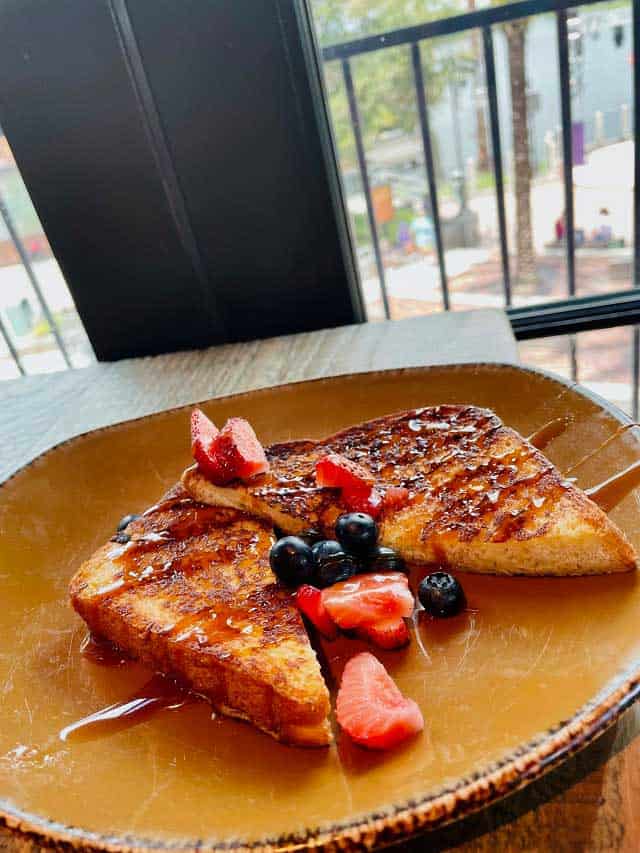 I do know that I would not have given up my side of French Toast to finish the omelet. While I probably should have not let my eyes be so much bigger than my stomach, I am glad I gave in to my inner glutton. It would have been a shame to miss it.
The French Toast is described as brioche, mascarpone, and caramel sauce. Mine was covered in fresh blueberries and strawberries. I absolutely love French toast and have tried it in countless places. This is some seriously special French Toast. Like everything else at Wine Bar George, the attention to flavor is beautiful on this dish.
Final Thoughts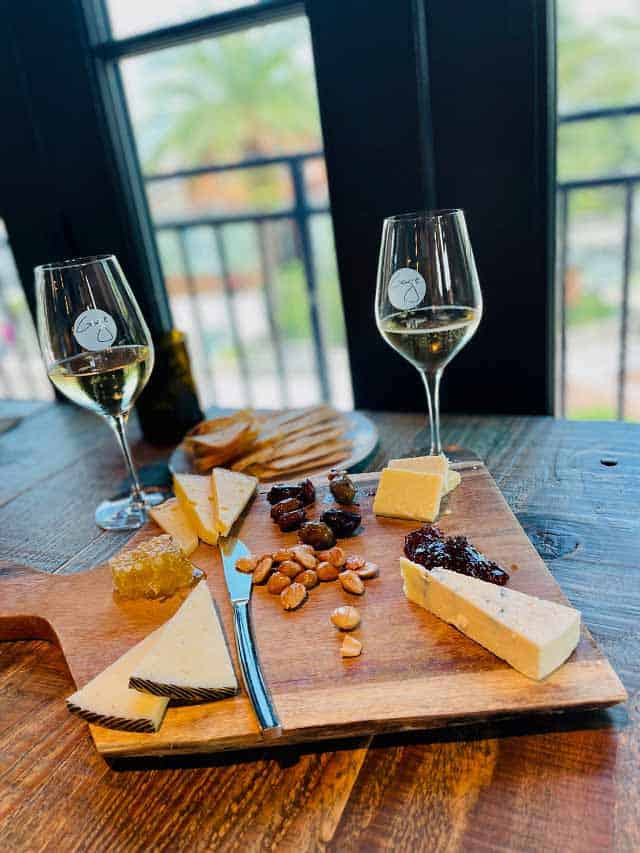 Since my love lies in the parks, I am not generally a Disney Springs person. However, now Wine Bar George has given me another reason to traipse over when I would otherwise be devoted to park and resort hotel time.
I do still have a few brunches to try in Walt Disney World before I can definitively say that this is the best brunch there is to be had. However, I am relatively confident that nothing will completely surpass Wine County Brunch at Wine Bar George. It is a special meal indeed.
Have you had Wine Country Brunch at Wine Bar George? Is it in your dreams to try it? Let us know in the comments below or on our Facebook page. Or, keep the conversation going and share them with us in our crew, too!