Do you want to watch the New Year's Eve fireworks in the Walt Disney World but loathe the idea of New Year's Eve crowds? Here are ways to catch the show without less crowding.
New Year's in Walt Disney World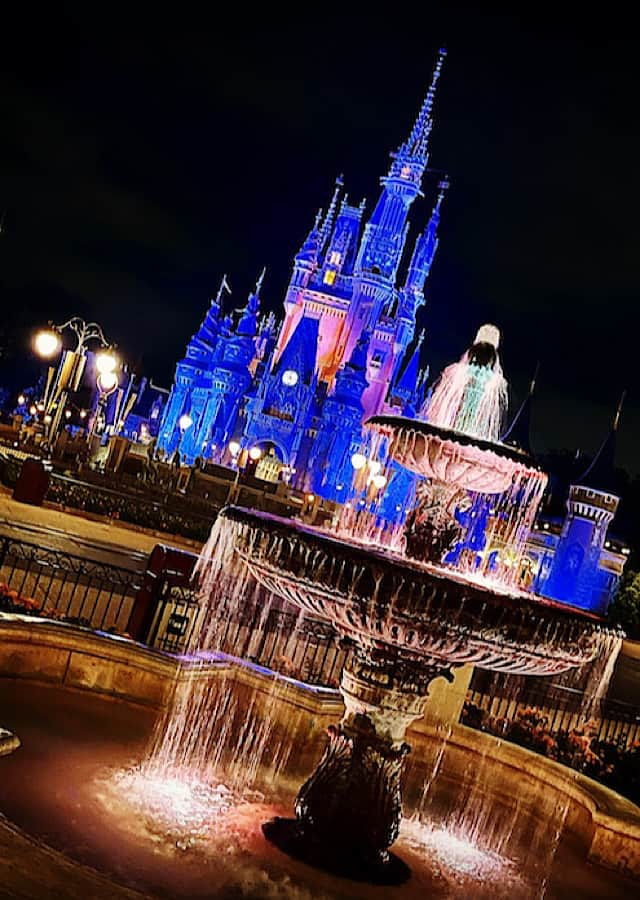 If there is one thing Disney does well, it is fireworks displays. Disney Parks offer World Class nighttime spectaculars that can be described as fireworks choreographed to your favorite magical melodies.
Disney World generally has plans for Count Downs on New Year's Eve. One is in the Magic Kingdom, and the other is typically in EPCOT. Truly, the Magic Kingdom offers one of the most phenomenal fireworks shows to accompany that countdown.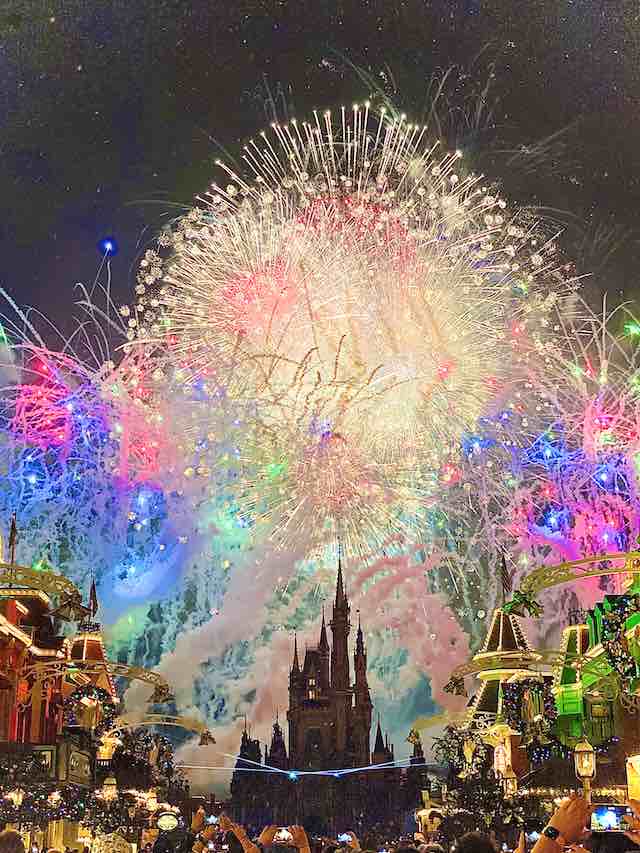 One of Disney's very best pieces of fireworks shows art is Fantasy in the Sky Fireworks. This spectacular is the New Year's Eve display that happens in Magic Kingdom at Walt Disney World. In 2022, Disney World presented an updated version of the show that was extremely enjoyable.
In fact, my (Katie's) children dubbed it one of the best things they had ever seen (after Happily Ever After, of course). The show features 360 degree-style fireworks.
The show that is sprinkled across the sky above the castle is also mirrored behind you. Guests inside the Magic Kingdom are essentially surrounded by fireworks. It is like nothing you have ever seen. All the while, familiar songs from Disney films and Walt Disney World attractions accompany the splendor.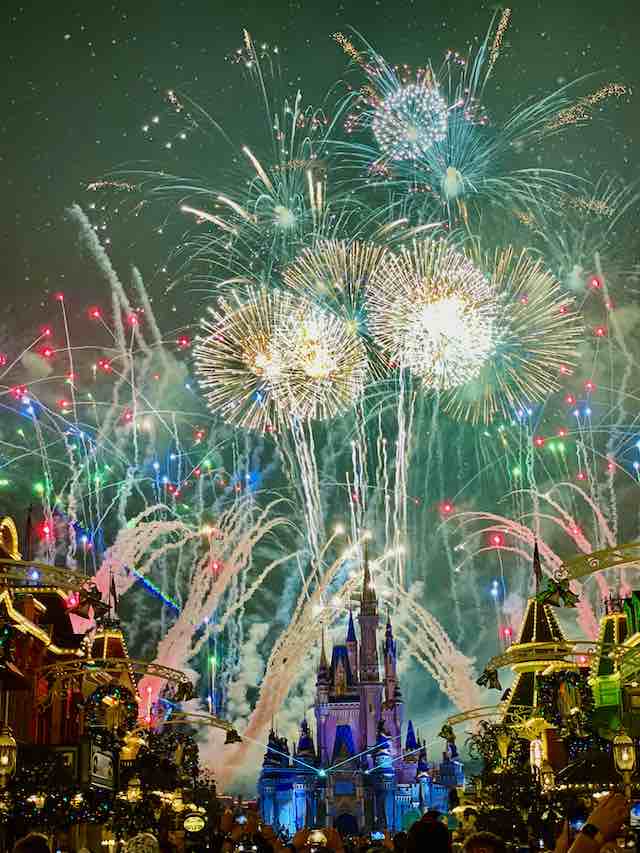 Aside from the countdown displayed on the castle just before midnight, the projections are not necessary to enjoy the show. There is nothing woven into the storytelling in terms of projections the way there is with Disney's Enchantment.
This is great news because it means that the display is enjoyable in all its glory both on and off Main Street and outside of the Magic Kingdom as well. As long as you have a clear view of the sky above the Magic Kingdom, you will be happy with what you see.
Beating the Crowds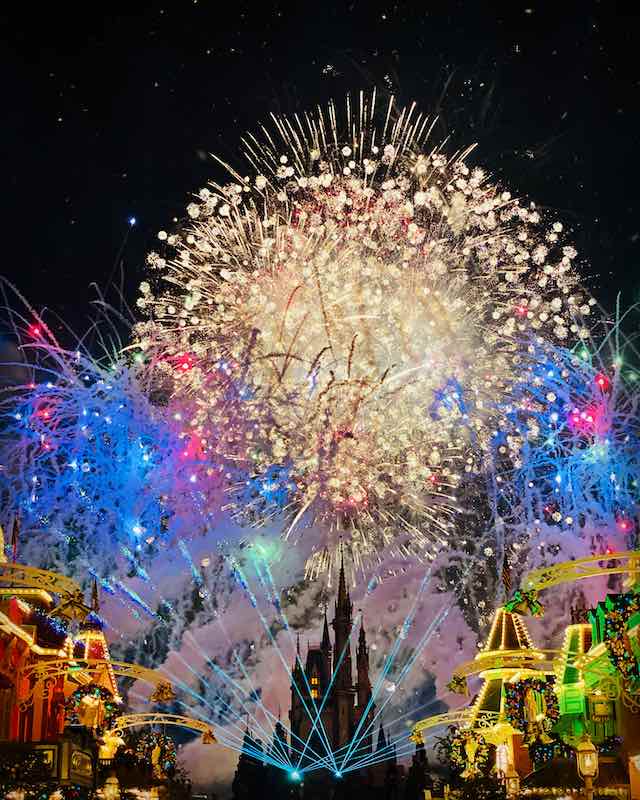 I watched the show from Main Street sparkling both over Cinderella Castle and the train station directly behind me. And, there really is something magical about being on Main Street during the show. However, there are also crowds to contend with.
But, if crowds aren't your thing, never fear. As I said, this show is enjoyable from quite a few vantage points, and you can catch it at 4 different times!
Catching the Pre-New Year's Show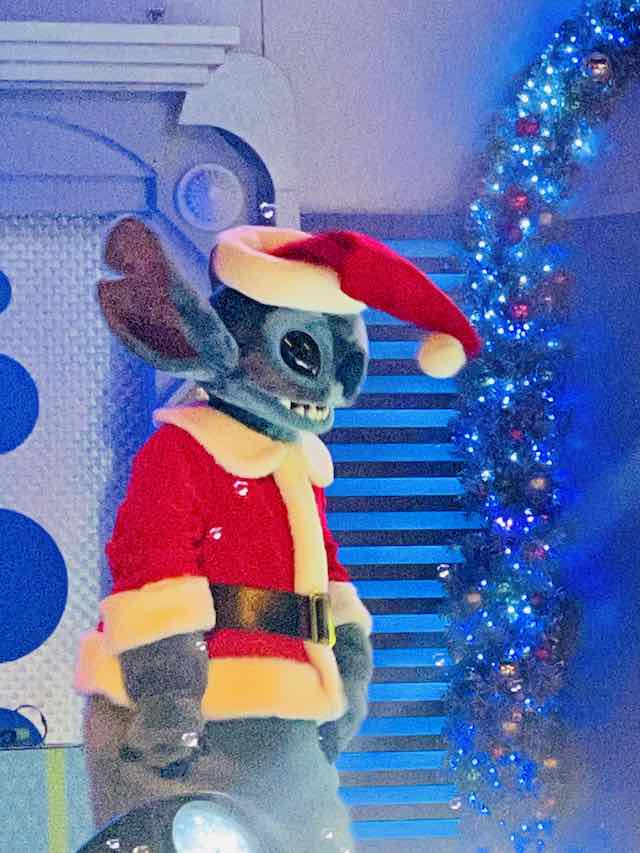 It is true that Magic Kingdom is a fun place to be on New Year's Eve. But, did you know that Walt Disney World offers the same entertainment and fun on December 30 as well?
Think of it as a NYE pre-party. The great thing about this party is since many Guests are planning their time for New Year's Eve to coincide with the actual ringing in of the New Year, Magic Kingdom is considerably less crowded on December 30th.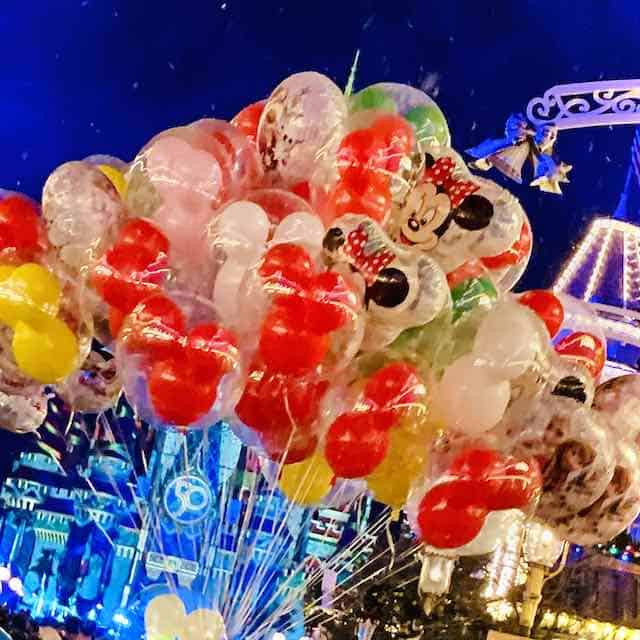 My family and I attended this day-before party to ring in 2022. We enjoyed the dance party with Stitch as well as the DJ on Main Street. The snowfall added to the magic.
Best of all, when it came time for the fireworks show leading up to midnight, we had plenty of space to spread out on Main Street. There was some considerable congestion at the hub and its surrounding areas as always, but back by the shops, there was lots of breathing room.
In fact, from further up Main Street, we had an excellent view of the fireworks both in front of us and behind us. And, if you are looking to beat the crowds to the transportation after the show, it is actually better to be further back and closer to the exit.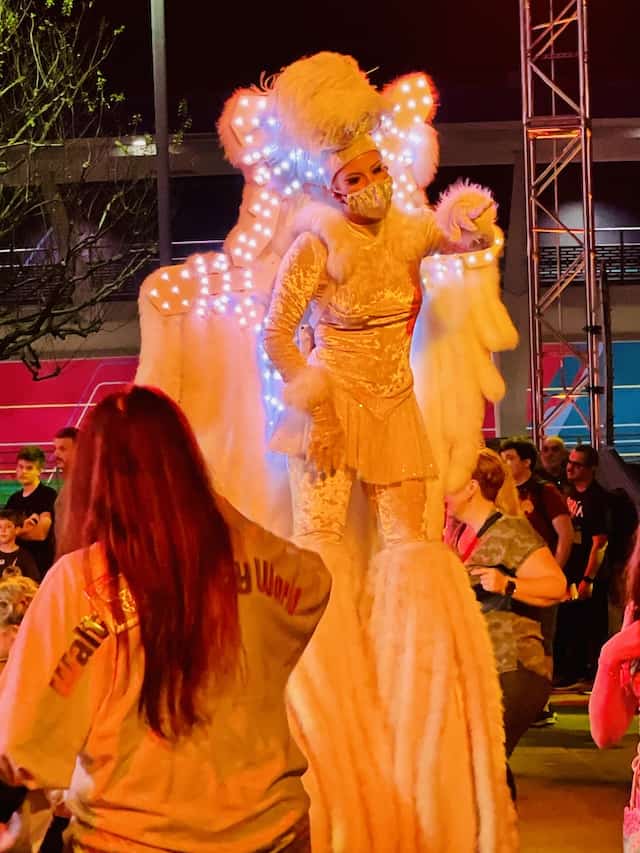 However, on this particular night, the parks were open late, so we stayed to play and were rewarded with walk-on after walk-on.
This year, you can catch Fantasy in the Sky Fireworks twice on December 30, 2022. They will occur at 6:30 PM and at 11:50 PM with a countdown to midnight.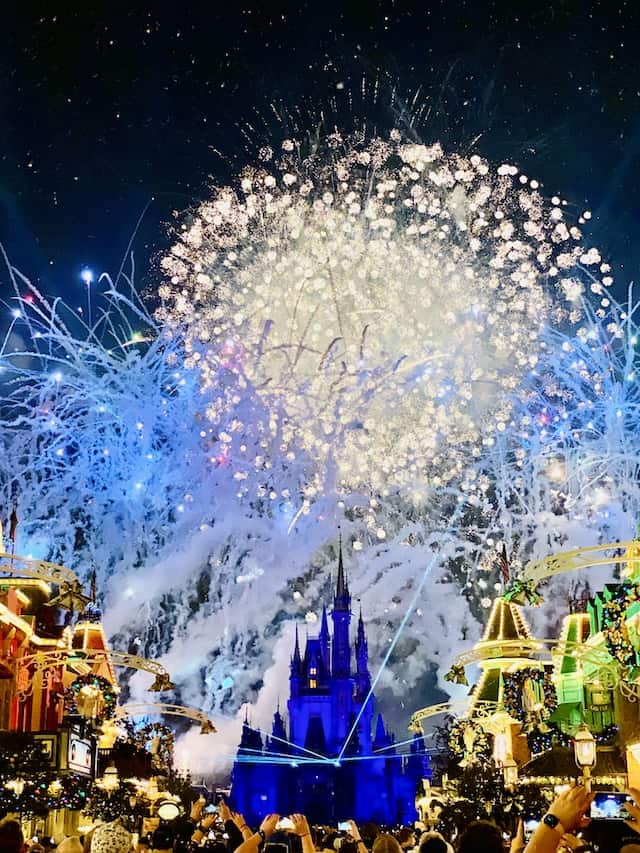 These are great times to see the amazing Fantasy in the Sky Fireworks show for those who have a bedtime to stick to and for those who do not want to experience Magic Kingdom on New Year's Eve.
If you do want to see them on New Year's Eve inside the parks, there is the 6:30 showtime on December 31, 2022. This is ideal for those who want to call it a night early.
Viewing From Outside the Parks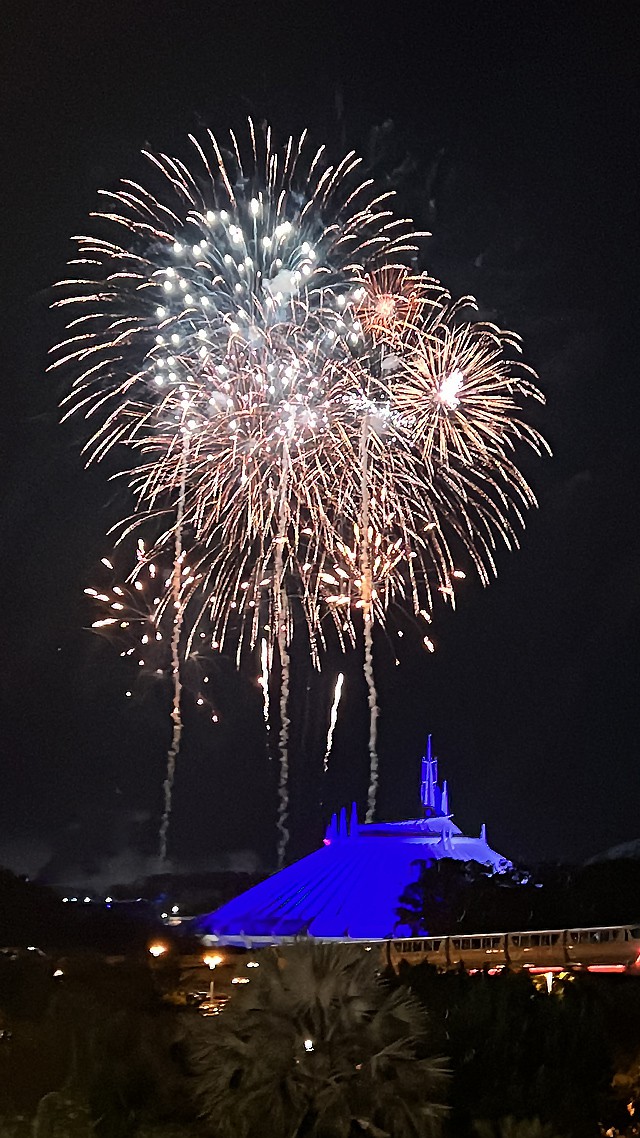 Of course, there are great spots to see Fantasy in the Sky Fireworks from outside of Magic Kingdom. In fact, even if you do not have a Walt Disney World park ticket, you can still enjoy the fireworks from a variety of locations. The best part is that you will not have NYE Magic Kingdom crowds to contend with.
Depending on where you go, you might not get the same 360-degree feeling of being surrounded by fireworks. However, the show is impressive nonetheless. Some resorts offer great views and even pipe in the accompanying music.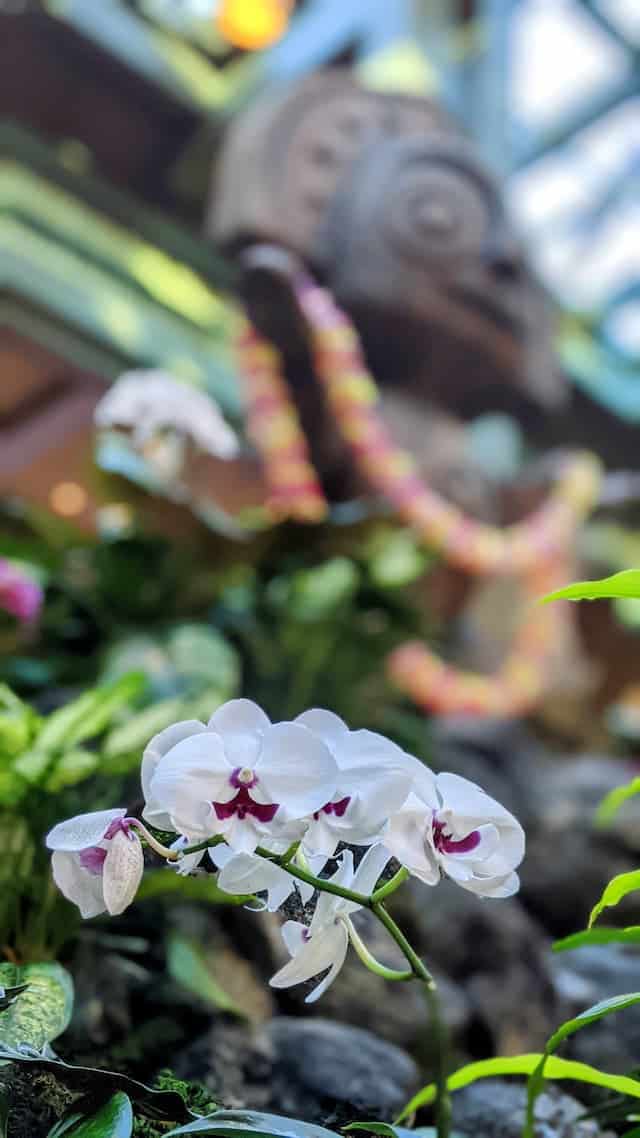 You can travel to any of the locations via bus from Disney Springs. Otherwise, you will need a dining reservation to enjoy them from the resorts. The beach at Disney's Polynesian Village Resort offers a good view, and the music is piped in. It is one of my very favorite spots for fireworks viewing, particularly because you can have a nice Dole Whip before or after the show.
You can also see them from Disney's Grand Floridian Resort & Spa. Viewing is available from the beach. While you are there, be sure to check out the glorious gingerbread display. Disney's Contemporary Resort also has several great viewing areas. One is the bridge between Bay Lake Tower and the original building.
Finally, you can catch the Magic Kingdom nighttime spectaculars from the Transportation and Ticket Center. It offers an unexpectedly great view.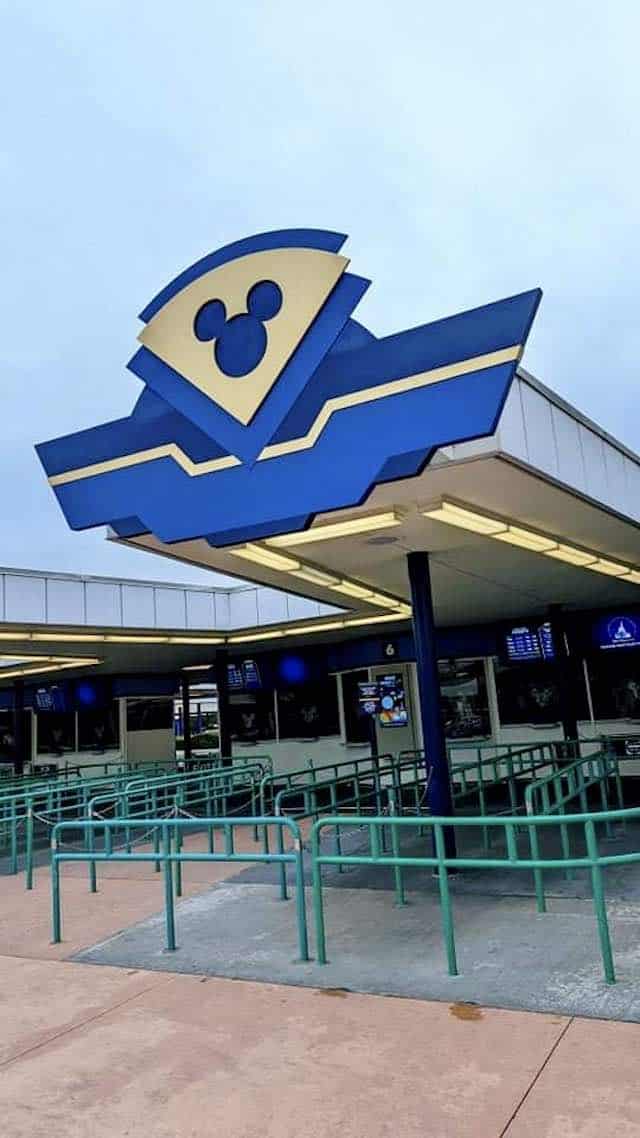 For a more detailed look at exactly where to go for the best places for fireworks viewing, click here. It's a great resource to bookmark.
You can see Fantasy in the Sky fireworks all 4 showtimes from locations outside of the parks. Logically, the December 30 shows and the 6:30 NYE show will be less populated than the 11:50 NYE show.
Paid Experiences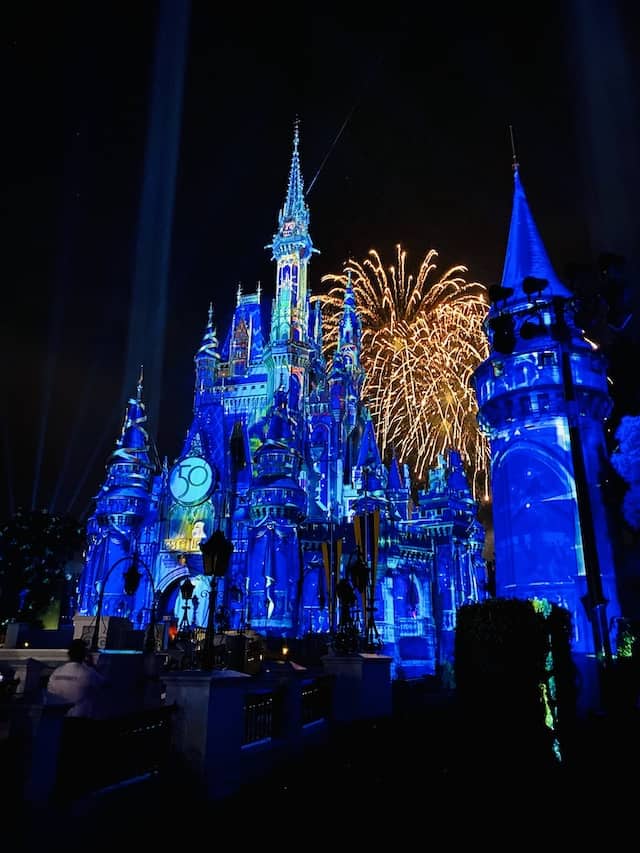 There are also ways to enjoy the fireworks at a premium. For example, there is generally a NYE party happening at the contemporary.
Additionally, those dining at California Grill at Disney's Contemporary Resort on those dates will have a unique view. Remember that even if your California Grill reservation does not coincide with the showtimes, you can still enjoy the fireworks. Simply save your receipt and present it to return to the viewing area.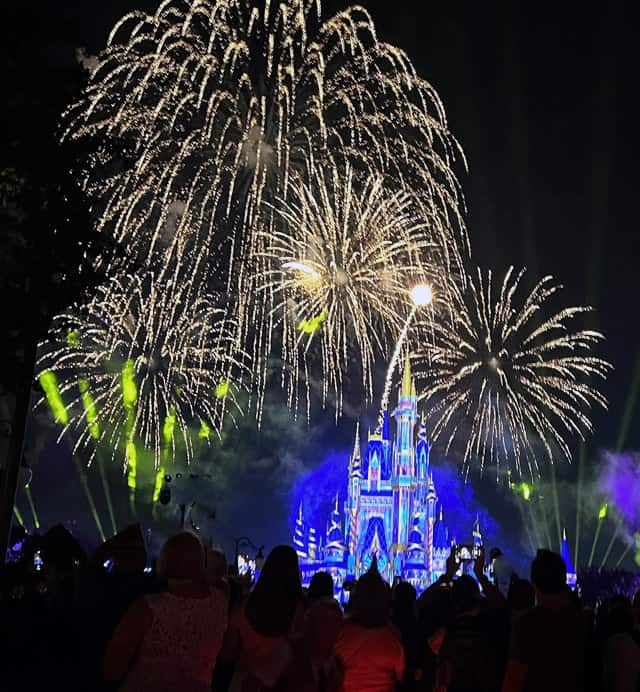 While there is no word of a Fantasy in the Sky dessert party just yet, it is not unusual for Disney to offer dessert parties to coincide with fireworks shows. As always, we will keep you up to date with all the enchanted extras should they emerge.
Are you planning to see Disney's New Year's Eve fireworks shows? Will you be enjoying the offerings from a Disney Park, or do you hope to tune in at home? Let us know in the comments or join the fun on Facebook.