What's a Blunch exactly? It's something you have got to try.
Blunch at the Grand Floridian Cafe
Blunch is the mixture of breakfast and lunch served at the Grand Floridian Cafe. This gem of a restaurant is located in-you guessed it- Disney's Grand Floridian Resort & Spa.
I (Katie) am a brunch person. In fact, I am certain it is my favorite mealtime. A breakfast or brunch at the Grand Floridian Cafe has been on my Disney dining bucket list ever since I was vacationing with my family in college. My mom and aunt got up early and sneaked off from our room at the Polynesian and headed over to Grand Floridian Cafe for breakfast without my cousins and me while we all slept in. Rude.
But after hearing them talk about it, I couldn't blame them for wanting to go. It sounded like the most lovely experience, and I am glad they got to have it. (Besides, the girls and I couldn't stay too mad since we got to enjoy Kona when we woke up).
Atmosphere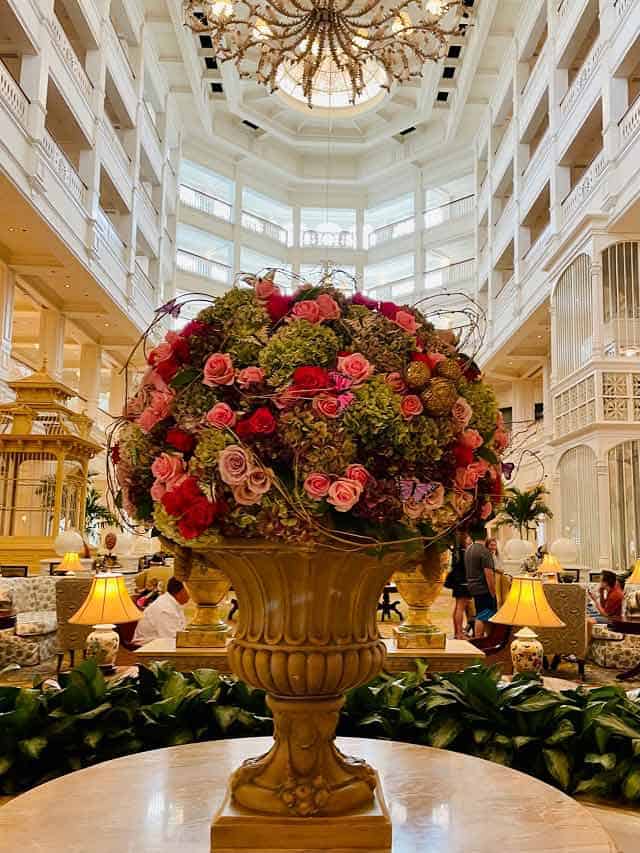 When finally it was my turn to try Grand Floridian Cafe for myself, I was lucky to be staying in a DVC room at Disney's Grand Floridian Resort & Spa. The restaurant's theming flows seamlessly through the rest of the resort. There are plenty of windows to let in natural light, which made for a nice, glowy morning. The white furniture and decor give it a bright clean feel. The only thing I am not fond of is the carpet, but then again I usually don't care for hotel carpeting of any kind (does anyone?).
The restaurant is relatively large with ample seating. This is a good thing because it means that it is a comparatively easy reservation to grab at the 60 day mark, and there is often same-day availability. But, don't let the availability fool you. Some of Dinsey's best dining happens in restaurants that are relatively easy reservations to score. Certainly, Grand Floridian Cafe is a restaurant that should not be overlooked for a morning or afternoon meal.
The Bread Service
During Breakfast and Blunch, Grand Floridian Cafe serves up a fun bread service. Diners receive a lovely platter of buttermilk biscuits accompanied by orange butter.
The biscuits are pretty good for restaurant biscuits. And that orange butter is a truly special thing of beauty. I imagine there are repeat diners who go back just for that orange butter on a nice biscuit. But if you dine here, you must resist the urge to fill up on bread because other delights await you.
They have POG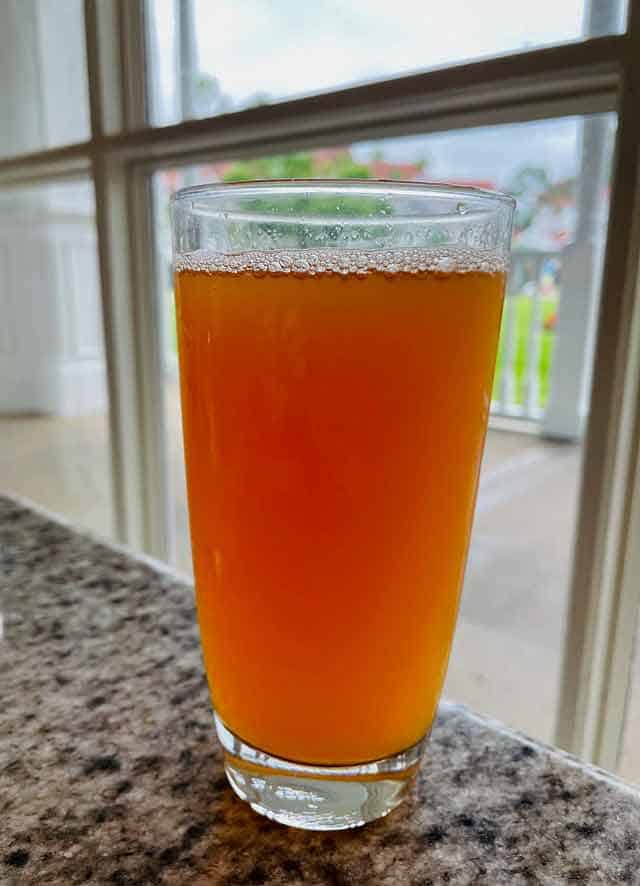 One of my favorite things about breakfast and brunch in Wat Disney World is enjoying a glass of POG Juice. Dearest readers, I am happy to tell you that Grand Floridian Cafe serves POG!
If you know, you know! POG is a blend of Passion fruit, orange juice, and guava, and it is a quintessential Disney delicacy. I am not even a juice person. I never drink it in real life, but I will never turn down a chance to have a glass (or two) while in Walt Disney World.
Heirloom Apple Salad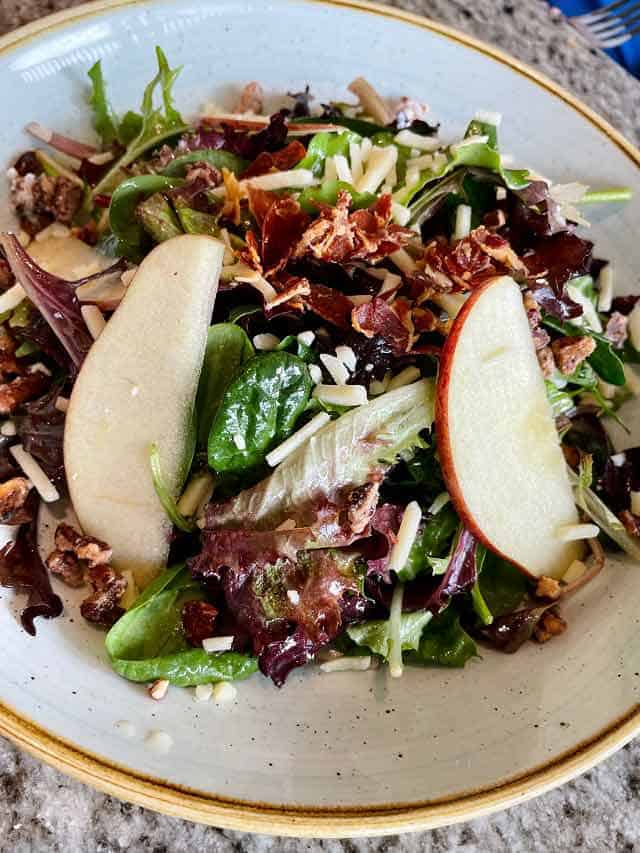 The Blunch menu has several soups and salads to offer. My group tried an appetizer-sized salad called the Heirloom Apple Salad. It is a combination of organic baby lettuce, heirloom apples, sharp cheddar, pecan brittle, and crispy prosciutto with a honey-apple vinaigrette. If you suspect it is a delicious salad, I can confirm those suspicions.
Do you ever love a salad dressing and wish the restaurant would sell it so you could replicate a great salad experience? Such was the case with that honey-apple vinaigrette. It is light and slightly sweet and perfect for the summer. It paired beautifully with the apples and prosciutto. All the produce was fresh and crisp. I had already compiled my list of best Disney salads before I tried this one, but this one deserves an honorable mention.
Lobster Thermador Burger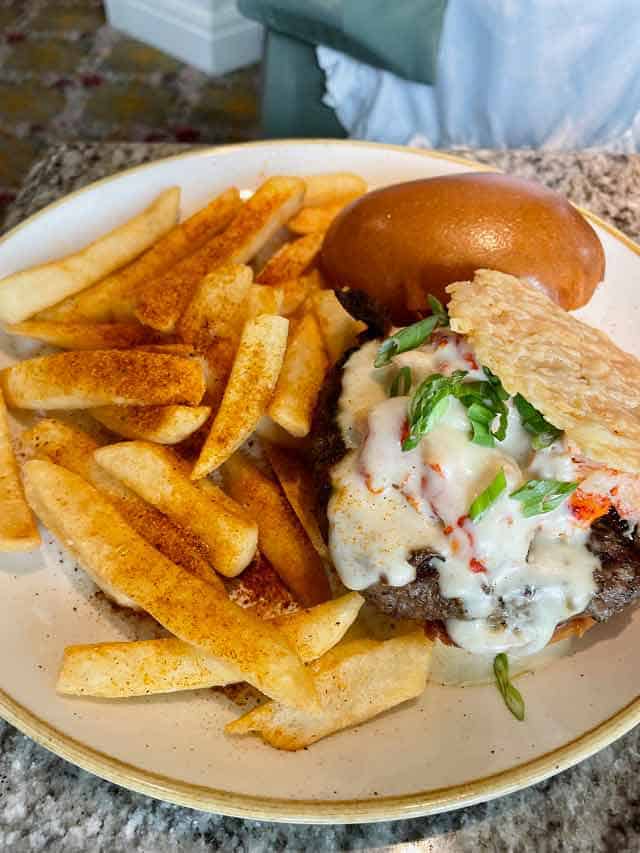 The Lobster Thermador Burger is described as an artisanal 7-oz burger patty and lobster-parmesan Thermidor sauce on a seared brioche bun. It is served with cafe signature seasoned French fries. As you can see, some of the fires were a bit over-seasoned.
The burger, however, was tasty. Hot and juicy and delicious, its flavors worked nicely with the sweet lobster meat. It is an enjoyable dish. While my favorite Disney burger is over at Steakhouse 71, this one is a good one too.
Avocado Toast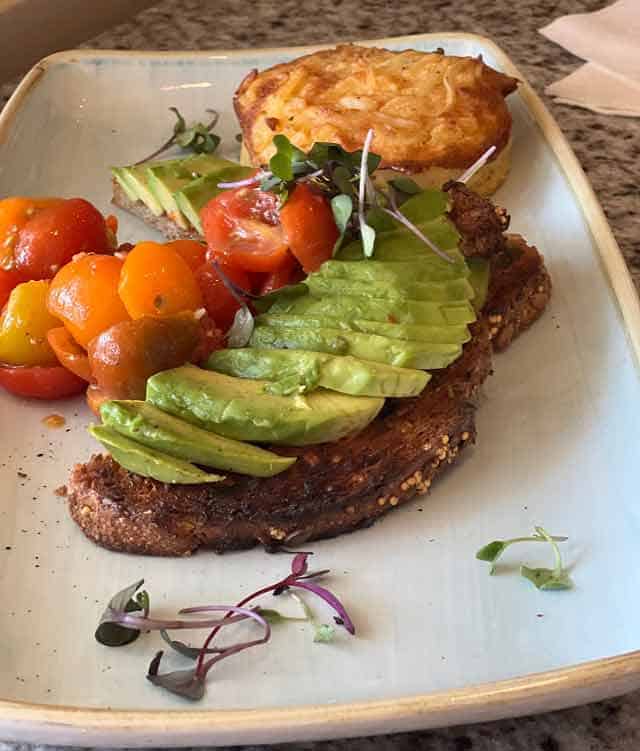 The Avocado Toast at the Grand Floridian Cafe is an attractive dish. If you are craving something light, plant-based, and nutritious that is still flavorful and delicious, this will make an excellent meal for you.
The dish comes with avocado, fire-roasted tomatoes, and micro greens on multigrain toast. It is a tasty combination, and a great way to fuel yourself for a day at the parks.
Lobster Benedict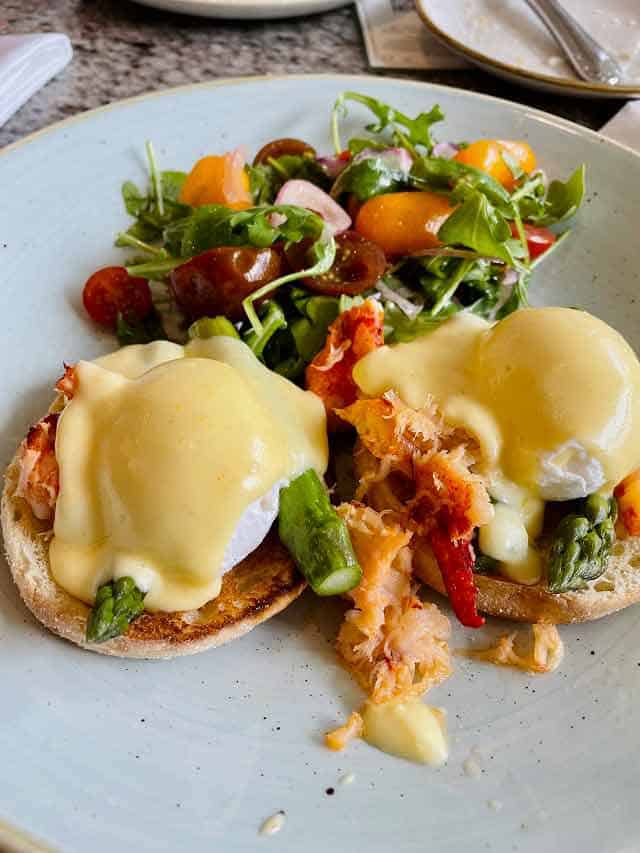 I love a good benedict, and Grand Floridian Cafe makes one that is perfectly scrumptious! The dish comes with two poached eggs, lobster, asparagus, and hollandaise on a toasted English muffin.
The eggs were perfectly cooked, and the chef was not stingy with the lobster. If you love eggs Benedict and lobster, this is a dish for you. It is very good, and I would certainly have it again. You can also order classic Eggs Benedict if you want or need to avoid shellfish. I imagine it is just as nice a dish.
Brioche French Toast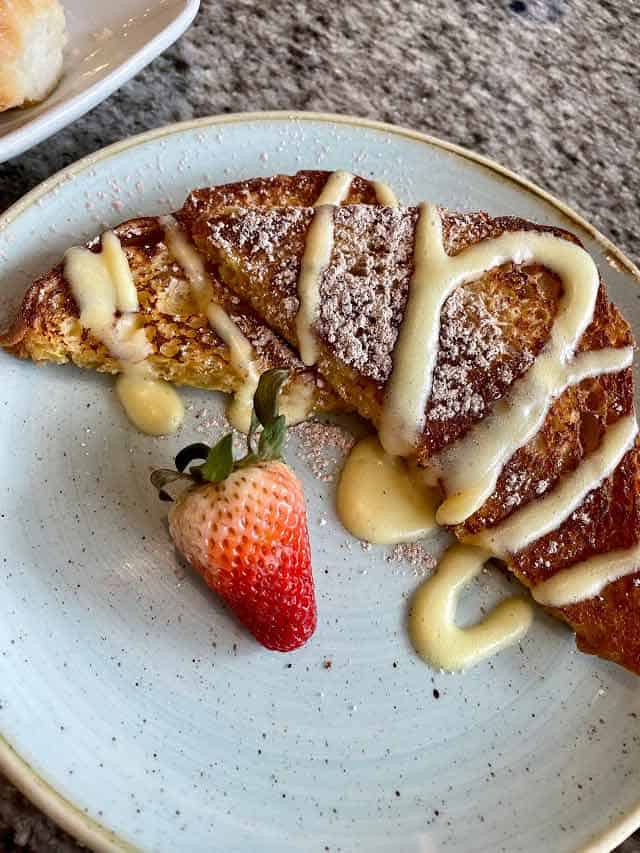 On this trip, I learned that if you are torn between the French Toast and any other dish on the menu that it is possible to order a side of French Toast as an add-on to any entree. I am finding quite a few Disney restaurants allow this practice. I happily took our server up on the idea.
The French Toast at Grand Floridian Cafe is described as Madagascar vanilla bean-scented brioche French toast. It is served with Bacon or Sausage. I have sampled many French toast dishes in my life, and this is one of the best French toast dishes in Disney World and possibly anywhere else on the planet. It had a delicious creaminess and was almost custard-like in the center. I also love the French toast over at Wine Bar George. I think I had better have both of them again for the sake of research, don't you?
Final Thoughts
If you have a chance to head to Grand Floridian Cafe and enjoy the Blunch menu, take it. As I said, it is a relatively easy reservation to track down, even last minute, and you might even find it is one of the best meals of your trip.
Have you had a chance to enjoy Blunch at the Grand Floridian Cafe? What was your favorite dish? Let us know in the comments below or on our Facebook page. Or, keep the conversation going and share them with us in our crew, too!