Want to save money while at Disney? If so, check out our list of delicious breakfasts inside the each theme park that won't break the bank.
Animal Kingdom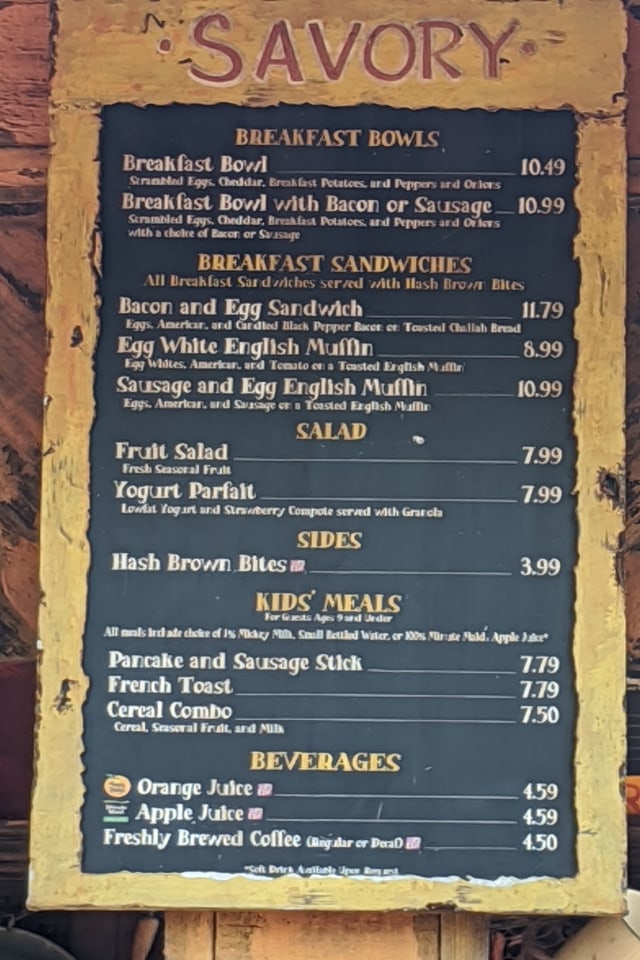 Whether you're rushing at rope drop to catch an early Flight of Passage ride, or leisurely entering the park to take a look at the animals, it's important to eat breakfast along the way. Disney's Animal Kingdom offers some unique quick service breakfast options.
Isle of Java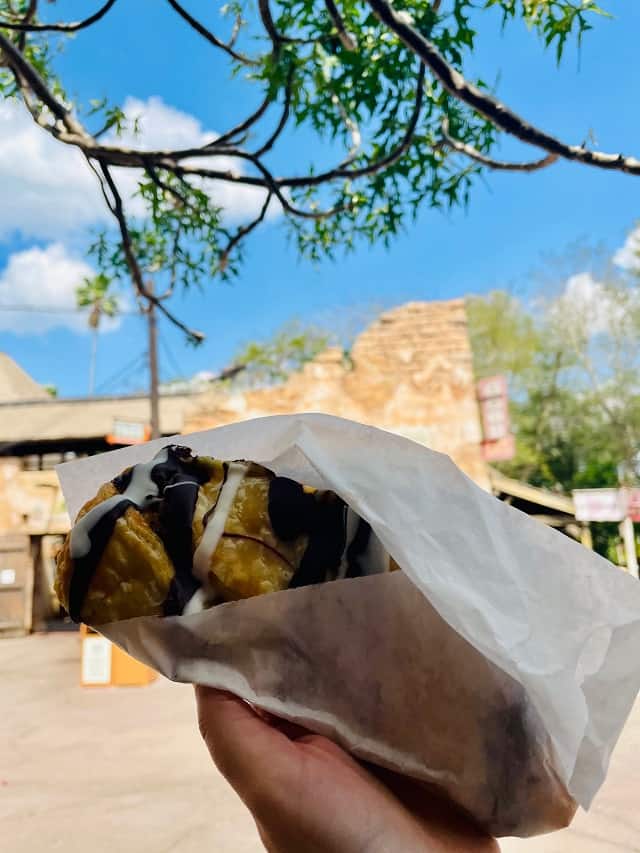 Located in Discovery Island, the Isle of Java is more of a coffee spot than a traditional breakfast restaurant. However, they serve a decent sausage, egg, and cheese biscuit here along with the following baked goods: Mickey pretzel (with cheese sauce), muffins, and danishes.
Perhaps the best sweet treat here is the Tiger Tail chocolate twist, pictured above.
Creature Comforts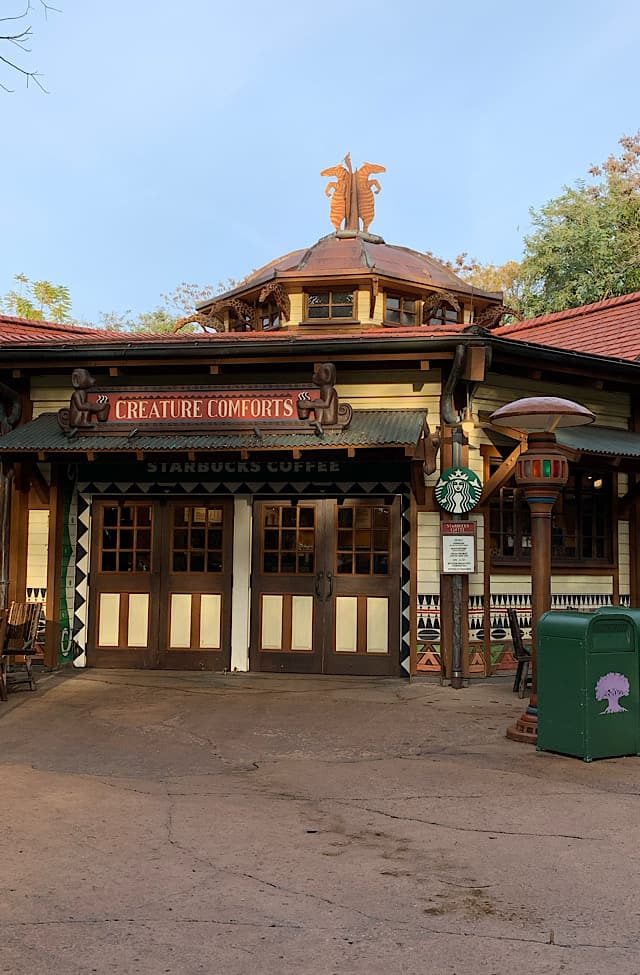 Hands down, Starbucks has better coffee than Joffreys. You can also find traditional heat and serve sandwiches and bakery items found in Starbucks across the parks. However, two things keep me away from this location: long lines and high prices. If you gotta have your Starbucks, head to Creature Comforts to get your favorite java.
Kusafiri Coffee Shop & Bakery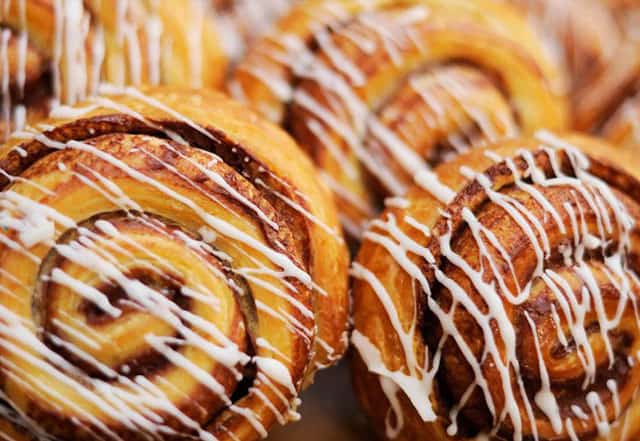 You can also grab at sausage, egg, and cheese biscuit at both the Kusafiri Coffee Shop & Bakery and Tamu Tamu Refreshments. While the biscuits are pretty standard, they're served hot and fresh.
Tamu Tamu Refreshments
Tamu Tamu also serves these tasty sweets: Colossal Mickey Cinnamon Roll, danishes, muffins, and croissants. The Honey Pistachio Croissant is a stand out.
Note: Tamu Tamu Refreshments also serves a variety of Dole whip flavors here too!
Pandora – The World of Avatar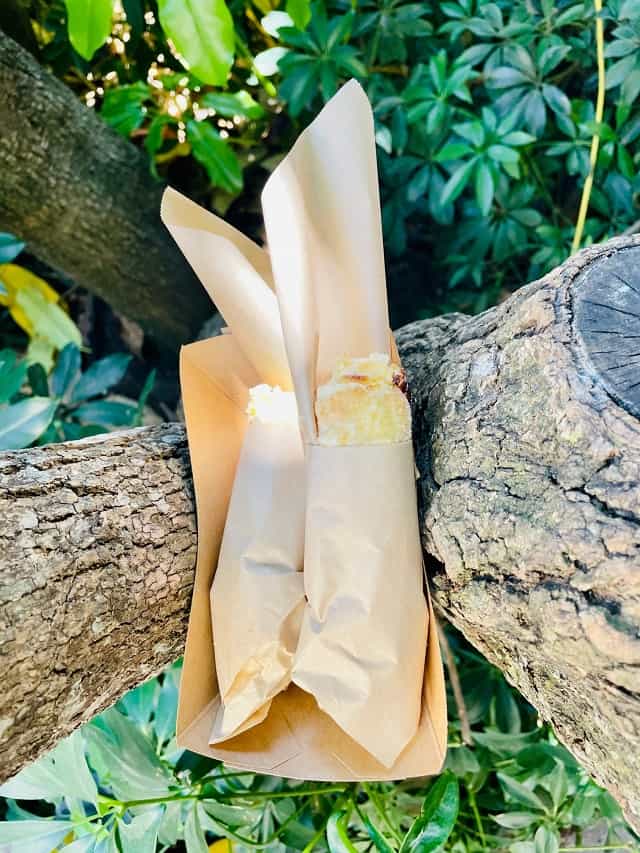 Rope dropping Flight of Passage, and now you're hungry? No worries! Look for the Pongu Pongu walk-up window near the exit. Here, you can fill up on a sausage, egg, and cheese biscuit along with a pineapple-cream cheese spring roll and french toast sticks.
Asia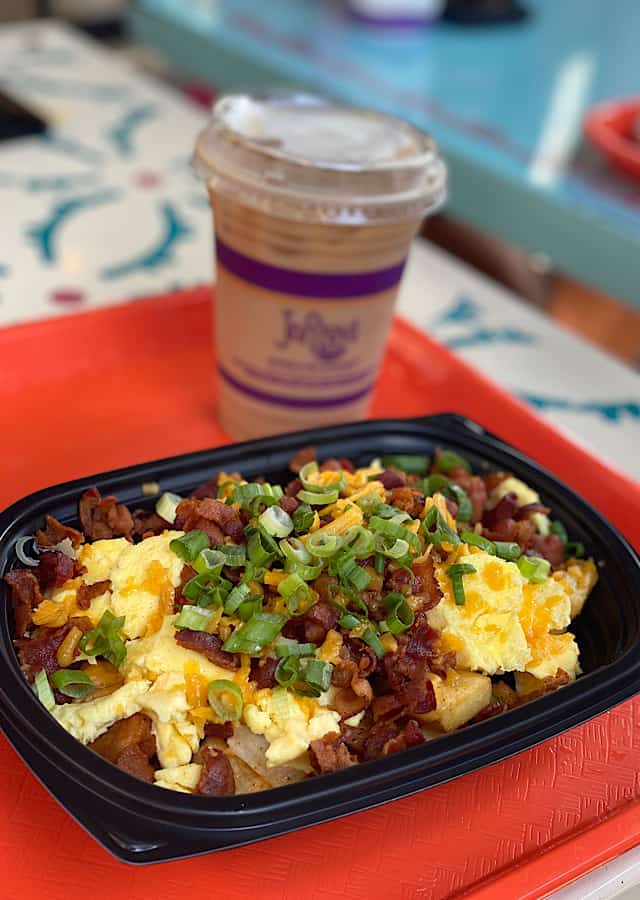 I saved the best for last! Seriously, if you're looking for a quick, yet hearty breakfast, please head to Yak & Yeti Local Food Cafe walk-up window in Asia. Guests can choose from breakfast bowls that include cheddar cheese, breakfast potatoes, peppers and onions, and an option to add sausage or bacon.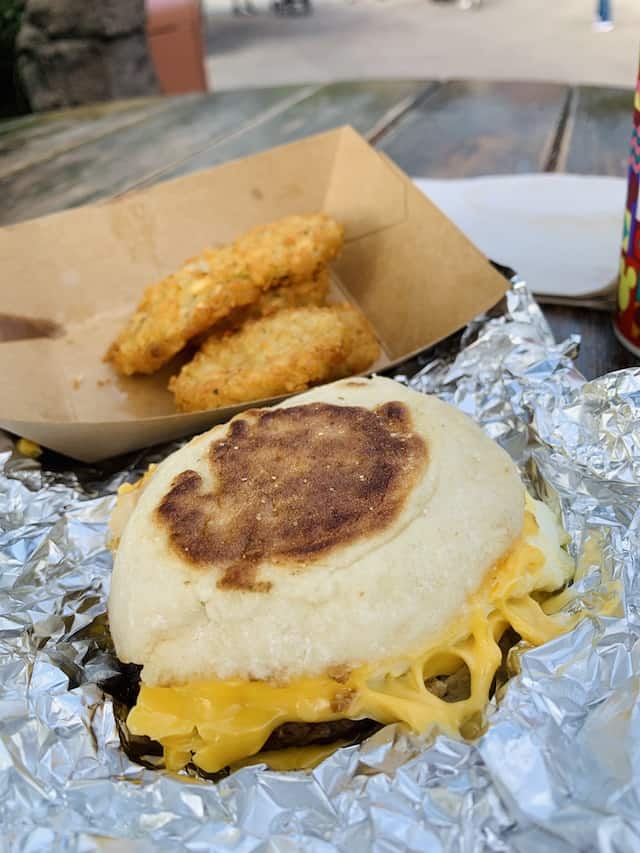 Not only that, there's a sandwich with eggs, American Cheese and sausage on a toasted english muffin served with hash brown bites. This can also be served without meat. Note: There are plenty of tables behind the breakfast to enjoy your breakfast.
The best Animal Kingdom breakfast on a budget is the breakfast bowl at the Yak & Yeti Local Food Cafe.
EPCOT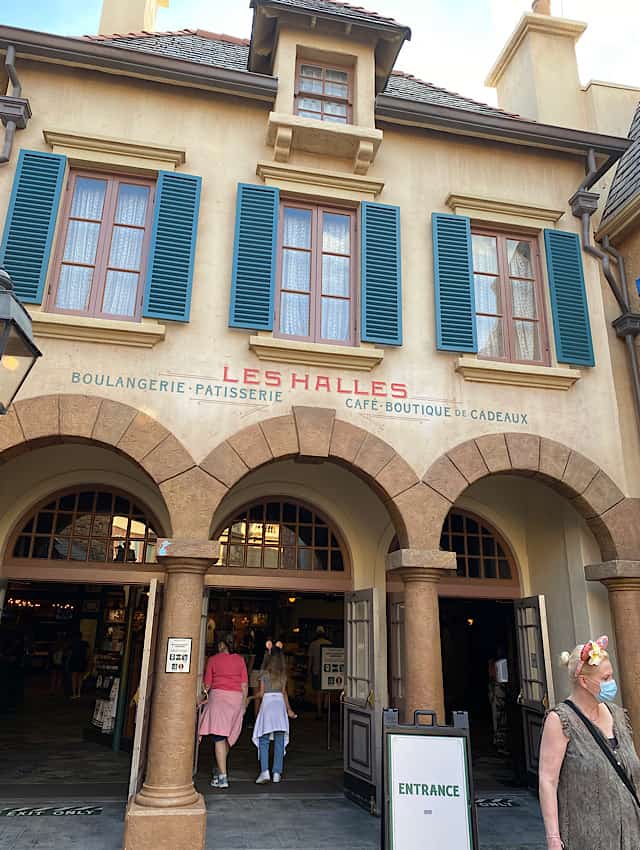 While EPCOT is known for some of the best food at Disney, it's not heavy on breakfast options. At times, it can be frustrating when most shops and festival booths open at 11:00am.
Norway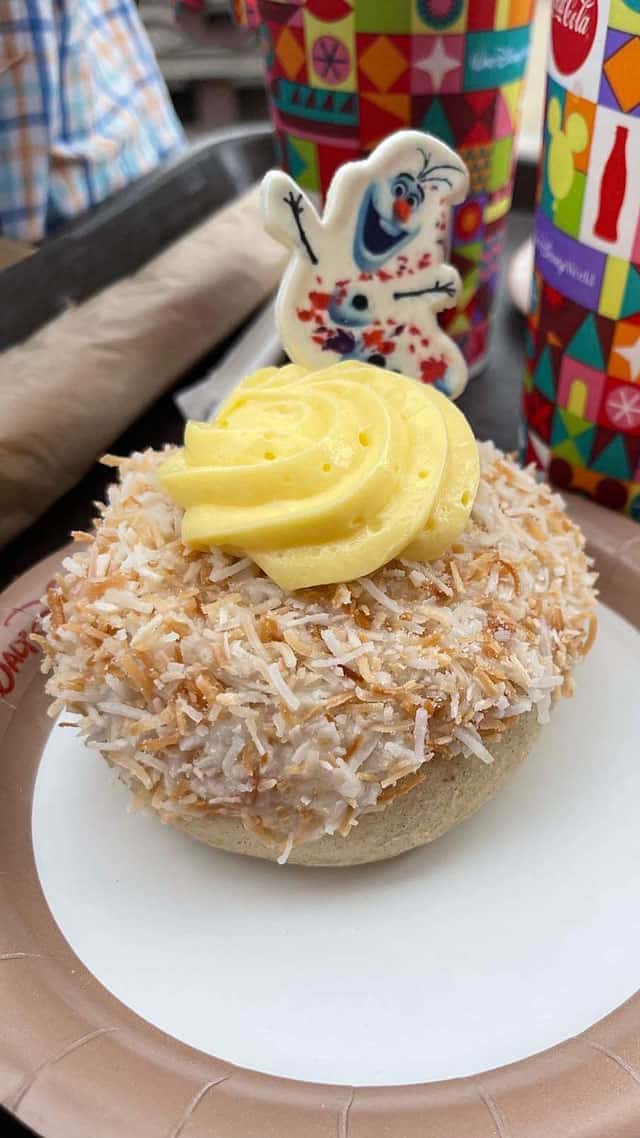 If you're riding Frozen in the morning, check out Norway's Kringla Bakeri Og Kafe for tasty baked goods, including the famous school bread. However, there are no protein breakfast options here.
World Celebration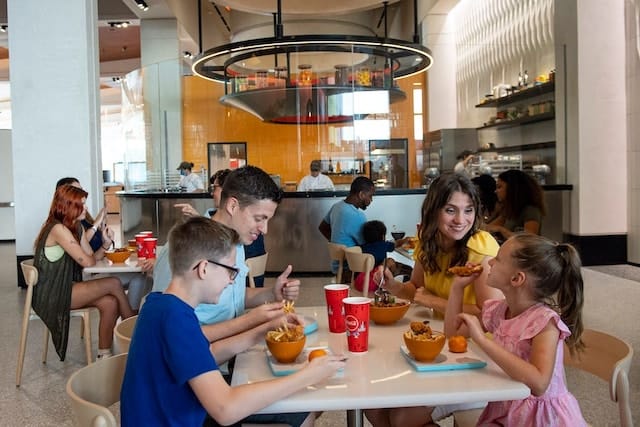 At Connections Café, delight in a tasty treat when you stop by for Starbucks coffee, specialty beverages and Disney-baked goods.
Note: The Starbucks portion of Connections Café is open for breakfast. However, the Connections Eatery quick service location doesn't open until 11:00am.
France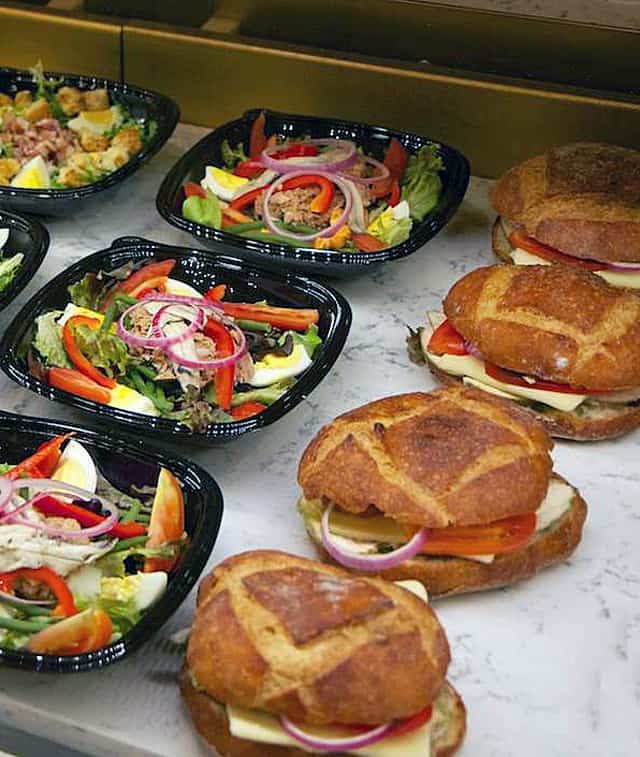 After riding Remy's Ratatouille Adventure attraction, stroll towards France for the best EPCOT breakfast. At Les Halles Boulangerie-Patisserie, you'll find delectable treats and tempting delicacies at this traditional French bakery. Check out our review HERE to see why this is such a fabulous dining location. You can also order mimosa and assorted coffees here.
The best EPCOT breakfast on a budget is the Ham, Cheese, and Béchamel on a Croissant at Les Halles Boulangerie-Patisserie. Be sure to get it warm!
Hollywood Studios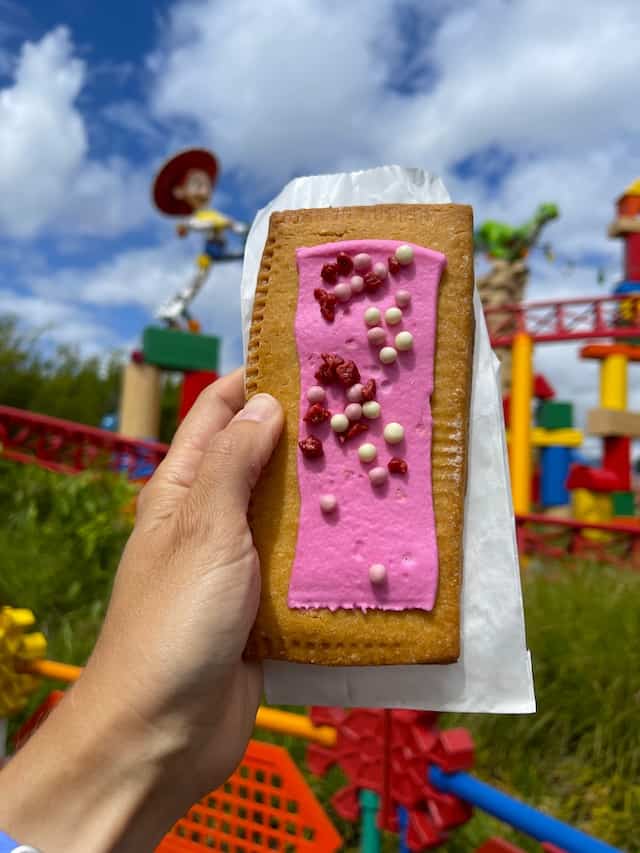 Quick service breakfast spots at Hollywood Studios are spread out throughout the park. So, after riding your favorite attraction, there should be an option nearby.
Hollywood Scoops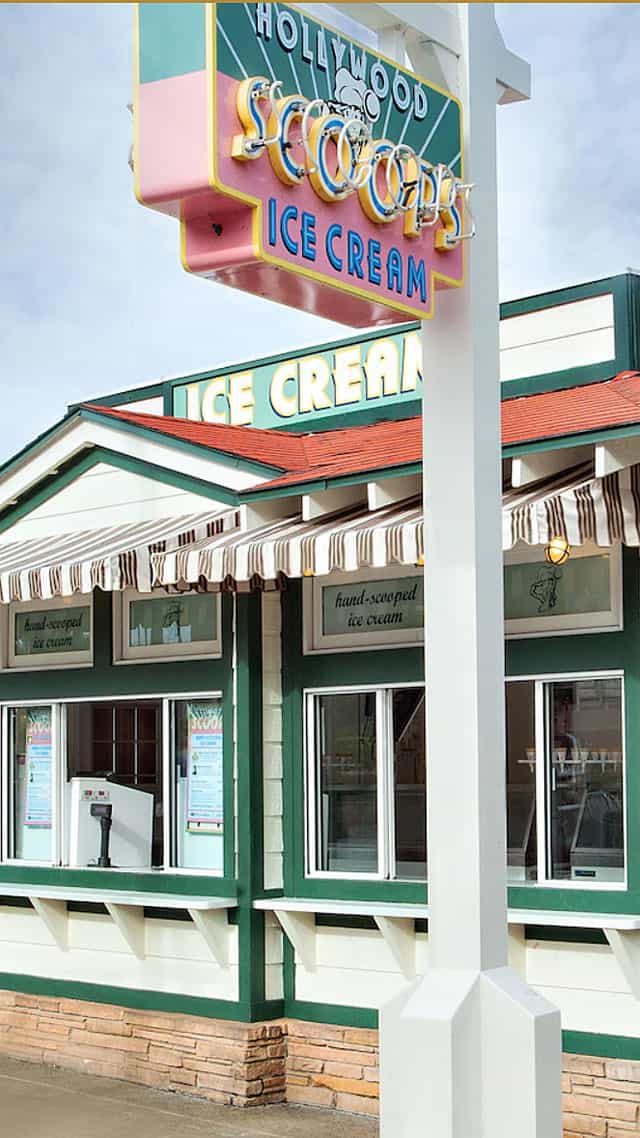 Okay, so if you head to Sunset Boulevard, be sure to ride Tower of Terror and/or Rock 'N' Roller coaster before eating. Afterwards, there is one option nearby. At Hollywood Scoops, you can order the waffle platter that includes Mickey-shaped Waffles served with fresh blueberries, whipped cream, and syrup.
Ronto Roasters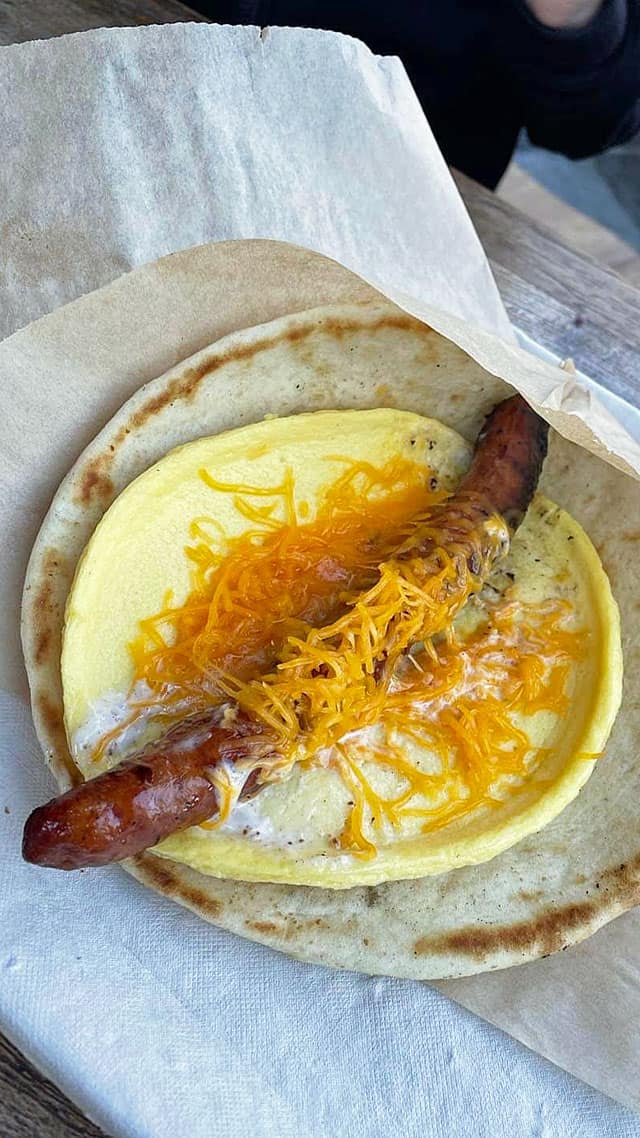 If you dash to Galaxy's Edge first thing in the morning, check out Ronto Roasters breakfast options. Breakfast specialties include the Ronto Morning Wrap with eggs, grilled pork sausage, shredded cheddar, and peppercorn sauce in wrapped up in pita bread. Or, if you like oatmeal, try the Rising Moons Overnight Oats with Dragon Fruit, yogurt, and seasonal fruit.
If you prefer a plant based option, try the Triple Suns breakfast wrap with plant-based eggs, smoky chickpea-onion slaw, and roasted tomato sauce wrapped in pita bread.
The Trolley Car Café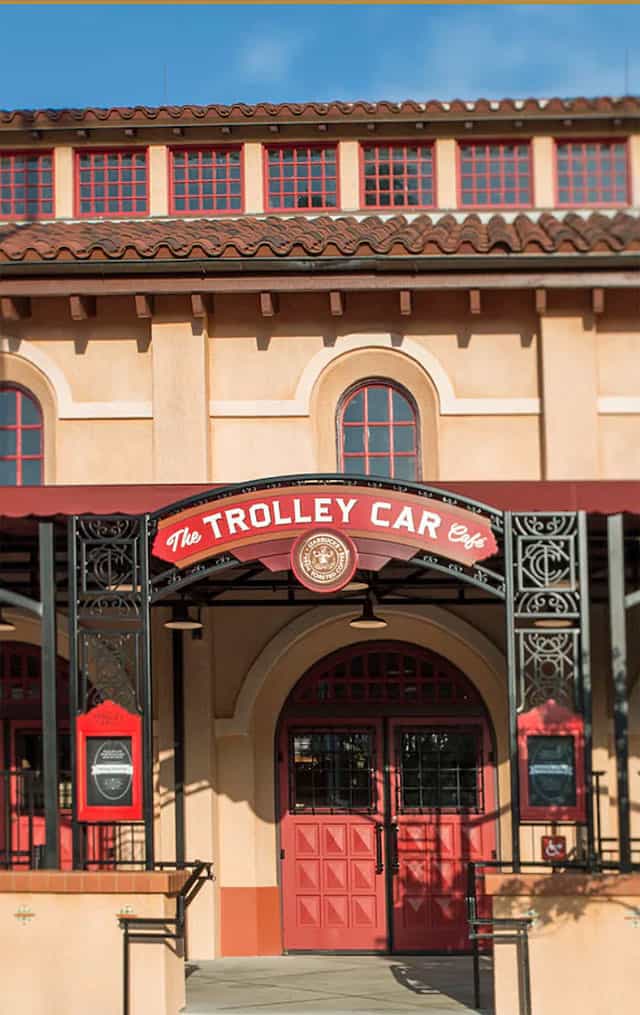 Step inside this classic trolley car station and explore a unique experience for all kinds of coffee lovers, including a selection of Starbucks Coffee, specialty beverages, and Disney baked goods. Expect long lines.
Woody's Lunch Box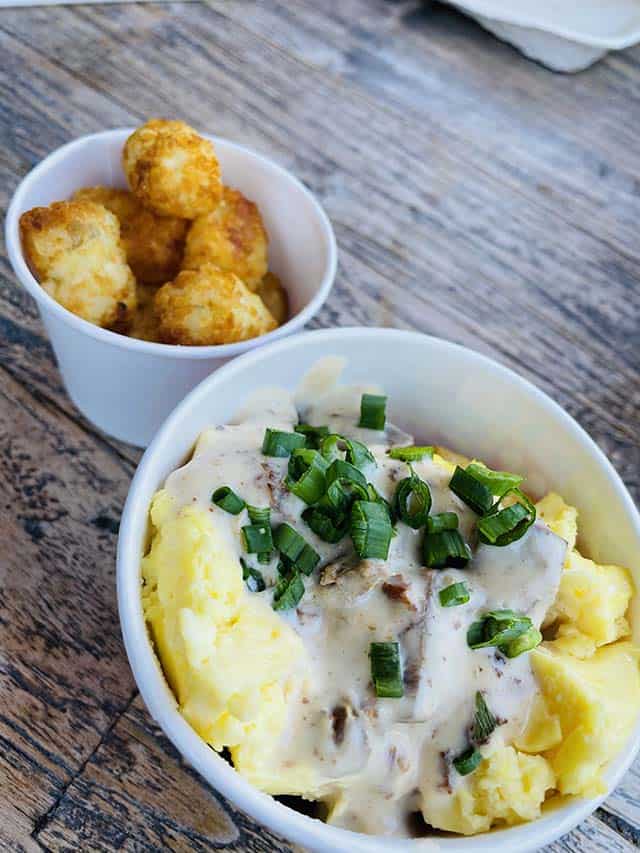 Andy's taken his lunch box and turned it into a backyard walk-up window serving tasty meals. Woody's Lunch Box is my favorite budget breakfast at Disney's Hollywood Studios. First, you can order the popular rotating flavors in the Lunch Box Tart.
However, I highly recommend the breakfast bowl. It includes a hearty portion of tater tots smothered in a delicious country gravy, scrambled eggs and topped with green onions. All of this goodness comes together in the most delicious way. Woody's Lunch Box offers both mobile ordering and a walk-up window.
The best Hollywood Studios breakfast on a budget is the breakfast bowl at Woody's Lunch Box.
Magic Kingdom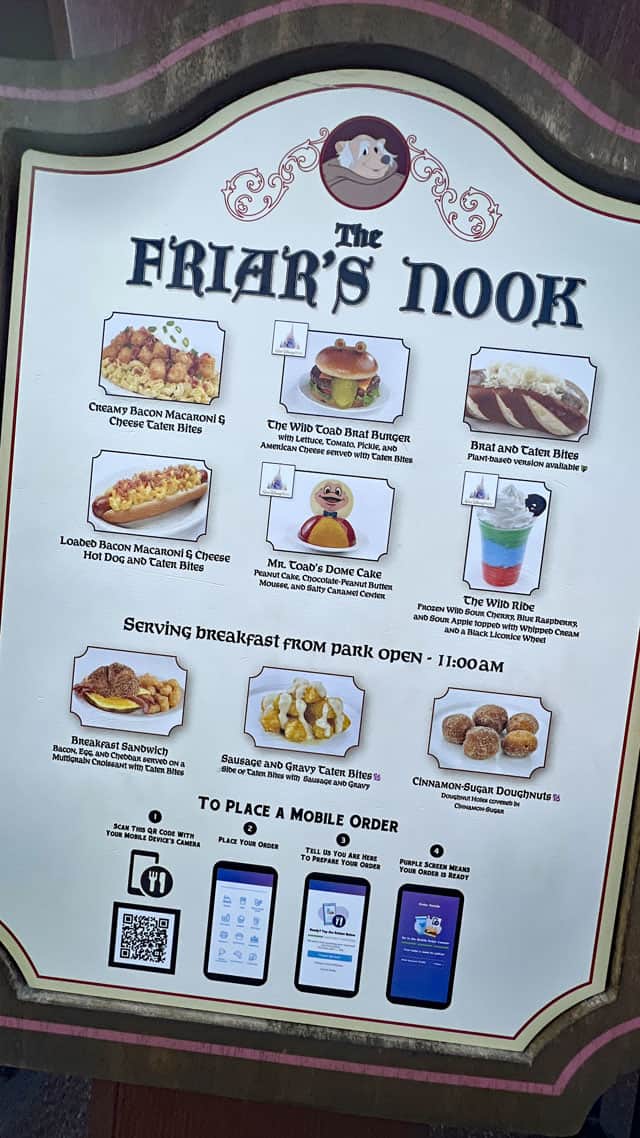 Cheshire Cafe
This location is more about a couple of snacks than breakfast. However, if you love the popular Cheshire Cat Tail or are craving a
Pepper Jack Mickey Pretzel, check out the Cheshire Cafe.
The Friar's Nook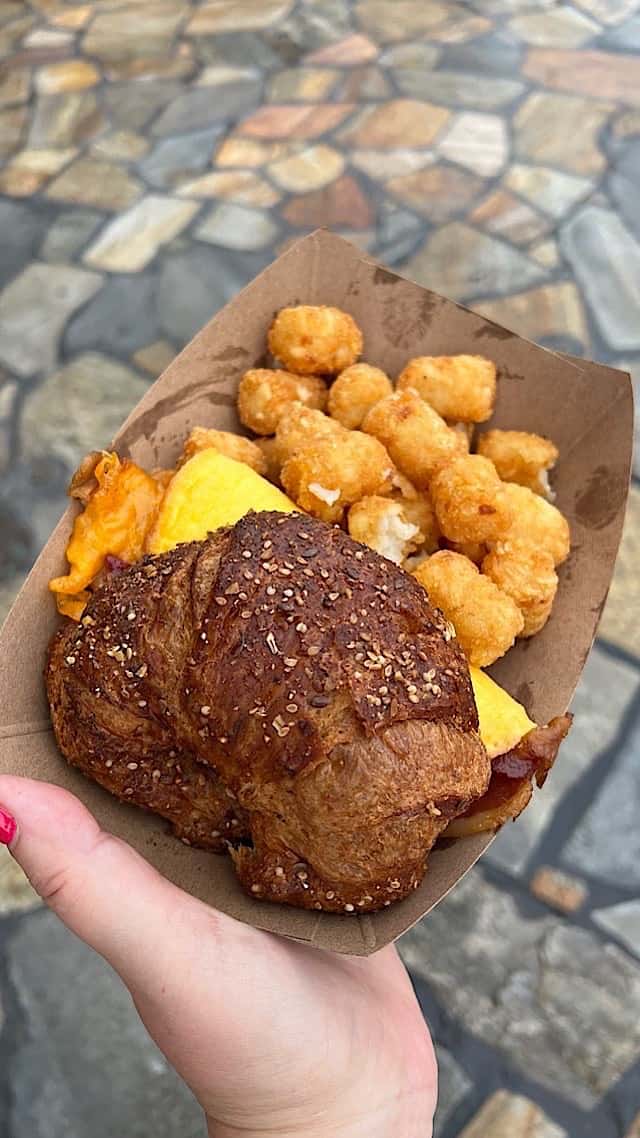 I prefer to include a balance of protein and carbs at breakfast, especially when walking all over Disney. At Friar's Nook, I ordered a bacon, egg, and cheddar cheese sandwich served on a multigrain croissant. This dish comes with a generous side of tater tots.
If you don't want a croissant sandwich, give the sausage and gravy topped tater tots or the cinnamon-sugar doughnuts a try. 
Gaston's Tavern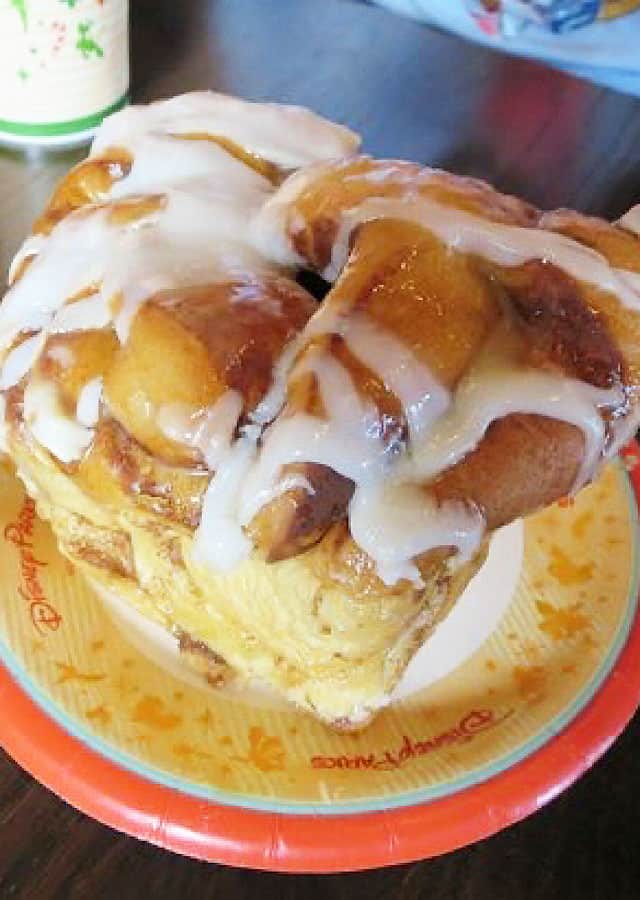 Gaston's Tavern in Disney's Magic Kingdom serves gigantic, melt-in-your-mouth warm cinnamon rolls. Gaston is infamous for his larger than life ego and for the biggest cinnamon rolls that rival Gaston's ego!
These cinnamon rolls are a plate of deliciousness with their cinnamon, maple icing, and buttery goodness. I try to have one of these every trip! You can make them at home with the recipe HERE.
Main Street Bakery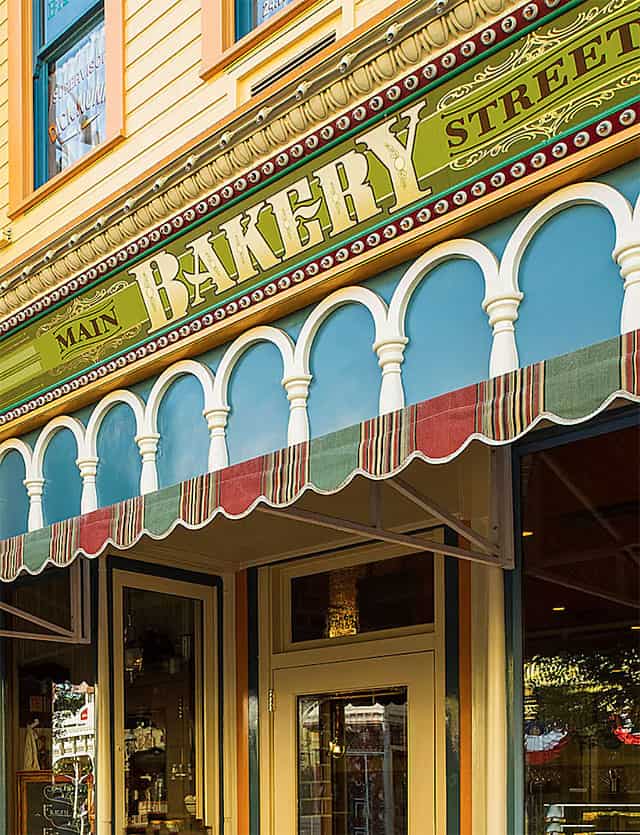 Make a stop on the way down Main Street and top off your day with a tasty cup of Starbucks Coffee and specialty beverages along with Disney baked goods. As with other Disney Starbucks locations, expect long lines.
Sleepy Hollow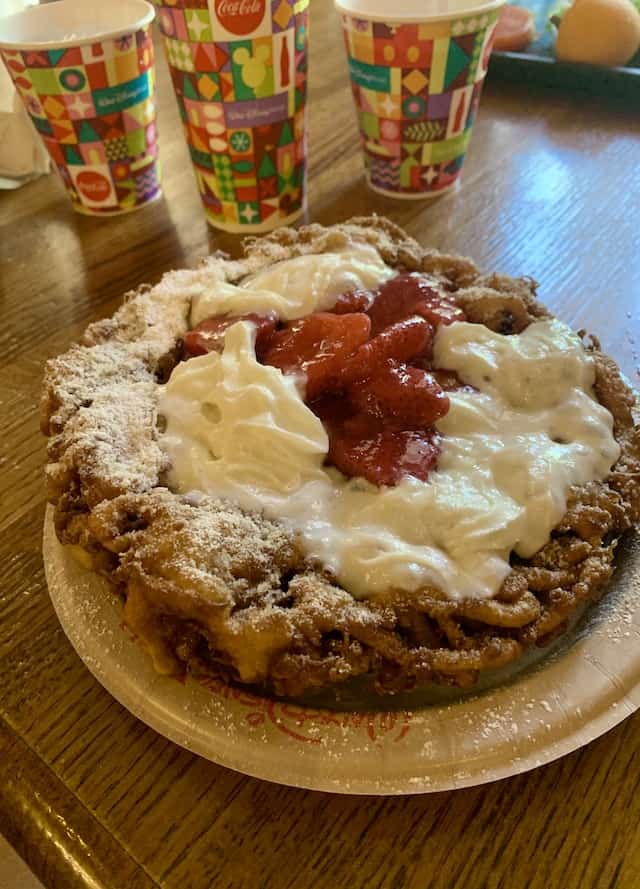 Fill your stomach with a tasty treat by Cinderella Castle. Choose between sweet Mickey waffle sandwiches or funnel cakes topped with strawberries and whipped cream. You can't go wrong with either of these choices! They're available without toppings too. Check out 5 reasons you should visit Sleepy Hollow HERE.
Westward Ho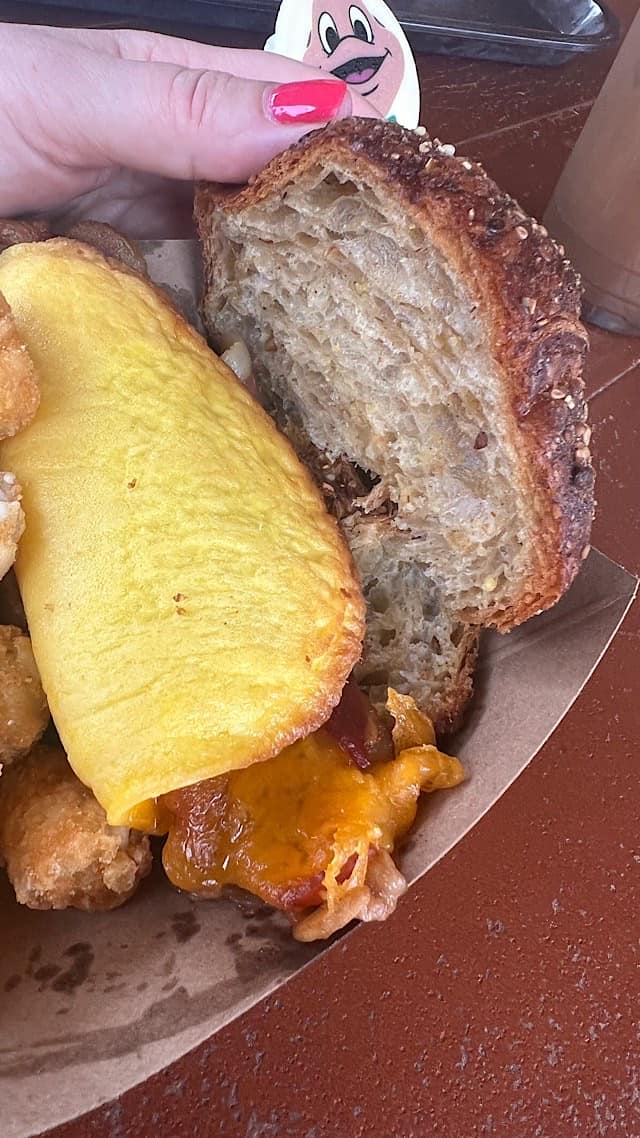 The last breakfast spot is located in Frontierland at Westward Ho. Here, you'll find the same bacon, egg and cheddar breakfast sandwich served on a multigrain croissant that's served at Friar's Nook. If you're looking for something sweet, try the powdered cinnamon-sugar donut holes.
The best Magic Kingdom breakfast on a budget is the bacon, egg and cheddar breakfast sandwich served on a multigrain croissant served at The Friar's Nook and Westward Ho.
To see more amazing Disney World breakfasts, read Kate's article HERE.
Have you tried my favorite breakfast dishes on a budget? Do you have any other favorites? Please let us know in the comments below and on Facebook.