LATEST VIDEOS
Subscribe to my Youtube!
LIVE - Just Mousing Around
Just Mousing Around - LIVE
LIVE - Just Mousing Around
Looking for the perfect portrait setting for your Prince or Princess without spending a fortune? Check out all the details and costumes.
Photopass Service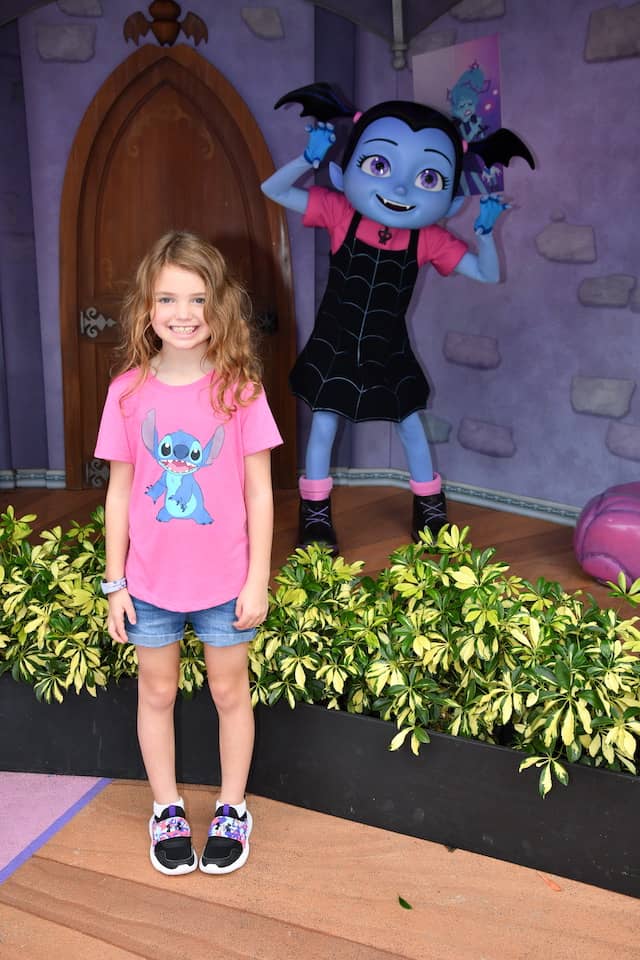 While you're visiting Disney, let the Photopass photographers take care of photos you'll treasure for a lifetime. You'll find Disney PhotoPass Service throughout the Walt Disney World Resort.
At select attractions and iconic park locations, Disney captures your vacation moments with one-of-a-kind photo opportunities. Minutes later, your pictures are ready to view in My Disney Experience. Check out how to add everyone to your My Disney Experience HERE.
Although taking photos is a "free" service, unless you purchase an Annual Pass that includes photos, you'll need to purchase Memory Make to access all your pictures. Also, you see all pictures (with a watermark) without purchasing Memory Maker to give you a sneak peek.
Sir Mickey's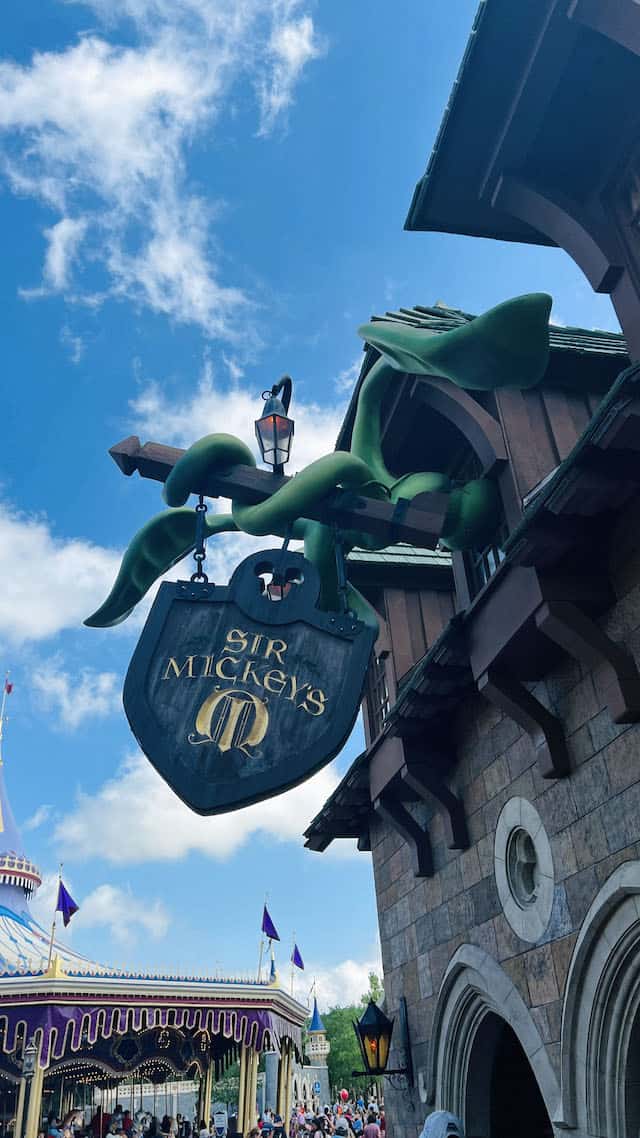 Not only can young princesses dress up and have their pictures taken, but also young princes can too! To find this newly opened photo spot, make your way to Magic Kingdom. Then, trek down Main Street USA and wrap around Cinderella Castle.
You'll find the Royal Portrait Studio behind the castle on the right inside Sir Mickey's shop.
Shop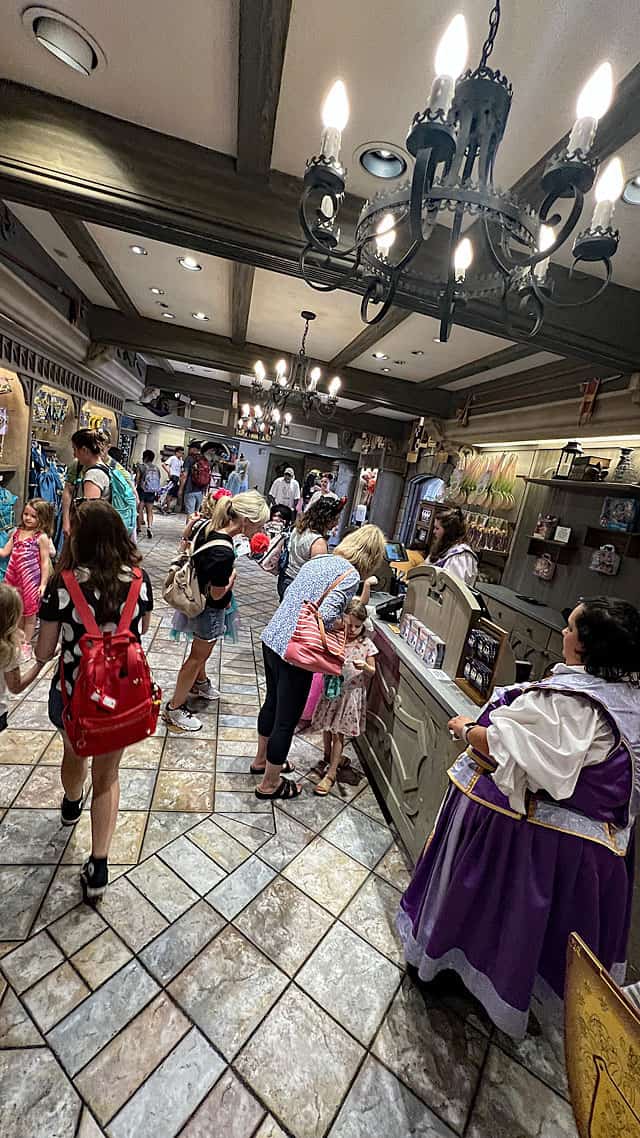 Sir Mickeys received a merchandise makeover to make way for the royal portraits. We're excited that Cast Members will give you pixie dust in your hair, too. This is free and so fun.
Although purchasing outfits isn't required for the Royal Portrait Studio, Disney offers a huge variety of costumes and accessories for sale. Check out all of the available outfits below.
Merida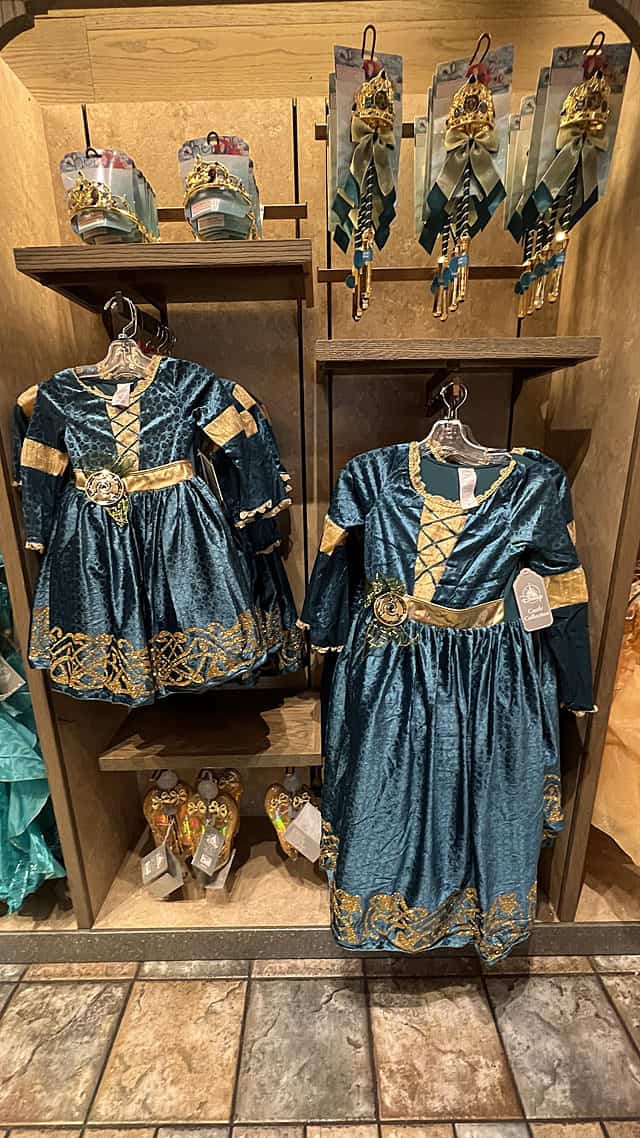 Are you feeling brave like Merida? If so, your princess can deck out in a complete outfit including a gown, shoes, crown and wand. Like other costumes, the gown and shoes are available in a wide variety of sizes. Merida has a meet and greet location inside Magic Kingdom, but it's currently unavailable.
Elena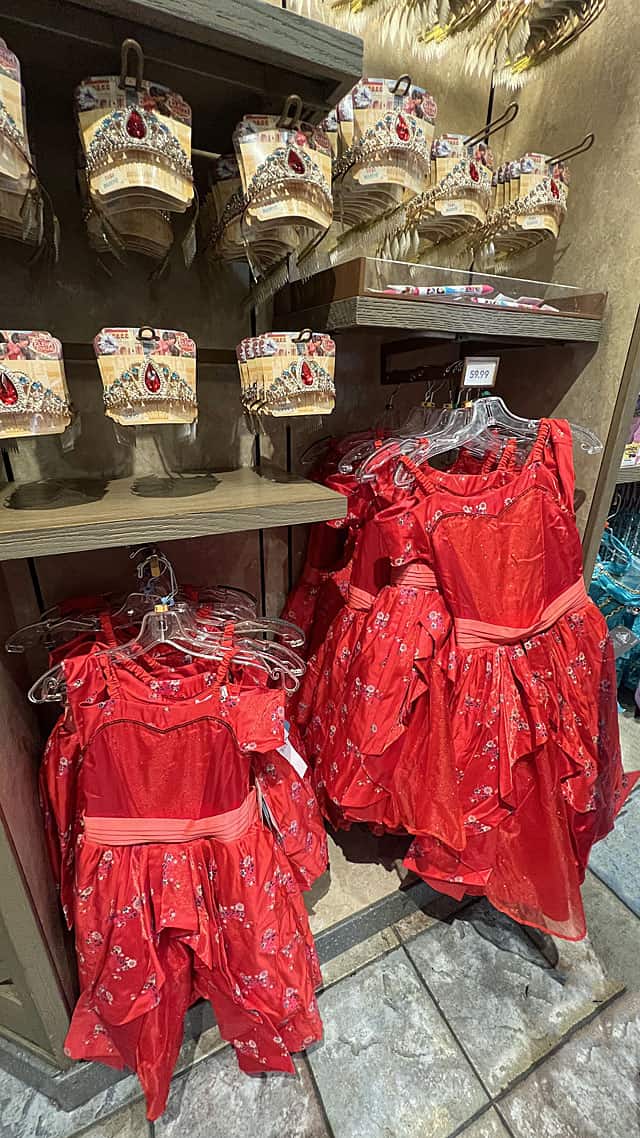 Want to dress like your favorite princess when you meet her? Elena is a great choice! She meets at Princess Fairytale Hall which is located very close to Sir Mickey's.
Check out Character Locator for princess meeting locations and hours.
Moana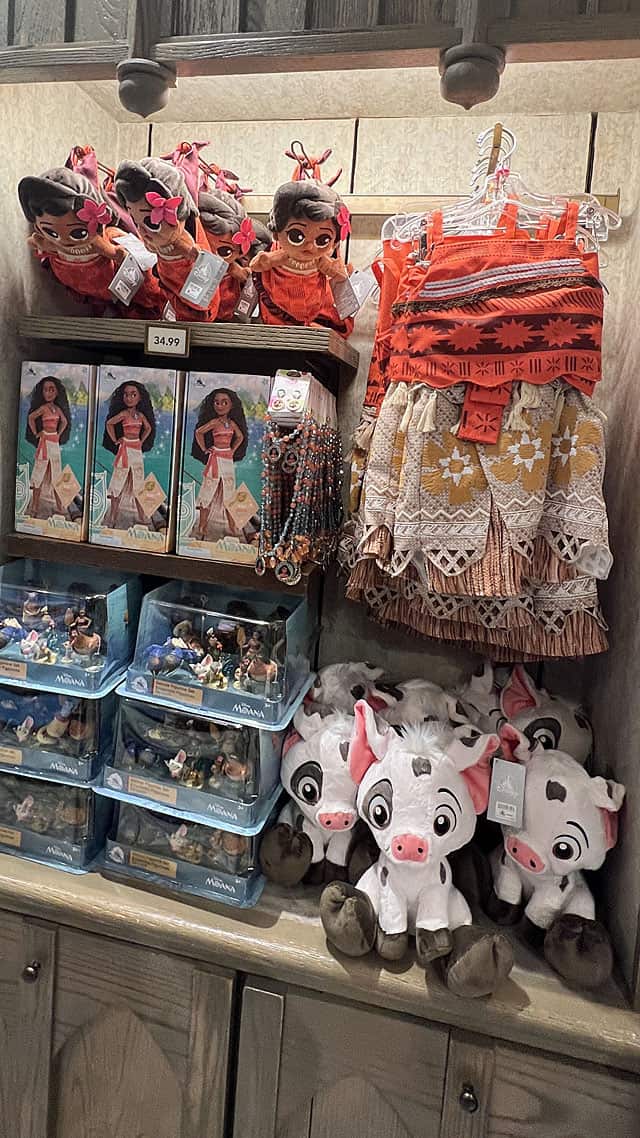 Check out the Moana costume, complete with jewelry. Here, you'll find adorable matching toys too. If you want to see Moana in person, check out the new Adventure Friends Cavalcade.
Cinderella
Want to have lunch and meet Cinderella in a matching outfit? Guests can meet Cinderella either at Cinderella's Royal Table or Princess Fairytale Hall. Then, look no further than Sir Mickey's for all things Cinderella.
I (Susan) love the blue bow and hair included with this ensemble.
Raya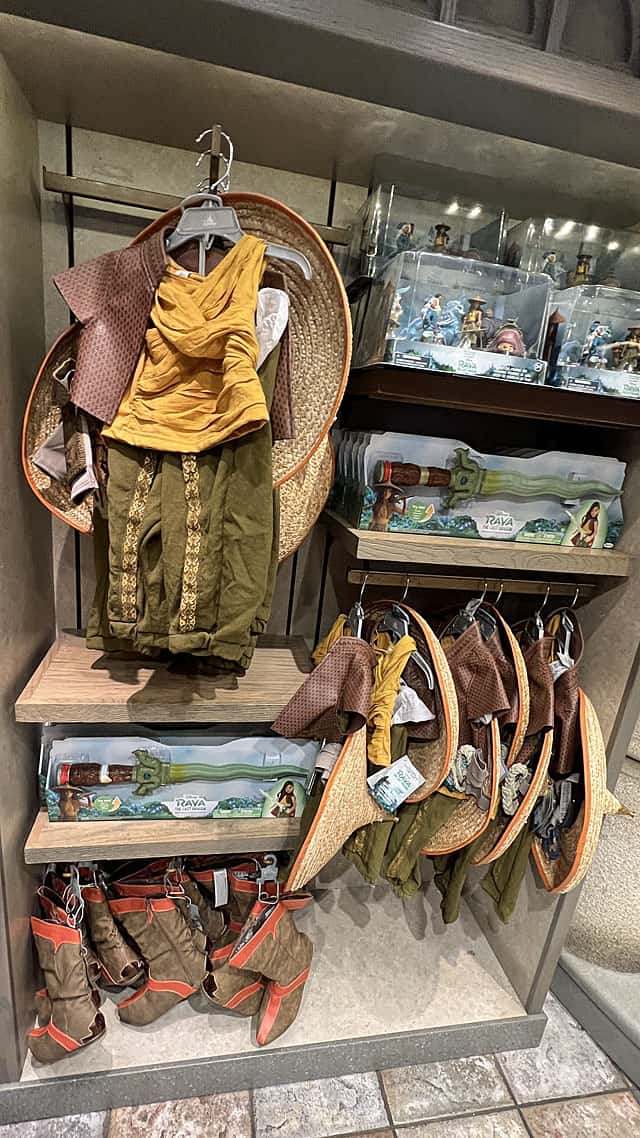 In addition to an an outfit ready for adventure, Raya offers unique items. They include a sword, hat and boot shoe covers. Raya doesn't have a meeting area at Disney World.
Sleeping Beauty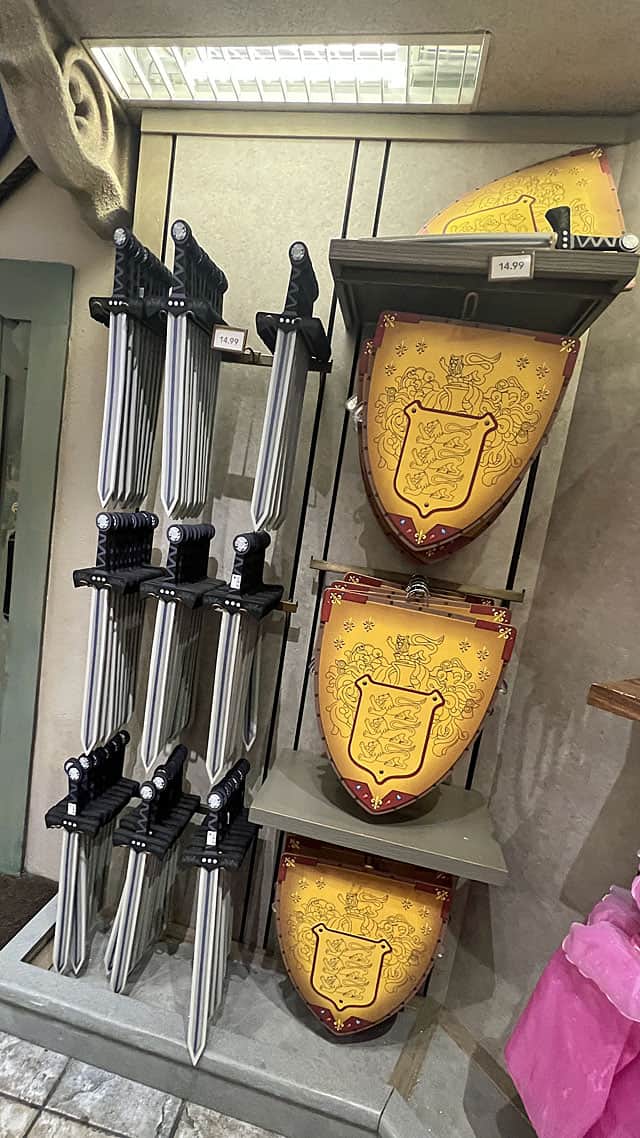 Sleeping Beauty themed outfits include Prince Phillip's sword and shield.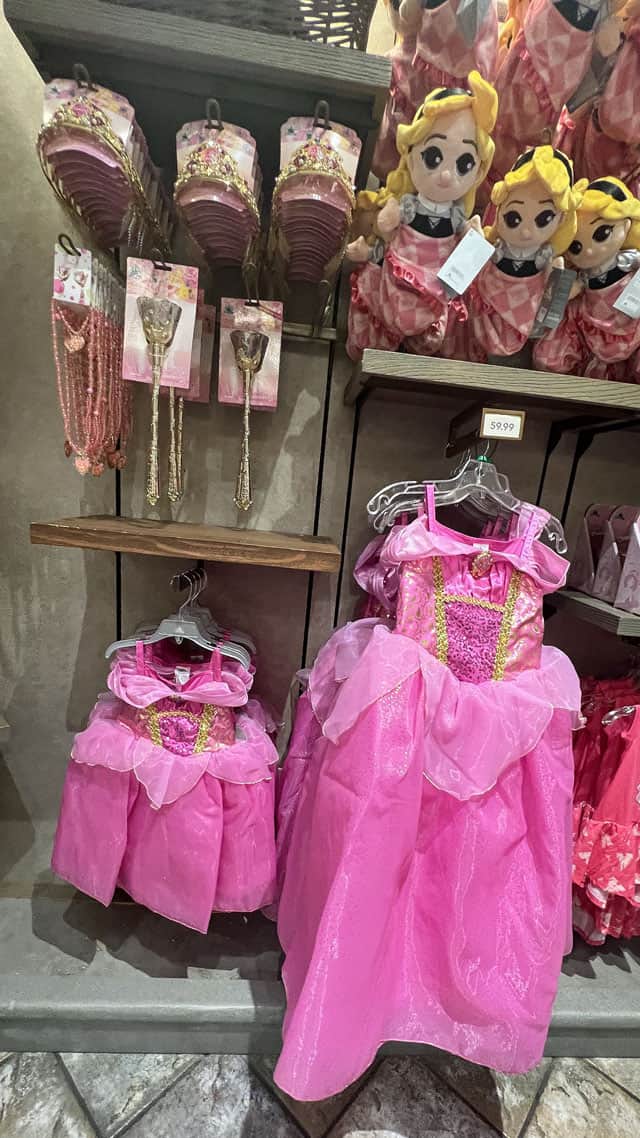 Also, your princesses can dress up like Aurora in her favorite pink gown. Aurora currently meets near EPCOT's France Pavilion. Prince Phillip can be seen fighting Maleficent during the Festival of the Fantasy Parade.
Ariel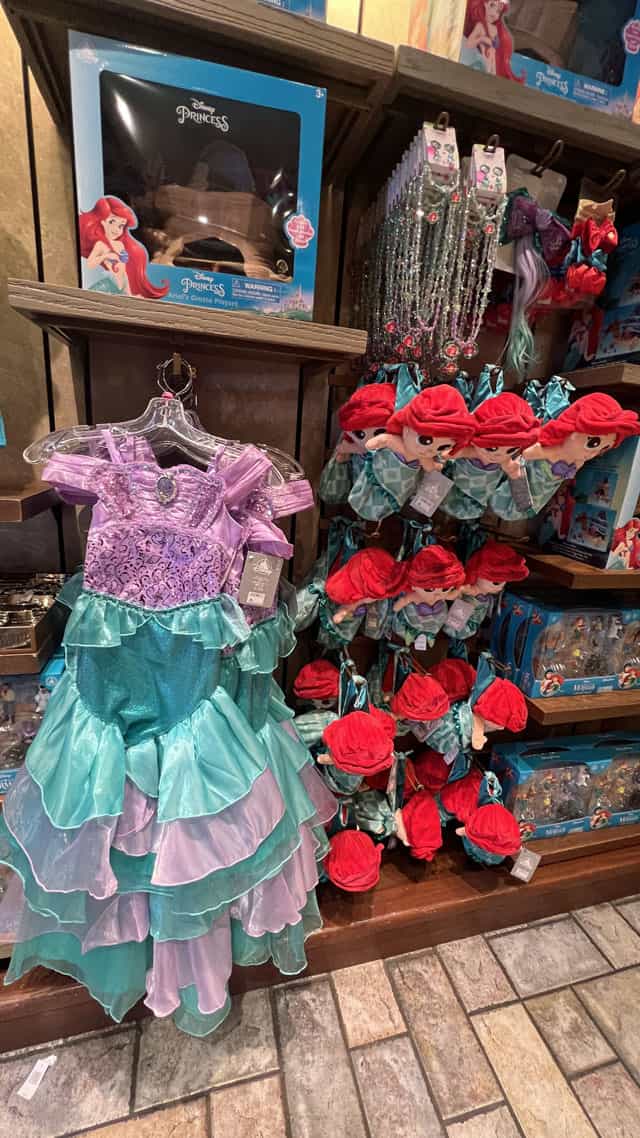 Perhaps your little one prefers the under the sea princess, Ariel? Take a look at the wonderful sea-themed accessories here.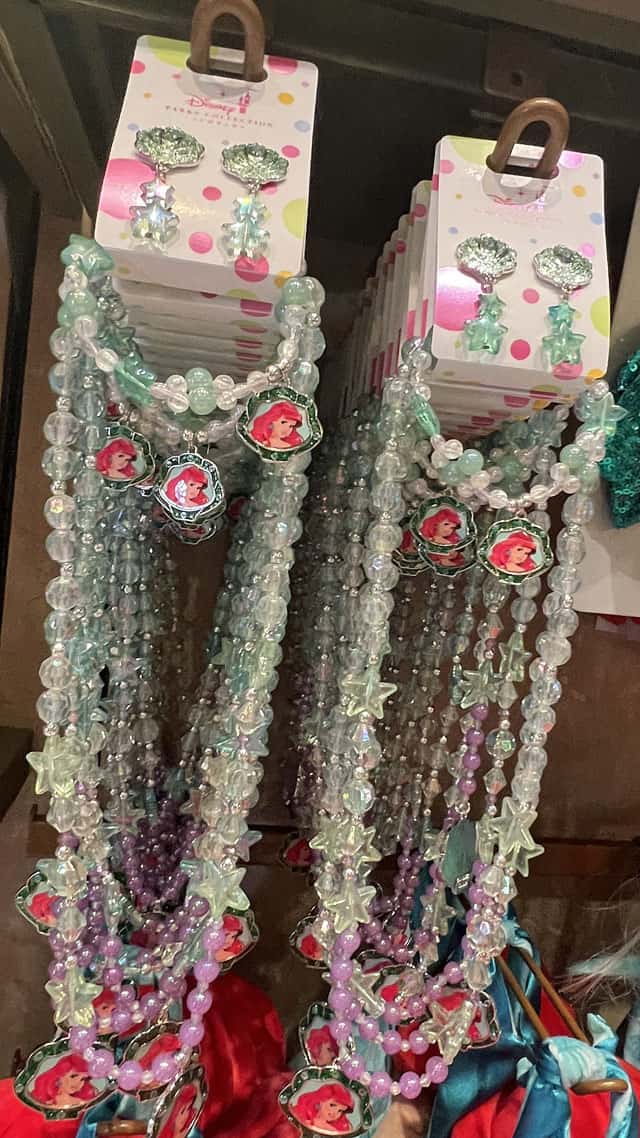 Even if your young princess doesn't want a gown, the jewelry is a fun addition to any outfit. To catch Ariel, watch the recently returned Festival of Fantasy Parade. She is still unavailable to meet in her grotto.
Snow White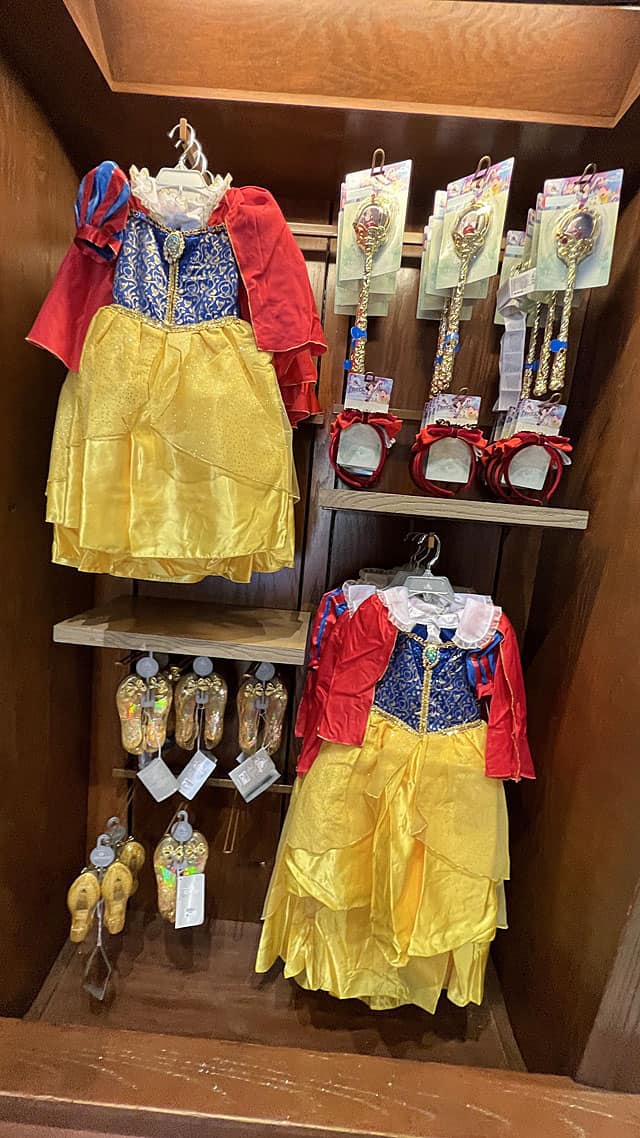 Dress up like the fairest of them all from head to toe in Snow White gear. The headband is a great addition to this set. Snow currently meets at EPCOT's Germany Pavilion near her wishing well.
If you prefer to meet her while dining, check out Storybook Dining.
Buzz Lightyear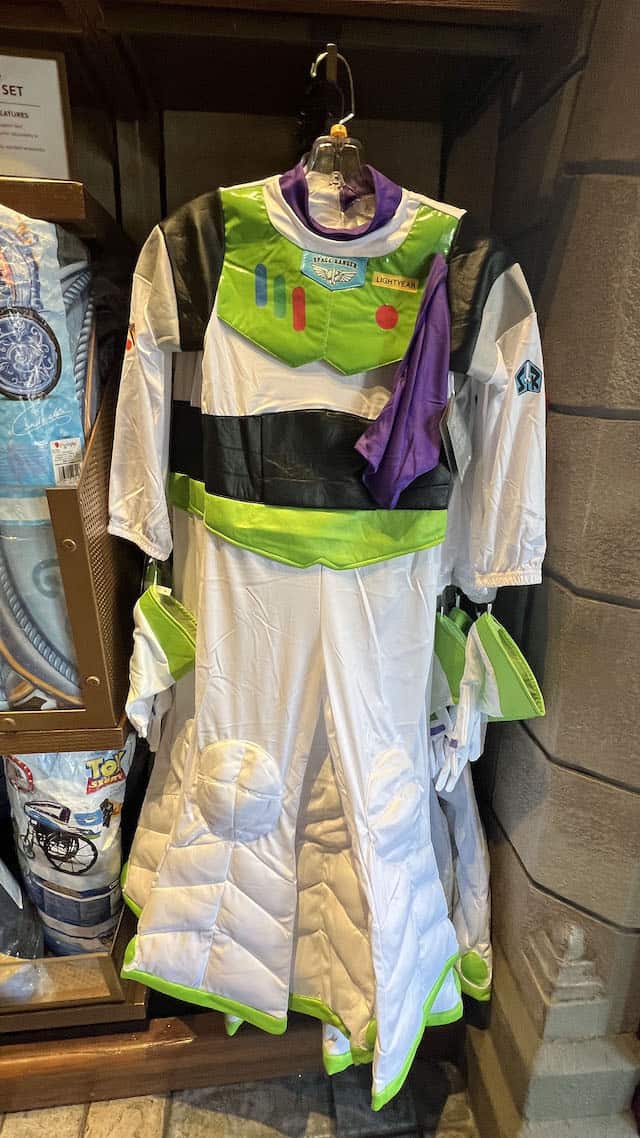 Do you want to dress up like your favorite toy? Then, check out this Buzz Lightyear costume. A great thing about this outfit is it fits over clothing. Buzz alternates appearances with Stitch on the Tomorrowland Stage.
Tiana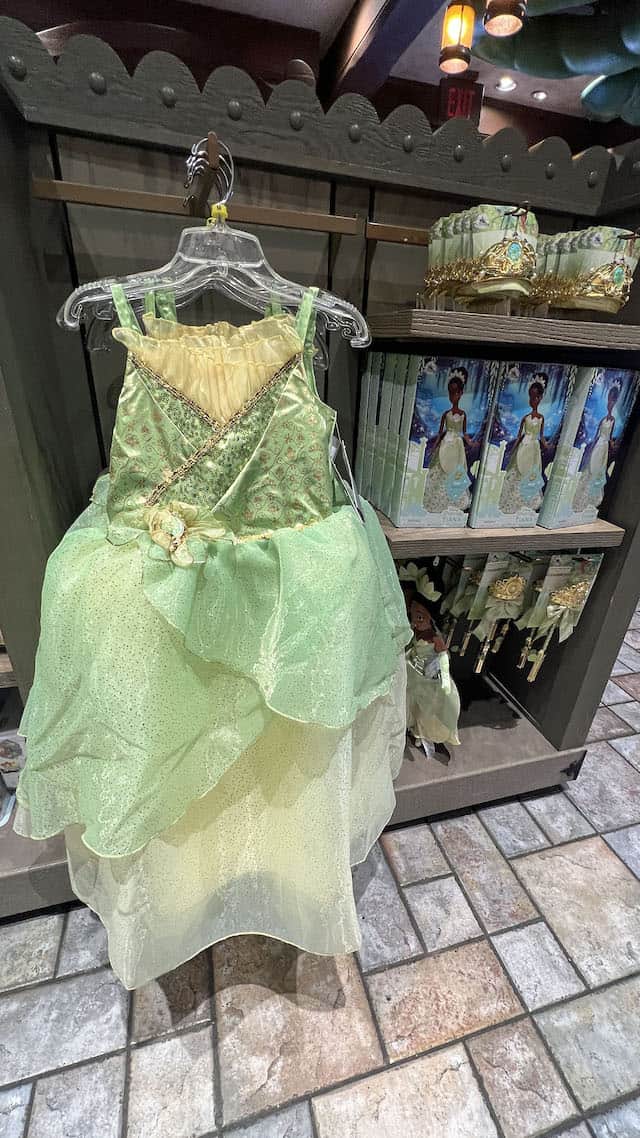 Tiana is included here as well. If you're looking for a Tiana doll, be sure to grab it at Sir Mickey's. At times, Tiana is in the Fairytale Princess Hall for meets. Also, you'll find her in the Festival of Fantasy Parade.
Frozen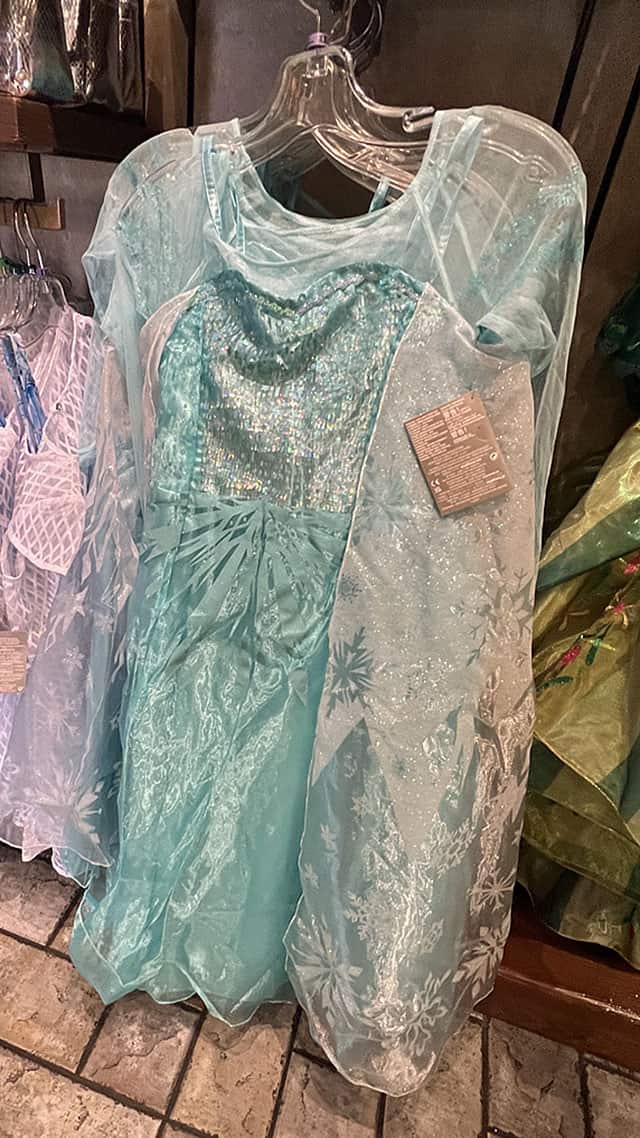 Disney's most popular sisters are represented in various outfits. First, look above to see Elsa's winter dress. The snowflake accents are beautiful.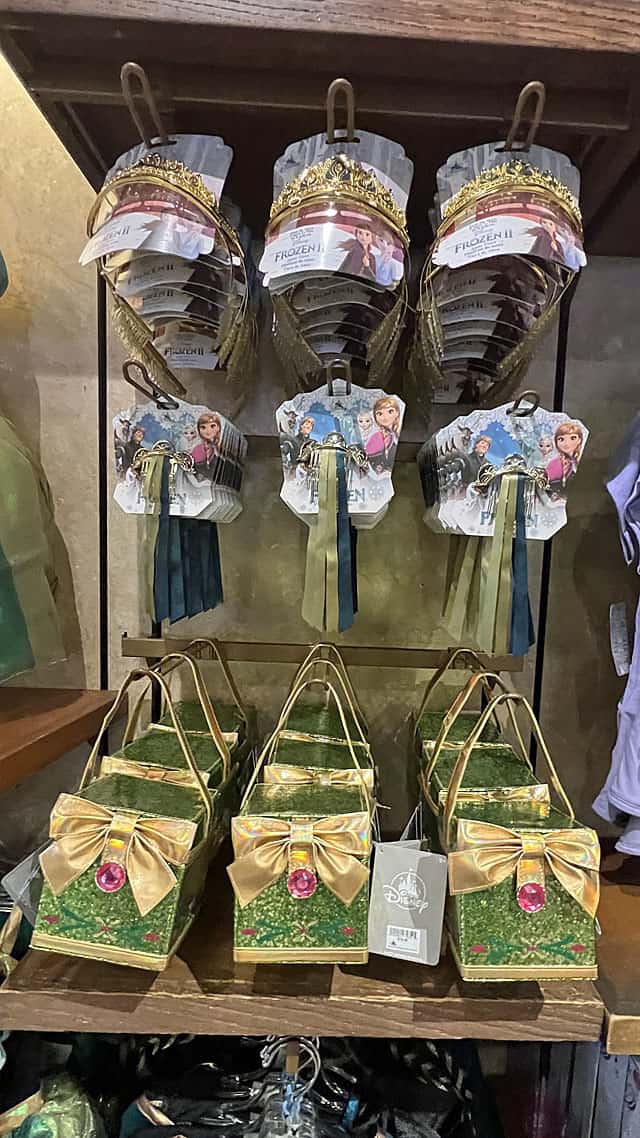 In the photos above, check out Anna's accessories, complete with purse and a ribbon headband.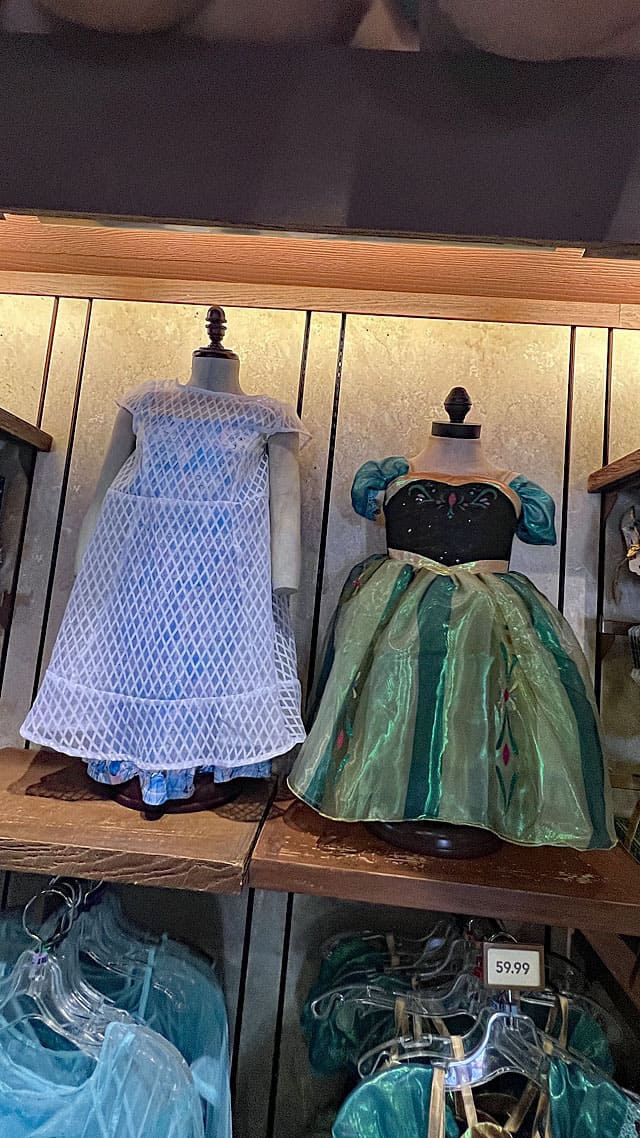 Do you prefer Frozen summer outfits? No worries, they're both available.
The Ice Princess includes the largest variety of accessories, including a summer and winter purse. Ana and Elsa recently returned to their Royal Sommerhaus Cottage in EPCOT's Norway pavilion. Elsa and Olaf can be spotted in the Festival of Fantasy Parade also.
Mulan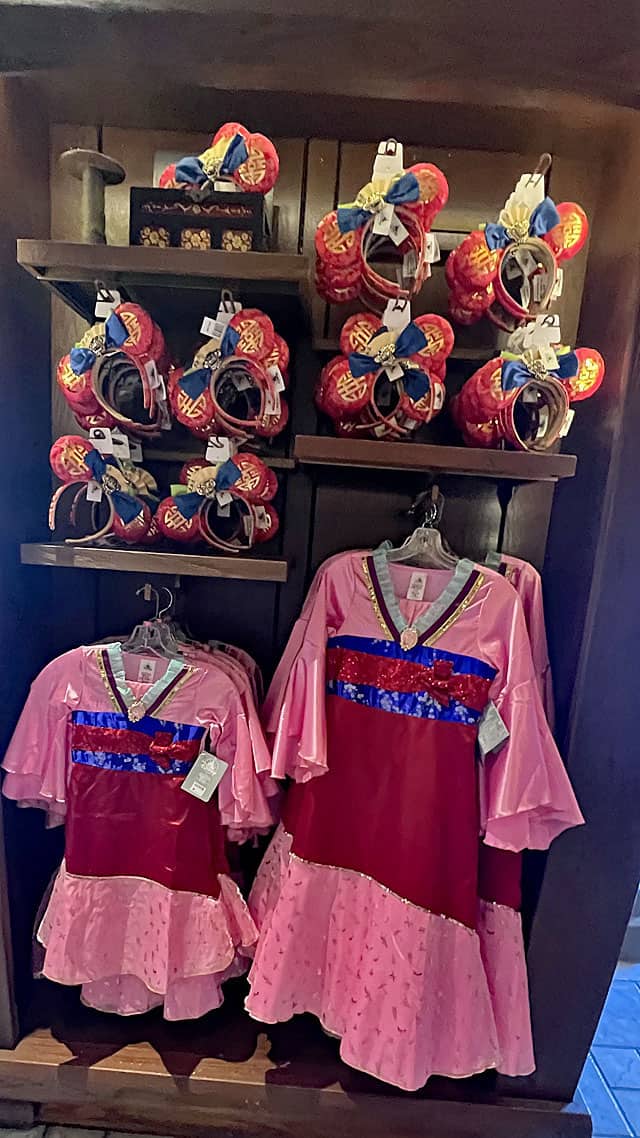 Next, be on the lookout for the iconic pink Mulan gown. Note that these ears are adult-size and may not fit younger children.
Mulan ears are adult-sized, and may not fit younger children.
To see Mulan, go to EPCOT's China Pavilion during the day.
Beauty and the Beast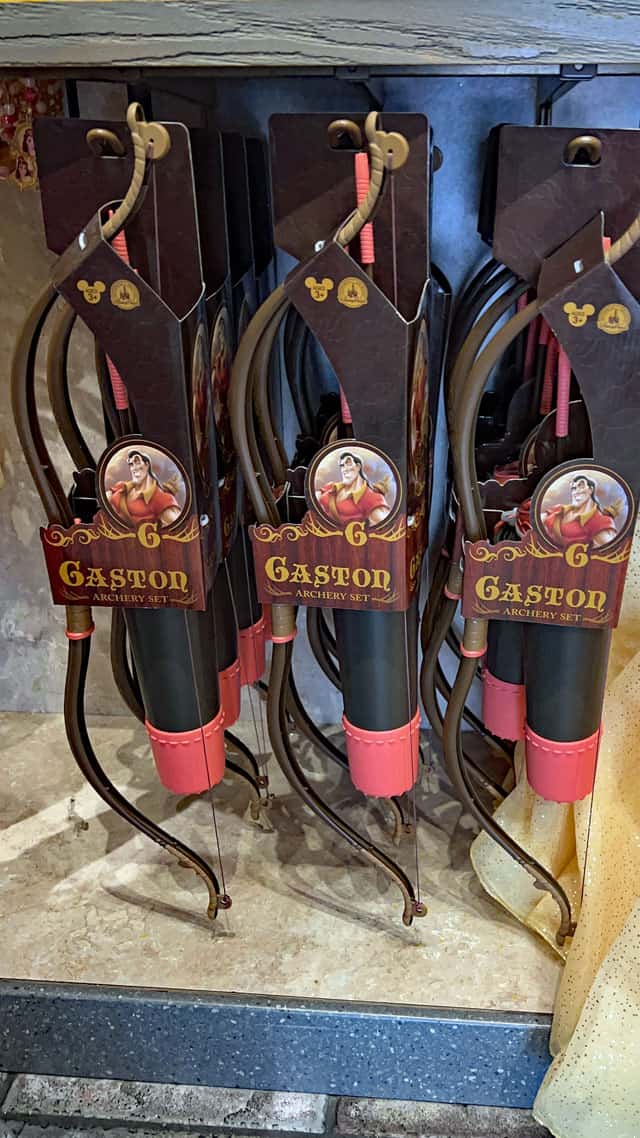 Love that there's a villain option here! Check out Gaston's bow and arrow. Belle greets guests in front of her Magic Kingdom attraction and EPCOT's France pavilion. Note: She's in her blue dress at both of these spots.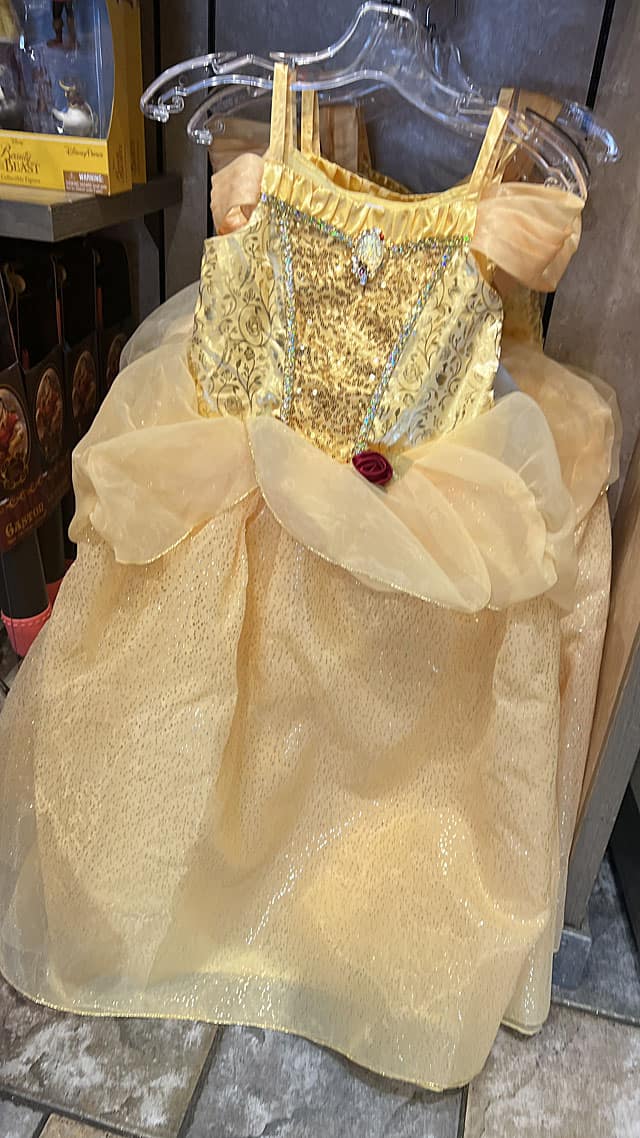 Not only that, but children can dress up in Belle's yellow ball gown. The only place to see Belle in her yellow gown is at the front of the Festival of Fantasy Parade.
Tink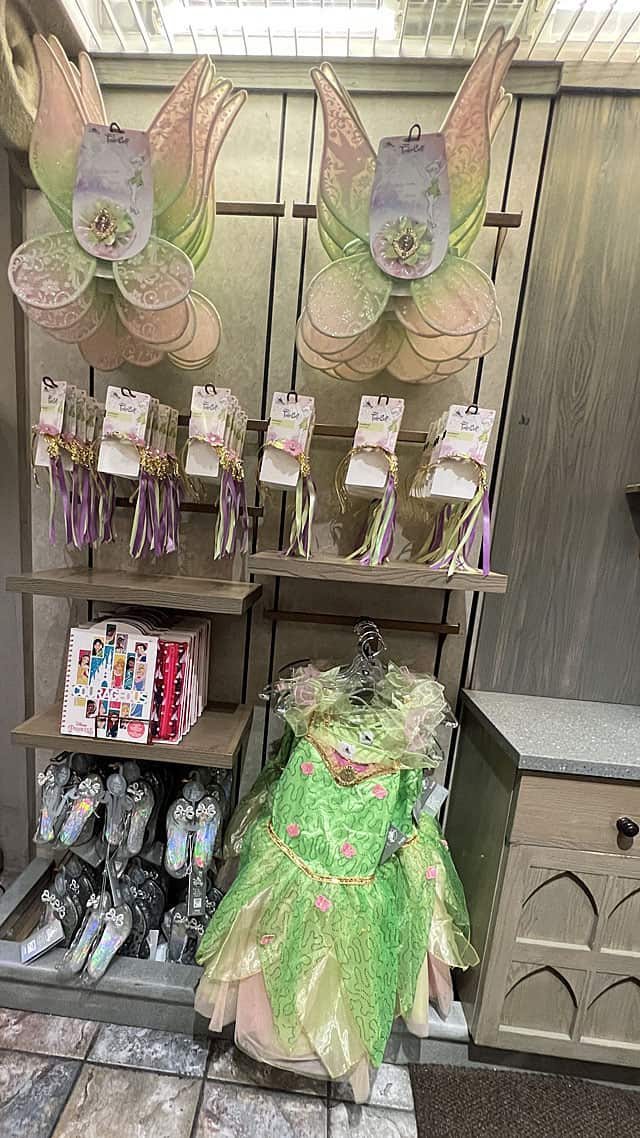 Last, but certainly not least, Tink has a complete costume, including fairy wings. Don't forget to add your pixie dust here! Tink is included in the Peter Pan float during the Festival of Fantasy Parade.
Royal Princess Portrait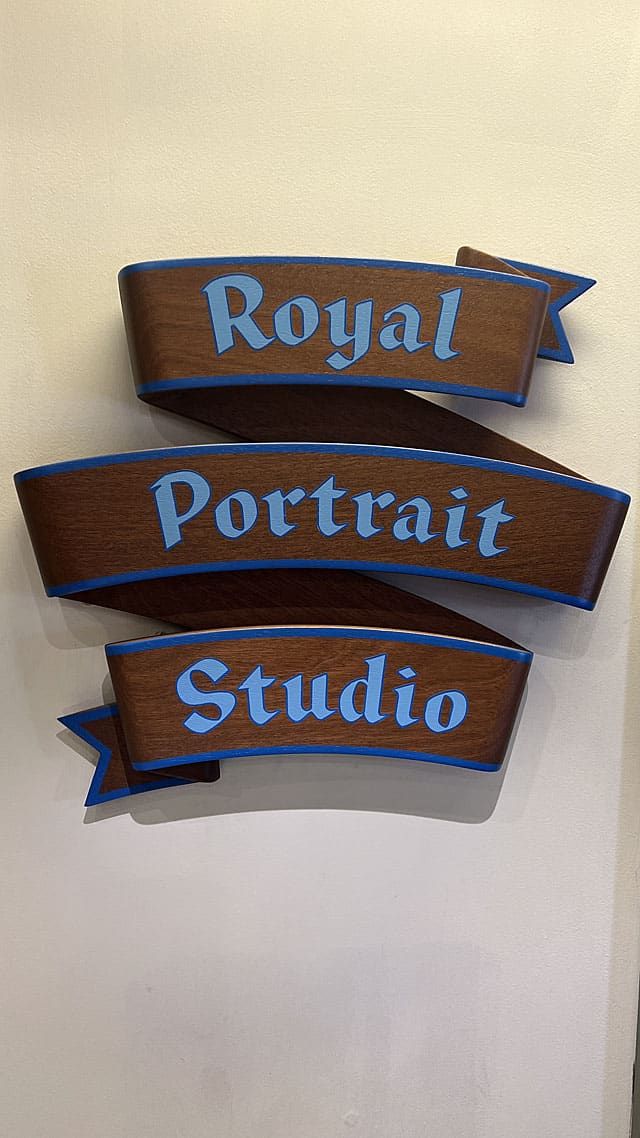 You've seen all the costume options, now what? Located inside Sir Mickey's, Disney recently reopened the Royal Portrait Studio. Previously, when Bibbidi Bobbidi Boutique was open, children came here to have pictures taken after a makeover. Now, Disney offers Photopass service to take pictures for anyone.
Backdrop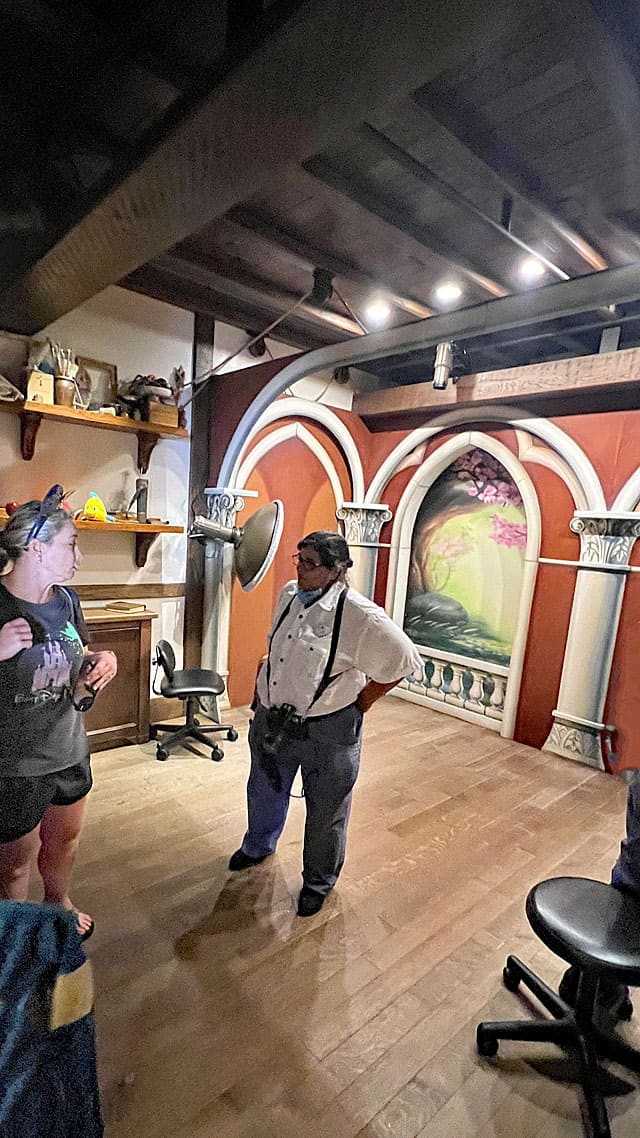 Check out the amazing studio above. There are 3 spots children receive pictures in a fairytale background. The addition of studio lights here gives guests stunning shots.
How Does it Work?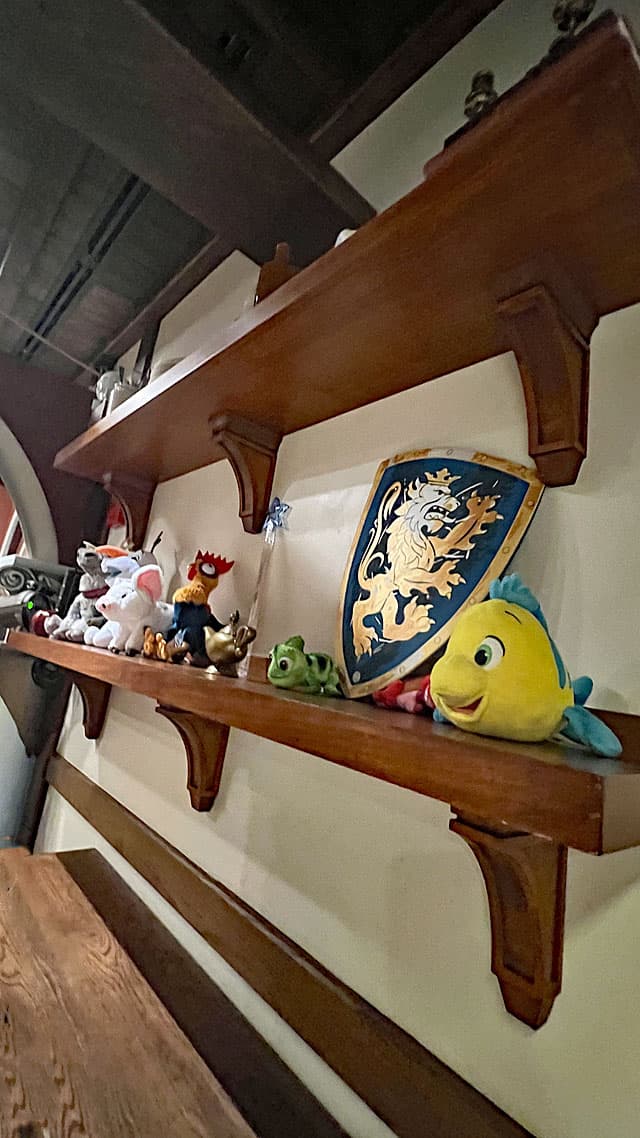 Not only will you find photographers here eager to take shots of your princesses and princes, they are also several props. To use these, just let the photographer know which one you want.
There is no fee to have pictures taken at the Royal Portrait Studio.
Accessing Pictures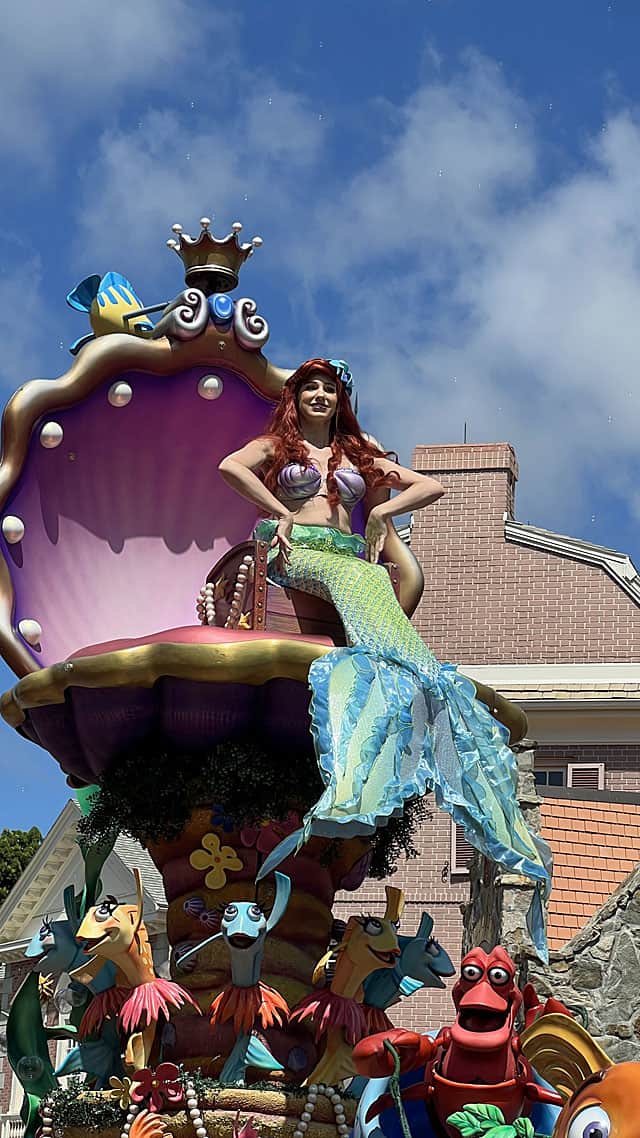 Although taking photos is a "free" service, unless you purchase an Annual Pass that includes photos, you'll need to purchase Memory Make to access all your pictures. Also, you see all pictures (with a watermark) without purchasing Memory Maker to give you a sneak peek.
Free or Inexpensive Pictures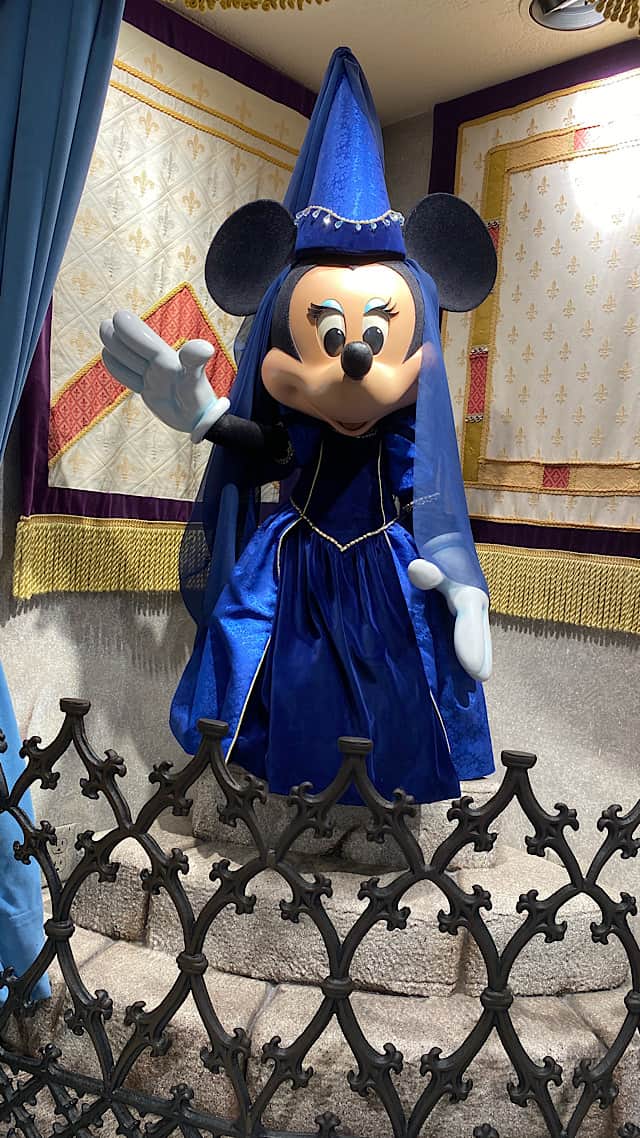 If you've purchased Memory Maker or have pictures included with your Annual Pass, simply tap your Magic Band to get your photos. Disney Photopass pictures are also available for individual purchase on My Disney Experience. This makes a much more affordable option!
These costumes are quite pricey at Sir Mickeys. For example, most gowns sell for $59.99 plus tax. Looking to save money? Simply purchase your costume online before arriving.
Are you exciting about the Royal Portrait Studio returning? Please let us know in the comments below and on Facebook.

Are you planning a vacation? Reach out to our trusted travel agency sponsor Authorized Disney Vacation Planner
Mouse Class Travel
!