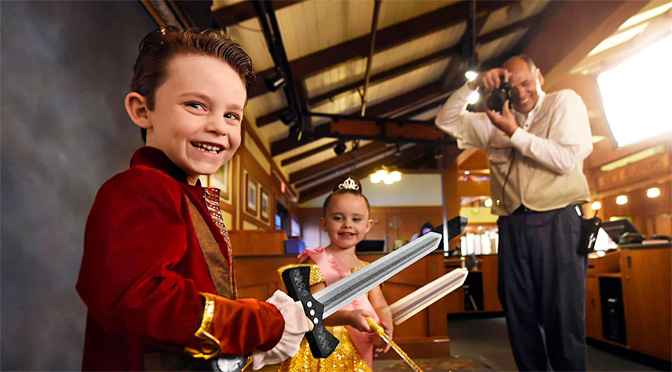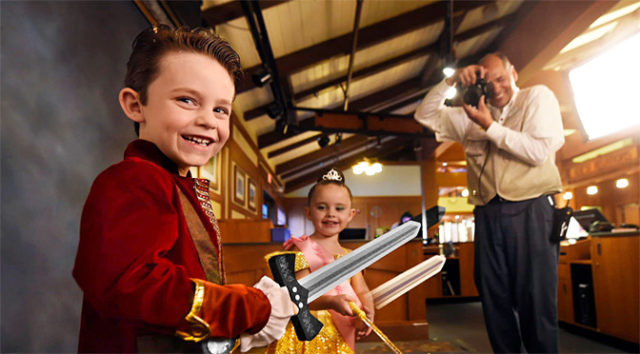 Having the most magical time at Disney means you need to have the photos to go along with it. Pics or it didn't happen, right? Disney has provided a couple of options to help guests capture their trip: PhotoPass and Memory Maker.
But, what are they? How are they different? How do they work together?
PhotoPass and Memory Maker are two different services Disney provides to capture and preserve your magical vacation. I am going to walk you through each one so you can see exactly what each does and how they compare.
Disney PhotoPass
PhotoPass is the service Disney provides to capture your moments around the parks. Anytime you get a ride photo or video or have a PhotoPass photographer take your photo, you are using the service. There are PhotoPass photographers positioned around the parks ready to take your photo!
If you want a photo of your family in front of Cinderella Castle, PhotoPass photographers are lined all the way up Main Street taking photos!
If you want posed and action shots of your kids interacting with characters, PhotoPass photographers (or automatic camera boxes) are getting several shots of the encounter.
With the PhotoPass service, you can also get photos or videos of your travel party on select attractions! Rides with photos or videos are noted in each ride section on Character Locator.
PhotoPass is a 100% FREE service! You do not have to pay to have a photographer take your photo. They will automatically show up in your My Disney Experience app.
Perks of Using PhotoPass:
Everyone can be in the photo! No worrying about getting several different versions swapping people out.
Photos are (usually) high quality. PhotoPass photographers use professional equipment and are trained to capture beautiful photos. I have seen some photos that are too dark, really bright, or blurry but for the most part, the pictures are top-notch.
Magic Shots are a fun benefit of PhotoPass. Your PhotoPass images are digitally enhanced to add something extra or "magical," hence the name Magic Shot. Magic Shot locations are not advertised around the parks, but all locations can be found on Character Locator.
It's free! You can have your photo taken as many times as you want. You can end up with hundreds of beautiful photos and videos that capture your vacation.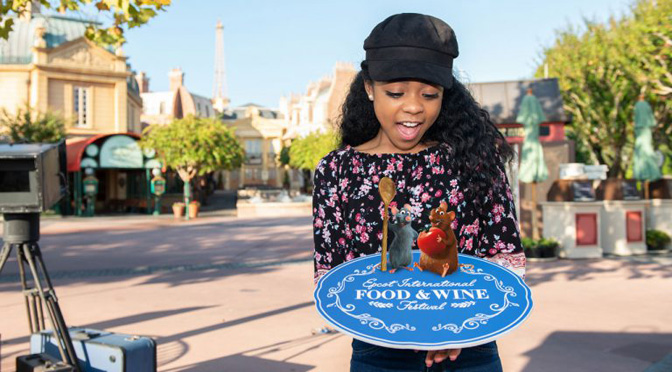 Basically there are PhotoPass photographers (or automatic cameras) everywhere making sure you get photos of your vacation. Simply scan your MagicBand, PhotoPass card, theme park admission ticket, or annual pass. Your photos will automatically be uploaded to your account.
Guests in your "Family and Friends" list on My Disney Experience can view all photos on their account. It's like a large photo-sharing pool.
But, what if you got your photo taken on a ride and you don't see it on your My Disney Experience app? This happens often and all you have to do is call PhotoPass Guest Support Team at (407) 560-4300 or report the missing photo online. They can find the photo by asking you a few questions about what time you got the photo taken, what you were wearing, etc.
Disney Memory Maker
Memory Maker is the option Disney provides to allow you to have access to all those free PhotoPass photos without a huge watermark. You didn't really think Disney would give you something for free, right?
Memory Maker can be purchased ahead of your trip for a discounted price of $169. If Memory Maker is purchased at the advance purchase price, any photos taken within 3 days of the date Memory Maker is purchased are not included and must be purchased separately.
If you purchase Memory Maker during your trip (and want all photos) or 45 days after your trip, it will cost $199.
Active duty and retired service members can receive Memory Maker at a discounted price.
You can download all your PhotoPass images and videos an unlimited amount of times before it expires (usually 45 days). You can opt to pay $19.95 to have access to the photos for an additional 15 days. This is nice if you forget about your photos, but I do wish Disney gave you more time to download them to begin with.
The process of downloading photos onto your device can really be a pain, especially if you came home with hundreds of photos. Disney has made it much easier by giving guests the option to purchase a USB of all the photos and videos. They will ship it to you after you get home from your trip.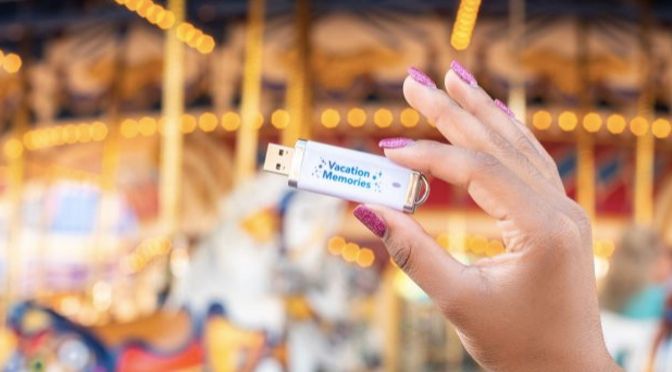 Perks of Purchasing Memory Maker
All photos are in one spot. If you're taking photos on multiple cell phones, a digital camera, and another device or two you are going to have to keep track of a lot of photos. You may not end up getting all of them back in one place.
You get the videos from the rides. Of course, you can take a video or photo on the ride from your point of view, but the ride videos are usually set to music or have some other type of effect.
Everything is digital. This gives you the option to print photos out, add to digital scrapbooks, add on to products like mugs or ornaments, etc. No physical photos are sent to you.
The one price gets you ALL photos. No need to worry about purchasing individual photos or videos.
If you want to download photos for your travel party, just make sure they are linked to your Family and Friends list and set the sharing preferences. As long as someone in your party has purchased Memory Maker, it is not necessary for others to purchase it as well. It only needs to be purchased ONCE per trip.
How PhotoPass and Memory Maker Work Together
So, PhotoPass is the service Disney provides to guests during the trip and Memory Maker is the product we get in return. PhotoPass is free but Memory Maker is not. They work together by ensuring you have access to every single photo and video Disney takes for you.
When you get home from Disney, you can also take those PhotoPass images and create personalized photo products. Everything from magnets to ornaments can be personalized. These make great gifts, Christmas cards, or little keepsakes to remember your trip.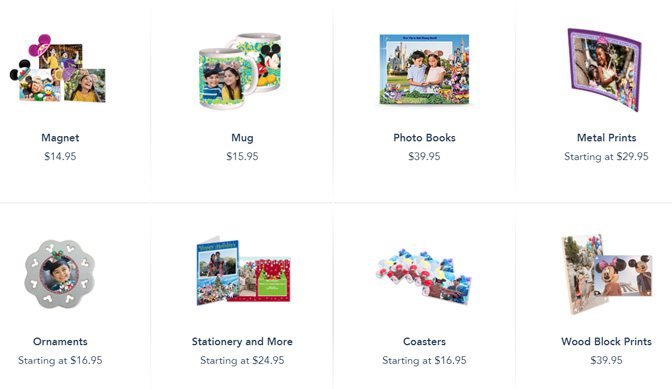 I absolutely believe PhotoPass should be taken advantage of on your trip! It is completely free, and the videos from rides will automatically show up in your account anyway so you are using the service just by being in the park.
Overall, I think Memory Maker is worth it for your trip. Personally, I am big on photos and capturing those memories so it's non-negotiable for us! It is a small price when you consider how much you spend on park tickets, food, airline tickets, and resort accommodations. Might as well remember all the big stuff you paid for, right?!
What other questions do you have about PhotoPass and/or Memory Maker? Drop them in the comments or on Kenny the Pirate's facebook page and I will answer them!
-Monica S.
Are you planning a vacation? Reach out to our trusted travel agency sponsor Authorized Disney Vacation Planner
Mouse Class Travel
!