This cavalcade is the longest we have ever seen and includes tons of rare characters!
Adventure Friends Cavalcade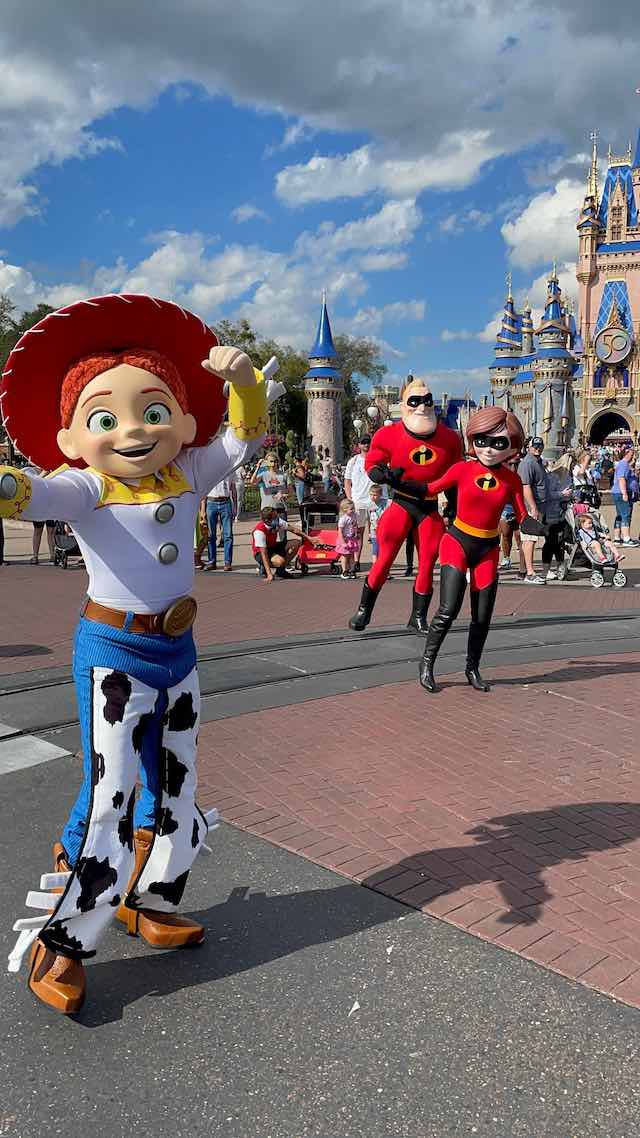 Disney likes to keep the parks interesting and evolving, and part of the way they have done that the last year and half is through cavalcades. Since the parks reopened in July 2020, there have been several new "mini parades" including Halloween, Christmas, and a 50th anniversary parade.
Disney is kicking off 2022 with a new Adventure Friends cavalcade! There are so many characters – making it one of the longest sets we have ever seen! I am pleased to share some photos and a video with you so you can see for yourself!
Opening Characters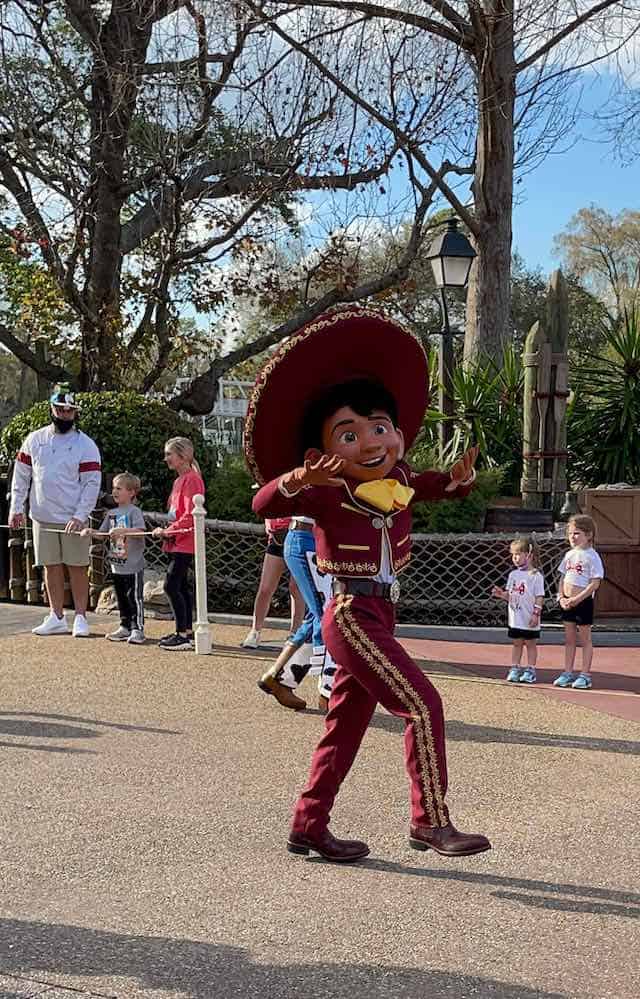 Of course any cavalcade must start with a warm up! Two performers carrying the cavalcade sign lead the way followed by Miguel from Coco and other Pixar characters! I am so excited to see Miguel! He typically meets at Disneyland, but Disney World definitely seems to be lacking the neat character meets that Disneyland has.
We see Jessie and Woody along with Mrs. and Mrs. Incredible. I love that they are dancing to the music! Typically only "back up" performers are the ones dancing.
Float One Characters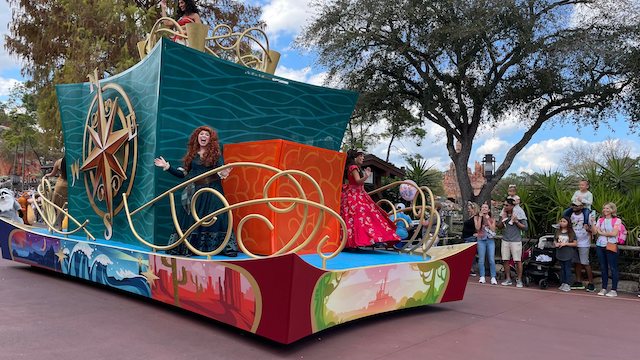 The first float includes princesses Elena, Moana, Merida, Mulan, and Pocahontas. The float design features a giant compass and different landscapes like water, desert, and mountains.
Moana met briefly during the Fantasyland cavalcade, but I haven't seen that as much on recent trips. Everyone else also meets at other parks so this is probably the least exciting part of the cavalcade.
Middle Characters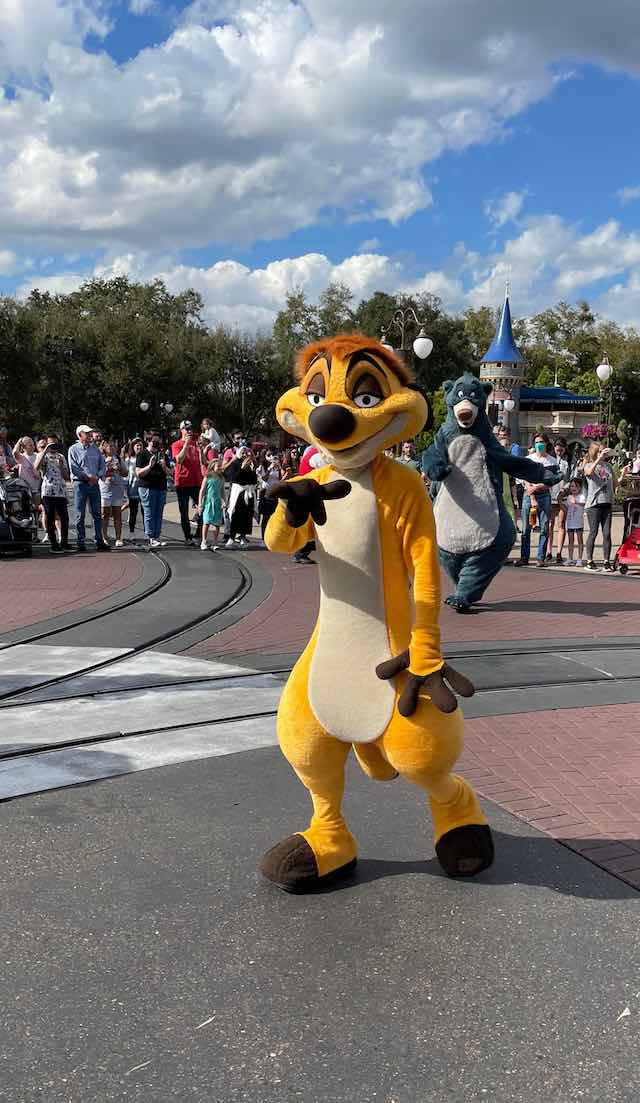 Following by the princesses are some of our favorite sidekicks! We have Meeko, Timon, Baloo, King Louie, and Cheeta. Meeko typically appears with Pocahontas over at the Animal Kingdom cavalcade, but we haven't seen the rest of these friends in quite some time!
Coming in right behind them is Aladdin, Princess Jasmine, and Genie. Genie is another rare meet we haven't seen in quite a while. Do you think Disney added him in there for some subliminal messaging?
Float Two Characters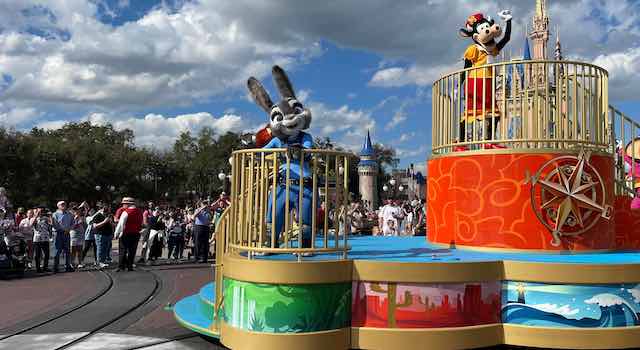 The second float showcases more animal friends from Zootopia along with Clarabelle Cow and a few of the Caballeros. Nick and Judy Hopps met during special events before the parks closed, so it is nice to see them out and about again.
Final Characters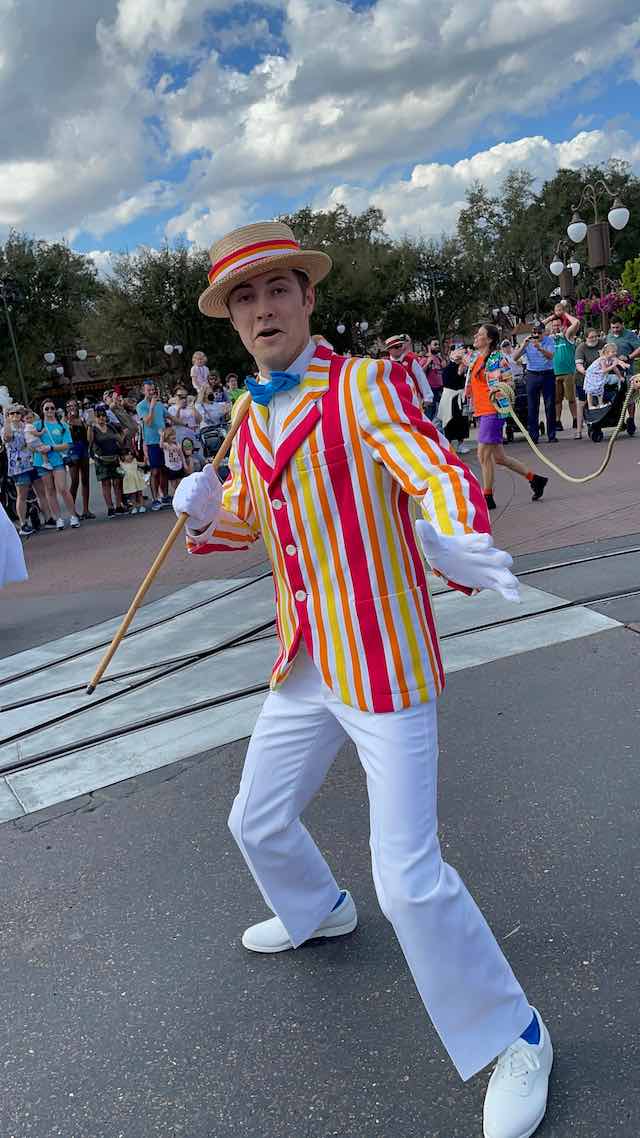 Finishing out strong at the end are Marie, Stitch, Max, Mary Poppins, and Bert. Again, I really like the fact that there are no "back up" street performers and that it is all characters performing the choreography. But, don't worry! They still make time to interact with Guests here and there. Look at Bert giving Jordyn a fun facial expression!
Cavalcade Video
You can catch a reel showcasing some highlights of the cavalcade down below. If you would like to see the full cavalcade, head over to our Facebook page and check out our videos!
What do you think of this new cavalcade? If you could choose any character to be featured in a future set, who would it be? Let us know in the comments below!