The holiday season has officially kicked off at Disney World! After visiting Magic Kingdom this past weekend, I have all the details on decor, cavalcades, and festive snacks! Even if you aren't visiting this year, join me as I share all things Christmas at the Magic Kingdom.
Christmas at Magic Kingdom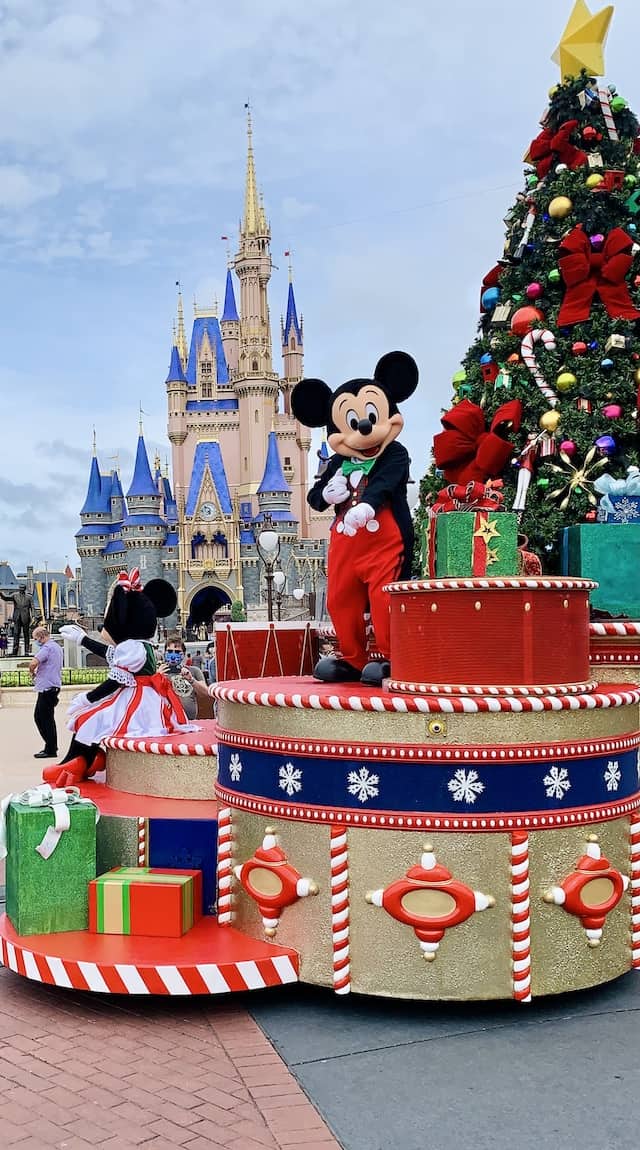 Is there anything better than walking down Main Street, U.S.A.? Add on the giant Christmas tree, toy soldier statues, wreaths on every lamppost, and of course Cinderella Castle.
The holiday season is one of my favorite times of the year to visit. I was a bit hesitant to visit considering the lack of Christmas parties and icicle lights on the castle. However, I absolutely enjoyed my visit to Magic Kingdom to kick off the start of the holiday season.
Decorations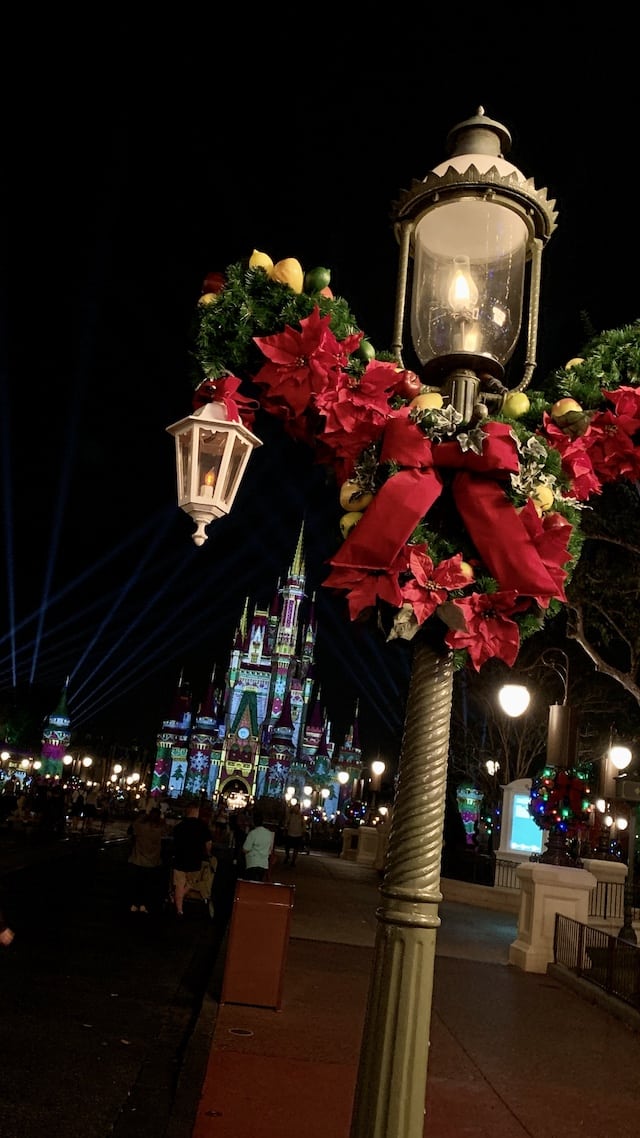 We have already touched on the trimmings that have been put up in Magic Kingdom. On November 1, the Fairy Godmother flicked her wand – and poof – Christmas came! The tree went up, wreaths adorned the lampposts, and garland was hung everywhere.
Susan shared more photos and details of her visit to Magic Kingdom (including an attraction overlay for the holidays!), which you can check out HERE.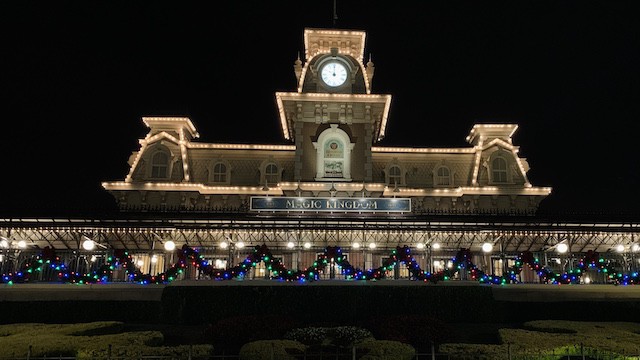 Nothing quite sets the day off right walking up to the train station and seeing the beautiful garland! You know it's going to be a good day when you turn that corner and see the entire street decorated so festively with Cinderella Castle as the beautiful backdrop.
Christmas Cavalcades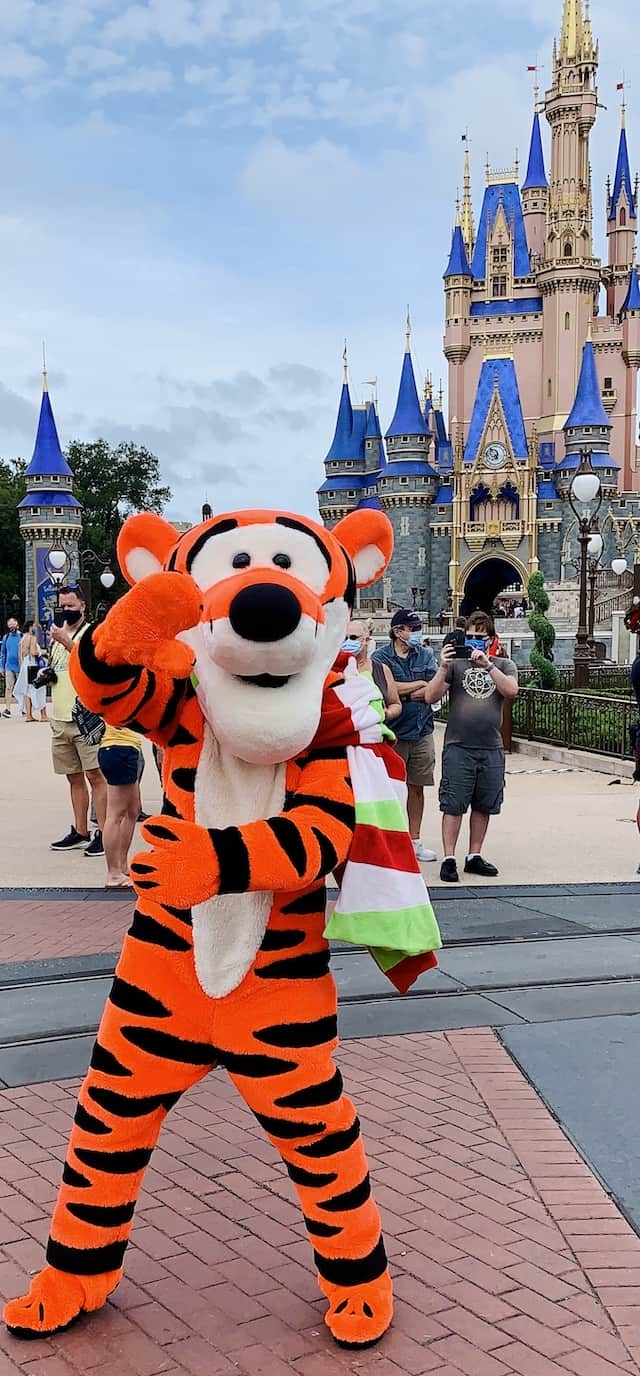 With the debut of cavalcades in July, we have been treated to quite a few mini parades at all the four theme parks.
For Halloween, Magic Kingdom even gifted us with not-so-spooky themed cavalcades! Villains, Mickey and friends, and Nightmare Before Christmas themed floats headed out to entertain Guests. If you want to revisit those, head HERE.
Now that Halloween is over, many were anxious to see how Disney would do the Christmas cavalcades. To be honest, I was a bit skeptical knowing how amazing the Christmas party parade is.
However, I was not disappointed! Here's the rundown of themed cavalcades.
Dapper Dans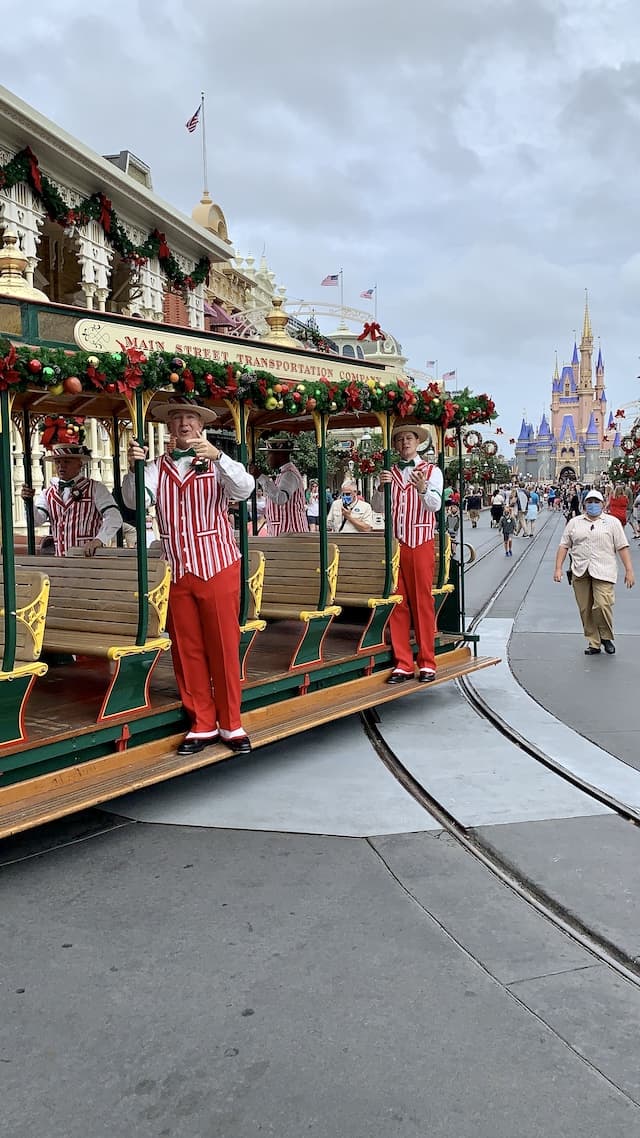 The Dapper Dans ride the trolley around Main Street USA singing perfectly harmonized holiday songs and sharing fun jokes with Guests. The trolley is lined with garland at the top, and there are a few festive accessories the Dapper Dans wear.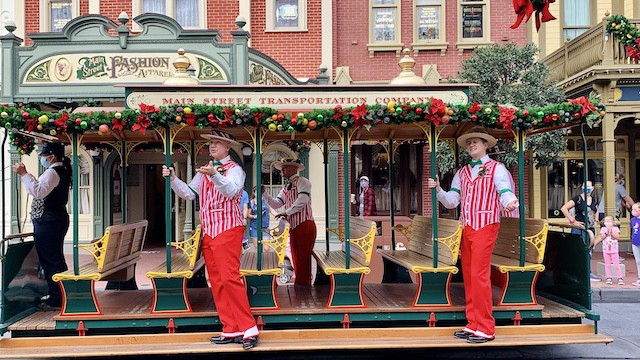 They sing a few songs throughout their ride on Main Street, and I caught them three times during the morning so I was able to hear quite a few tunes!
Mickey's Holiday Cavalcade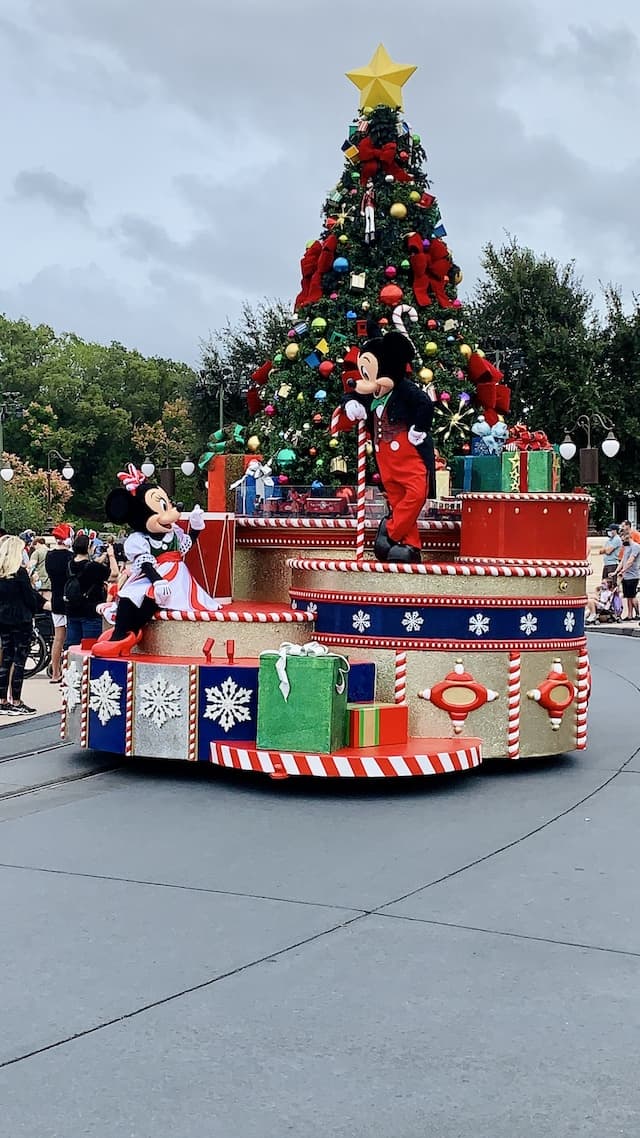 There is also a rather large cavalcade featuring Mickey, Minnie, and all their friends:
Pluto
Donald
Daisy
Peter Pan
Wendy
Mary Poppins
Bert
Alice
Pooh
Tigger
Geppetto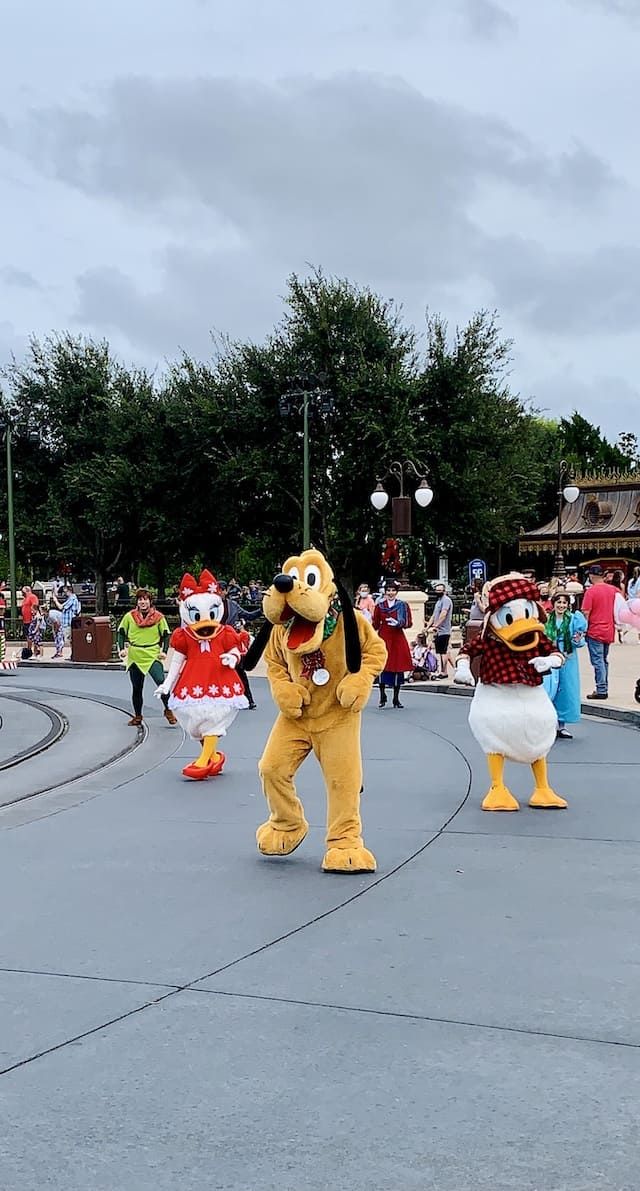 Peter Pan and Wendy were both spotted greeting Guests outside Crystal Palace recently, which led us to believe they would be in a Christmas parade. We are happy to report they are part of the parade!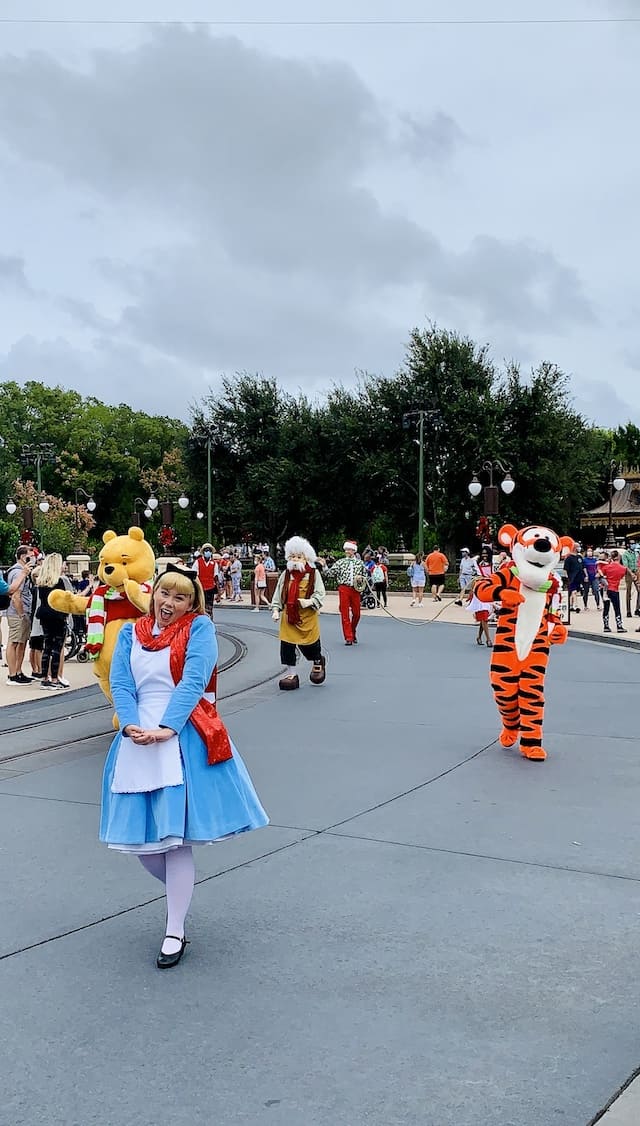 This was a rather long set, and I am so glad Disney did this. With so much taken from us this year, this was much needed.
Goofy's Scrumptious Cavalcade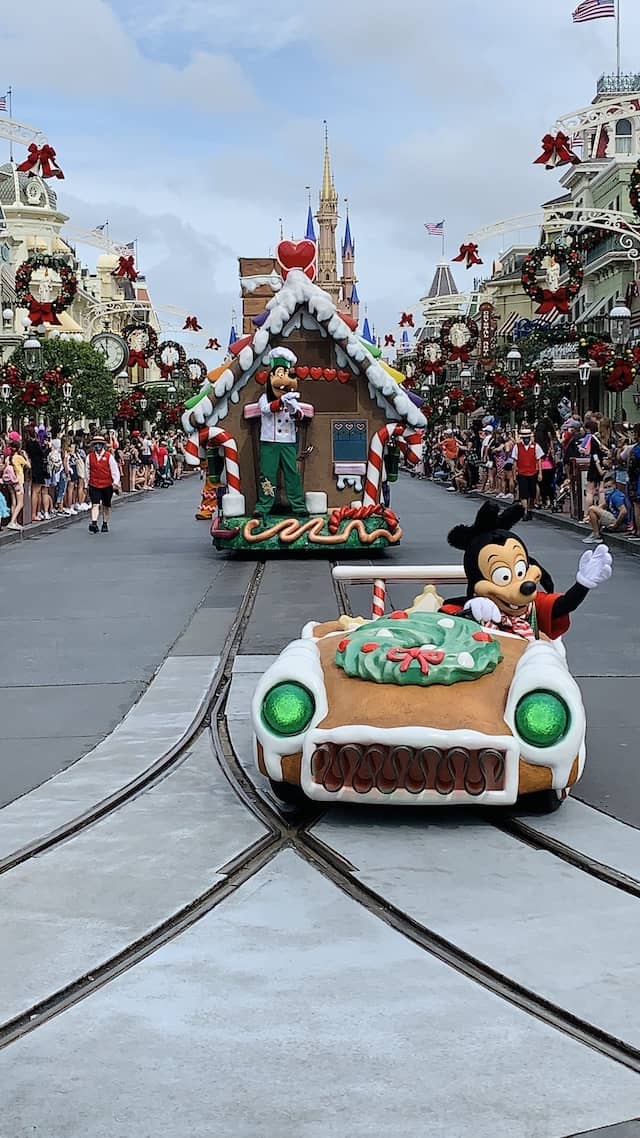 Next up is Goofy, Max, Gingerbread Men, Elves, and Clarabelle Cow.
Max leads the cavalcade in his gingerbread car, which reminded me of Vanellope from Wreck it Ralph riding in the Christmas parade.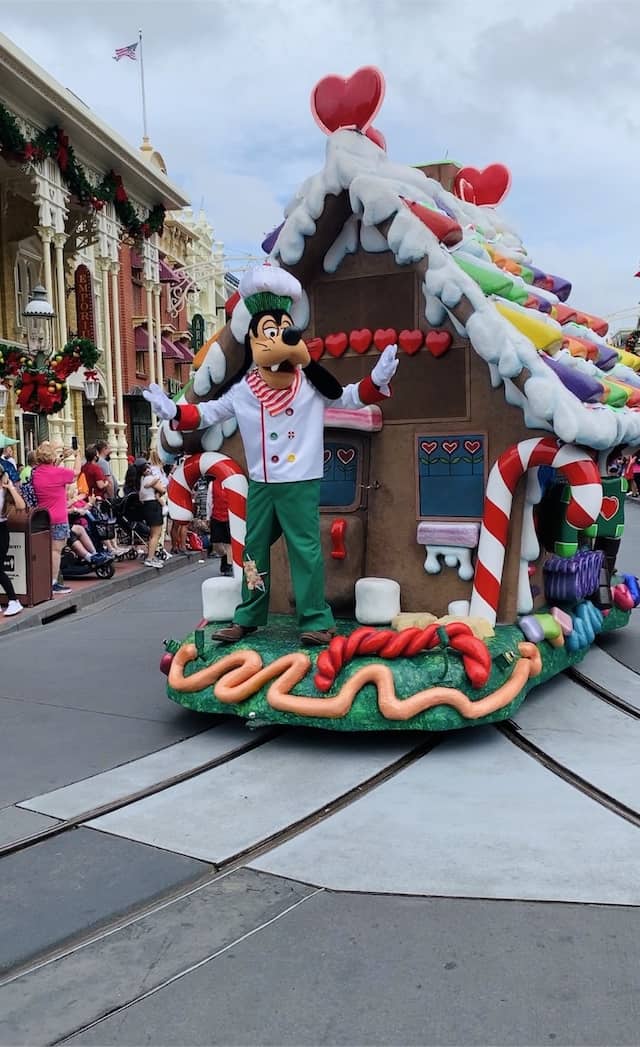 Goofy is in baker attire on a gingerbread house vehicle.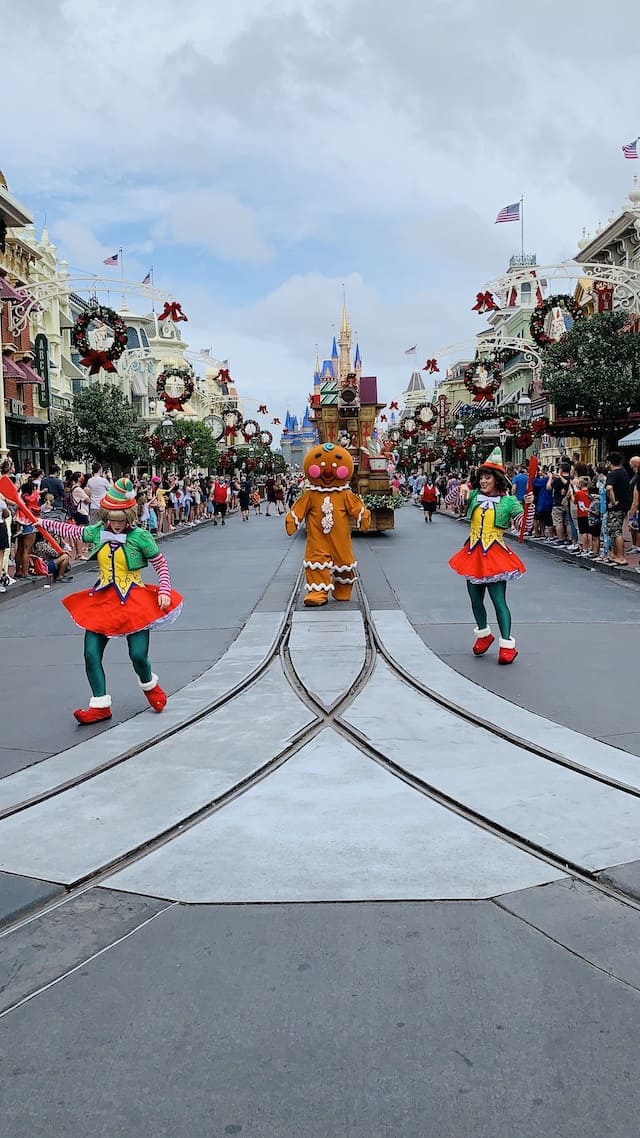 Gingerbread men and elves then do a little dance set.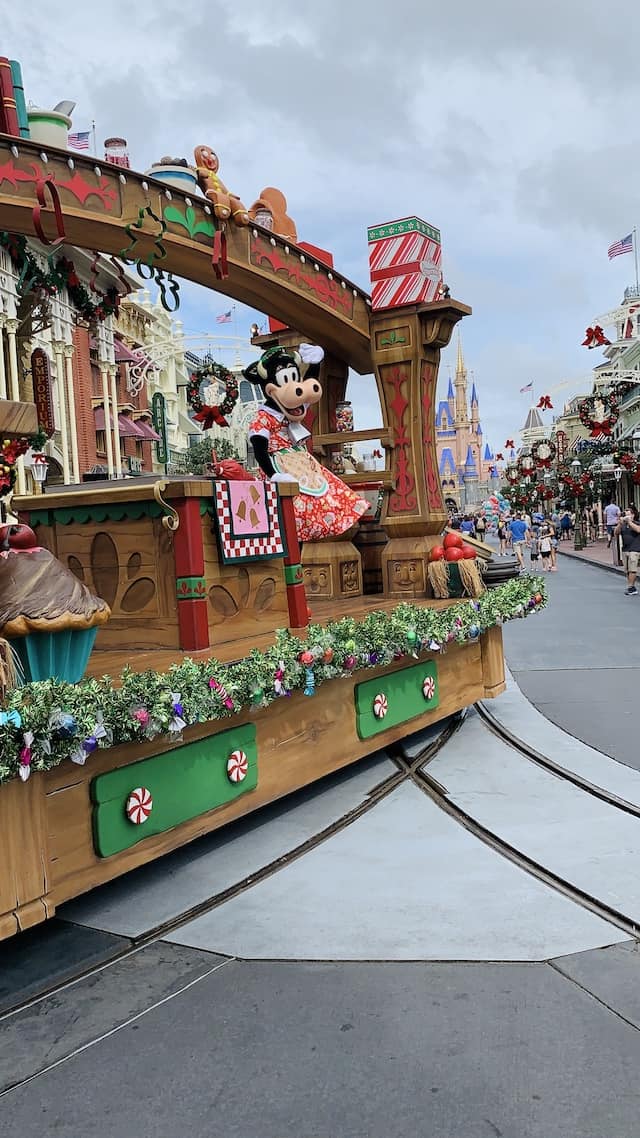 Finally, Clarabelle Cow is whipping up some holiday treats on her kitchen float. She is mixing dough with a large piping bag of icing next to her on the table! Yum!
Santa's Christmas Cavalcade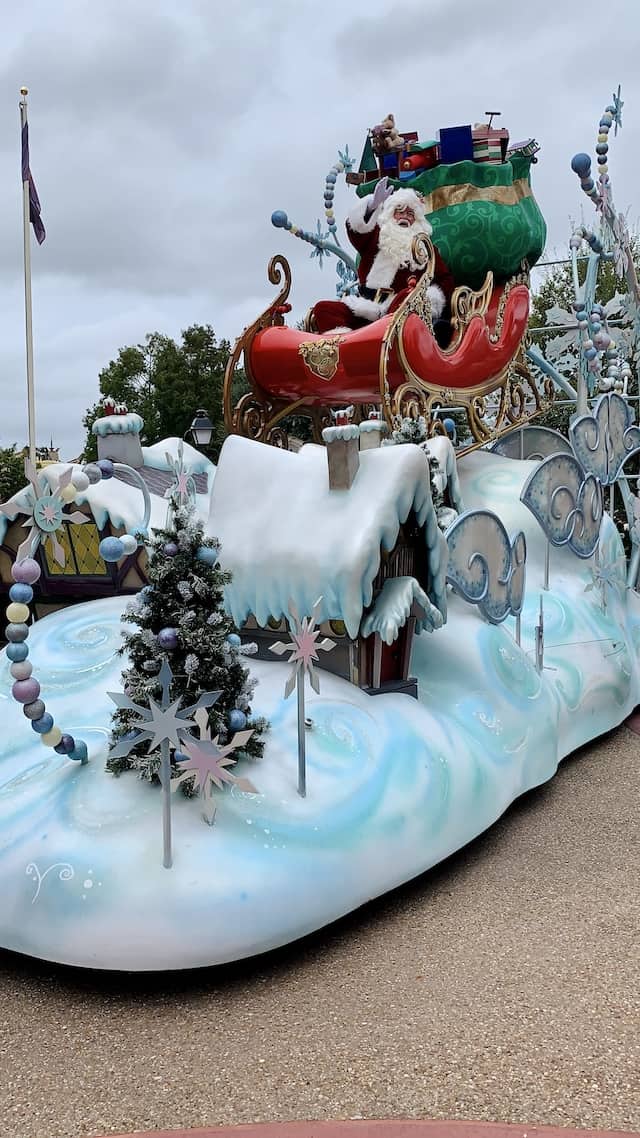 Would it be Christmas without an appearance from Santa? Santa and his helpers along with some reindeer parade through Frontierland, Liberty Square, and Main Street, U.S.A. to greet Guests both young and young at heart.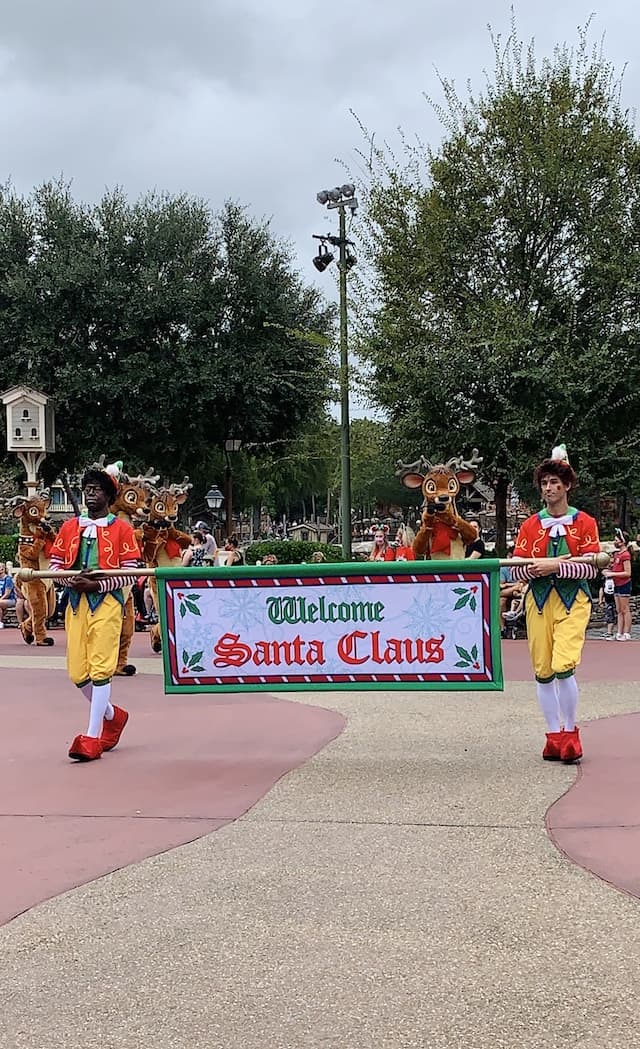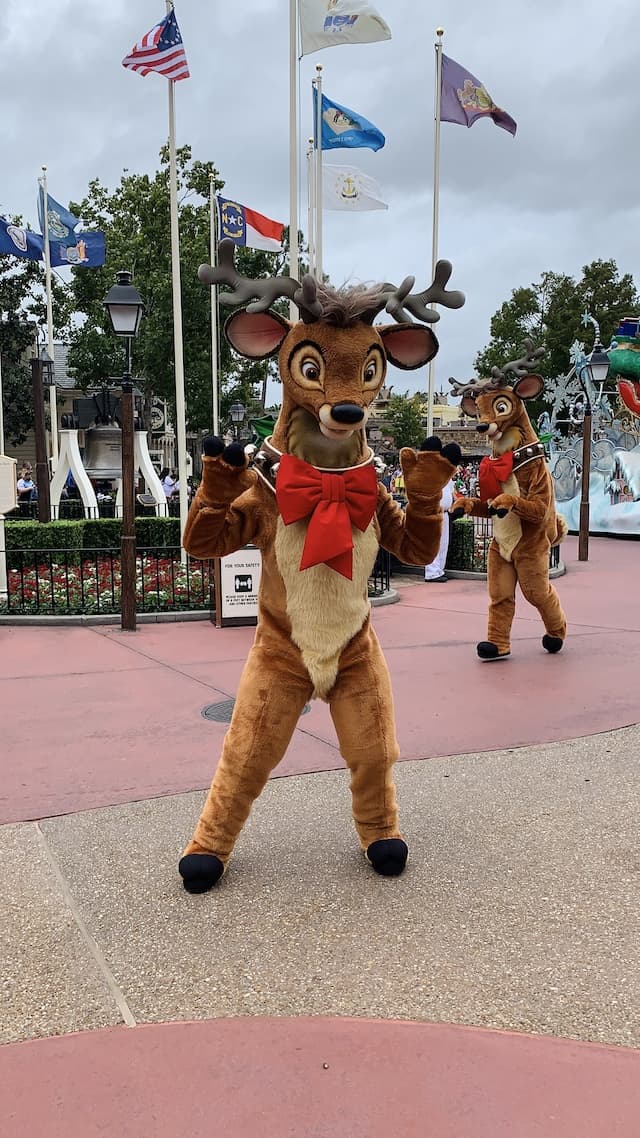 First, the reindeer lead the mini parade with dancing. Then, Santa comes riding on his sleigh on the top of a rooftop-themed float. Santa was great about interacting with Guests and waving to those who had lined up to see him.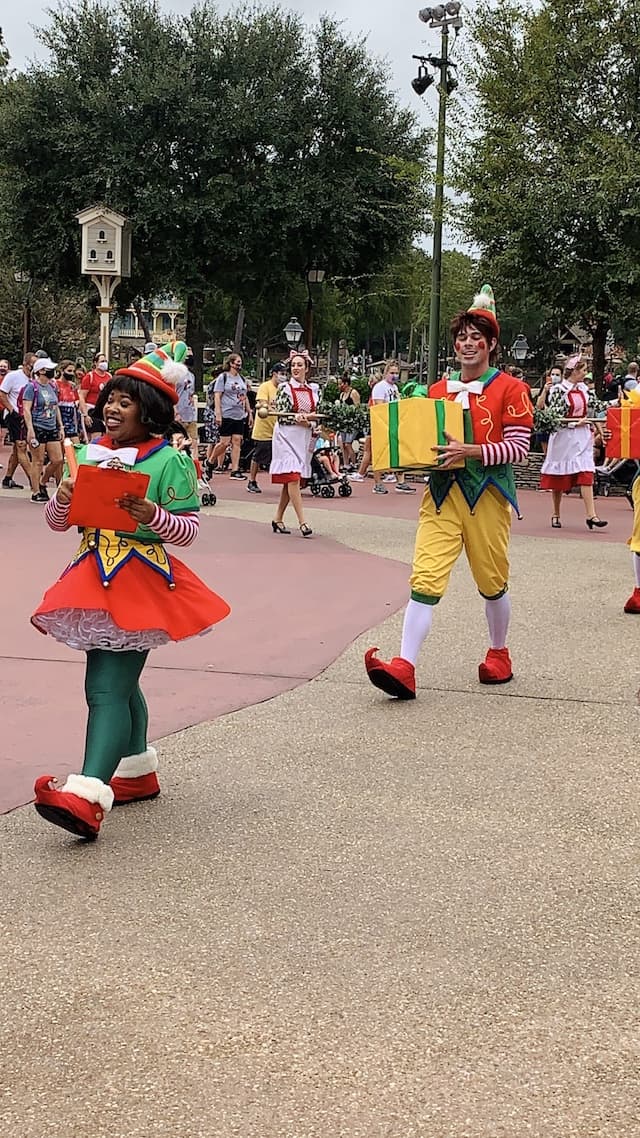 Finally, his Elves carry presents and dance along with the fun music.
Princess Cavalcade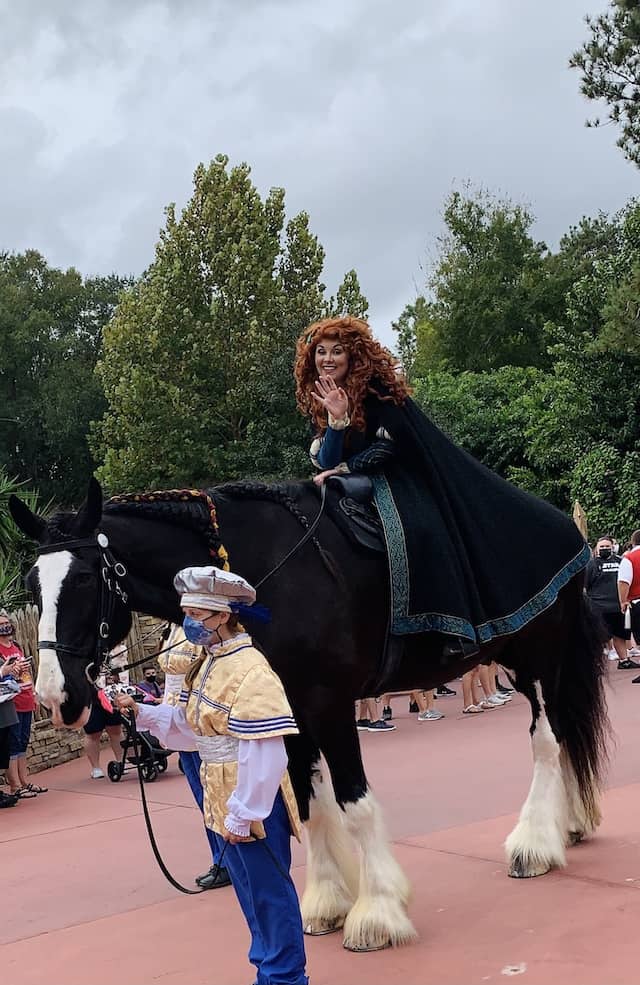 I was pleasantly surprised to see the Princesses still riding in cavalcades. To celebrate the Christmas season, they are all in the winter dresses.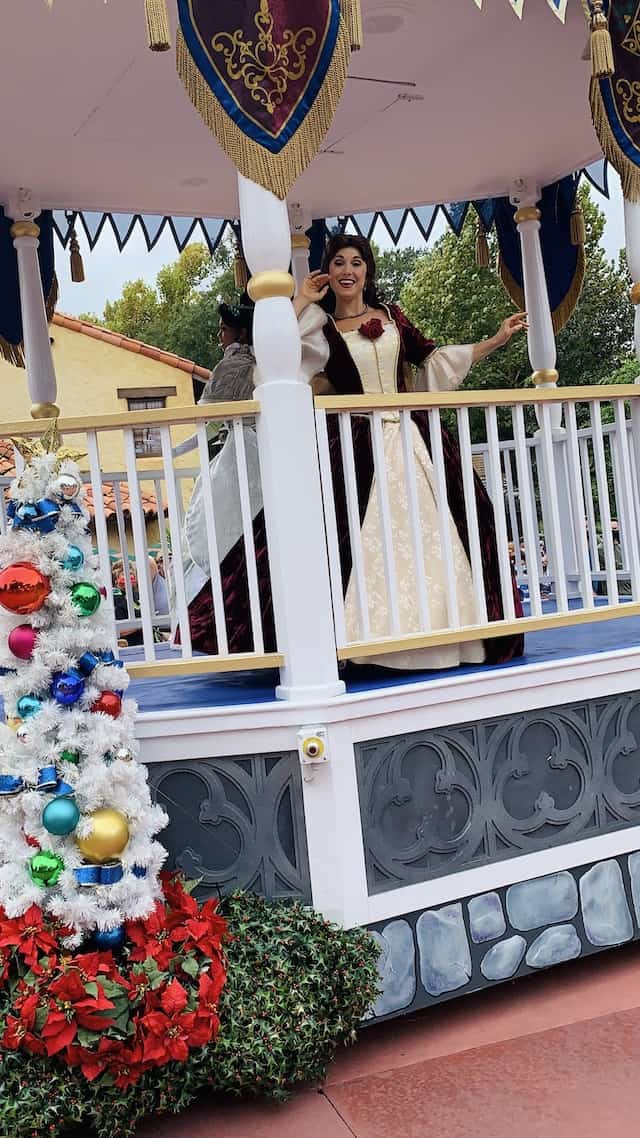 First, Merida rides her beautiful horse to start the procession. Belle and Tiana appear next in a small gazebo-type float with Christmas trees and garland.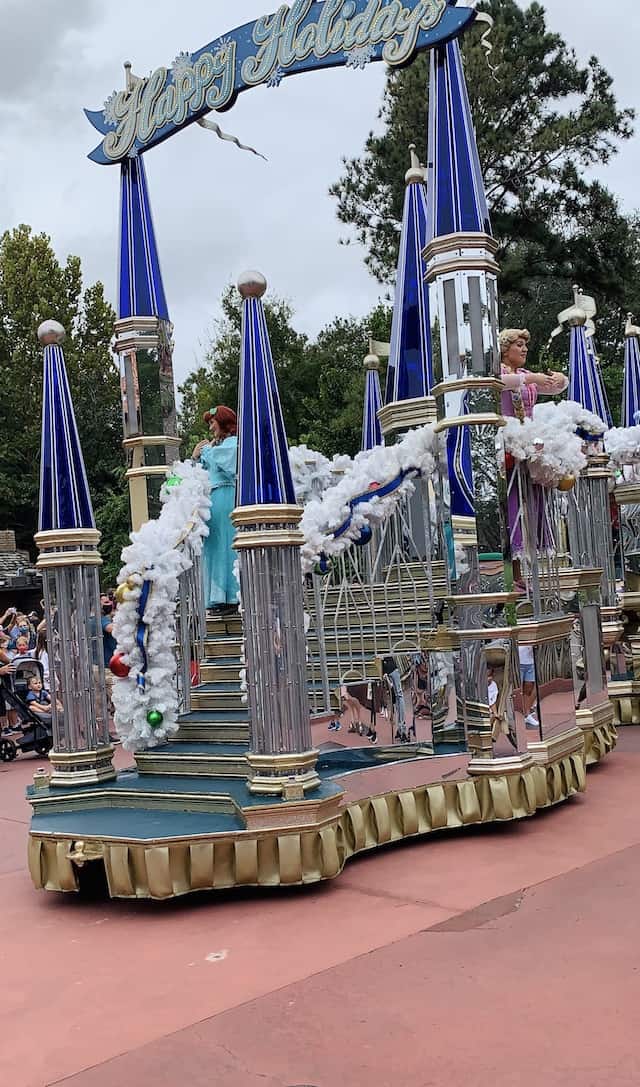 Ariel, Rapunzel, Aurora, Cinderella, the Fairy Godmother, Jasmine, Elena of Avalor, and Snow White are on the large float wearing beautiful cloaks, capes, and gloves in the same vehicle they usually ride in (which now has a "Happy Holidays" sign).
Toy Soldiers and Main Street Philharmonic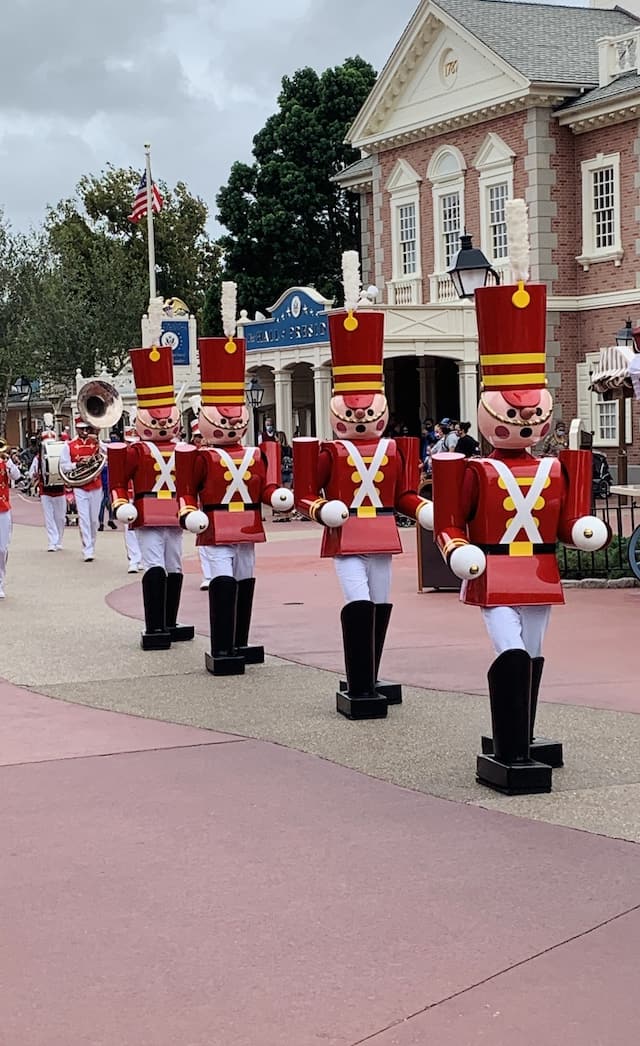 Toy Soldiers and the Main Street Philharmonic march right through Frontierland, Liberty Square, and Main Street. The band plays beautiful holiday sets while the toy soldiers lead the parade.
Other Character Greetings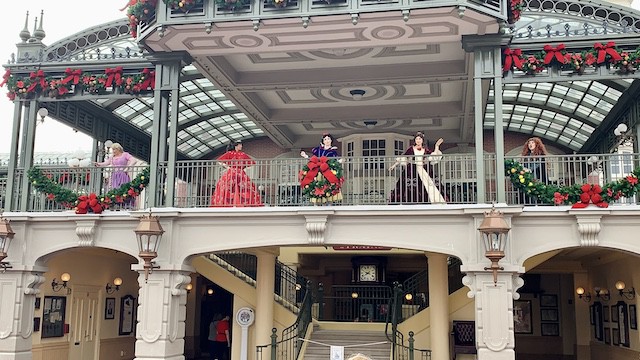 There are a few characters that meet at the top of the train station. I saw Tigger and friends from a distance, but was close enough to be able to snap these photos of the Princesses in their winter dresses.
They came out in two sets. Sleeping Beauty, Tiana, Cinderella, Fairy Godmother, Ariel, and Jasmine were out first. Immediately after, Merida, Belle, Snow White, Elena of Avalor, and Rapunzel greeted Guests. It's possible they will meet in any combination during their socially distanced meet.
Pirate Tip: The characters will exit to the right and come down that ramp near City Hall. If you head over there quickly after they leave, you can catch them up close (but not too close)!
Eeyore, Piglet, and Rabbit greeted Guests outside Crystal Palace as well. You never know who you will find outside the Crystal Palace!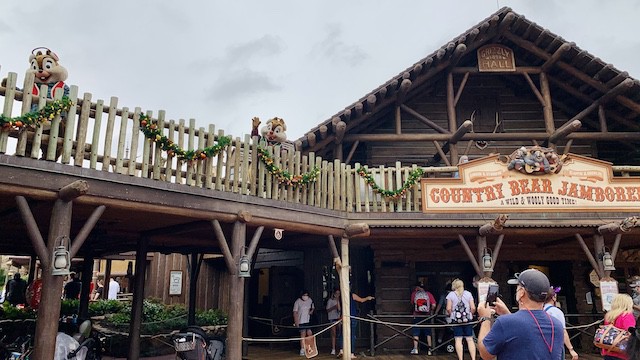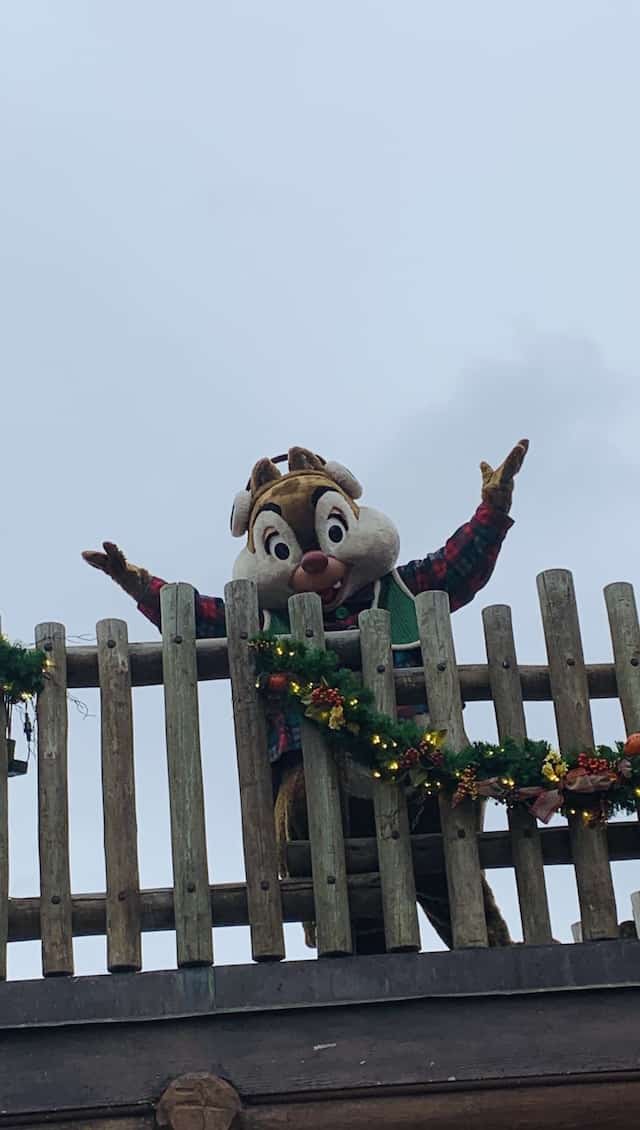 Chip and Dale meet with Guests from a distance in Frontierland. You will find them above the little path to Adventureland right next to Country Bear Jamboree.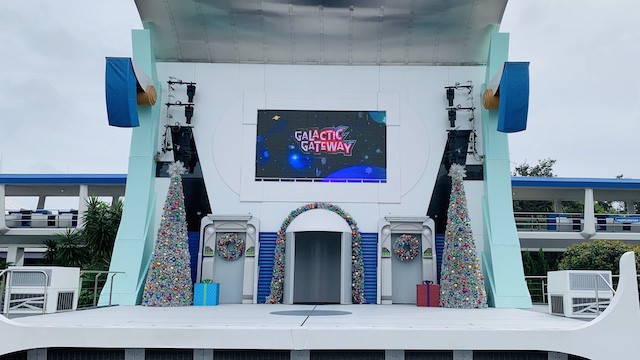 Stitch and Buzz Lightyear meet on the Tomorrowland stage. Unfortunately, I did not catch either of them. The stage looks awesome though!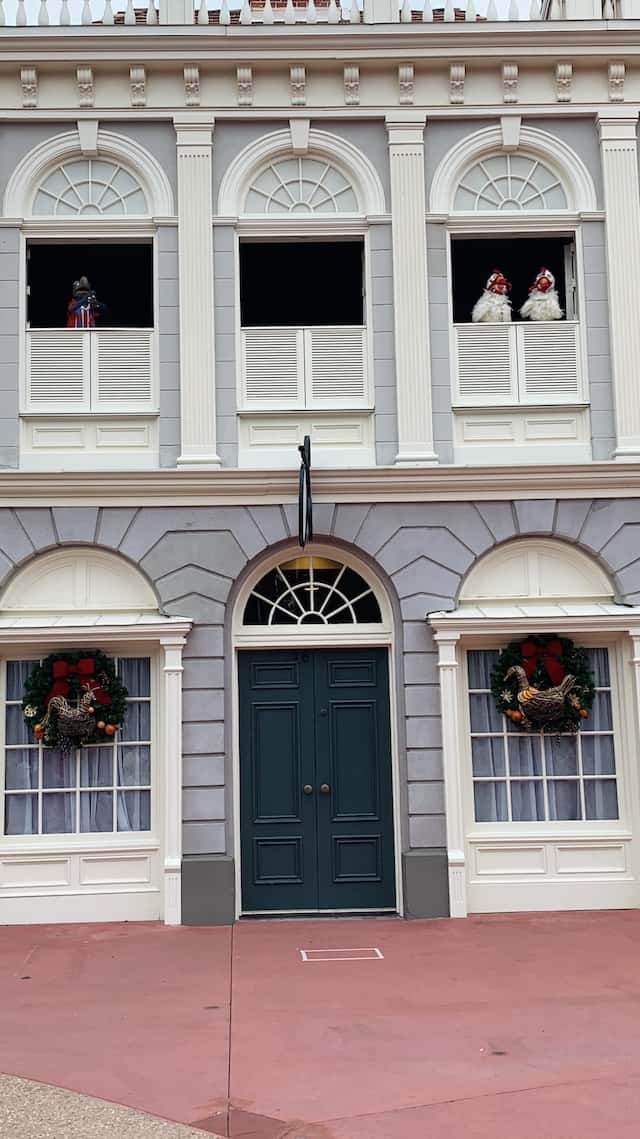 Finally, The Muppets are meeting periodically throughout the day during the holiday season! You can catch them in their usual spot next to Hall of Presidents in Liberty Square.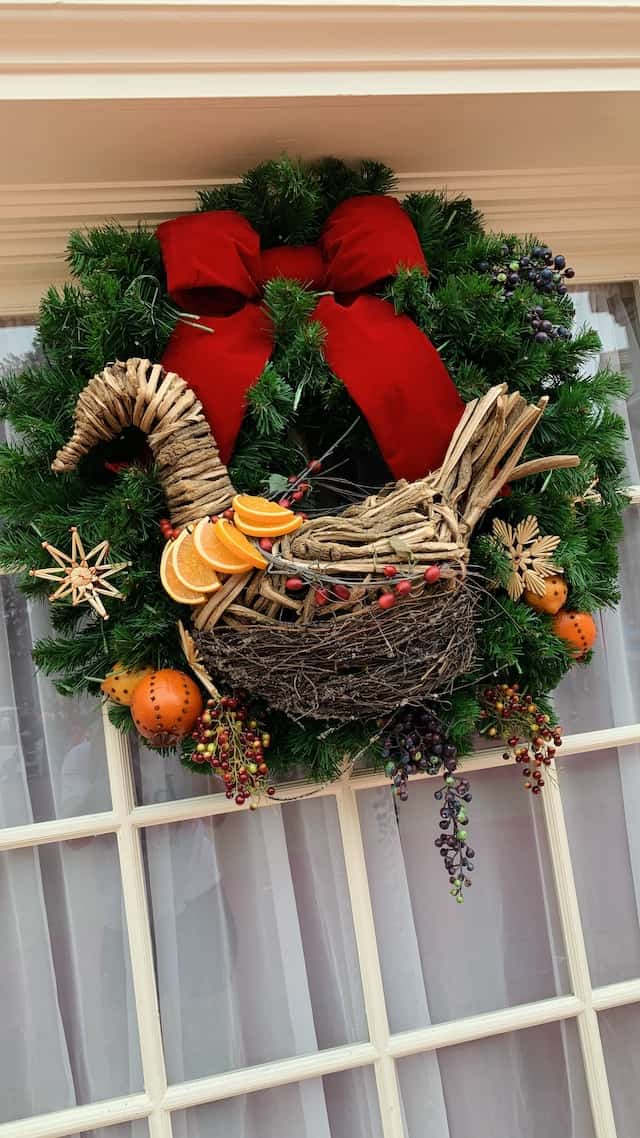 Read more about this news HERE.
Scrumptious Christmas Eats, Popcorn Buckets, and Sippers
In addition to the list of Christmas snacks put out by Disney (and covered HERE), I noticed many more seasonal snacks that were available. We tried 6 desserts, and here is what we thought of them: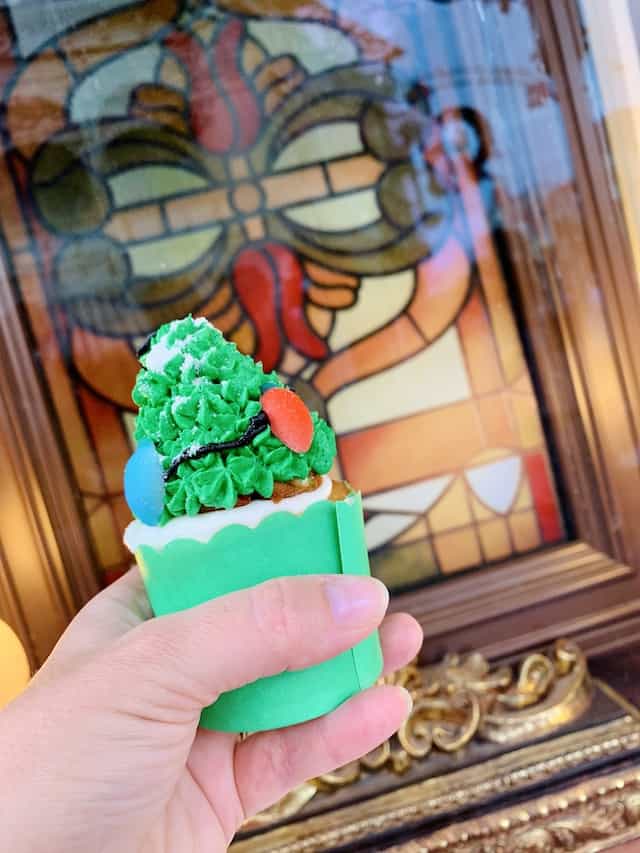 Twice Upon a Cupcake found at Main Street Bakery: your standard Disney vanilla cupcake. Other than the fun hidden red velvet Mickey found inside, there is nothing special about this.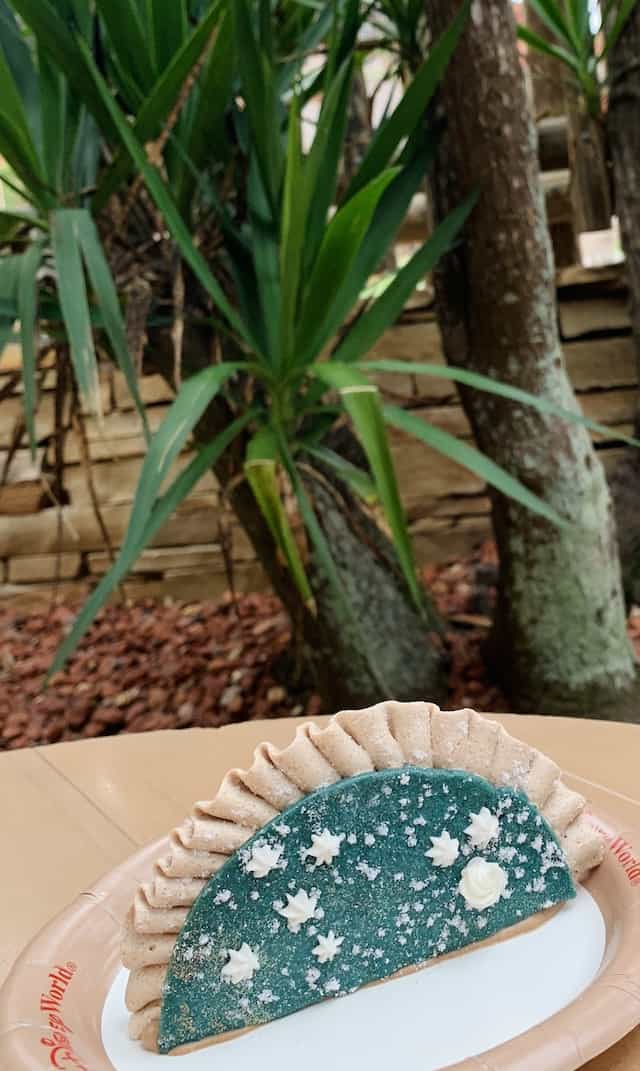 Let it Snow taco found at Pecos Bill: mixed review on this one. I didn't care for it all, but my friend liked it. In particular, she really liked the spiced chocolate mousse frosting. It's a sugar cookie shell with salted caramel filling and the spiced frosting on top.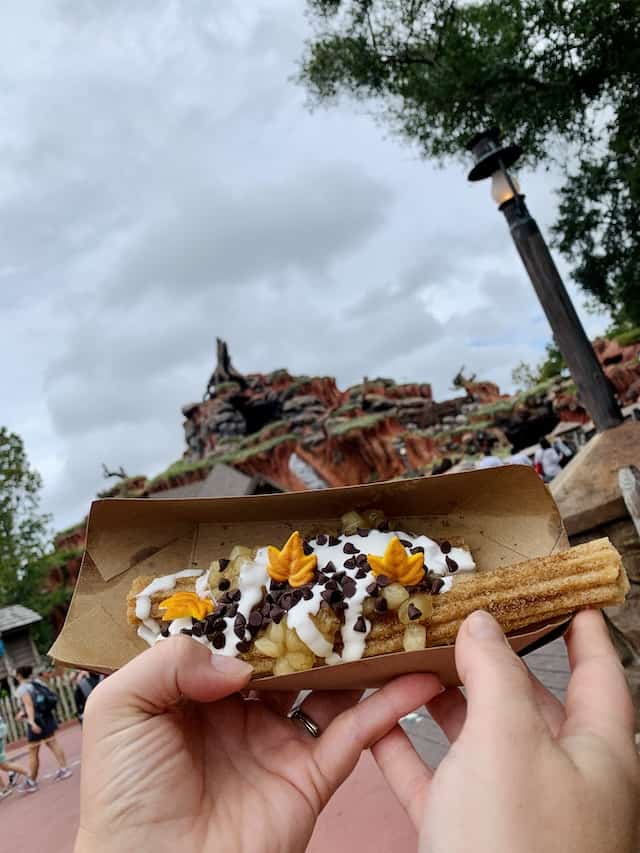 Chip & Dale Christmas churros found at Westward Ho: this one was really strange. It had apple pie topping, marshmallow and chocolate chips on top of a gingerbread churro. The churro itself was pretty stale and we couldn't taste the gingerbread at all. We also felt the apple pie and marshmallow/chocolate did not mesh well together. They should have chosen one or the other but mixing them all was not good at all.
Christmas tree macaron found at Gaston's Tavern: this was one of our favorite desserts. The first filling was cranberry-orange, not your average sugary filling. The second was a thicker more traditional macaron flavor. It was perfectly sweet/tart. The macaron itself was almond flavored, and the garnishes were M&Ms and white chocolate covered rice crisps.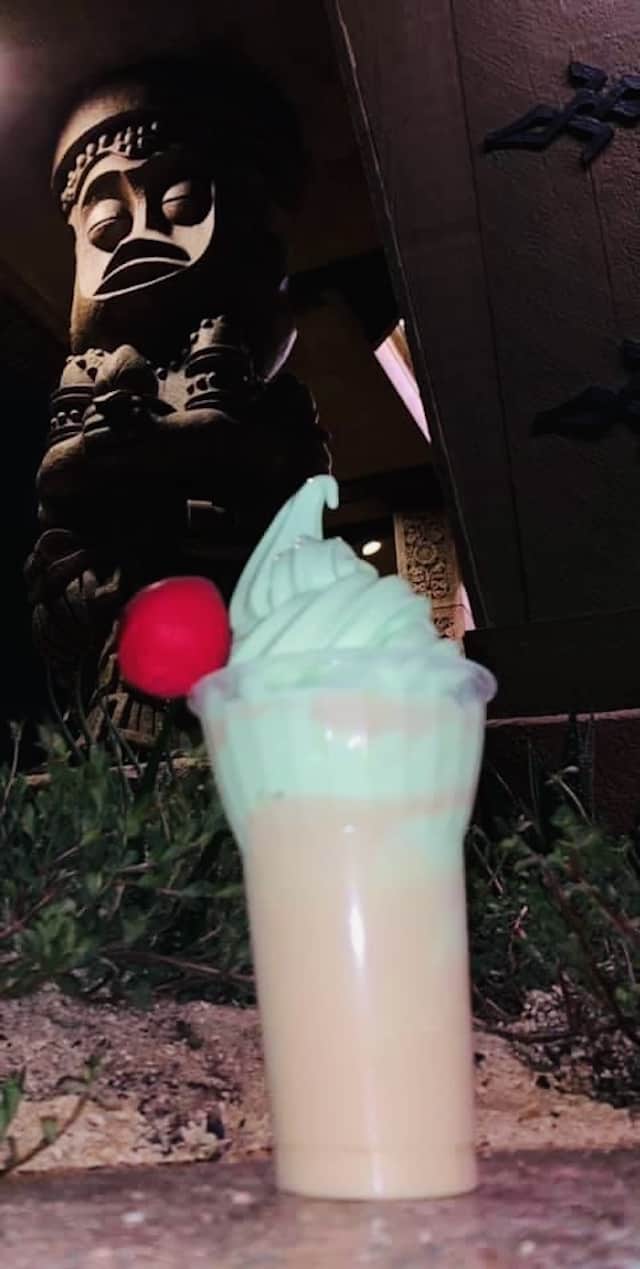 Pistachio chai found at Aloha Isle: not the best and not the worst. The red velvet cake pop was very rich and didn't fit in with the pistachio flavor. The pistachio ice cream and chai flavors mixed well together. Not overly sweet.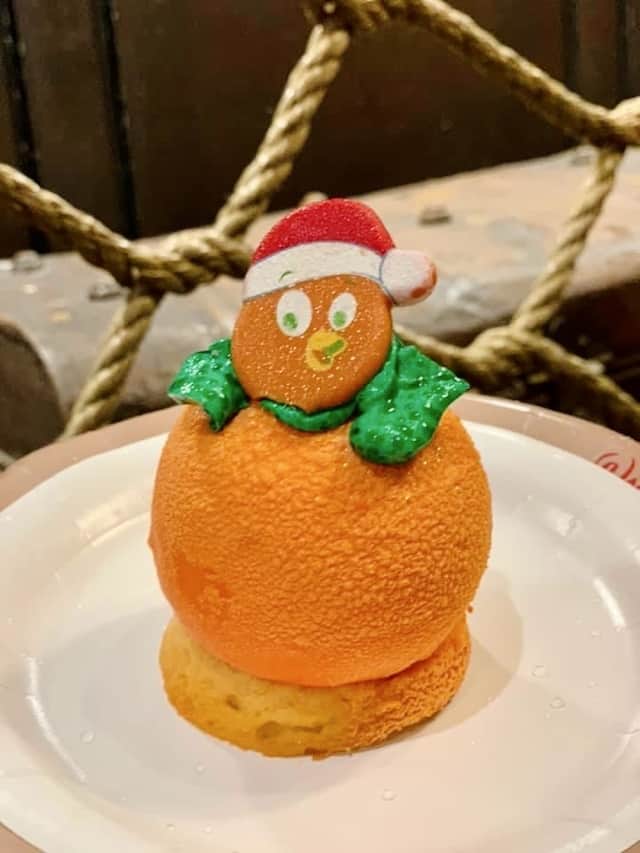 Orange Bird Christmas found at Sunshine Tree Terrace: this was the best dessert of the day. The orange outer layer had little crunchy pieces (but in a good way), and the orange curd filling just tasted so perfect. This is one we split but could have easily gotten our own. It was that good!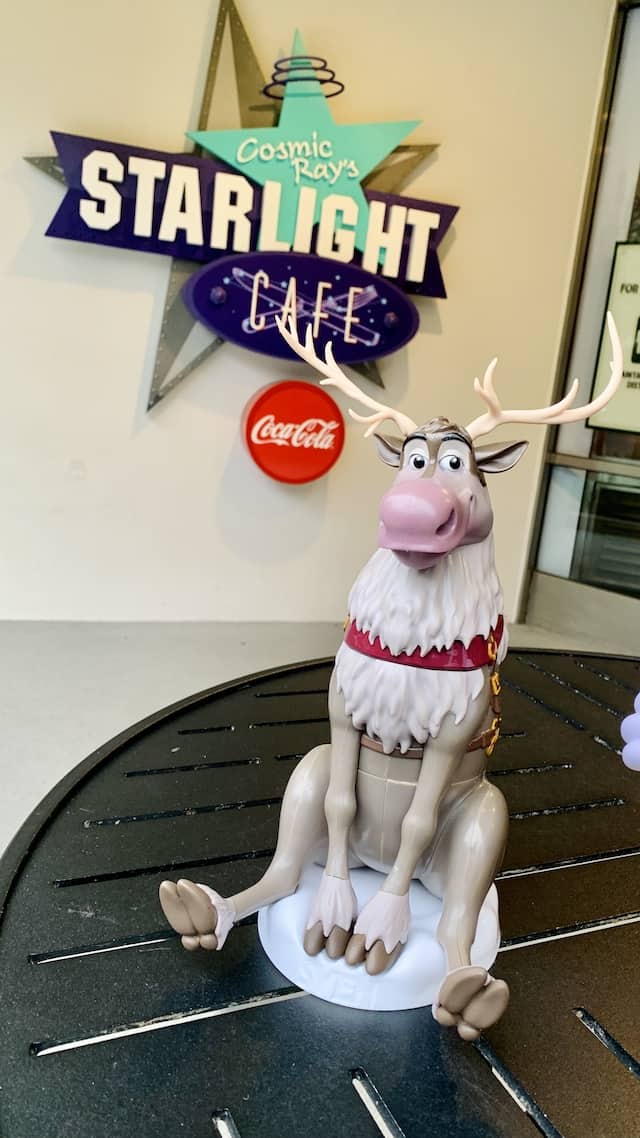 If you collect the seasonal buckets and sippers, there are a few options this year! There is a Sven sipper ($18), a green or red Mickey ornament sipper ($11), and a Mickey snowman sipper ($13).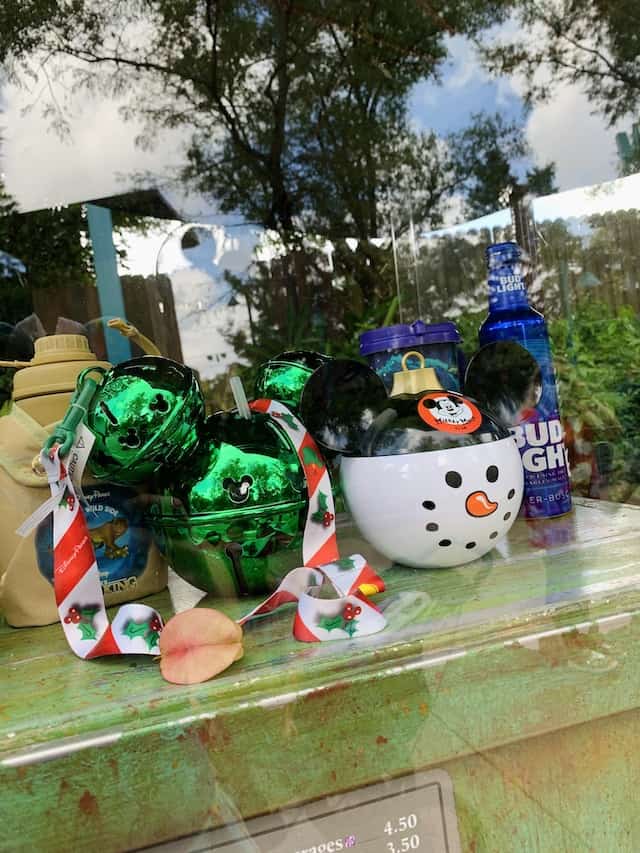 The Mickey ornament sipper lights up!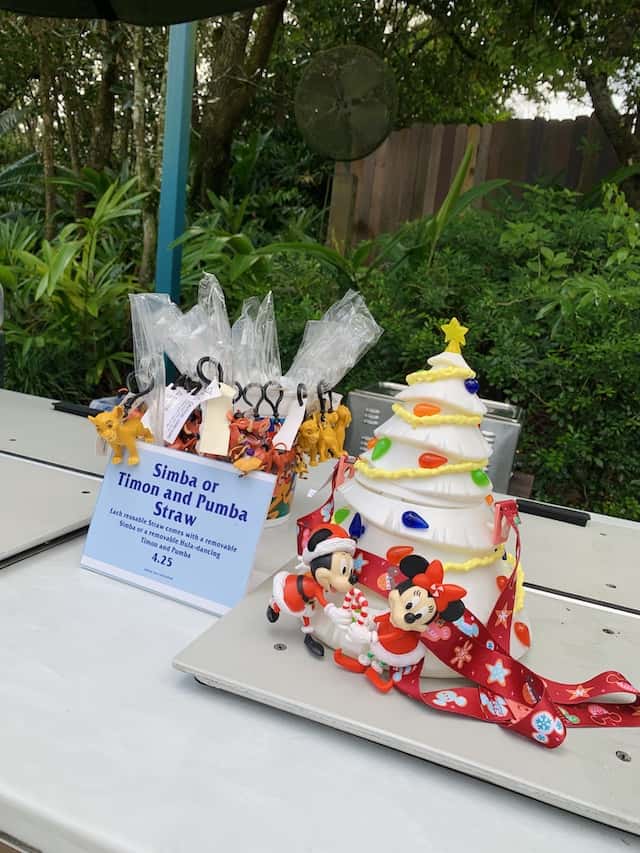 There is also an Alien popcorn bucket (red buffalo plaid outfit) along with both green and white Christmas tree buckets. They retail for $25 and refills of popcorn are $2. The Christmas tree buckets light up three different ways.
Castle Projections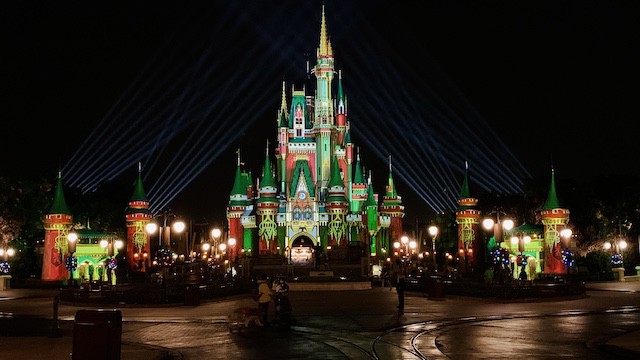 Sadly, there are no lights on Cinderella Castle this year. In years past, we have all enjoyed the Frozen stage show where Elsa turns on the lights.
This year, Disney has opted to show four different projections on the Castle. Each projection runs for 15 minutes so an entire set is completed in one hour. Beautiful Christmas music plays as the Castle shines as festively as possible given the circumstances this year. It's not the same, but it's not bad either.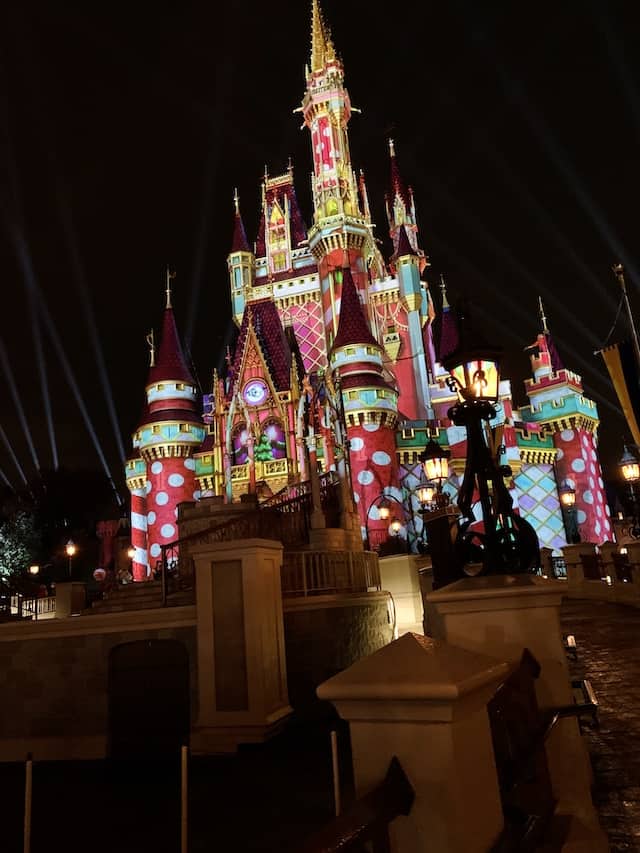 One projection feature white polka dots on a red background and purple/blue criss cross patterns. It reminded me of an ugly Christmas sweater. They also have a Christmas tree right below the clock making it look like it's peeping through the window.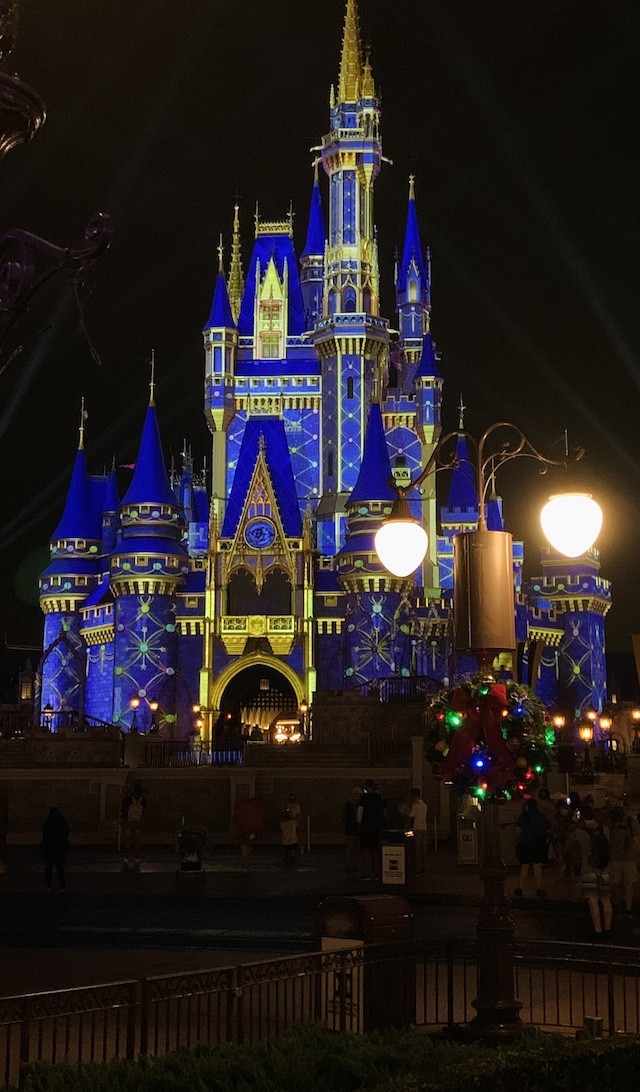 The next looks very regal with a gorgeous blue that matches the new refurbishment. Green snowflake looking designs and gold touches complete the look.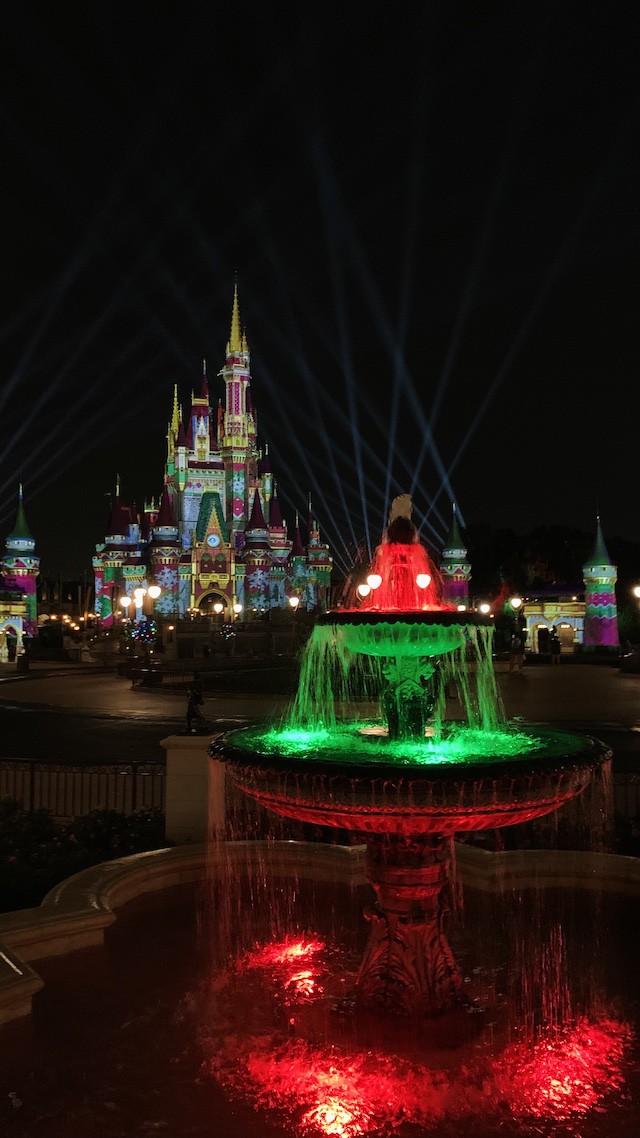 The third projection looks like Christmas in every sense of the word. Snowflakes and Christmas trees appear on the classic red, white, and green background.
I was able to get a photo of the Castle and fountains from the grassy hub area, and the fountain lighting matched the Castle projections beautifully.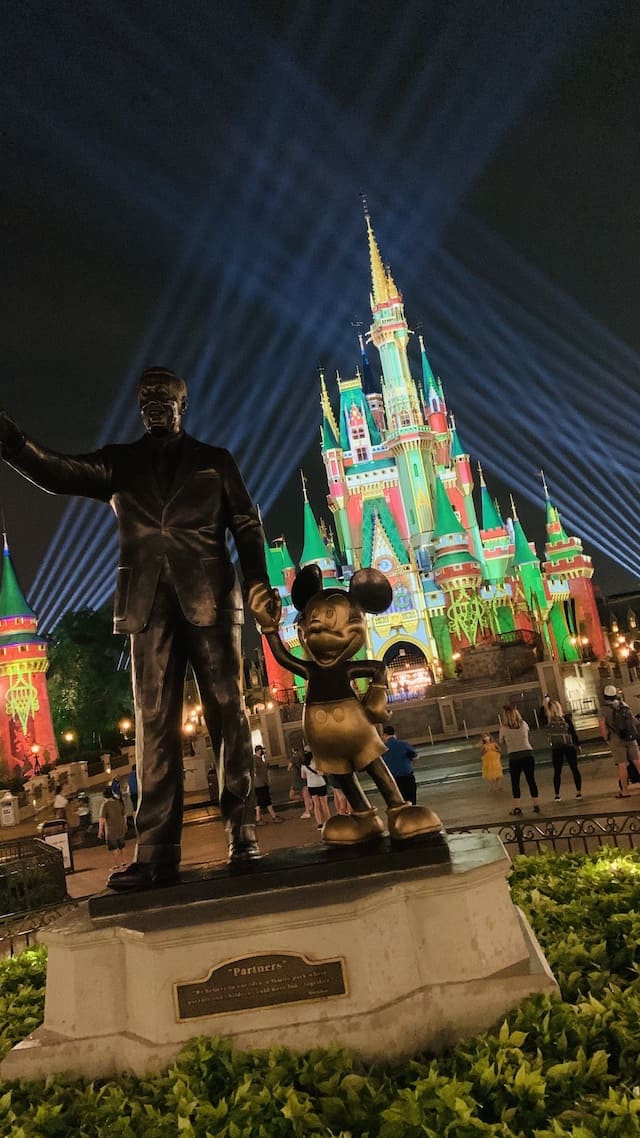 Finally, you can also expect to see a projection that looks like a more sophisticated version of the photos I shared just above. The castle is lit up green and red and has wreaths "hanging" in the window above the archway.
I hope you enjoyed all the photos of my day at Magic Kingdom! What questions about holiday cavalcades, food, or entertainment do you have? Ask them below or on Facebook!
Are you planning a vacation? Reach out to our trusted travel agency sponsor Authorized Disney Vacation Planner
Mouse Class Travel
!