Check out Magic Kingdom's holiday transformation, including a time lapsed video showing how Disney magically changes from fall to Christmas overnight!
Just a few days ago, Disney transformed Magic Kingdom from fall to the holiday season. We were lucky enough to be there to for Halloween (with a full moon). Then, on our second visit, we spotted the amazing Christmas decorations.
Our Halloween Experience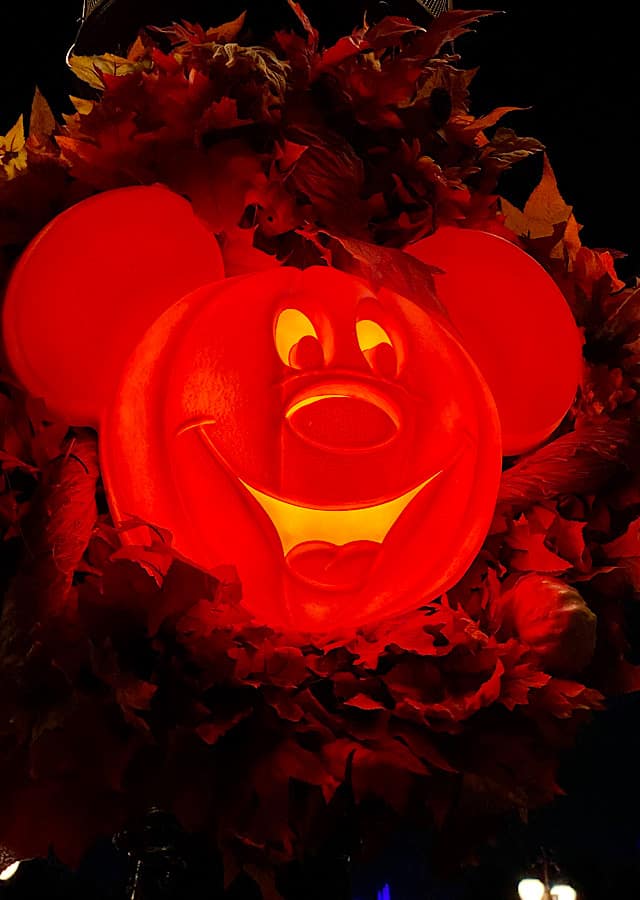 We visited Magic Kingdom on October 31 for Halloween to experience the Halloween Cavalcades and fall decorations. We thoroughly enjoyed the Boo To You Cavalcade and the Mickey Halloween cavalcade.
Although we kept an eye out for the Villain cavalcade, we missed it. Magic Kingdom was open until 9:00pm that evening, but the cavalcades did not take place after 5:00pm. This was disappointing.
Also, we adjusted our expectations due to no Halloween parties taking place. But, we were really hoping Disney would incorporate special Halloween lighting on the castle, main entrance, or Main Street.
However, there were no extras. No pumpkins in the Main Street Windows, and no fall garland as you enter Magic Kingdom. The windows on Main Street didn't didn't even show any Halloween merchandise.
Disney Changes Seasons Overnight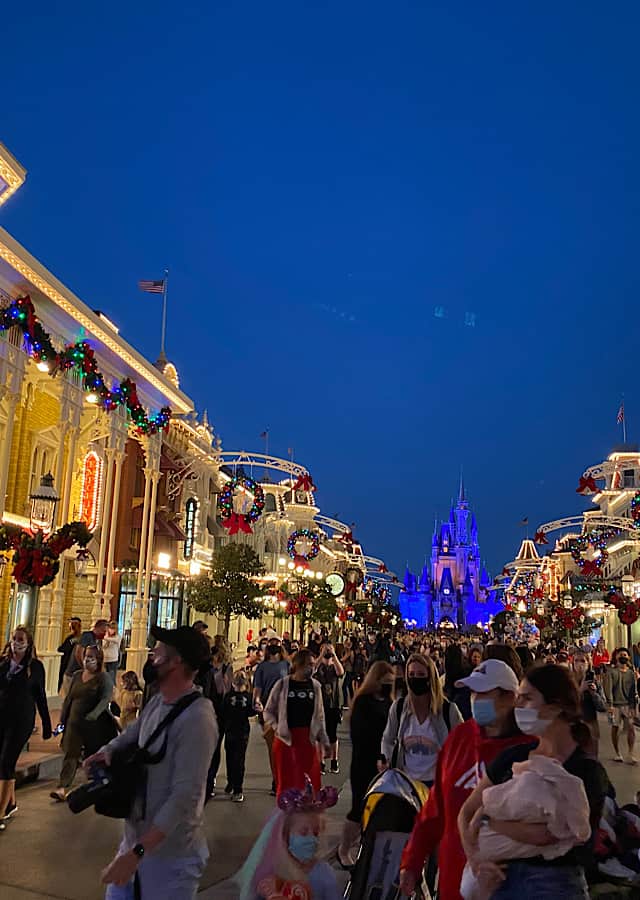 The only decoration used for fall was the beloved Mickey jack-o-lantern wreaths that light up beginning as guests enter, and continuing to the castle hub. Because of the minimal fall decorating, we had low expectations for the holiday Magic Kingdom decorations.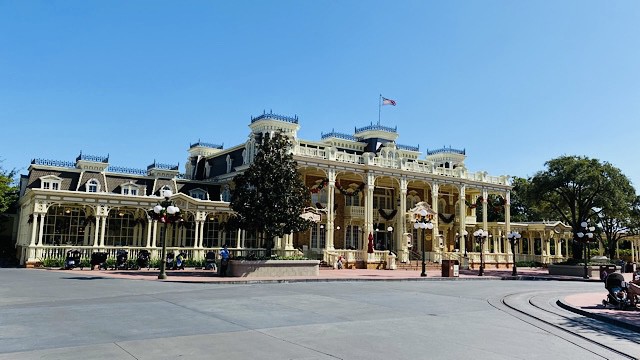 Imagineers and their crew have the daunting task of changing Magic Kingdom into a Winter Wonderland overnight. In the past, this happened the last night of the Halloween party.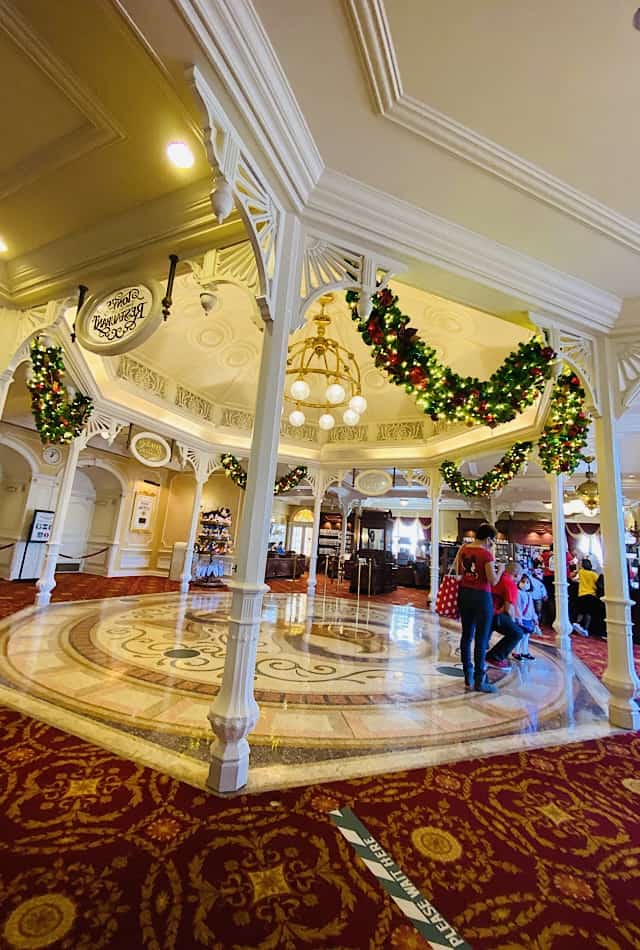 However, this year all Disney Halloween parties were cancelled. Since Disney Christmas parties were also cancelled, we were left wondering if Disney would cut back on Christmas decorations as well.
According to Disney Parks You Tube Channel, the amazing video shown above was created by Disney Parks Blog six years ago. Every time I watch it, I'm in awe over how Cast Members make this gigantic decorating task look easy. They really have it down to a science.
A fellow writer gave a Christmas sneak peek of Magic Kingdom decorations here.
Cinderella Castle Lights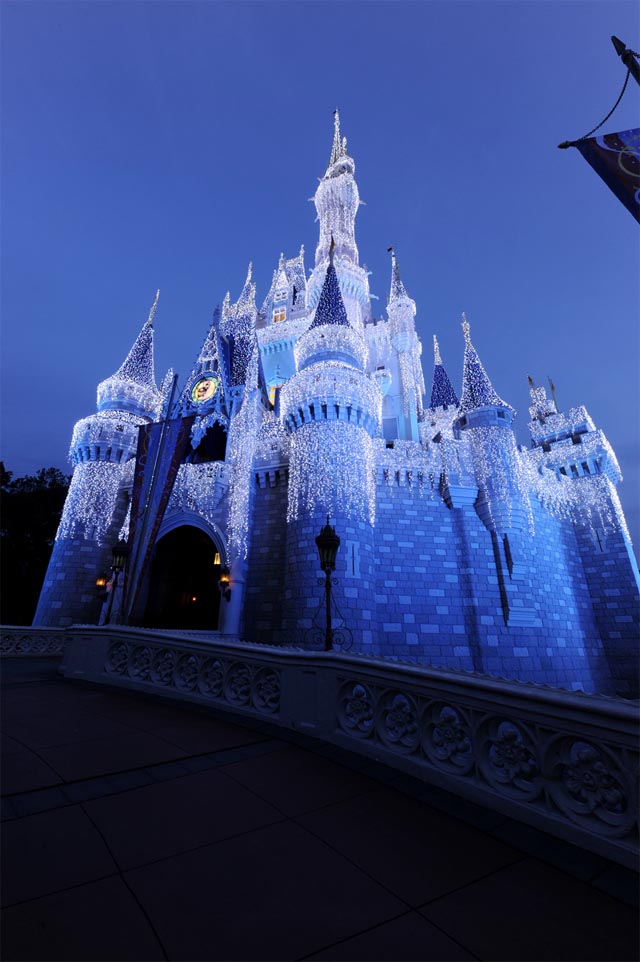 In the past few years, the iconic Cinderella Castle has dazzled guests with its blanket of white lights. Watching Elsa "light the castle" is an amazing experience. Check out the cool video here. (Pun intended.)
My husband and I were lucky enough to catch a picture just as it lit last Christmas season. Unfortunately, Disney announced this magical lighting will not take place this year.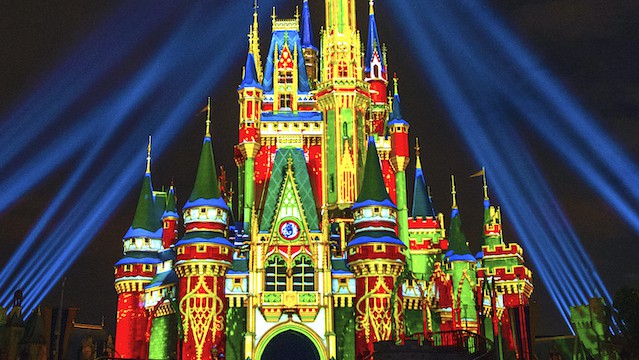 In place of castle lighting, special projection effects will give a festive look to Cinderella Castle this year, providing a colorful backdrop for photos. Read more about this in our article here.
Castle Decorations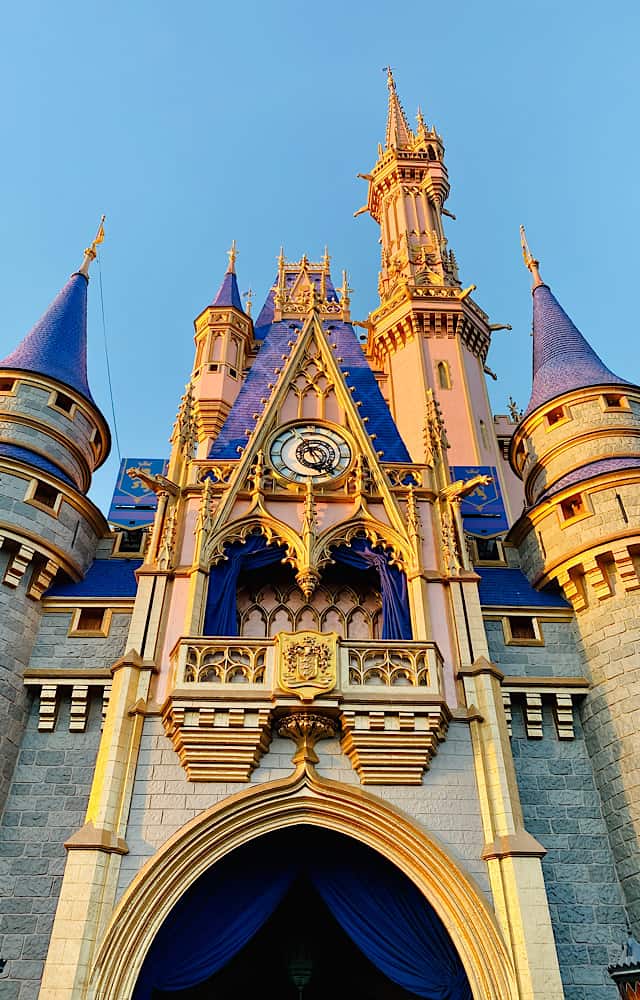 When guests look beyond the festival holiday wreaths to Cinderella Castle from the front, they will not see any holiday decorations. There is a stark difference between the front and back of the castle, however.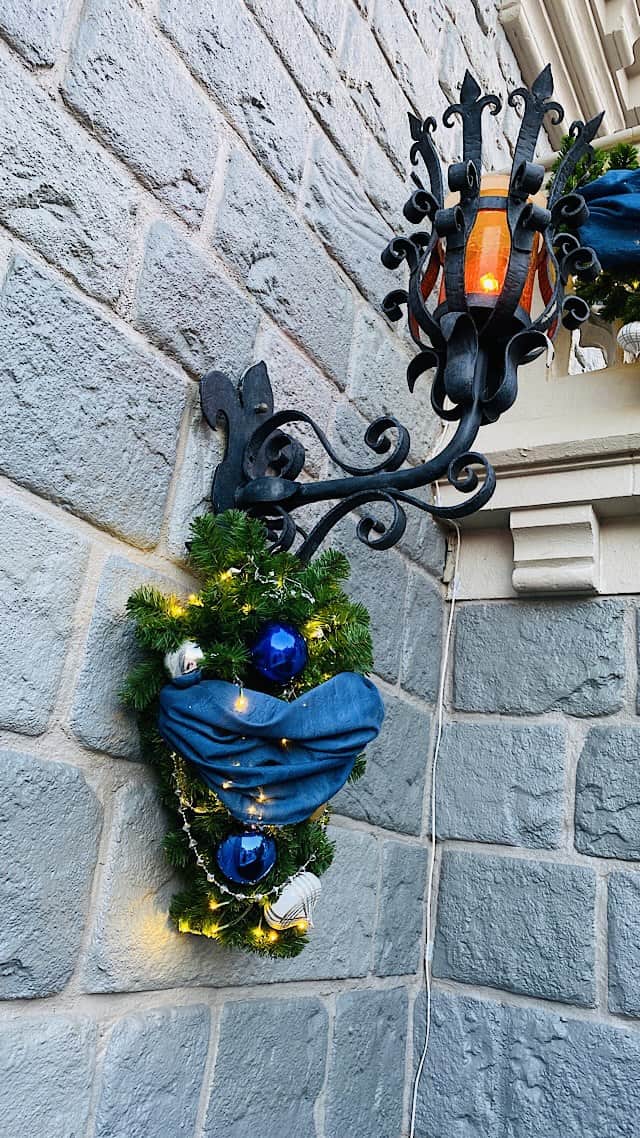 The "back side of the castle" as I like to call it, has beautifully adorned garland throughout guests view. The blue and silver evoke guests feeling of winter, welcoming the holiday season.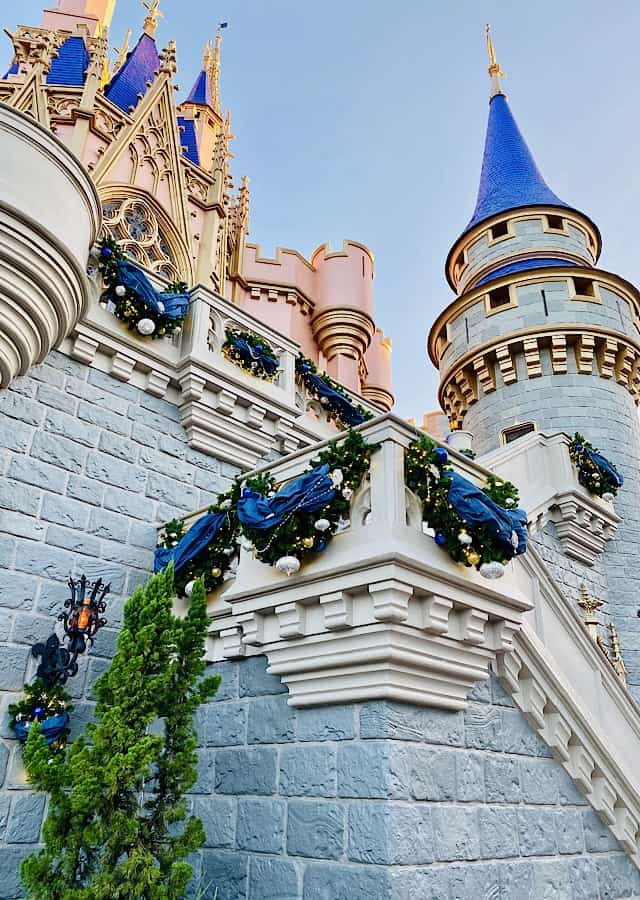 Check out the blue fabric and beaded garland that lay atop the greenery. The white lights give the castle a magical feeling few other places can replicate.
Themed Holiday Wreaths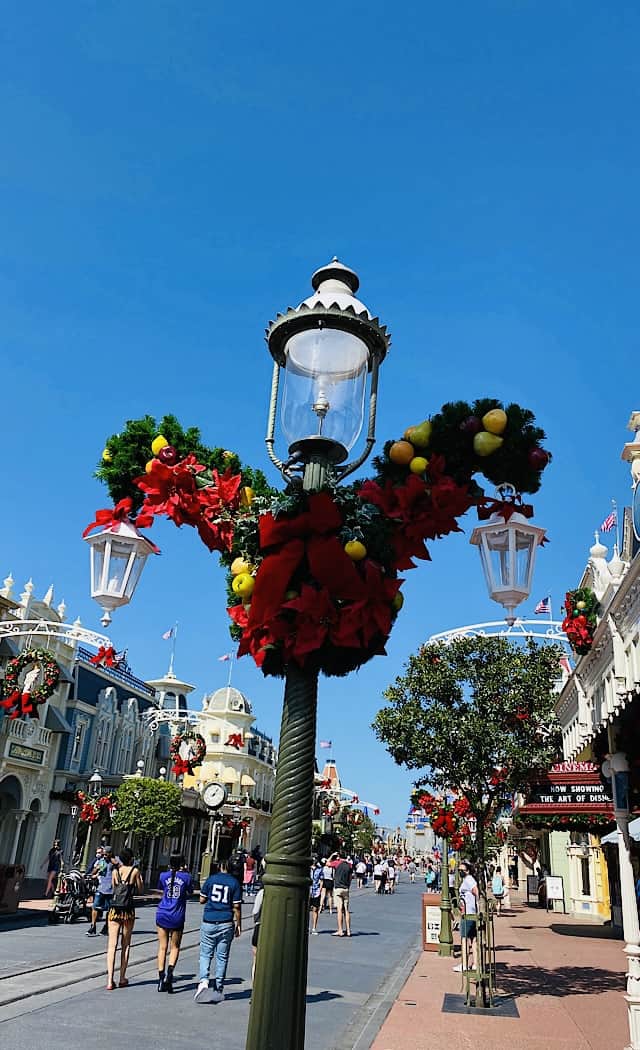 There are 2 types of holiday wreaths found in Magic Kingdom. The first type is located on Main Street lamp posts. Guests can enjoy these wreaths with extended garland connected to 2 additional lights. These smaller lamps flicker with a "flame-like" glow.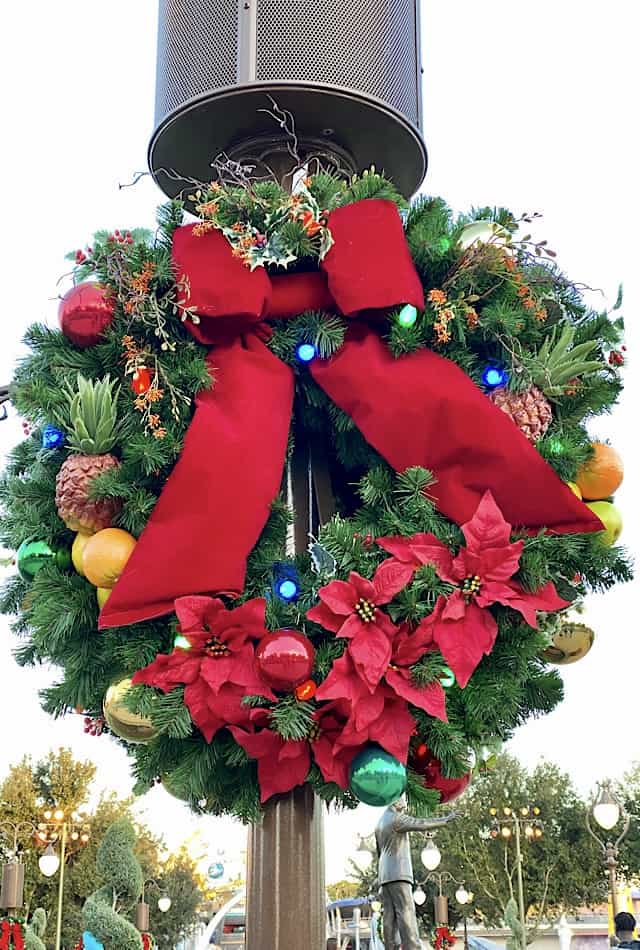 The second type of wreath is the traditional round wreath that doesn't include the garland or light extensions. This year, all Magic Kingdom wreaths include a traditional Christmas red bow in the center.
Each wreath is garnished with red poinsettias and two-tone holly with red berries. They also include multi-colored round ornaments and small lights. A whimsical touch this year that I find delightful is the addition of various fruit found in Florida. Check out the pineapples in the wreath above.
Christmas Tree Area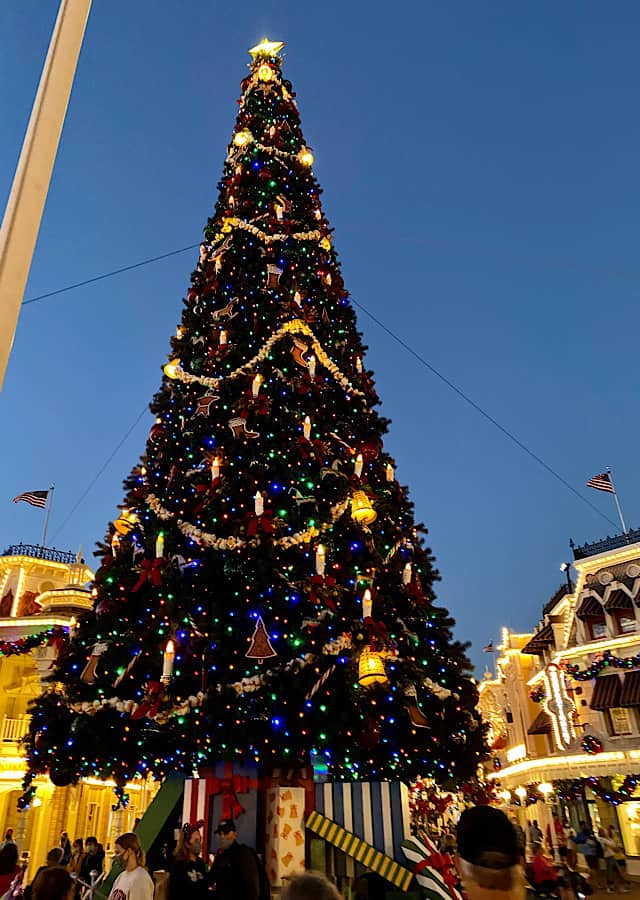 Every year, I look forward to seeing the Main Street Christmas tree. Every detail from the gold star on top from the abundance of presents and toys underneath the towering tree makes guests happy.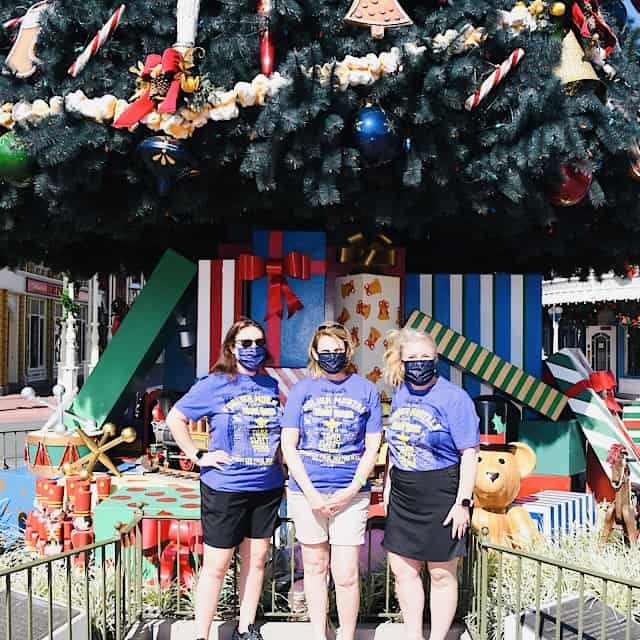 The oversized popcorn, lighted candles, gingerbread and candy canes evoke a feeling of a homemade Christmas.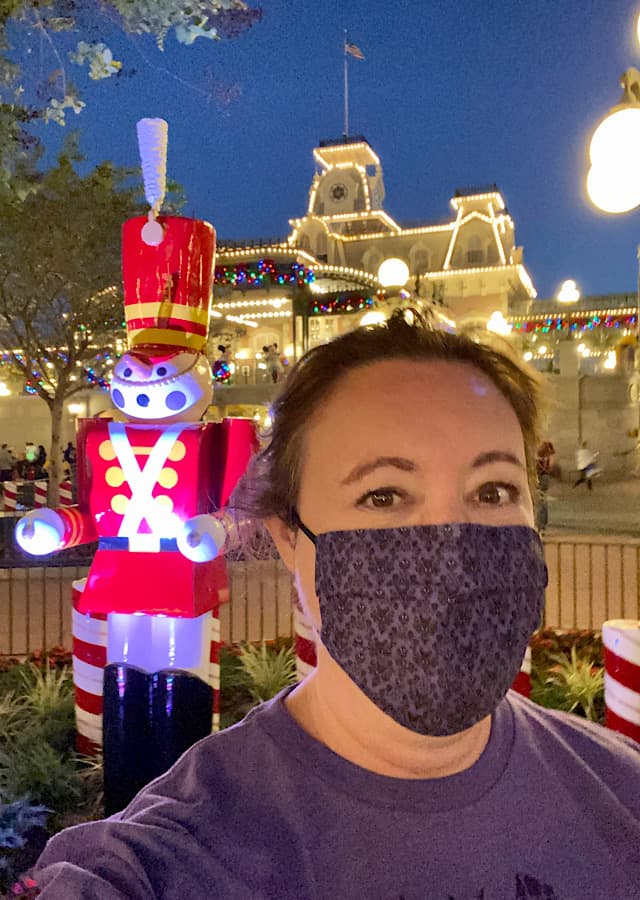 The wooden nutcracker statues are a fun place for selfies.
Main Street Decorations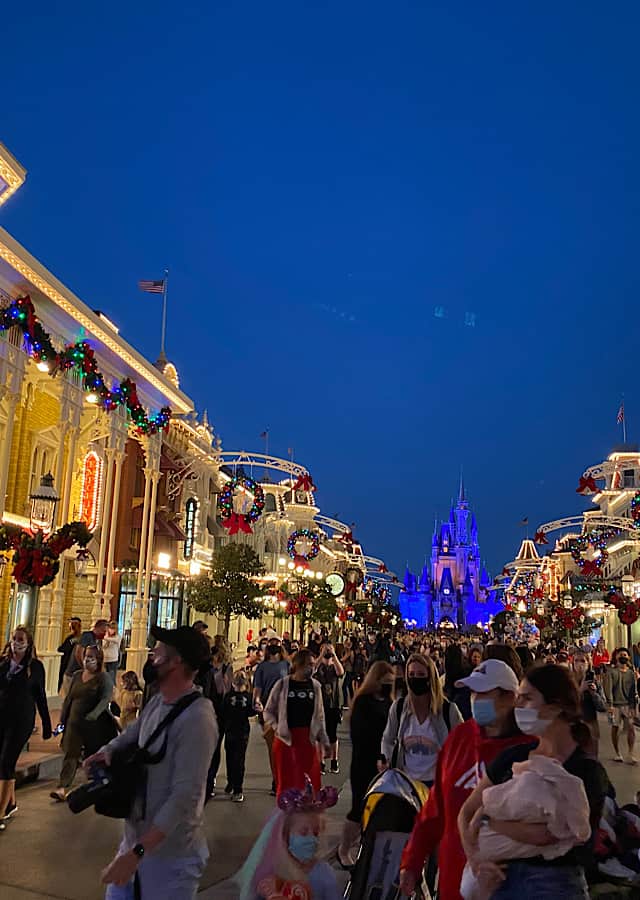 Walking through Main Street decked out for the holidays is an enchanting experience. I could sit and take it all in for hours! These magnificent trimmings give guests the nostalgia of walking through Main Street U.S.A. in Christmas of bygone eras.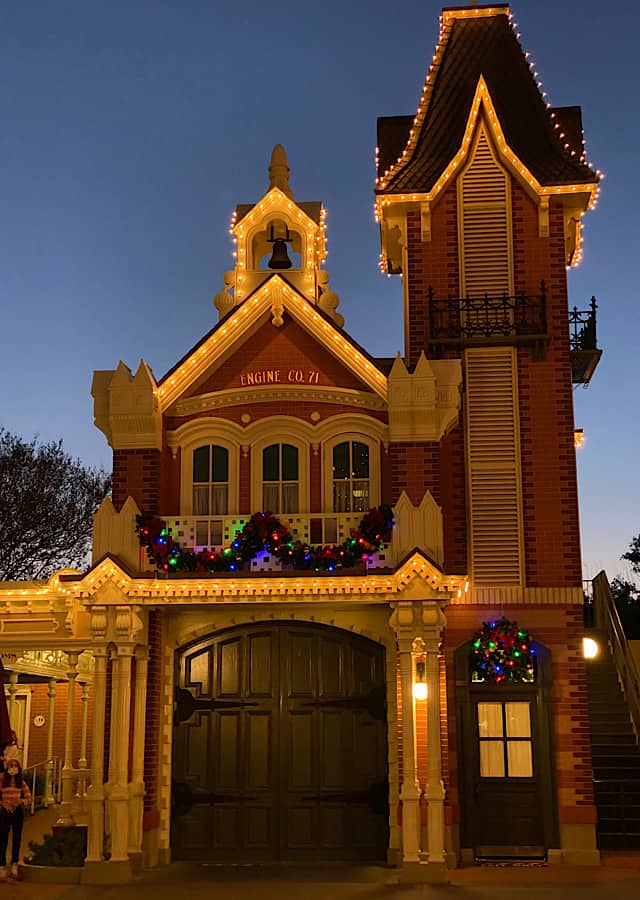 Check out the amazing interior of the Emporium below. Everywhere guests look, they are immersed in the holiday spirit.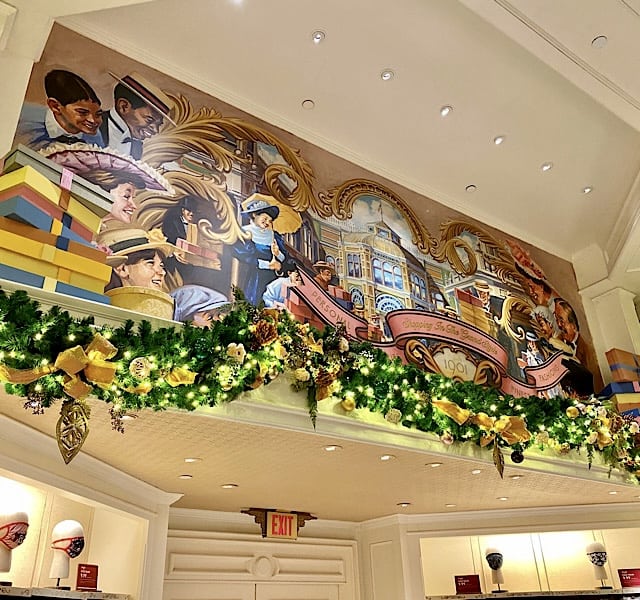 The Main Street shop exteriors feature multi-level garland with red and white stripe bows that resemble a candy cane pattern.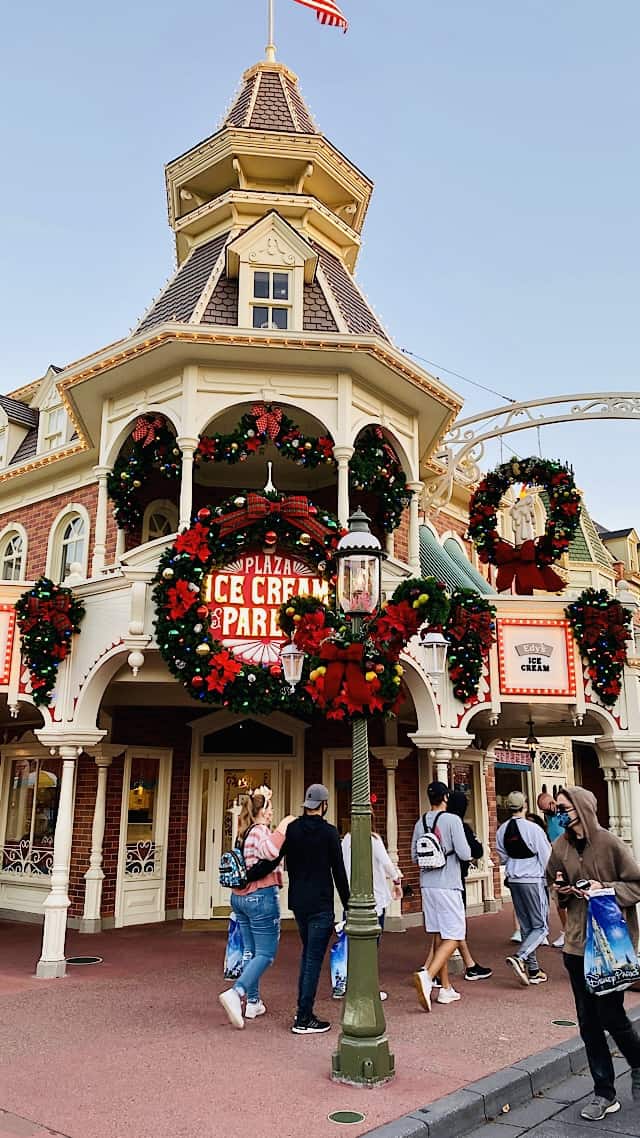 These also replicate the red poinsettias, colored lights and round ornaments found in the wreaths. Also, wreaths are splattered in among the buildings to add an extra festive layer.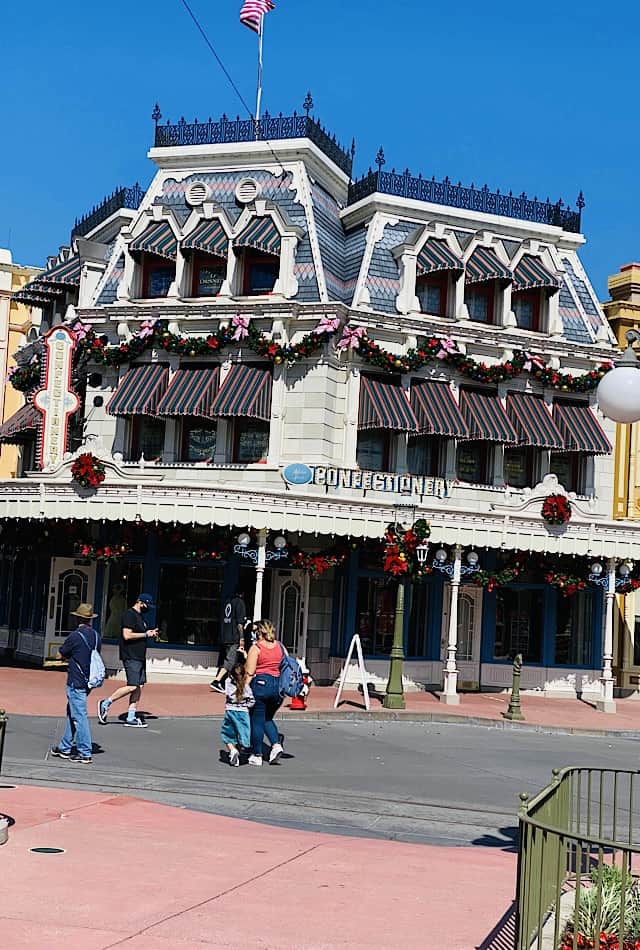 When we visited 2 days after Halloween, the Main Street windows were already decked out with Christmas and holiday merchandise.
Trolley and Train Holiday Theming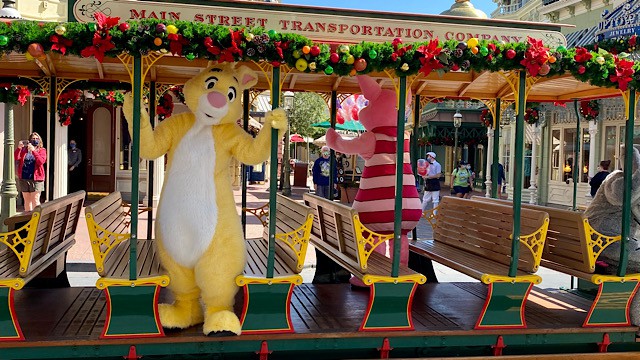 Stores aren't the only things decked out for Christmas. The Main Street Trolley has received a holiday makeover as well. Guests will find the fruit, red poinsettias, and ornaments in the trolley garland. Disney also added pine cones in these garland.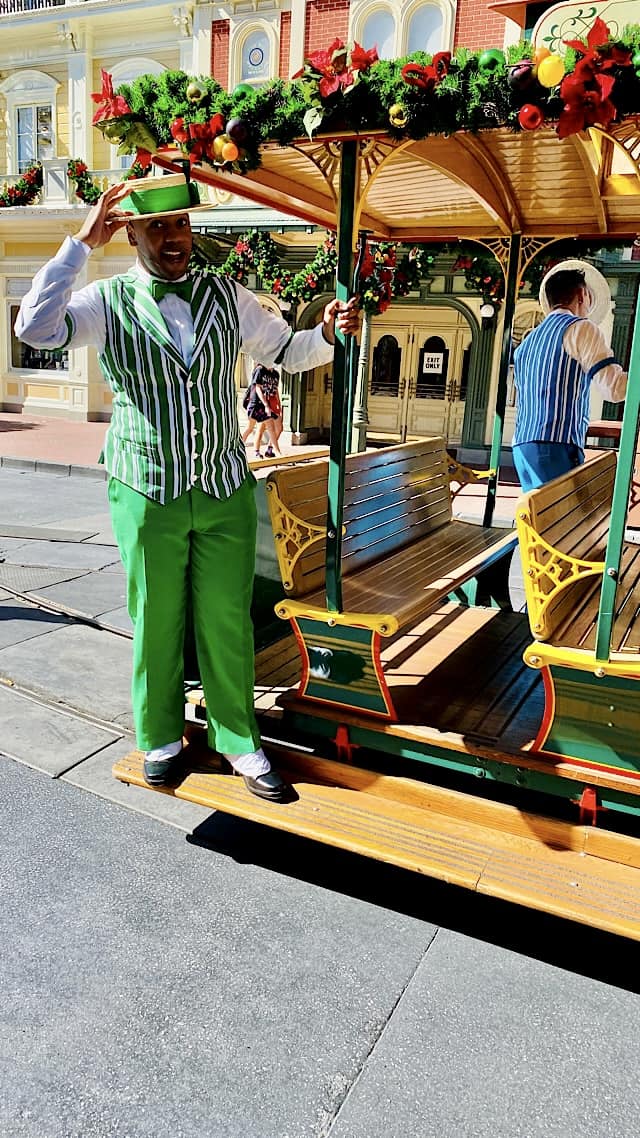 Check out our favorite Disney friends as they greet guests in the newly decorated Main Street train station.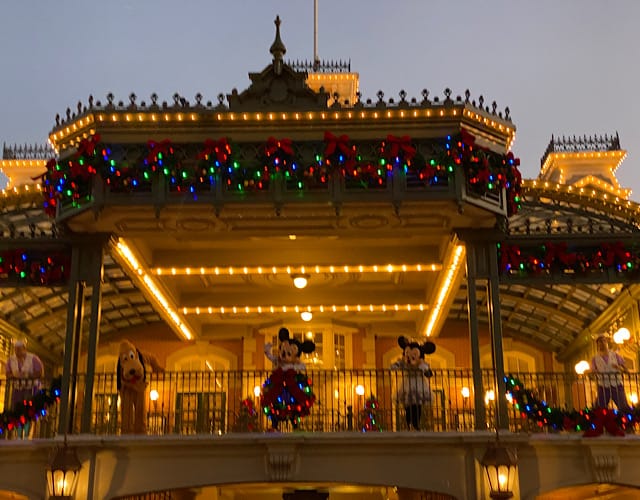 Although the trains aren't currently running due to the Tron construction, the lights and garland extend a welcoming vibe to everyone nearby.
Jingle Cruise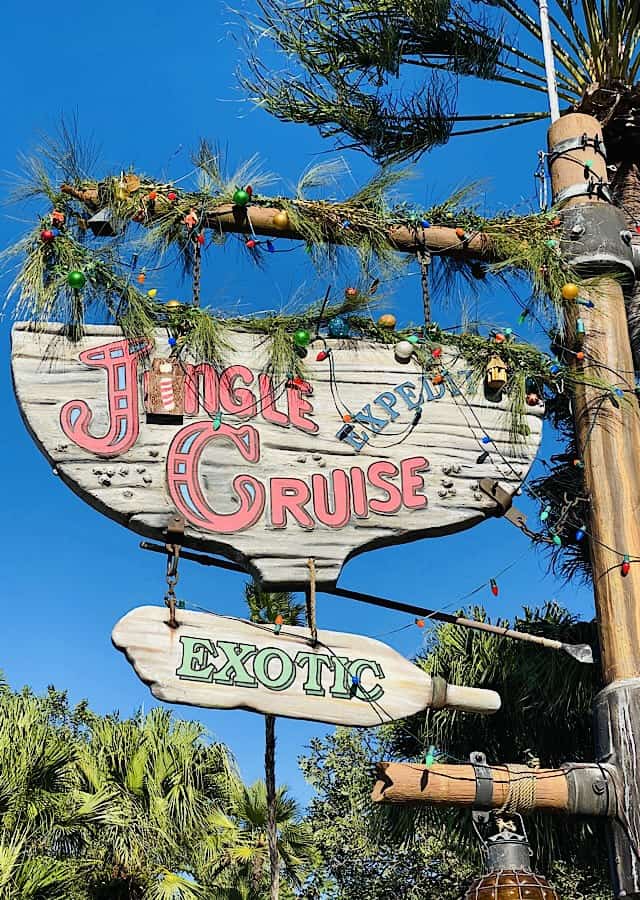 Guests get a chuckle out of the famous, yet corny, Jungle Cruise jokes. But, there's something extra whimsical when our beloved ride gets a "jingle" makeover. Even before loading attraction, guests see jungle-themed Christmas decorations.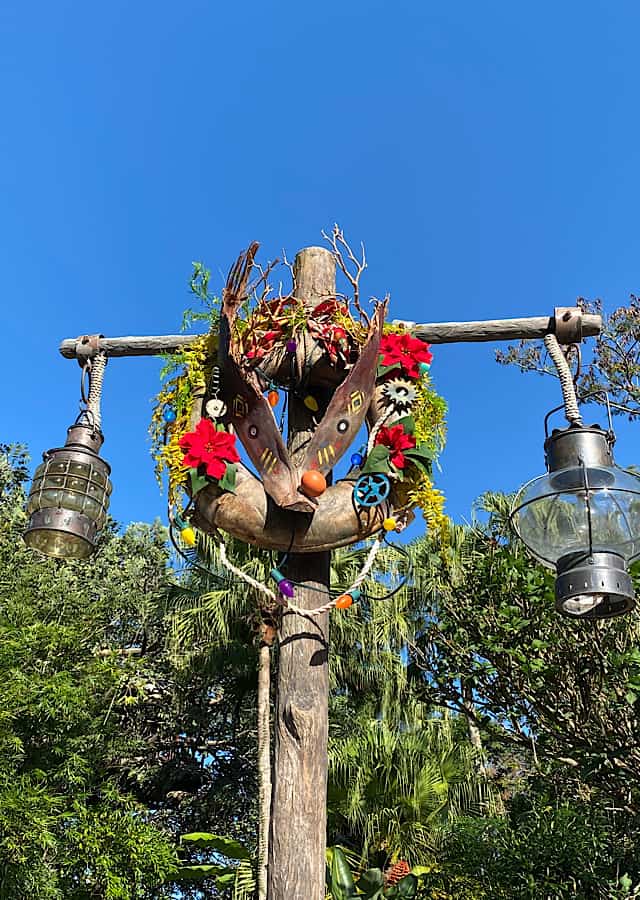 After loading the boat, I immediately noticed this jungle snow man.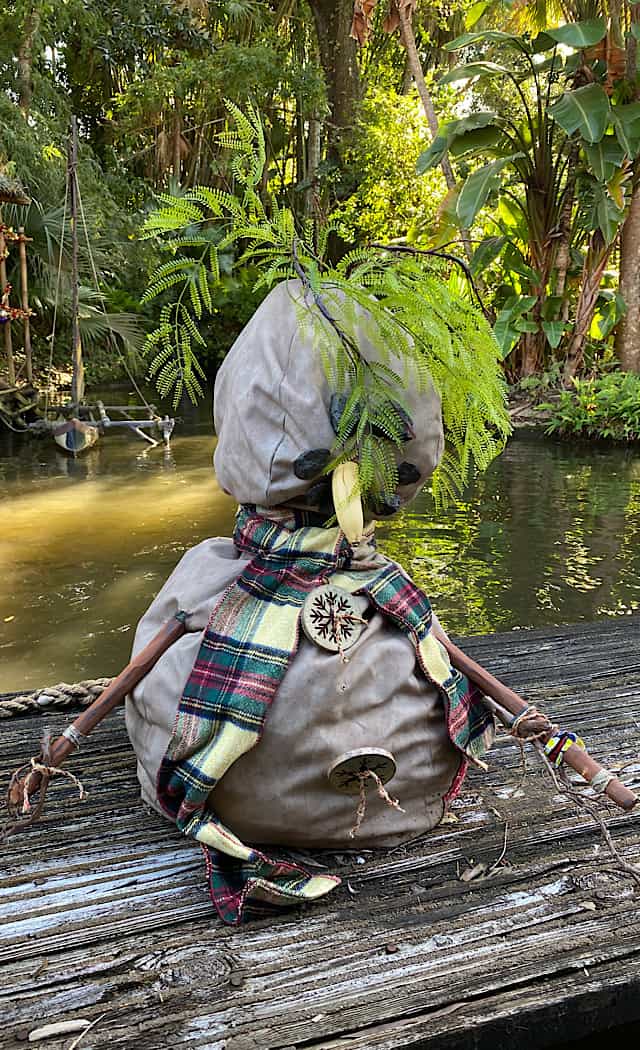 Then, guests see the Jung.eal The Way! Banner.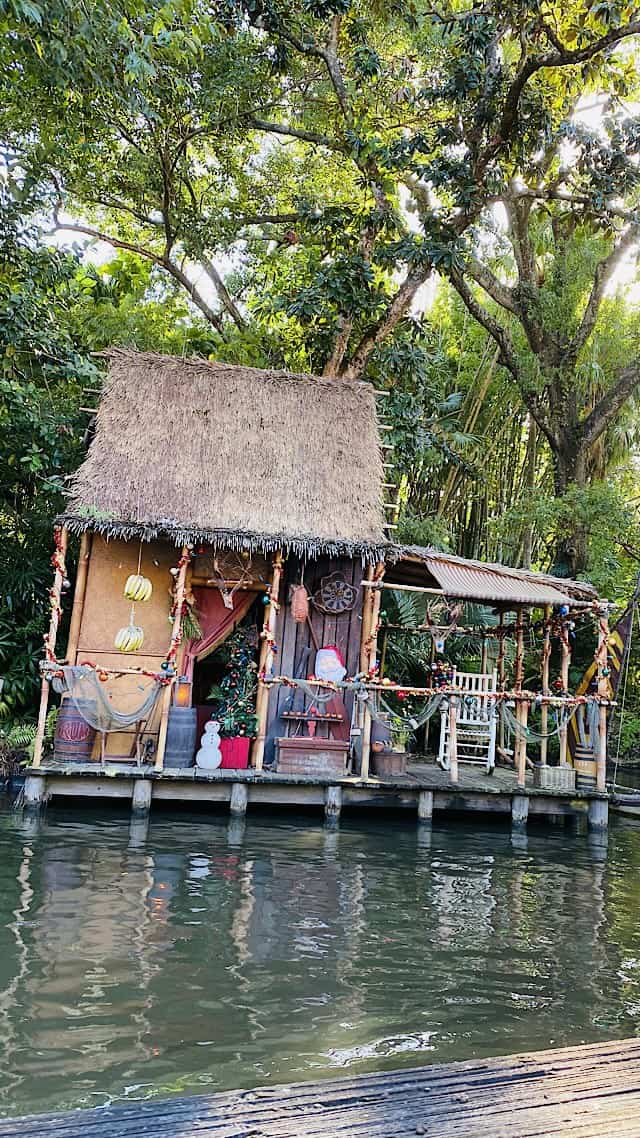 Even the Cast Members wear burlap and tan colored Santa hats, adding to the whimsical jingle theme.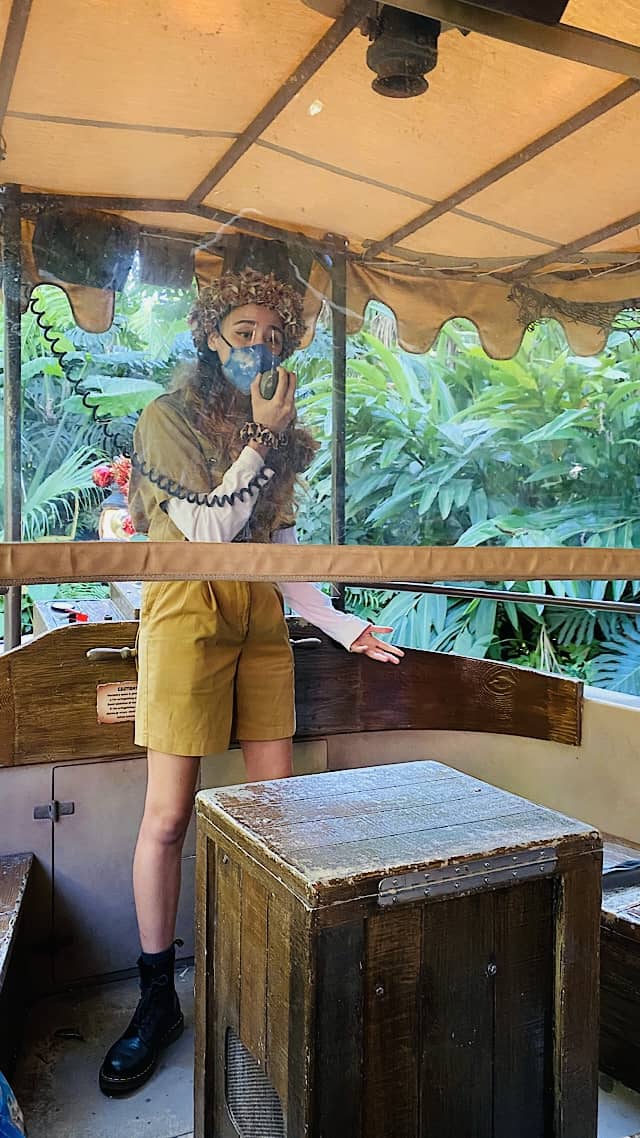 Not only are corny Christmas jokes a part of every tour, but many scenes include tacky presents, lights, and even a plastic Santa.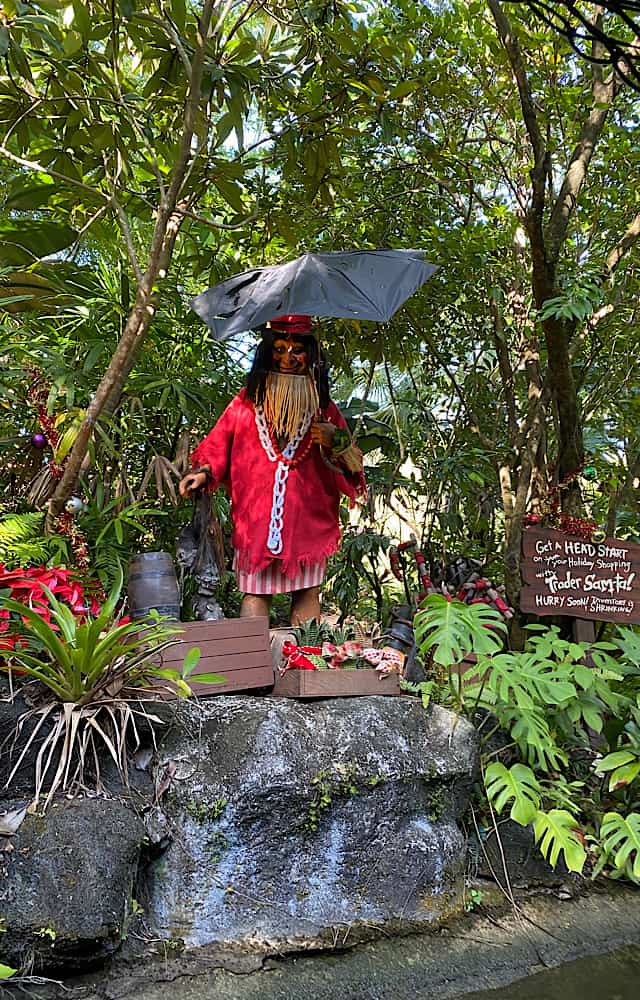 My favorite makeover is the infamous Trader Sam. Check out the sign so you can:
Get a Head Start on your Holiday Shopping with Trader Sam-ta! Hurry soon! Inventory is shrinking!
Sam is dressed in his Sam-ta gear from head to toe. Guests can even find red poinsettias, tacky red and gold metal garland, and bows nearby.
Other Disney Park Decorations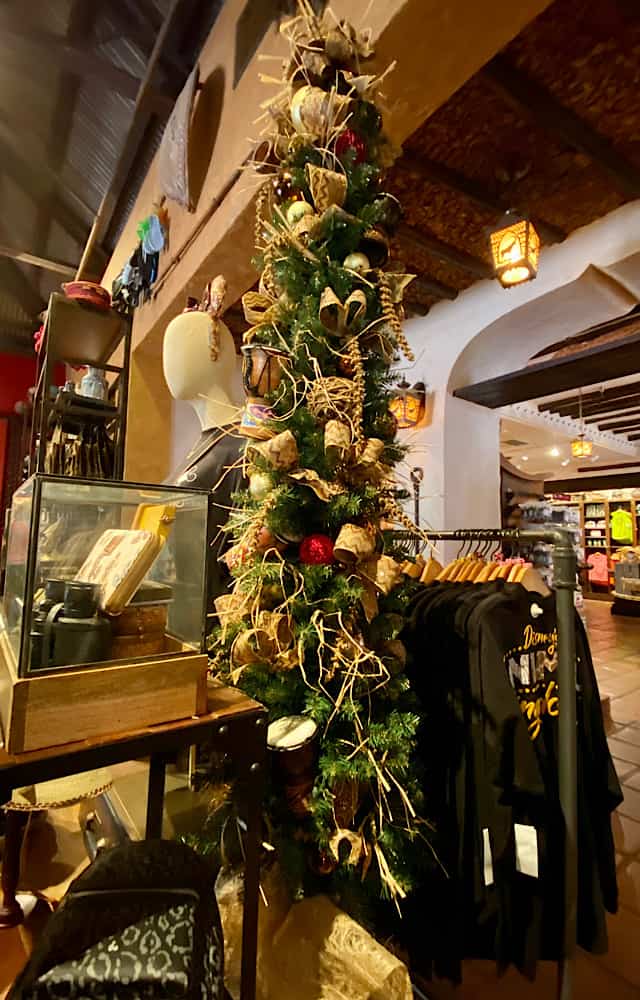 Before long all of Disney's theme parks will be decked out for the holidays. All I spotted Tuesday so far at Animal Kingdom were the small trees above located in the Island Mercantile shop.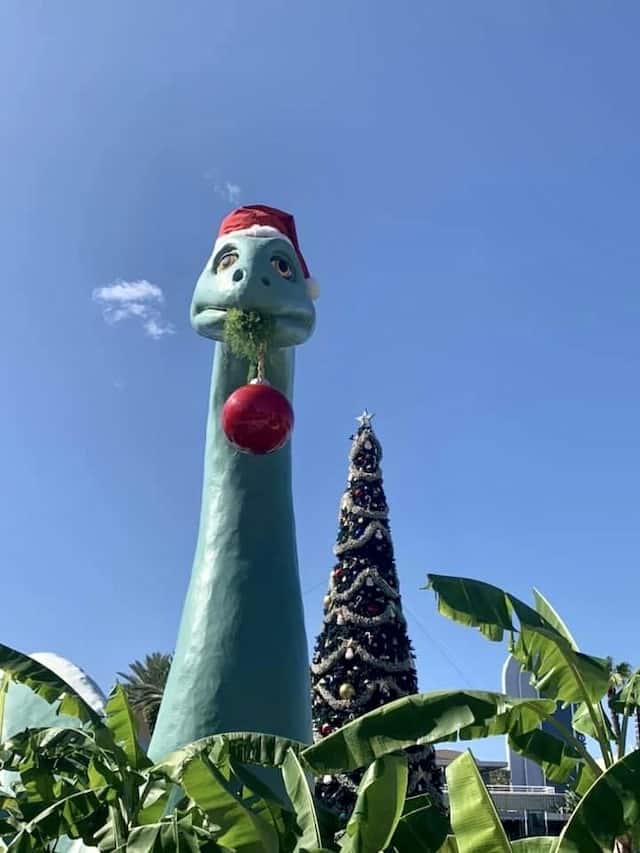 Hollywood Studios has added all of its vintage lights and decorated Gertie. Check out the beautiful photo tour of these amazing lights here.
Do you look forward to seeing Disney Christmas decorations go up every year? If so, what is your favorite park to see decorated? Also, do you enjoy Main Street, the Jingle Cruise, or just the Christmas treats each year? Please share your thoughts on the Kenny the Pirate Facebook or Crew group.