Ashley started collecting Disney Dooney and Bourke purses about three years ago, and it turned into a bit of obsession. She loved learning about the different Disney prints Dooney and Bourke has created over the years and tracking down hard to find pieces. When she was house hunting last year, a "purse closet" was on her wish list and luckily she found it! Come take a look!
Setting up my purse closet and taking "group photos" was probably the most fun part of the moving process. I wanted to share some of that joy with our readers and maybe inspire some future collectors!
My collection started with Dooney and Bourke but has expanded to include Harveys, Loungefly, LeSportsac, Coach, Kate Spade, and Vera Bradley Disney items.
Disney Dooney and Bourke purse: Sketch Collection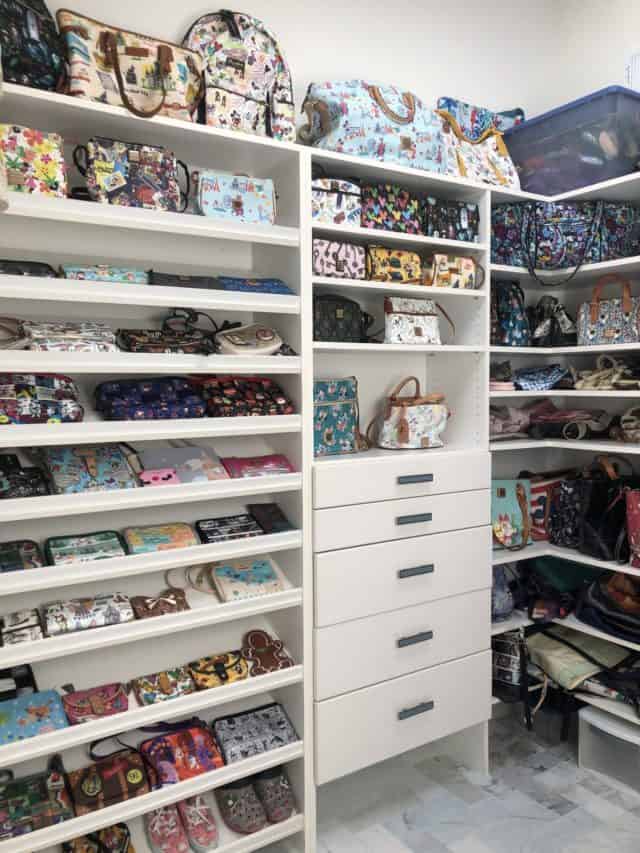 Let's start with "Sketch," which is the pattern that started it all when it comes to Disney Dooney and Bourke purses.
These were first released in 2009 and there have been many versions over the years. It's one of my favorite patterns because it's so creative and happy!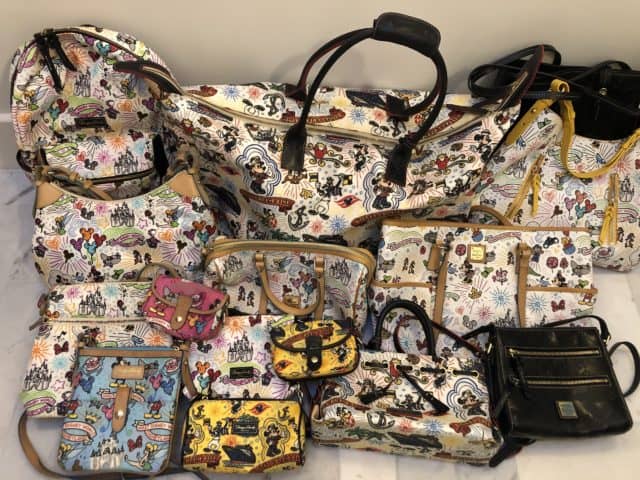 Some of the earlier version of Sketch came in blue, pink, yellow, green and purple which make them extra fun. And note the rainbow zipper!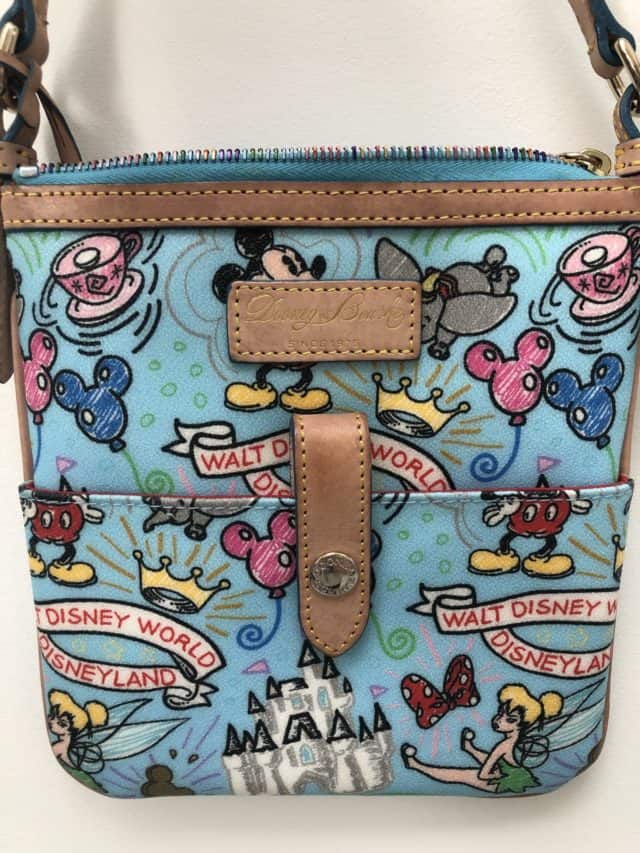 This is the classic version of sketch that is available online and in the parks in different styles that come in and out of stock.
This is one of the few purses I have that I picked out in the parks. I remember buying it at Uptown Jewelers on Main Street on a beautiful late night in the Magic Kingdom, which makes it extra special to me. I'm also pretty pleased with the placement of Mickey, Minnie, balloons, Tinkerbell and double castles!
Each Dooney and Bourke purse has unique pattern placement, which means picking one out yourself and finding the perfect placement is part of the fun!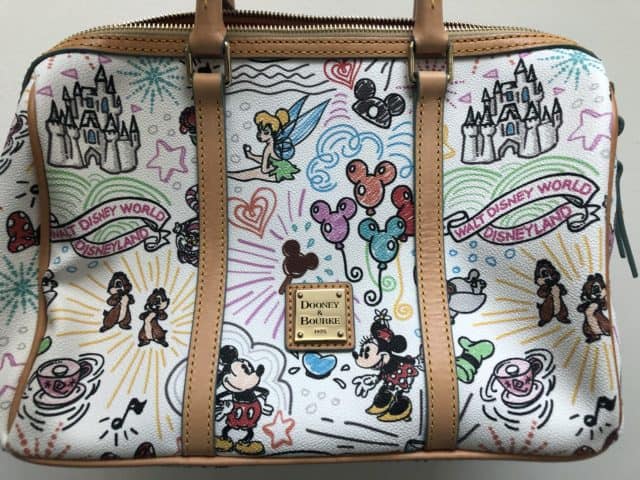 Over the years there have been many different version of Sketch including Disneyland Paris, Shanghai Disneyland, Hong Kong Disneyland, Aulani, Disney Cruise Line and Disney Dogs.
This tote from Shanghai Disneyland is a highlight of my collection. I love how it depicts the unique Enchanted Storybook Castle found in the Shanghai park, cherry blossom trees, and Winnie the Pooh.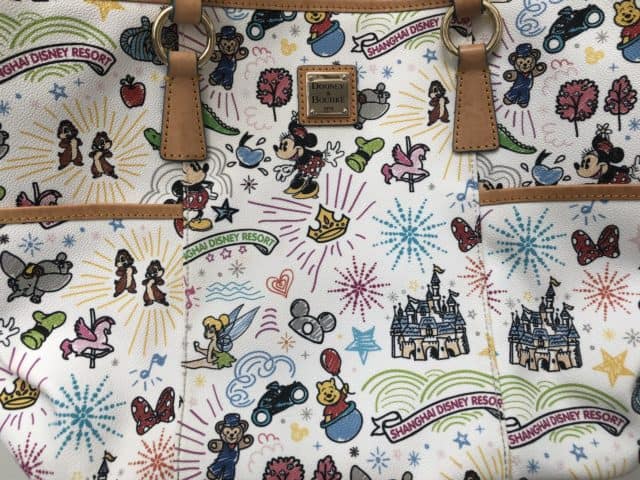 I'm lucky to own several versions of Disney Cruise Line sketch purses, including the weekender, which is a duffel bag that I use often for travel as well as this adorable little tassel tote.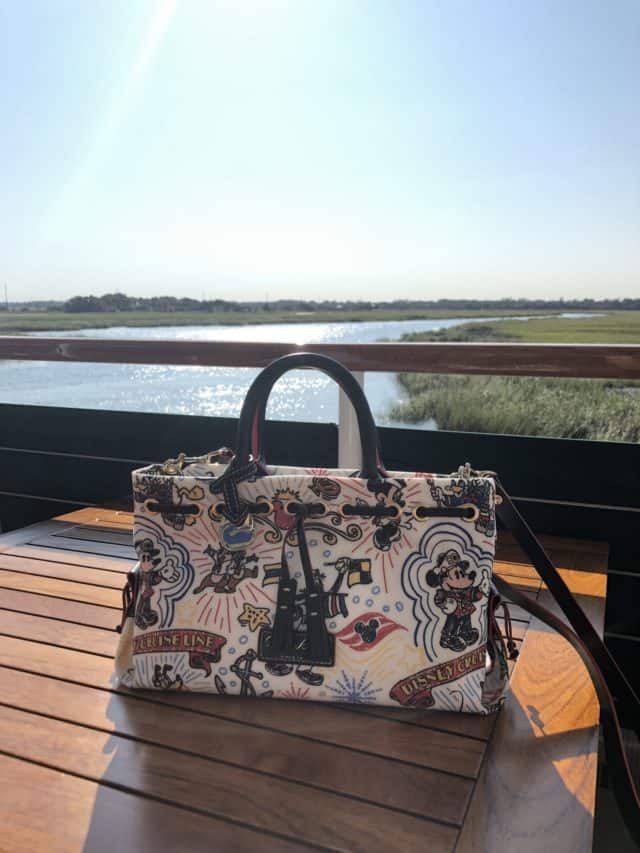 The Disney Cruise Line sketch pattern also came in yellow, red, and navy in some styles.
These can be hard to find but are worth waiting for!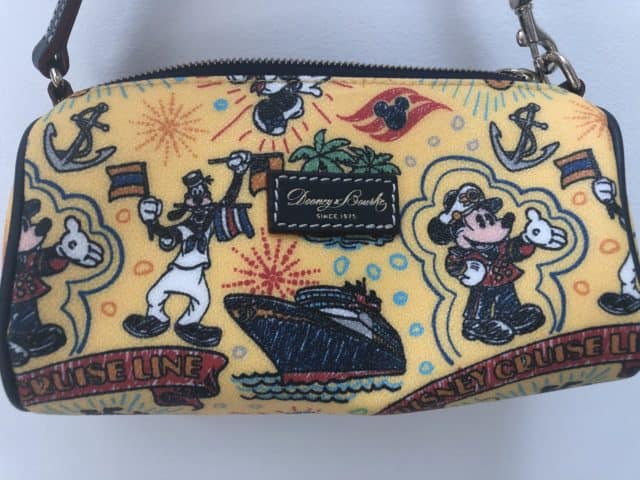 Some Disney sketch styles also come in nylon. These are better for travel in my opinion because they more lightweight and easily cleaned.
Some versions also have the fun rainbow zipper!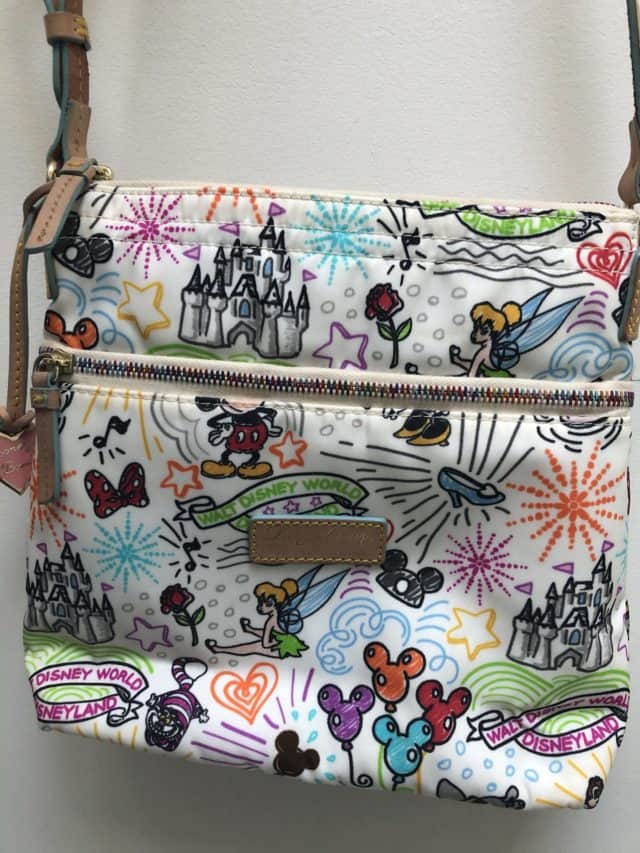 One of the most luxurious Disney bags Dooney created is the black embossed leather sketch. It's made of 100% leather, while most of the Disney Dooneys are actually coated cotton with leather straps and trim.
The sketch pattern is embossed in the leather, which makes it look like a classic black leather handbag from afar. When you look up close the pattern becomes visible. This is what makes this version so amazing and multi-dimensional.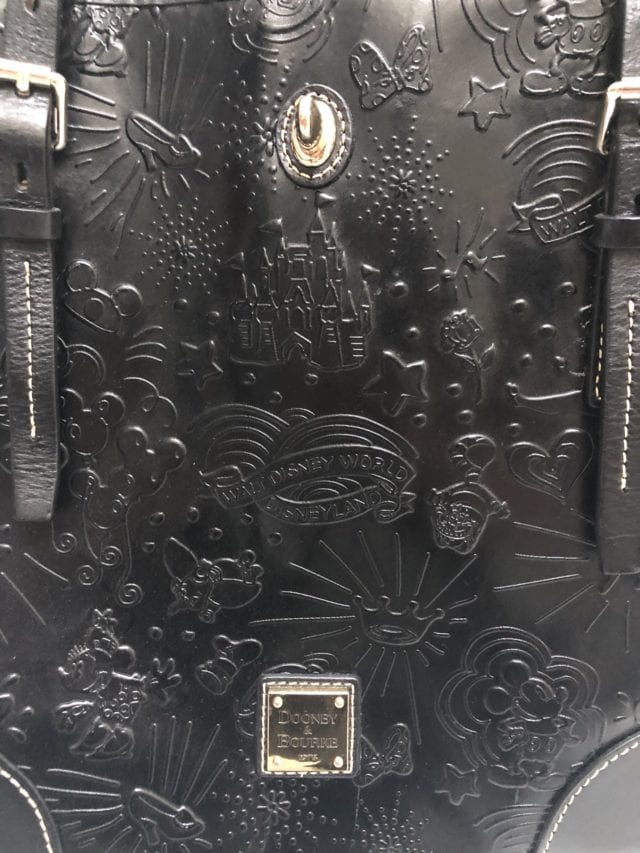 Harvey Bags
Harveys is the other brand of Disney purses that I have an extensive collection of in my purse closet.
For those not familiar, Harveys is a husband and wife owned company based in Southern California. They create bags, wallets, and keychains from recycled seatbelts! This makes them very durable and washable.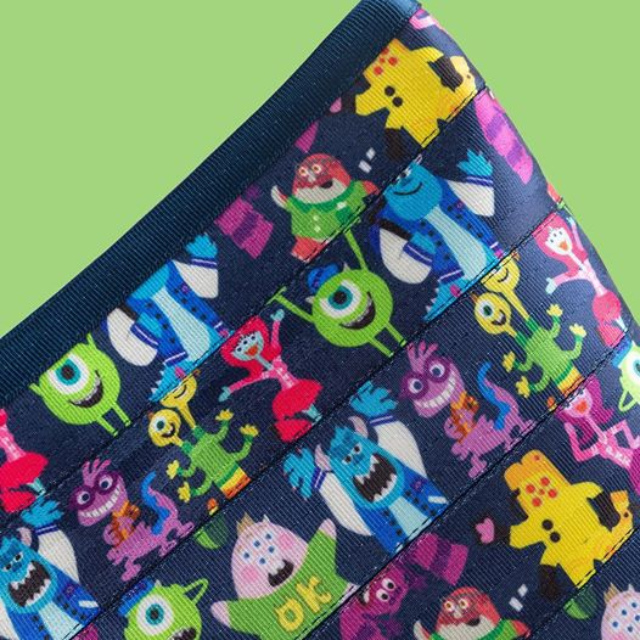 They also tend to be less expensive than Dooney and Bourke.
They make many non-Disney bags (of which I also own a few!) but the Disney patterns are the most highly prized in their repertoire. New releases of Disney themed Harveys usually sell out within minutes online.
They are also sometimes found in the parks, Disney Springs, and Dowtown Disney.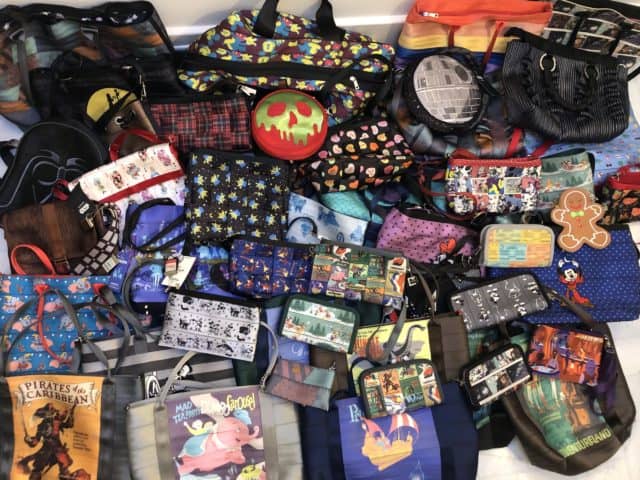 Probably my favorite Disney collection that Harveys created is the attraction poster tote line that was released for Disneyland's Diamond Celebration in 2015. You can see them along the bottom row in the above photo.
The initial release featured original poster art from Disneyland's Dumbo the Flying Elephant, Peter Pan's Flight, Pirates of the Caribbean, the Haunted Mansion and Walt Disney's Enchanted Tiki Room.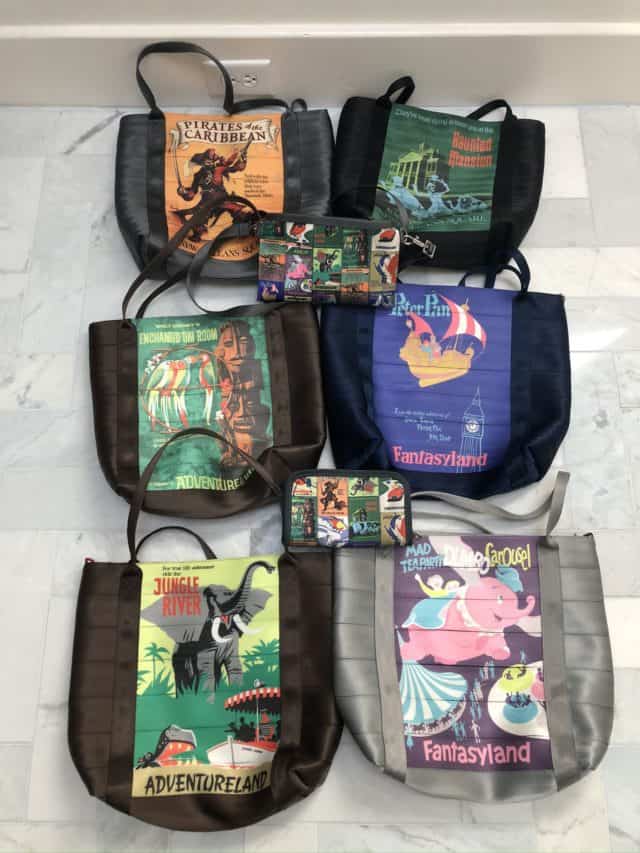 A second release in 2016 featured poster art from Autopia, Alice in Wonderland, Jungle Cruise, Matterhorn Bobsleds, and Storybook Land Canal Boats.
I've managed to collect six of the totes as well as the wallet and hip pack, which can also be used as a small crossbody bag. I also use it inside the poster totes to hold small items.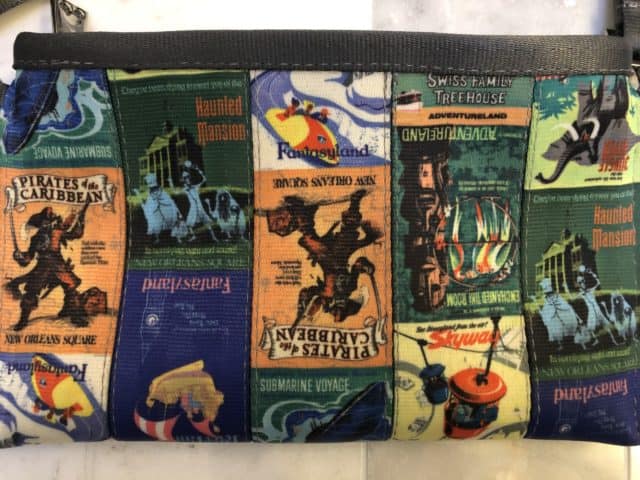 Alice in Wonderland and the Storybook Land Canal Boats are two that are still on my wish list!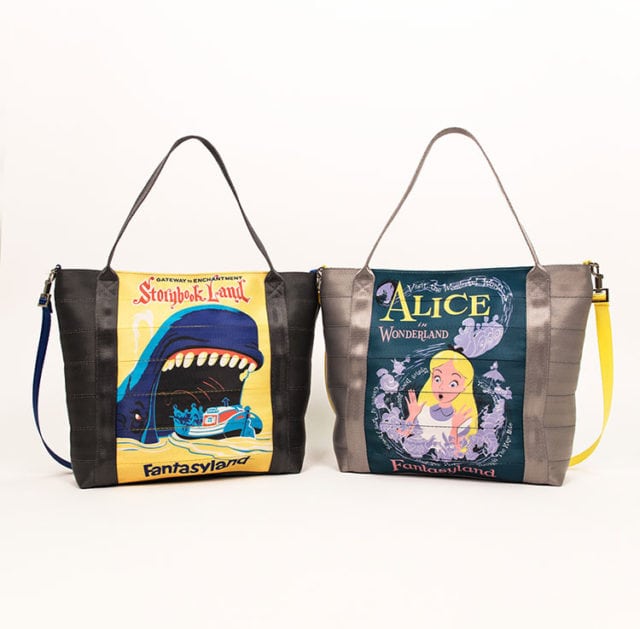 I wasn't collecting Disney purses in 2015 and 2016, which means I've had to purchase all these beauties, as well as many of my Disney Dooney and Bourke purses, secondhand. Which brings me to my next topic.
Where to purchase retired Disney Dooney and Bourke purses
While current stock of Disney Dooney and Bourke purses can be purchased at shopDisney and various locations in the parks, Disney Springs and Downtown Disney, for retired prints you have to dig a little deeper.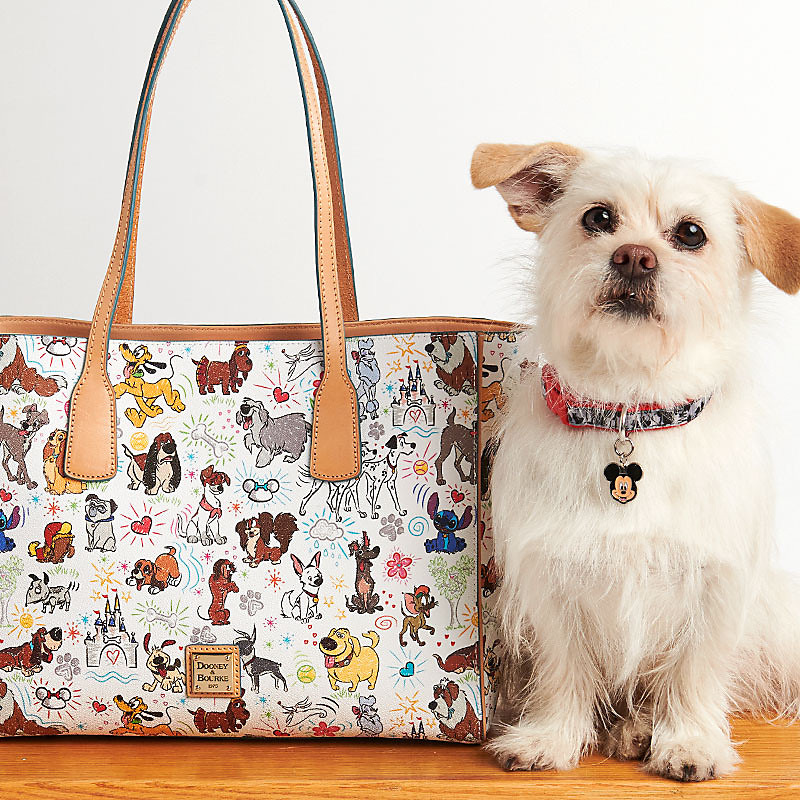 You can find almost any Disney purse on ebay, but I prefer to purchase secondhand purses from one of the many buy/sell/trade Facebook groups created for this exact purpose.
Another place to look for good deals on retired prints is your local outlet. Some Disney or Dooney and Bourke outlets will have random selections of purses available at deep discounts.
This photograph was taken at the Las Vegas Dooney outlet where I spotted the retired Haunted Mansion portrait print for sale.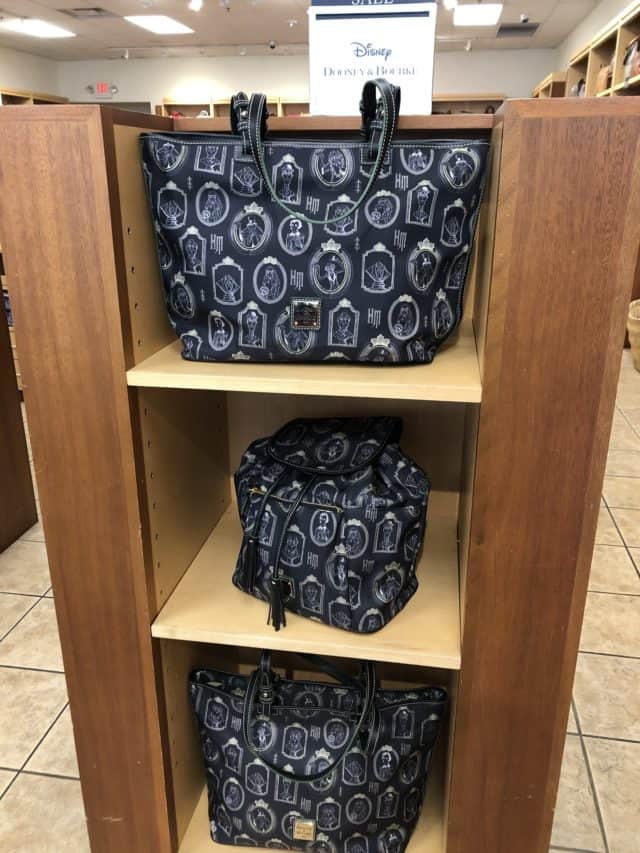 Thanks for joining me on this fun journey into my purse closet!
I plan to write a few more purse posts digging deeper into some of my other favorite prints in my collection.
Part 2 focuses on my Halloween themed bags and can be viewed here.
Part 3 focuses on my Christmas themed bags and can be viewed here.
Part 4 focuses on my Spring purse collection and can be viewed here.
Part 5 focuses on my Summer purse collection and can be viewed here.
Comment on Facebook and let me know if there are any specific purse reviews you'd like to see next time! I would also love to see pictures of your own Disney purse collections!
Ashley Beckwith McKellar
Follow me on Instagram: @disneyparksmom