I've written before about my Disney purse collection and then delved a little deeper into my closet with my Halloween purses. This month I wanted to share some of my favorite Christmas themed purses with you all! Do you collect holiday purses too?
Dooney and Bourke Disney Christmas Purses
This adorable little Dooney and Bourke bag is the first Disney Christmas themed purse I bought. The pattern is called Christmas Woodland. It was released in 2017 and features images of the castle and Mickey and Minnie ice skating, sledding and giving each other presents.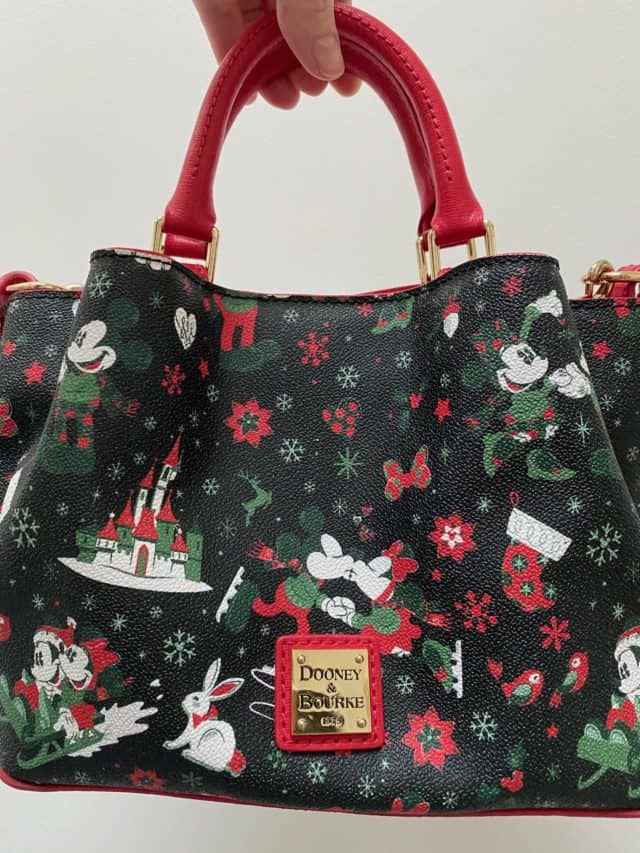 This style is called the Mini Barlow, but it also came in a tote and a crossbody wallet. All styles featured a festive plaid lining.
The 2016 version of the Christmas Woodland print was on a cream background instead of black. It came in a tote, crossbody and a wristlet. It was very popular and currently very hard to find secondhand. However, I did buy this fun little bow headband with the same pattern!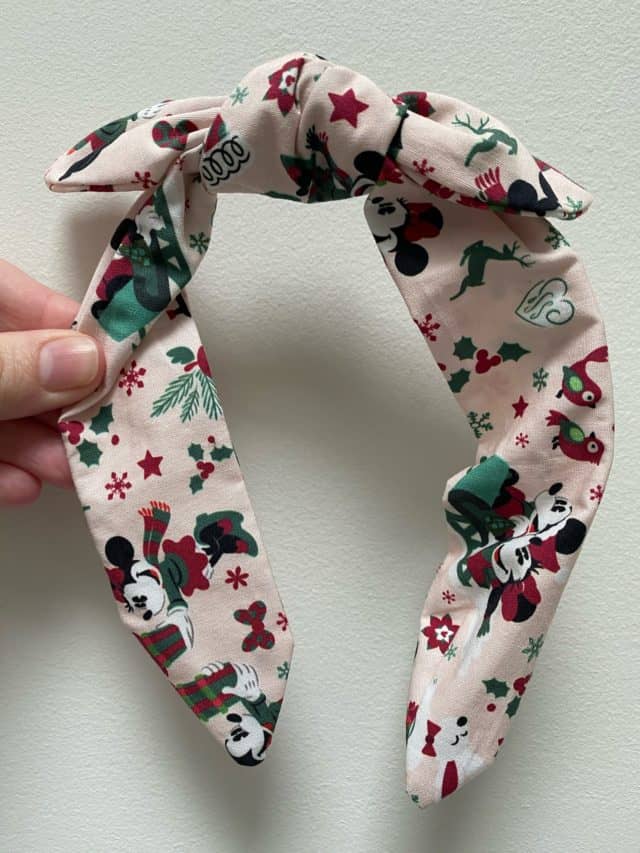 The 2019 Christmas tote features a fun pattern that has different images on the front and the back. The front has Mickey and Minnie holding a candy cane heart in front of a castle with snowflakes falling on a red background.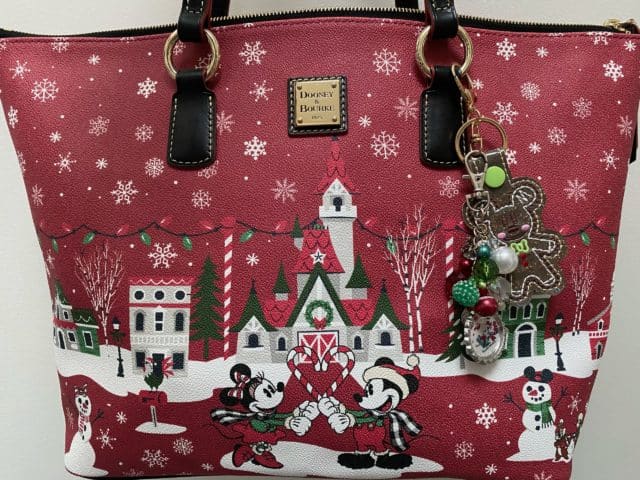 The back features Pluto in reindeer ears with Donald and Goofy decorating a Christmas tree. I love that you almost get two bags in one with this one!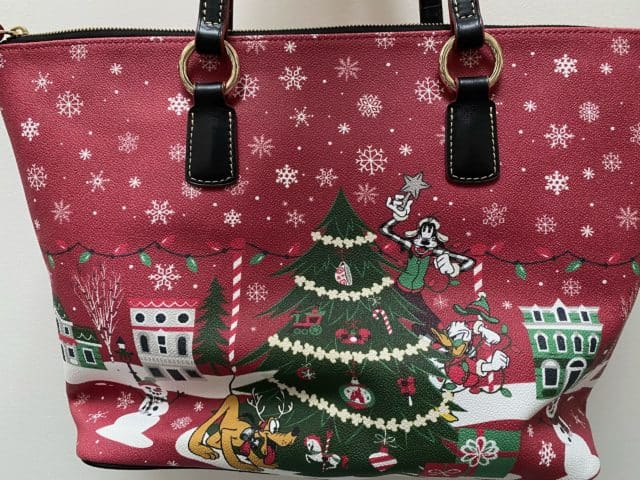 While this pattern is technically not a Christmas bag, the green background and evergreen trees make it a perfect winter bag. It's from the Forest Friends collection that released in May. The pattern features Bambi and friends, Fox and the Hound, Meeko and Flit, and the bunnies and owl who stole Prince Phillip's clothes in Sleeping Beauty.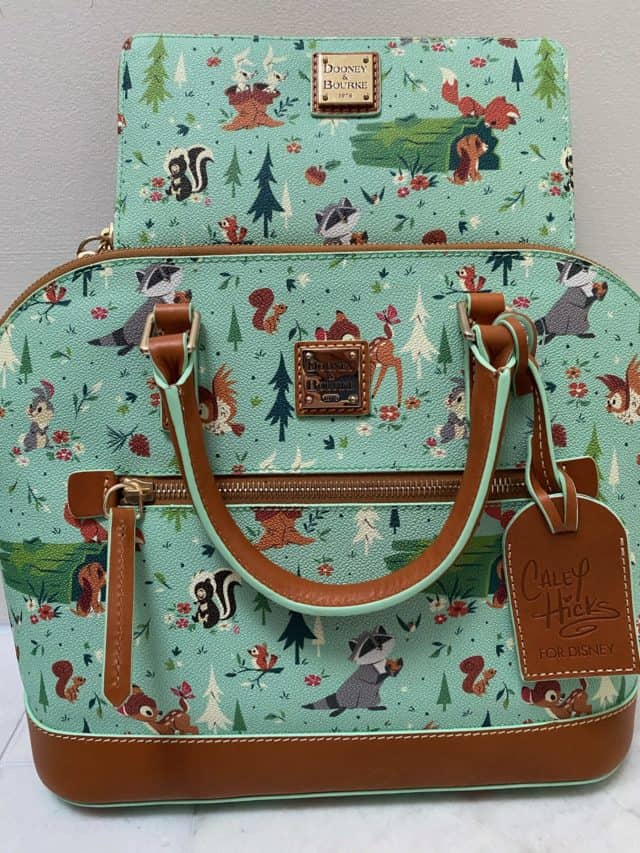 Harveys Disney Christmas Purses
For those not familiar, Harveys is a husband and wife owned company based in Southern California. They create bags, wallets, and keychains from recycled seatbelts! This makes them very durable and washable.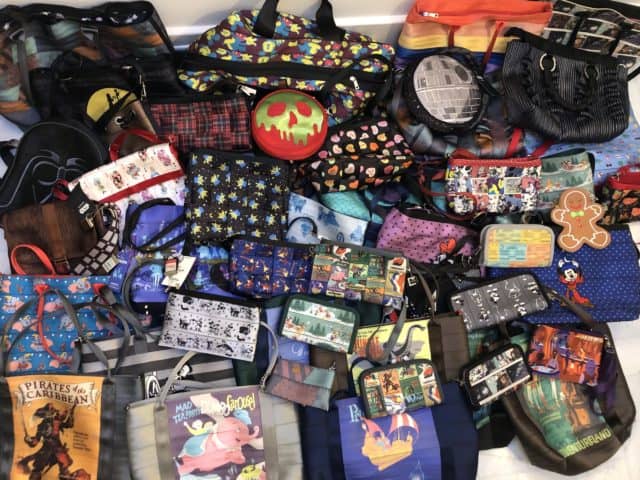 I love this Christmas Harveys purse featuring a green background with snowflakes and Christmas trees. Mickey and Minnie ride on a sleigh pulled by Pluto wearing reindeer ears. Chip and Dale roast marshmallows, and Goofy decorates a Christmas tree. Meanwhile, Donald builds a snowman with his nephews.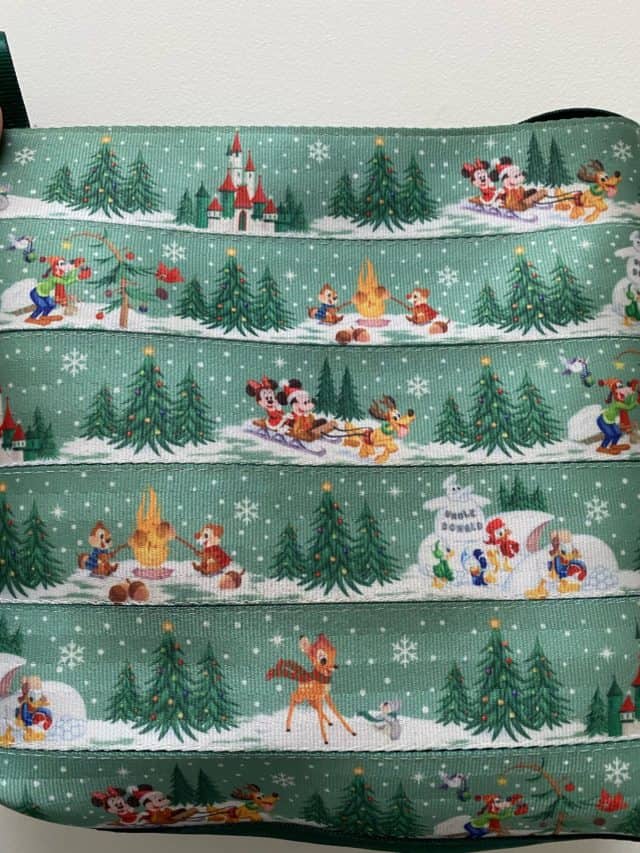 The purse also features castles as well as Bambi and Thumper wearing scarves, which is one of my favorite parts of the pattern! I loved this collection so much that I also bought the matching wallet and key chain.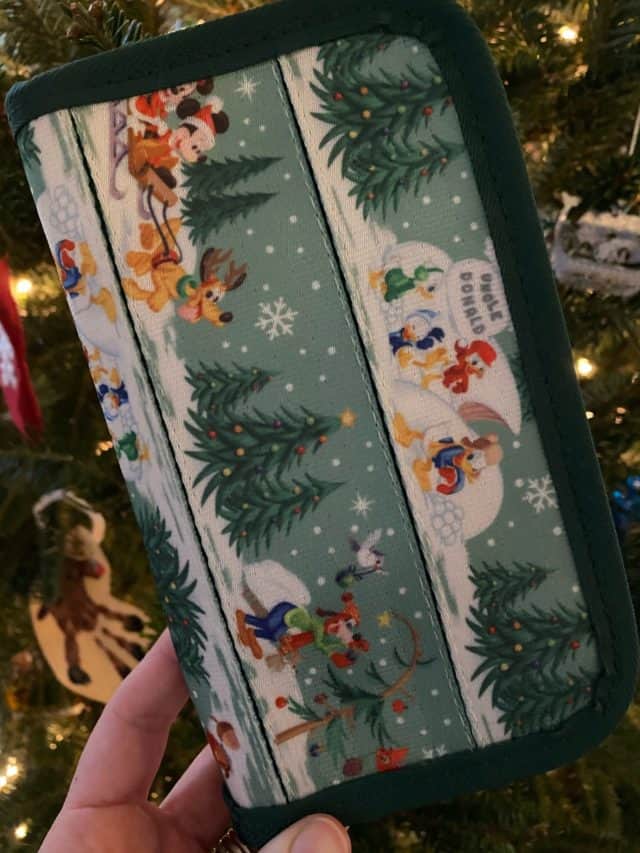 These fun keychains from Harveys can hook onto your purse to keep your keys handy. I own them in a few different patterns and switch them up based on the season and my mood.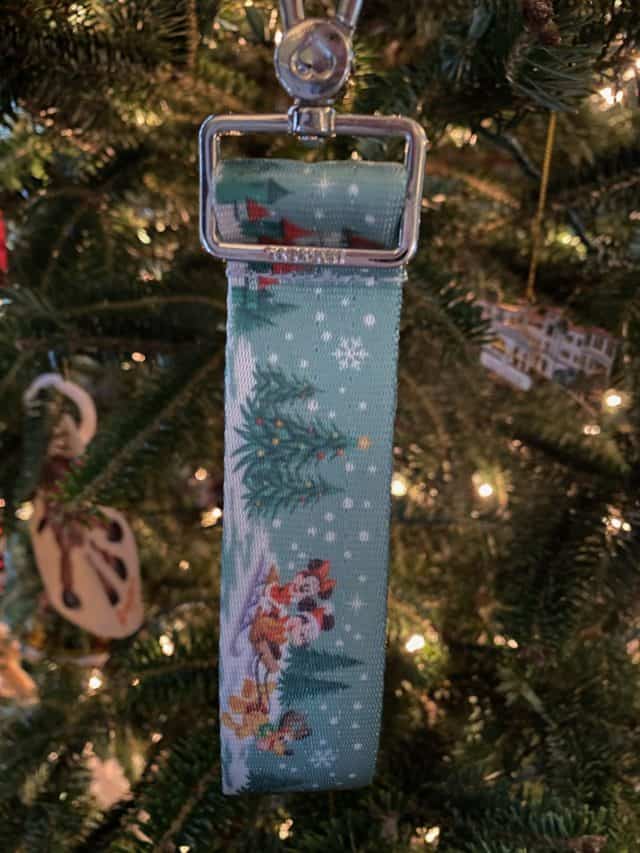 This pattern may look familiar because it was featured on a Disney Dress shop dress sold a few years ago – which, of course, I also own!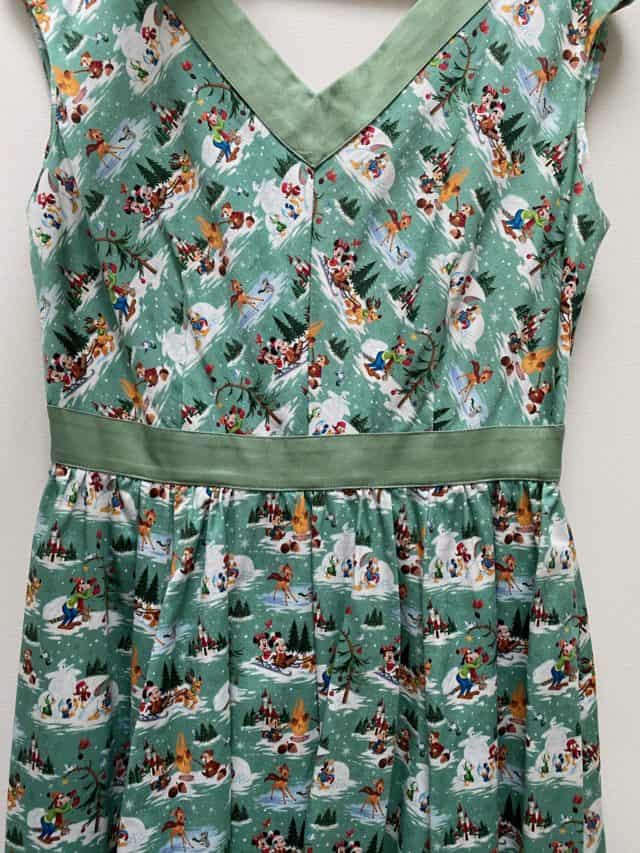 From the same Harveys collection I also bought the "poster tote" featuring a large image of Mickey and Minnie on a sleigh being pulled by Pluto in reindeer ears.
I am currently carrying this tote with the coordinating green wallet and keychain!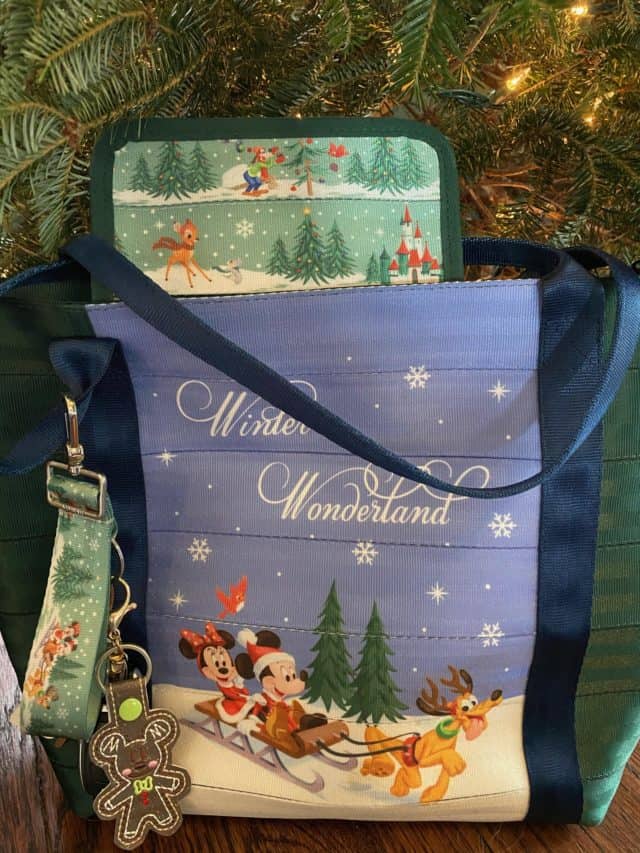 Non-Disney Harveys Christmas Purses
Harveys has also created some fun non-Disney bags including this crossbody from their "cookie cutter" collection.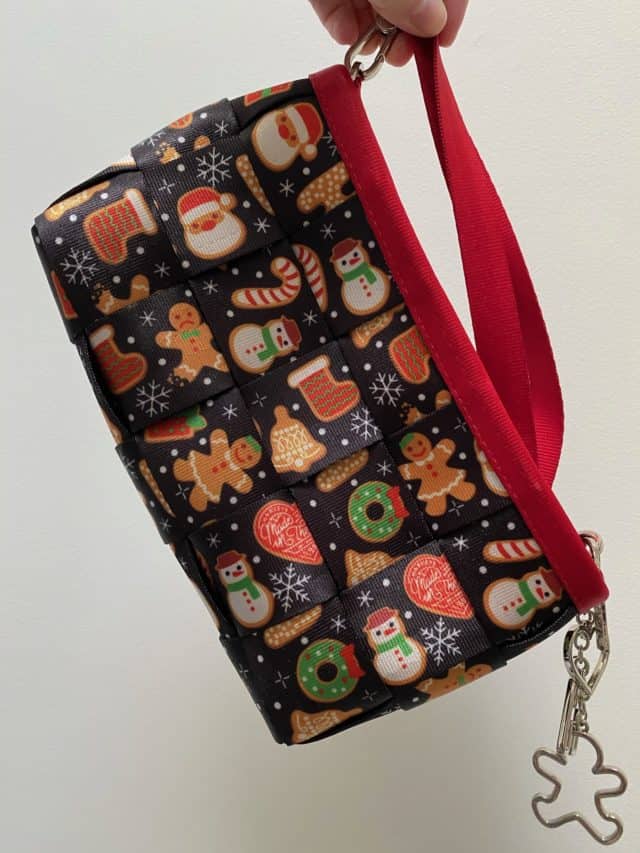 The same collection included this adorable two-sided gingerbread boy/girl coin purse that also makes a fun decoration or ornament!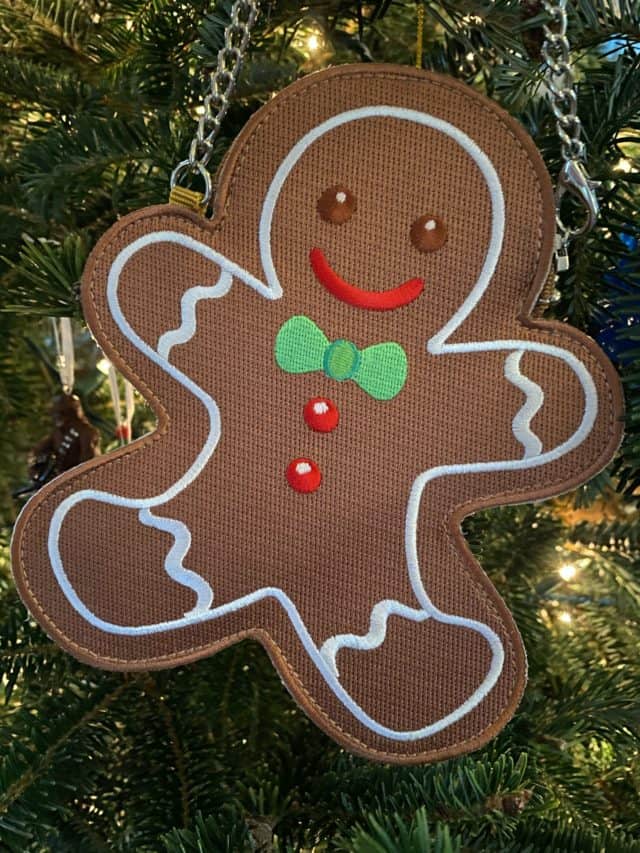 This purse is not technically a Christmas purse, but the plaid feels very festive to me. I definitely feel it belongs as part of my Christmas purse collection!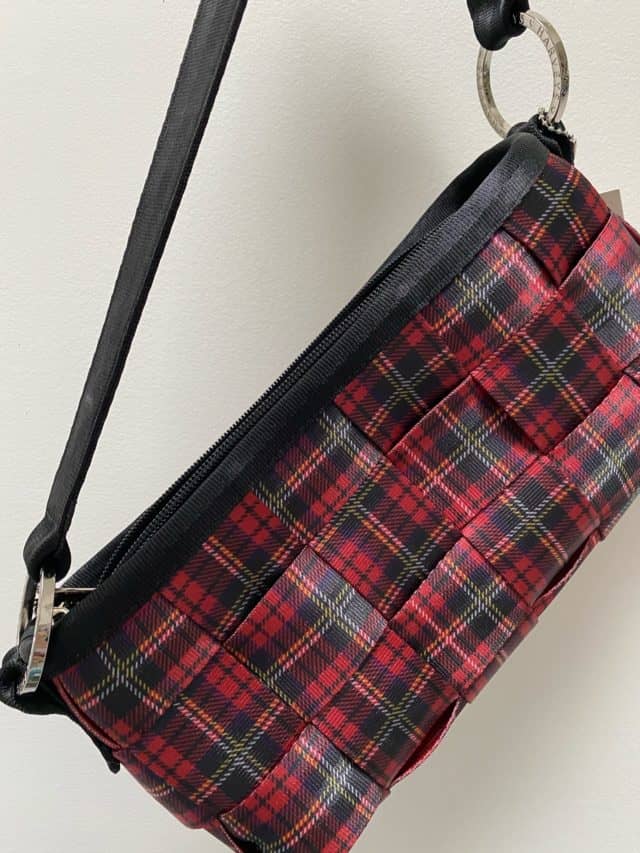 Loungefly Disney Christmas Backpacks
This Disney holiday snacks mini backpack is one of my favorite Christmas patterns and I can't wait to carry it on my next December Disney trip! I love the little Mickey/Minnie gingerbreads with a candy cane heart in between! It also gives me a craving for a red velvet Mickey waffle!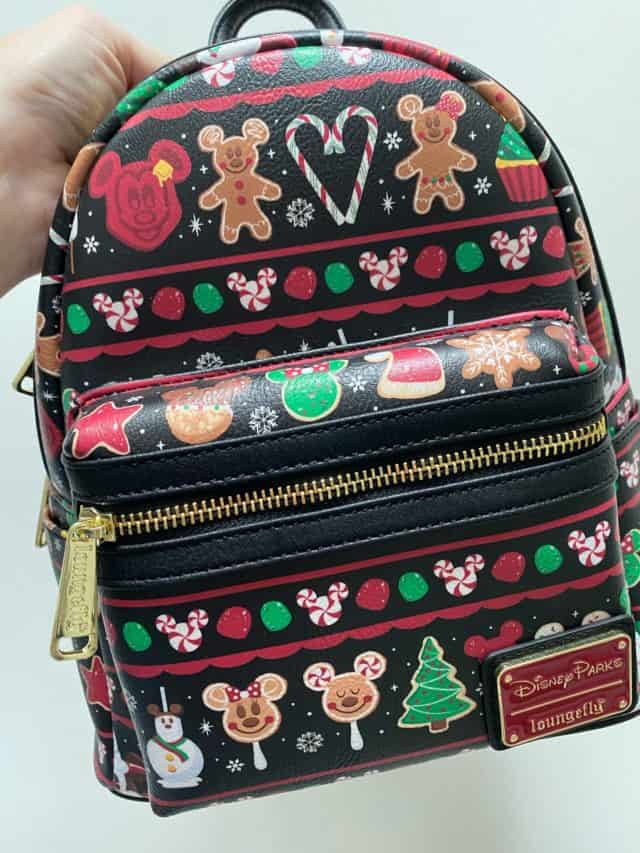 While I don't own this bag (yet!) I adore this Santa Mickey mini backpack, and I think it would also make for a fun and festive park bag!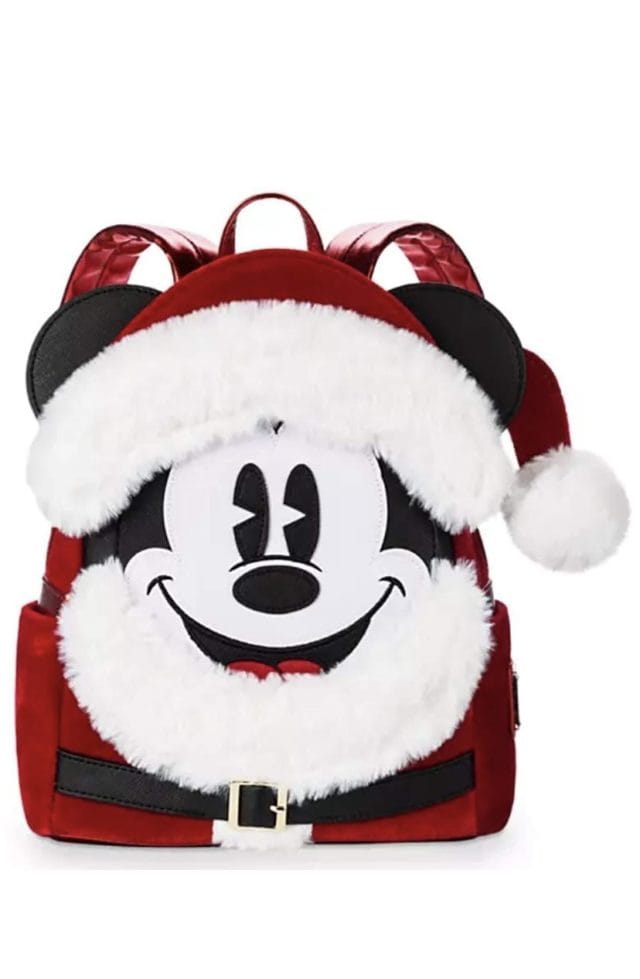 I hope you enjoyed this tour of my Christmas purses! If you enjoyed it please check out my intro post about my Disney purse closet, my post about my Halloween purse collection, my post about my Spring purse collection and my post about my Summer purse collection!
Do you have any Disney Christmas bags in your closet? Comment on Facebook and show us some of your favorites!
Ashley Beckwith McKellar
Follow me on Instagram: @disneyparksmom