Summer has arrived! Check out this purse collection inspired by the laid-back, tropical vibes of the warmer months.
If you've been following my (Ashley) Disney purse collection series, you know that I love to match purses to seasons, outfits and occasions. I own several Disney purses that I love to carry in the summer.
Some of my favorite summer purse themes are patriotic, tropical (including Tiki Room and Aulani) Disney Cruise Line, beach bags and Ariel themed purses.
Patriotic Purses
Dooney and Bourke has created several Americana collections. This tote was released in 2018. I love the large stars, stripes and Mickey's silhouette. It's made of soft cotton canvas with leather trim.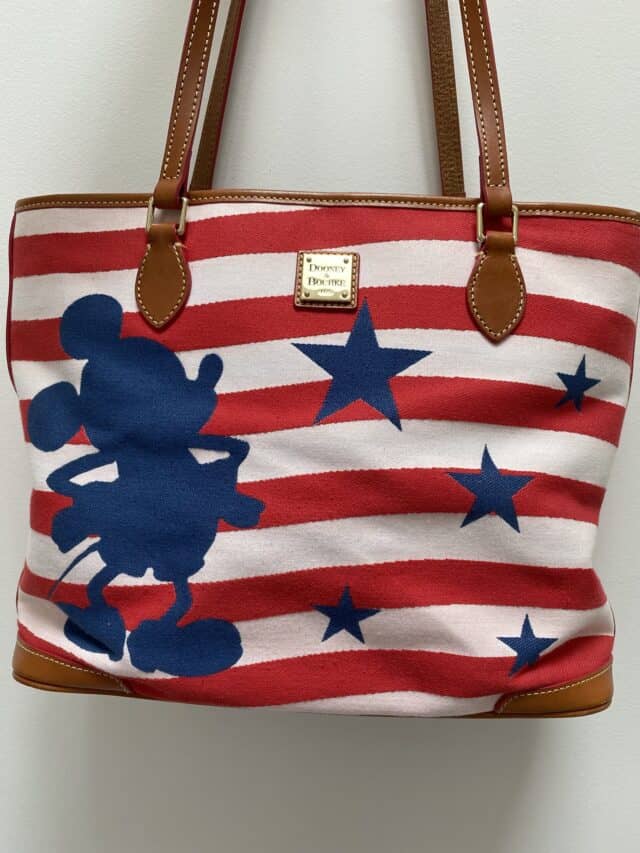 This soft cotton hobo bag wasn't created as an Americana bag, but I think with the red stripes and denim blue Mickeys it gives off some patriotic vibes.
I think it goes well with the tote above and I've often used them together when I go away for 4th of July weekend.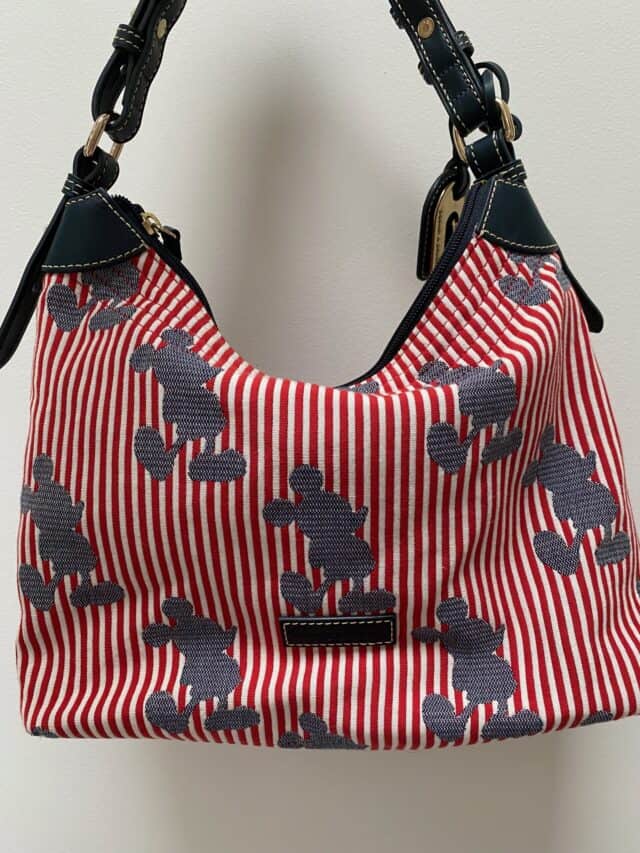 Another collection that wasn't created for the summer holidays but I still consider a summer bag is this Sorcerer Mickey collection made by Harveys seatbelt bags.
The stars on the blue background with touch of red on Mickey's robe make it feel patriotic but is still versatile enough to use year round.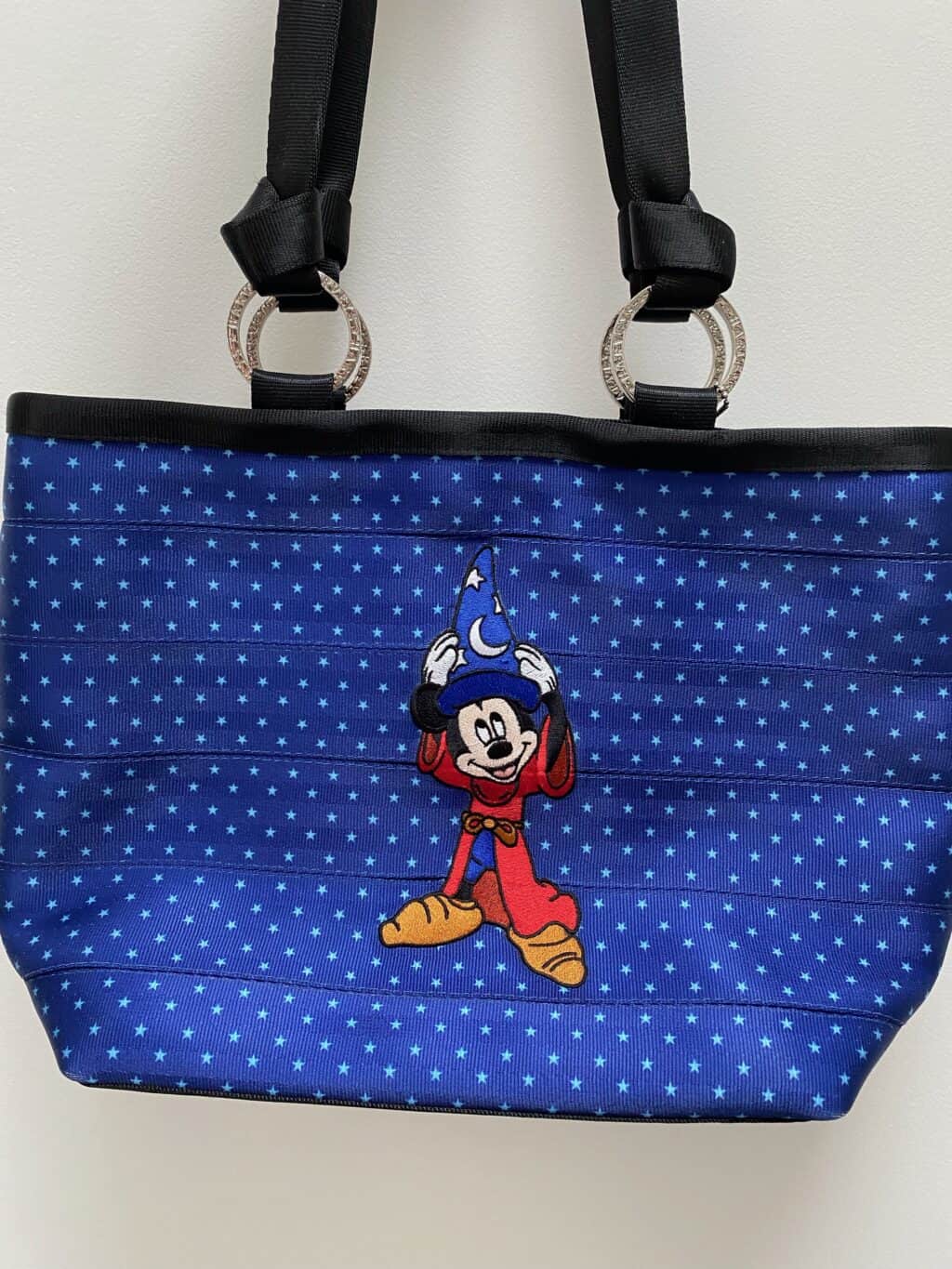 I also own the crossbody bag from the same collection. This is not the strap it came with, but the blue matches perfectly and the rainbow Mickeys give it a colorful summery vibe.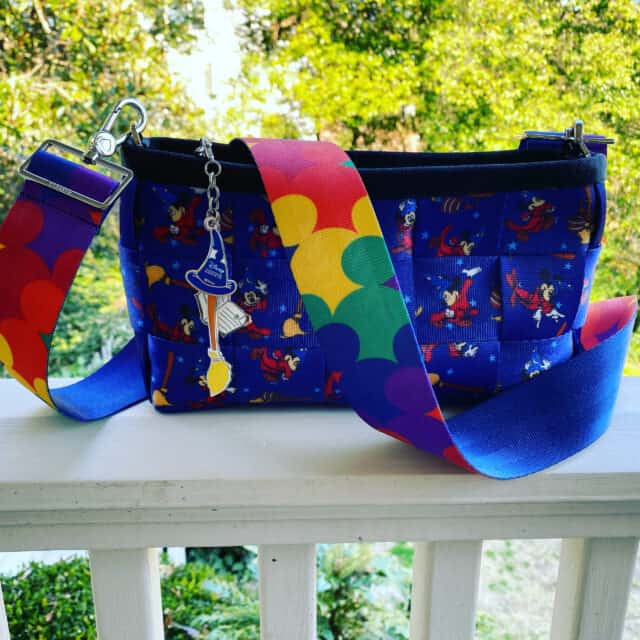 Tropical Bags
The ultimate Disney tropical theme is of course the Enchanted Tiki Room. I use this bag year round, but I especially love to carry it in the summer. This bag is part of Harveys poster tote collection. You can see more poster totes here. They're one of my favorite types of Disney bags ever made!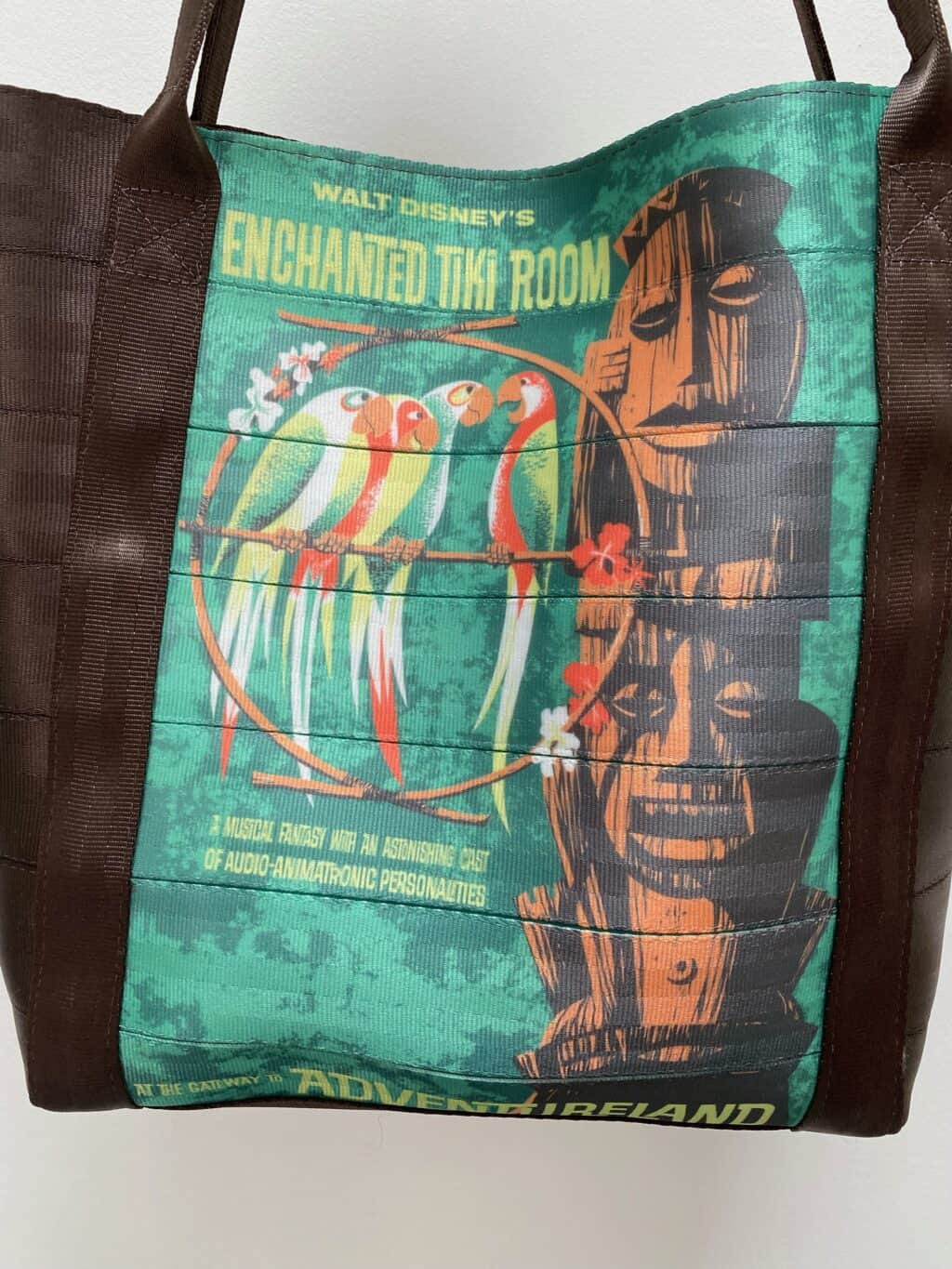 I also own the Loungefly Tiki Room backpack from May's Minnie Mouse Main Attraction Collection. It's a gorgeous bag, and I'm obsessed with the tropical colors and bamboo piping.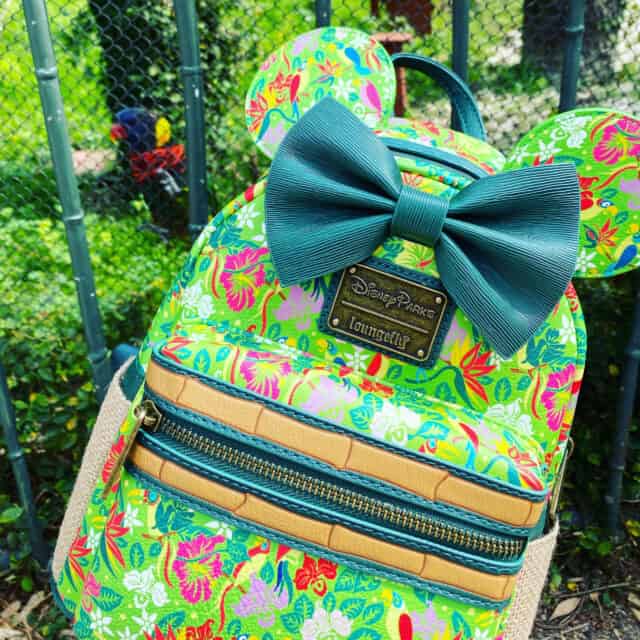 This full sized Loungefly backpack features palm trees, tropical flowers, Mickey with a surfboard and Minnie in a hula skirt. I used it for a week at Disneyland and around Southern California. It would also make a great bag for Hawaii! It also came in a mini backpack version, which is adorable.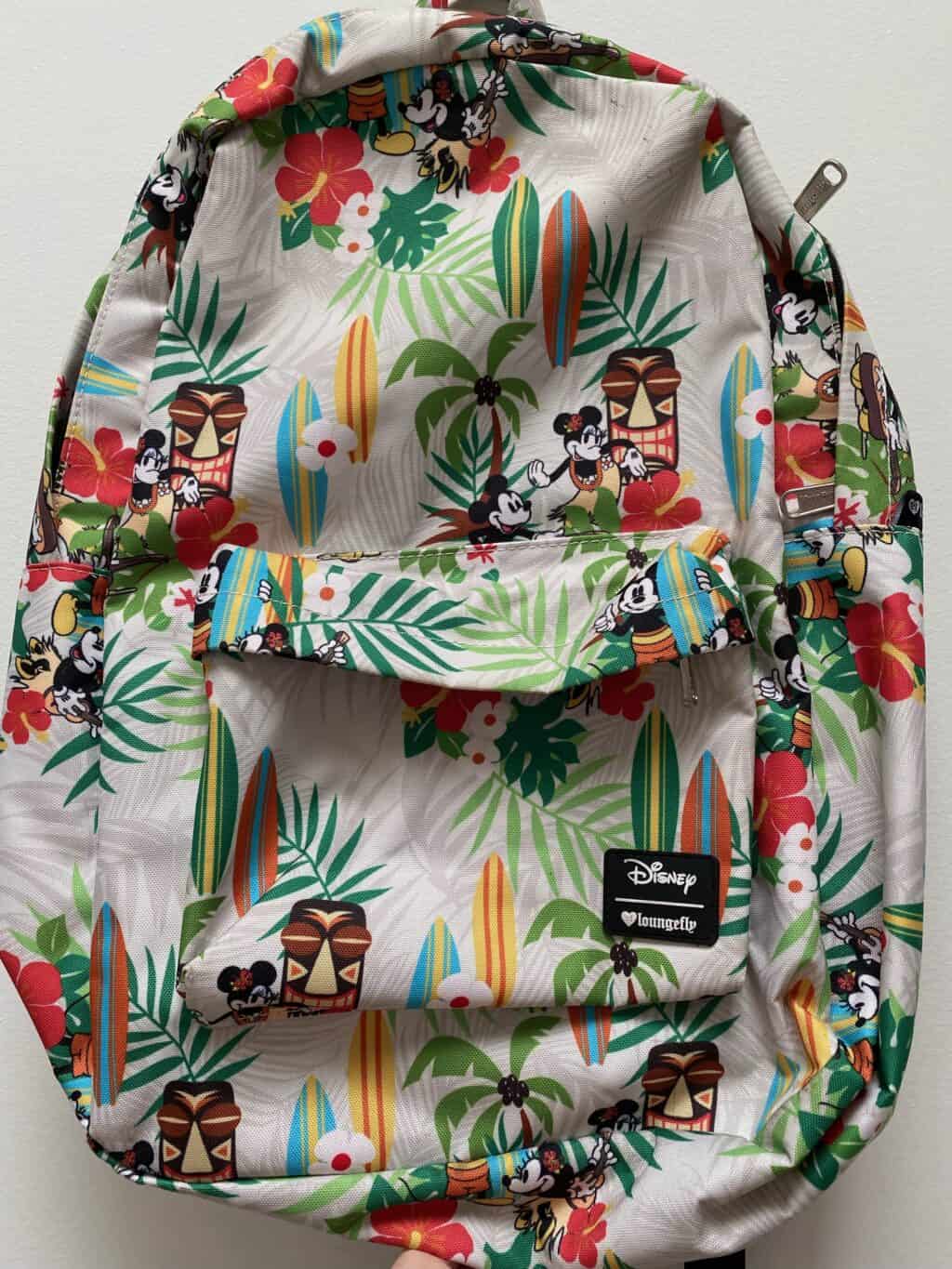 Speaking of Hawaii, did you know that Aulani carries exclusive Disney Dooneys?! At one point I owned this beautiful Aulani sketch tote, but I sold it a few years ago.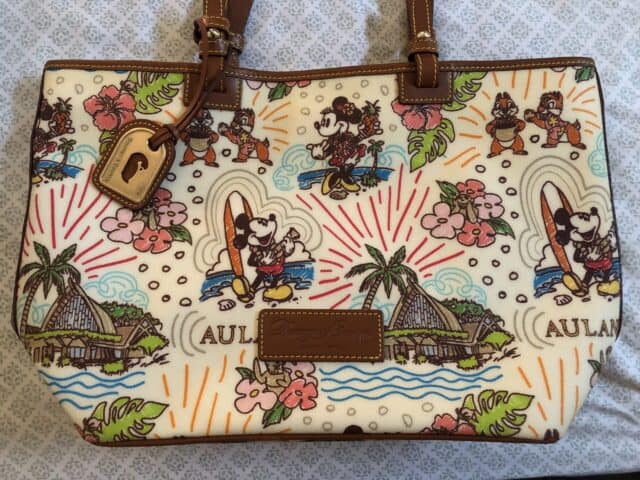 In its place I purchased this other Aulani Dooney pattern in a crossbody. I love the vibrant colors in this one and Minnie looks adorable. I use this one often in the summer or at "tropical" locations such as the Polynesian Resort!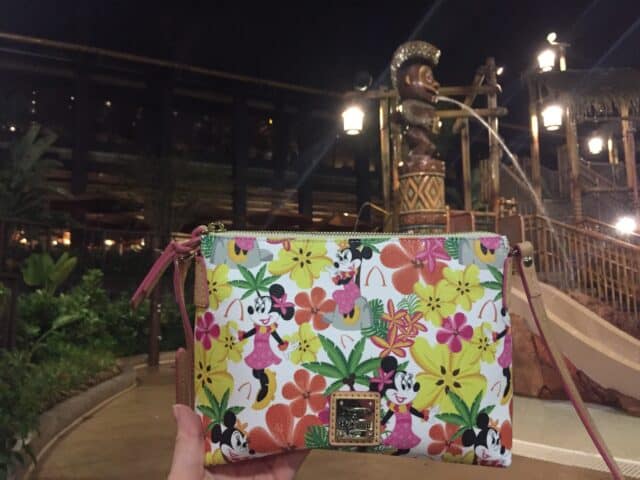 And speaking of the Polynesian Resort, I love this tote designed by the artist Shag for Harveys featuring Trader Sam's Enchanted Tiki Bar! His artwork is always stunning!
One of my favorite purses in my collection is the Haunted Mansion Harveys tote he designed. You can see photos of it here.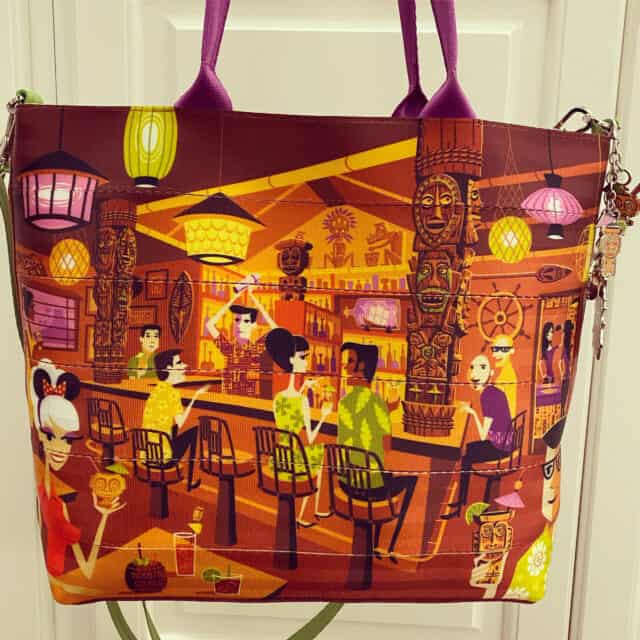 Disney Cruise Line Dooneys
Dooney and Bourke has created several gorgeous DCL patterns. One of my favorites is the DCL Sketch pattern. You can see more of the various Disney Sketch patterns Dooney has created here.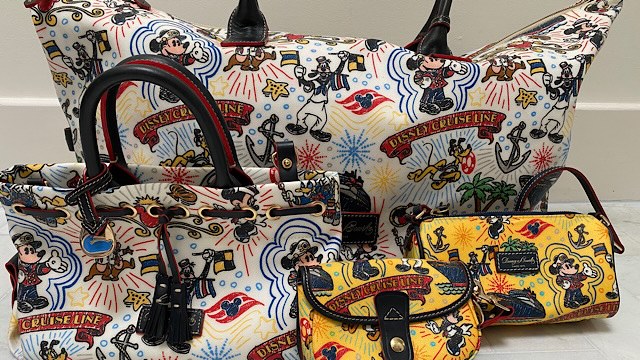 I have owned DCL Sketch in two different sized totes, but I ended up selling them both and buying different styles instead. My original plan was to use it as a beach bag but I decided it was too heavy, didn't hold enough, and I was worried about the leather getting wet.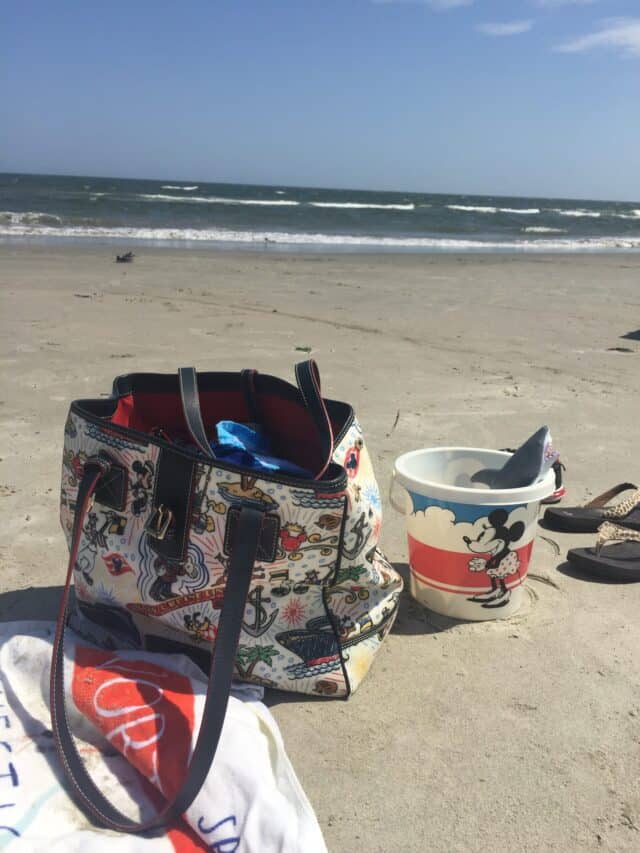 After selling the larger totes I bought this adorable little tassel tote pictured here on a marsh cruise during my honeymoon in 2019. I love the placement of Captain Mickey on this one!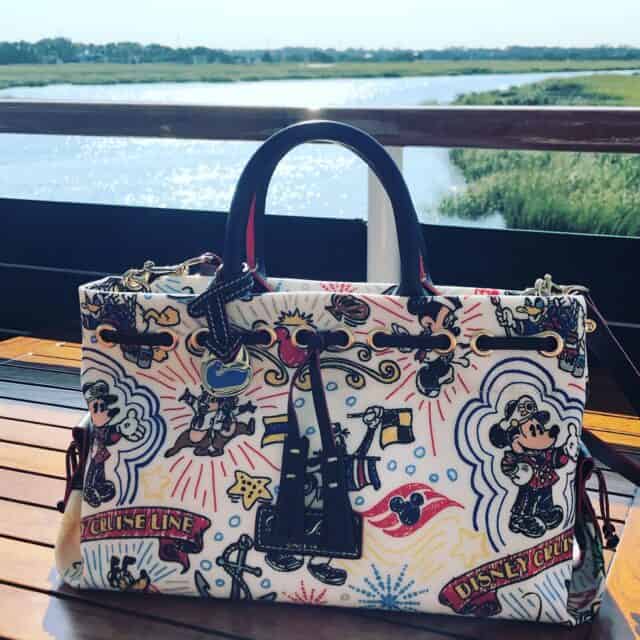 One of the highlights of my collection is this gorgeous DCL Sketch weekender. I've used this on several beach trips, including a Disney cruise. It says summer beach vacation to me!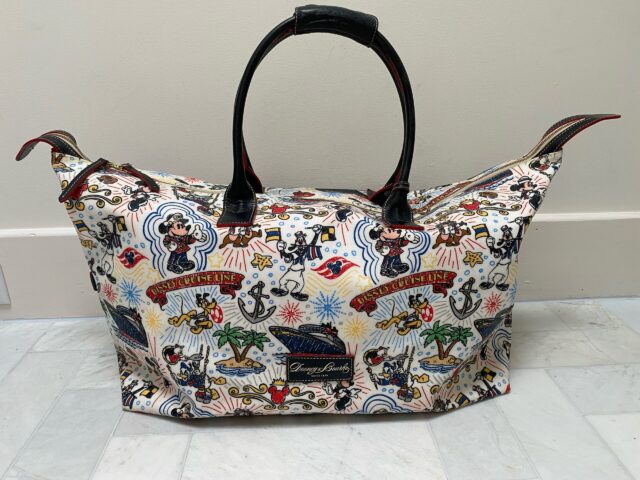 The Sketch pattern also came in navy, red and yellow backgrounds in certain styles, and I own the yellow barrel bag and wristlet. I often use wristlets to hold smaller items in totes or as sunglass cases.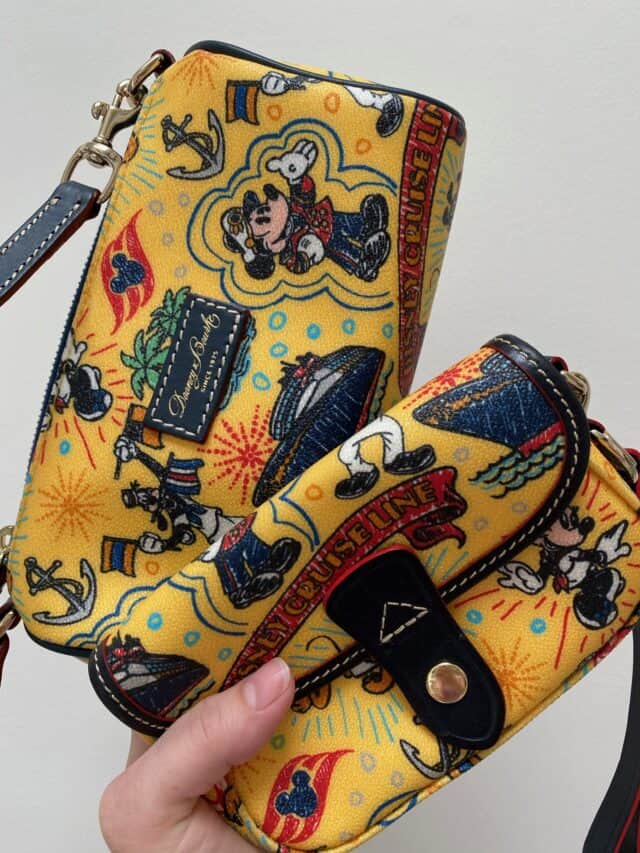 This nylon DCL bag is one I used on my first Disney Cruise, but for a beach bag it was a little small and awkward and I worried about water putting spots on the light leather.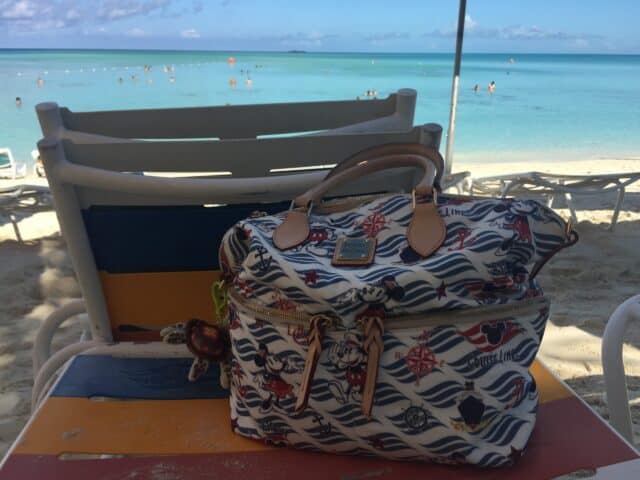 I ended up selling the bag above after I purchased this tote on the Disney Dream in 2018. The adorable style of the characters and the nautical feel are one of the few reasons why I love this bag.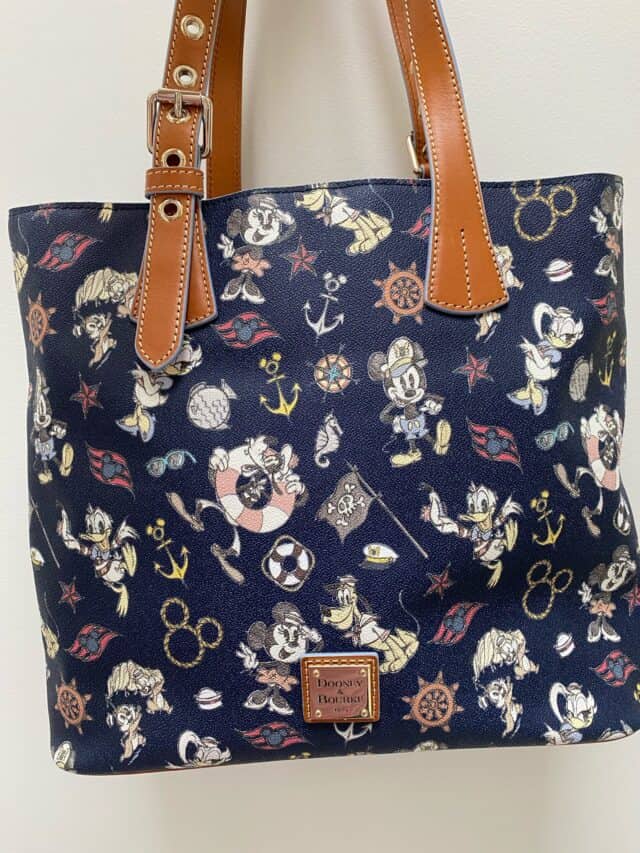 Beach Bags
After I decided not to use my DCL bags as actual beach bags, I went in search of other good Disney beach bags. This Dooney has a fun beachy pattern and is made of nylon, which is more lightweight and waterproof.
However, I was still nervous about getting water spots on the light leather handles. It also isn't quite big enough.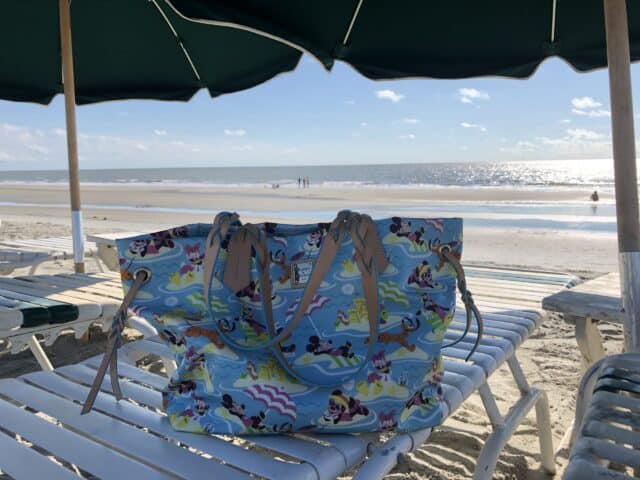 Then I purchased this tote by LeSportsac which has a beautiful tropical Mickey and Minnie pattern. It makes a great beach bag because it is waterproof, lightweight, spacious, and has a zipper top to keep sand out.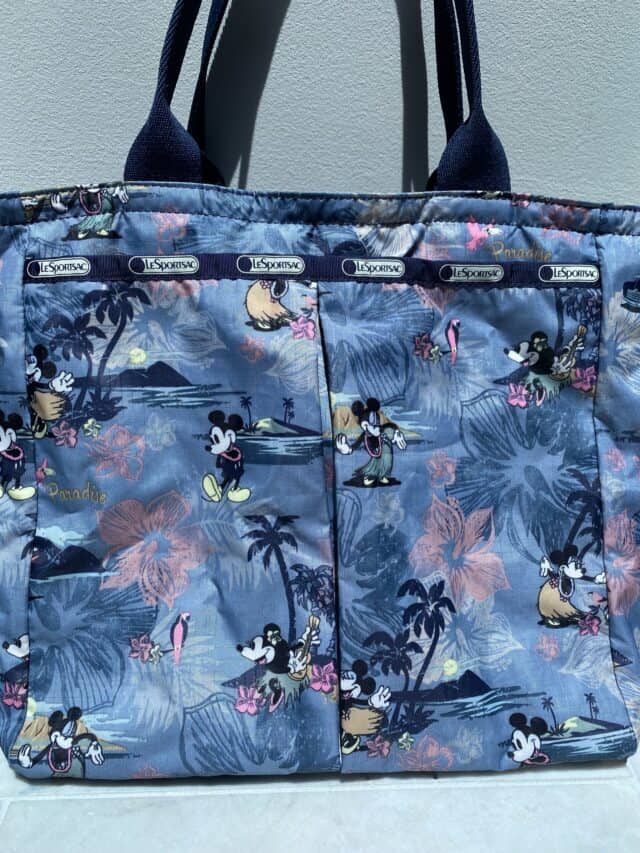 While not a Disney bag, I couldn't help adding this fun beach bag made by Harveys to my collection. The pattern with beach balls, umbrellas, palm trees, sunglasses, flamingos and ice cream screams summer!
Harveys bags are made from seatbelts so they are waterproof. This makes them good beach bags.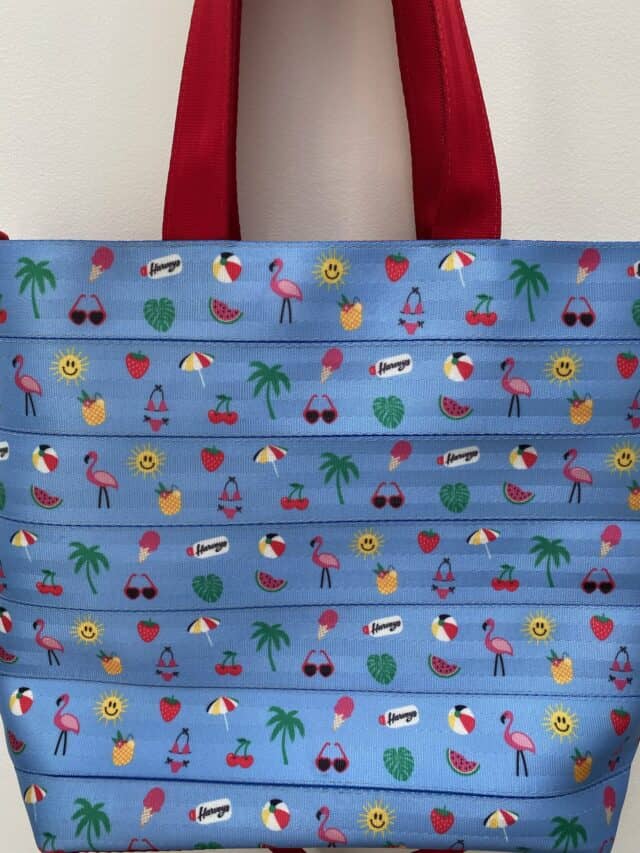 While I normally only buy Disney Vera Bradley bags, I LOVE the tropical coral reef pattern on this oversized tote. This one is great because it's HUGE and can fit several towels and beach toys.
It's also lightweight and washable. I usually end up carrying this and another smaller bag for a day at the beach or pool.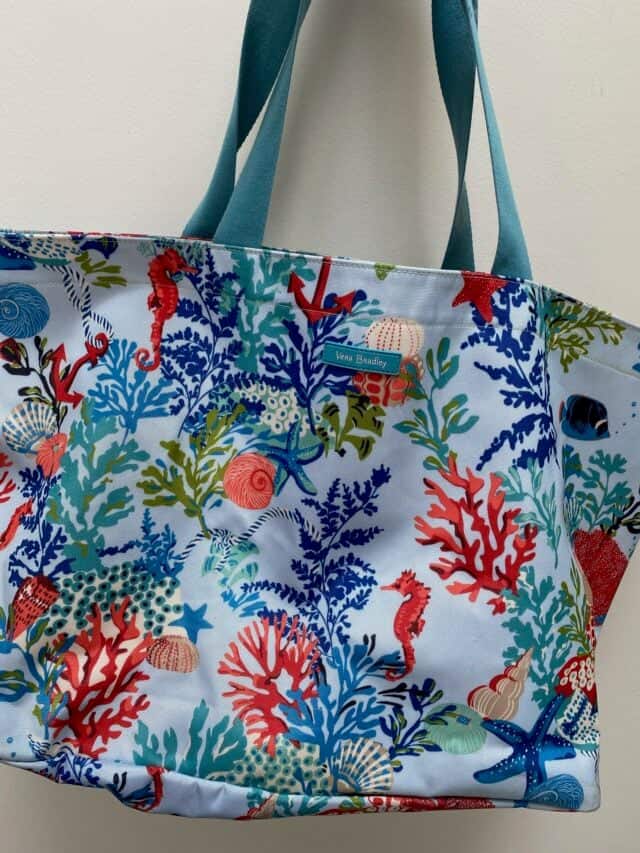 My new favorite beach bag that I haven't had a chance to use yet is this tote from my stay at the Riviera Resort in April. I love the colorful stripes and rope handles. It's also very subtle if you're looking for a more subtle Disney beach bag.
It is currently available in the Riviera gift shop for $49.99.
I also picked up this adorable mini Loungefly at the Riviera gift shop. This makes a great little bag for a seaside vacation if you prefer a backpack.
But for a day at the beach, I would need to pair this with a larger tote such as the Riviera bag above or my Harveys, Vera Bradley or LeSportsac tote.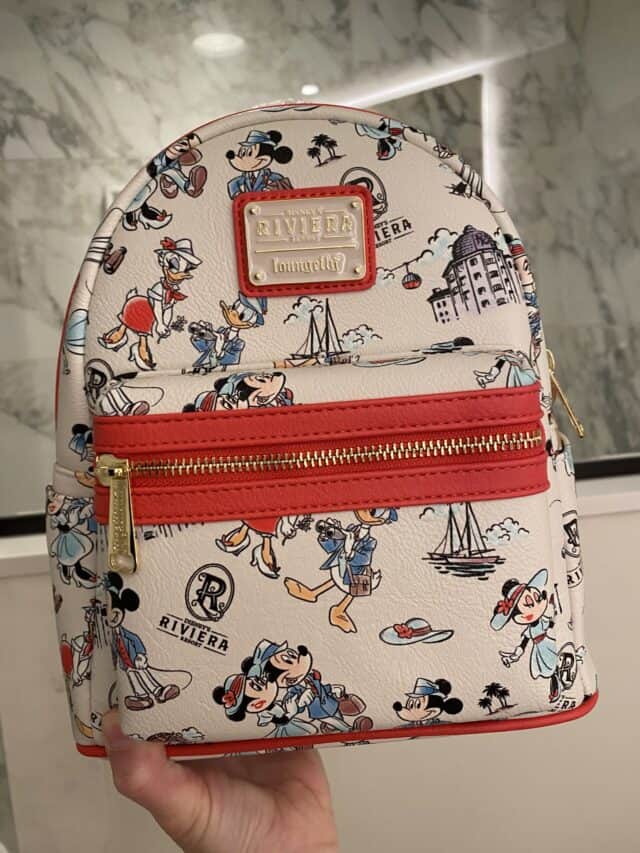 Ariel purses
Naturally Little Mermaid themed purses are some of my favorite summer bags. This Harveys tote inspired by Ariel's tail pattern and seashell colors is gorgeous and also a more subtle Disney bag. The real giveaway that it's an Ariel bag is the detachable seashell coin purse.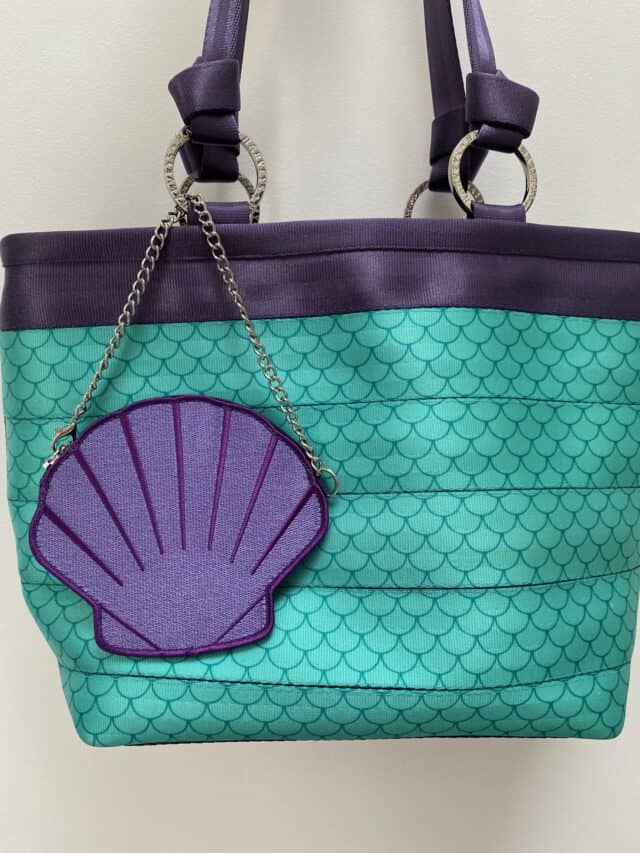 This Little Mermaid Dooney crossbody features a gorgeous watercolor-like design of Ariel swimming underwater surrounded by Sebastian, Flounder, bubbles, seashells and dinglehoppers!
This is a new addition to my collection, and I think I will bring it on my summer beach vacation for dinners out.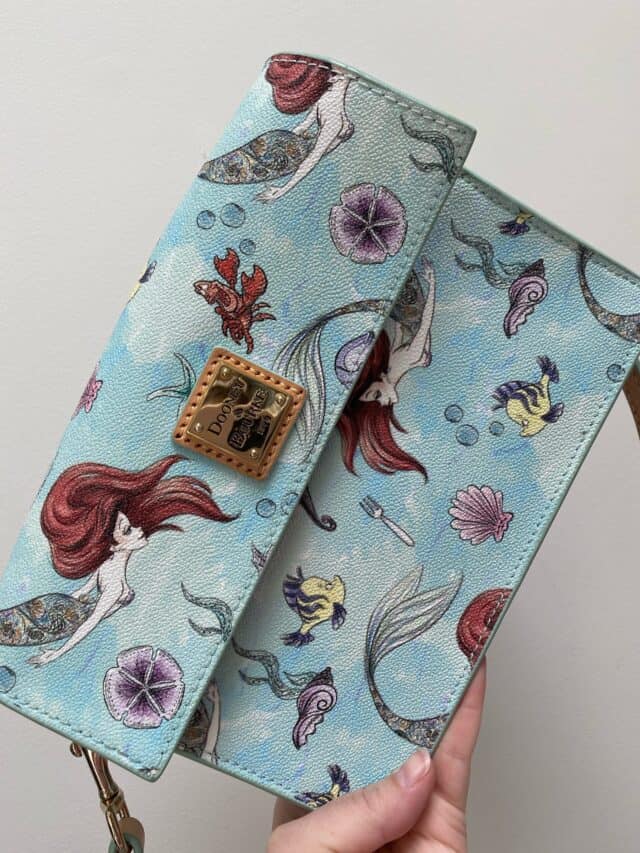 If you're interested in seeing more of my Disney purse collection, my first blog post about my Disney purse closet can be read here.
Part 2 about my Disney Halloween purse collection can be read here. Part 3 about my Disney Christmas purse collection can be read here, and Part 4 about my Disney Spring purse collection can be read here.
Thanks for reading and please comment on Facebook with any questions or to share your own Disney purse collection!
Ashley Beckwith McKellar
Follow me on Instagram: @disneyparksmom