Since spring is in the air and Epcot's Flower and Garden Festival is underway, I (Ashley) wanted to highlight some of my favorite spring purses from my Disney Purse Dream Closet!
Flower and Garden Festival Dooney and Bourke Purses
Some of the best spring purses that Disney and Dooney and Bourke have collaborated on have been the bags made specifically for Epcot's Flower and Garden Festival. I currently own three different Flower and Garden patterns.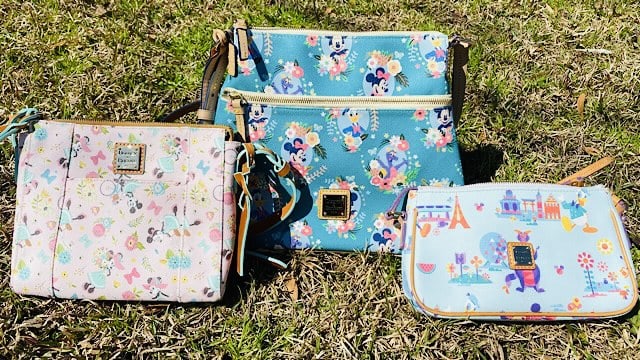 The first one I purchased was the 2017 version. It was one of the first Dooneys I ever bought! I handpicked it in Epcot during my first visit to the Flower and Garden Festival.
It was difficult to get good placement on such a small bag, but I was happy I ended up with (most of) Figment, Donald, Spaceship Earth and the monorail!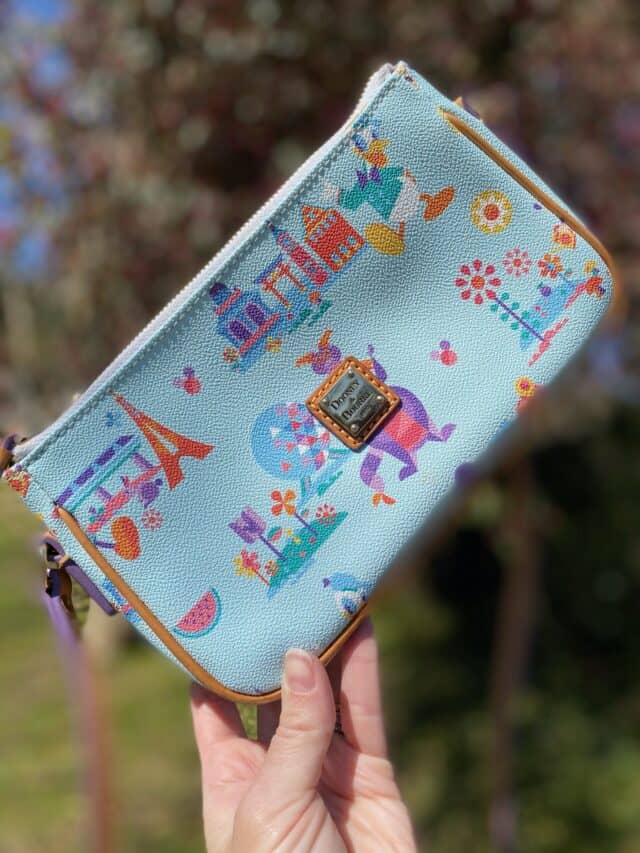 I used this bag every day during my spring trips in 2017 and 2018 and got so many compliments on it! It's a special bag in my collection because it holds so many magical memories!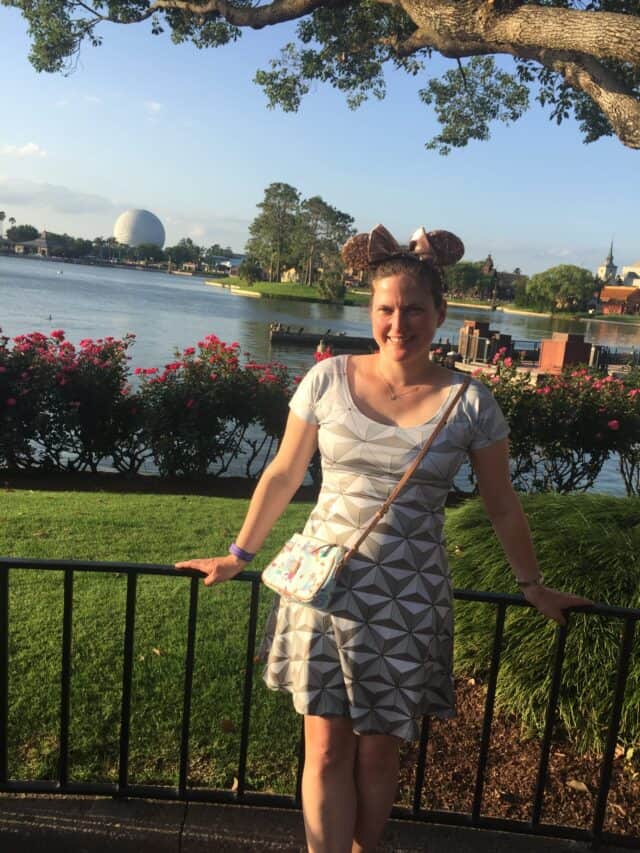 I loved the pattern so much that I ended up buying the weekender in the same pattern. These duffel bags are great for airplane carry-on bags or for weekend car trips.
I love that because it is so much larger, and I can see the entire pattern including Mickey and Minnie. I also think that the presence of World Showcase landmarks make this a great travel bag!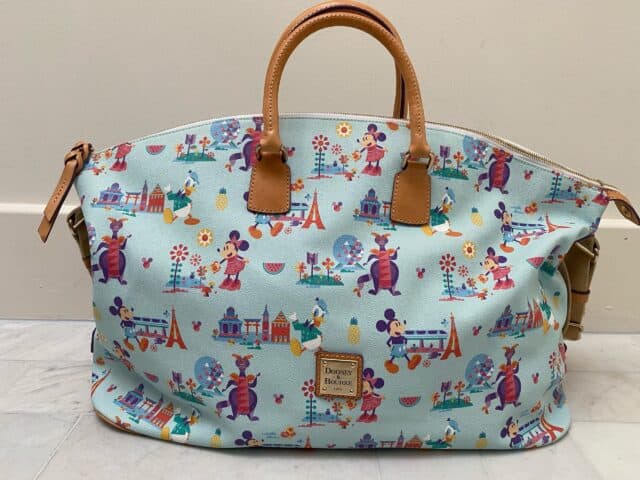 The next Flower and Garden bag I purchased was the 2016 version, which I bought second hand. I originally had the satchel but ended up selling that one and purchasing this crossbody letter carrier instead.
I think it will be a great bag for carrying around Epcot during the Flower and Garden Festival. I adore the teal background color and the depiction of Figment!
Sadly, I ended up canceling my 2020 spring break Disney vacation, but I still had to buy this adorable purse that was created for the Flower and Garden Festival! I love the pastel pink background, teal piping on the straps, and depiction of Minnie in her sunhat and riding her bicycle!
I'm planning to bring this one on my 2021 spring break Disney vacation to carry in Epcot!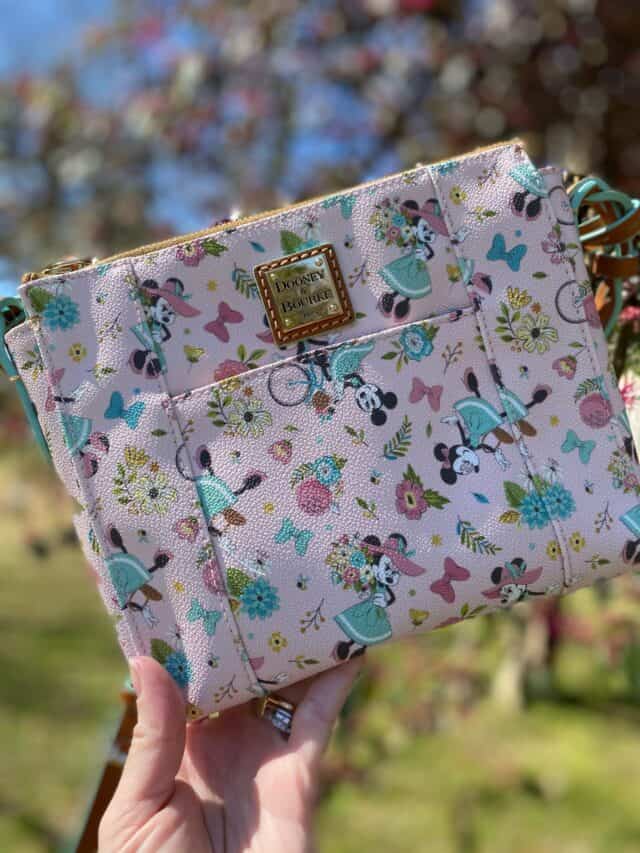 This adorable pattern was released for Flower and Garden in 2018. I love Minnie with her garden boots and the fact that Figaro is included! I owned this wallet but ended up selling it in 2019.
It really is such a cute happy pattern though, and I'm tempted to add another piece in this pattern to my collection someday!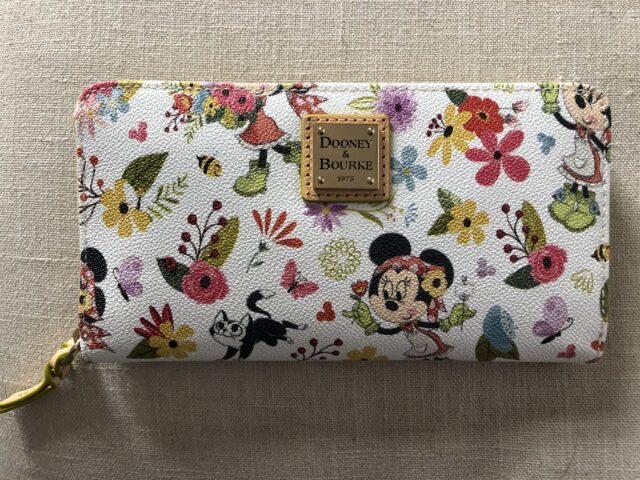 Pictured below is the 2021 Flower and Garden Dooney that is currently available on Shop Disney. In addition to the ones seen online, there is an adorable satchel silhouette that can only be purchased at Epcot. All these bags have a fun hot pink lining and piping on the straps.
I'm planning to check out the satchels in person when I go to Epcot in April, and I wouldn't be surprised if one comes home with me!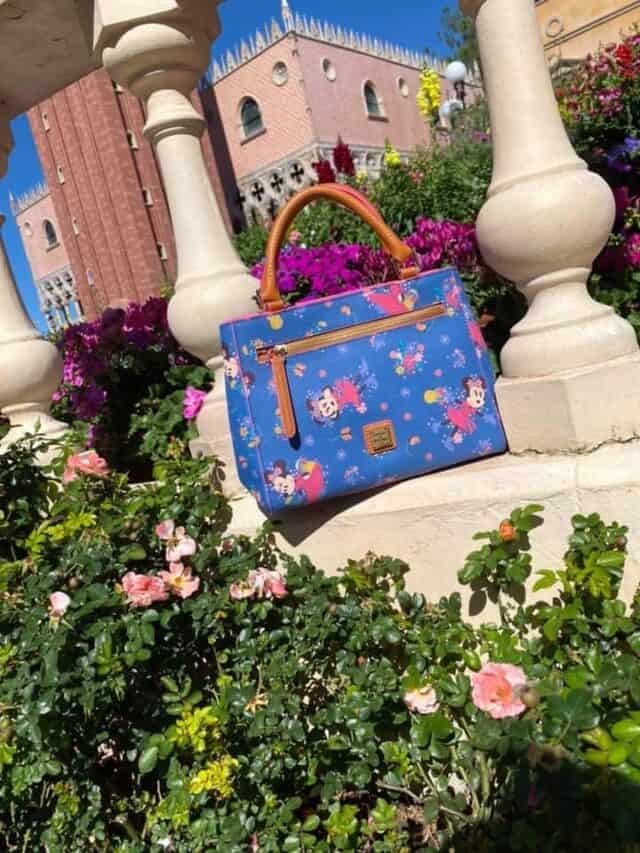 Tinker Bell Dooney and Bourke purses
Some of my favorite spring purses happen to be Tinker Bell themed!
The pattern below was created for the 2016 Tinker Bell Half Marathon at Disneyland. The material is actually made of nylon with leather trim. I think it may be one of the most beautiful patterns found on a Disney Dooney and Bourke bag!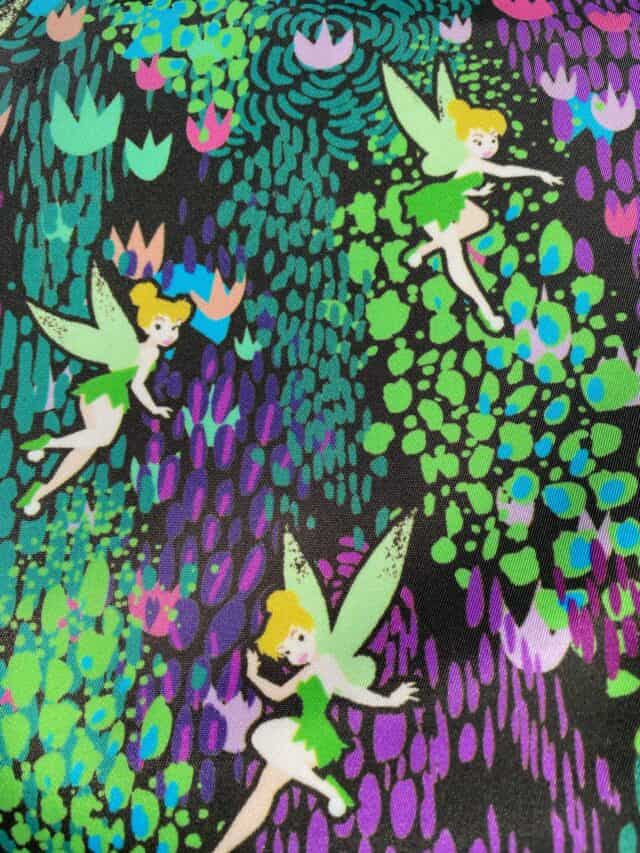 The pattern depicts Tinker Bell in various poses in what looks like a magical forest – the vibrant green, purple and blue colors literally glow!
I love it so much that I tracked down all three pieces from the collection – the tote, letter carrier and wristlet.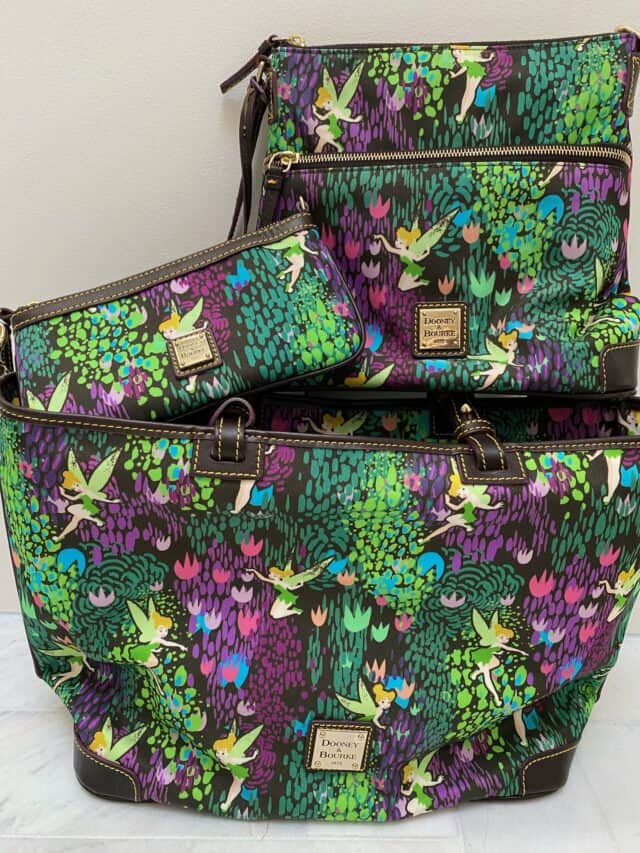 I also own the nylon letter carrier in the 2015 Tinker Bell Half Marathon pattern. It depicts silhouettes of Tinker Bell with multi-colored wings on a beautiful purple background with swirls of leaves, flowers, ladybugs and, of course, pixie dust!
One of the highlights of my collection is this gorgeous green and pink Tinker Bell canvas domed satchel. It is actually a One of a Kind bag which means that it was purchased at a sample sale and never mass produced.
It was created in a few different color combinations, but only one was made in green with pink tinker Bell making it truly one of a kind!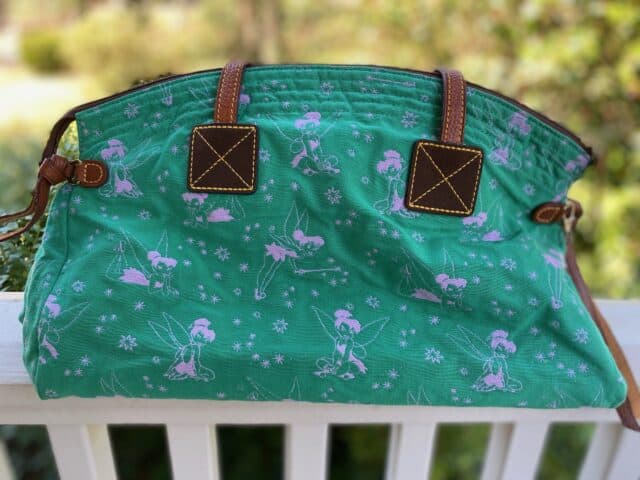 It also features a hot pink lining, which is amazing!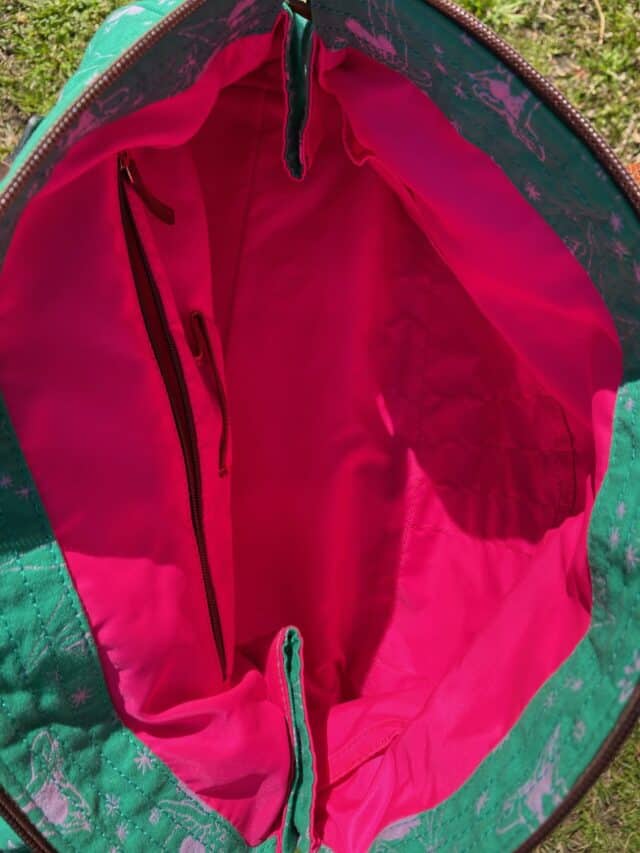 I added this purse charm made to match the 2016 Flower and Garden Dooney. I think the colors go well with this bag and give it an extra touch of spring!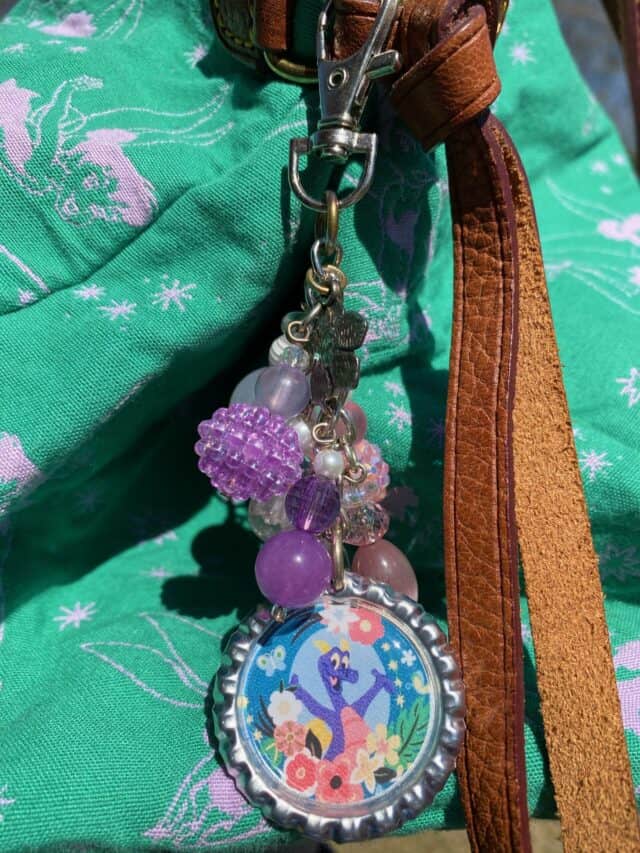 More favorite spring Dooney and Bourke purses!
While these purses were not created for the Flower and Garden festival, the spring-like colors and patterns make them some of my favorite bags to carry in the spring season!
This adorable Bambi themed crossbody was released in September 2017 for the 75th anniversary of the classic film. Even though it was released in the fall, the depiction of young Bambi and Thumper, butterflies and pale pink and purple flowers make it one of my favorite spring purses!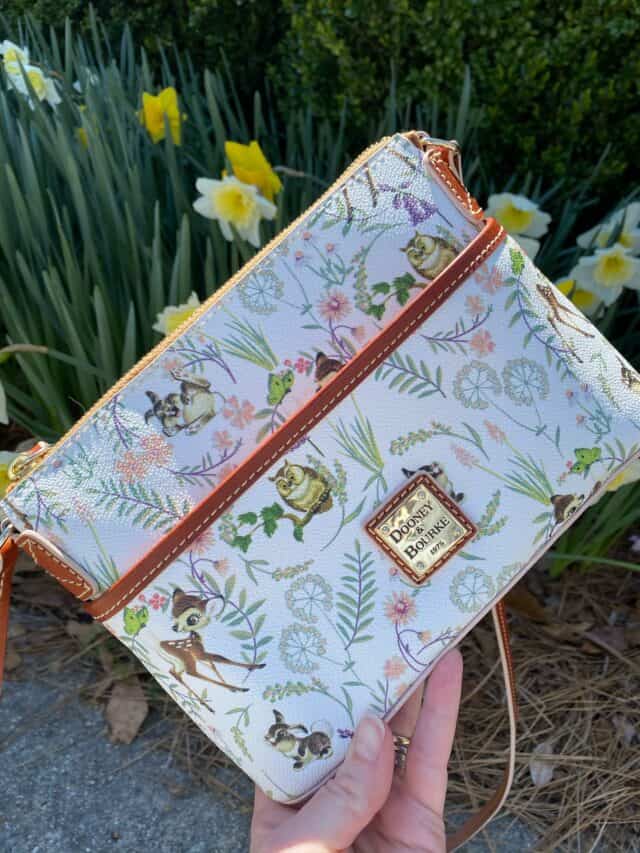 The turquoise background, flowers, and vibrant colors on this beautiful "it's a small world" pattern from 2019 make it a perfect spring set! And, I couldn't be happier with the placement on the wallet!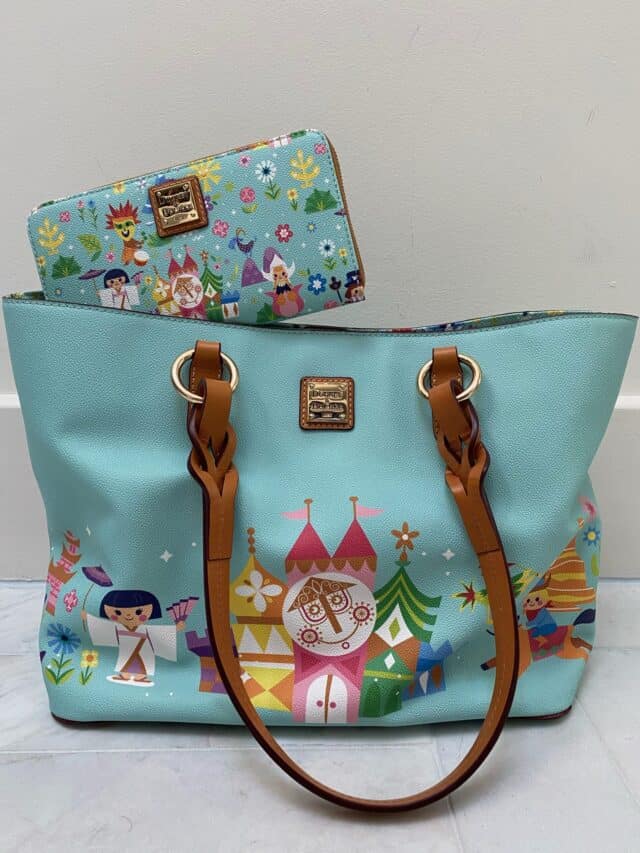 I think this Tangled crossbody, which was released to celebrate the film's 10th anniversary in 2020, makes a great spring bag with the purple and green colors, magic flowers and suns.
I'm planning to carry it in Epcot next month during Flower and Garden Festival for a Rapunzel Disneybounding day!
This stunning Alice in Wonderland purse was released in 2016, but I just recently added it to my collection after searching for years! The jewel tones and talking flowers from the garden make it a wonderful springtime purse!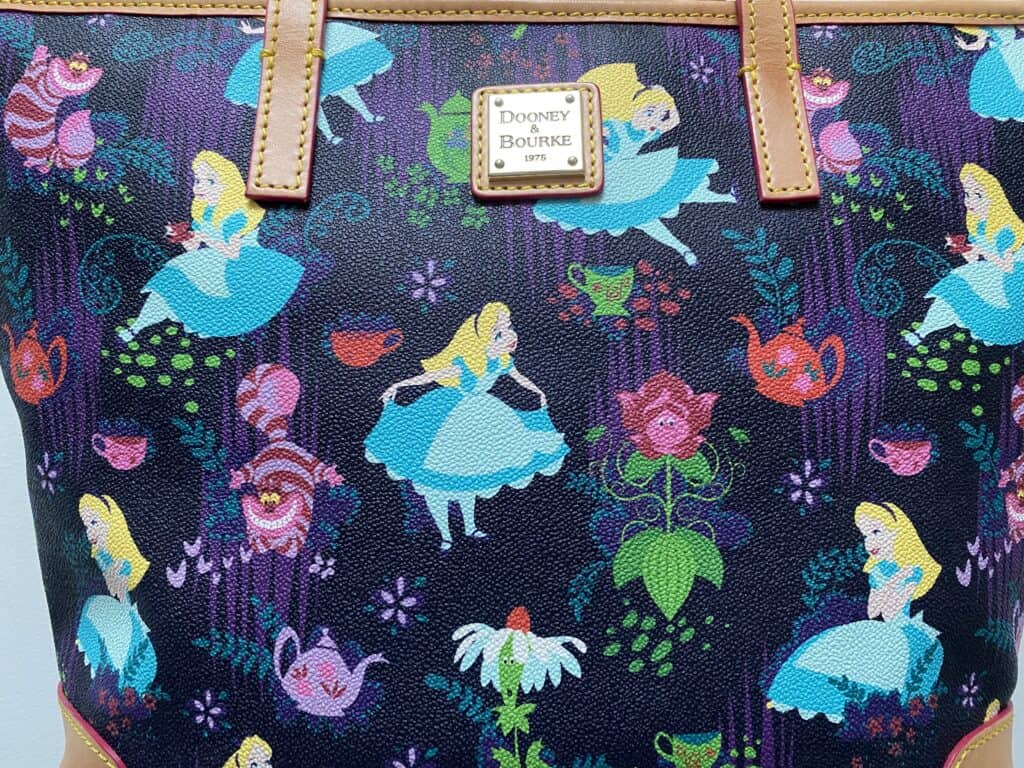 This adorable Mini Barlow style bag is from a collection called Walk in the Park and was released in 2017. It depicts many different characters and icons from Walt Disney World and Disneyland.
I love the whimsical drawing style on this bag!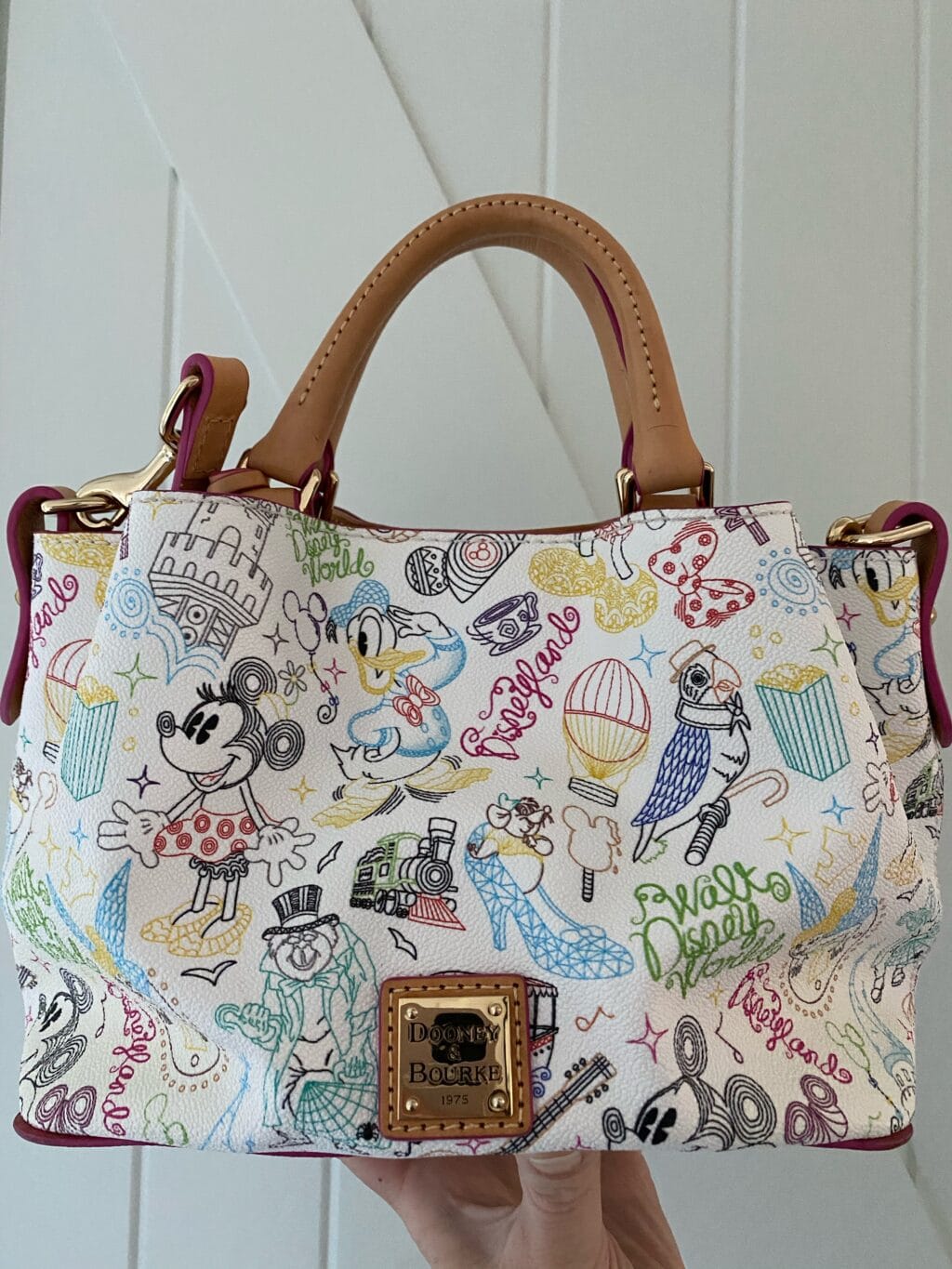 The pastel colors of the artwork as well as the pink trim and bright green lining make this such a cheerful spring and summer bag.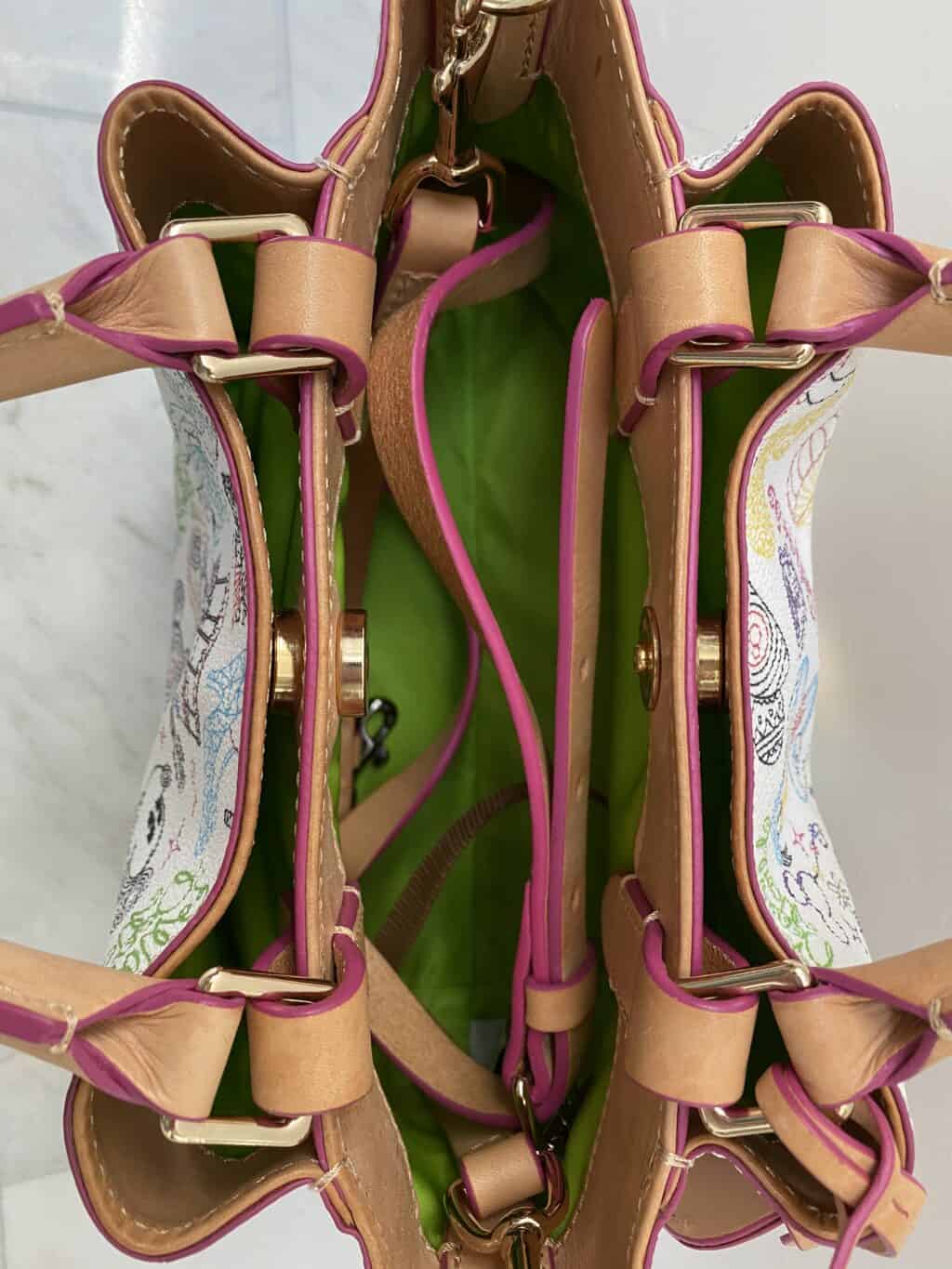 The newest addition to my spring Disney Dooney and Bourke collection is this gorgeous tote inspired by the class Disney film Robin Hood. The mint green background, hints of purple, flowers and leaves make this a perfect spring bag!
I'm very happy with my placement of Prince John sucking his thumb, Skippy shooting his bow and arrow, and a full Robin Hood and Maid Marion on the side.
This collection was released on March 8th and is still available on shopDisney and in the parks!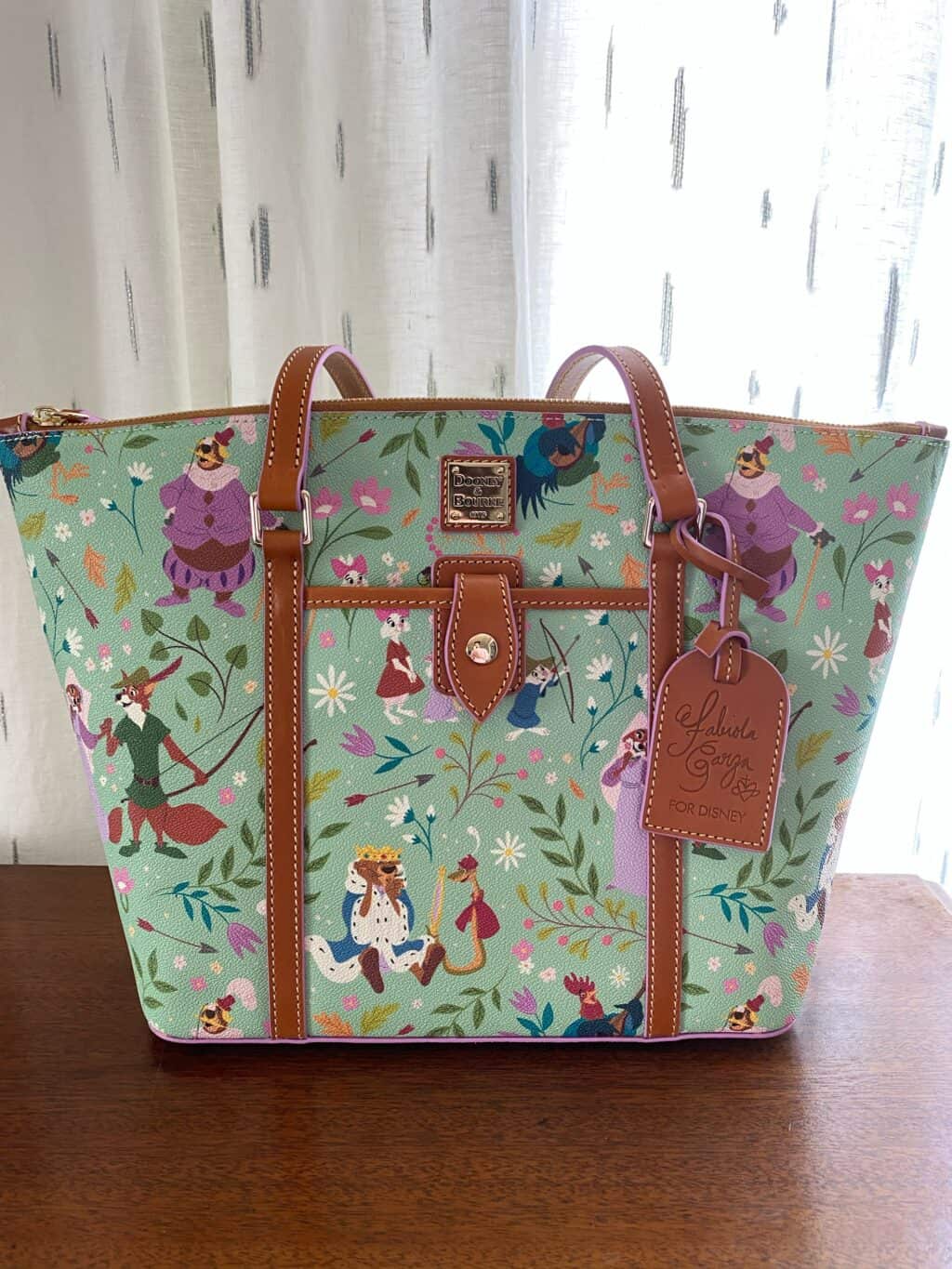 Vera Bradley spring Disney purse
While most of my favorite spring Disney bags are from Dooney and Bourke, I couldn't resist adding this pretty Vera Bradley hipster to my collection. I love the colors and the sassy Minnie with her watering can, sunhat and flowers.
These bags are also super lightweight and comfortable to carry. There are still many styles available in this pattern in stores and on Shop Disney!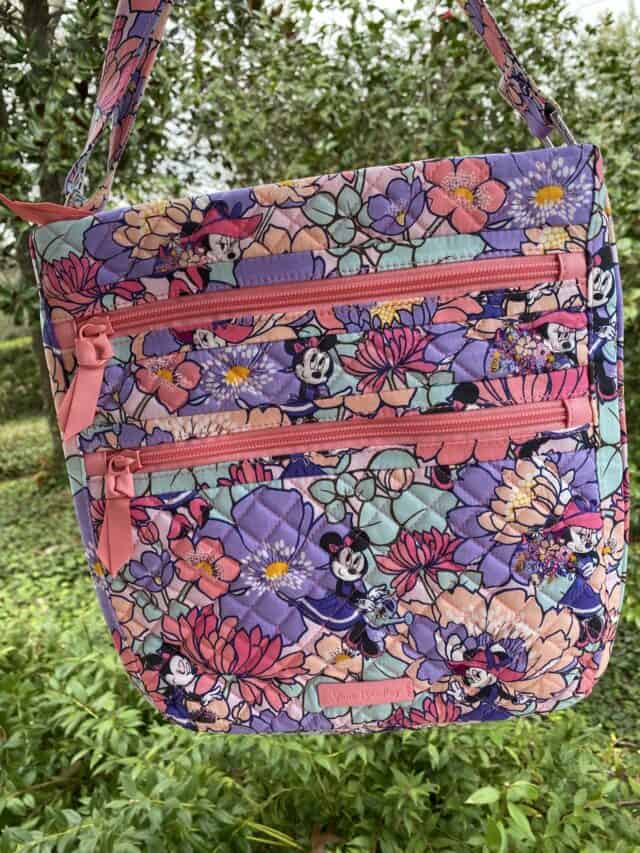 If you're interested in seeing more of my Disney purse collection, my first blog post about my Disney purse closet can be read here.
Part 2 about my Disney Halloween purse collection can be read here, Part 3 about my Disney Christmas purse collection can be read here and Part 5 about my Summer Purse Collection can be read here.
Thanks for reading and please comment on Facebook with any questions or to share your own Disney purse collection!
Ashley Beckwith McKellar
Follow me on Instagram: @disneyparksmom