Halloween is two months away, and it's about time to get into the spirit! Check out some of my Halloween-themed bags!
Recently, I (Ashley) wrote a post introducing my Disney purse dream closet. I focused on the different versions of the sketch pattern from Dooney and Bourke and the attraction poster tote line from Harveys. You can read that post here.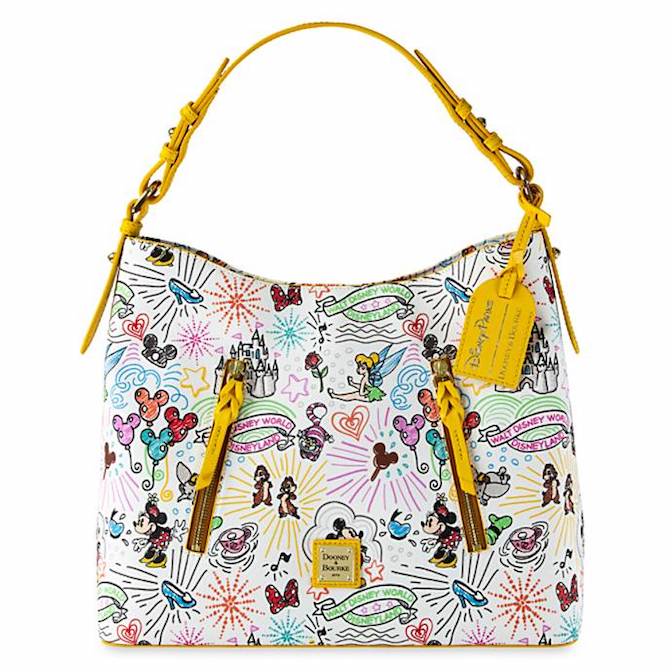 For part 2 I wanted to focus on all my Dooney and Bourke and Harveys Halloween themed bags – including Haunted Mansion and Nightmare Before Christmas!
I love Halloween and Disney Halloween especially so these bags are some of my favorites in my collection! I usually start carrying Halloween themed bags in September, up until I switch to Christmas in November!
Spooky Mickey Collection:
This collection was created by Harveys in Fall 2019 and was inspired by the classic 1929 Mickey Mouse cartoon called The Haunted House.
The tote is one of my favorite Halloween themed bags that I carry almost daily in spooky season. The windows in the house are glow-in-the-dark, which is a really fun touch.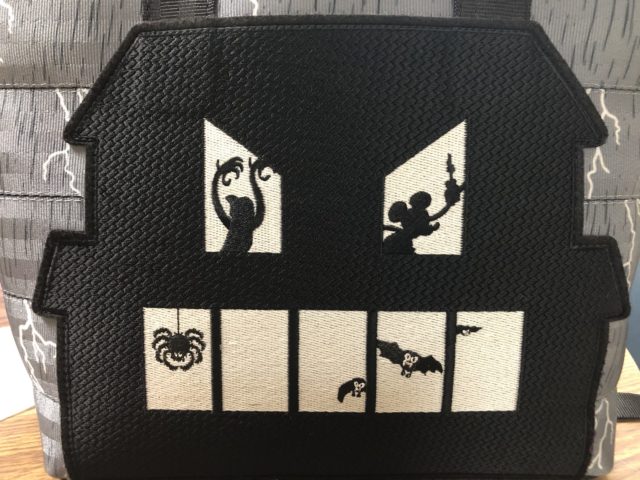 As you can see in this close-up photo, Harveys bags are actually made from recycled seatbelts.
This makes them extremely durable and washable!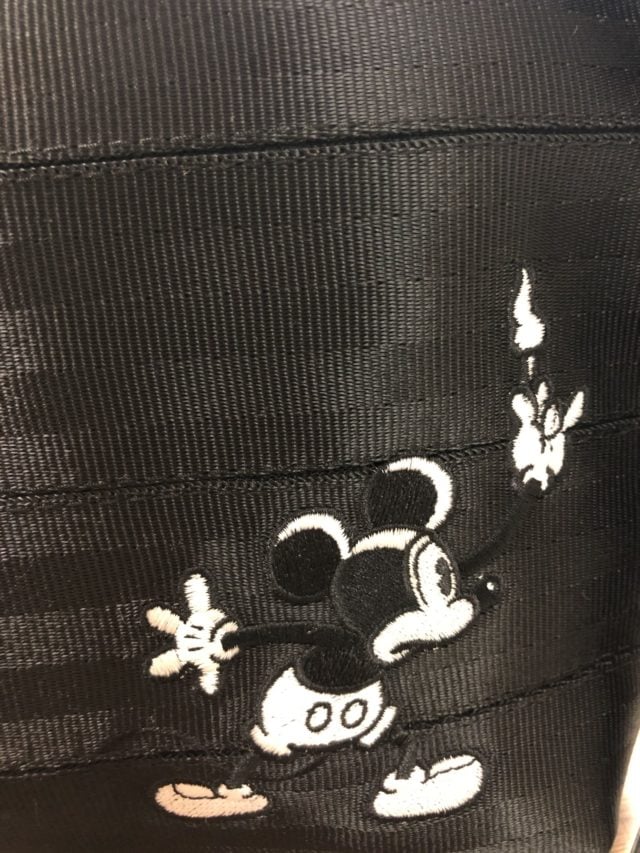 I love the details on this bag including this adorable charm.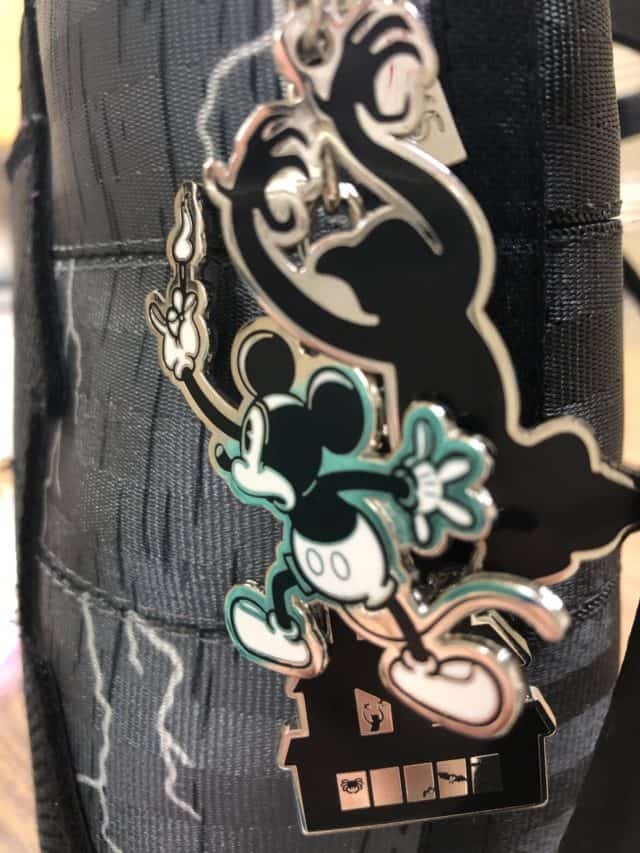 I also have the matching clutch wallet from this collection. It includes this fun charm featuring skeletons with movable limbs.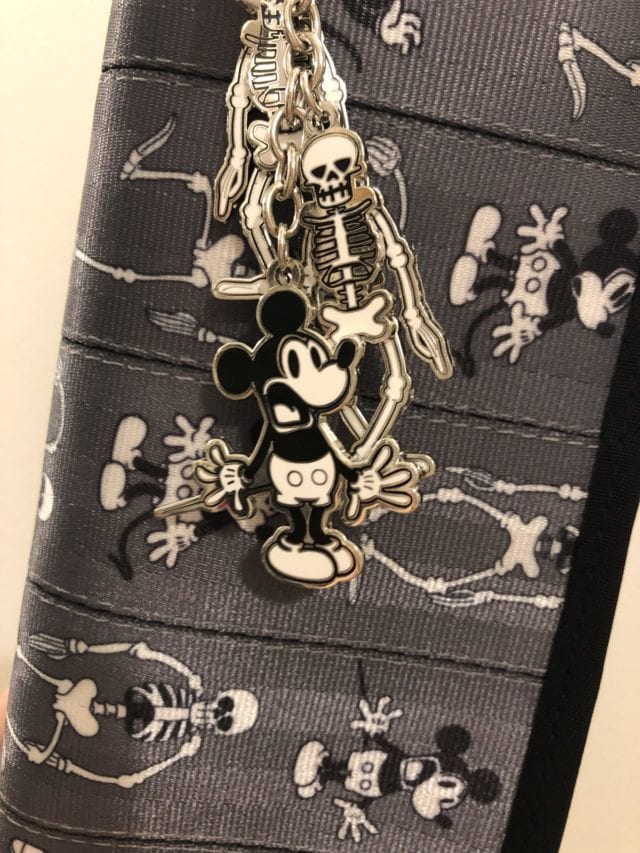 If you've never seen the The Haunted House cartoon, it's very cute and definitely worth watching. You can see the full version here:
Haunted Mansion Purses:
The Haunted Mansion is probably my favorite Disney Parks attraction and the winner of our Disney World attraction tournament.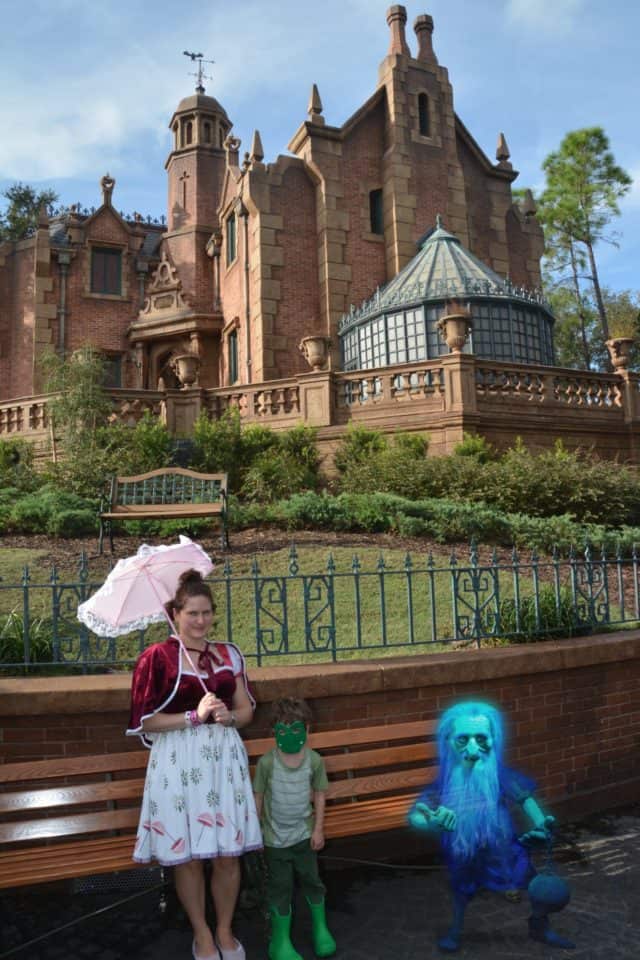 The original Dooney and Bourke Haunted Mansion wallpaper print was one of the first Disney purses that I purchased.
I've bought and sold a few different styles in this print over the years and currently own the "Smith" tote and matching wallet. It's such a classic that I imagine I'll always keep at least one piece with this pattern in my collection.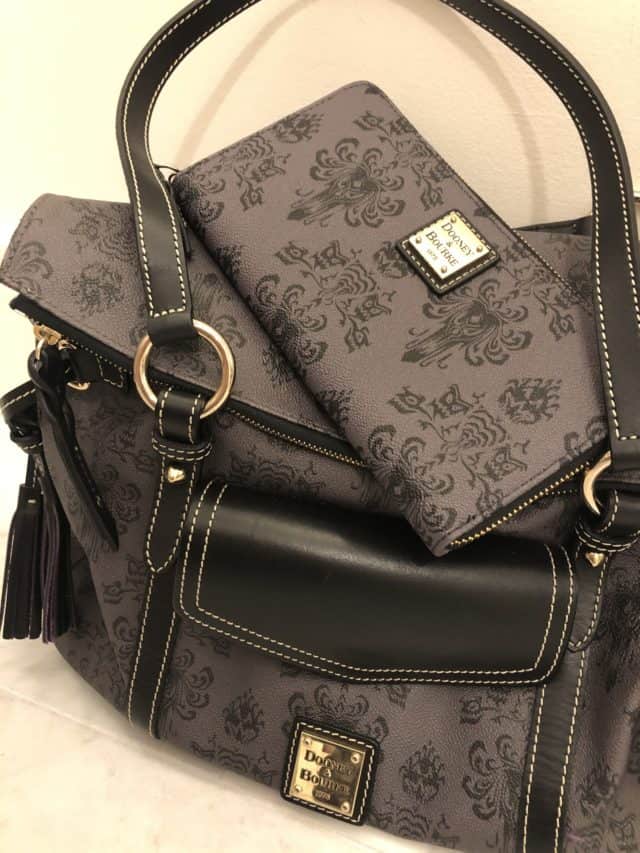 In 2019, Dooney and Bourke released an updated version of the classic wallpaper print in celebration of the 50th anniversary of the Haunted Mansion.
I own the crossbody purse from this collection.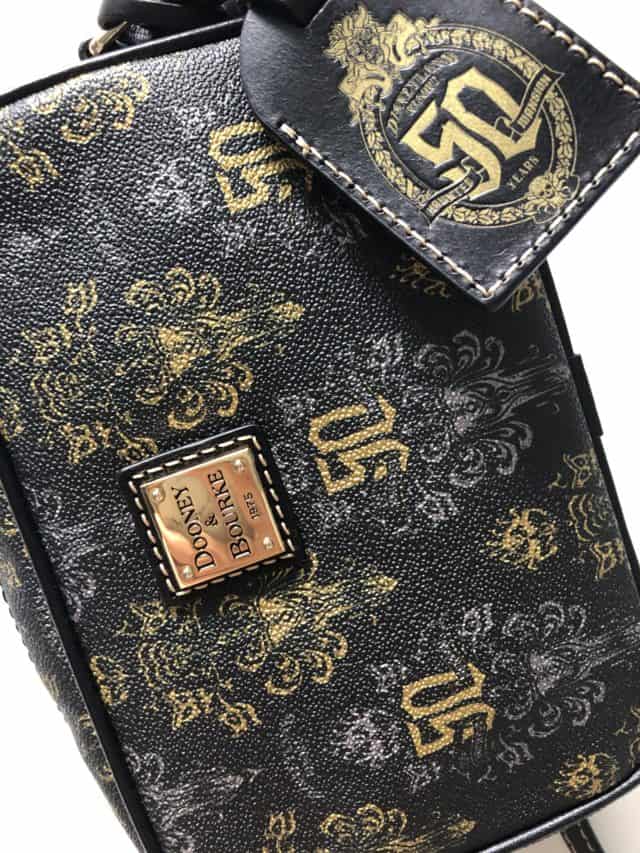 I also own the crossbody from the Haunted Mansion Portraits collection. This print features the hitchhiking ghosts and Constance Hatchaway (aka the Haunted Mansion bride). I love it!
Plus, it's made of nylon which makes it more lightweight than regular Dooney's and great for travel. I have a few prints in the same crossbody style and use them a lot.
You can see my Sketch nylon crossbody in my first post.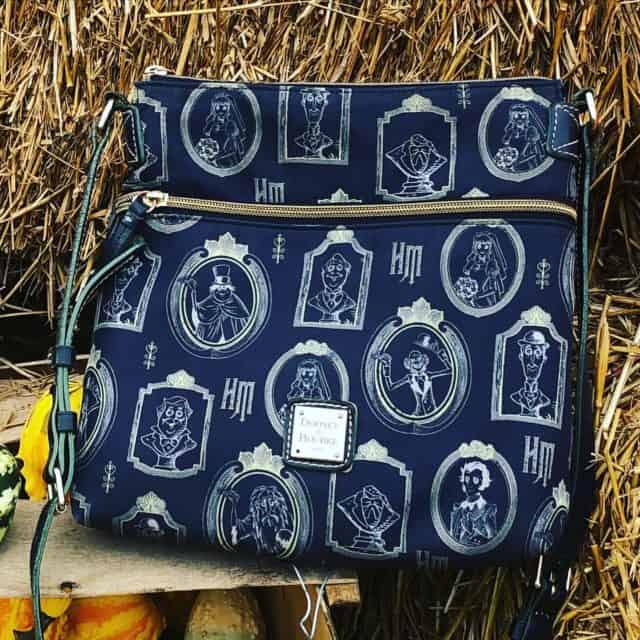 In 2018, Dooney and Bourke released a new Haunted Mansion pattern that instantly became a fan favorite – flying off the shelves as soon as they were restocked.
It features all your favorite Haunted Mansion characters in a colorful cartoon-ish style. I love the creative depiction of the Hitchhiking Ghosts, the bride, the maid, the Hatbox Ghost, the singing busts, Madame Leota, and the skeleton portrait.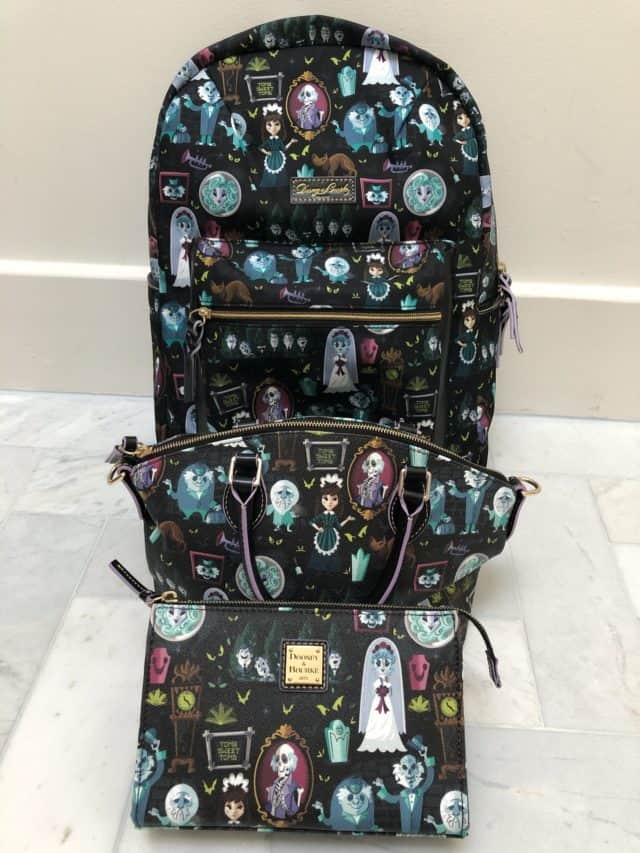 I was lucky to acquire this print in a crossbody, satchel, and nylon backpack.
I carried the crossbody at MNSSHP when I dressed as the Haunted Mansion stretching room tightrope walker, and it was a fun addition to my costume.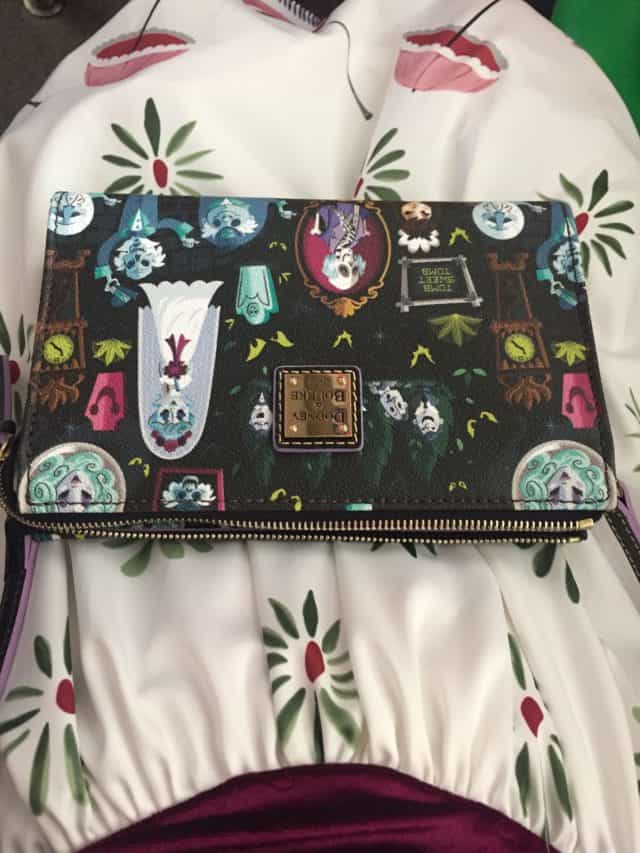 I got married last Fall and carried the satchel from this collection at my wedding. I think the presence of the bride made it very appropriate!
Additionally, I also ordered some amazing Haunted Mansion bride ears from Tokyo Disneyland to go with this bag.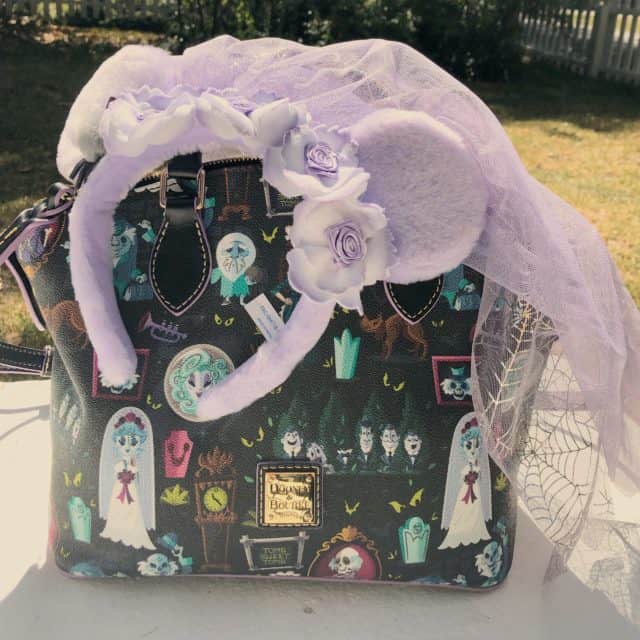 I asked my wedding photographer to take a picture of me wearing the ears and holding the bag, and I'm in love with how it turned out!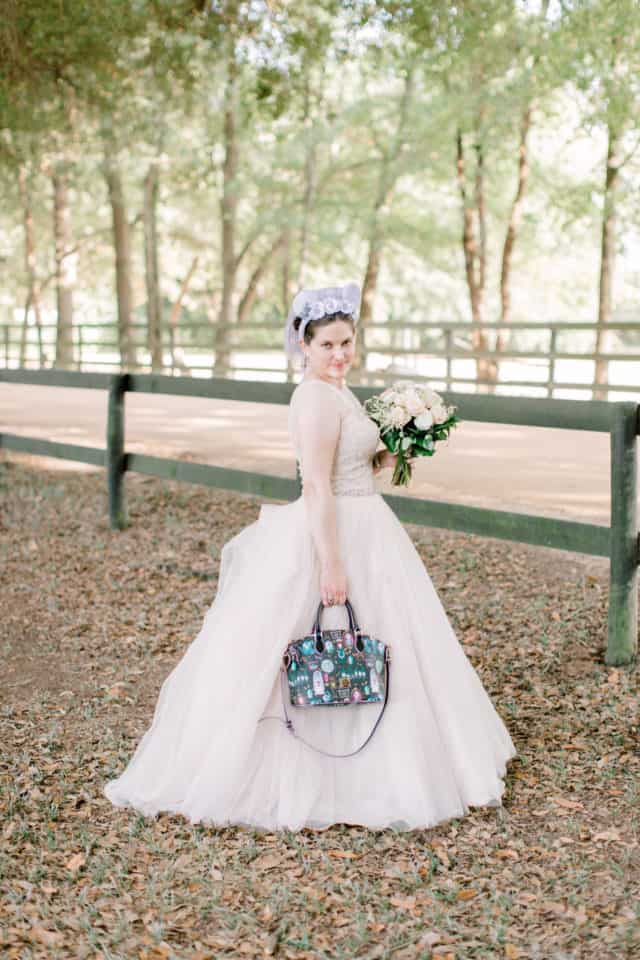 I also love to accessorize this purse with this stretching room pouch.
I use it inside satchels and totes to hold smaller items.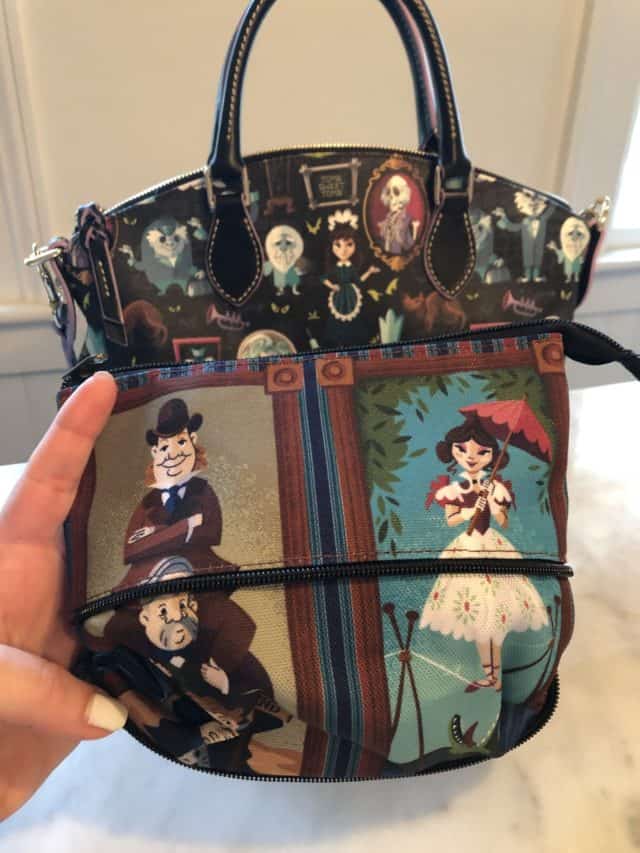 The first Harveys Haunted Mansion bag I acquired is this amazing poster tote featuring original poster artwork from the Disneyland version of the ride.
You can read more about Harveys attraction poster tote collection in my first Disney purse post.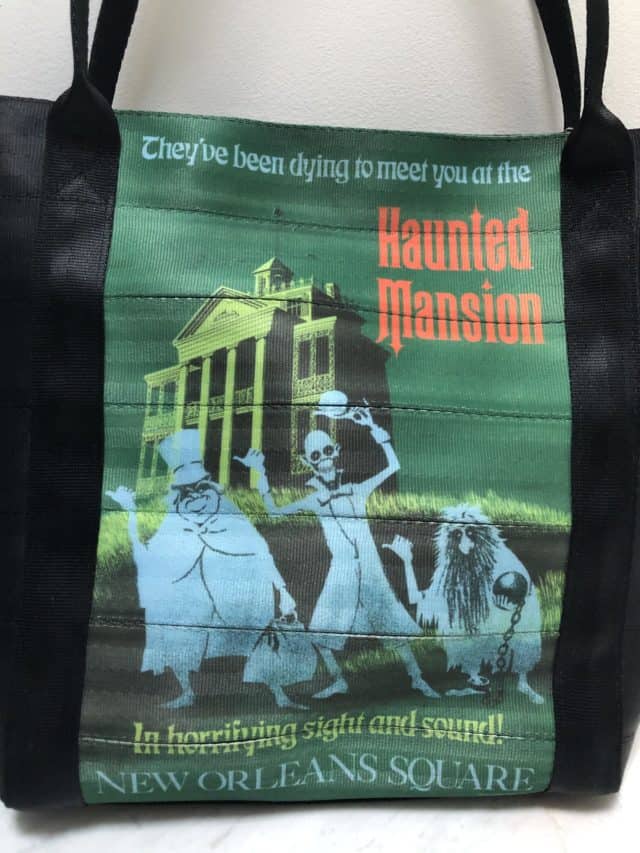 Shown below is the poster tote accessorized with my Haunted Mansion wallpaper sunglasses and Madame Leota purse charm I purchased from an Etsy seller.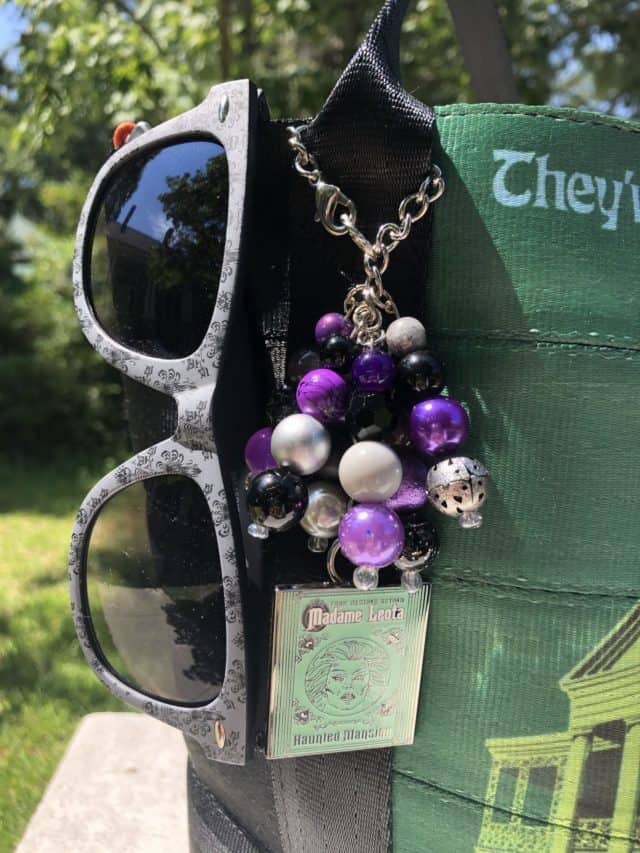 My favorite Harveys Haunted Mansion bag, and possibly my favorite Haunted Mansion purse in my collection, is the tote created by the artist "Shag" for the 50th anniversary of the Haunted Mansion in 2019.
I wasn't able to acquire one until November last year so this will be my first Halloween season carrying this bag and I'm so excited!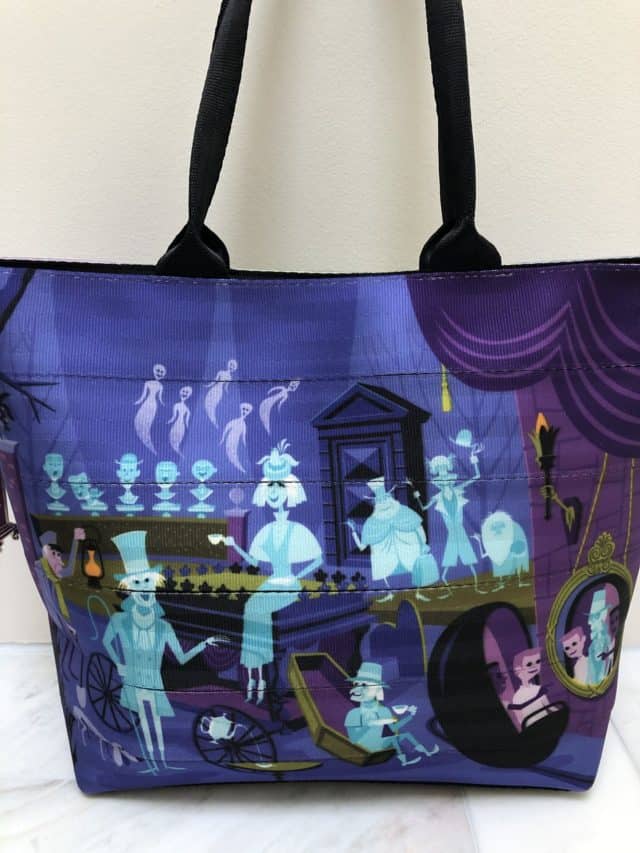 The bag is truly a work of art featuring a wrap around design of the ride.
My favorite is the depiction of ballroom scene and the Hatbox Ghost.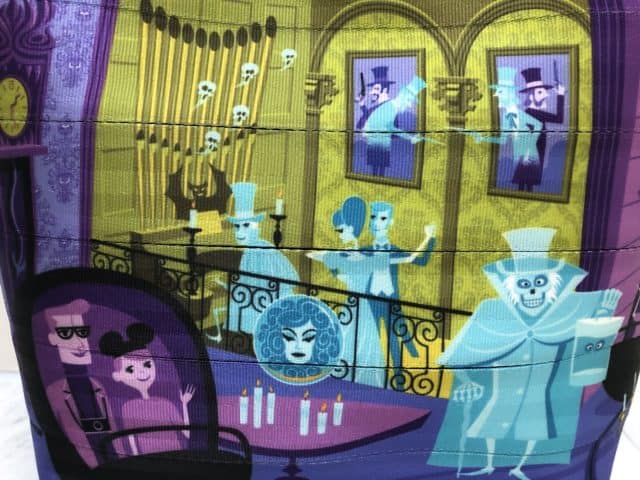 Like all Harveys bags it includes a fun charm – this one features the Haunted Mansion hearse, Hatbox Ghost, candelabra and grandfather clock.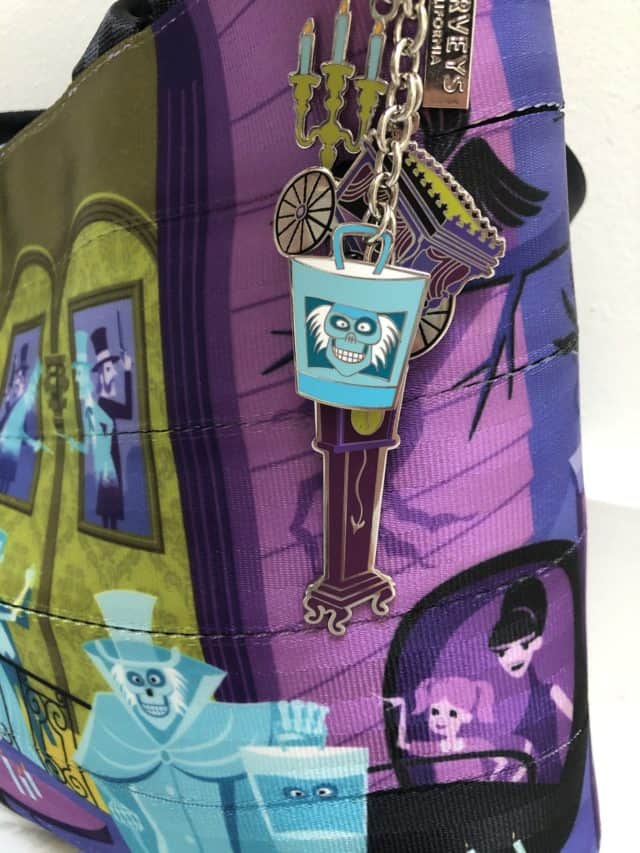 I love the details like the doom buggy zipper pull and Haunted Mansion wallpaper lining.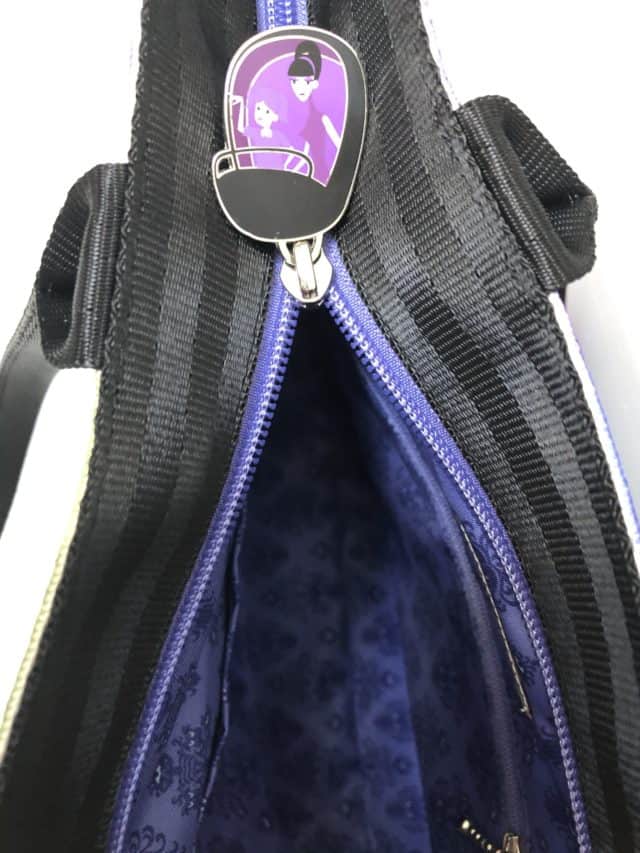 Nightmare Before Christmas Purses
Nightmare Before Christmas definitely has its own cult following.
The movie is a personal favorite of mine and meeting Jack and Sally while dressed as Sally and Barrel is one of my favorite MNSSHP memories.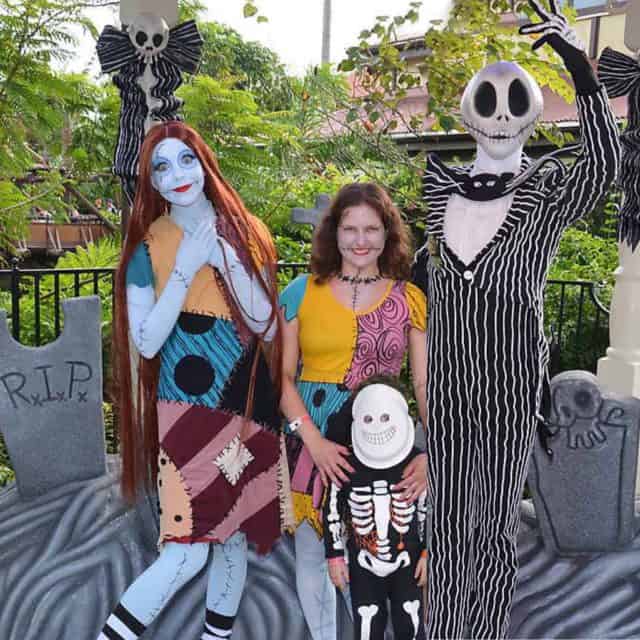 When I first saw Harveys Nightmare Before Christmas line it was love at first sight! I think Harveys has done an amazing job at creating original designs in their NBC collections.
Maybe it's because the seatbelts stitched together remind me of Sally, but there is something about Harveys and NBC that go so well together.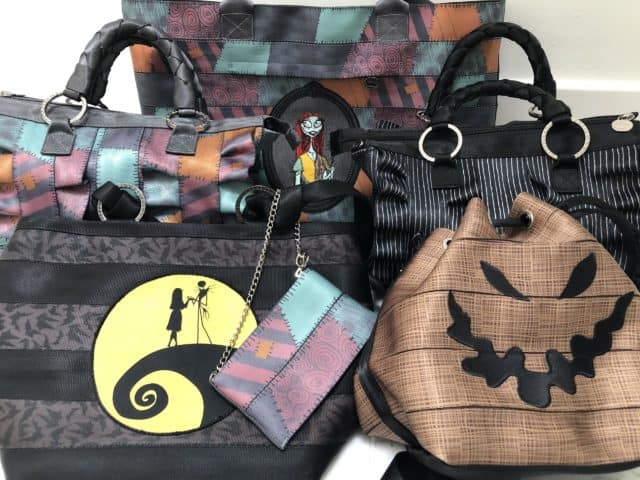 This carriage ring tote was one of the first NBC bags I purchased and it is still one of my favorites.
I love the bats on the belts and the silhouette of Jack and Sally in the moonlight standing on Spiral Hill.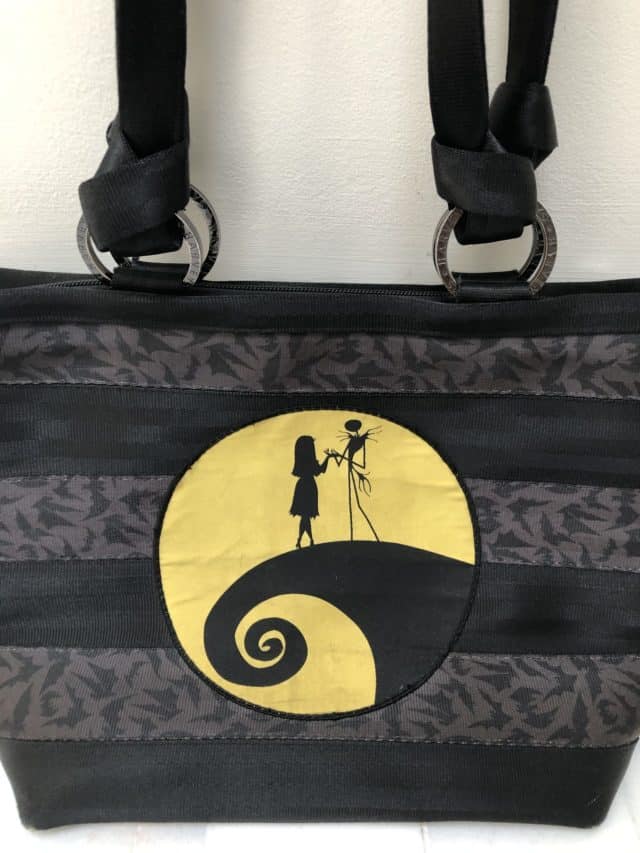 This oversized tote is called a "wanderer". It's great for overnight trips and as an airplane carry-on.
I love the patchwork pattern and portrait of Sally featured on this side.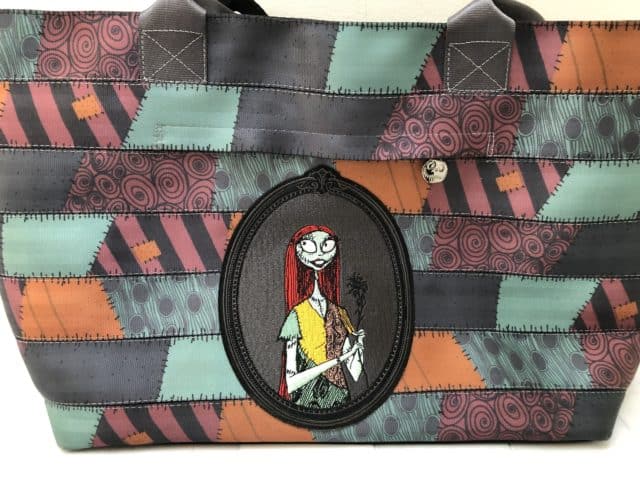 One of the best things about this bag is that it's double sided.
The other side features Jack pinstripes on the belts and a portrait of the Pumpkin King.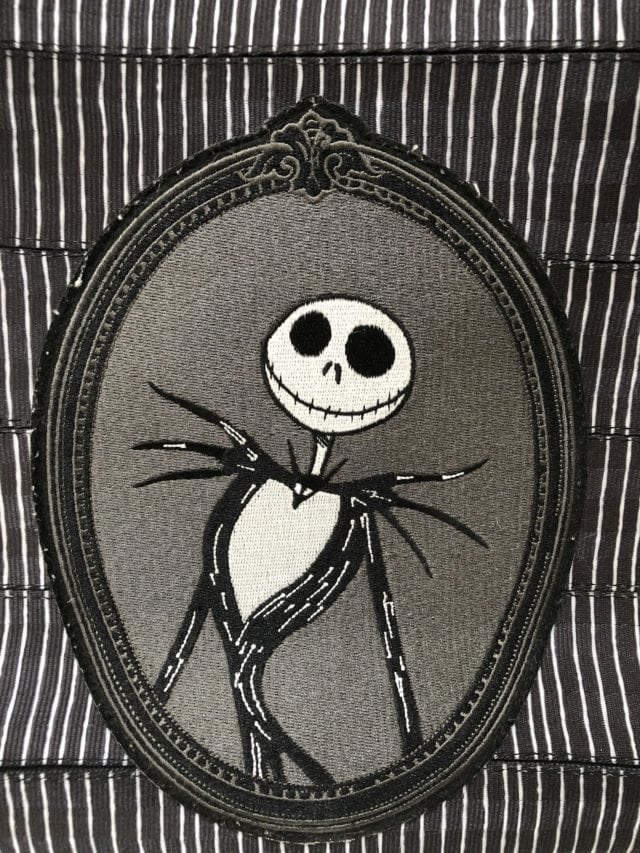 Other fun details include Jack's skeleton face as a zipper pull and a lining featuring Lock, Shock and Barrel.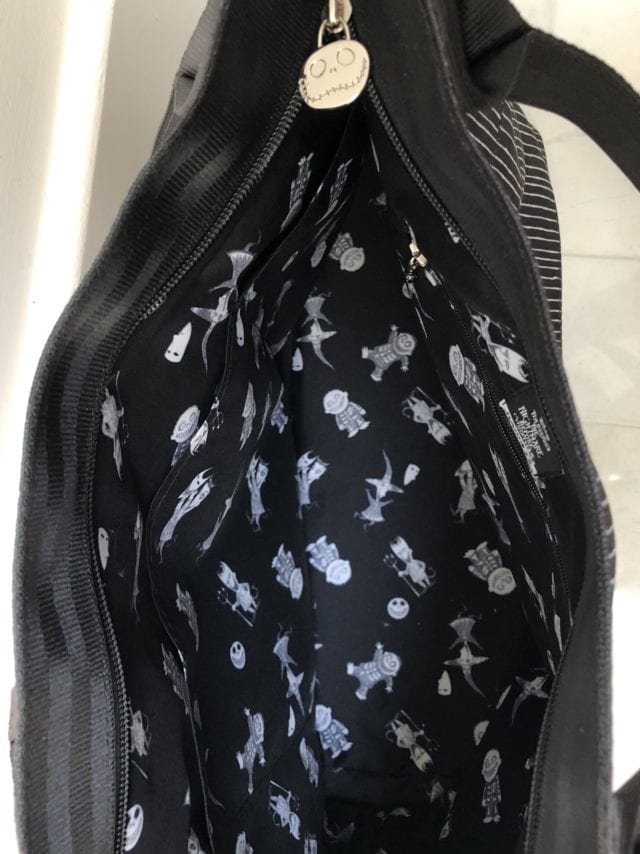 This "parkhopper" style bag with an Oogie Boogie design is one of the most fun and creative bags in this collection.
I also think the nature of Oogie Boogie, who is basically a stitched together burlap sack, goes so well with the Harveys design.
It can be carried as a crossbody or a backpack. Perfect for a trip to a pumpkin patch or trick-or-treating!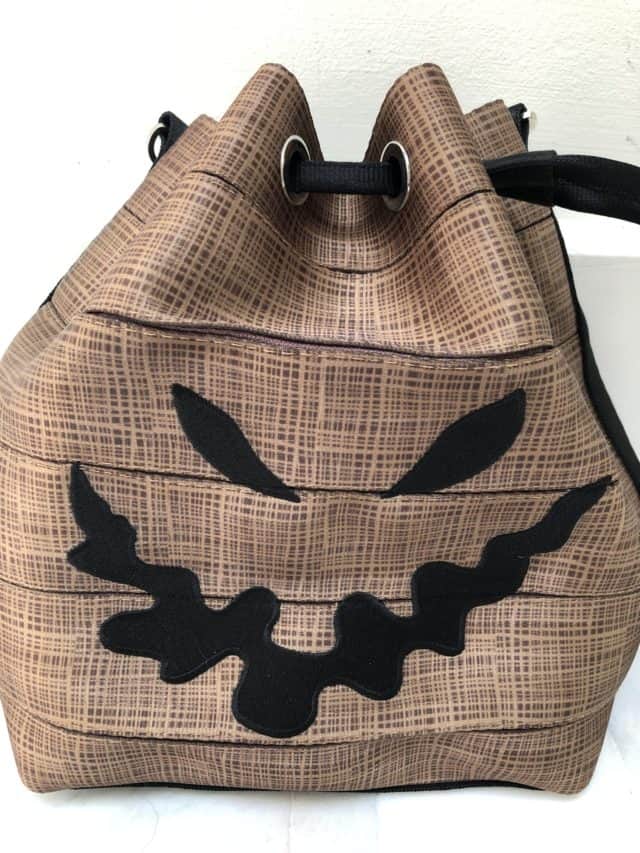 I purchased this adorable Oogie Boogie purse charm separately from an Etsy seller and move it around to different NBC bags.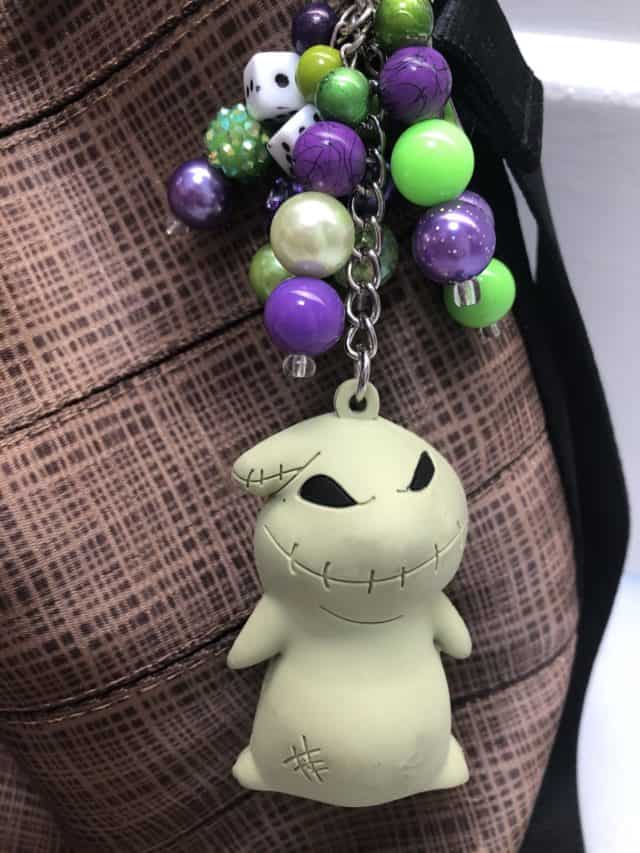 These matching Jack and Sally "Lola" purses are some of my absolute favorite bags! They are just so beautiful!
Because of the extra belts needed for the ruffles and braided handles they are a bit heavier than my other bags, but I still love them! They're a more subtle nod to NBC and therefore I'm more likely to use them year-round.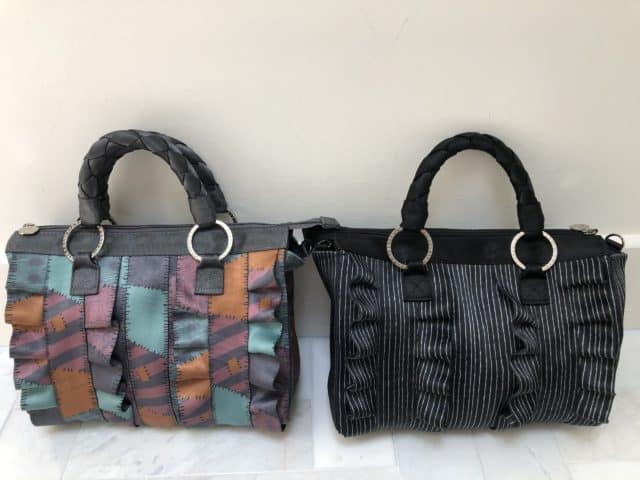 Last but not least I have this adorable Sally coin purse which I sometimes use inside other NBC bags.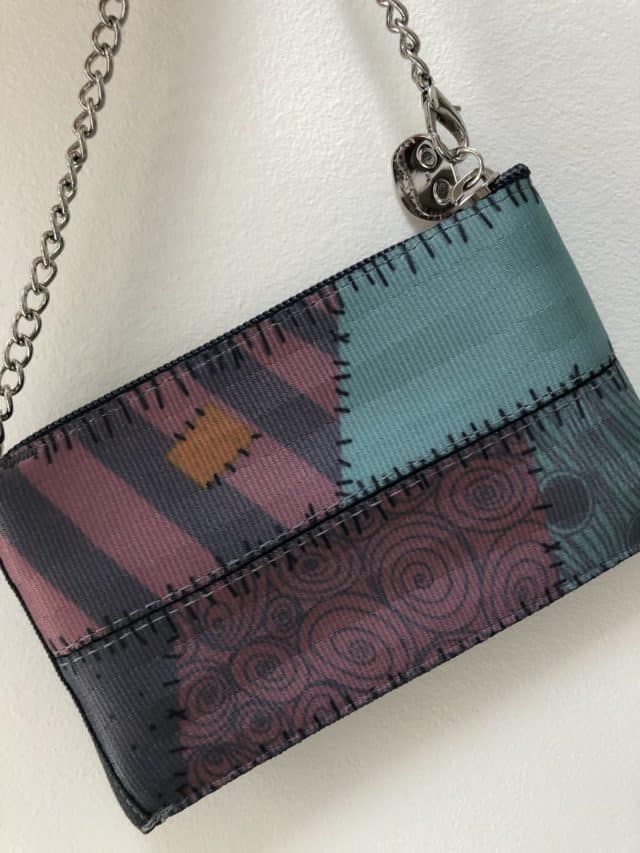 Thanks for joining me on this fun journey into my purse closet!
I plan to write a few more purse posts digging deeper into some of my other favorite prints in my collection.
If you'd like to see more of my collection, you can read Part 1 here, Part 3 (about my Christmas themed purses) here and Part 4 (about my Spring purse collection) here and Part 5 (about my Summer purse collection) here.
Comment on Facebook and let me know if there are any specific purse reviews you'd like to see next time! I would also love to see pictures of your own Disney purse collections!
Ashley Beckwith McKellar
Follow me on Instagram: @disneyparksmom