We can't figure out why one Disney resort gets such bad reviews. It's really not as bad as we thought it would be!
Disney's All-Star Music Resort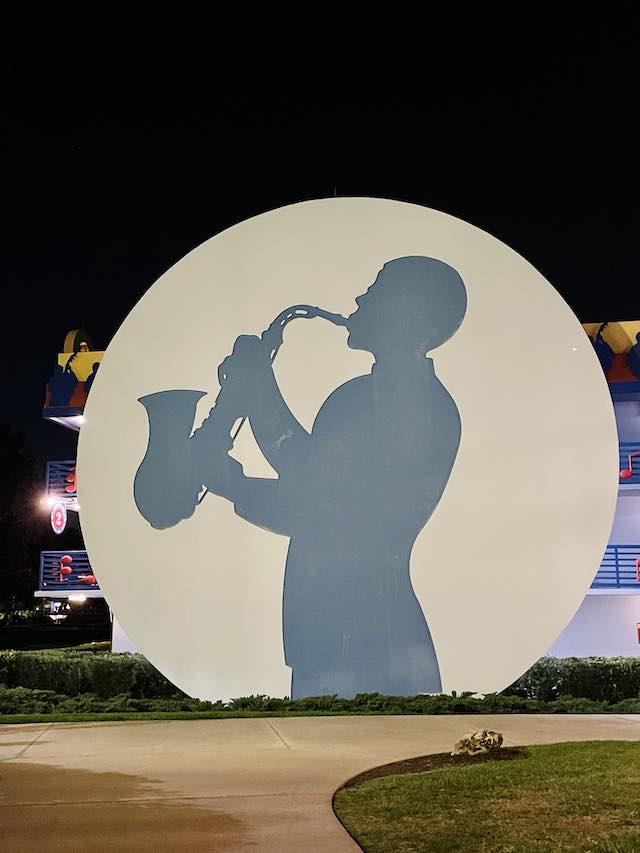 My family and I (Katie P) heard plenty of naysaying about Disney's All-Star Value Resorts. So, I was hesitant to book a last-minute stay at Disney's All-Star Music Resort.
However, my entire family was pleasantly surprised by our stay at Disney's All-Star Music Resort! In fact, my kids, who have stayed in multiple deluxe accommodations including Disney's Polynesian Resort, Jambo House at Disney's Animal Kingdom Lodge, and The Villas at Disney's BoardWalk Inn are already asking to return to All-Star Music!
So what makes Disney's All-Star Music appealing enough for kids to compete with Deluxe accommodations? Here is a list of 5 things that were MUCH better than we expected.
1. The Theming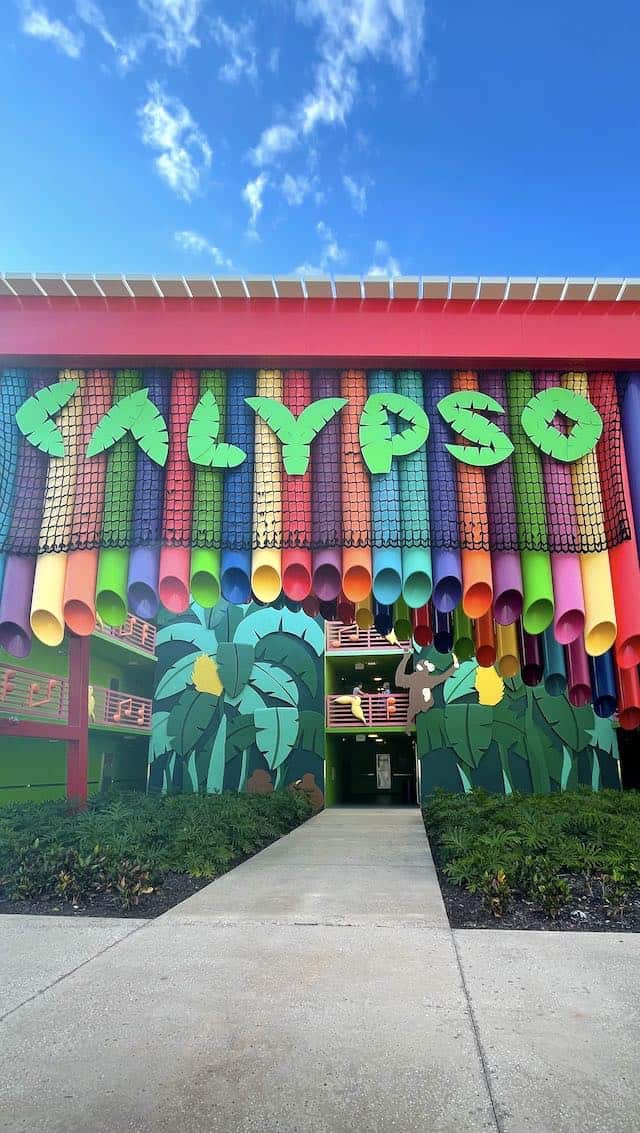 One of the things that some people find off-putting about Disney Value resorts is the larger-than-life and heavily-themed decor. Some Disney Guests prefer resorts that have more subtle elegance and sophisticated theming with mere touches of Disney. The All-Star Resorts are definitely in-your-face in terms of all that is big, bright, and colorful.
However, it is perfect for little kids and dreamers of all ages who want all the whimsy. As impressive as some of the moderate and deluxe resorts are, they can feel like a "don't touch anything zone" for little kids. But the value resorts are big, bold, and unbreakable.
Each section of the All-Star Music has its own theme. Those themes are Calypso, Broadway, Country, Jazz, and Rock music. The distinct theming for each makes navigating the resort fun and easy. After all, where else can you say things like, "Go past the Moraccas and keep walking until you get to the boots!"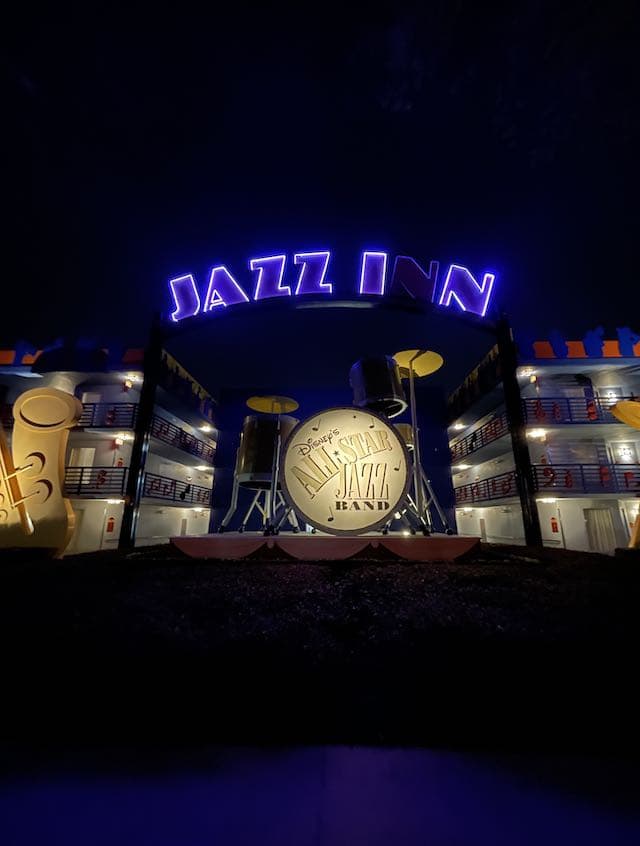 Plus kids LOVE those giant statues around the resort. My own little ones particularly liked the huge drum set in front of our building in the Jazz section.
Perhaps I would feel differently if I didn't have kids along with me, but I like the unrestrained fun of the decor. Overall, it truly looks like the type of thing that would come from a child's imagination if they were asked to design their very own hotel.
2. The Rooms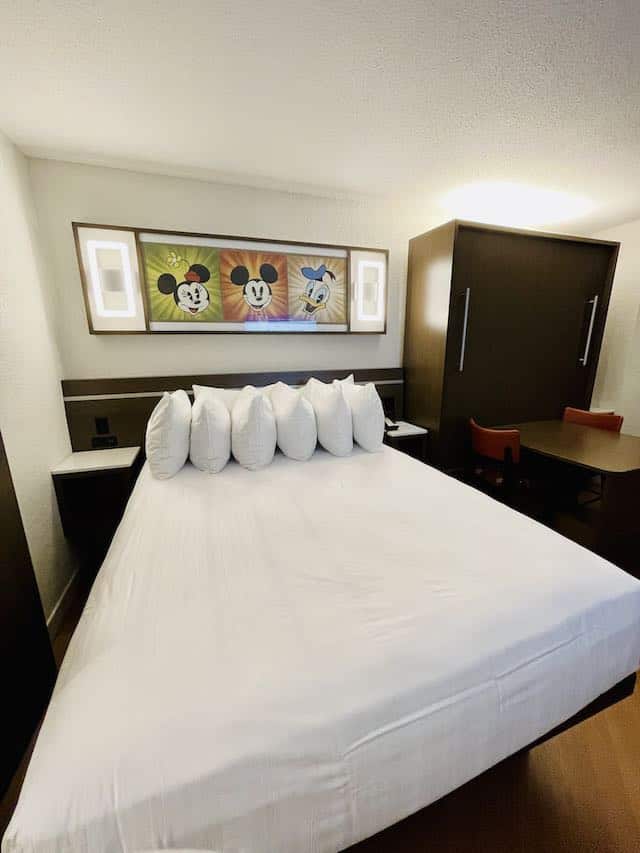 Value resorts have the smallest standard rooms of any resort category. It can make people worry about being cramped. But, we found that another part of the appeal of All-Star Music is that the rooms were recently refurbished and the resulting changes really improved the utilization of space!
Now the rooms have one queen bed. This bed is equipped with plenty of under-the-bed storage.
Another big space saver is the queen-sized murphy bed that pulls down over a table. Not only does it add floor space, but it also adds functionality. My family likes being able to sit at the table for a little bite to eat before we hit the parks or during our mid-day breaks.
Plus, if there is one thing my kids LOVE, it's any type of pull-down bed. They can't wait to see the artwork it hides. When we pulled it down, the big reveal uncovered a cute sleepy-time scene featuring Huey, Dewey, and Louie, Donald Duck's nephews.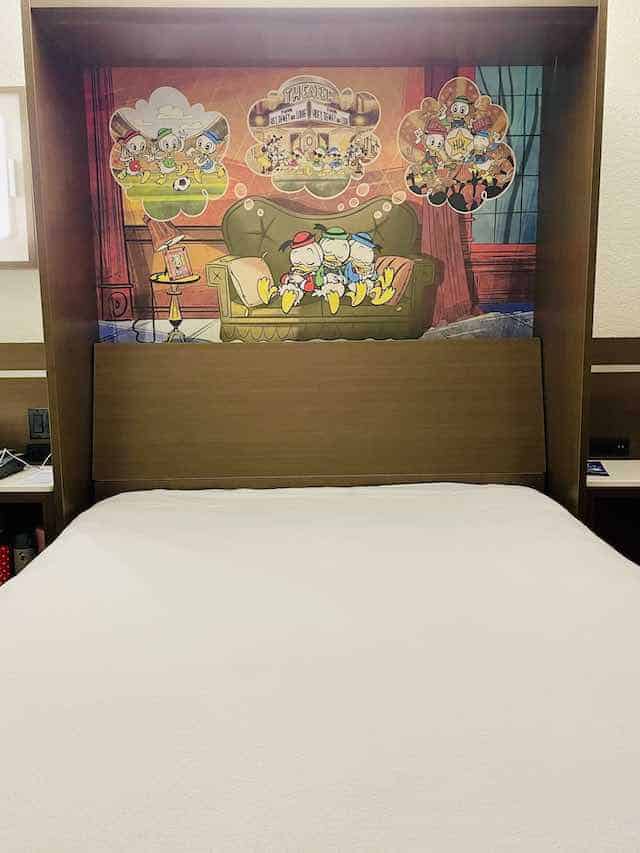 The rooms also feature nightstands with drawers. The spaces include USB ports for charging your phones, tablets, smartwatches, and MagicBand+ (phew! That's a lot of cords).
A flat-screen TV perches atop a dresser with 3 levels of drawers! This dresser also has traditional plugs and USB ports.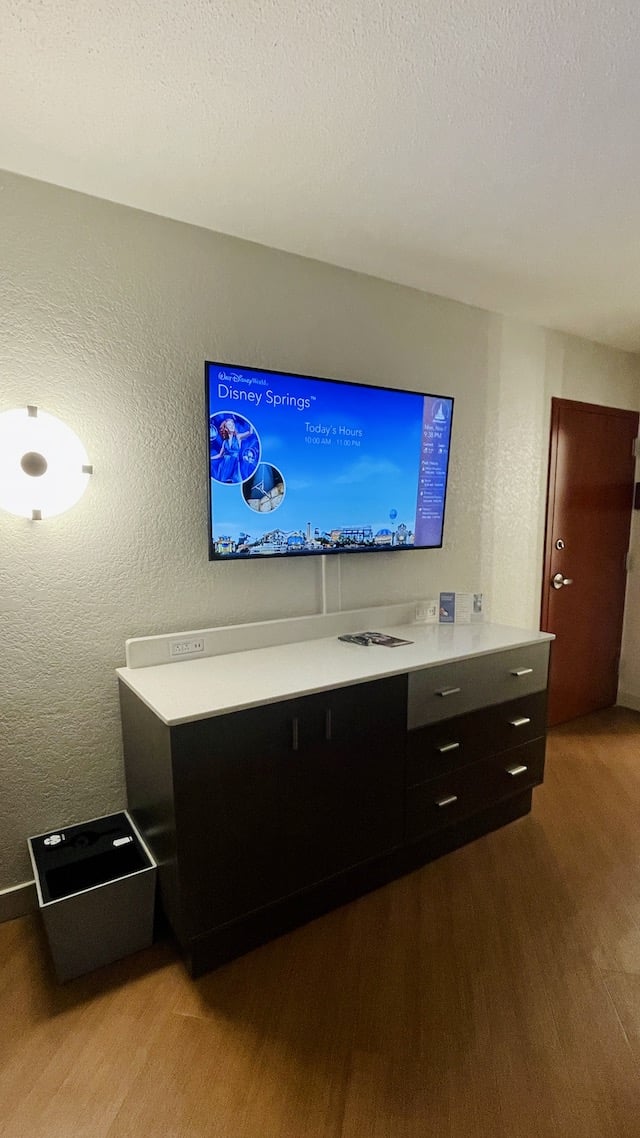 Now, instead of hotel carpeting, the rooms include upgraded flooring. This type of flooring looks so much nicer, and I bet that it is much easier to keep looking clean and nice. I prefer it VASTLY to the old, tired carpets that lay there before.
Finally, the rooms now offer a wooden sliding door instead of a curtain for separation from the bathroom sink and dressing area. This is a great addition because the door helps block out the light and stifle sound a bit more than the old curtain.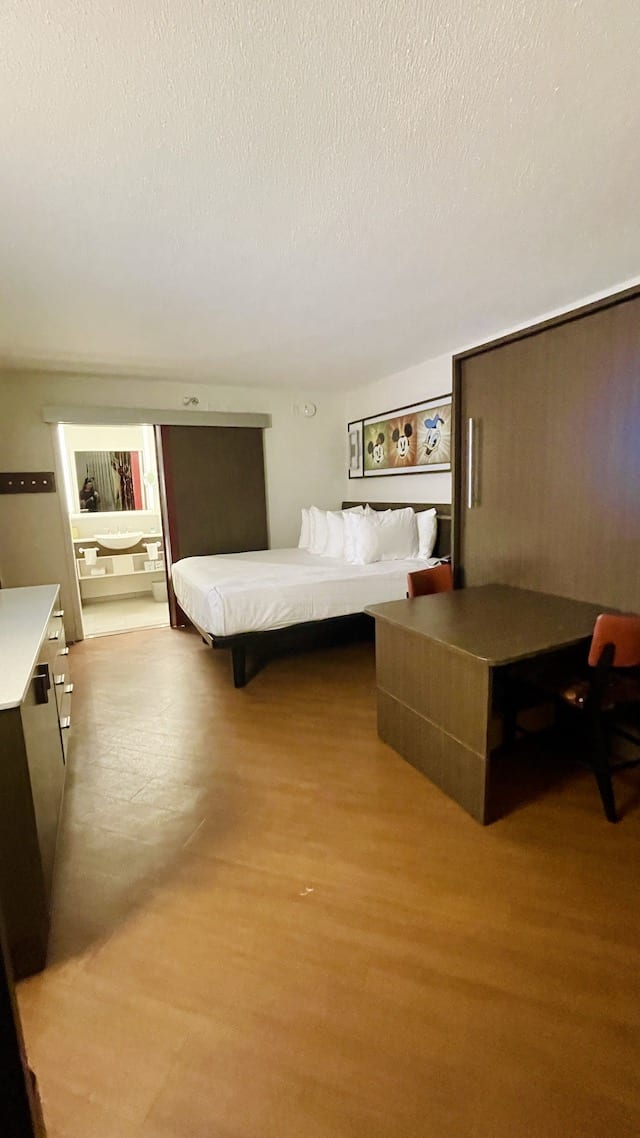 The bathroom area also has an open closet space with several hangers. There is space for storage above it too.
A door also divides this dressing area from the space containing the shower/tub combination and toilet. The division of space definitely makes getting ready a little bit easier.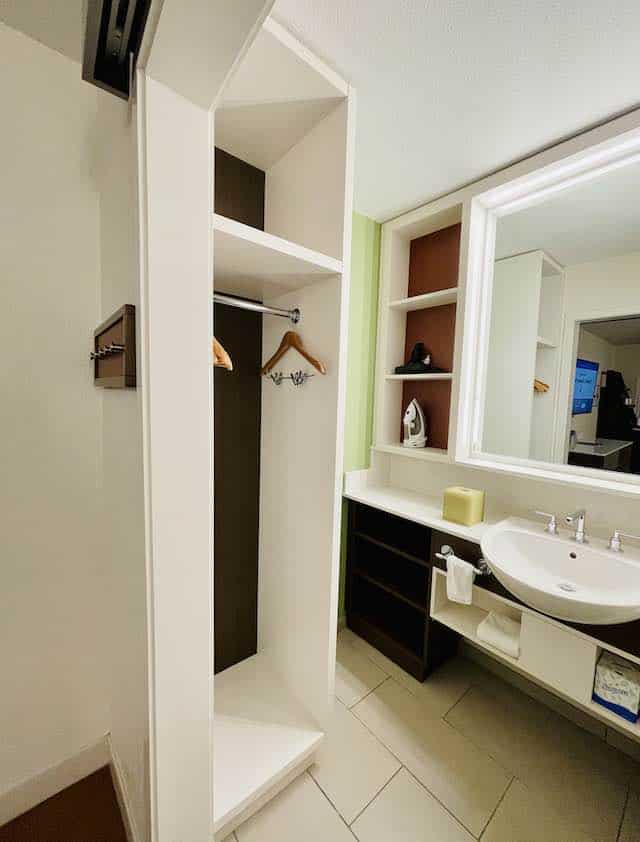 Disney World got it (mostly) RIGHT with the value resort refurbishments. Overall, these rooms, while small, are perfect for a party who plans to spend the majority of the time in the theme parks.
If I could change anything it would be to turn up the dial a few notches on the decor. With so much color and fun happening outside, I wish there were a few more exciting decorations inside the rooms to keep the vibe going.
3. The Pool Scene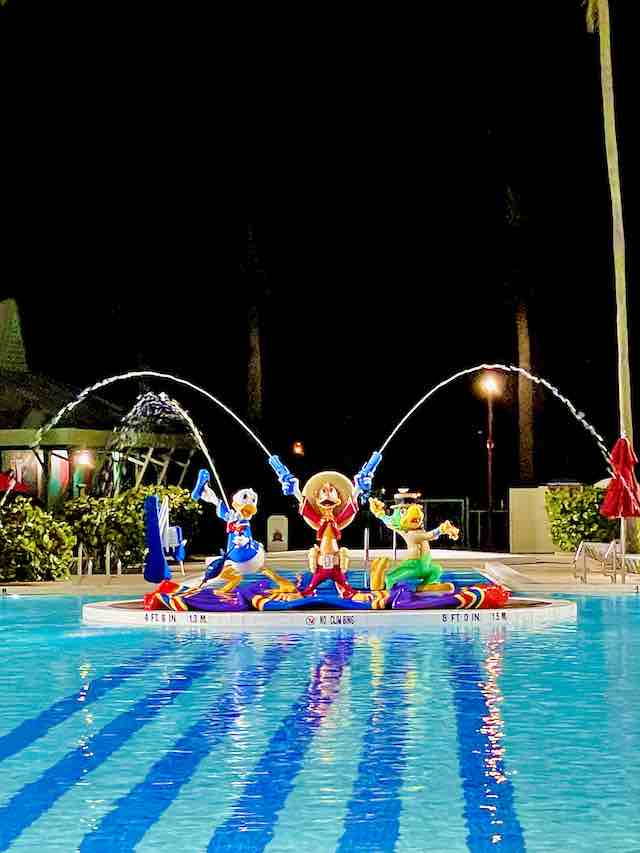 It is true that value resorts have pools. However, my travel party is really fond of deluxe and moderate pools with their hot tubs, heavy theming, water slides, and other exciting features. I was a little worried that the All-Star Music pool scene would be less appealing.
Truthully, I vastly prefer deluxe pools; however, the pool scene at All-Star Music is fun in its own right! It is great for a quick getaway. I knew my family would be tickled by the pool's Three Caballeros fountain. So, I made sure we would have a nice break with time to swim.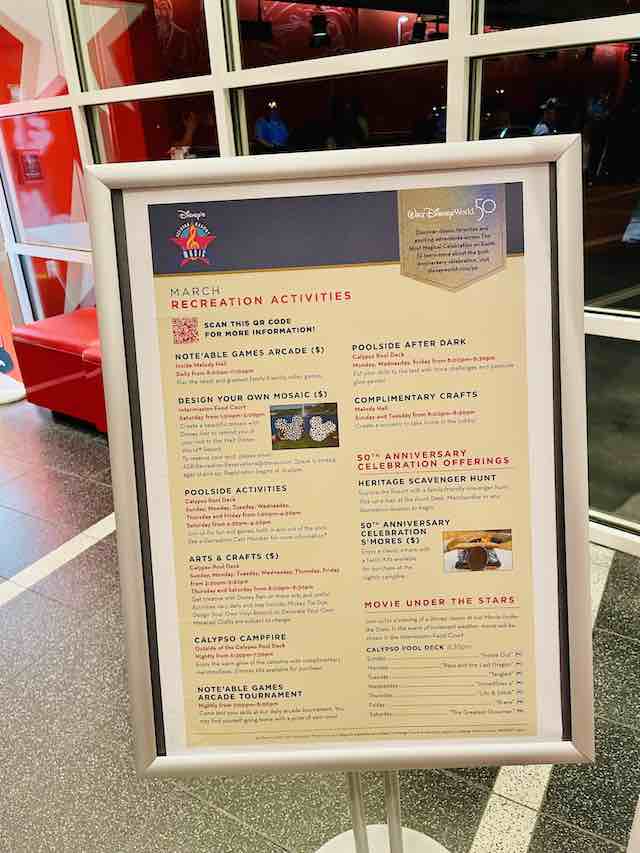 They were also very excited about the poolside activities. These sorts of games and activities are available at all Walt Disney World resorts. However, in the absence of a slide or splash zone, my kiddos were more interested in the activities and could tear themselves out of the water long enough to try a few.
That afternoon, a Mickey Tie Dye t-shirt session was available for $17 per person. My kids LOVE tie dye, so we couldn't pass them up. Not only did the shirts turn out cute, but the experience is one of their favorite things they have done on a Dinsey trip. You can read all about making Mickey Tie Die shirts right here.
Is the pool itself ever going to be one of Disney's best pools? No. But, if your kid loves to swim, it'll do! It's easy to have a good time at All-Star Music.
4. The Food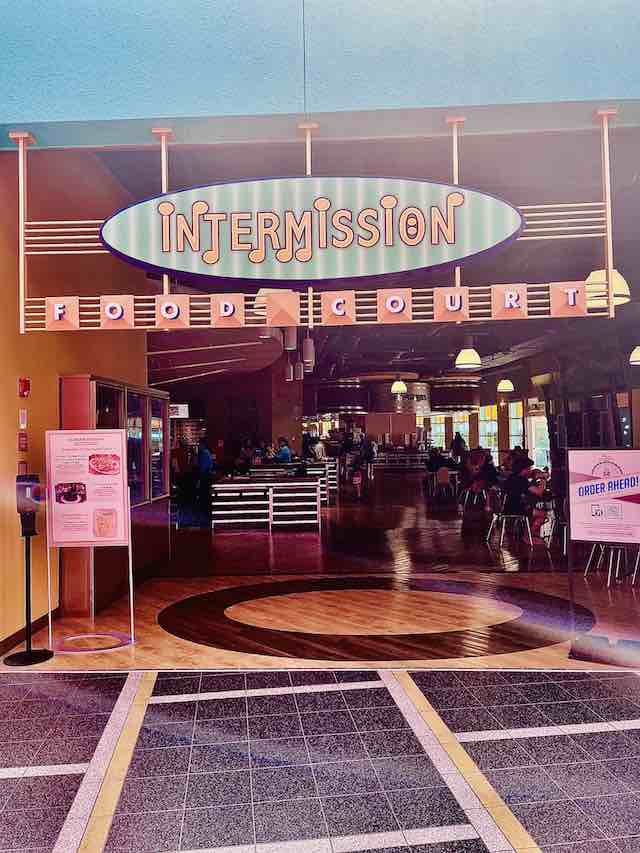 Another thing that seemed underwhelming for someone who loves deluxe accommodations is the idea of staying at a resort where the only food option is a food court. However, the food was another pleasant surprise!
Intermission Food Court, the Quick Service Restaurant at All-Star Music, is like other food courts around Walt Disney World and offers similar menu items. You will find a variety of foods from salad to burgers to grilled salmon.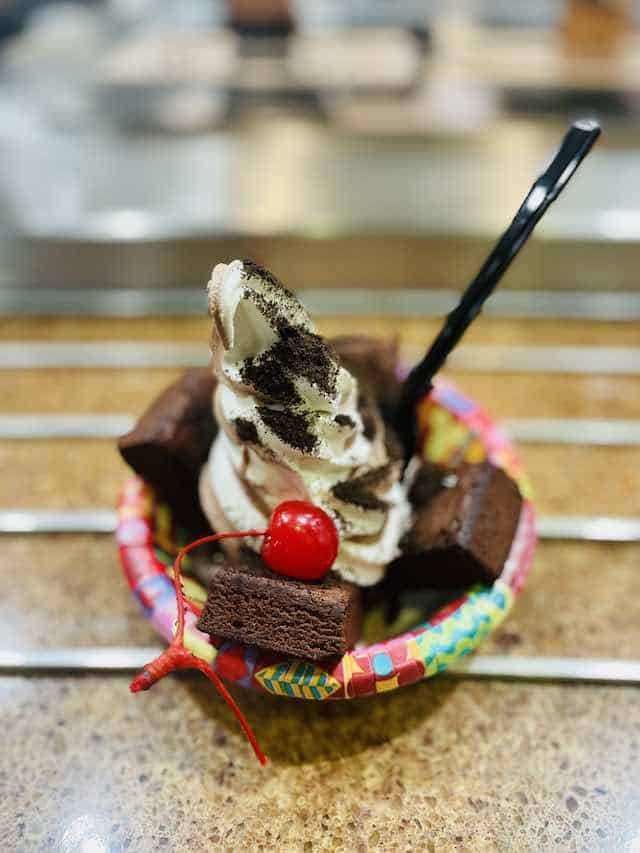 My kids, unsurprisingly, were immediately impressed by the soft-serve ice cream sundae bar. And what child wouldn't be? It is basically like a Subway but for ice cream.
The Cast Members created brownie sundaes for the kids on demand. The resulting ice cream creations received rave reviews.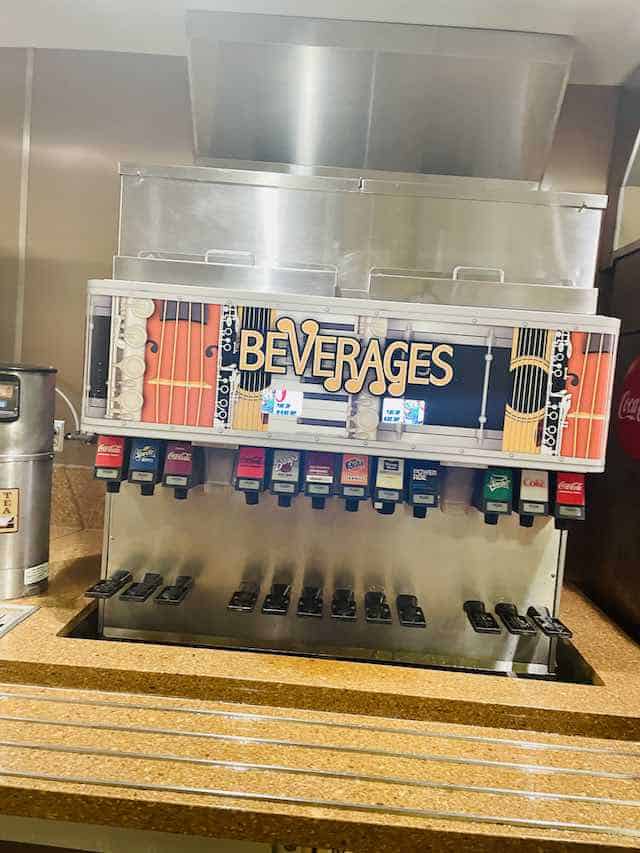 Like all value resorts, All-Star Music includes a refillable drink station. It is perfect for using your refillable mugs during your stay. We thought it was extremely convenient to refill our water bottles on the way to and from the parks.
My favorite part of the food court is that there is a pizza window for your convenience. You can order or mobile order pepperoni or cheese pizza and take it to go.
We used the pizza window one afternoon. Mobile ordering was simple, and our pizza was hot and fresh, much better than the single slices you can order that have been sitting under heat lamps.
We took our pizza to go and took turns dining at the table in our room while we got ready for a night at Magic Kingdom. It was a fantastic time saver!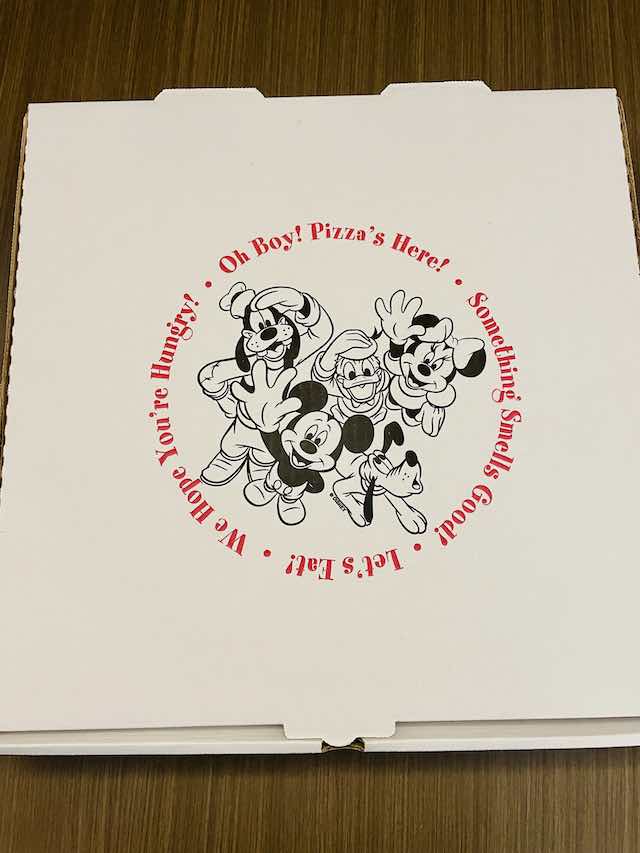 Not only was the to-go box cute, but the pizza was pretty good! We ate every bit of it happily. It was definitely better than the average theme park pizza!
The other refreshment option is the Singing Spirits Pool Bar. It has the same drinks you will find at most Disney pool bars both alcoholic and nonalcoholic.
Overall, in terms of convenience, All-Star Music has some decent options! It is extremely easy to grab a quick meal on the way to and from the parks. Even better, the food has a lot of kid-appeal!
5. The Transportation Situation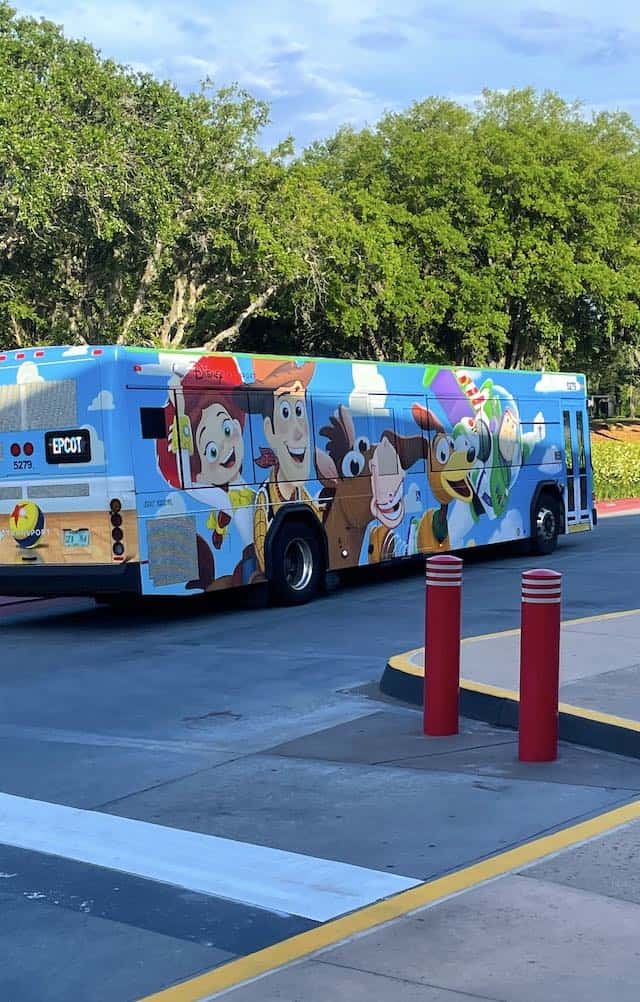 One drawback of the All-Star Resorts is that they only offer bus transportation. However, since there is only one bus stop at All-Star Music, it is not bad at all.
I definitely preferred it to the bus situations at the large resorts with multiple stops such as Old Key West, Saratoga Springs, Port Orleans -Riverside, and Coronado. It is nice knowing that once you get to your resort, you do not have to sit through multiple bus stops.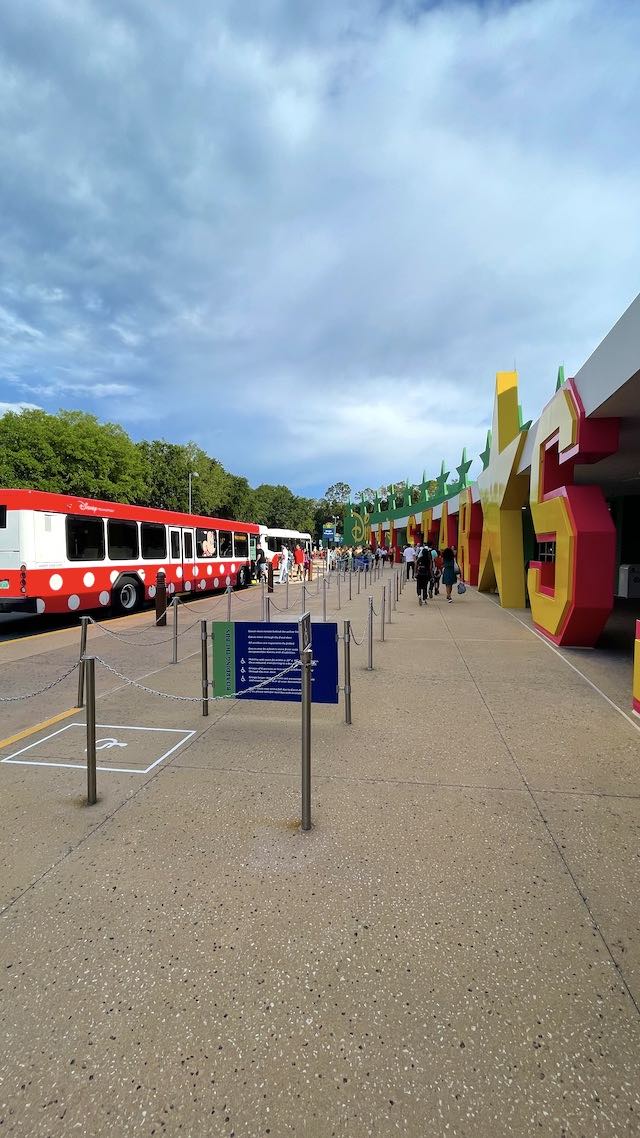 One thing to be aware of is that long lines can accumulate in the mornings. However, you can beat them by being a few steps ahead. If you want to rope drop, arrive at the bus stop an hour before the park opens.
All in all the bus situation was pretty good. In fact, it is actually one of the better bus Disney experiences I have had. Do I prefer Pop Century for access to the Skyliner? Enthusiastically, yes! But, for the savings, it was well worth it to stay at All-Star Music.
Should You Book All-Star Music?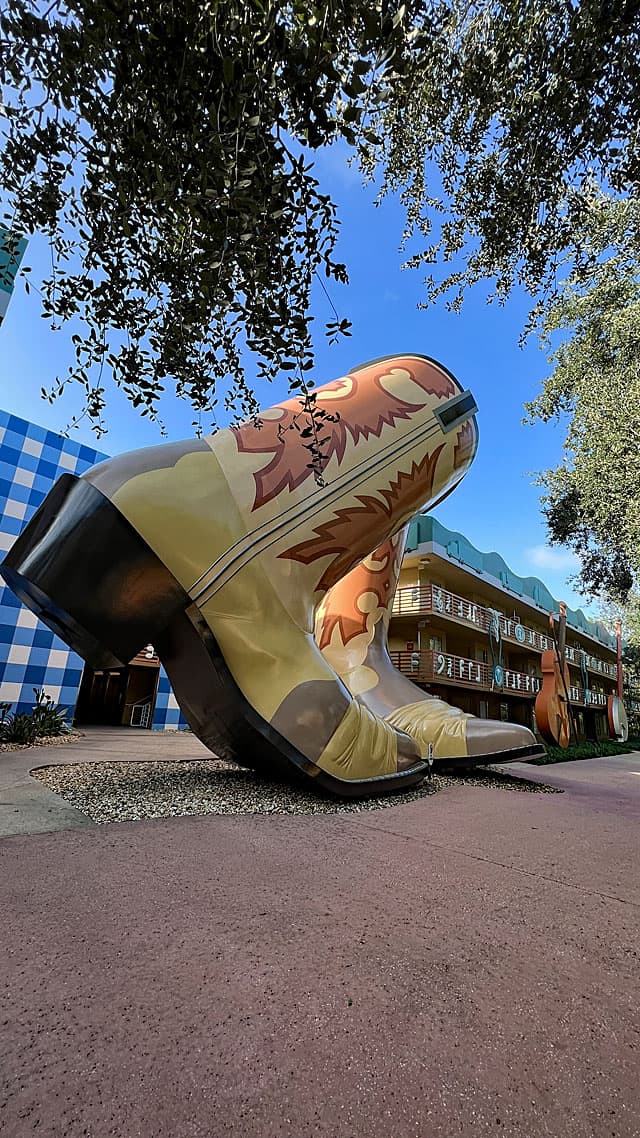 If you are on a tight budget and you want to stay on Disney property, I would not hesitate to book All-Star Music. I would especially recommend it if you are planning to spend most of your time in the parks.
Also if you have small children, they will enjoy the theming at All-Star Music. It's so much fun for little imaginations to take it all in.
If you do not plan to bring a car, it might be worth it to splurge on a preferred room, closer to the amenities and the bus stop. However, if you plan to drive to your Disney destinations, this will not matter.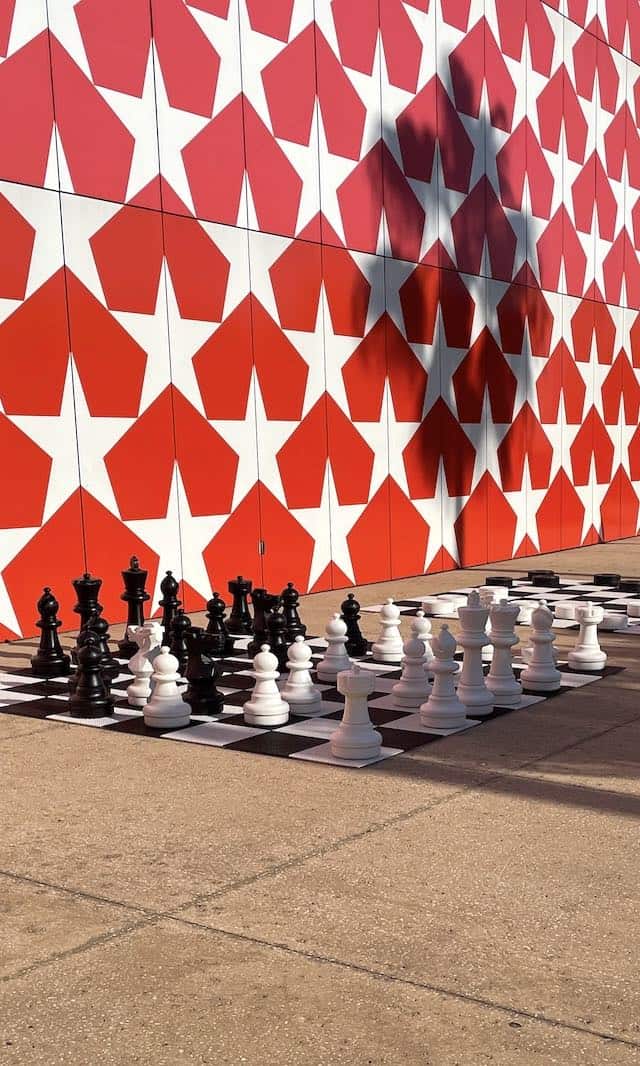 Moreover, if you plan to visit Epcot and Hollywood Studios less than you plan to visit other places around Walt Disney World, not having Skyliner access is not a dealbreaker. Plus, the bus situation at All-Star Music is not bad since there is only one stop.
However, if you are taking a once-in-a-lifetime trip or are traveling for a special occasion, you might consider saving and splurging on an Epcot area Resort or a Monorail Resort for greater flexibility in transportation options. You might also prefer deluxe accommodations if you will have a resort-heavy trip and would prefer to have great pools and table-service dining options.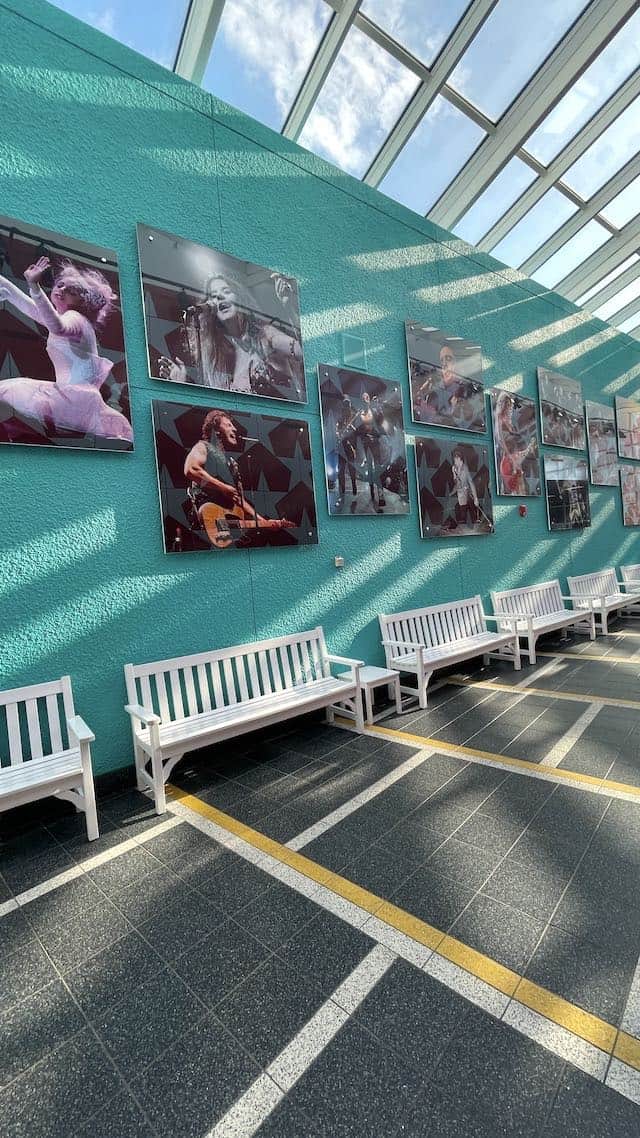 Honestly, I do not know why All-Star Music doesn't get more love. It's a perfectly nice little Value Resort, and I would stay here again!
Do you know someone who is traveling to Walt Disney World and would love to know more about All-Star Music? Be sure to pass this along to them to help them make their decisions about where to stay. Do you love All-Star Music? Let us know your thoughts in the comments.