Is Paddlefish a good backup plan for when the hottest Disney Dining reservations are gone? Here is our experience.
Paddlefish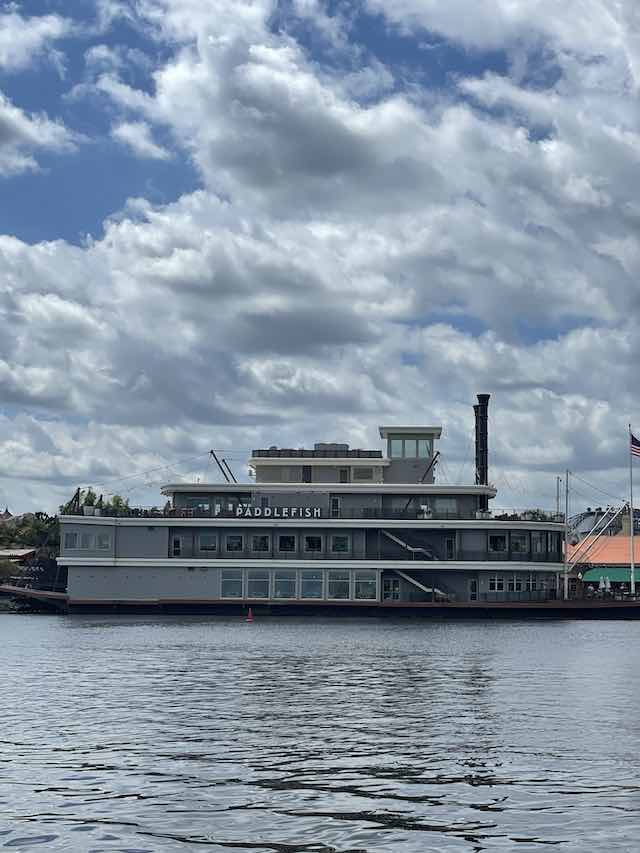 Paddlefish is probably one of the most recognizable restaurants in Disney Springs. It is the steamboat restaurant at The Landing that is clearly visible from the water as you approach by water taxi.
If you have been to Disney Springs, you have probably seen it. However, this is not a restaurant that often makes anyone's "must have" reservation list for trips to Walt Disney World.
It is often overshadowed by other Disney Springs restaurants that are consistently great like Boathouse, Chef Art Smith's Homecomin', Morimoto Asia, and one of my (Katie's) new favorites, Raglan Road. People even skip it in favor of popular quick service options like Polite Pig or Chicken Guy.
By and large it receives pretty decent ratings from places like Trip Advisor with the occasional stellar or bad review peppered in there. But, is it truly worth a look if you are trying to plan your dream vacation? Here are our thoughts!
Availability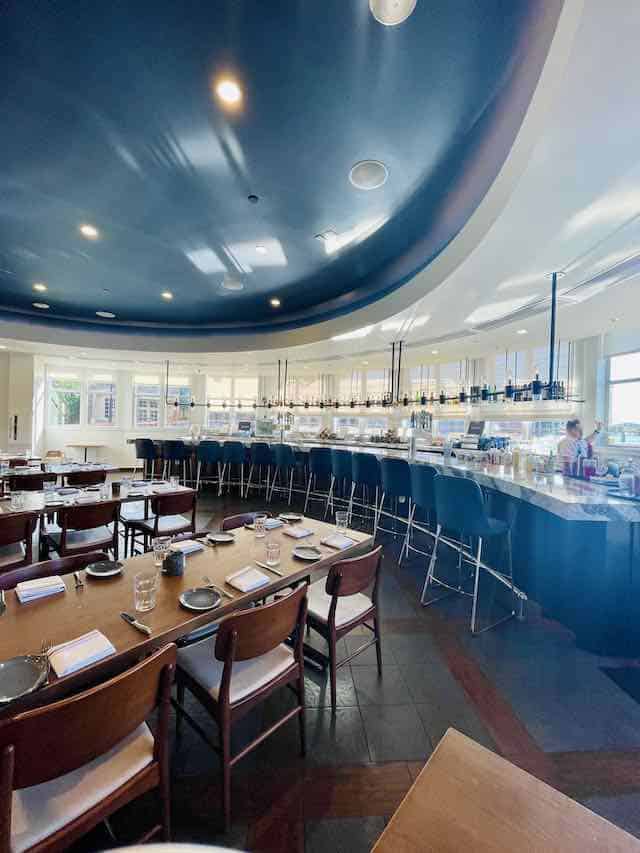 Paddlefish is one of the easiest reservations to score in Disney Springs. The ease of grabbing it is actually what took me there on this particular trip. I was making a last-minute reservation for a party of 12 for our rest day in Disney Springs, and Paddlefish had availability.
You can either call or use My Disney Experience to reserve Paddlefish. My group booked 2 separate reservations for 6 Guests; however, we had no trouble combining our reservations and getting a large table to accommodate the whole party when we arrived. It is a pretty large restaurant, and it feels like it is built for big groups.
Atmosphere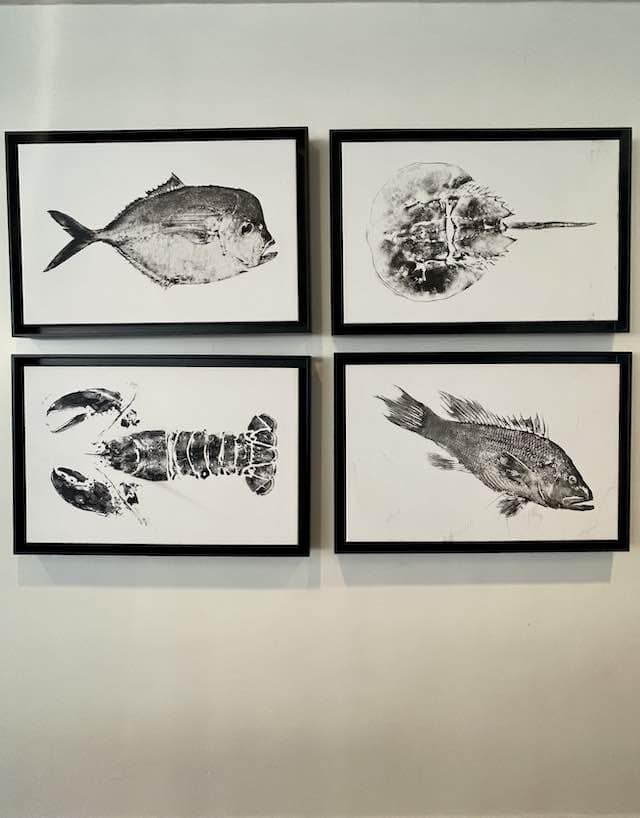 Paddlefish is well-themed considering it is a seafood restaurant in an actual boat. It is loud and bright. It has kitschy, touristy vibes that you might find at beach destinations. But, sometimes that's not a bad thing.
Our large party did not have to wait long for our table, even after our request to combine our 2 smaller groups. As soon as we all arrived, we were shown to our table.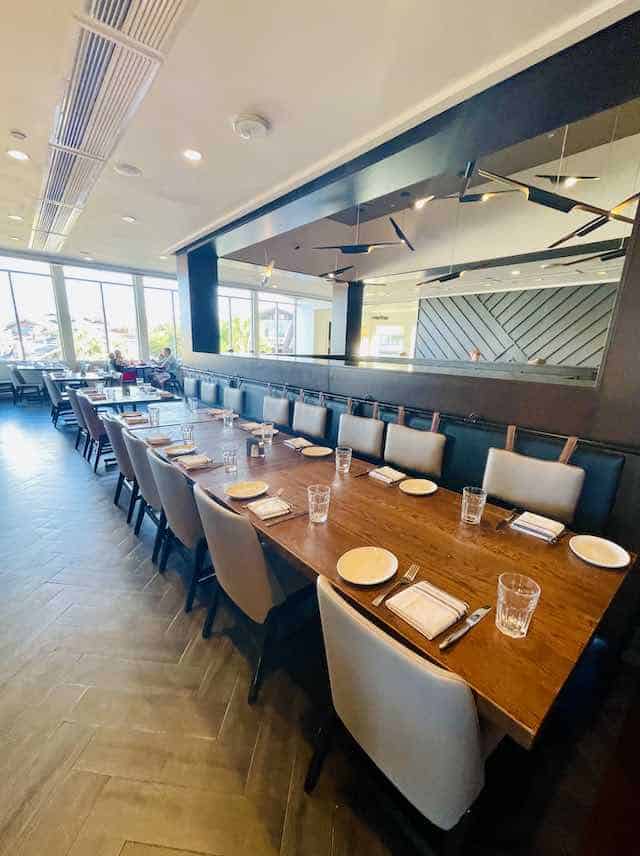 We were seated upstairs, and it felt significantly calmer there than on the main floor. We had nice views of the water, and the kids in our travel party thought it was really neat to be dining onboard a boat, particularly on the upper floor.
This did not strike me as a place for a romantic meal with big plans like a proposal. However, for a group of 6 adults and 6 kids looking to have a fun night, it felt just about perfect.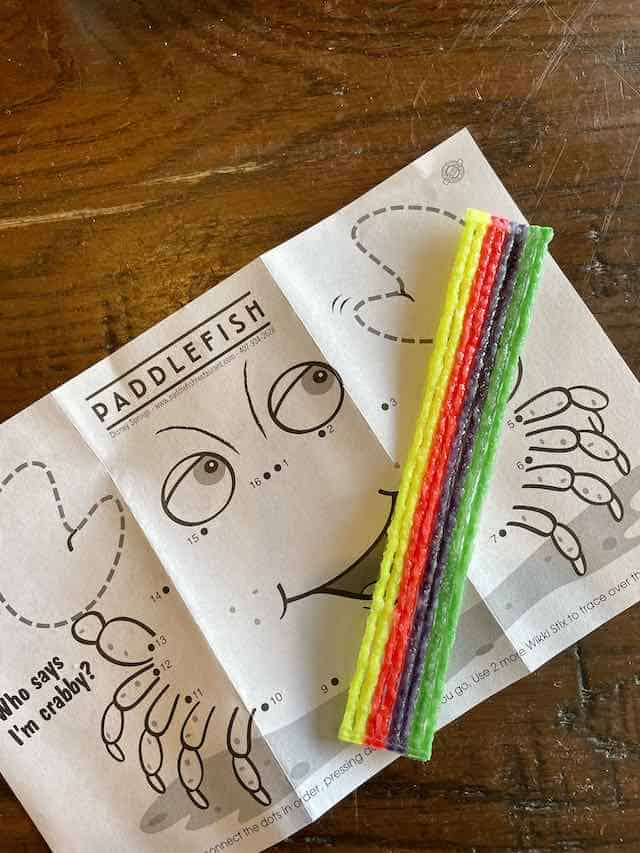 Plus, the restaurant is one of the only Disney signature restaurants that feels genuinely family-friendly regardless of your child's experience level with fine dining. Certainly, children are welcome in nearly every Disney World restaurant barring the few with age restrictions, but often I hear families wondering if their children will truly be accepted at Signature locations.
There is no "adult only unless your children are the be seen and not heard type" vibe here. In fact, they provided some pretty good children's restaurant activities, which we appreciated. The kids enjoyed their dot-to-dot sheets and their Wikistix.
Menu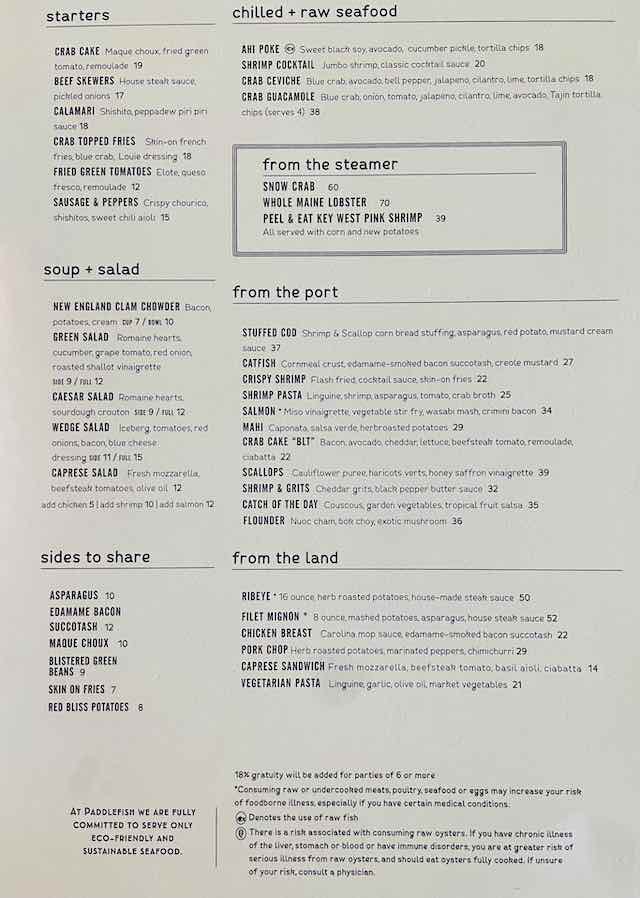 The dinner menu options are rather expensive. This is to be expected since Paddlefish falls into the fine/signature dining category. Pricing is going to be similar to what you would find at other signature seafood Disney Restaurants such as Flying Fish and Boathouse. Adult entrees range from $25-65, and kids' meals range from $9-15.
While seafood is the star of the show offering a range of options, there are also entrees such as steak, pork, chicken, and pasta. There are even vegetarian options, though they seem limited.
Bread Service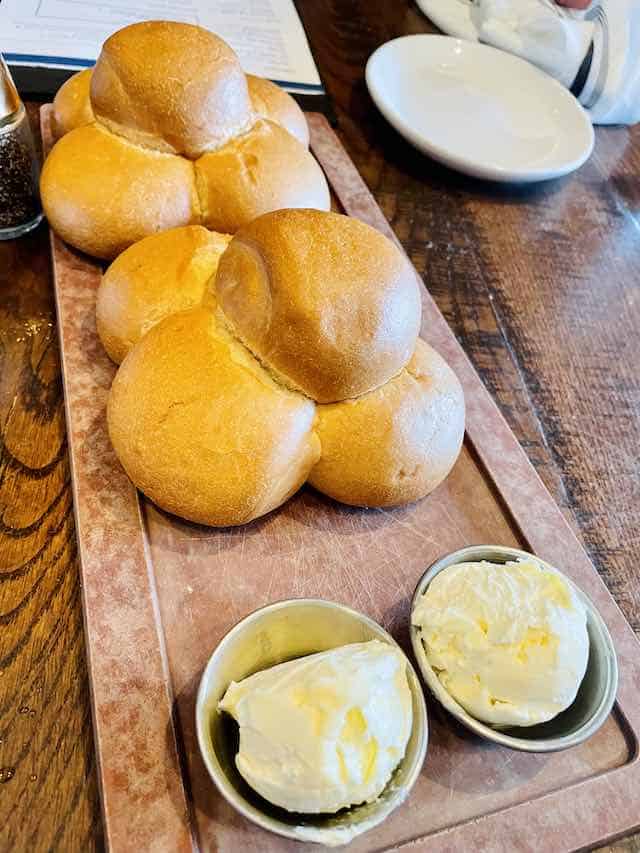 The beard service is complimentary, and it was welcomed since we were all hungry. We were pretty divided on whether we liked it or not. Most of us found it to be bland and low-quality. However, one of our younger travelers felt it was the best bread she had ever had and gobbled it up.
Appetizers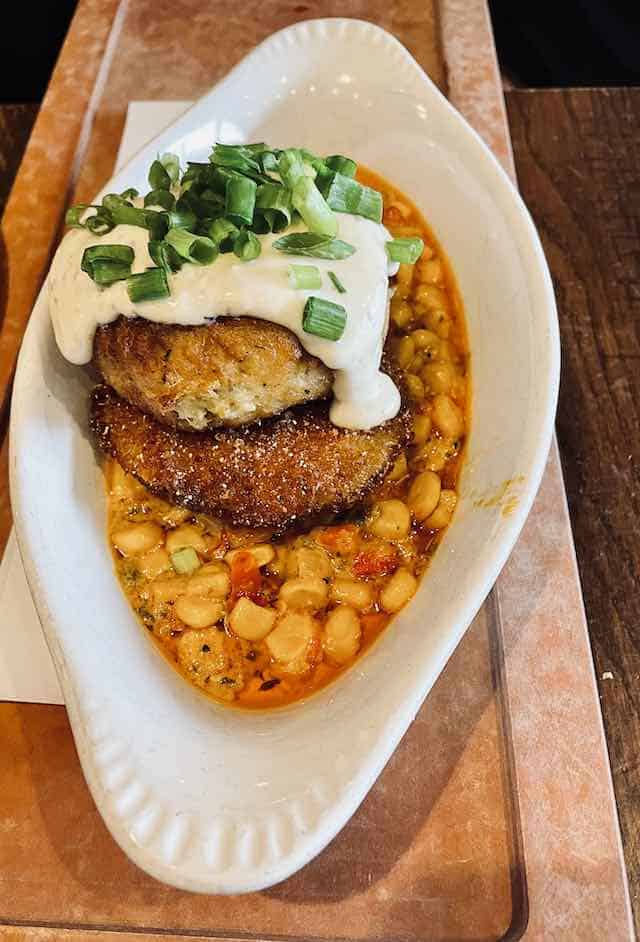 We ordered several things to start the meal. The first was the crabcakes. These are served with crispy chourico, shishitos, and sweet chili aioli.
My friends who ordered these liked them. The flavors were nice, and there was more crab than filler in the mix.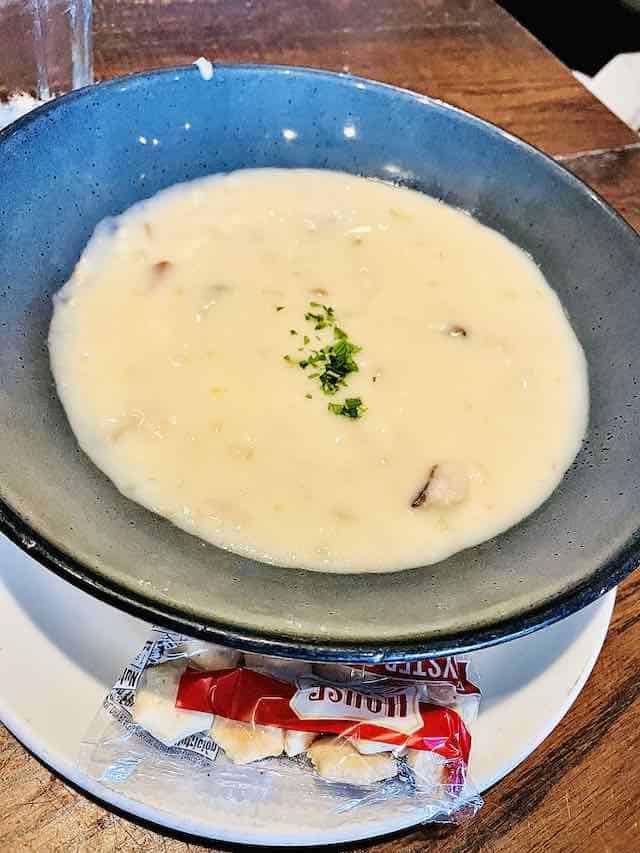 My (Kate) husband ordered the clam chowder. He reported that it had a great flavor and that it was chock full of "stuff." I tried a bit myself and agree it was a nice soup dish.
Finally, one of us had the green salad. This salad was the letdown of the starters. It was very standard and very un-special, and it wasn't even all that green to be honest.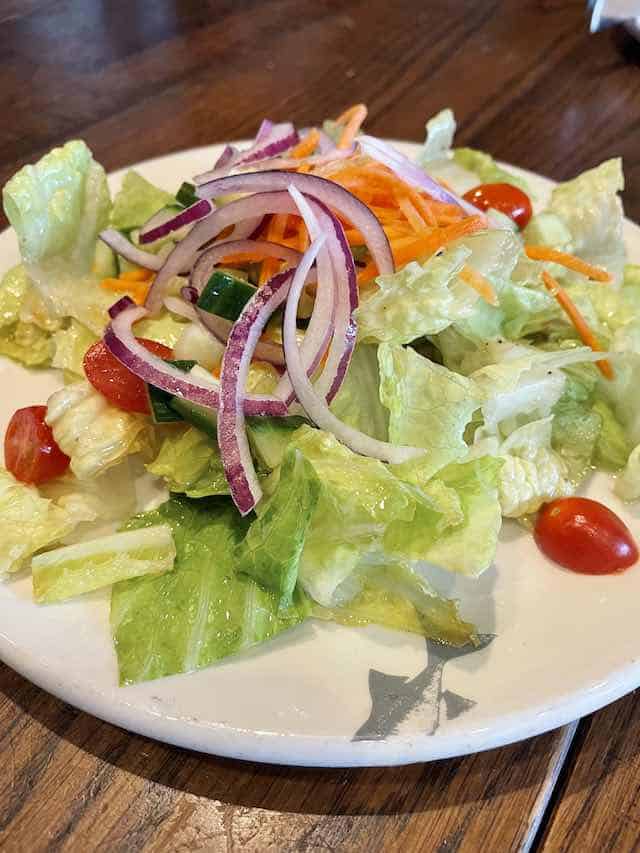 It felt a lot like something you can find in any cafeteria across America. I was a bit disappointed in it, especially for the $9 price tag and would skip it next time. For a list of great Disney salads, head over here.
Drinks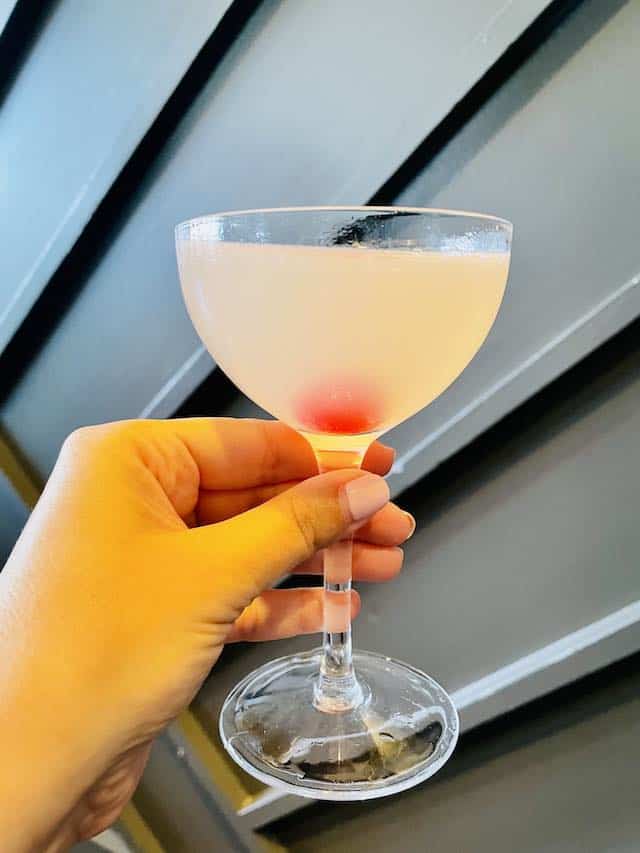 Paddlefish serves a list of libations for those who would like to partake. Several members of our group tried some of the menu items.
One of the more popular ones was Lili's Steamboat Breeze. This drink is a mixture of Broadbent Rose, Cathead Honeysuckle, elderflower, and fresh lemon.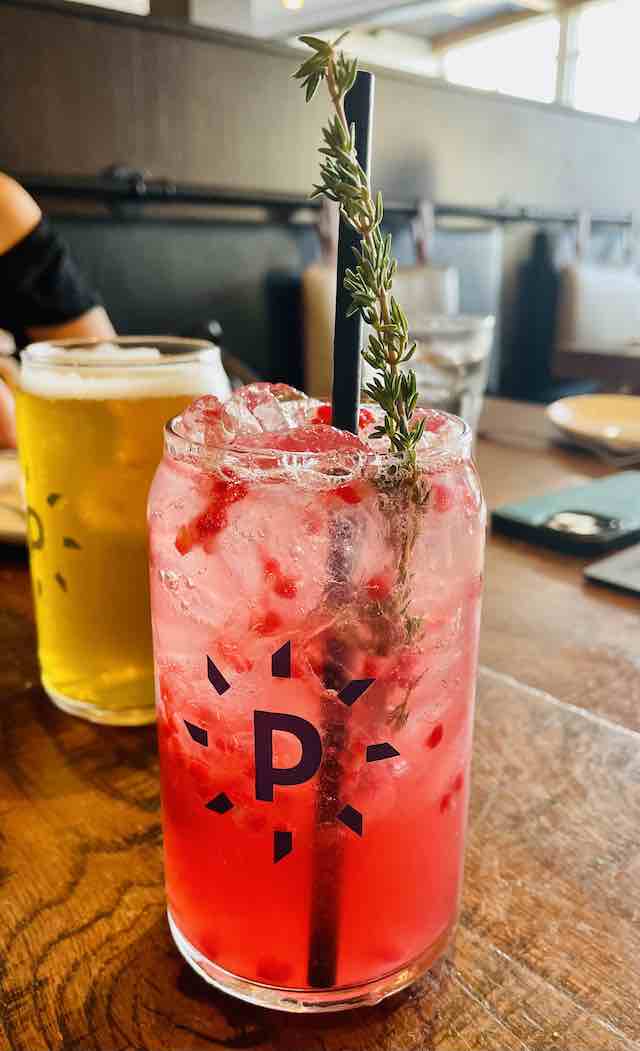 Other members of the party elected to try the beer on tap. Another favorite was the Captain Handsome, which is Cathead vodka, fresh raspberries, framboise, and thyme.
Drinks are all relatively expensive. However, that is typical in and around the Walt Disney World theme parks.
Sides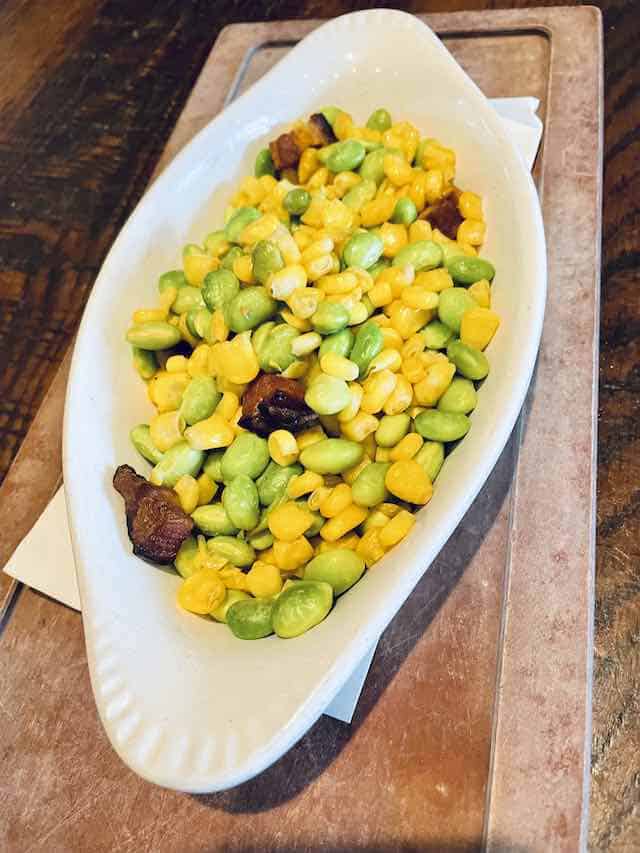 We ordered the Edamame Bacon Succotash for the table. This side dish was plentiful and delicious. We all agreed it was one of the best parts of the meal. If I ever return to Paddlefish, this will be a must-eat for me.
Adult Entrees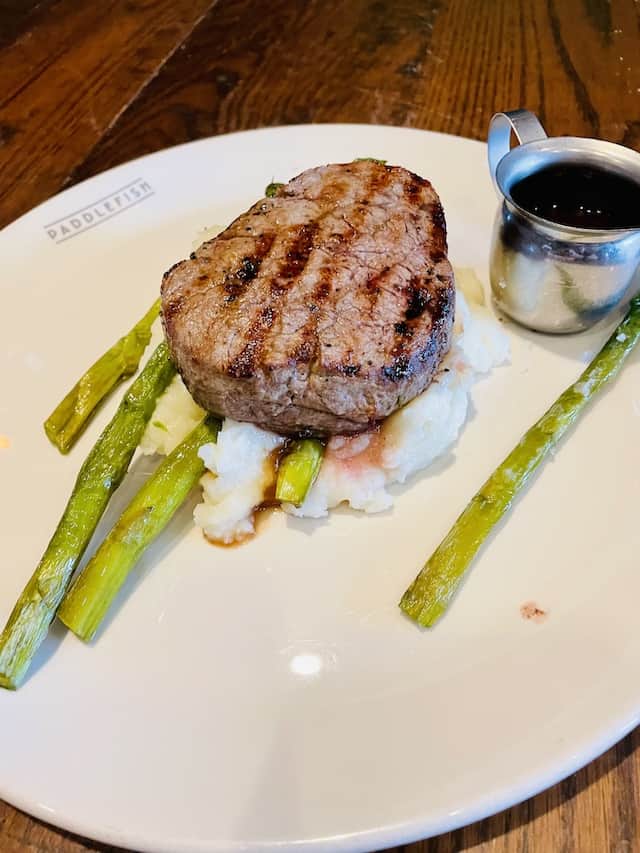 The adults in our group ordered several entrees including filet mignon. It wasn't plated particularly beautifully, but it was a good dish overall.
Oftentimes, the seafood restaurants at Walt Disney World offer fantastic steak offerings as well. While this filet was good, it was not amazing enough to recommend choosing it over the seafood options. If you do not like seafood, however, you might consider it over the other proteins. For a list of Disney's best steaks, head over here.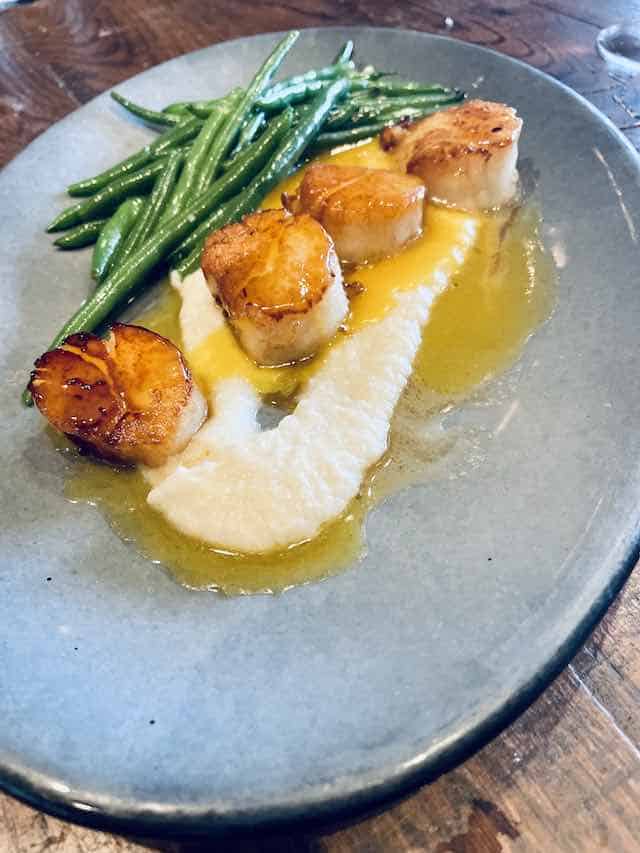 The scallops were the highlight of the meal. They were perfectly cooked with accompaniments of cauliflower puree, haricots verts, and honey saffron vinaigrette. The flavors were delicious.
Are they the best scallops on Disney property? No, that honor would probably belong to the appetizer over at Jiko. However, since fewer and fewer Disney restaurants are serving them lately, Paddlefish might be one of your best options in the long run if you are looking for a great scallop dish.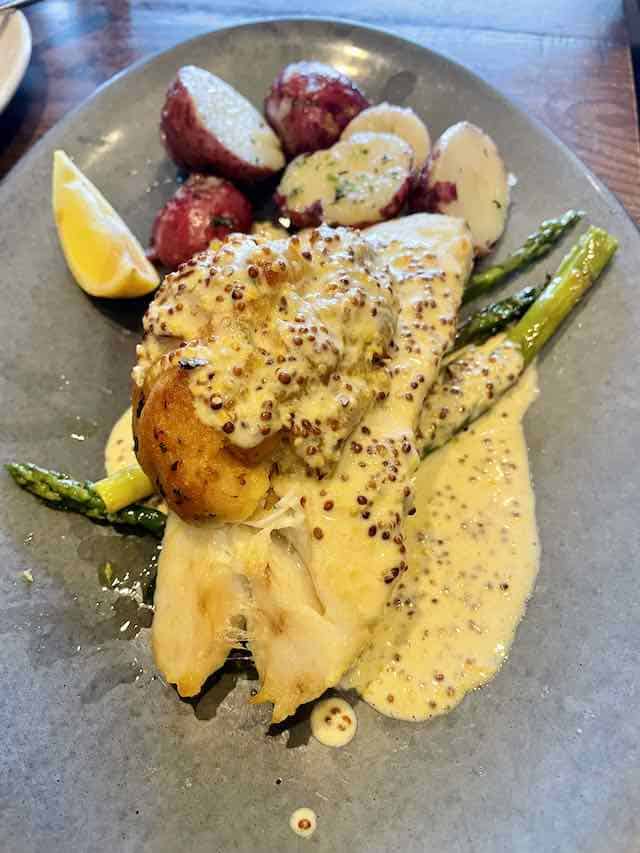 Finally, two friends ordered the Stuffed Codd. This dish comes with shrimp and scallop cornbread stuffing, asparagus, red potato, and mustard cream sauce. Everyone found it to be an enjoyable dish.
Children's Meals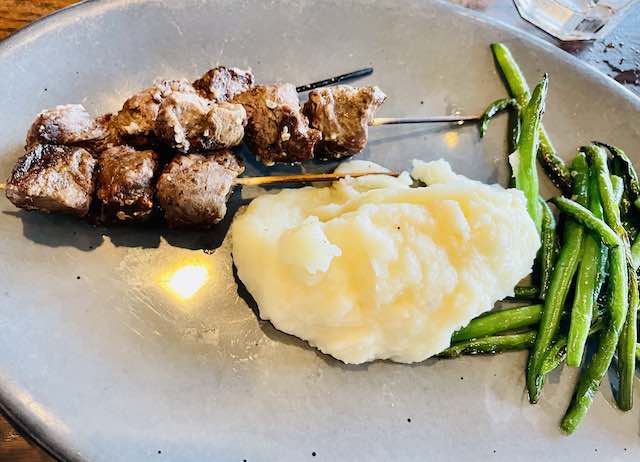 Paddlefish probably has more children's options than any of the other signature restaurants. There was something for everyone, which is good because we had every type of eater from picky to budding foodies along with us.
The little one who ordered the children's filet skewers was pleased with them. She ate them up and said they were yummy.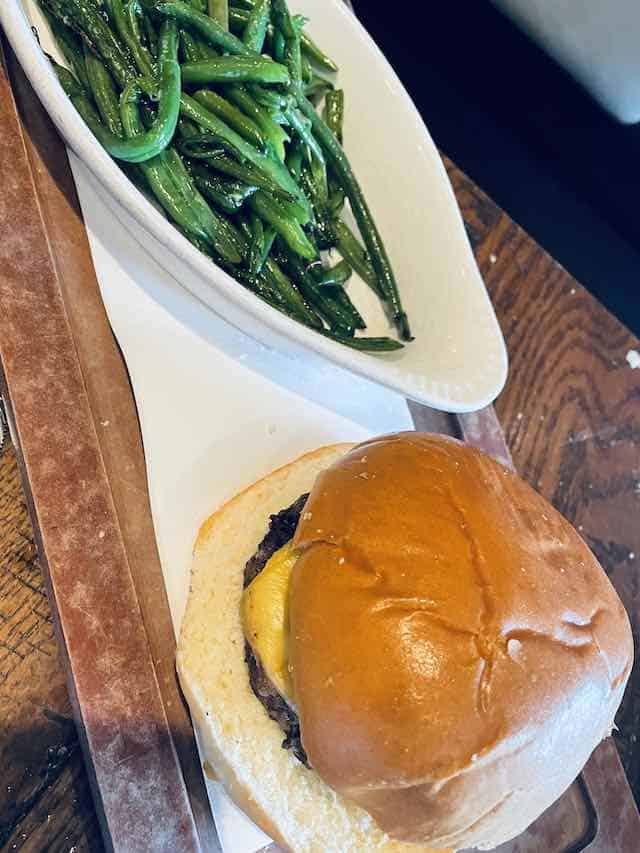 Another of our little ones tried the children's cheeseburger. This burger is actually better than what many restaurants offer as their adult entree. It is not bad at all.
The next child ordered the chicken tenders. These are relatively standard chicken fingers and are about what you would find at most Disney restaurants that offer them.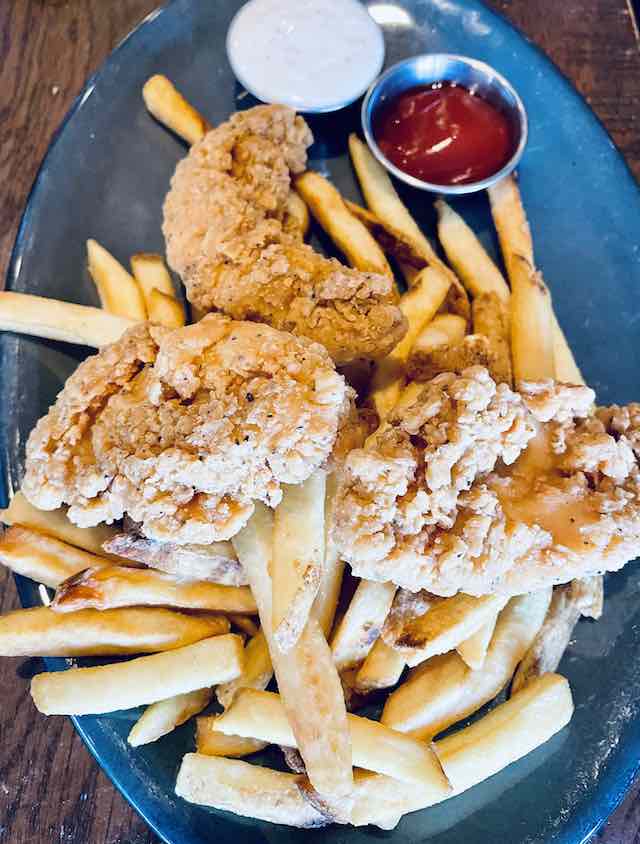 However, she insisted that these were the BEST chicken tenders of the trip. The portion was also pretty substantial; two kids could probably share this meal.
Nest up, one of our travelers ordered the kid's linguini with marinara sauce. This dish can be served with chicken or shrimp. It can also come with marinara or parmesan cream sauce.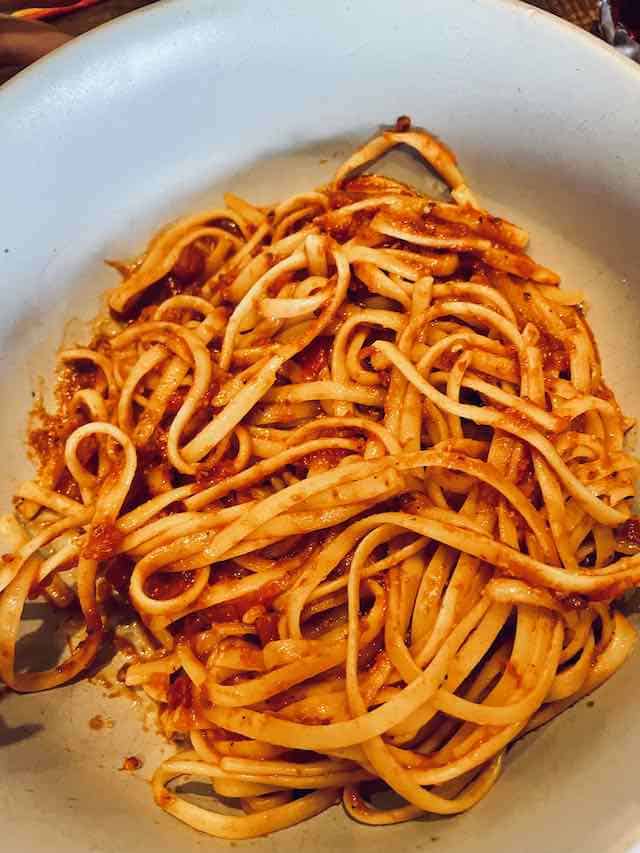 Our particular little traveler opted for plain ole marinara sauce and noodles. He loved it. It was another large helping.
The highlight of the dishes from the children's menu was probably the salmon. Our little one who ordered it loved it.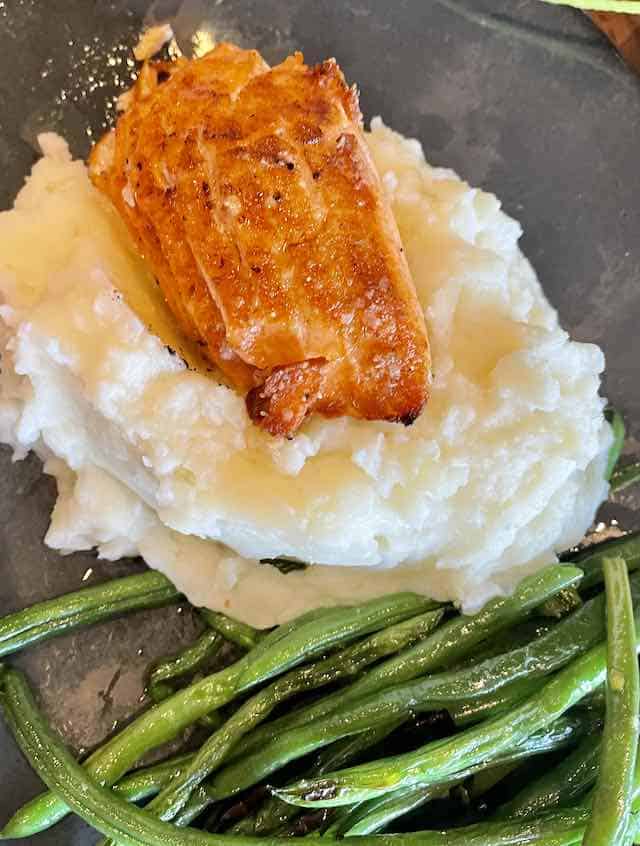 One of the drawbacks I noticed is that unlike many Disney World Restaurants, children did not get to build their own meals. A lot of restaurants offer two sides and allow a dessert to be chosen as one of the sides.
This can end up being a huge money saver in the long run if you like treating your kids to ice cream and such while you are in the parks. However, kids' desserts are priced and sold separately at Paddlefish.
Dessert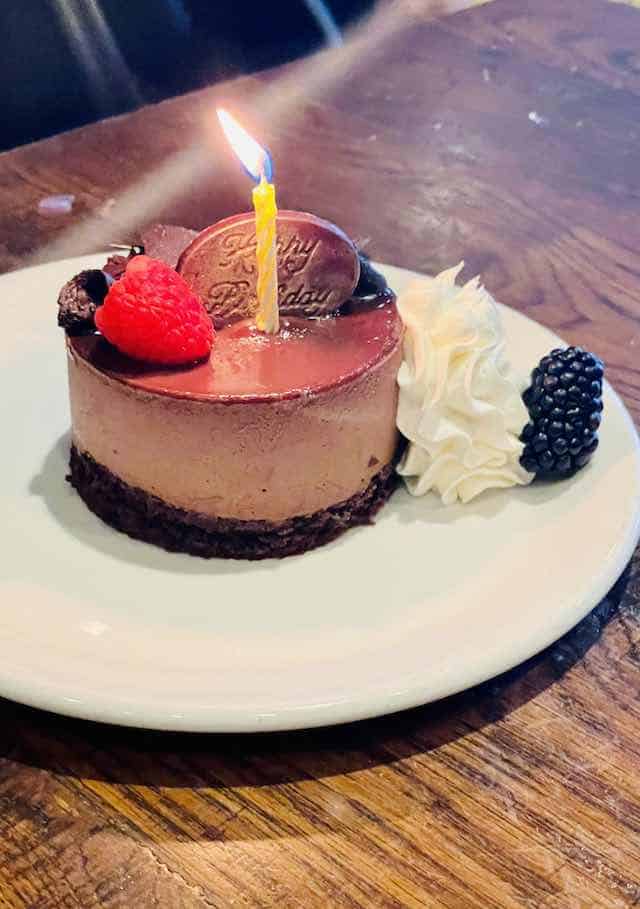 We were celebrating a birthday, so our server brought a treat for the table. We each got to taste a chocolate creation with fruit and whipped cream. It was a nice touch.
We skipped ordering other desserts because we were making our obligatory Gideon's stop later.
Overall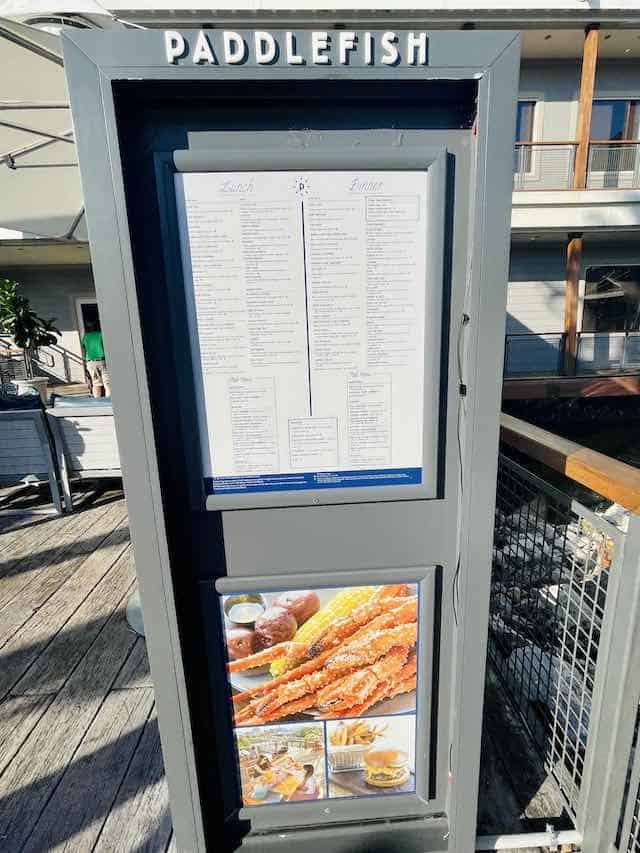 Overall, Paddlefish is a good place to eat if you want seafood. It is a great alternative if all of the hottest reservations are booked because reservations are typically easier to come across. It is an especially good option if you have a large group and a variety of preferences.
Would I add Paddlefish to my list of must-do recommendations? No. Would I say you should avoid it? Again, no. If you like seafood, and you want a place that has something to suit people who would prefer other genres of food, Paddlefish is a safe choice.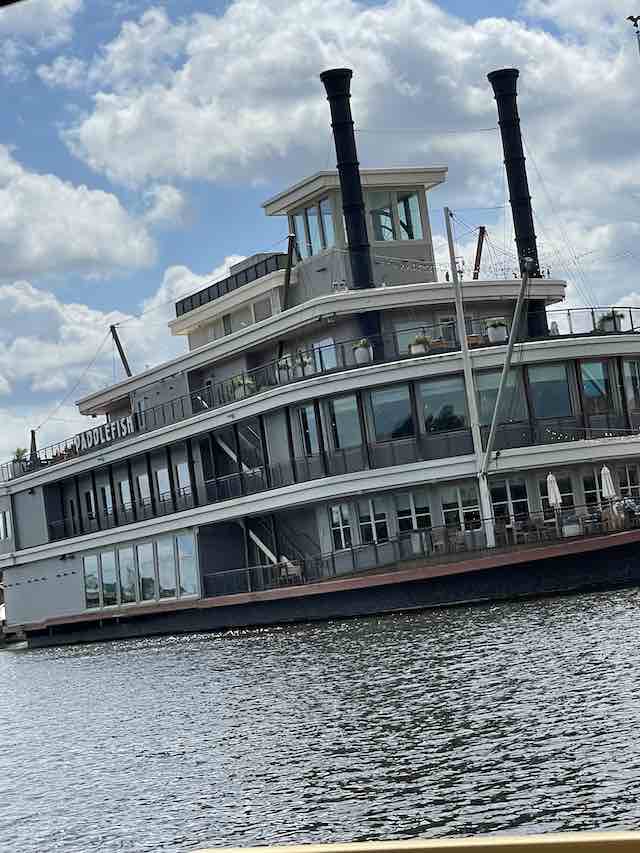 Even better, not a single child complained about the meal. It got 12 thumbs up from our little dinner, and they all had just as good a time as the adults in the travel party.
Do you know someone who is trying to decide what to eat in Walt Disney World? Be sure to pass on our reviews to help them narrow done the hundreds of options. And, feel free to join the fun on Facebook.