Are you looking for something delicious to eat in Disney World? The Polite Pig is a delightful quick-service restaurant that offers quality meals at attractive prices.
The Polite Pig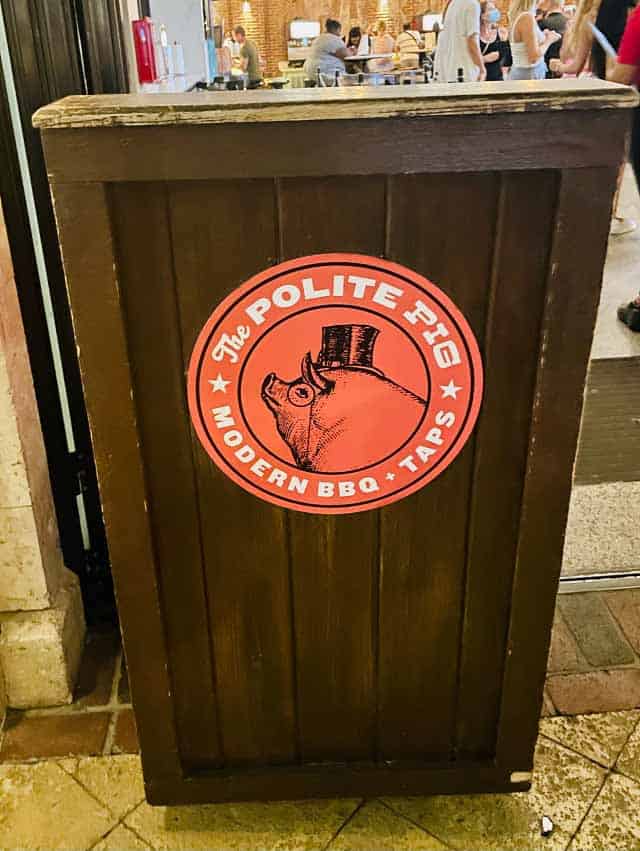 If you are looking for a delicious dining experience in Walt Disney World that does not break the bank, you may want to look no further than The Polite Pig.
The Polite Pig serves both lunch and dinner options. It is probably best known in part for its modern spin on BBQ and its wood-fired meats including smoked pork, chicken, brisket, and ribs. However, it is more than just a smokehouse. You will find shareable snacks, salads, market sides, and desserts that are some of the best in the business.
No Reservations Required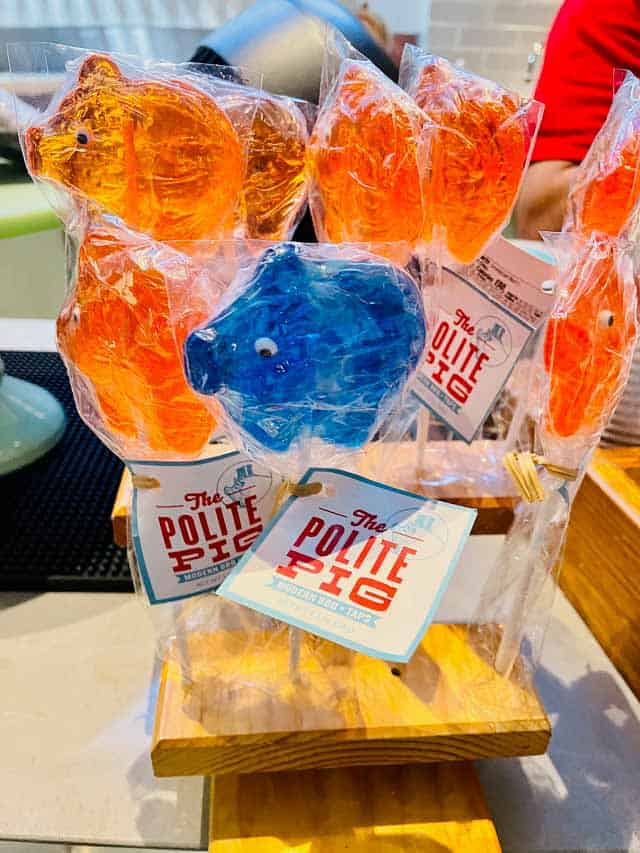 Since The Polite Pig is a quick-service restaurant, you will not need an advanced dining reservation to eat there. In fact, you can't make a reservation at all. Guests can access it by walking right up just like any other quick-service location.
There was not much of a line the day I visited on a crowded park day. And, what little line there was moved quickly.
Location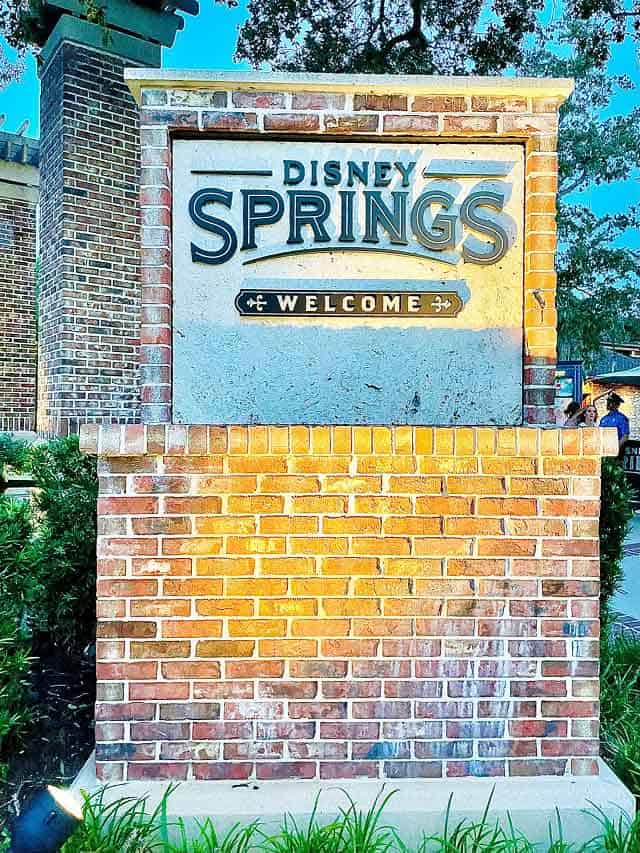 The Polite Pig is located in Disney Springs, Disney World's Shopping and entertainment district. Because it is a Disney Springs restaurant, you do not need a theme park ticket to dine there! It is open to anyone.
You will find The Polite Pig in Town Center near the fountain. It is just outside of the Lime Garage, making it very convenient for those who are driving to Disney Springs.
If you arrive by boat from Disney's Port Orleans French Quarter (which is what I did), Port Orleans Riverside, or Disney's Saratoga Springs, it is not a very long walk from the Marketplace, which is where the boat landing is. It is also a relatively short walk from the bus stop if you are traveling from any of the resort hotels or theme parks using Disney's bus transportation.
Atmosphere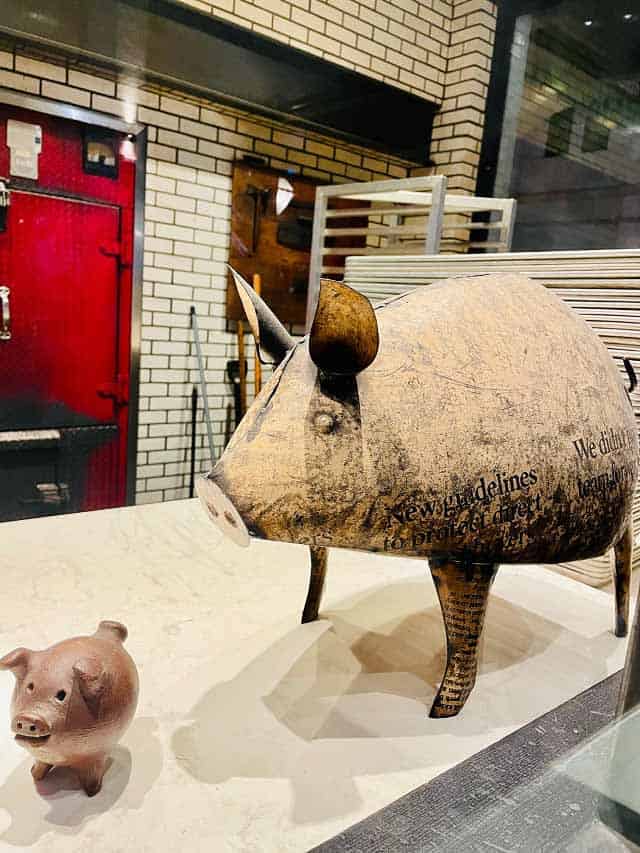 The Polite Pig has a cool vibe to it. When you enter, you will begin by ordering from the extensive menu, which will confront you with far too many delicious choices.
You will notice pig-inspired art decorating the place. After ordering, you can choose to sit at high-top or regular tables all around the dining room.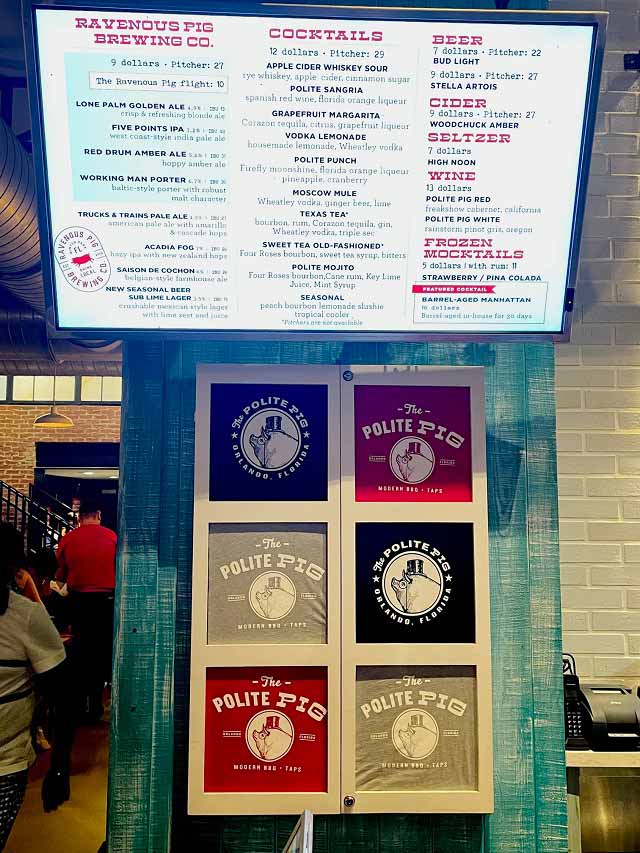 It feels warm and inviting, yet it is blissfully air-conditioned. However, if indoor seating isn't your idea of fun, you will find outdoor seating as well.
Food!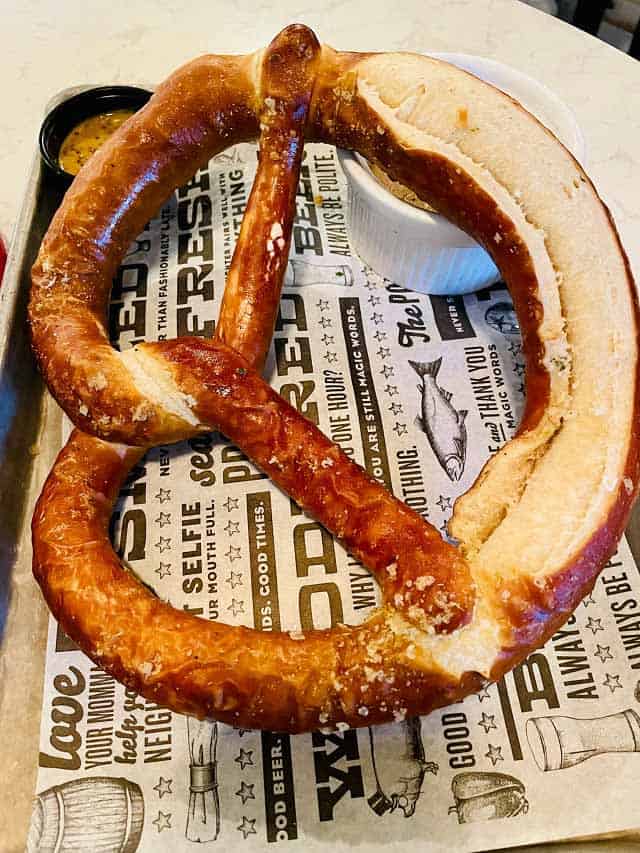 I have to be honest. On this particular trip to The Polite Pig, I (Katie) didn't even try the meats they are so well-known for. Instead, I shared a shareable with a friend I was meeting there and ordered a platter of Market Sides.
I honestly had trouble deciding which sides to order as all of them sounded amazing including the brussels sprouts, sweet potato tots, and tomato and watermelon salad. But, the Cast Member taking my order saved the day by making some helpful suggestions. In the end, I found I had more than I could eat.
We started with the soft pretzel, which came with both Beer Cheese Fondue and IPA Mustard. I tasted it with the Beer Cheese Fondue, and I thought it was amazingly rich and bitter. Hot and fresh, this was one of the better soft pretzels I have had in Walt Disney World. Move over, Mickey Pretzels. When it comes to pretzels, Polite Pig has the real deal!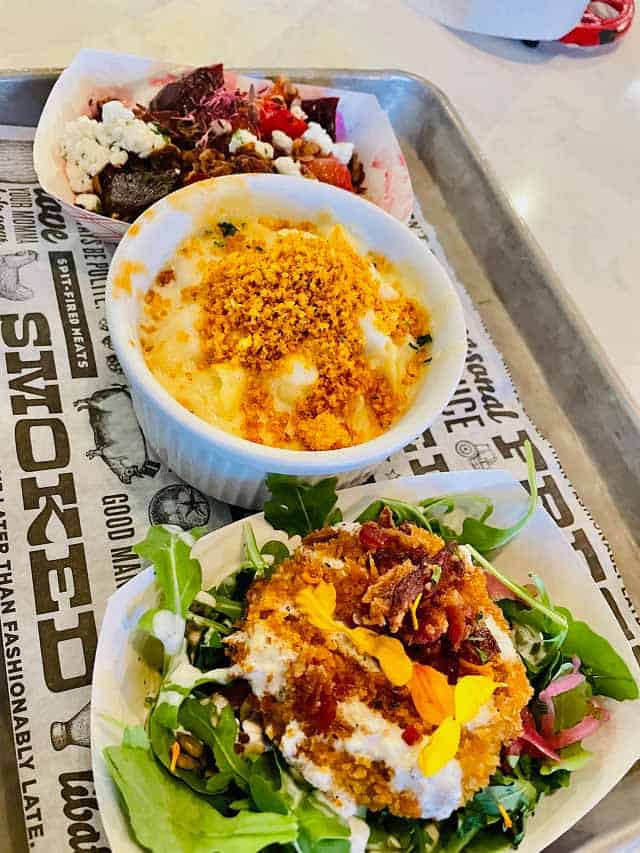 For my meal, I ended up ordering the fried green tomatoes, roasted beets, and macaroni and cheese. The other dishes I was debating will have to wait til next time.
The roasted beets are served with Smoked Pecan Granola, Goat Cheese, Yogurt and Oranges. I absolutely love beets and goat cheese, and this dish lived up to my expectations.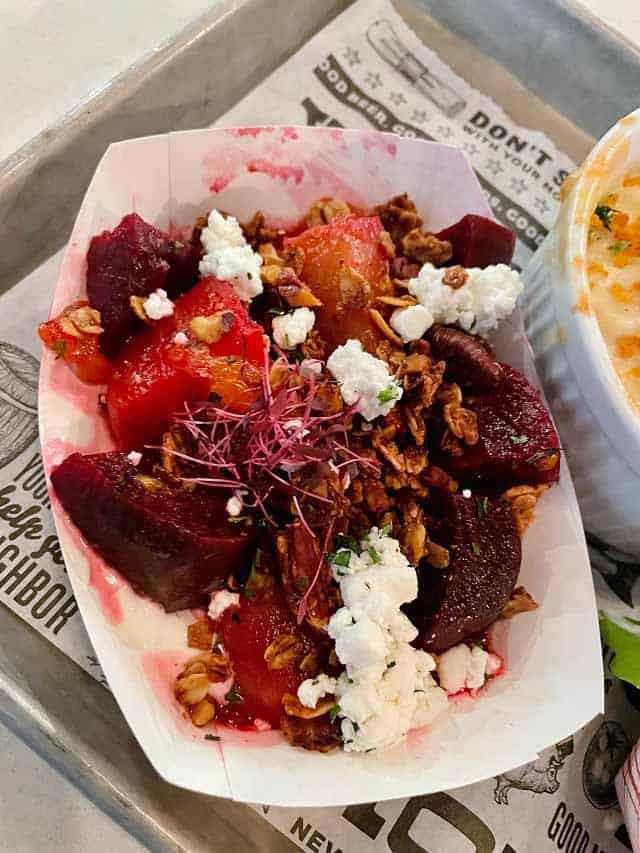 Savory and earthy, it is something I could enjoy again and again. Plus, beets are filled with iron and help your body feel good after a day in the Disney Parks.
I also enjoyed the stack of fried green tomatoes. This side rotates on and off the menu, and I decided I needed to try it while it was available.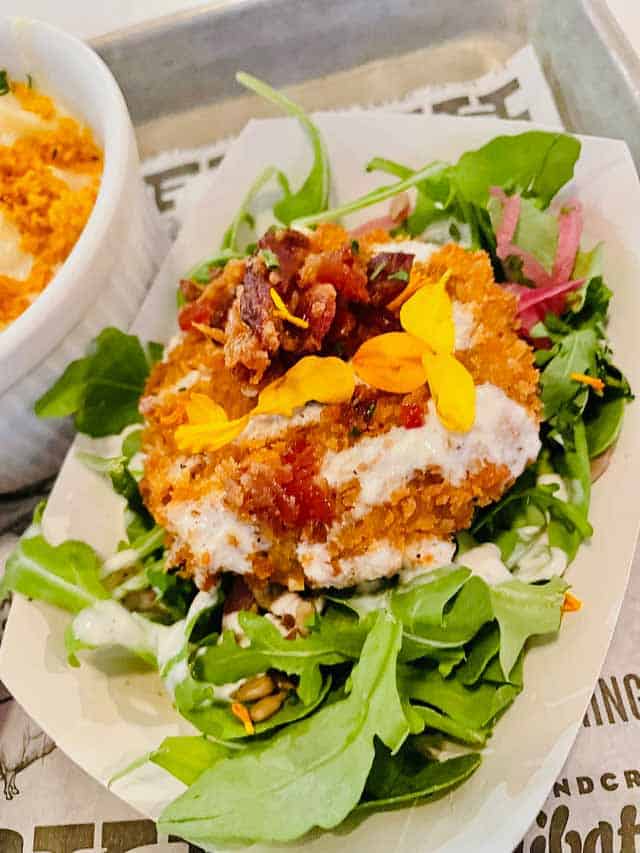 They were also good although the breading was a tad blander than I prefer. On the other hand, the bacon added a nice dimension to the flavor profile. Overall, I would not hesitate to have them again.
And then there is that mac n cheese. The menu describes this simple dish as being prepared with cheddar and breadcrumbs. That's it.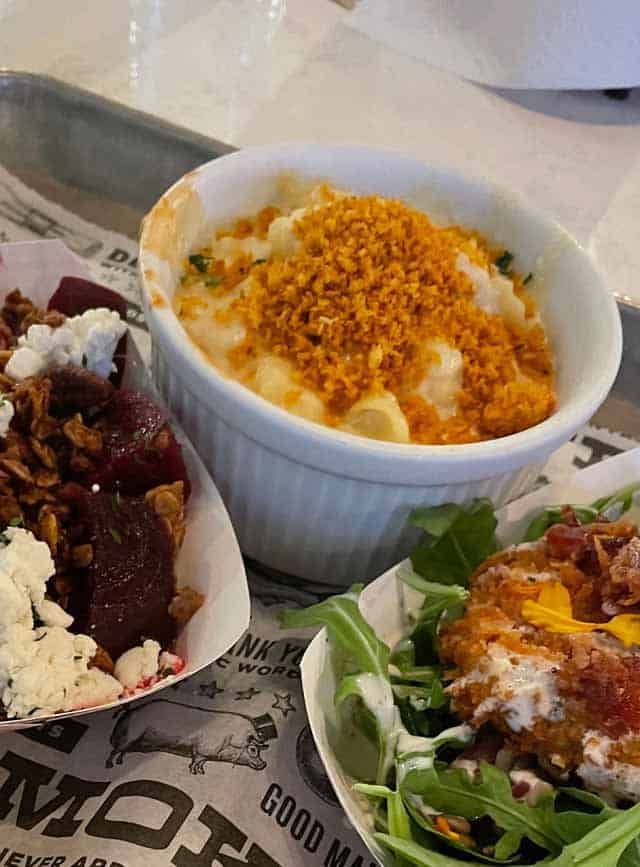 What the menu forgets to mention is that it is the best macaroni and cheese on Disney property. Creamy and delicious, I could not get enough of this stuff. I will definitely have to have it again on a return visit to The Polite Pig.
If you love macaroni and cheese, this is a must eat.
Final Thoughts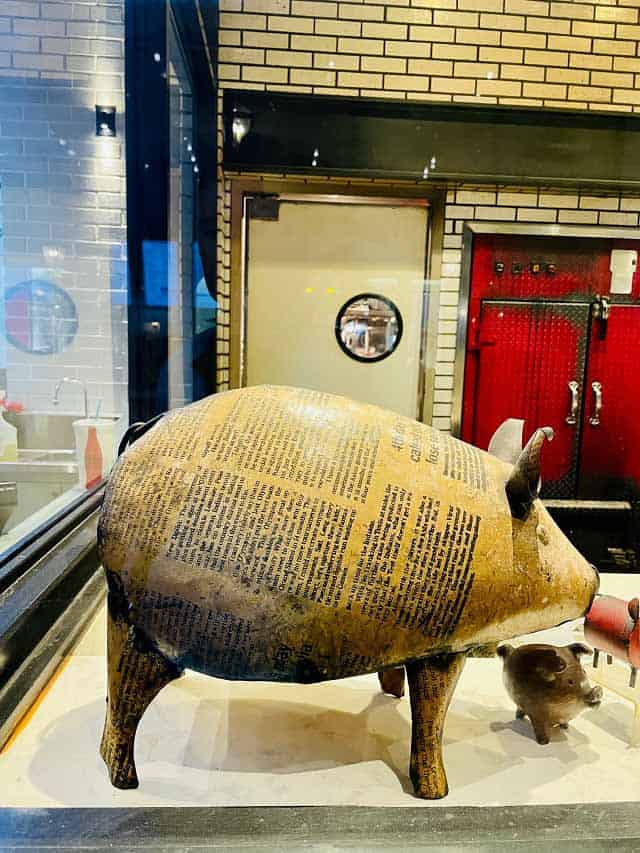 Overall, The Polite Pig is one of the best quick service experiences I have had in Walt Disney World despite the fact that I did not even try any of the meats that draw people in. Every single bite of each item I tried was delightful.
Honestly, even based on a sharable pretzle and market sides alone this is probably the best Quick Service food in Disney Springs and possibly anywhere on Walt Disney World property, which is saying a lot because there are some pretty amazing locations such as Satu'li Canteen in Disney's Animal Kingdom and Primo Piatto over at Disney's Riviera Resort.
Plus, it is just so refreshingly easy to just walk up to a place without having to make reservations 60 days in advance. It is nice not having to worry about having a reservation at all, especially if you are on a trip where you want to be able to wing it a bit.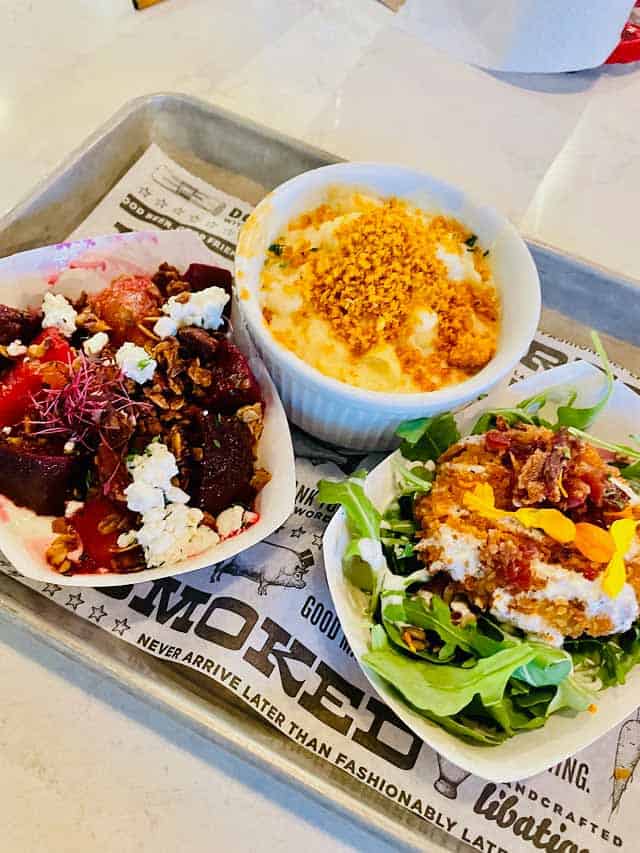 I cannot wait to have a chance to go back to The Polite Pig for another meal. Next time, I am bringing a bigger appetite and more people so I can share more delicious things!
Have you ever been to The Polite Pig in Disney Springs? What did you enjoy eating while you were there? If you have not been, is it on your dining wishlist? Please, let us know in the comments and share with a friend who needs to try it!