Traveling to Walt Disney World can be tricky with a larger family. Check out our guide to the best hotel room for a family of 5.
Walt Disney World Resorts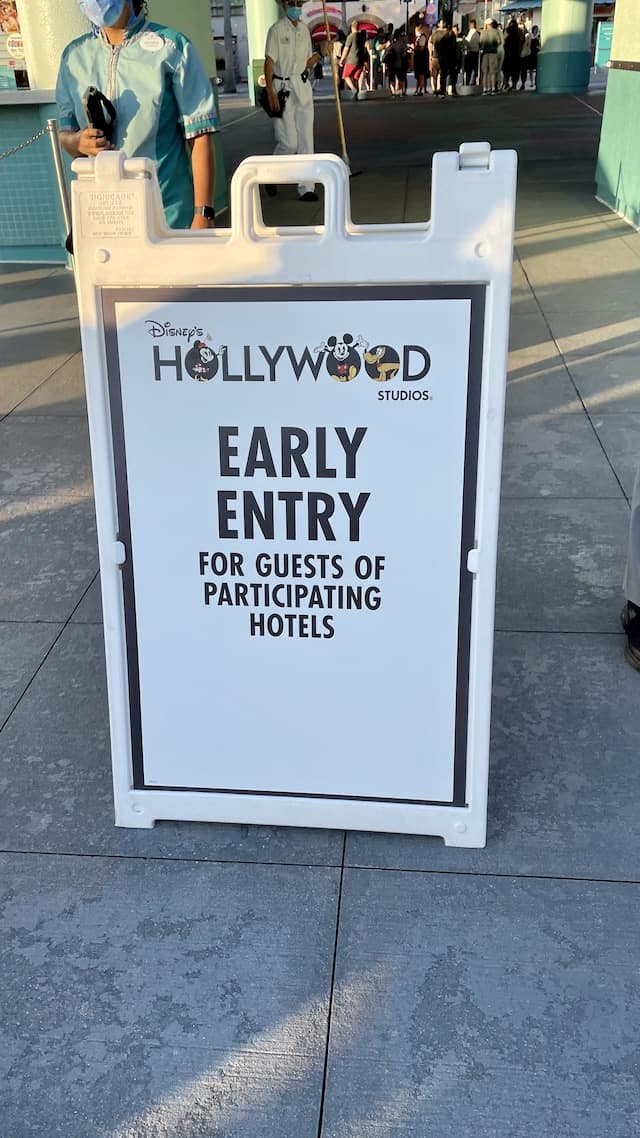 Staying on Disney property is absolutely magical and offers many great benefits including transportation, early entry, earlier Disney Genie+ selections, and more. The choice to stay at a Disney property is a pretty easy one for many families, but the question of which resort to stay at is a bit more difficult.
My (Donna) family often enjoys staying at both value resorts and moderate resorts. We are a family of 5, and when the children were younger we enjoyed many great resorts that sleep 5 comfortably. However, as the children have grown into adolescence our needs have changed a bit.
We now enjoy a bit more space to spread out while on vacation, and we have found that more bathroom space is a necessity. This led to our discovery of the best Disney Resort for a family of 5.
Art of Animation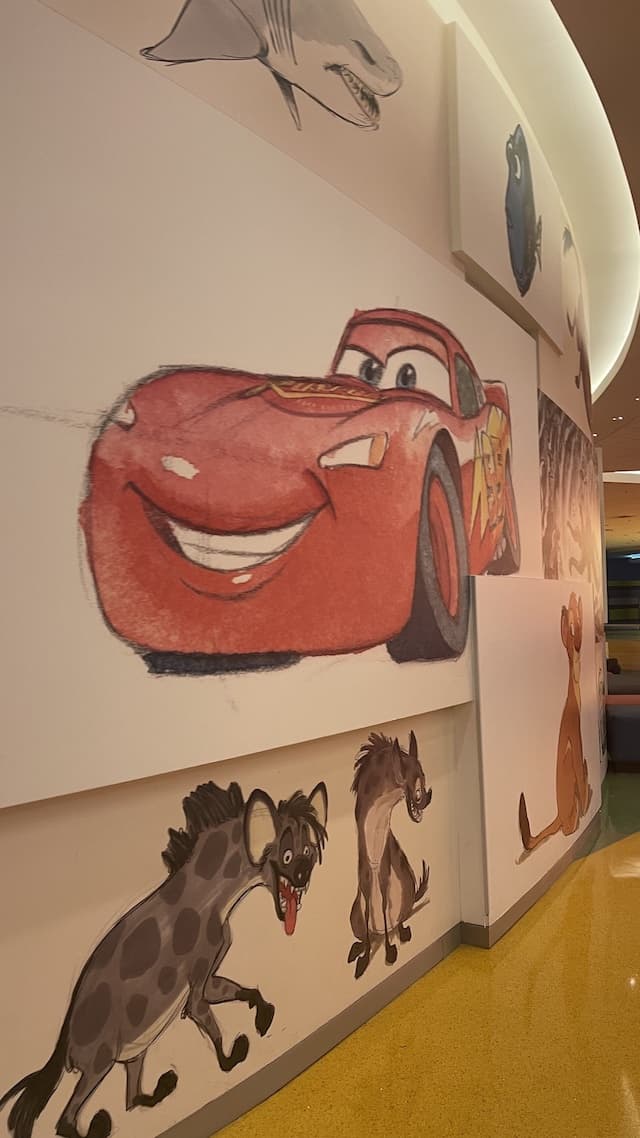 Art of Animation is in close proximity to Pop Century which is another Disney value resort. Both of these resorts utilize the Disney Skyliner for transportation to both EPCOT and Disney's Hollywood Studios.
Art of Animation offers a few different room options. The standard room offers a Little Mermaid room and sleeps four adults, but these would be very tight quarters for four adults.
This resort offers three different family suites that sleep up to six adults. These suites feature the following themed suites: Lion King, Finding Nemo (be sure to see a full review of this room HERE), and Cars. The theming is on point both on the outside and the inside of each of these buildings.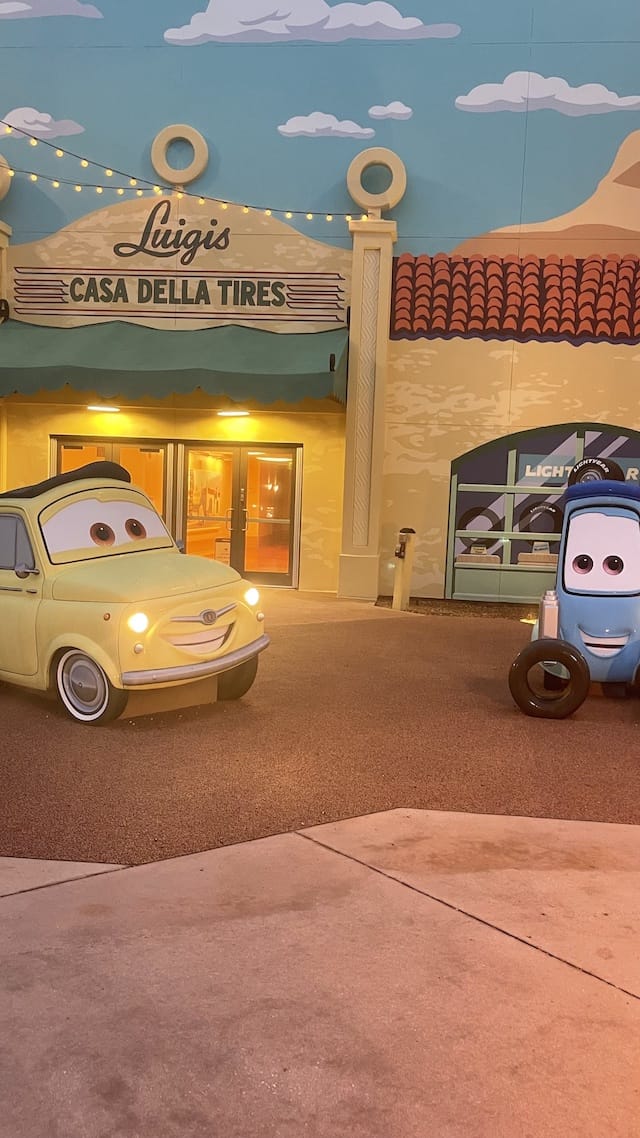 This differs greatly from Pop Century. At Pop Century, the exterior of the resort offers great theming, but the resort rooms are standard to the resort rooms at All-Star Movies, All-Star Music, and the newly refurbished All-Star Sports. Recently, my family of 5 enjoyed the Cars Family Suite at Art of Animation.
This review will simply be for the family suites. You can check out Maggie's full review of this beautiful resort.
Cars Family Suite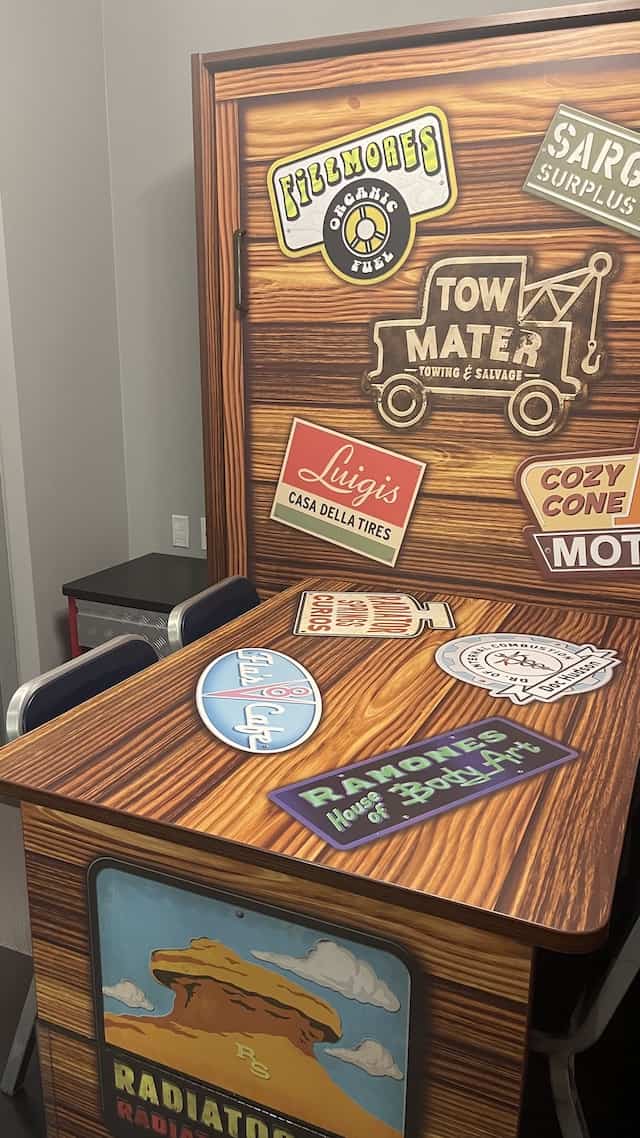 Our children grew up watching every Cars movie so many times, and collectible almost every Cars-themed car. As we made our way throughout our suite, they were overwhelmed by the great Cars theming.
When we first entered our Cars Family Suite, we noticed a big table with four chairs surrounding it. This functions great as a table for meals, but this also acts as a double-sized bed as well if you pull it down.
Our girls were happy to share this bed at night. We love the function of this bed to allow extra space in the room during the daytime.
A little further in this room is the large living room area. Again the functionality of this space was a big win for our family. This room is huge and allows for a big family to enjoy a family board game or sit back and enjoy a great show on the television.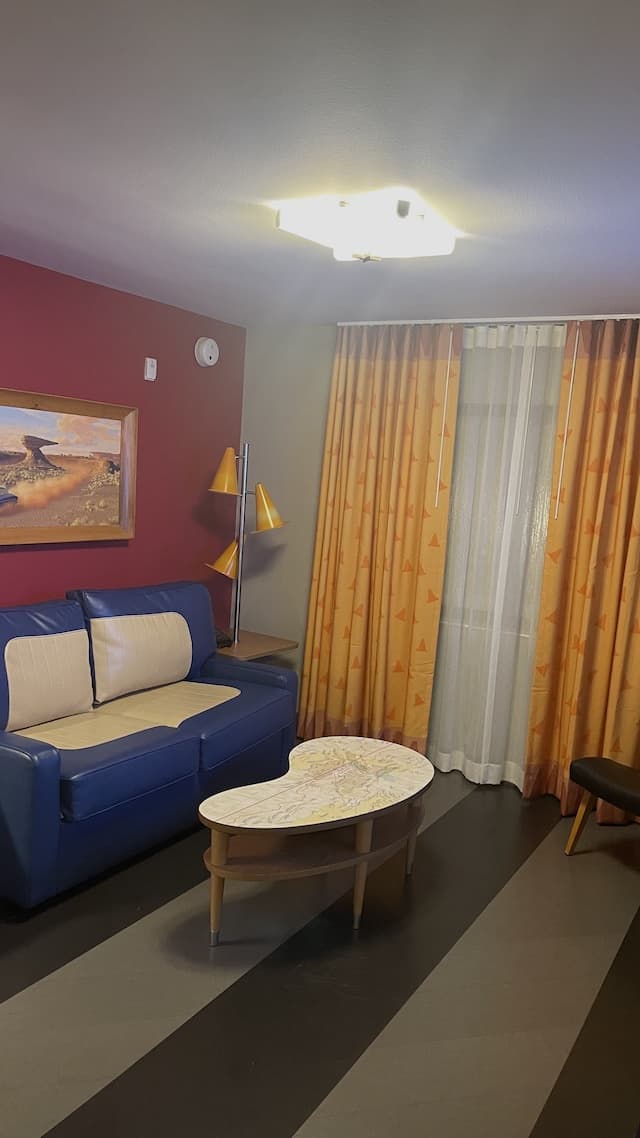 Great theming extends to this space with artwork and the orange traffic cone lamp. The sofa converts into a sofa bed which worked great for our teenage son to rest at night.
To the left of the sofa bed is a small kitchenette space. This is great for small meals that you can prepare in your resort room. With a small fridge, microwave, and sink this worked great for our family to prepare breakfast before a day in the parks.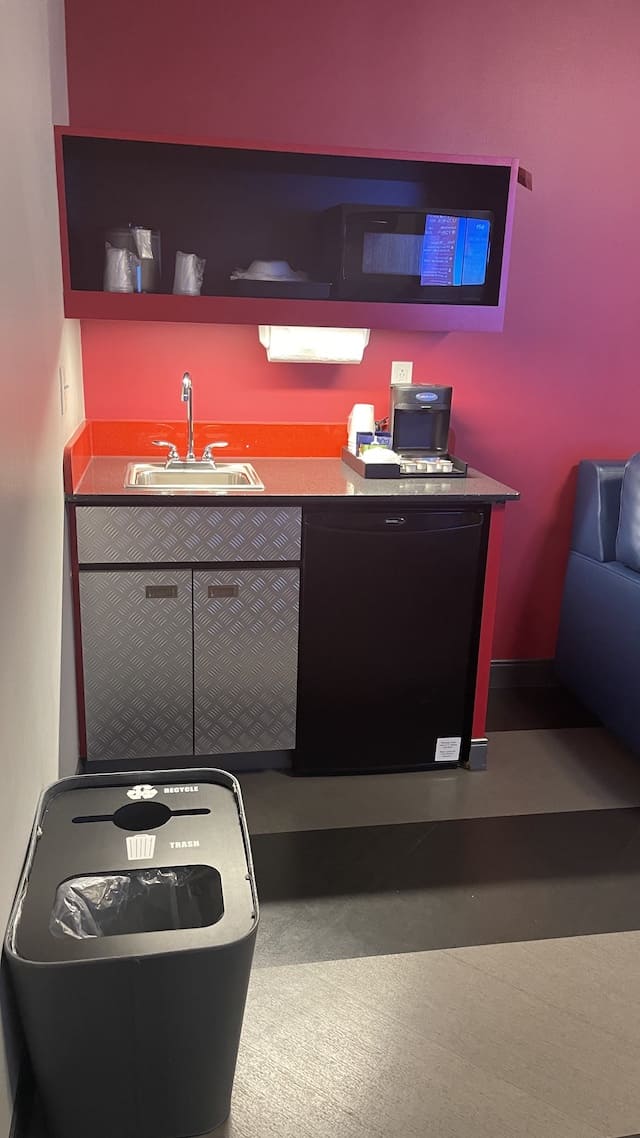 On the opposite wall from the sofa bed and kitchenette are the television and ample storage. The Cars theming is incorporated in a cool way with this dresser drawer and closet space. There is space to hang up clothes.
Additional pillows and blankets are also provided for use with the sofa bed.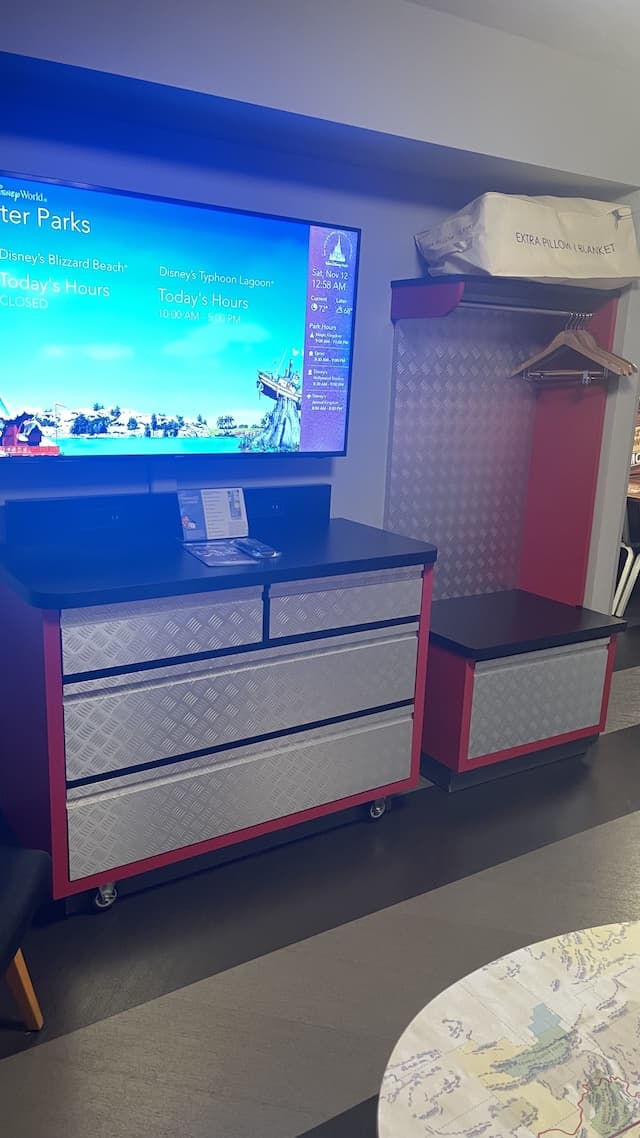 There is a full bathroom on this side of the suite. This bathroom is divided to allow the use of the shower and toilet on one side and the sink, vanity, and mirror on the other side.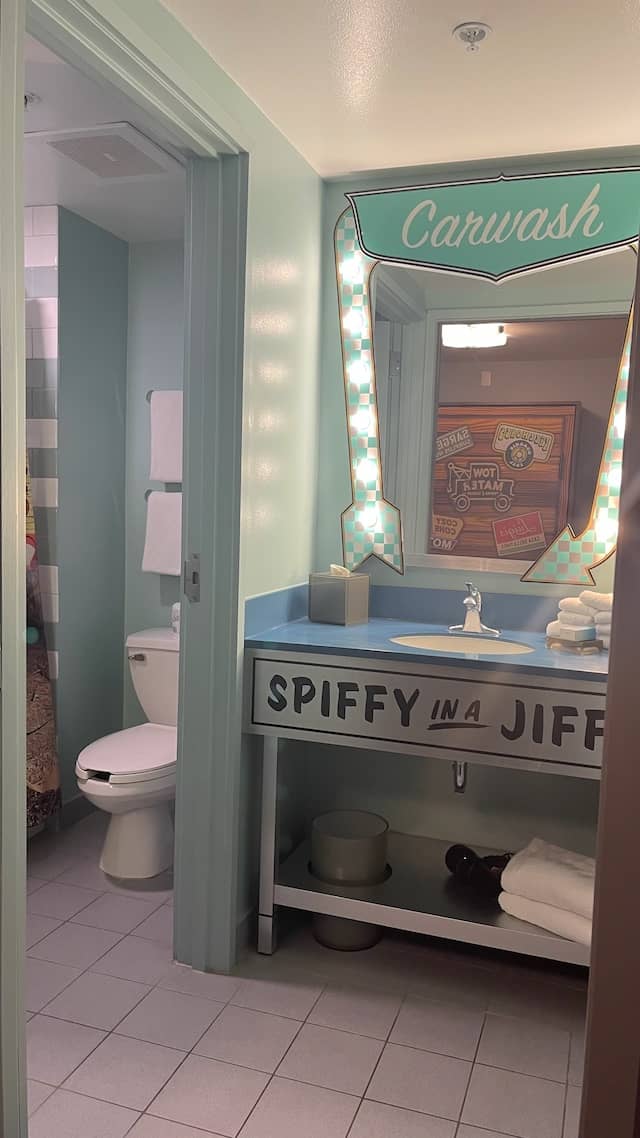 This is often seen in Disney resort rooms and works well to allow multiple guests to get ready at the same time. Separated by a door is the master bedroom.
This space has a queen size bed, and again, the great Cars theming is also in this space. The bed has a high platform to easily slide suitcases underneath.
The master bedroom has a second full bathroom. The bathroom is similar to the other bathroom but offers a full walk-in shower. This bathroom does not have a divider between the shower and the vanity and sink area.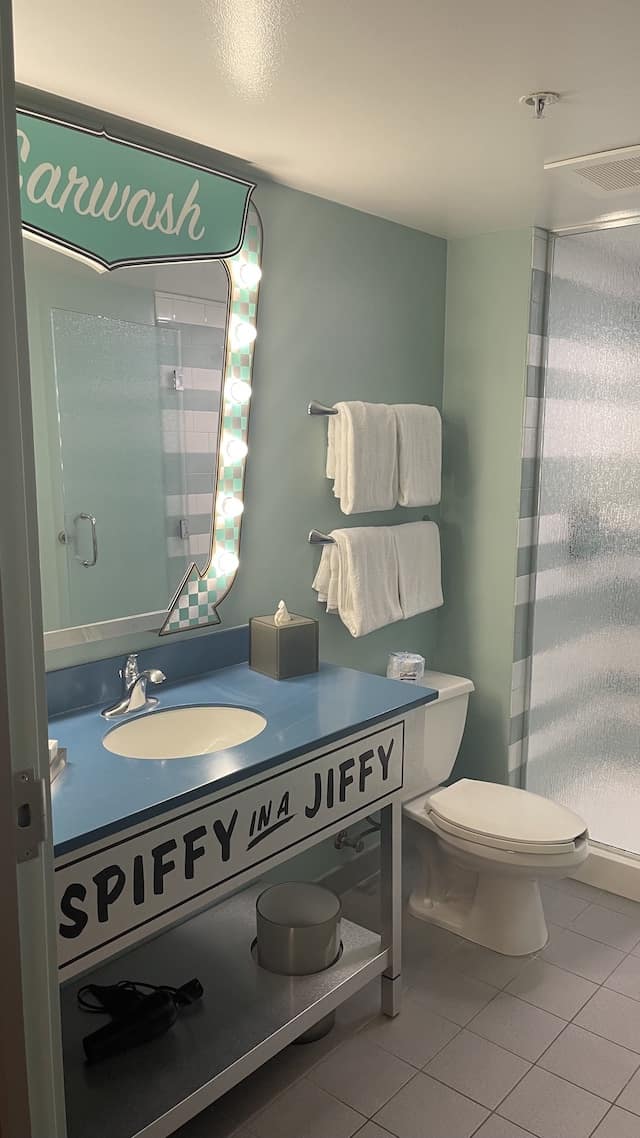 Everything about this room far exceeded our expectations. That is except for the closet space in the master bedroom. This space seemed to be a design afterthought.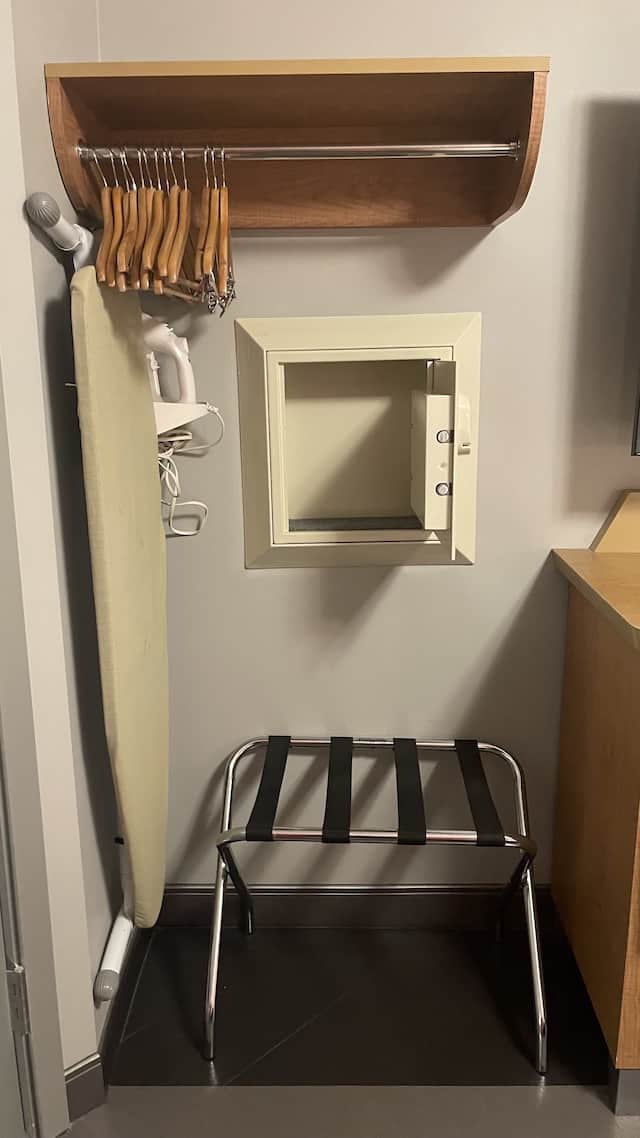 The space offers a small wall safe, an ironing board with iron, a suitcase stand, and hangers for clothing. This was not a huge problem, but it is something worth mentioning.
The Cars family suite includes a master bedroom with a queen size bed, 2 full-sized bathrooms, a double-size convertible bed, and a sofa bed.
Personal Review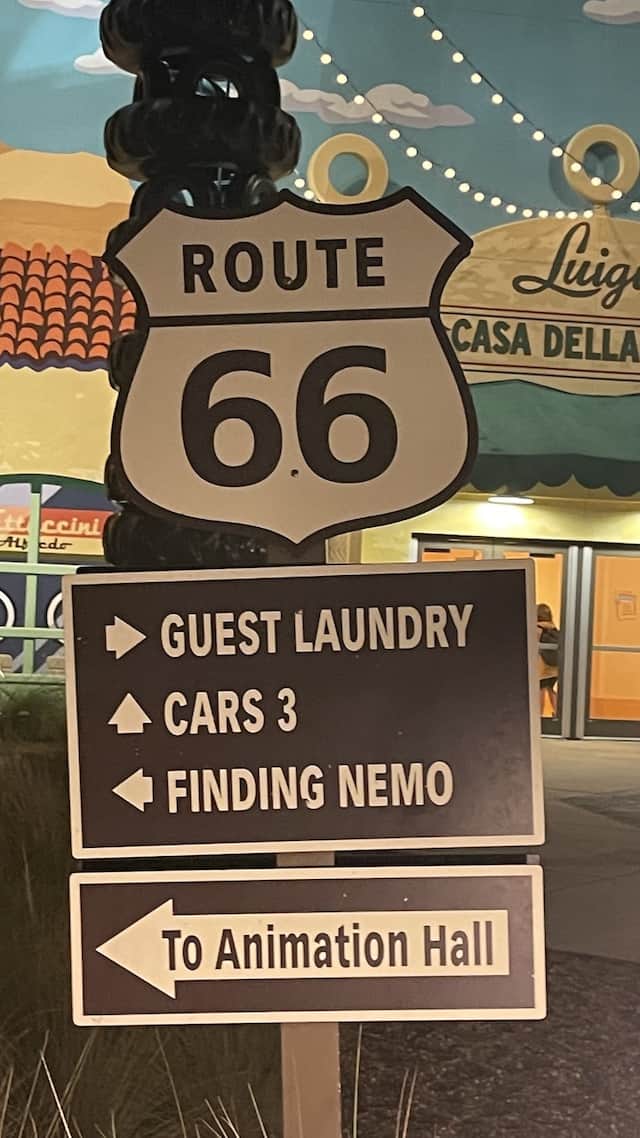 Our family greatly enjoyed staying at the Family Suites at the Art of Animation. The Cars Suite is near the main lobby, the Cozy Cone Pool, and close to the laundry service as well.
For the price, this is an excellent value resort for a larger family. The suite allowed ample room for all members of our family and kept with great Disney theming. Our family loves the use of the Disney Skyliner, and it is great to enjoy this mode of transportation while still paying value resort prices.
The suite allowed ample room for all members of our family and kept with great Disney theming.
My family will enjoy another stay at Art of Animation for upcoming trips to Walt Disney World.
Have you stayed at Art of Animation? Will you try this resort during your next stay? What amenity do you most enjoy at the Art of Animation? Share your thoughts with us on our Facebook page.