There are so many fun and magical places to stay at the Walt Disney World Resorts. However, my (Donna) children continue to choose Pop Century as their favorite Disney Resort destination. See why it's so beloved in my family.
Value Resort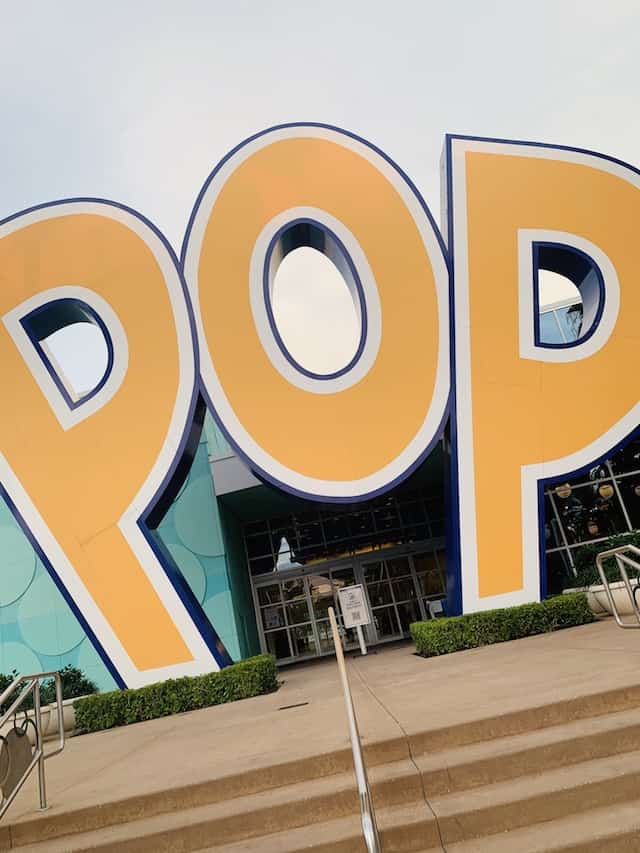 The price of Pop Century is one of the main reasons we chose to stay at Pop originally. This is a Value Resort which makes it a bit more affordable for a family. To be honest we always intend to enjoy a Resort day during our trips to Walt Disney World, but we always end up adding another day in the Parks.
If you are a family who enjoys spending the majority of your time in the Parks rather than in the resort, then a Value Resort may be a great option for you.
Find out why my (Donna) children fell in love with Pop Century a few years ago. Now anytime we mention an upcoming trip to Walt Disney World their first question is, "Are we staying at Pop?"
Fun Theming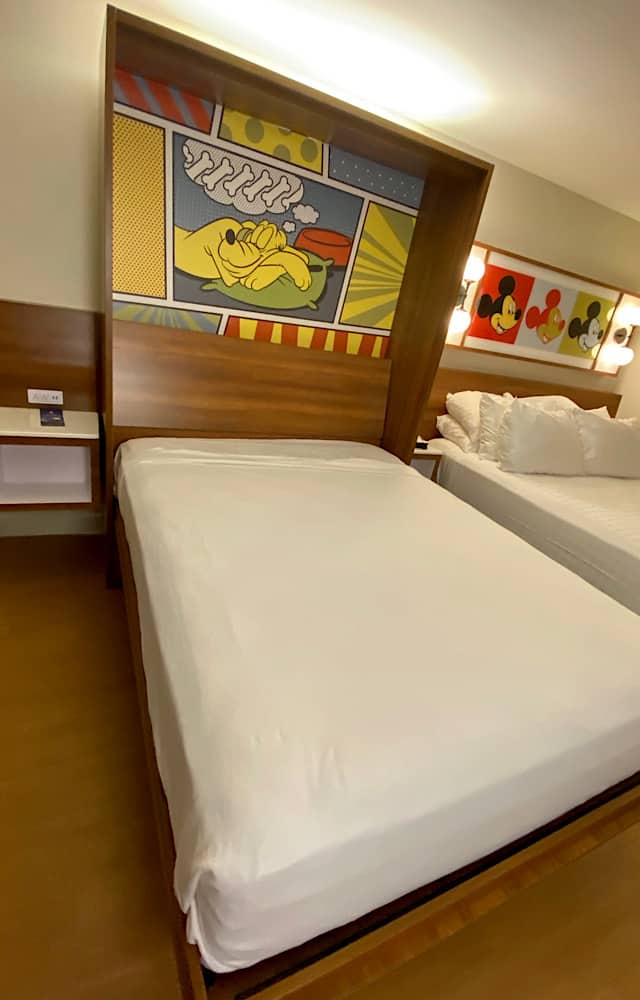 The theming of the actual rooms is nice, but it is very similar to that of the newly refurbished rooms at All Star Movies. My kids love that Pluto is featured above the pull down bed. It looks like he is having sweet dreams of his favorite tasty treat.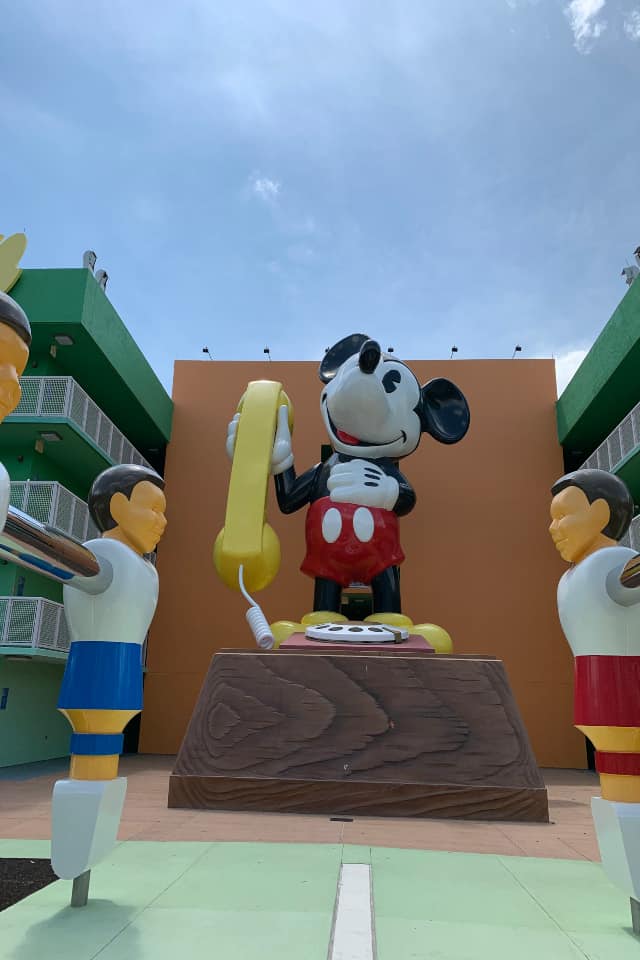 Although my kids like the inside of our room, what they really love is the larger than life characters found around the Resort. Each building at this Resort is themed for a different decade. This is a really fun resort to walk through as you relive some of your favorite toys from the past.
My kids absolutely love the 1970's building with the larger than life Mickey Mouse rotary-dial telephone in the center of a large foosball table. Guests can also enjoy Disney characters such as Baloo and Mowgli from the Jungle Book that are found at the 1960's building.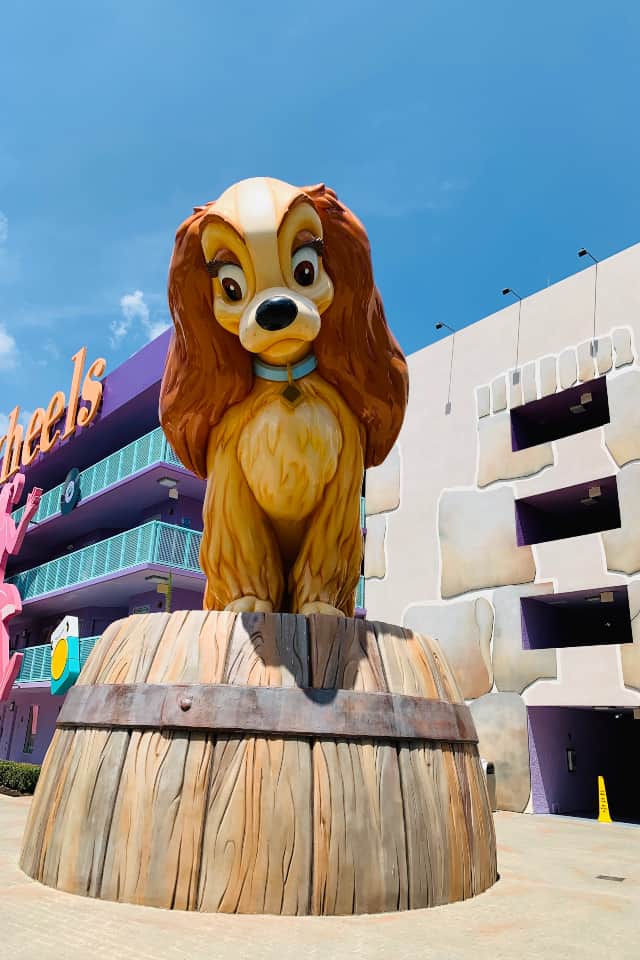 Guests staying in the 1950's building can enjoy both Lady and the Tramp statues as featured in the animated classic Lady and the Tramp. Snap a selfie with the Toy Story stars Mr. and Mrs. Potato Head and even Goofy as he heads to the pool with his surf board.
Although my kids like the inside of our room, what they really love is the larger than life characters found around the Resort.
See a ranking of each decade based on theming, amenities, and location HERE.
Skyliner Transportation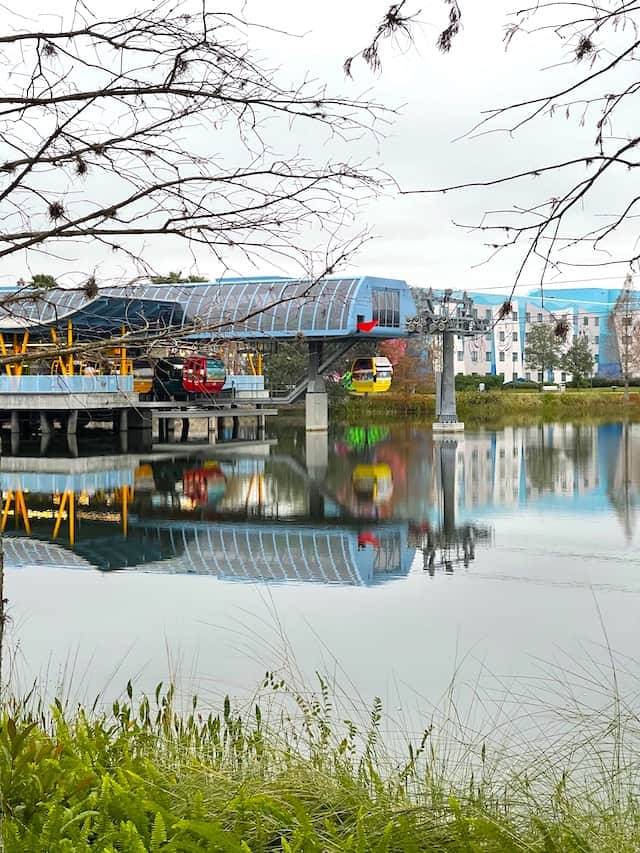 My kids absolutely love the Skyliner. They love it so much that they act as though it is a Park attraction. We have a fun tradition for our arrival day. We will board the Skyliner and ride along the entire line and return back to our Resort.
The Skyliner is truly a great dose of pixie dust to start a day at EPCOT or Disney's Hollywood Studios. On our recent stay at Pop Century, we were among the first in line at the entrance of Disney's Hollywood Studios thanks to the Disney Skyliner.
The Skyliner is truly a great dose of pixie dust to start a day at EPCOT or Disney's Hollywood Studios.
We used the 2021 Early Arrival Plan found on Character Locator, and we experienced little to no wait time for our favorite attractions. This is a great benefit for Guests staying along the Skyliner Line.
Fun Games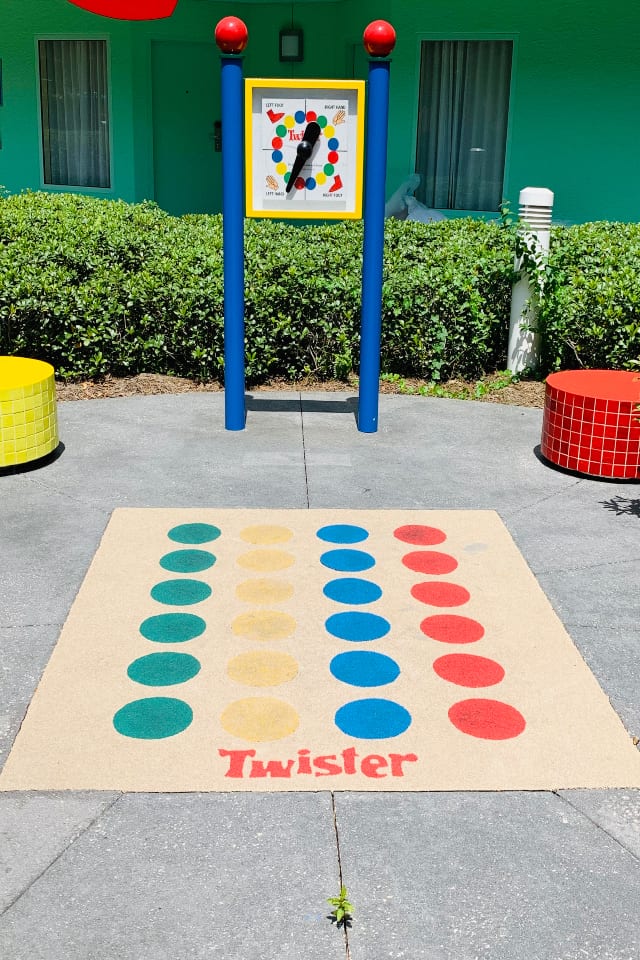 My kids love the fun added amenities found at Pop Century. One night we had just spent the day at EPCOT. I was enjoying walking through the World Showcase as we made our way to the Skyliner Station.
My children were having a less than magical time stating that they were tired and their legs were sore. As we were making our way back to our room, they spotted the Twister game. They immediately took their places at this game board and asked for me to spin the spinner for them.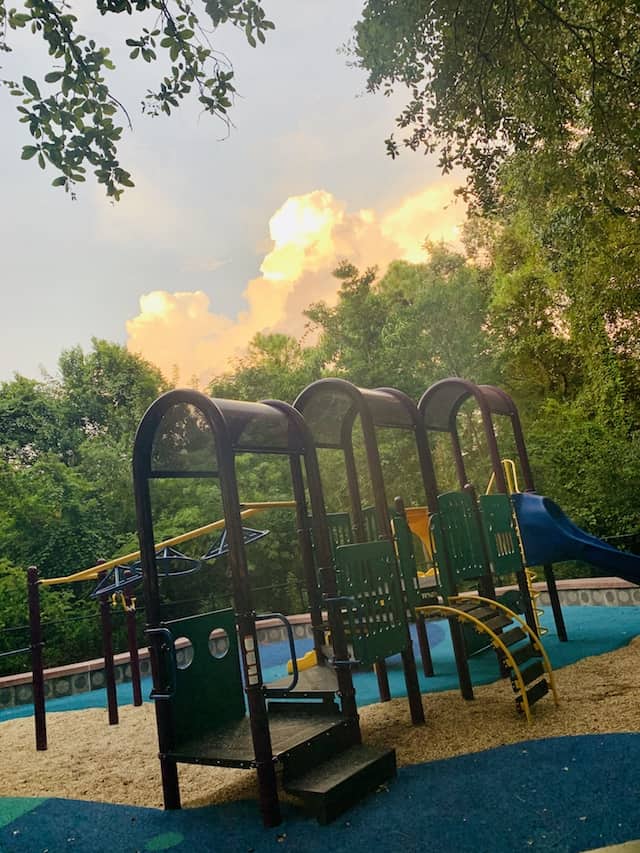 I am still unsure where this added boost of enthusiasm came from, but that is still one of their favorite memories from our last stay at Pop Century.
There is also an outdoor ping pong table located near the lobby of the resort. We have held quite a few family ping-pong competitions at this location in the past. In the 1970's section, there is also a fun outdoor playground that is fun for kids as well.
Hippy Dippy Pool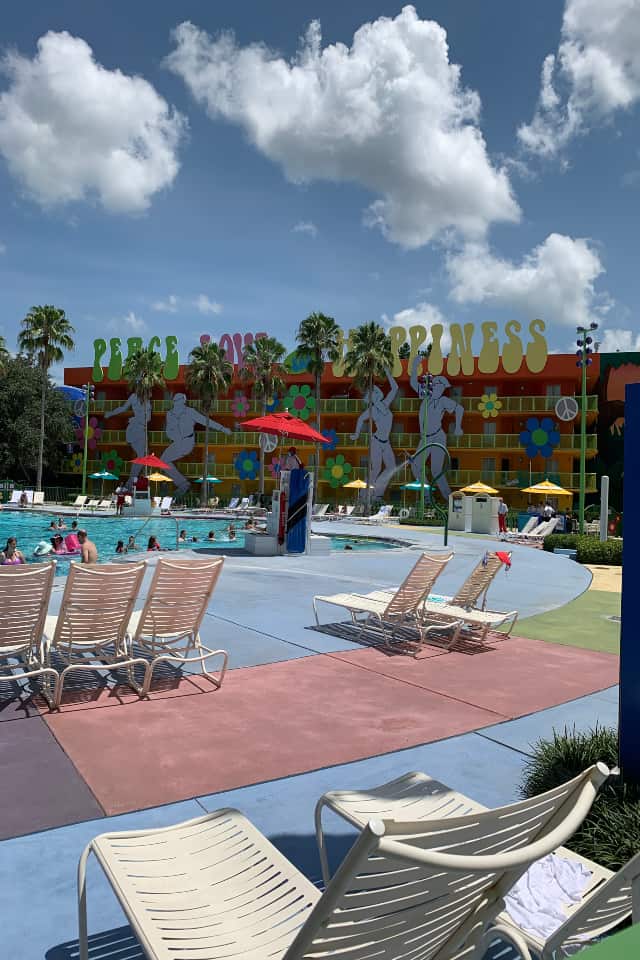 Pop Century features three different pools: the Bowling Pin Pool in the 1950's section, the Hippy Dippy Pool in the 1960's section, and the Computer Pool in the 1990's section.
My children absolutely love the Hippy Dippy Pool. This is the largest of the three pools and is located near the resort lobby. This pool can become a bit crowded, but it is worth it for all of the fun that it offers.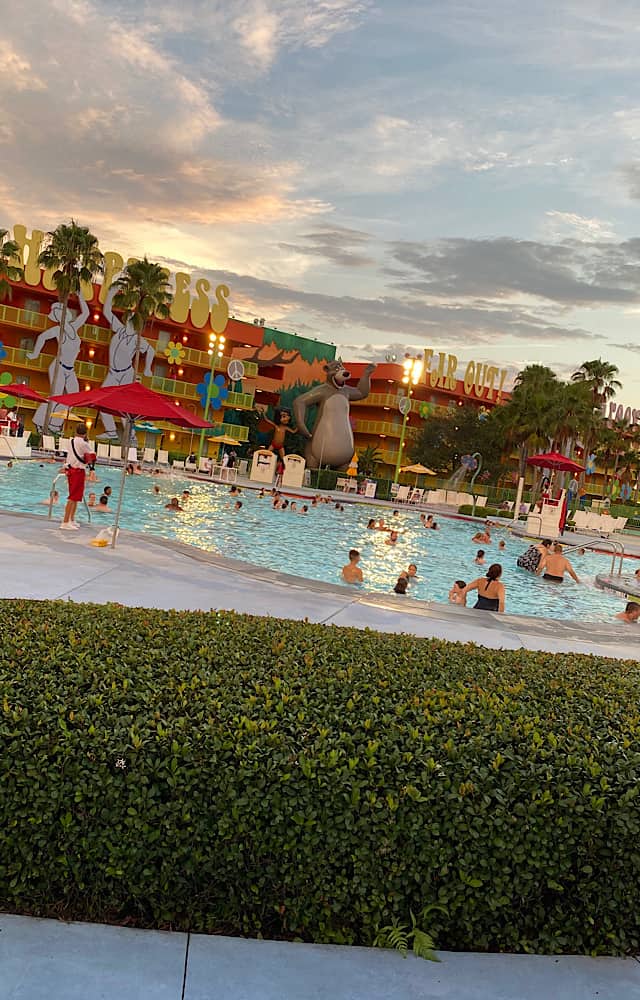 My kids love the large 1960's inspired flowers that shoot water. This is such a fun pool and my kids enjoy it more than some of the pools at other Disney Resorts.
All Disney Resort pools offer fun entertainment provided by Cast Members. This can include fun competition games, dance parties, and even Disney trivia. Our KtP writing crew joke that sometimes the adults get in on the Disney trivia even more so than the children do.
Fun Shopping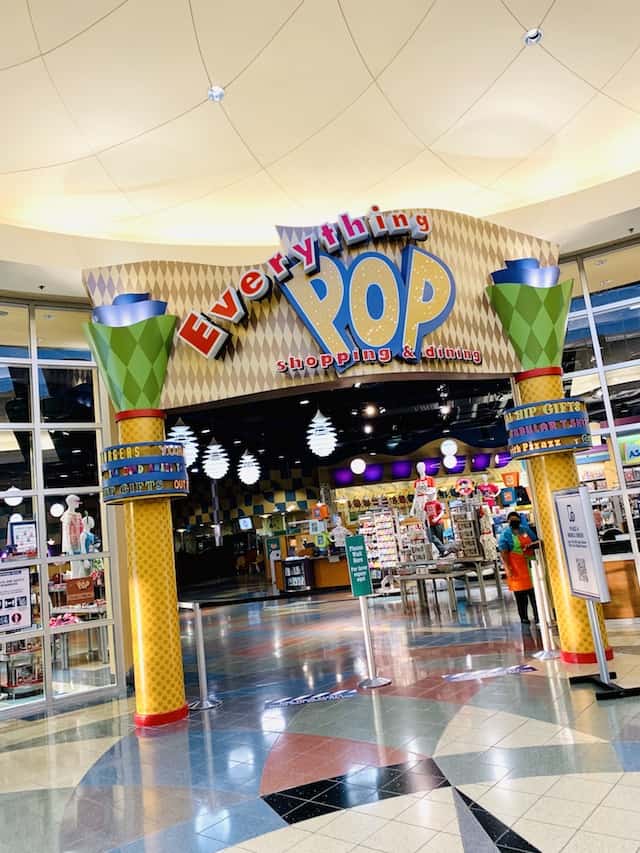 Can you even say that you went to Disney without bringing home a few souvenirs? My children enjoy shopping at the Everything Pop store located in the resort lobby.
They say that they like the selection of toys and souvenirs at this location. My oldest daughter sometimes has a hard time choosing a souvenir, but she finds the smaller setting of the Everything Pop store the perfect size to shop without feeling overwhelmed.
I personally enjoy shopping at this location because then I do not have to carry around everyone's souvenirs throughout the Parks for the day.
Final Thoughts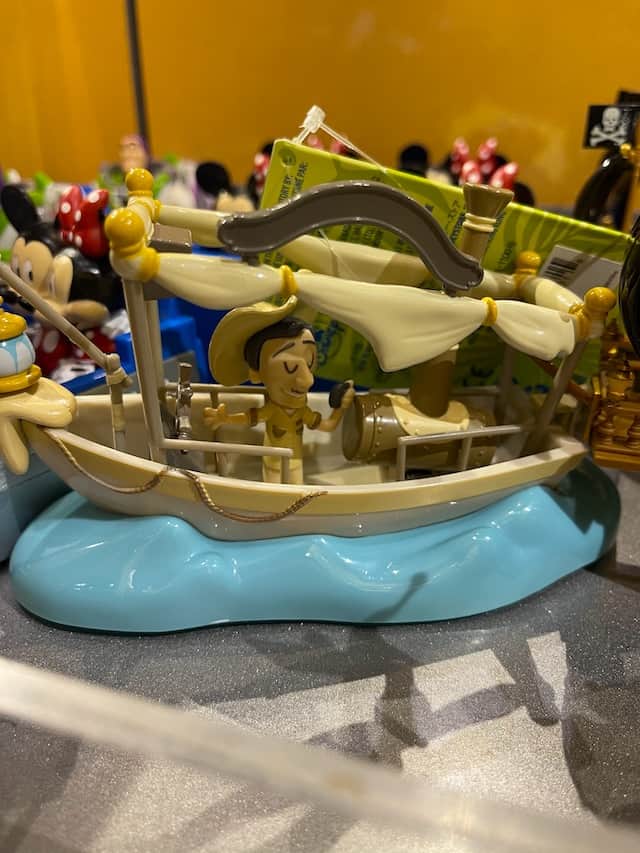 There are so many great Resorts to stay in at Walt Disney World. My children still think Pop Century is the best resort. Maybe it is because of previous memories made or even the feeling of familiarity.
No matter what the reason, I'm sure that when we plan our next trip to Disney the first question will be, "Are we staying at Pop Century?" Be sure to check out Jamie's guide of Pop Century HERE.
Has your family stayed at Pop Century? What is your favorite resort to stay in at Walt Disney World? Share your thoughts with us on our Facebook Page.