Are you wondering what happens if a tropical storm or hurricane comes through during your Walt Disney World vacation? Here are a few things to expect and how I made the most of being stranded at Disney.
Tropical Storms and Hurricanes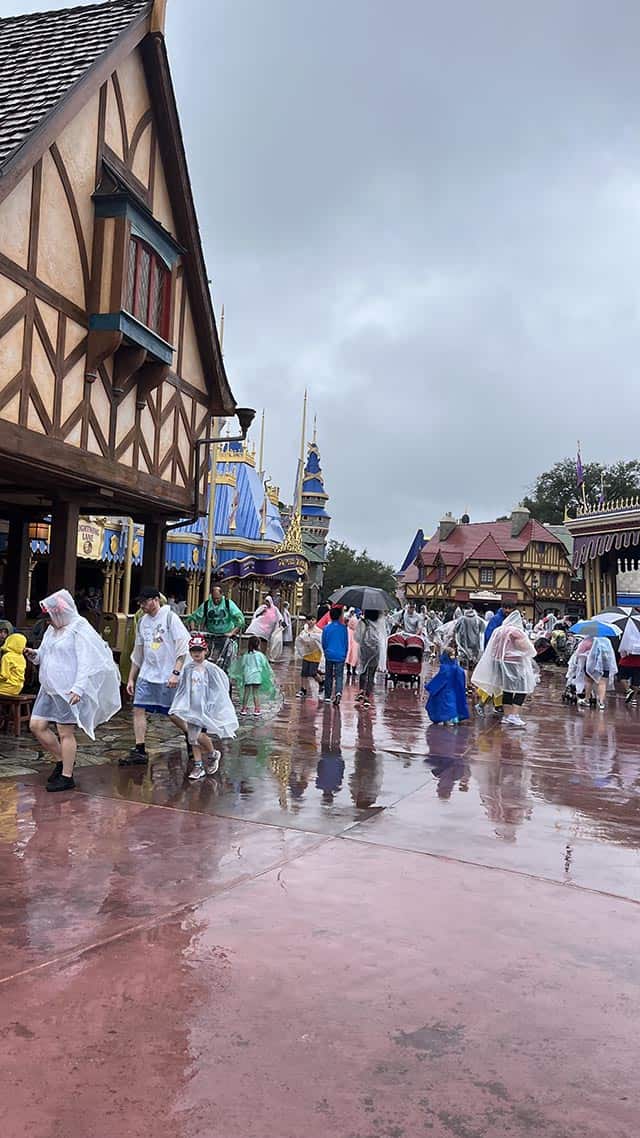 When planning a trip to Walt Disney World, you might not be planning on storms or hurricanes to come through while you are there. However, it does happen so you should be prepared. Hurricane season typically lasts from June 1 to November 30. September is the month they are most likely to occur, but they also happen during the months of August, September and October.
In the past, Disney World has only closed a handful of times due to hurricane activity in the area. These include:
1999: Hurricane Floyd
2004: Hurricane Charley
2004: Hurricane Frances
2004 Hurricane Jeanne
2016: Hurricane Matthew
2017: Hurricane Irma
2022: Hurricane Ian
To read about what to expect during a hurricane at Walt Disney World, be sure to read Monica's post HERE.
Hurricane Nicole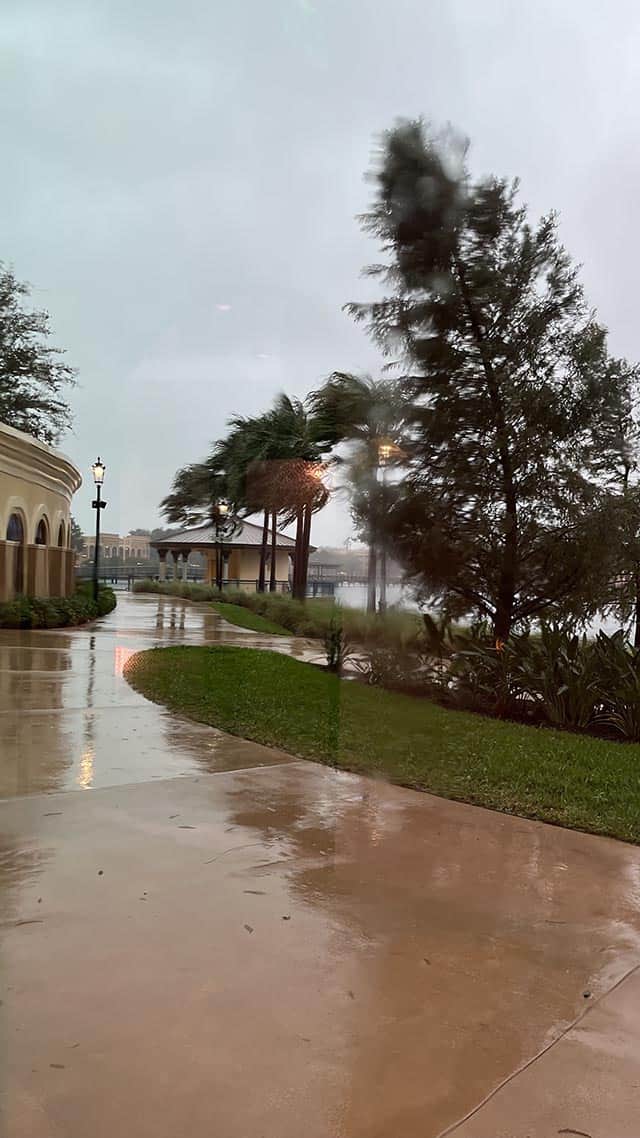 Just this year, Walt Disney World has been impacted by two major storms, Hurricane Ian and Hurricane Nicole. Hurricane Nicole was upgraded from a tropical storm to a hurricane on November 9, 2022. The state of Florida issued a State of Emergency and Walt Disney World halted park reservations.
I (Maggie) quickly found myself experiencing a hurricane at Walt Disney World for the very first time. Since Hurricane Ian passed through a few months prior, I had a pretty good idea of what to expect.
My Experience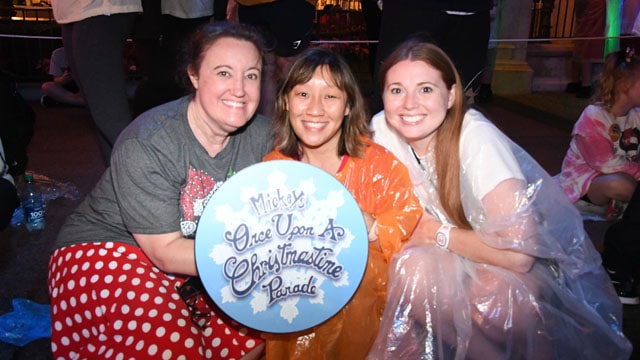 During this trip, weather had been a major factor anyway. Before our trip, I was expecting it to rain. I also knew that the weather turning into a tropical storm or even hurricane was entirely possible.
I, along with my friends and fellow KtP writers, Susan and Monica, all attended Mickey's Very Merry Christmas Party earlier that week. It was a very rainy evening, but we all still managed to have a lot of fun despite the weather. However, Mickey's Once Upon A Christmastime Parade was canceled due to the conditions so we never got to see it. Instead, we saw the Rainy Day Christmas Cavalcade. To read more about that and see how our evening went during the rain, take a look at Susan's post HERE.
During this same evening, I also found out that Orlando International Airport was closing the following evening! My friends both had earlier flights back home, but I was scheduled to fly out that evening. Needless to say, my flight was canceled.
A Change of Plans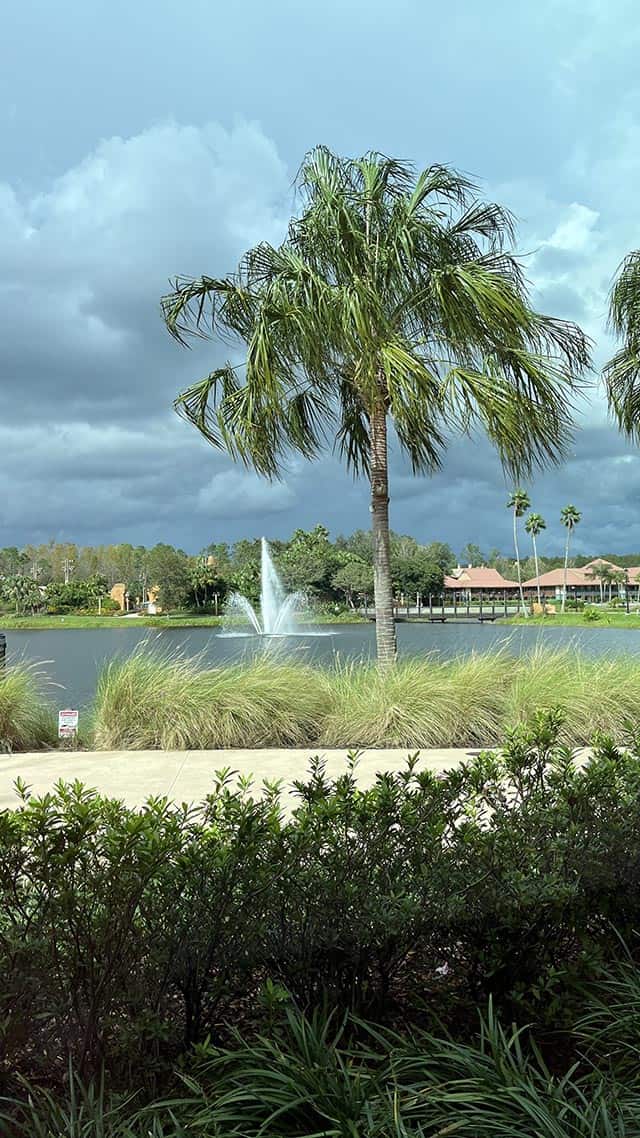 With little to no options for alternative flights available, I decided to stay. Thankfully, I was able to book a night at Disney's Coronado Springs resort.
The next morning, my plans included taking the Keys to the Kingdom Tour at the Magic Kingdom. This is a fantastic tour and I highly recommend taking one if you love Disney and enjoy seeing a behind the scenes look at the Magic Kingdom.
At the end of our tour, our guide informed us that Disney World was closing early due to Hurricane Nicole.
Now What?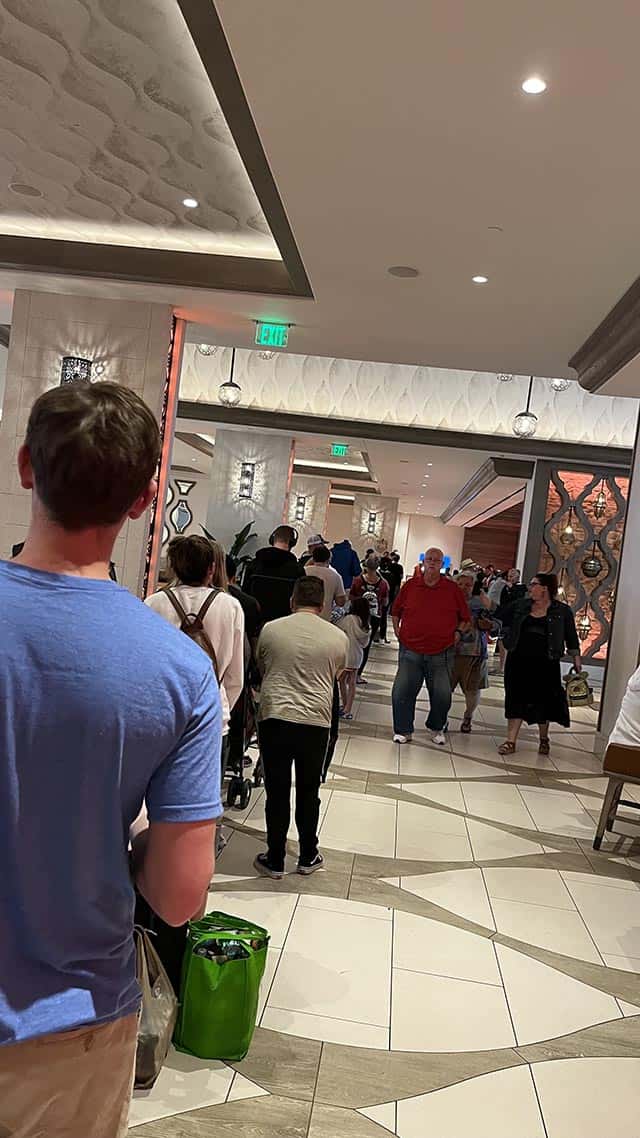 Walt Disney World theme parks were scheduled to close at 5 p.m. through the next day, November 10th. I decided to stay around the Magic Kingdom for a little while and then headed to my resort before the parks closed. One of the first things I needed to do was see if I could add on another night to my stay because another flight of mine had been canceled.
Once I arrived to my resort, the line to the front desk wrapped all around the lobby. It was easily the longest line of my day, but worth it because a friendly Cast Member was able to add on another night!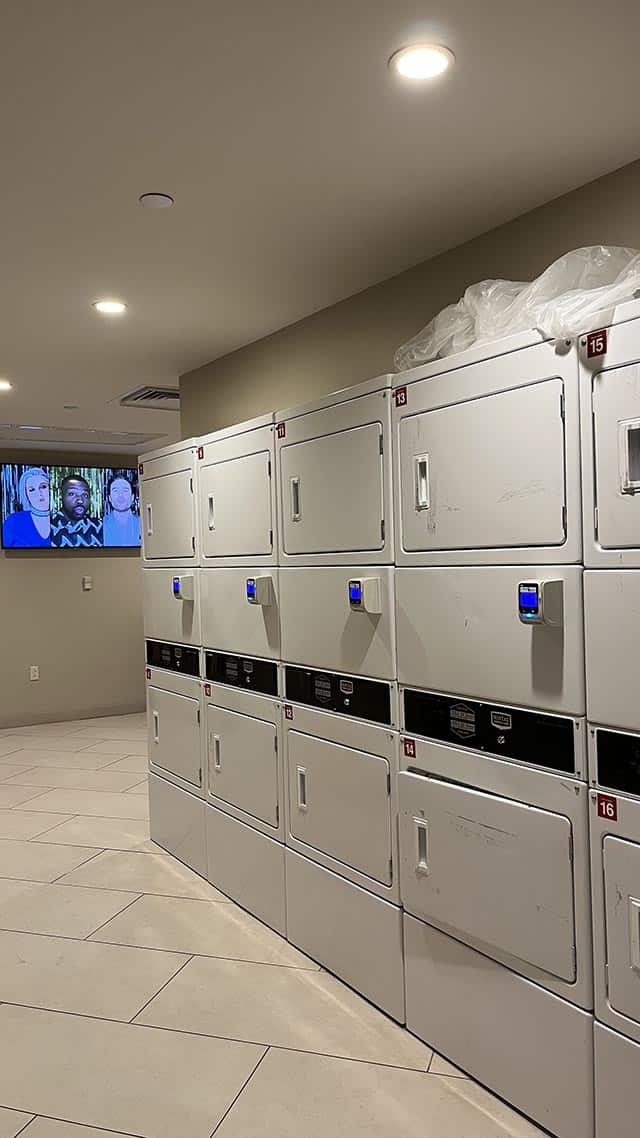 The first thing I did was change my clothes from being soaked during the day. Be sure to take advantage of the laundry services available at your resort if you need them. I was able to dry off some wet shoes and do some laundry for what had turned into an extended vacation!
Dining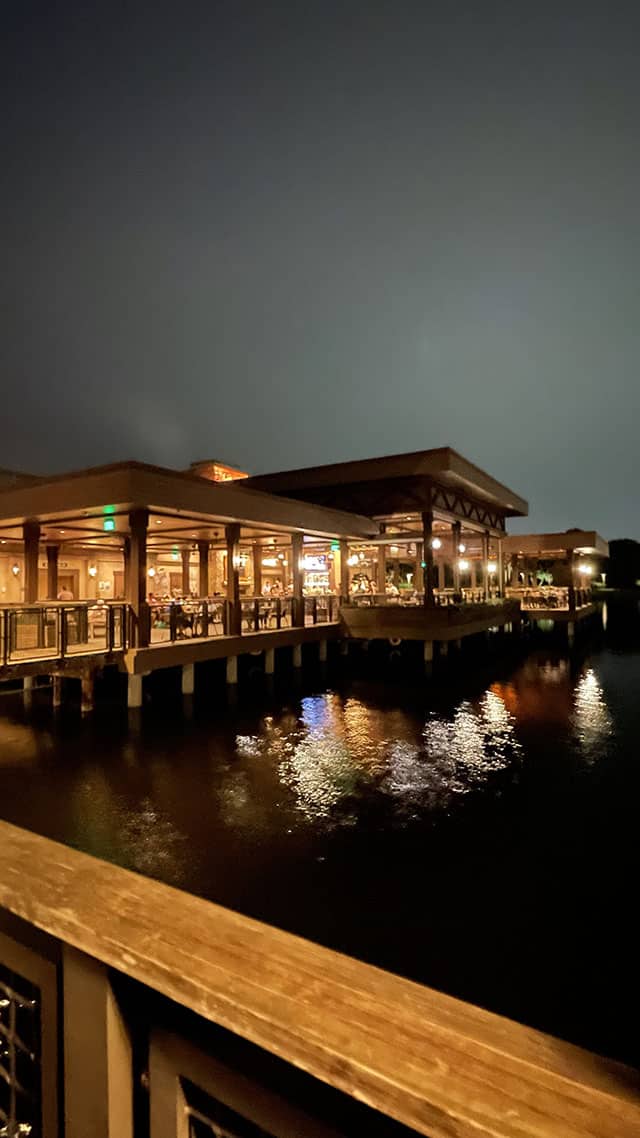 I was informed that all dining locations were still open as normal. Having stayed at this resort only a few months prior to this stay, I knew exactly where I wanted to eat. However, the wait list to get into Three Bridges Bar and Grill was over 100 minutes long!
Be sure to take advantage of services available like laundry and mobile ordering at your resort.
Not wanting to wait that long to eat, I decided to place an order to go from the very same place via mobile ordering. My order was ready in only a few minutes and I was able to enjoy a nice meal from a great restaurant. On my way there, I saw extremely long lines to the quick service location and even more long lines in the gift shop with people trying to buy food and snacks.
Resort Activities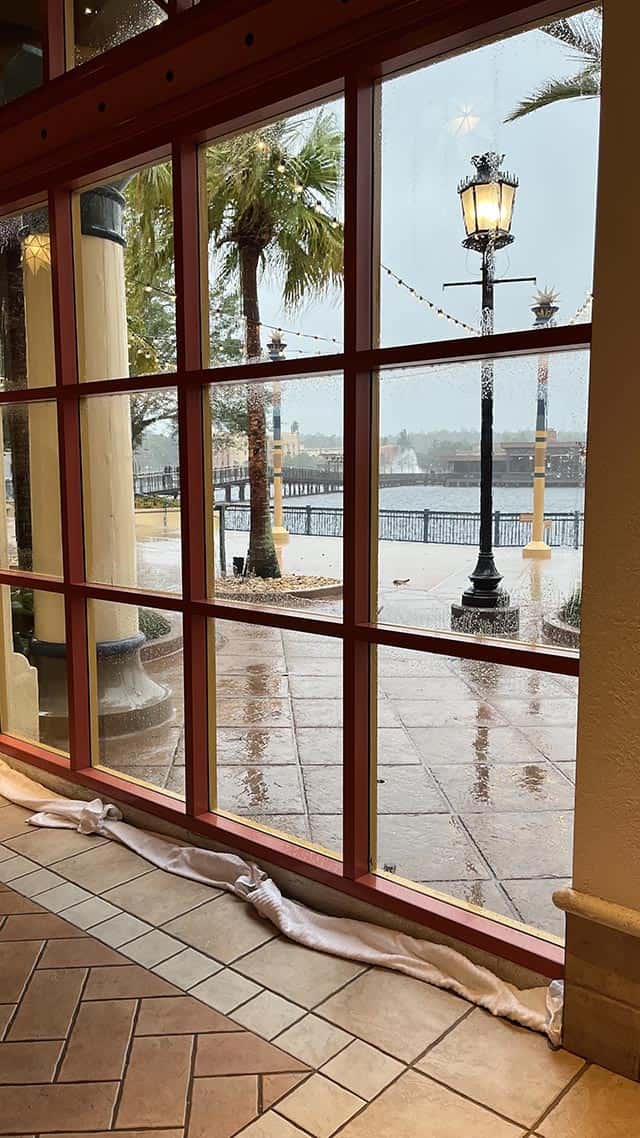 Sometimes during more severe storms, like Hurricane Ian, guests will have to shelter in place and stay in their resort rooms. This was not the case for Hurricane Nicole. The following day, I decided to look around the resort. As you can see, towels were placed by windows to prevent any possible rain coming in or flooding.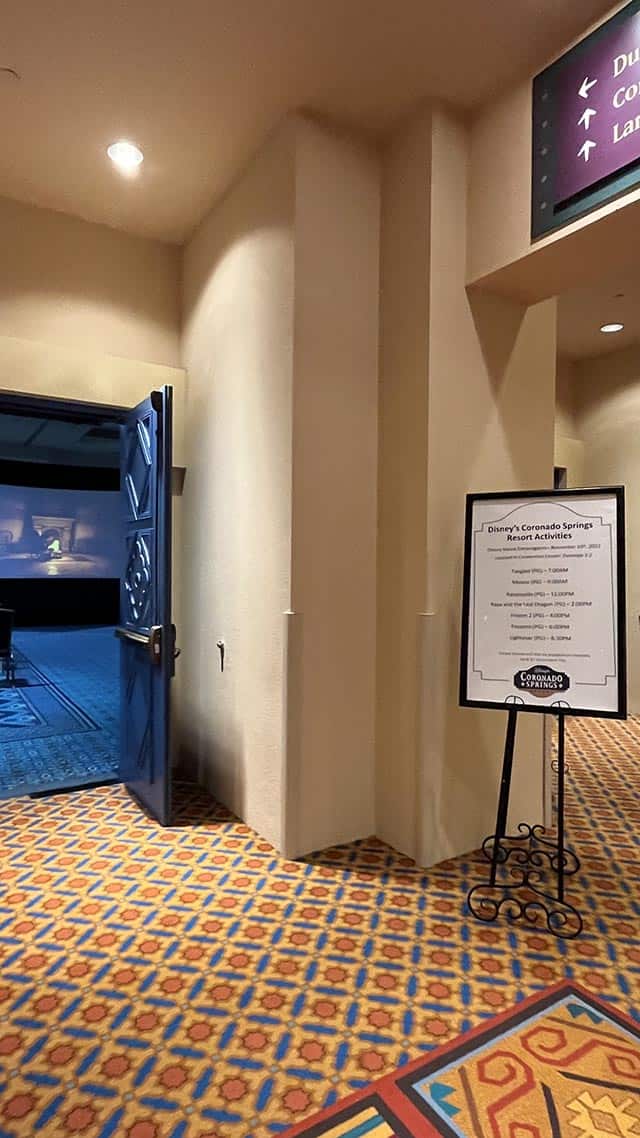 I wondered whether or not there would be any special activities taking place, and indeed there were! Disney's Coronado Springs offered movie screenings all day long. After grabbing some breakfast, I started my morning by watching Tangled.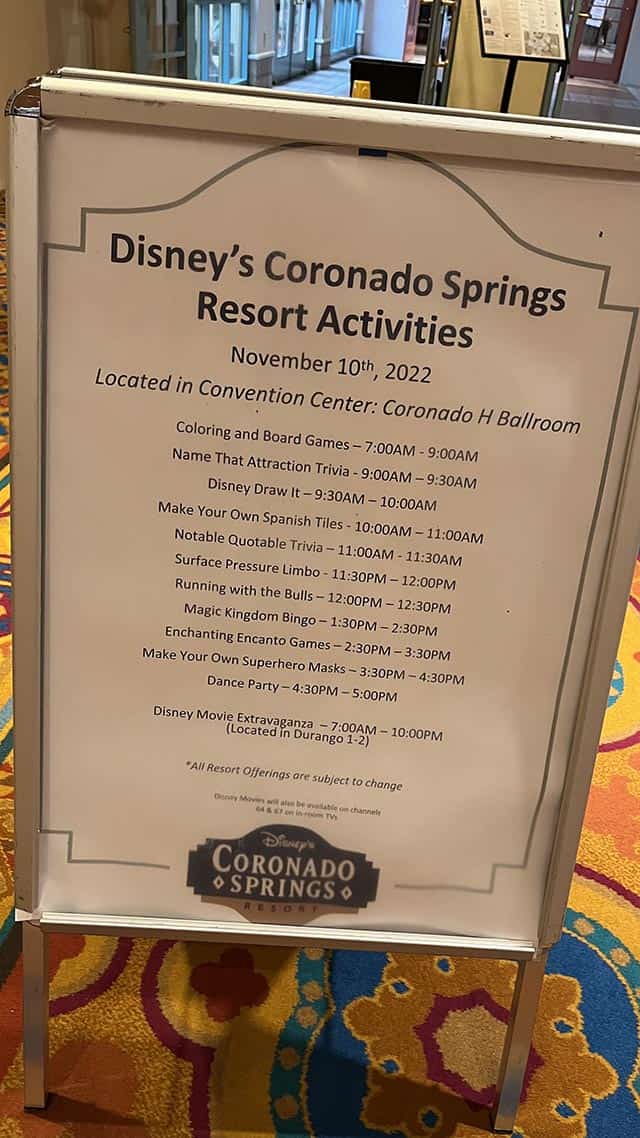 Even more resort activities were available all throughout the day to keep guests entertained.
Be sure to check what activities are available at your resort if you are ever stuck!
One of the most fun parts about this is that you might get a chance to see some fun characters appear. During this particular stay, I saw Goofy, Donald Duck, Minnie Mouse and Pluto!
Characters posed for photos, signed autographs and led fun activities. It was so much fun!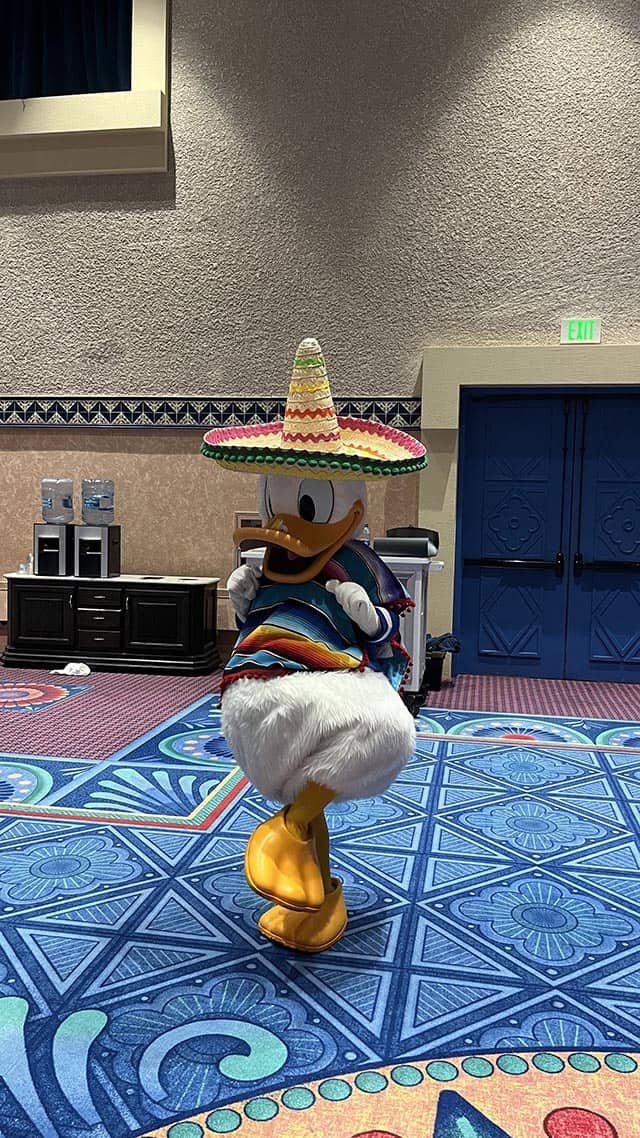 Resort Hopping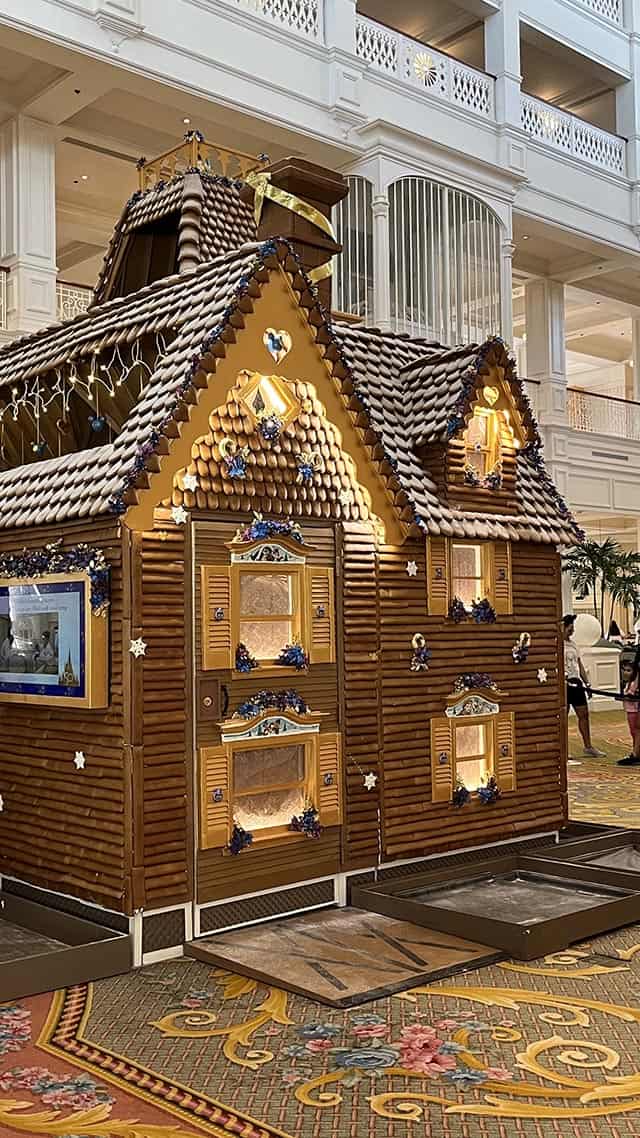 If you do not have to shelter in place and the conditions are not too severe, it is also a great opportunity to do some resort hopping. I was able to go to the Grand Floridian and see the beautiful Gingerbread House display.
I also spotted more characters at the Grand Floridian. Winnie the Pooh, Piglet and Eeyore were all here greeting guests and taking pictures.
A Bonus Party Day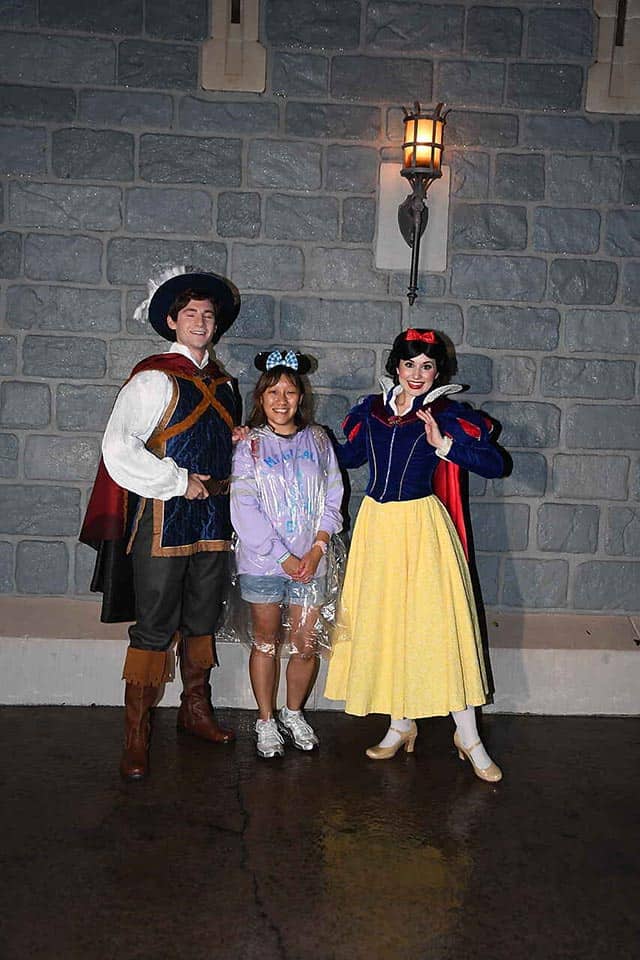 Though this is not always guaranteed to happen, it does happen every once in a while. This day happened to also be a date for Mickey's Very Merry Christmas Party. As soon as I was leaving the Grand Floridian, I found out that tickets were once again available for the party.
Not having anything else to do, I bought myself a ticket and decided to go to the party. Since many characters were not out on the previous date I attended, with the help of my friends, I was able to meet almost all of the characters that we did not see earlier in the trip.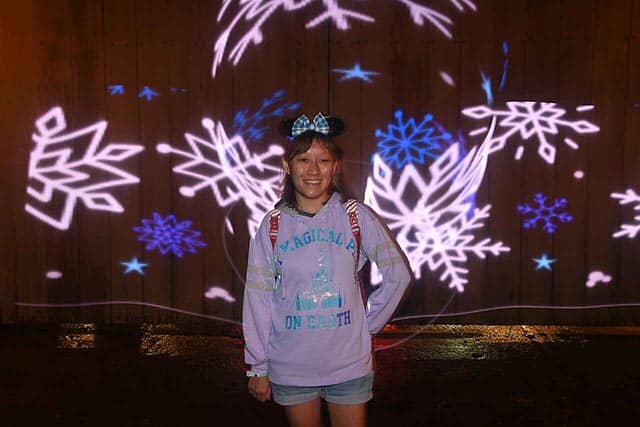 That evening, I met characters from Winnie the Pooh, Snow White and Prince Charming, Princess Aurora and her prince, Belle, Ariel and Prince Eric and Mickey Mouse. I was also able to see Mickey's Once Upon a Christmastime Parade. Along with meeting so many characters, I went on a few rides, saw holiday overlays and was able to get a few of the holiday Magic Shots that were available.
What to Know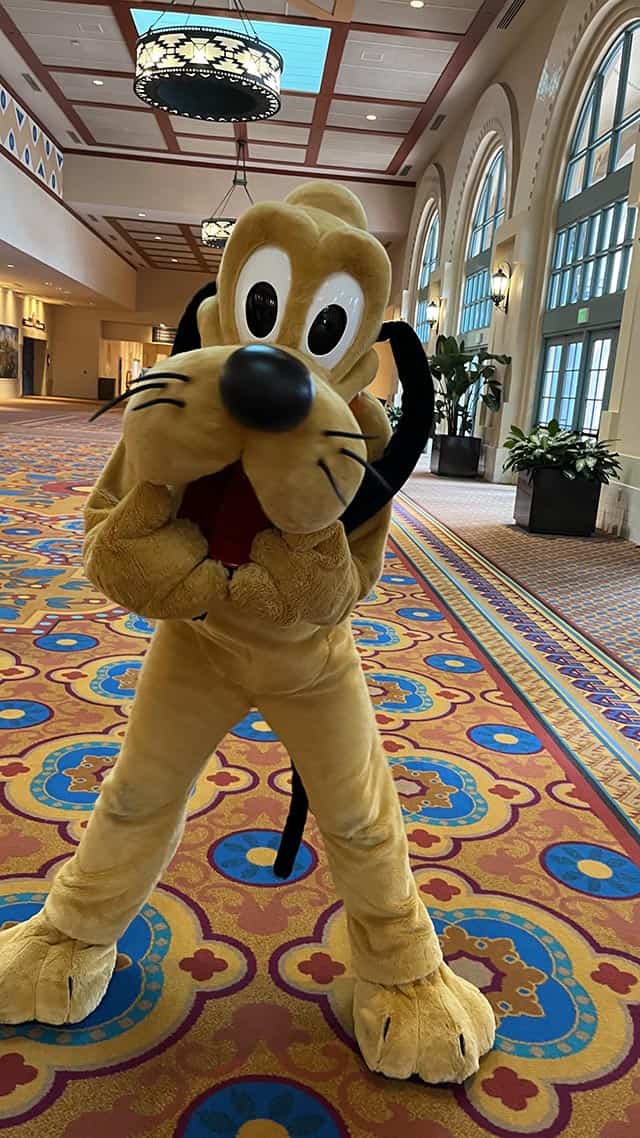 If you even find yourself in the middle of a tropical storm or hurricane while at Walt Disney World, do not panic. Disney does a great job of doing all they can to keep their guests safe. Flights can be canceled or delayed. The airport can even shut down temporarily. Work with your airline and see if you can change flights if necessary.
Extending my stay was not an issue at all. The Cast Member did not even question me. Know that you are most likely not the only person having to be accommodated. Never be afraid to ask questions.
Keep an eye out for special resort activities during your stay and definitely keep an eye out for more opportunities, like sold out dates becoming available again if parties are happening. You just never know when an unfortunate situation could turn into a very memorable trip full of unique and special memories.
Have you even experienced a tropical storm or hurricane while at Walt Disney World? Tell us about your experience in the comments below or share your pictures on our Facebook page.