No want wants it to rain during their Mickey's Very Merry Christmas Party. Take a look here to see how to modify your plans if it does.
Mickey's Very Merry Christmas Party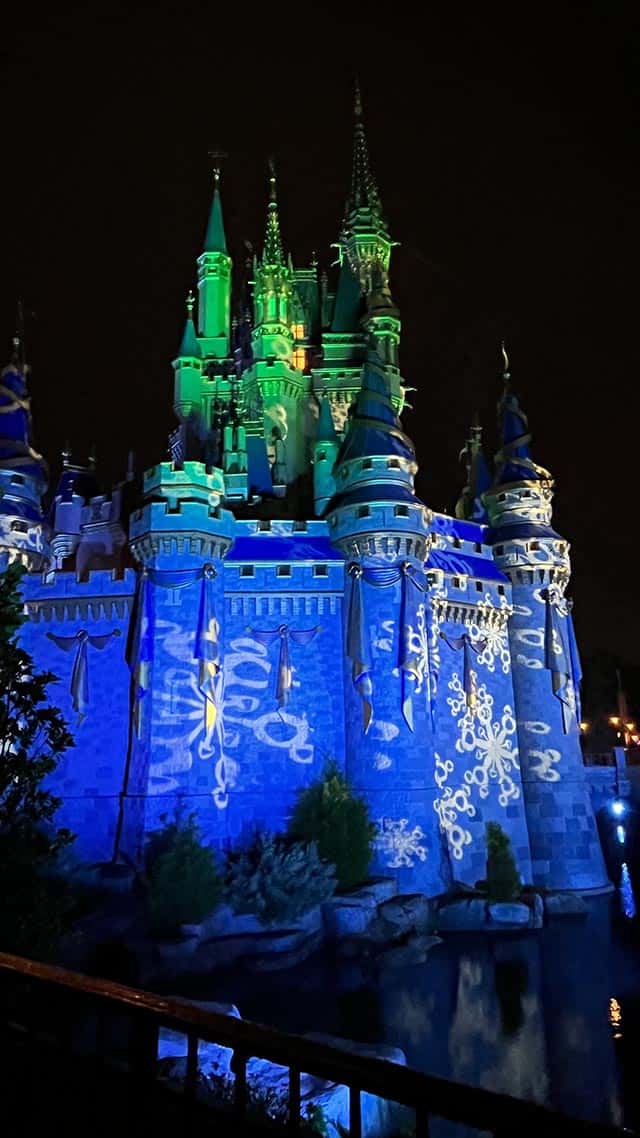 Get ready for a magical holiday gathering with your loved ones because Mickey's Very Merry Christmas Party is back this year!
When Mickey celebrates the season, the Magic Kingdom lights up with excitement for Guests of all ages. And Disney Characters don their most festive attire and enchanting entertainment lies around almost every turn!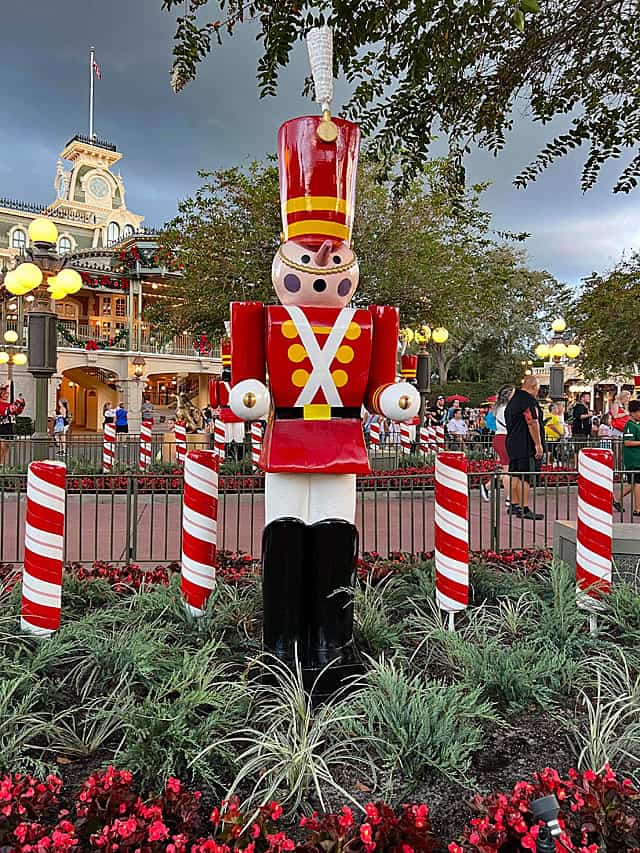 Take a look at some of the party fun:
Delight in the amazingly festive Minnie's Wonderful Christmastime Fireworks show!
Gather to watch Disney Characters during Mickey's Once Upon a Christmastime Parade.
Make your night extra sweet when you explore the park searching for cookies and cocoa.
Take in the elaborate decorations that bring the spirit of the season to life!
Special souvenirs including an exclusive ornament and print.
Check out the entertainment schedule HERE, the food guide for the party HERE, and the character guide HERE.
When we (Susan and fellow writers Monica & Maggie) attended the first Christmas Party, rain canceled multiple entertainment offerings. Take a look to see what we experienced. Hopefully, this can help you adjust your plans if you find yourself at a rainy party.
Character Changes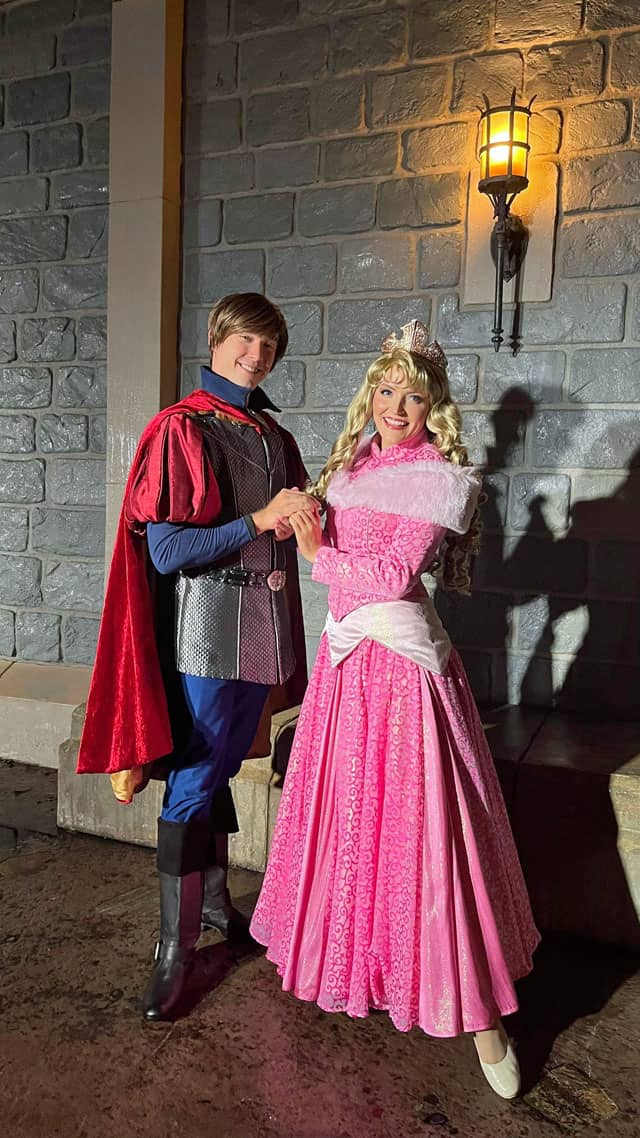 Be sure to check your My Disney Experience app under party characters to see all of the character locations and times. We found many delays in starting times for them during our rainy night.
Many characters didn't start meeting until 8:00pm even though the party started at 7:00pm. Because of this, expect longer character lines throughout the evening. If you're lucky enough to catch the first parade, lining up for characters during the second parade may cut down on wait time.
Belle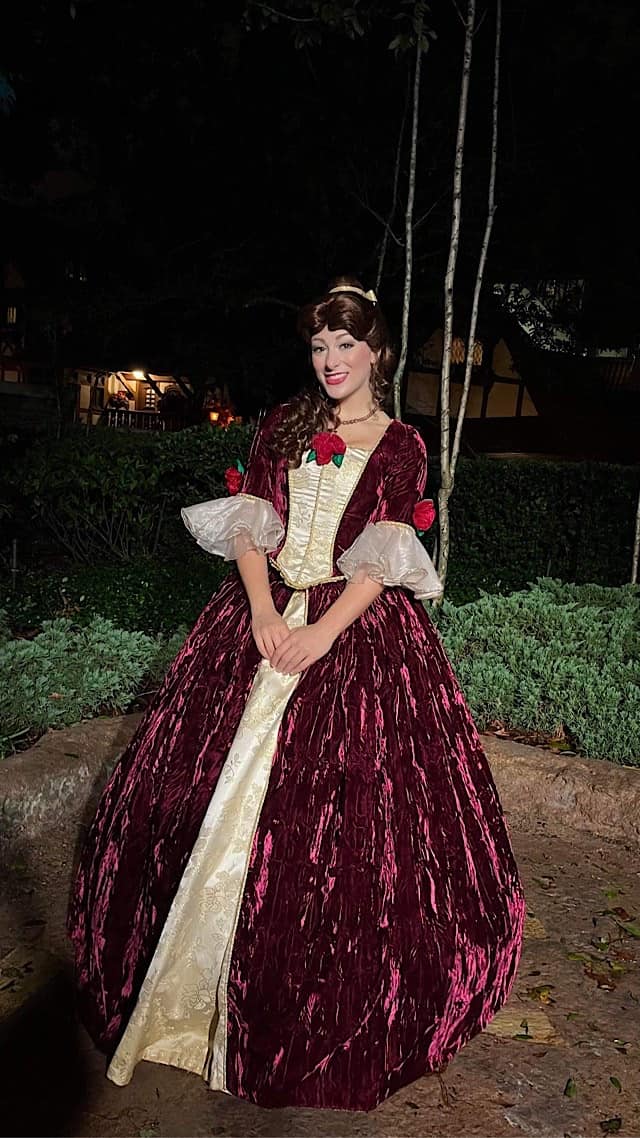 Belle usually meets in her red Christmas gown during parties in front of Maurice's cottage. This is one of my (Susan) all-time favorite princess costumes.
However, when it rains, she meets blue dress instead of her holiday party gown inside the cottage.
Fantasyland Wall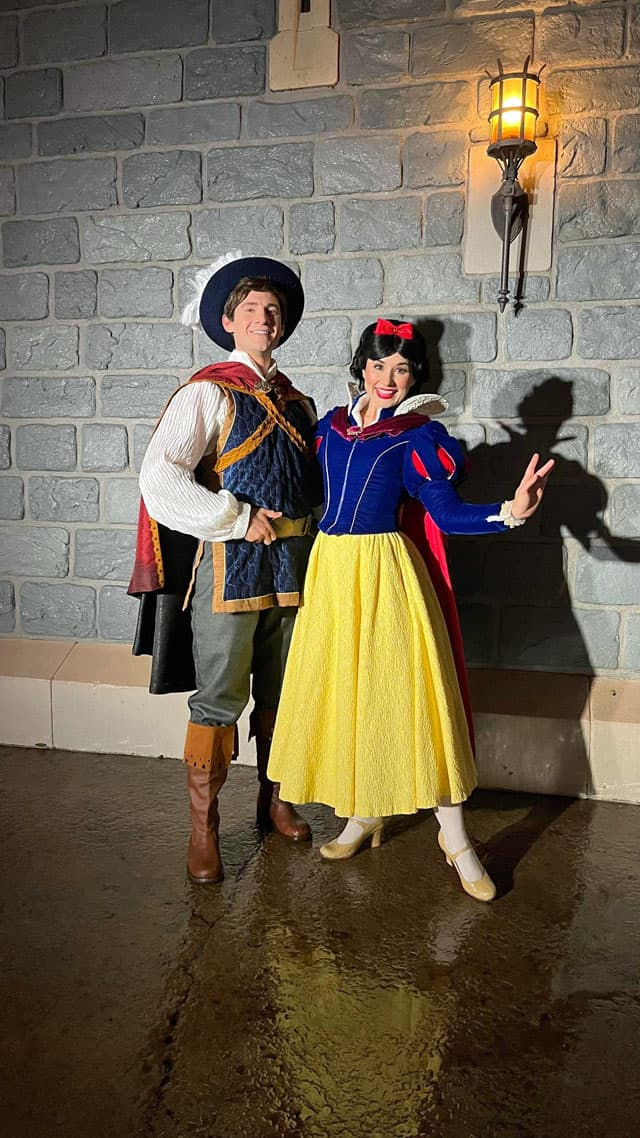 At the Fantasyland wall beside the Pinocchio Village Haus restrooms, Snow white with her prince and Aurora with Prince Phillip meet during the party. However, there is no protection from the rain here since it is an outdoor meet.
We were hoping these characters would rotate with the Fairytale Hall characters (Elena and Cinderella with Prince Charming on the right side and Tiana with Naveen and Rapunzel with Flynn on the left side), but that didn't happen. Instead, these Fantasyland wall characters did not meet at all.
The characters usually at the Fantasyland Wall did not meet the first party due to rain.
Tweedles and Santa Goofy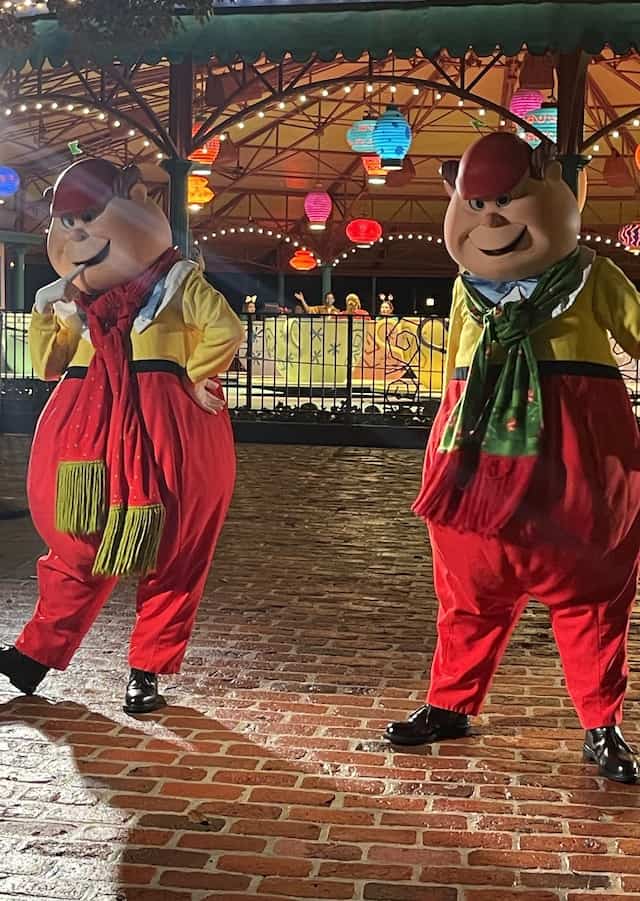 Tweedle Dee and Tweedle Dum from Alice in Wonderland meet near the Mad Tea Party attraction, weather permitting. We were told by a cast member that they meet during the Cheshire Cat Cafe if it rains. However, we did not see them there or on My Disney Experience character listings and didn't see them in this spot.
Check your My Disney Experience app to see what characters are available.
Santa Goofy meets beside the Barnstormer, weather permitting. However, during rainy nights he doesn't actually meet guests. Instead, he joins the Storybook Circus Disney Junior Jingle Jam dance party.
Parade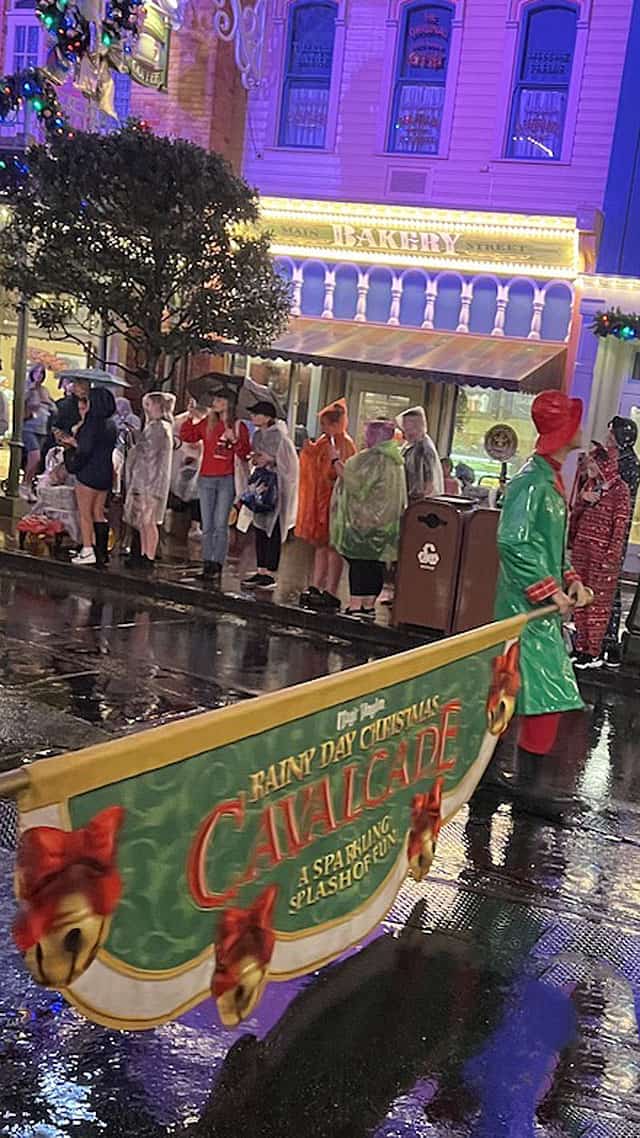 We had intended to try and catch the first Mickey's Once Upon a Christmas Parade at 8:30pm. However, it was announced that it was delayed.
Since we were in line at the Dumbo playground to meet our favorite Disney pals (Donald with Scrooge McDuck and Minnie with Daisy), we decided to stay in line there. We lined up at 7:30pm and didn't leave until 9:00pm. This character meet was one of several delayed until 8:00pm.
We later learned the first parade happened about 8:45pm. So, we got a seat on Main Street early for the 11:00pm parade. All was well until heavy rain hit at 10:50pm. It was a downpour!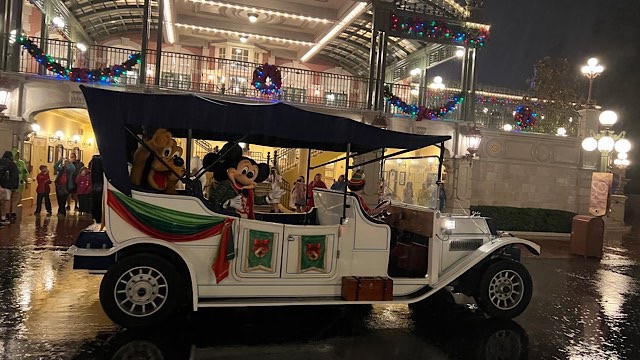 Although the full parade was canceled, we were able to catch the Rainy Day Christmas Cavalcade. It was raining so hard I couldn't even see to take pictures and got drenched (even with a poncho).
The Rainy Day Christmas Cavalcade replaces the Mickey's Once Upon a Christmas Parade when it rains.
The first car included Mickey, Minnie, Pluto and Goofy. Depending on which side you're watching on, you'll really only see two of the characters.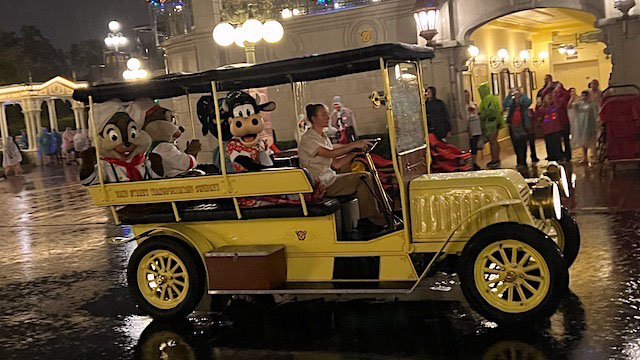 Then, the second car held Clarabelle, Vanellope, Chip and Dale, also in their Christmas outfits.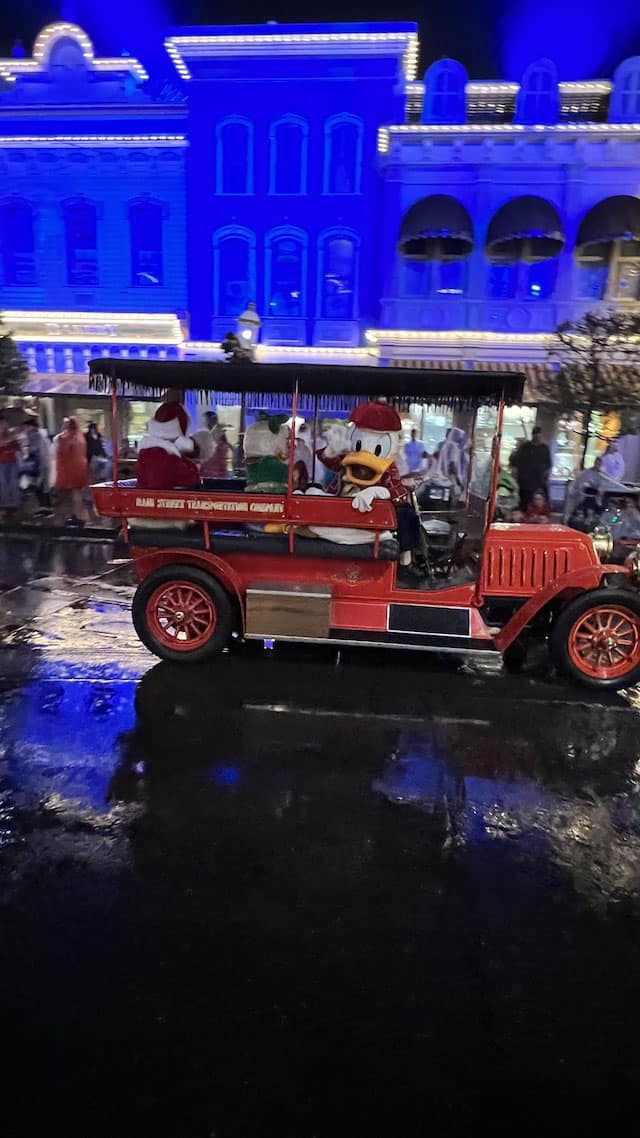 The third vehicle strolling down Main Street U.S.A. drove Santa Claus, Donald, and Daisy.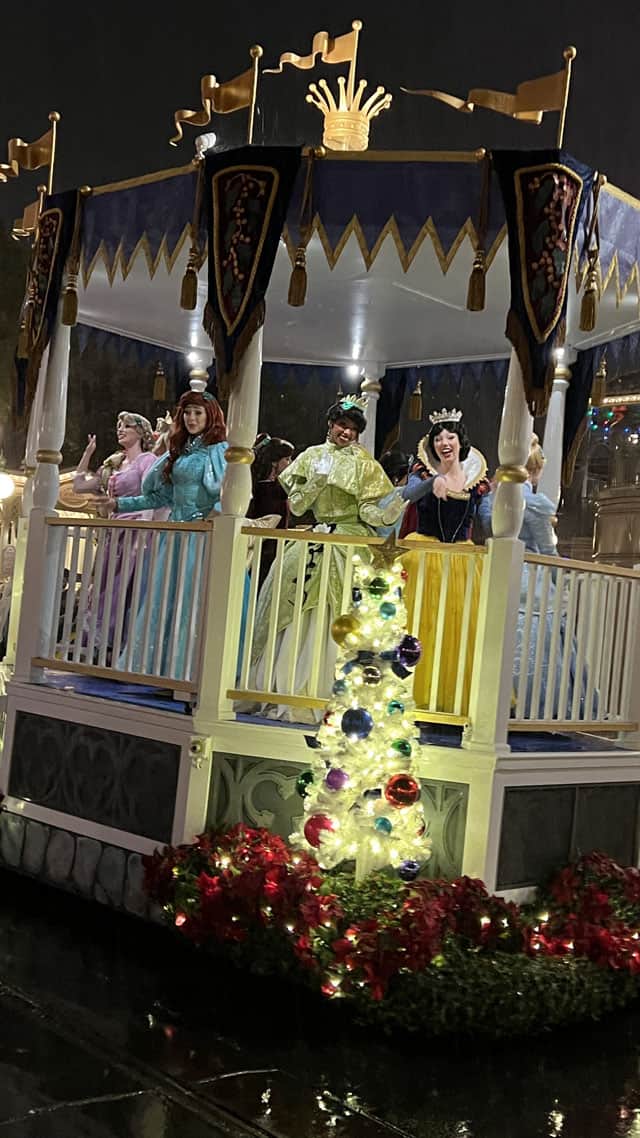 Last, but not least was the royal gazebo float with the following Disney princesses: Snow White, Belle, Jasmine, Aurora, Tiana, Cinderella, and Rapunzel. It was nice seeing them all together.
Don't expect "snow" on Main Steet during rain.
Stage Shows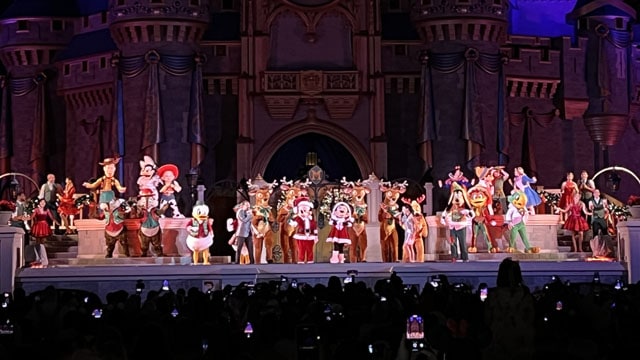 With it raining more often than not, Disney has to be careful sending characters out to a drenched stage for their safety. If they feel it is unsafe for them or if it's raining, the Mickey's Merriest Celebration stage show on the stage in front of Cinderella Castle will be canceled.
On opening night, 3 out of 4 performances were canceled. However, we were able to watch a modified version of the show. Although we saw our favorite Disney pals on stage, the show was only one song.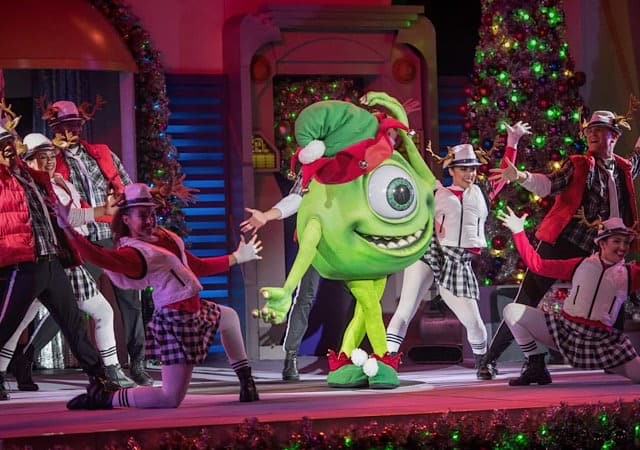 A Totally Tomorrowland Christmas! stage show is also canceled during inclement weather, including rain, for the same reasons. It's an uncovered stage and safety comes first.
Fireworks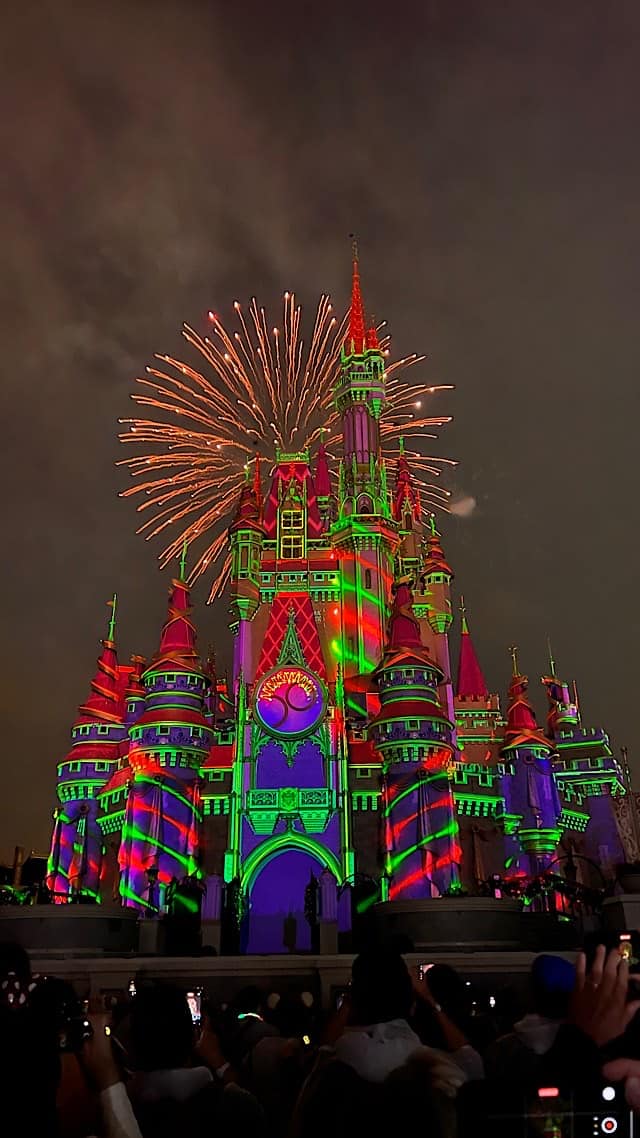 In the case of rain, Minnie's Wonderful Christmastime Fireworks will be delayed. If the rain continues however, fireworks will be canceled. Disney tries really hard to put on this fantastic show knowing virtually everyone is looking forward to seeing it.
Final Thoughts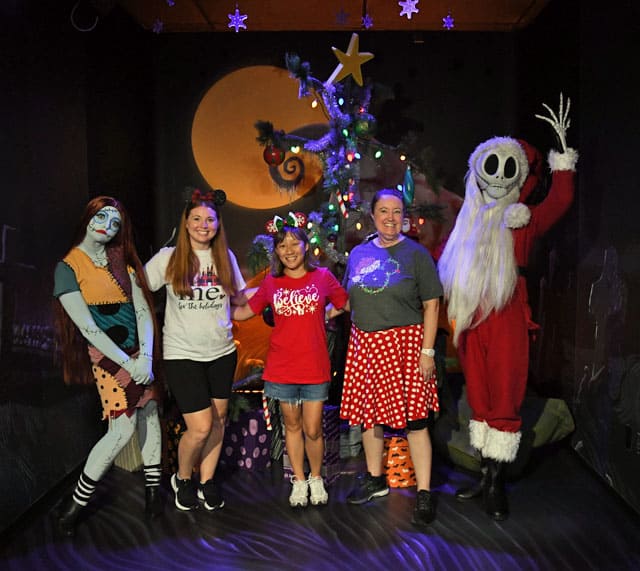 Although rain made it impossible to see and do everything, we still had an enjoyable evening. We were able to meet over 12 characters, catch the fireworks, enjoy holiday treats, and had fun being together.
Have you attended a rainy Disney party? If so, how did you adjust your plans? Please tell us about it in the comments below or share with us on our Facebook page.

Are you planning a vacation? Reach out to our trusted travel agency sponsor Authorized Disney Vacation Planner
Mouse Class Travel
!