Are you looking to dine somewhere with spectacular food and views? Here is why you should definitely add Three Bridges Bar & Grill to your list of dining choices.
Disney's Coronado Springs Resort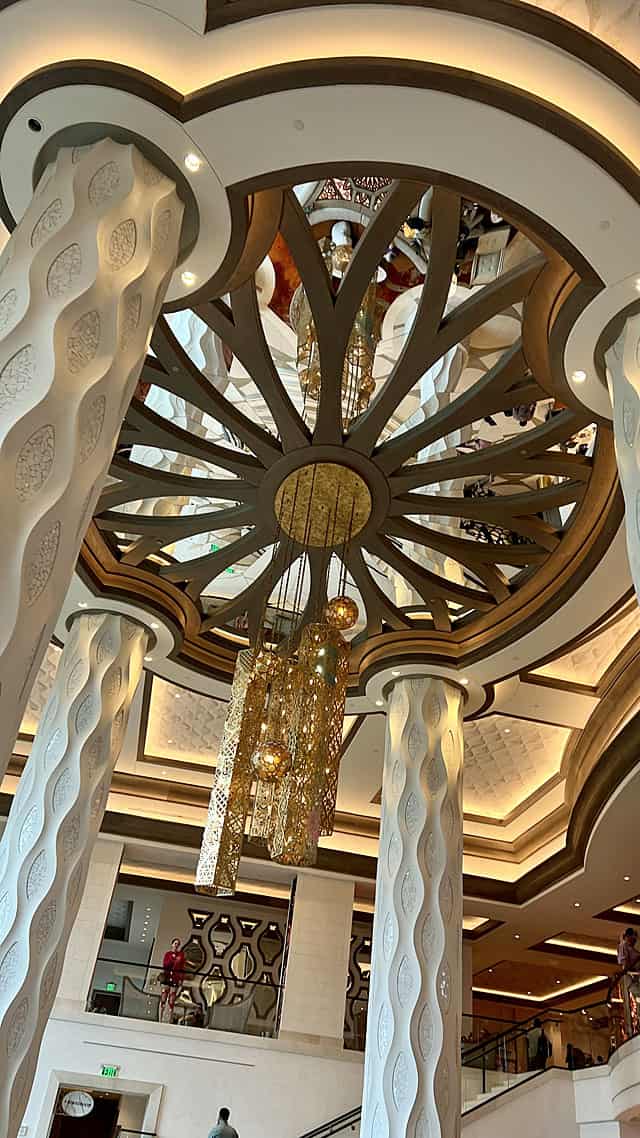 Disney's Coronado Springs Resort is a moderate resort, but because of the stunning views, beautiful architecture and club level amenities, you might just be convinced that you are staying at a deluxe resort.
The resort is one of Disney's largest resort properties, but in my opinion it also one of the most beautiful. Be sure to check out an upcoming resort guide for this spectacular resort. For now, take a look at Donna's post HERE to see why she thinks it is the best moderate resort on property.
Coronado Springs has several dining locations to choose from, including Toledo – Tapas, Steak and Seafood, Three Bridges Bar & Grill at Villa Del Lago, Maya Grill, and Rix Sports Bar & Grill. Various lounges and grab and go locations are also available.
Three Bridges Bar & Grill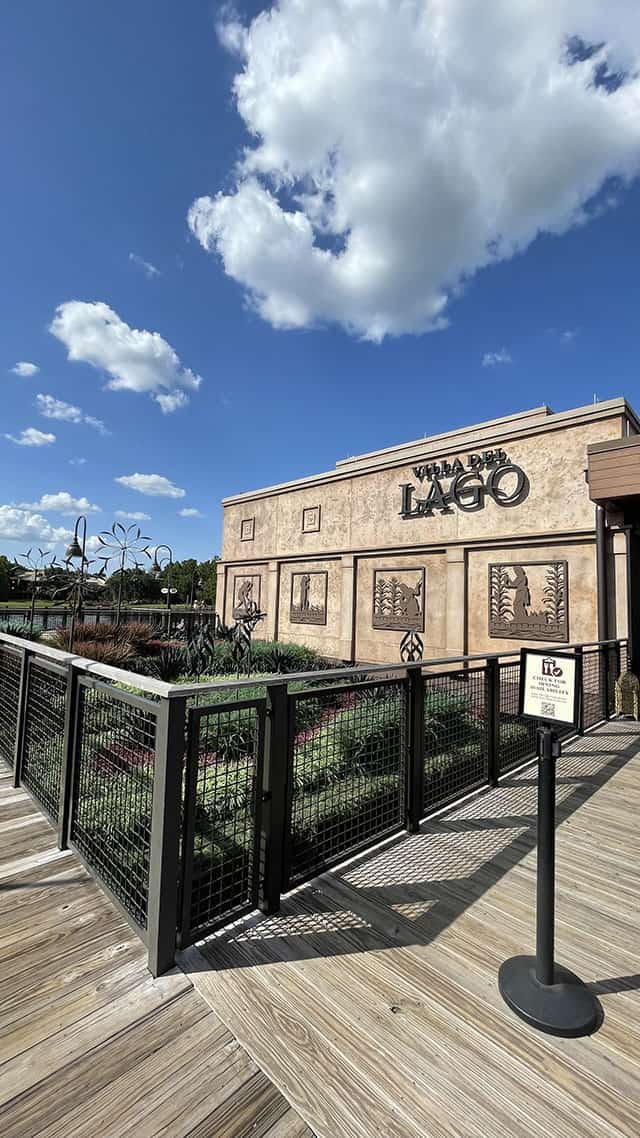 If you are looking to dine by the lake, try the lakefront restaurant, Three Bridges Bar & Grill located in Coronado Springs, Villa Del Lago. Being one of four main table service dining locations of the resort, this location will leave you satisfied and most likely wanting much more.
Disney describes the dining location as, "a lakefront restaurant inspired by dreamers, adventurers and explorers." The theming of the location is a place for people to come together and share stories over food and drinks.
Getting to this location is easy. Look for the place where the three bridges meet and you will see Villa Del Lago.
How to Dine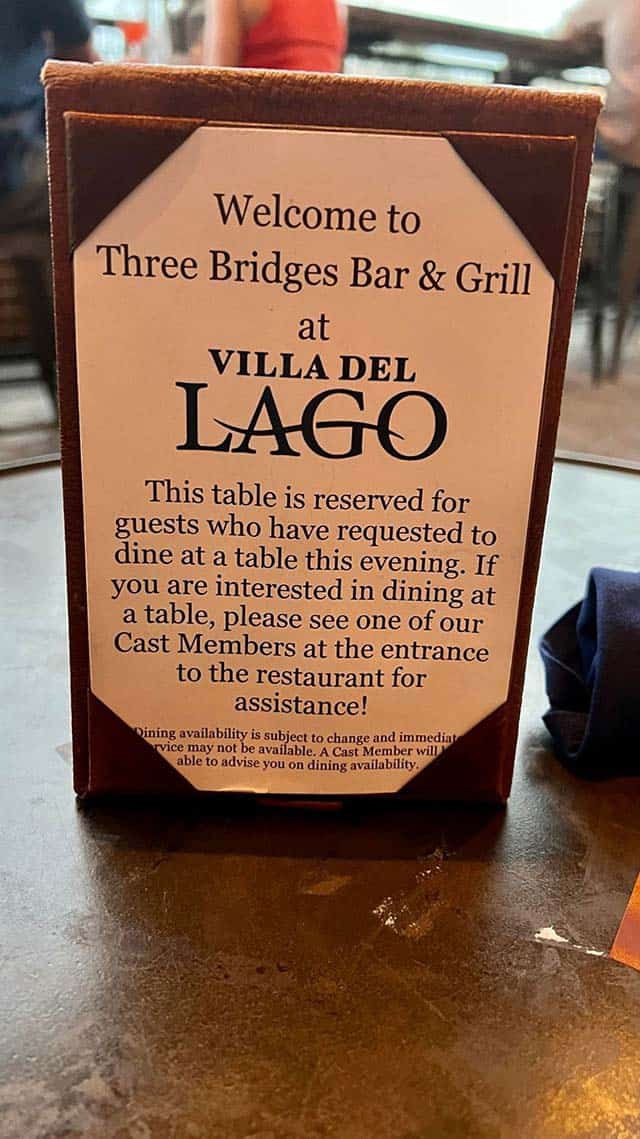 Unlike many dining locations at Disney, this location requires you to join a Walk-Up List. To join, select, "Join Walk-Up list" in My Disney Experience. You will then be added to the list and given a time period to return. You will also be given a reserved table to sit and eat.
Once we joined the Walk-Up List, our table was ready in only a matter of minutes. Keep in mind wait times can vary depending on how busy they are.
Advanced dining reservations are not available on My Disney Experience.
Three Rivers Bar & Grill is open daily from 4:30 pm to 12:00 am and serves only a Dinner menu. If you are looking to grab some dishes to go, you can also place an order via Mobile Order. Mobile Ordering is easy and convenient! To see how it works and see other table service locations offering this feature, take a look at this post HERE.
Spectacular Views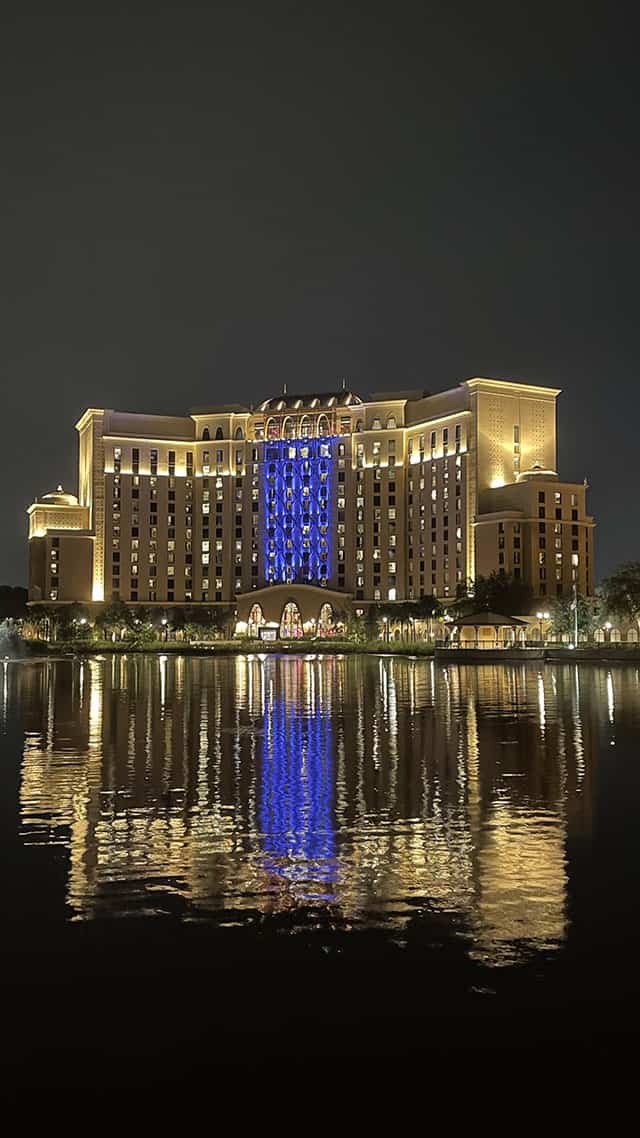 If you are looking for a place to simply relax and take in the atmosphere, this is a great dining choice! There is plenty of seating both inside and outdoors. Feel free to take in the gorgeous views of the lake and views of Gran Destino Tower. It is especially beautiful at night.
Try Three Rivers Bar & Grill if you are looking for a place to relax and take in some beautiful views.
Tables, bar seating and comfortable couches were available for sitting which made for a very pleasurable, casual dining experience.
One word of caution is that the location has an open atmosphere. If the weather is unfavorable and stormy, this would not be the best choice. While the location does have shelter from the rain, if it is really windy and storming, you will get wet.
Experience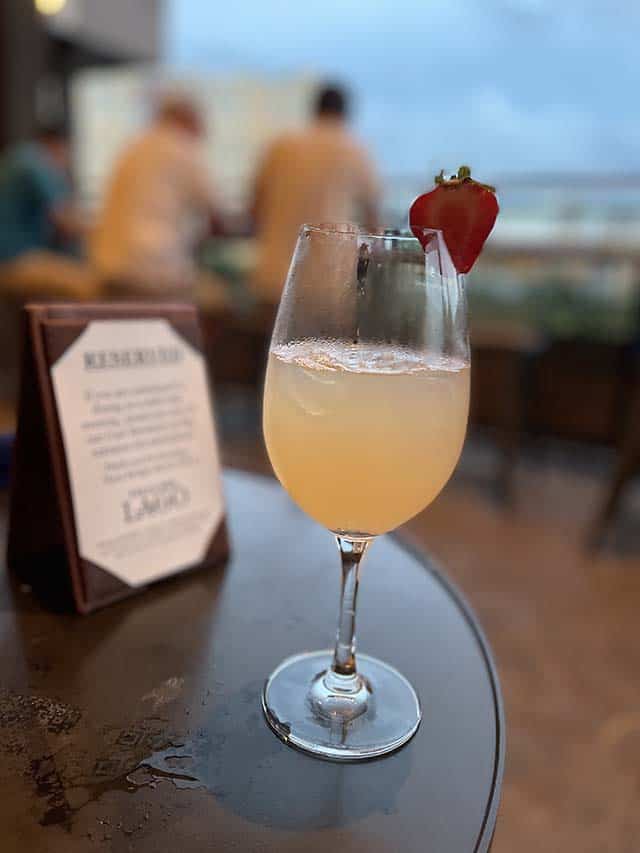 Menu items range from $15 to $34.99 and include both a Kid's and Adult menu.
As Coronado Springs is also home to Sangria University, you may want to take advantage of it and order one of their house-made sangrias. The sangrias featured in Sangria University are also on the menu at Three Bridges Bar & Grill. Fellow KtP writer Susan has called them one of the best sangrias she has ever tasted, so if you are looking to try a sangria, definitely try one from this location.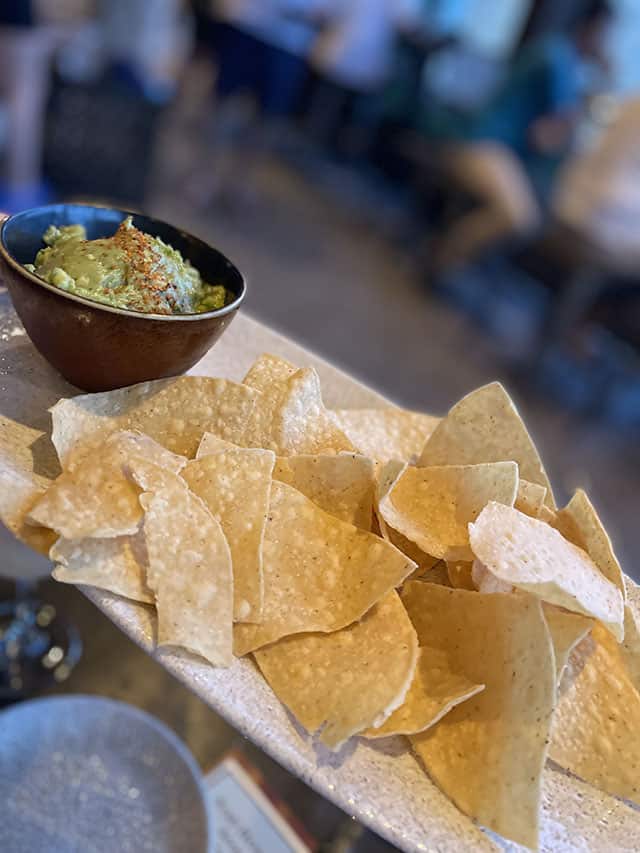 We chose to have the House-made Guacamole which came with tortilla chips and Tajín (Plant-based). Nearly a month later from when I (Maggie) had these, I am still dreaming about these chips and guacamole. They were that good! The tortilla chips tasted fresh and crisp and the guacamole tasted freshly prepared and homemade.
For my entree, I chose the Coconut-Curry Chicken, which came with Basmati Rice and Marinated Chickpeas. If you are a fan and lover of Indian food, this dish is definitely for you. It reminded me a lot of the dishes from Yak and Yeti over at Disney's Animal Kingdom, particularly the Chicken Tikka Masala, which is what I usually get at that location.
This dish definitely had some spice to it, which was expected. If you are not fond of spicy foods, I do not recommend this dish. If you do enjoy spicier foods, this is a great selection. In all honesty, while it is described as having "coconut-curry", I did not taste coconut at all. I am not crazy about coconut, so this was fine and I enjoyed the dish very much. The chicken was also very tender. Would I get this dish again? Absolutely!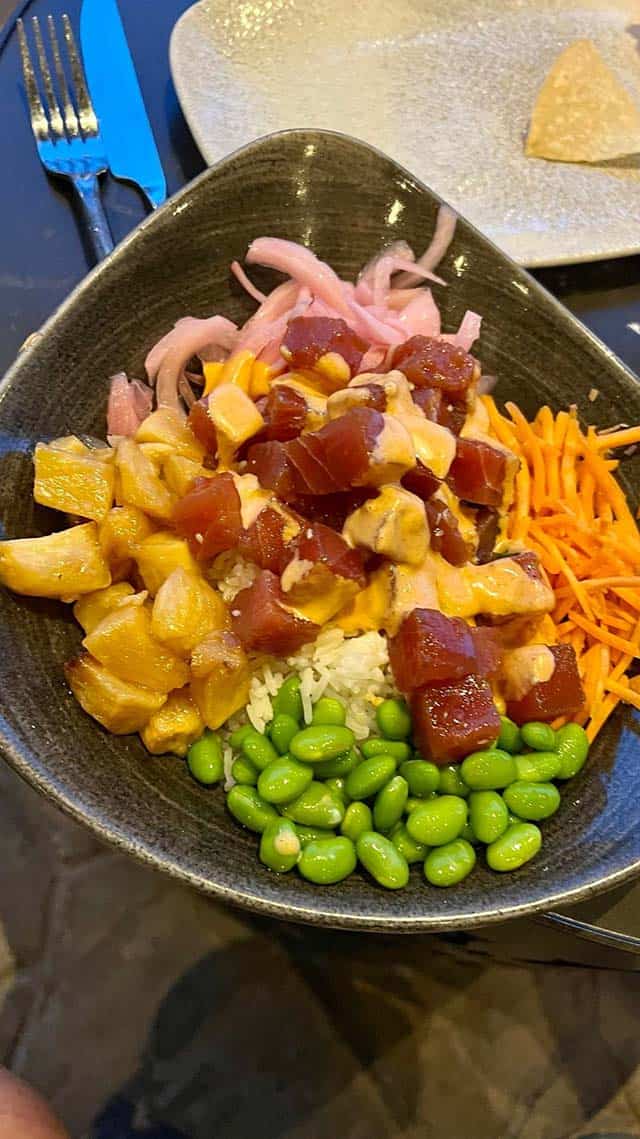 My friend and fellow KtP writer, Susan, had the Tuna Poke bowl. She shares the following thoughts about her dish here, "All of the ingredients were very fresh. The sriracha aioli and grilled pineapple blended perfectly with the tuna, rice and other ingredients. The dish was not spicy."
Overall Thoughts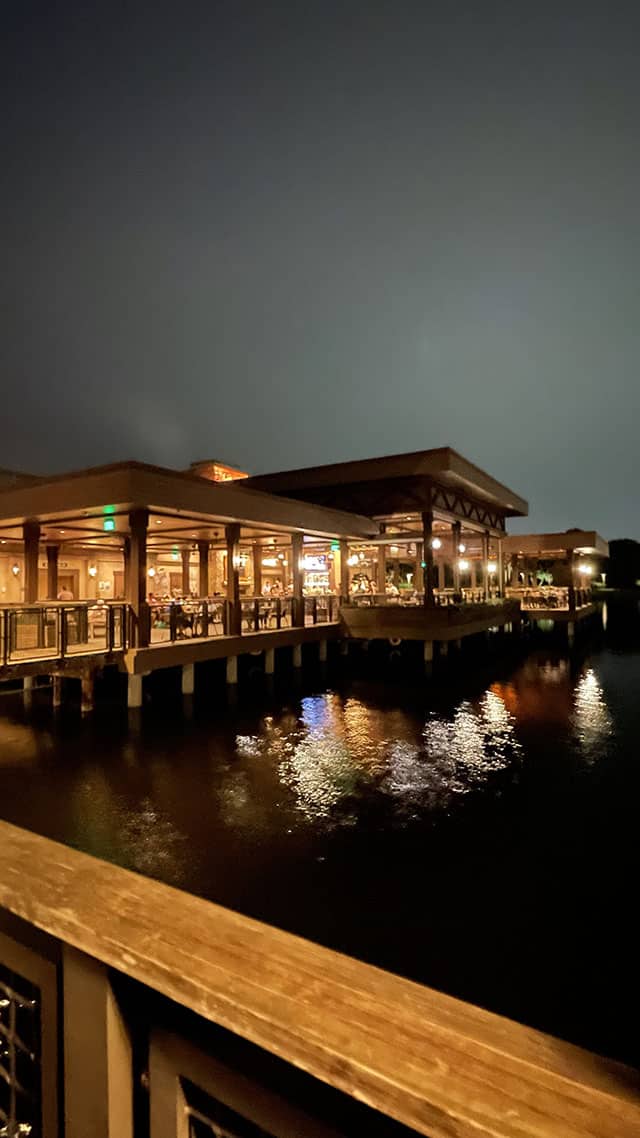 Three Rivers Bar & Grill was a definite win for me! The atmosphere and food were both enjoyable. The location offered stunning views and this restaurant is really just a great place to unwind, have some food and drinks. and enjoy it with some great company.
Have you visited Three Rivers Bar & Grill before? What did you think? Do you think you will add this to your list of dining locations to try? Tell us about it in the comments below or on our Facebook page.