Do you ever want to catch your favorite sports team while visiting Disney World? My family loves catching a game or two during a meal break. Read on to find out what Disney sports bar was a bust.
ESPN Club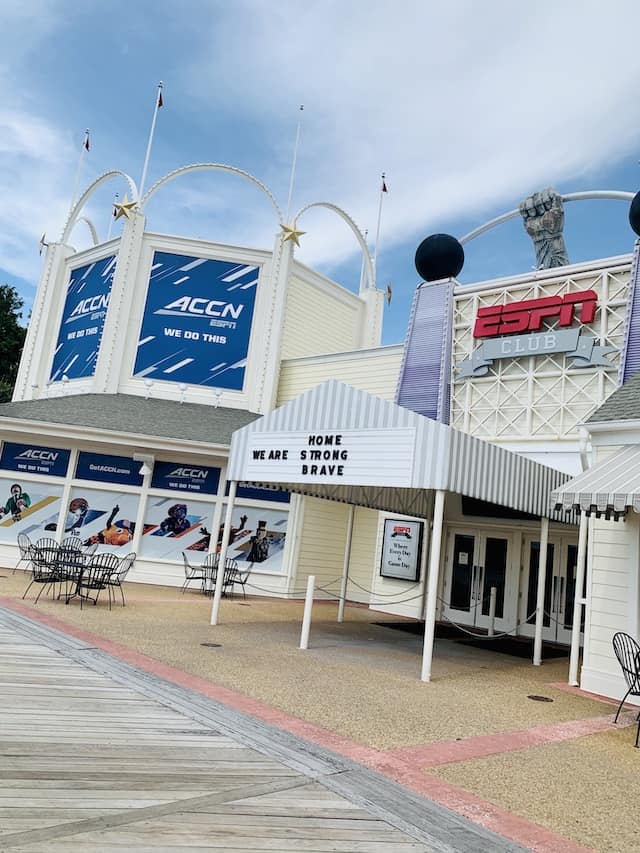 The ESPN Club was always a favorite for my (Heather's) family. It had a PRIME location. Honestly, could you be any better located, nestled right in between two parks?
Even though this restaurant served just basic American food, it checked off all the boxes for my family. The biggest things for my family were everyone could find something on the menu, comfortable and cool, and a fun atmosphere without being too pricey.
It was even better when we got to see our favorite New England teams playing! That's when we would be sure to stop in. They had televisions everywhere, so no matter where you sat there wasn't a bad seat in the house.
ESPN Club Closure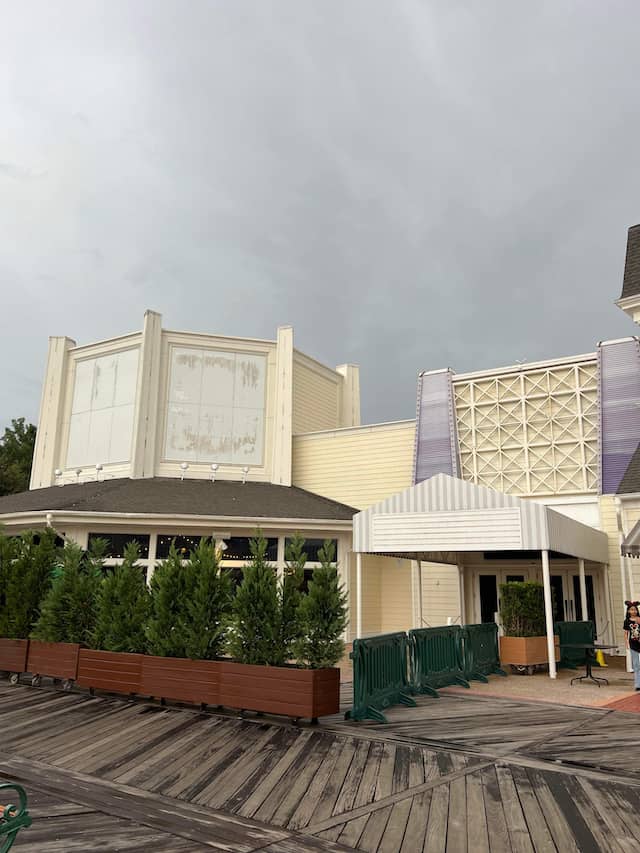 Unfortunately, when the parks closed so did ESPN Club. However, ESPN Club never reopened. I was hopeful that it would return, but it will not.
Signs have been removed and Disney is making way for a new restaurant. This location will be replaced with The Cake Bake Shop by Gwendolyn Rogers. This is expected to open in 2023. The demolition of ESPN Club is now in progress.
Other Options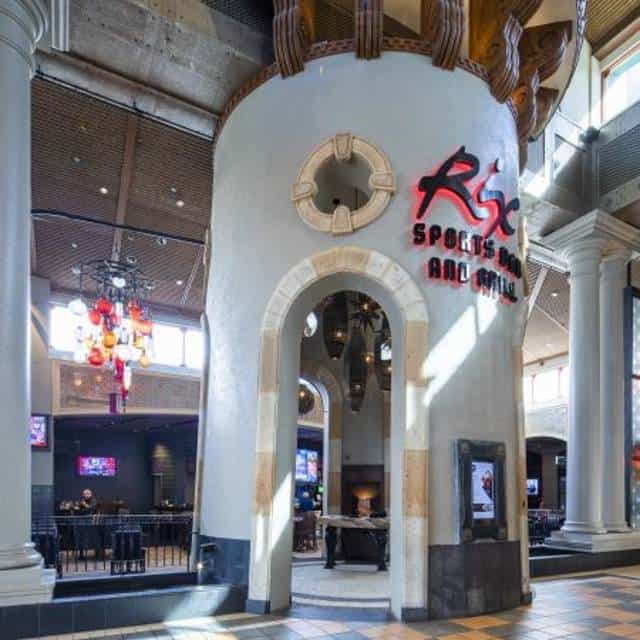 My family tried to figure out another place to fill this void that ESPN Club left. We knew we loved the atmosphere, so we figured we would try to find another sports themed restaurant.
What better bet for a sports like atmosphere than a place with "sports" in the name. We found Rix Sports Bar & Grill and figured that we would give it a shot!
Rix Sports Bar and Grill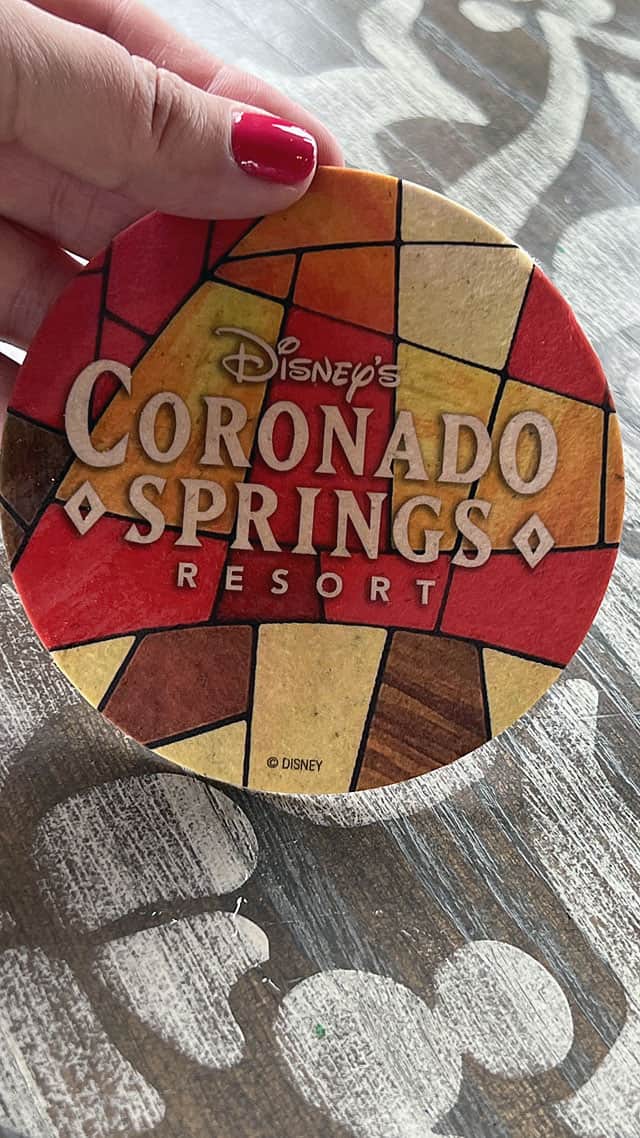 On Disney's website you find Rix Sports Bar and Grill described as:
Enjoy handcrafted cocktails, local draft beers and a unique spin on classic sports fare while cheering on your favorite team. Offering 31 state-of-the-art TVs to view nightly sporting events, this upscale sports lounge provides the perfect spot to unwind and chat with fellow sports fans. Reservations are accepted on most nights.
This didn't sound like it had the same atmosphere as ESPN Club, but it sounded good enough to try.
Location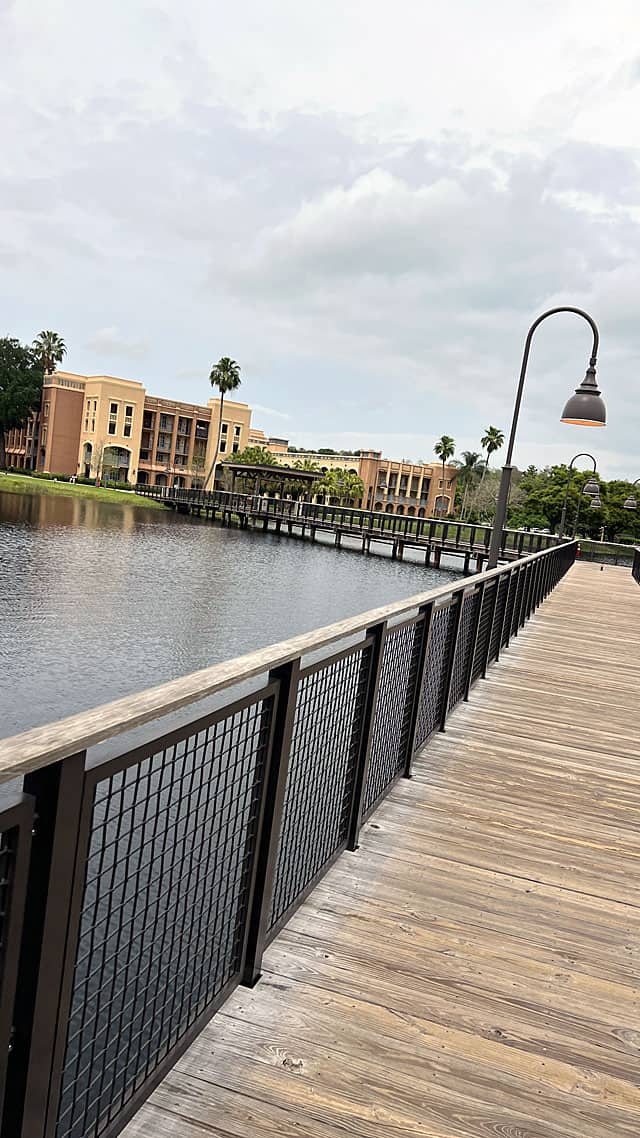 Rix Sports Bar and Grill is located at Disney's Coronado Springs Resort. If you have never visited this resort, it is MASSIVE. It is classified as a moderate resort, but the Grand Destino Tower has a deluxe feel with a moderate price! Many people love the tower and think it's a great value.
However, Disney Coronado Springs is not an easy resort to get to. It is simple enough that you can hop a Disney bus from a theme park and get there, but that is the only way you can by arrive by Disney Transportation.
If you do arrive by Disney Transportation, you want to make sure you get off at the right bus stop. There is an internal bus system if you want to explore more of the resort.
The Restaurant
The restaurant is located in the main building. However, this hotel is a conference center as well. This building is HUGE! It is more like several buildings put together.
Rix Sports Bar and Grill is a smaller restaurant. There are several televisions throughout, so you were able to catch a game if you were trying to.
For having several sports games going on, the place was very quiet. I expected a little more noise in a sports bar atmosphere. Even though it is described as an "upscale sports bar" I did not get the sports bar feel except they had TVs with sports on.
Food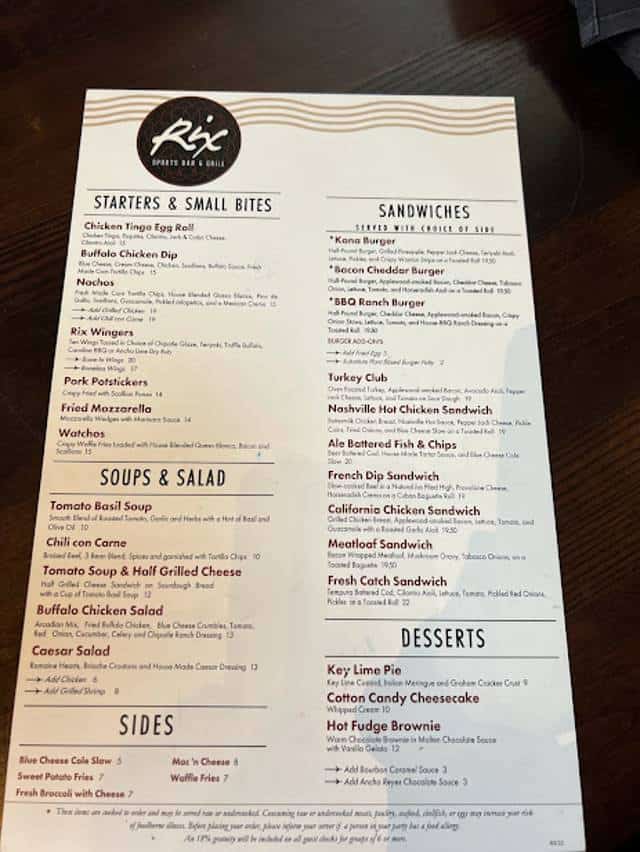 We opted to visit Rix Sports Bar and Grill for lunch. We had booked a reservation, but the restaurant was not crowded, so one may not have been needed.
Pirate Tip: If you want to be sure you get to eat here, a dining reservation is still recommended.
You also can order takeout from here, which is nice for guests staying at Coronado Springs. This is one of the many dining options available at this hotel.
We decided on nachos for an appetizer. The Nachos have Fresh Made Corn Tortilla Chips, House Blended Queso Blanco, Pico de Gallo, Scallions, Guacamole, Pickled Jalapeños, and a Mexican Crema. We added grilled chicken for a slight up-charge.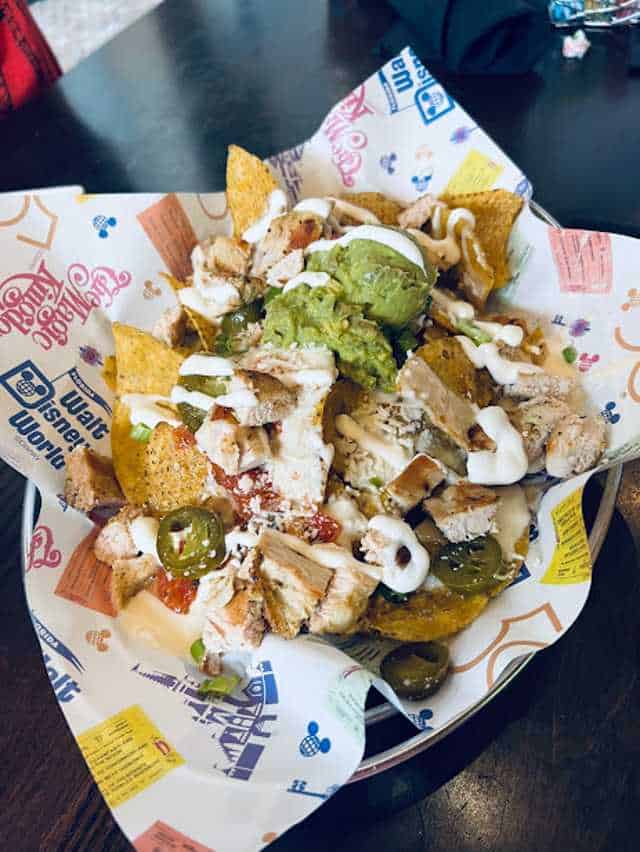 The nachos had tons of toppings which made them very flavorful, and every chip had some sort of topping! This is a must when having nachos. Nobody wants a bare chip!
Even though the nachos were delicious, I was slightly disappointed in the presentation. The nachos came in a wire basket with paper to contain them. This would be fine at any other sports bar, but this place is classifying itself as upscale. I would have preferred it to be served on a plate. Minor I know, but that did not give us the "upscale" feel Disney was trying to sell to us.
For entrees we got the BBQ Ranch Burger and the Nashville Hot Chicken Sandwich. I split the BBQ Ranch Burger with another member of my party, and they even split it for us ahead of time. The burgers and french fries were perfectly split in two and served on separate plates!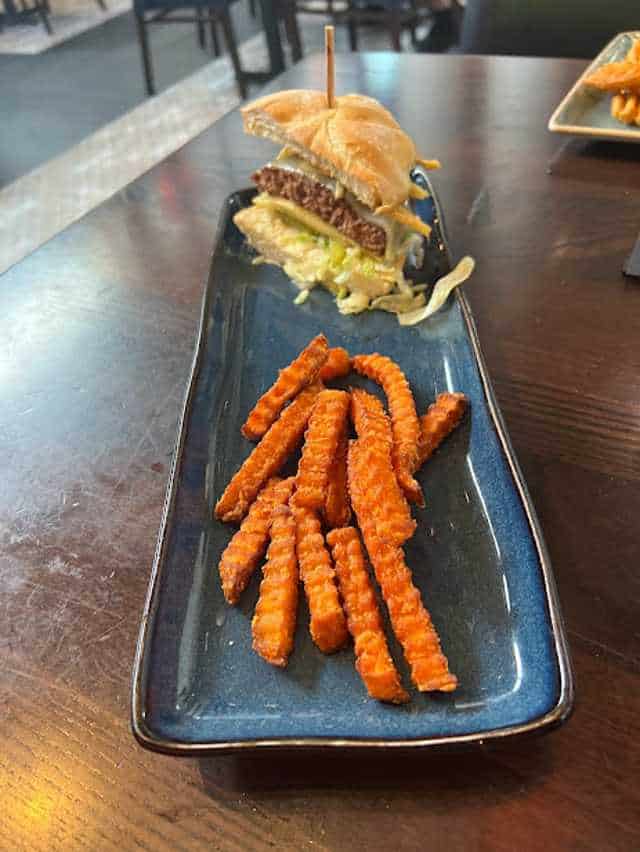 The BBQ Ranch Burger is a half-pound burger with cheddar cheese, applewood-smoked bacon, crispy onion straws, lettuce, tomato, and house-BBQ- ranch dressing on a toasted roll. The burger was juicy and loaded with tons of flavor. Even though there were lots of additions on the burger, it only added to the deliciousness of it.
We got sweet potato fries that were cooked to perfection. I personally feel that sweet potato fries can be a hit or miss if not cooked and seasoned correctly. These fries hit the spot!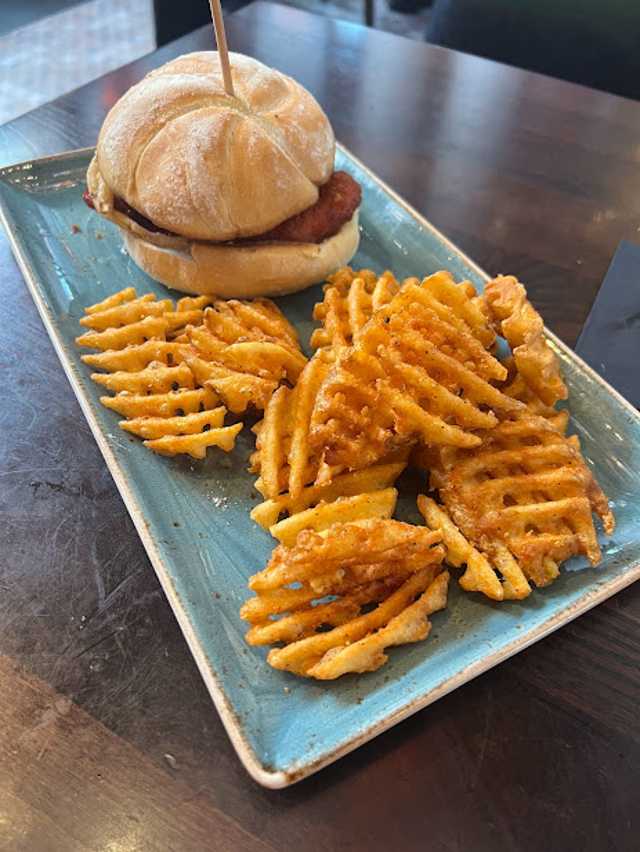 My husband got the Nashville Hot Chicken Sandwich. This sandwich has buttermilk chicken breast, Nashville hot sauce, pepper jack cheese, pickle coins, friend onions, and blue cheese slaw on a toasted roll. He asked not have the slaw, which I think was a poor choice because it sounded amazing.
The chicken was crispy on the outside with moist delicious chicken on the inside. Are you hungry yet? These entrees were tasty! For a side he got waffle fries. These were good but not anything special.
Service
The service was great. Our server was pleasant and offered us plenty of helpful information about the menu. She gave just the right amount of time for us to decide on our meals and when to come check on us. We never felt rushed through our meal.
Final Thoughts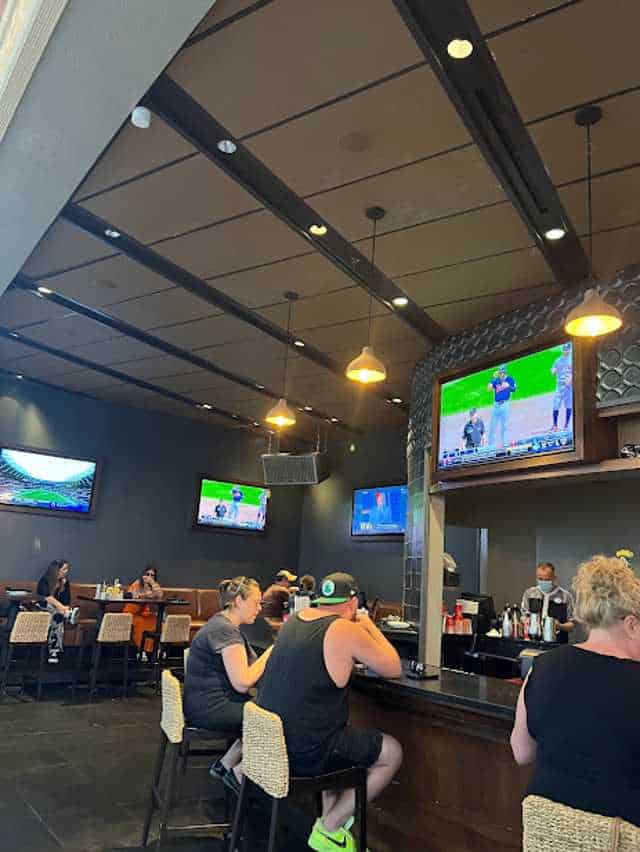 The food was good and the service was fantastic, however Rix Sports Bar and Grill does NOT fill our ESPN Club void. Maybe if we weren't looking for something to have the similar vibe, it would have left a better impression on us. There was nothing bad about it, just wasn't what we were looking for.
I would eat here again, but only if i was staying at Coronado Springs (which we weren't during this visit). I would NOT go out of my way for this food. It is not a hidden gem that is worth the trek or multiple Disney busses.
I will continue my quest to find a sports bar/restaurant that offers good food, laid back atmosphere, and close to the parks. We shall see where I wind up next!
What do you think of Rix Sports Bar and Grill? Do you like this restaurant? Do you think it is a hidden gem? Is it worth the trek to Coronado Springs? Let us know on the Kenny the Pirate Facebook page. Don't forget to join the KtP crew page, too!