LATEST VIDEOS
Subscribe to my Youtube!
LIVE - Just Mousing Around
Just Mousing Around - LIVE
LIVE - Just Mousing Around
There's a paid event happening on weekends at Disney that you don't want to miss! Yes, you can even earn a "degree!"
Getting There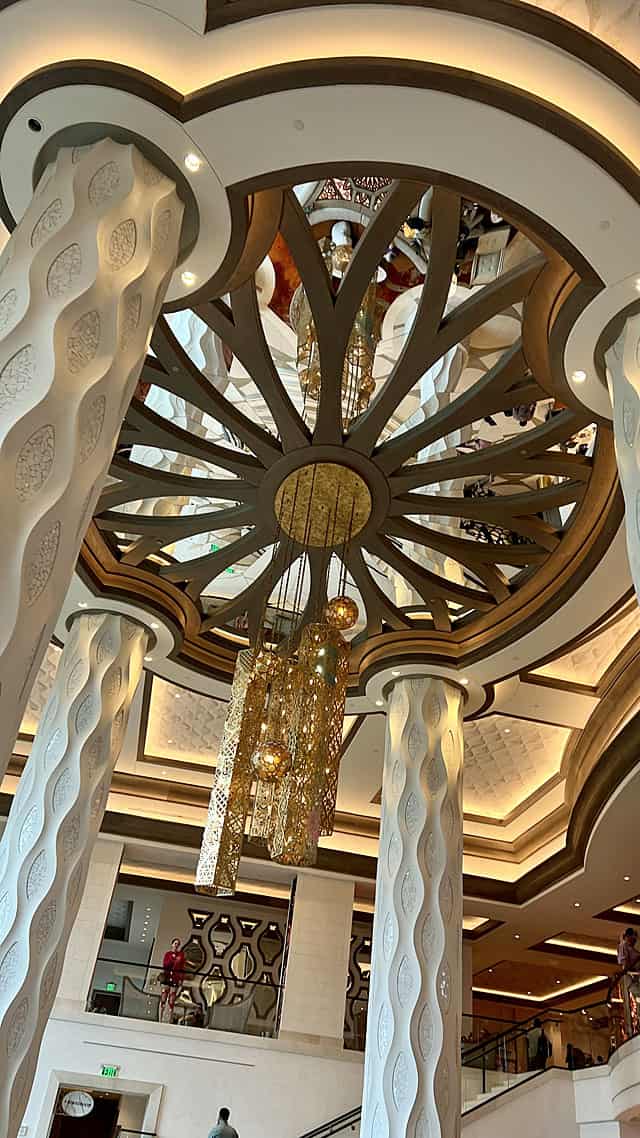 To find this unique paid event, either catch a bus, Uber, or drive to Disney's Coronado Springs. On our visit (Susan and friend, Nena), we took an Uber. However, being such a large resort, I was unsure where to be dropped off. That's when I discovered I needed to be dropped off at the beautiful tower and take one of the bridges behind it to reach our location.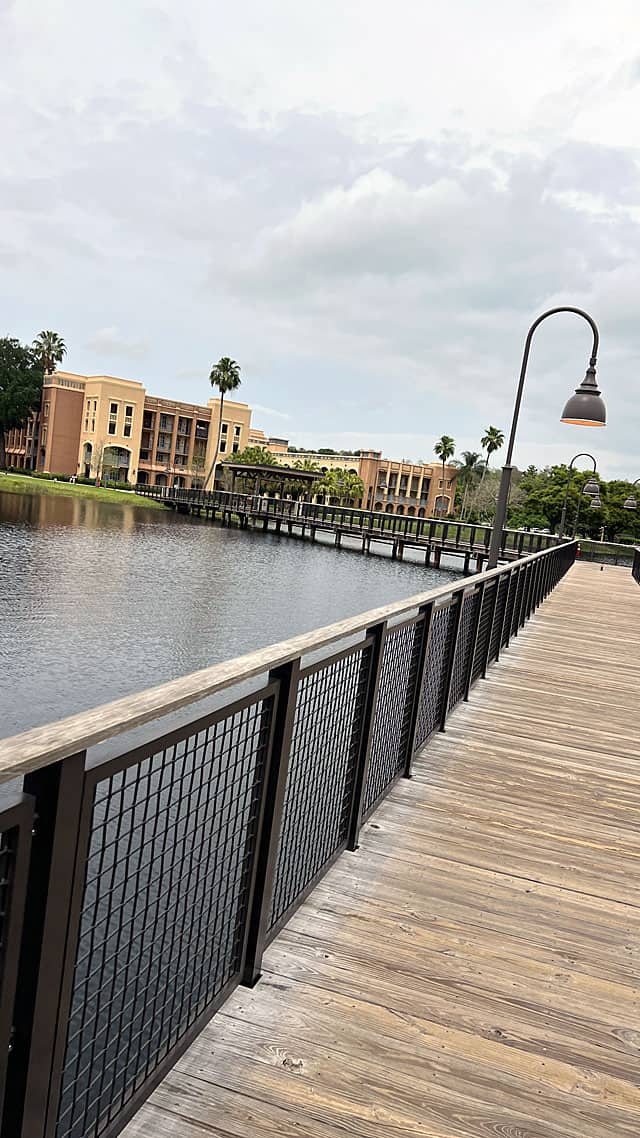 Once you arrive at Disney's Coronado Springs Tower, go to the first floor, and walk outside at the back of the building. Then, just take any of the three bridges to Three Bridges Bar and Grill at Villa del Lago. Unwind here in an open-air, waterfront setting of Spanish-American ambience and cuisine. It's a beautiful location!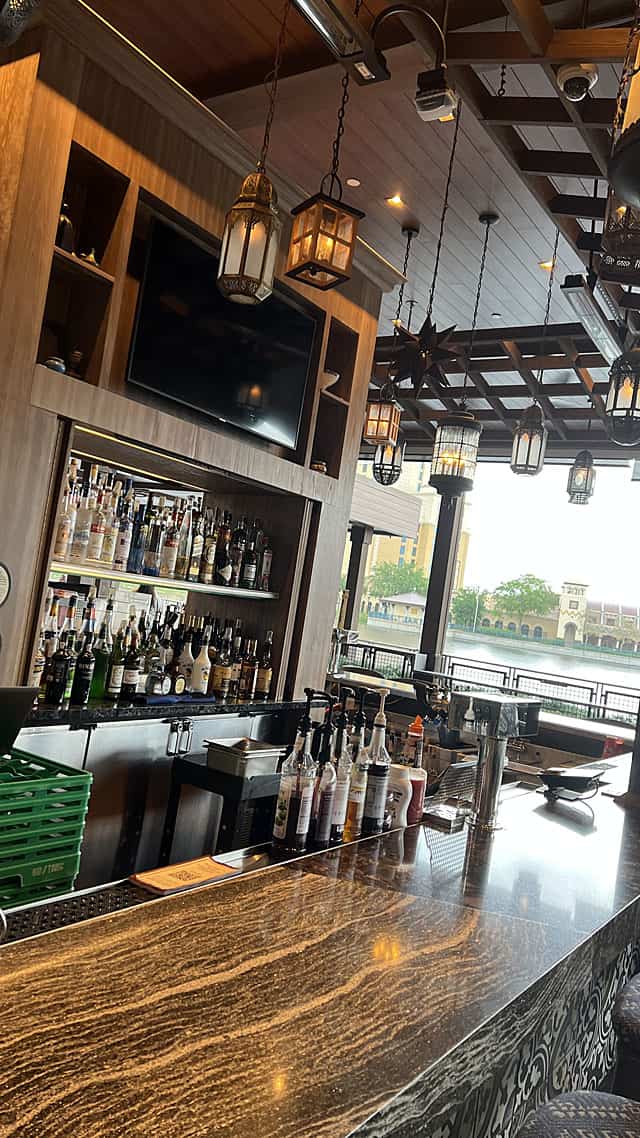 Open at 5:00pm nightly, this fabulous location offers shareable bites, as well as savory entrees. Also, the menu is filled with distinctive takes on familiar favorites. Consider starting with house-made guacamole and szechuan peppercorn wings.
Then, enjoy delicious braised pork tacos or steak frites. Plus, the bar features a large selection of cocktails and signature sangria pitchers to match your mood.
Event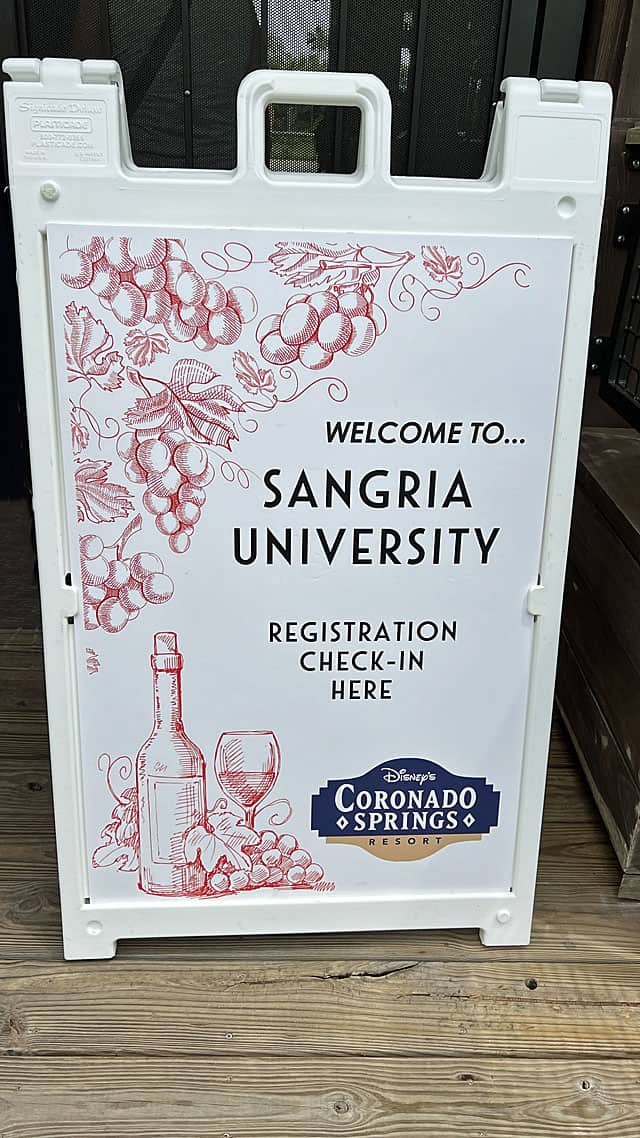 Led by professionals, this afternoon course discussed the history of sangria. Also, guests are given and the recipes used to make the 4 in-house varieties served at Three Bridges Bar and Grill. The lesson is followed by a tasting of the 4 sangria offerings and is accompanied by a light appetizer.
Best of all, you'll have the opportunity to make your own glass of sangria from a selection of fresh fruits and base spirits!
Details and How to Book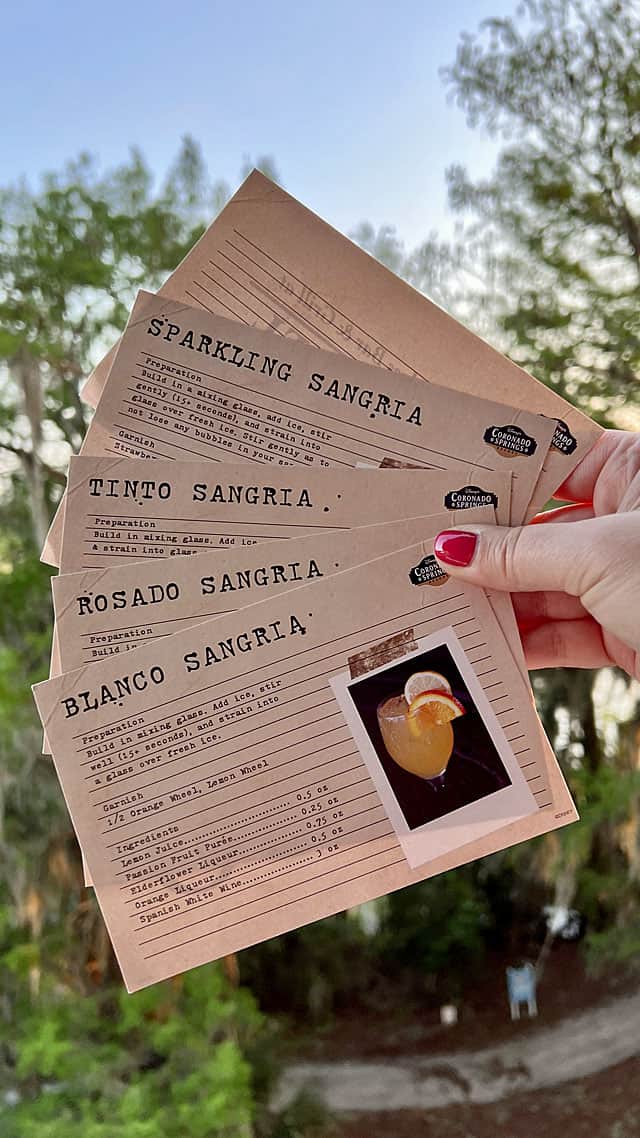 Sangria University is very popular so be sure to book early! This experience is held on Saturdays and Sundays at 1:30pm and lasts about 90 minutes long. However, since the restaurant doesn't open to the public until 5:00pm, you won't be rushed to leave. The cost is $59, which includes tax and gratuity. You'll need to prepay at the time of booking.
Since Sangrias are the main focus of this event, it's intended for adults. Guests younger than 21 years of age must be accompanied by a Guest who is 21 years of age or older. They will be charged full price and will be served a flight of non-alcoholic beverages during the experience.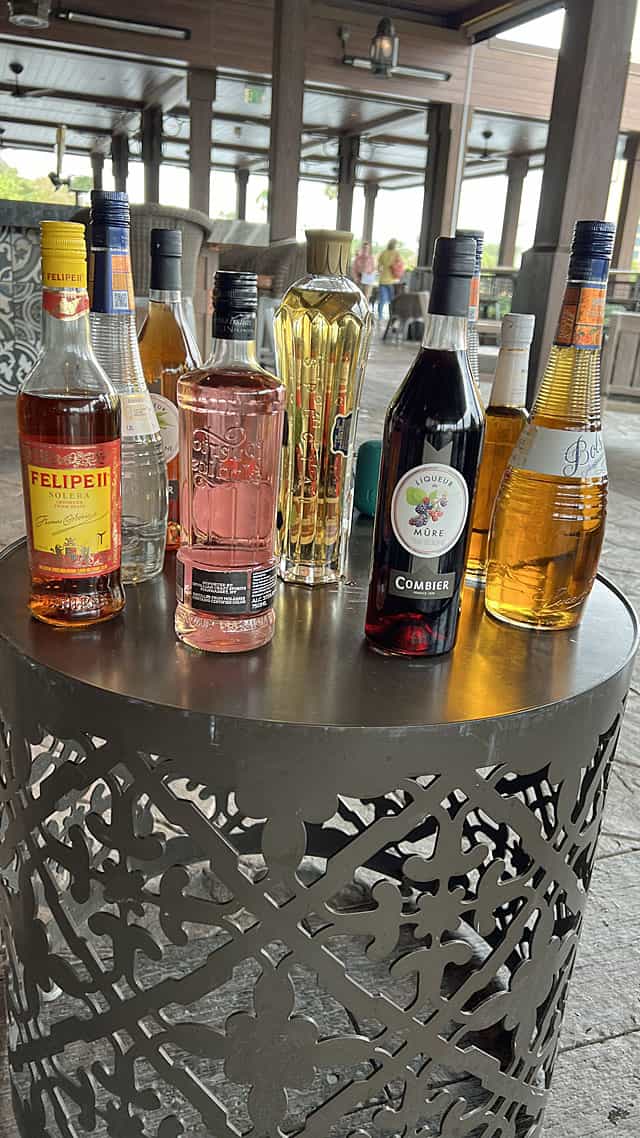 There is a one-day cancellation policy. Late cancellations and "no-shows" will be charged the full price of the experience. Keep in mind that this location has water on all sides. Because of this, the experience may be cancelled due to inclement weather.
In addition to the original cost, premium spirits are available at an additional cost for guests making their own sangria. This is paid the day of experience.
Sangrias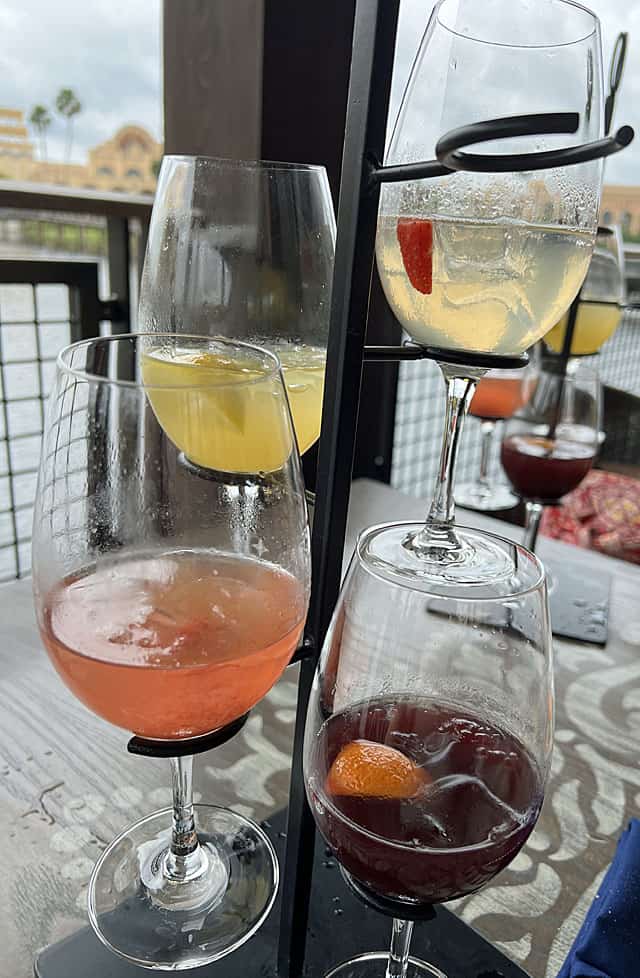 When we arrived, a Sangria tower with 4 drinks arrived for each person. It was so beautiful, and we couldn't wait to sample it. First, the lightest colored Sangria at the top is the Sparkling Sangria. It contains Freixenet Blanc de Blancs Brut Cava (sparkling white wine), Peach Liqueur, and Lemon. Next, the orange colored Blanco Sangria contains Macabeo Wine, Torres Magdala Naranjas del Mediterráneo, St. Germain Elderflower, Passion Fruit, and Lemon.
Then, in the pink colored Rosado Sangria you'll taste the Garnacha Rosé Wine, Puerto de Indias Strawberry Gin, Apricot Brandy, raspberry, and apple. Finally, at the base of the Sangria tower is the deep red colored Tinto Sangria. This one has Garnacha Wine, Torres Magdala Naranjas del Mediterráneo, and Orange.
Note that all of these Sangrias are available on the Three Bridges menu.
Appetizer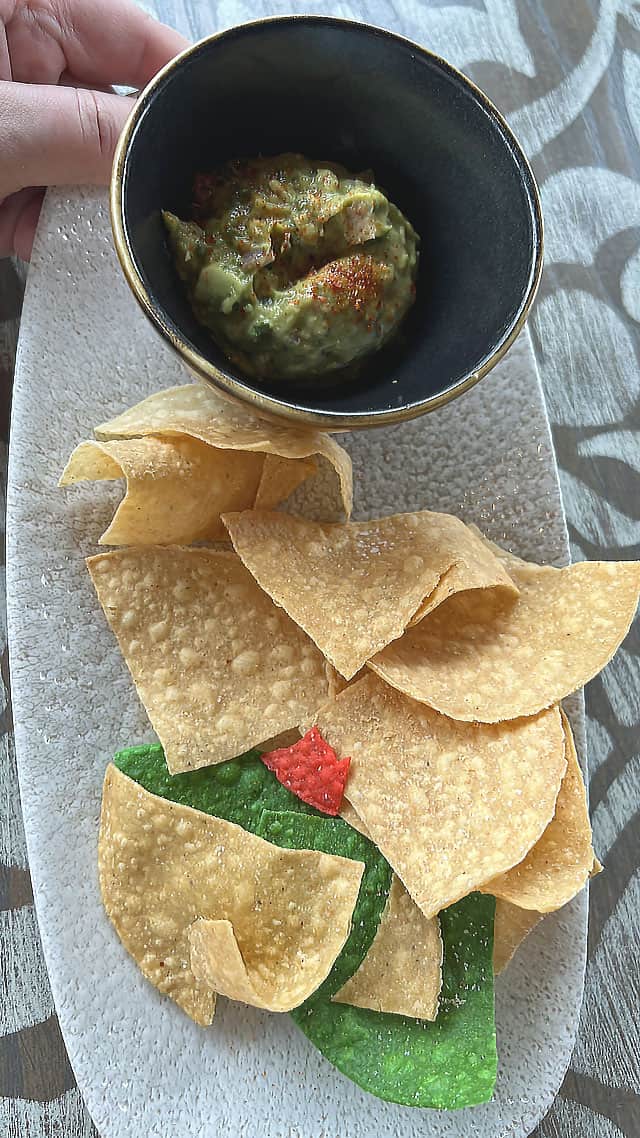 We were so full since we ate lunch at EPCOT's La Crêperie de Paris, but the house-made tri-colored chips and guacamole were so delicious I just couldn't resist! Not only was the avocado super fresh, but the bright flavors of lime, cilantro, and cumin made this snack a hit!
Our Host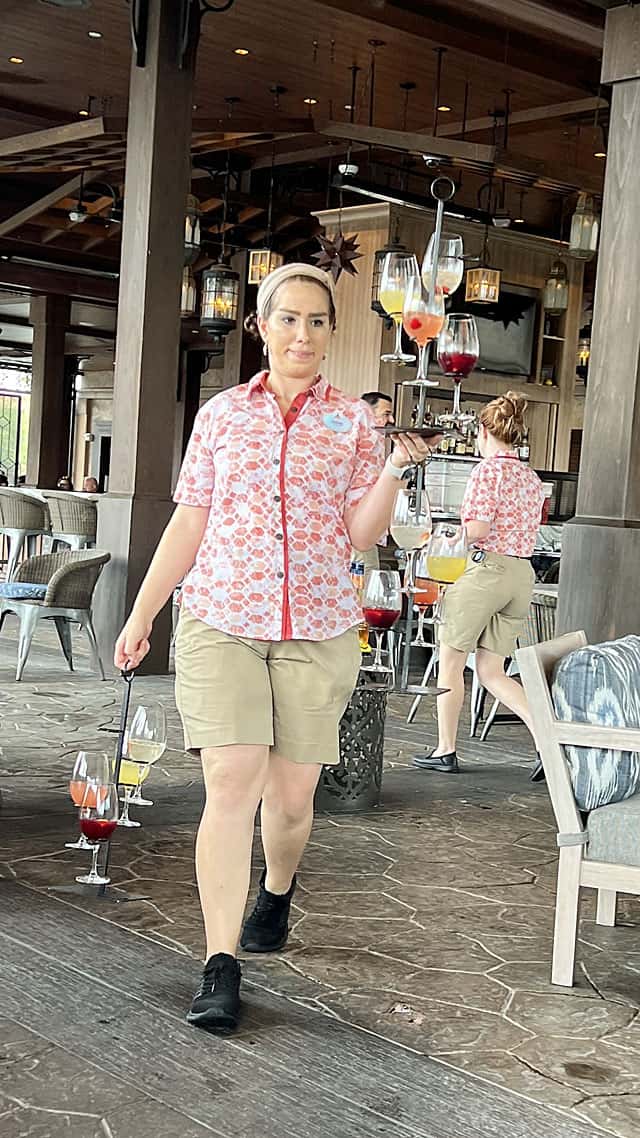 One of my favorite things about this wonderful event was our host. According to Disney, each Sangria University host is a sommelier. A wine expert, or sommelier, is a trained and knowledgeable wine professional, working in fine restaurants, who specializes in all aspects of wine.
She not only knew her wine and Sangria information but shared it all in an entertaining way. I learned so much from listening to her explain different regions, grapes, and Sangria requirements in Europe. We also enjoyed the Disney tunes playing in the background.
Making our Own Sangria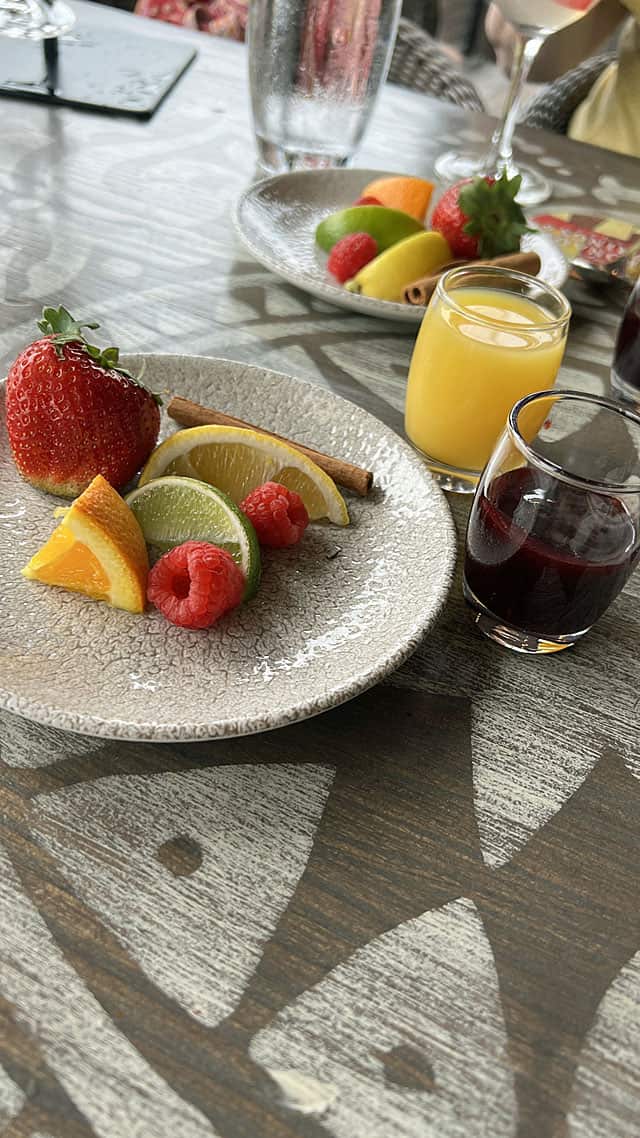 When seated, this beautiful fruit/cinnamon stick plate along with orange and blackberry juice was placed at each guests seat. After our host explained the components of each Sangria, we were each invited to create our own version. First, we picked our wine base, then she explained some liquor add-ons.
The peach liquor was included, but several others shown below were not. We chose the blackberry liquor because yum! (It was a $5.00 add-on.) Finally, we were encouraged to add fruit juice and garnish to finish off our creation.
We Learned So Much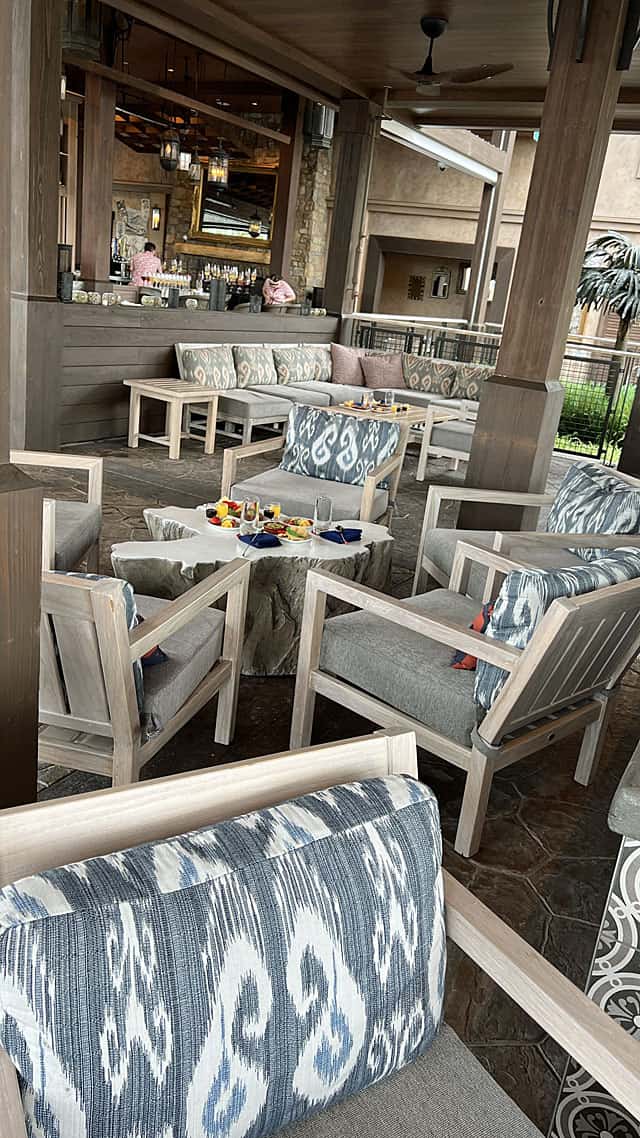 Not only did we learn about the origin and history of Sangria, but also so many details about Sangria itself. Did you know that Sangria debuted in the United States at the 1964 World's Fair? This is the same World's Fair that Walt Disney brought the following attractions to show the world: it's a small world, Carousel of Progress, and Great Moments with Mr. Lincoln.
Our host shared that the people were shocked when they witnessed the Lincoln animatronic because they thought Walt brought Lincoln back to life!
Thanks to the Phoenicians, we have wine! They brought grapes to Spain to create vineyards.
Our Degree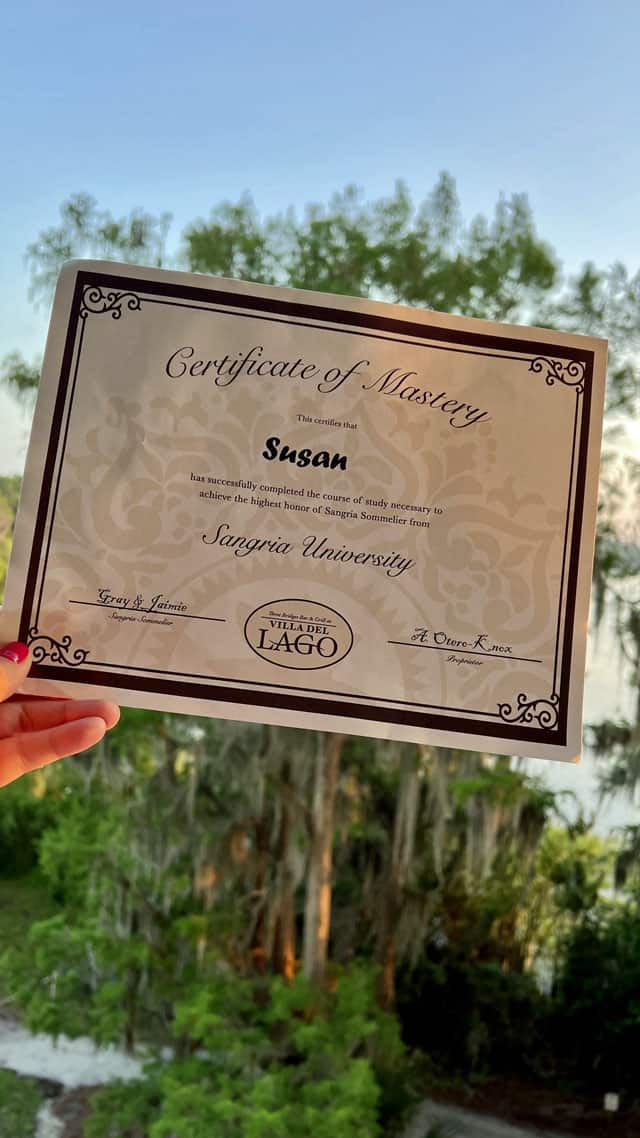 Once everyone is finished with the presentation and creating their own Sangria, there is a special presentation of a "Degree" for a Certificate of Mastery of Sangria Sommelier. It was so cool because each person was called to pick up their certificate. And, everyone clapped each time!
Final Thoughts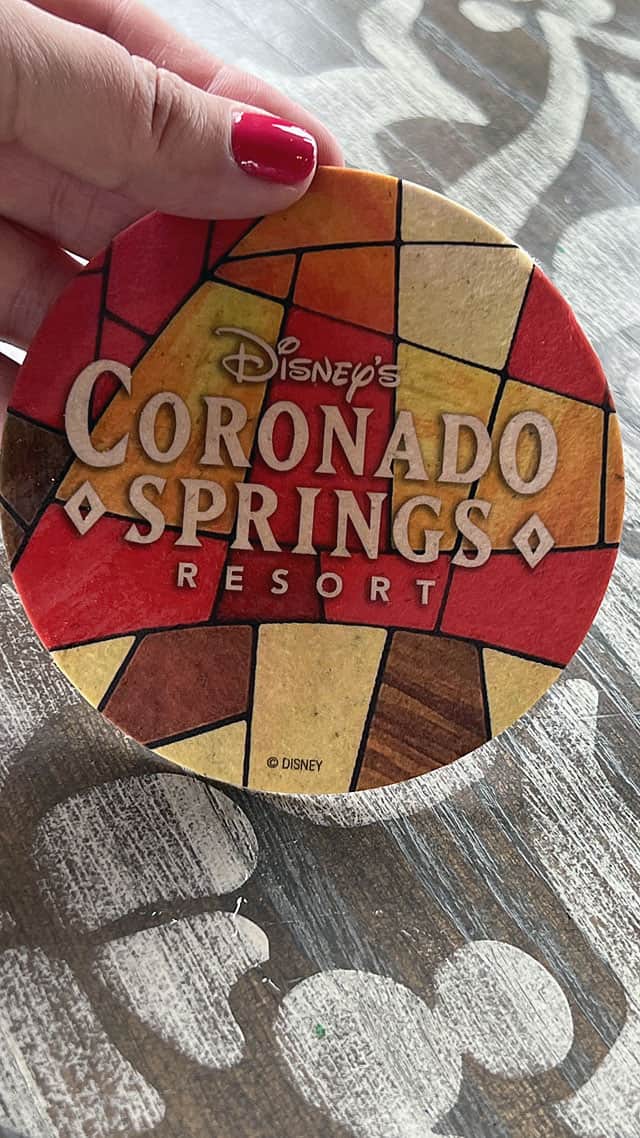 When we booked this event, I was unsure about traveling to Disney's Coronado Springs. However, it was a short Uber trip and so worth it. Three Bridges Bar and Grill is a large location with the bar in the middle. During our session, there was a class on each side, making the event more intimate.
While the Sangrias were the best I've ever tasted, listening to our host was even more fun! If it's in your budget, I hope you'll give it a try and let us know what you think. The laid-back casual atmosphere on the waterfront dining location makes me want to dine here again.
What are your thoughts on this event? Would you try it? Please let us know in the comments below and on Facebook.

Are you planning a vacation? Reach out to our trusted travel agency sponsor Authorized Disney Vacation Planner
Mouse Class Travel
!