LATEST VIDEOS
Subscribe to my Youtube!
LIVE - Just Mousing Around
LIVE - Just Mousing Around Tonight!
Try fresh Mexican flavors at the El Artista Hambriento Booth at the Festival of the Art. See our thoughts and pictures of each dish.
Festival of the Arts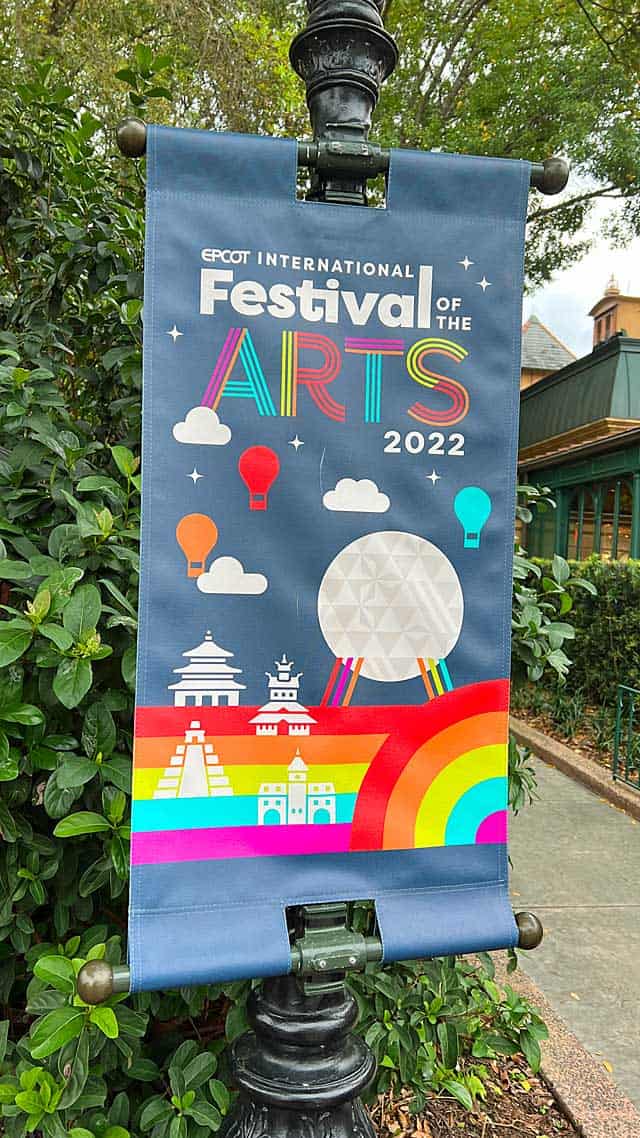 The International Festival of the Arts at EPCOT begins January 14, 2022 and runs through February 21, 2022. This festival has just a little bit of everything, including, art, food menus and entertainment. Not only that, but Spaceship Earth debuted a wonderful Rainbow Connection show.
Guests will also want to be sure to check out other colorful cuisine offered, and you don't want to miss the return of the Disney on Broadway Concert Series! For a full lineup of the artists performing, check out this post HERE.
El Artista Hambriento Booth Menu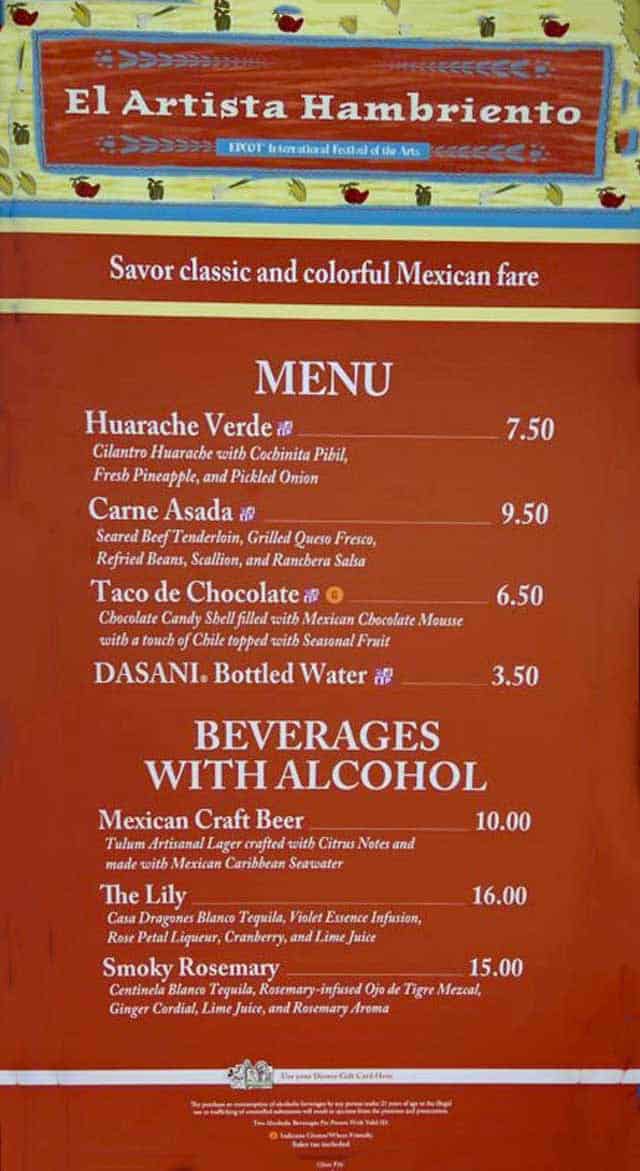 Like other festival items, portions are small and prices are reasonable. Here, each dish costs between $6.50 to $9.50. To locate this booth, travel to Epcot's Mexico Pavilion.
Menu items are listed below:
Food Items:
Huarache Verde: Cilantro huarache with cochinita pibil, fresh pineapple, and pickled onion (New)
Carne Asada: Seared beef tenderloin, grilled queso fresco, refried beans, scallion, and ranchera salsa (New)
Taco de Chocolate: Chocolate candy shell filled with Mexican chocolate mousse with a touch of chile topped with seasonal fruit (Gluten/Wheat Friendly)
Beverages:
Mexican Craft Beer: Crafted with citrus notes and made with Mexican Caribbean seawater
The Lily: Blanco tequila, violet essence Infusion, rose petal liqueur, cranberry, and lime juice
Smoky Raspberry: Blanco tequila, rosemary-infused mezcal, ginger cordial, lime juice, and rosemary aroma
Huarache Verde (New)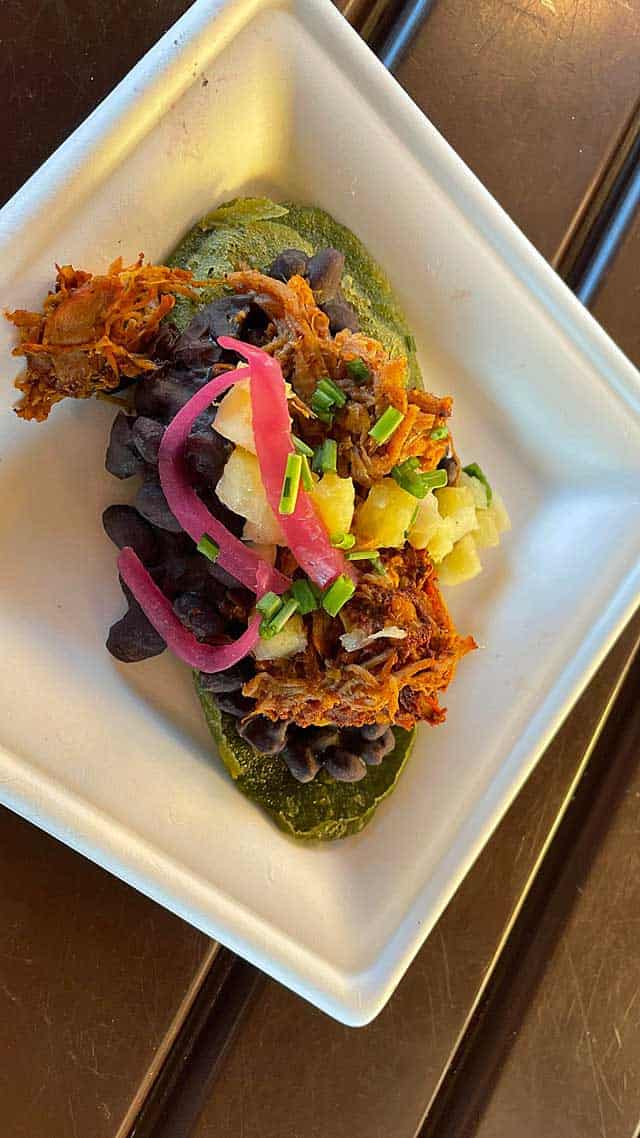 I (Susan) wasn't sure at first if I should use a fork and knife with this dish or just try and pick it up. I ended up cutting off pieces to pick up. This item is a popular Mexican dish that begins with a masa flour based chip-like base.
The green coloring comes from cilantro and the chip held the dish together well. Next, there are two proteins of black beans and cochinita pibil (seasoned pork). The pork had wonderful seasoning, cooked fork tender, and was absolutely delicious. The proteins were topped with fresh pineapple and pickled onions. This dish was our KtP writing team's favorite for its perfectly blended seasonings and fresh toppings.
Flavor combinations in this item are a home run!
Carne Asada (New)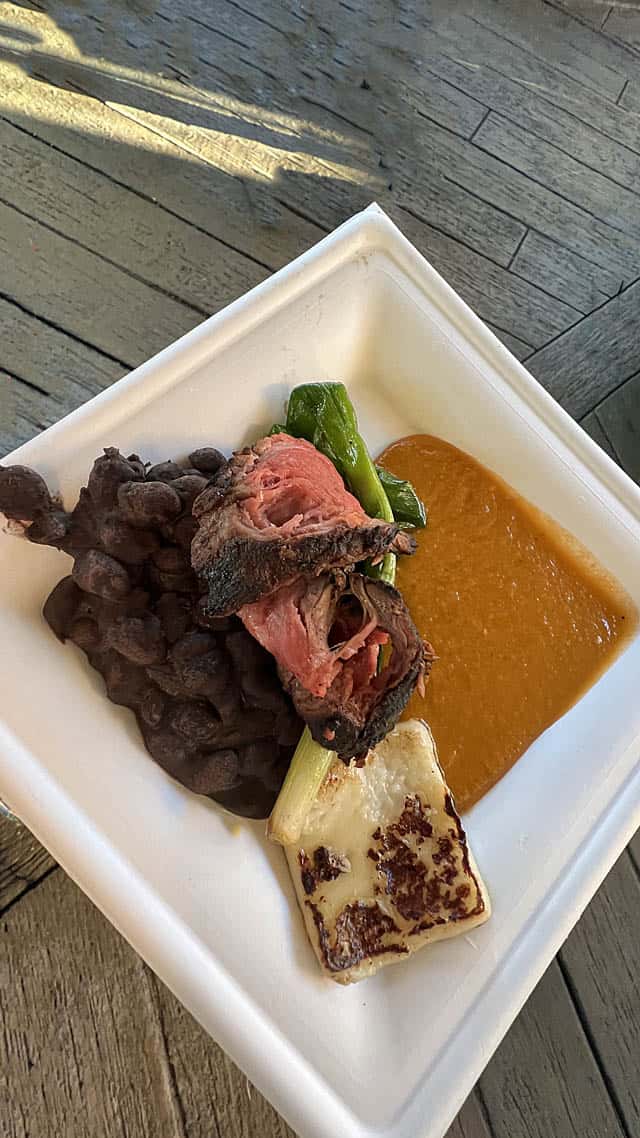 What this dish lacks in size, it makes up for in flavor! The seared beef tenderloin was so tender and cooked perfectly. However, if you prefer your steak cooked medium-well or more, this may not be the dish for you.
The ranchera salsa consists of a warm, smokey, and spicy tomato-based sauce. It paired beautifully with the tenderloin. The refried beans were cooked just enough to keep their "meaty" consistency without becoming mushy.
The grilled queso fresco gave an unexpectedly flavor layer to this dish. As a cheese lover, I'm always a fan of adding it! Along with the Huarache Verde, this dish topped my list of festival foods.
Steak is so tender hope you can try this dish.
Taco de Chocolate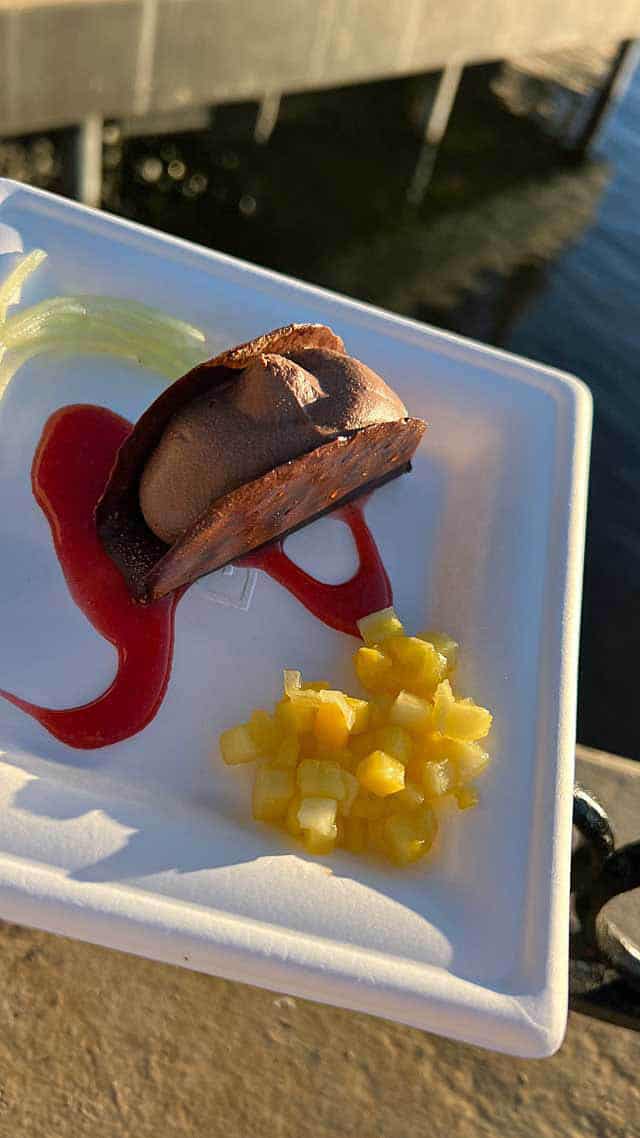 Never having tried a chocolate taco before, I was curious about its taste and texture. Again, I was unsure whether I should pick it up or cut it. I tried picking it up, but the chocolate candy shell didn't hold up well in my hands.
It was standard chocolate, not the best quality, but it had a smooth texture and made the dish visually appealing. The Mexican chocolate mousse was light and had a nice milk chocolate flavor that I enjoyed.
The chile sauce was extremely mild, and I didn't detect much flavor change when dipping chocolate into it. Disney describes this dish as being "topped with seasonal fruit." On my visit, I enjoyed diced fresh mango on the side. Although I'm not a huge fan of combining chocolate and fruit, I enjoyed the mango separately.
The chili sauce was very mild. Don't let it stop you from trying this dish.
The Lily Drink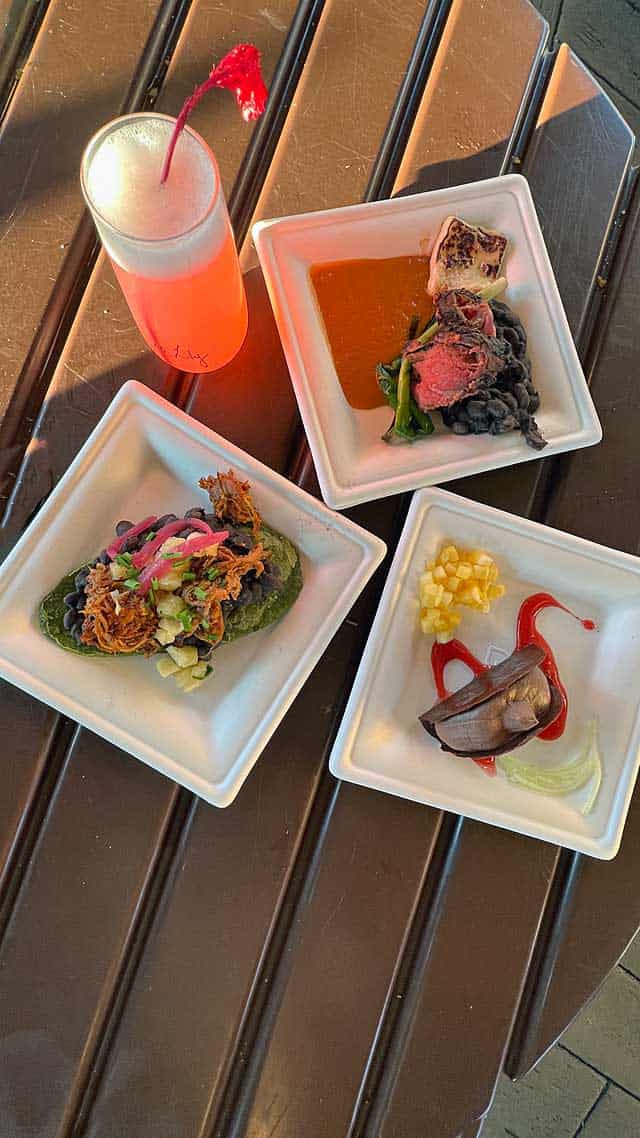 Last month, La Cava Del Tequila shared a new celebrity margarita coming to Epcot's Festival of the Arts. Model Lily Aldridge teamed up with La Cava Del Tequila to create this cocktail made with blanco tequila, violet essence Infusion, rose petal liqueur, cranberry, and lime juice.
It's such a beautiful drink, I just had to try it. The tequila was top shelf quality. The blend of rose petal liqueur and fruit juices made this one of the better Epcot festival drinks. This is not surprising since La Cava Del Tequila makes the best margaritas north of the border!
However, the drink it on the strong side. You may find this a positive or negative. It also comes in a souvenir cup that says XO Lily.
Final Thoughts
Of all the booths I tried during Epcot's Festival of the Arts this year, this booth is hands down my favorite! If you enjoy Mexican food, I hope you'll give it a try! It's worth the trip to Mexico.
Which of these items would your try? Or, if you've tried them, which is your favorite? Please share your thoughts in the comments below, on Facebook, or in with our KtP crew on Facebook.

Are you planning a vacation? Reach out to our trusted travel agency sponsor Authorized Disney Vacation Planner
Mouse Class Travel
!